Pumpkin Spice Energy Balls are the perfect on the go snack made with dates, white chocolate chips, peanut butter and rolled oats. Make these energy balls quick, no food processor required!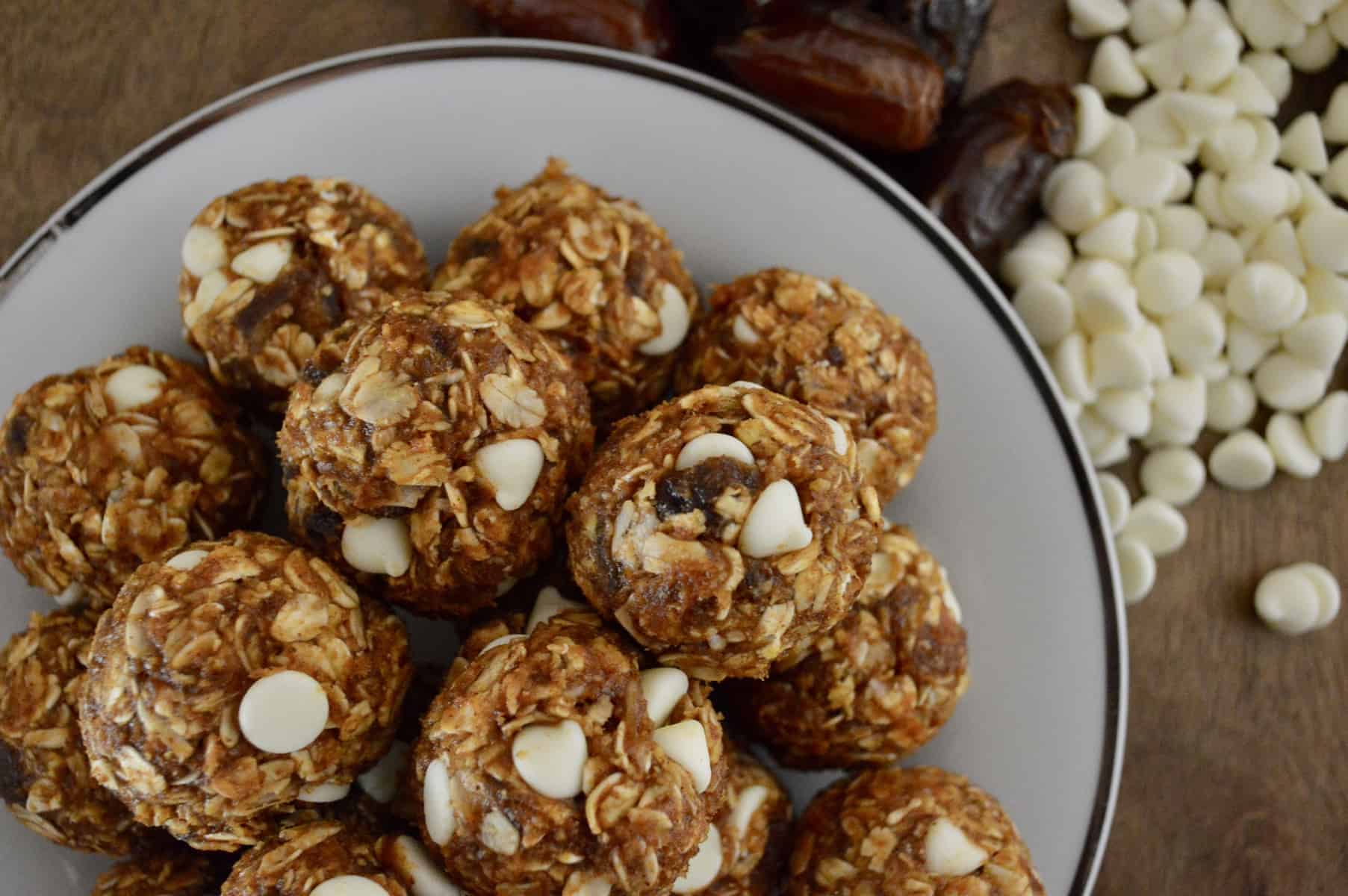 Pumpkin Spice Energy Balls definitely don't have to be relegated to fall recipes! These little bites are great any time of the year. Plus, they are slightly sweet and full of protein making them a great choice whenever you need a treat.
So simple to make, no baking required! Moreover, these energy balls are full of protein and good stuff, with a bit of sweetness from the white chocolate. My kids love them as an after school snack or have two for a quick breakfast.
If you love the combination of pumpkin and rolled oats, be sure to check out my Pumpkin Spice Cookies with Oatmeal. It's also a great way to use up that leftover pumpkin puree!
And, you definitely don't want to miss pumpkin spice truffles – a perfect sized treat that tastes just like pumpkin pie!
What ingredients are in pumpkin energy balls?
Pumpkin energy balls use ingredients you probably already have on hand. To make pumpkin spice energy balls, you'll need:
Rolled Oats (use gluten-free if necessary)
Peanut Butter
Honey
White Chocolate Chips (or milk chocolate)
Pumpkin Puree (not pumpkin pie filling)
Dates
Pumpkin Spice (or a combination of seasonings listed in the recipe)
Ground Flaxseed (optional)
Make these energy balls in a large mixing bowl. However, you could blend these together in the food processor if you prefer a smoother texture.
This recipe is definitely not something you should only make in the fall. For another year-round baking recipe, be sure to try this Italian Apple Cake full of shredded and diced apples!
Pumpkin Spice Energy Balls Recipe
Pumpkin Spice Energy Balls are super simple to make. All you need is large mixing bowl and spatula.
Firstly, just add all ingredients in a bowl and mix with a spatula to combine. (Alternatively, if you are looking for a smoother energy ball, you can process all of the ingredient and then just fold in the white chocolate.)
Then, using a cookie scoop or spoon, measure out 24 balls and refrigerate for 20 minutes.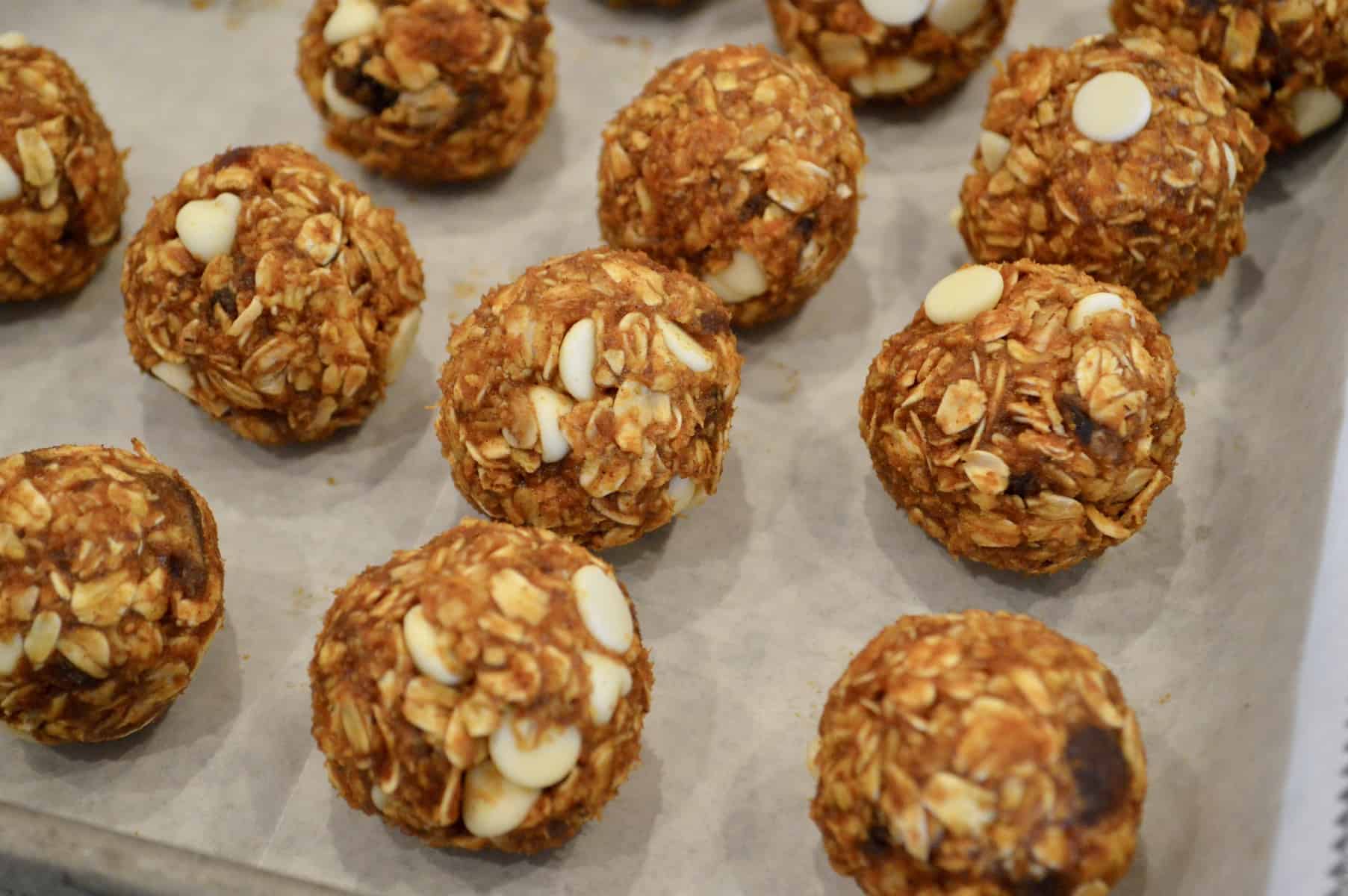 If your hands get sticky when rolling, just run under cold water or spray with some cooking spray.
How to store energy balls
You can store energy balls in an airtight container in the refrigerator for up to a week. Also, if you're taking them for lunch or snack, no need to worry about keeping them refrigerated.
You could freeze energy balls in an airtight container in the freezer for up to two months. Then, just take them out when you're ready to snack.
Love energy balls? Then be sure to check out these Carrot Coconut Energy Balls that taste just like carrot cake. And, of course you don't want to miss out on the classic Chocolate Coconut Energy Bite Balls made with mini chocolate chips.
Pumpkin Recipes
Pumpkin recipes don't have to be made only in the fall. Be sure to check out these delicious recipes using pumpkin puree that are perfect year round!
Pumpkin Ginger Cupcakes are a delicious cupcake with cream cheese icing.
Easy Pumpkin Muffins with Brown Sugar Topping are a super moist and easy to make muffin.
Pumpkin Spice Bundt Cake from Mix is a simple 5-ingredient bundt cake with an easy cream cheese frosting.
Glazed Pumpkin Bread is simple to make with a delicious powdered sugar glaze.
Pumpkin Pie Bars with Pecan Crumble Topping are a sheet pan pie recipe that feeds a crowd.
Spiced Pumpkin Streusel Coffee Cake has a delicious brown sugar layer and streusel topping.
Pumpkin Mac and Cheese is a lightened up Mac and cheese recipe that's so creamy.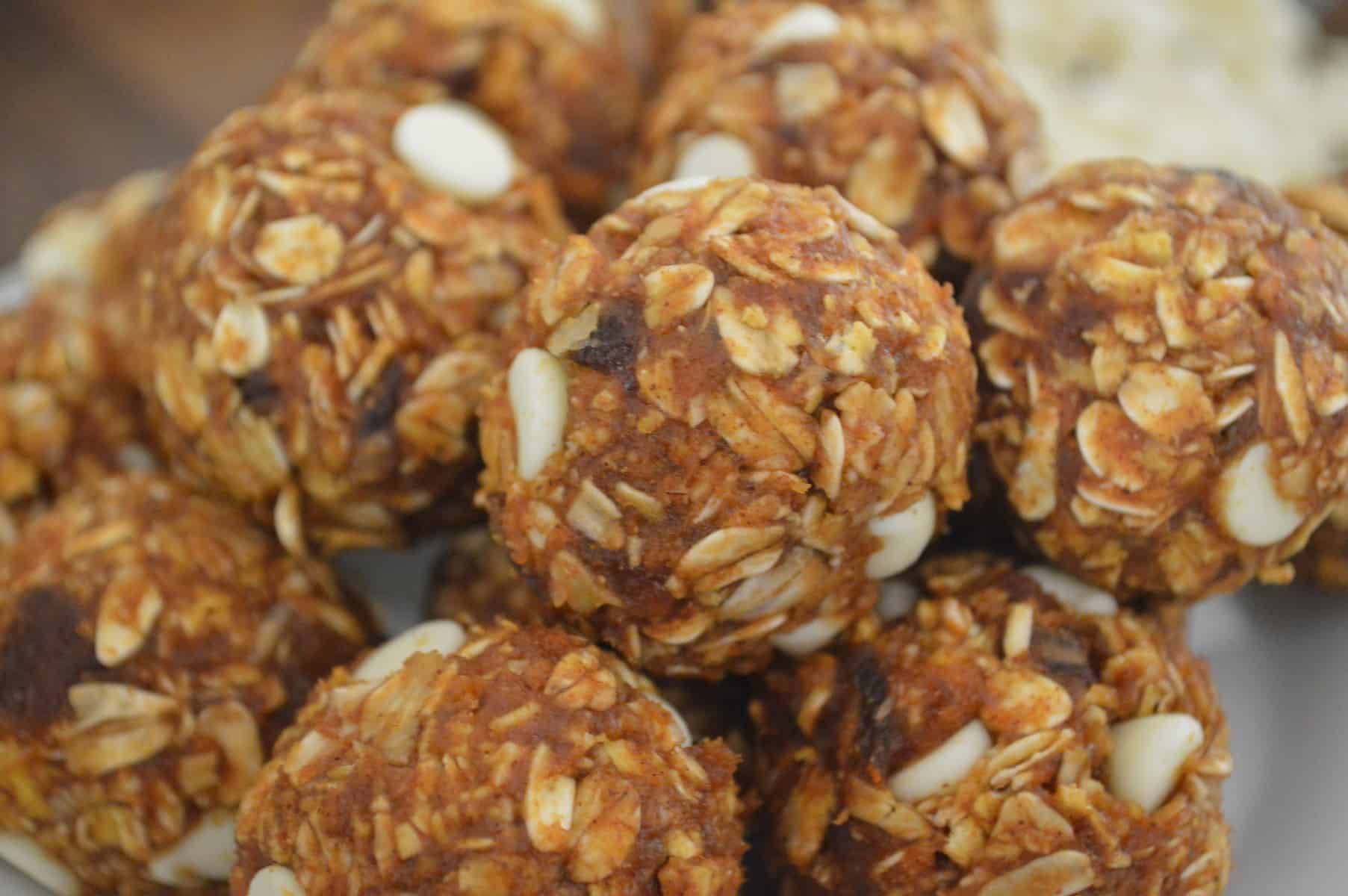 I hope you love this recipe for Pumpkin Spice Energy Balls! Be sure to comment below if you try them. Enjoy!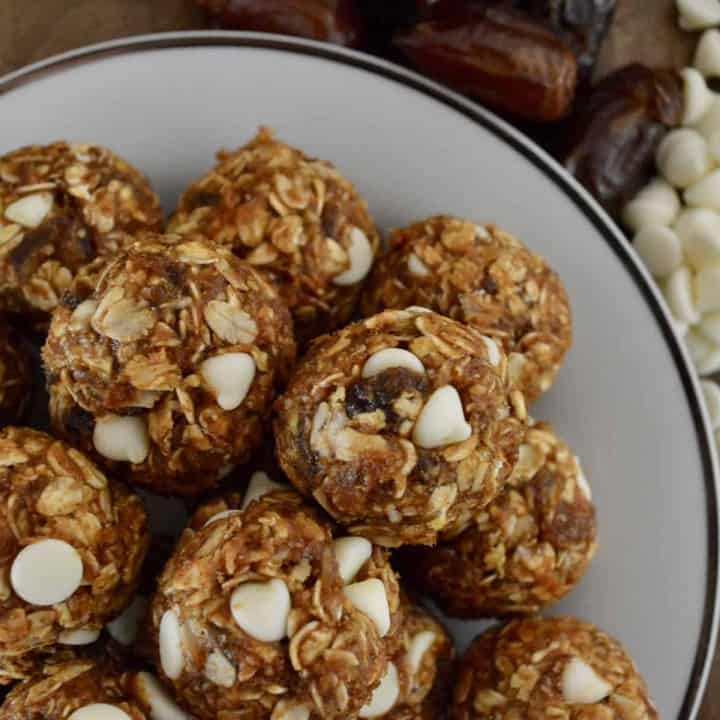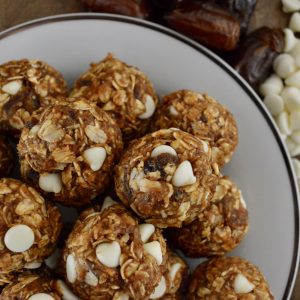 Pumpkin Spice Energy Balls with Dates and White Chocolate Chips
Delicious and easy Pumpkin Spice Energy Balls are a great snack to have on hand anytime of the year. *If you have pumpkin spice seasoning on hand, you can use that instead instead of the spices listed below.
Print
Pin
Rate
Ingredients
2 ½

cups

rolled oats

1

tablespoon

ground flaxseed

(optional)

2

teaspoons

cinnamon

½

teaspoon

ground ginger

¼

teaspoon

ground cloves

¼

teaspoon

ground nutmeg

¼

teaspoon

allspice

½

cup

peanut butter

½

cup

dates, chopped

½

cup

pumpkin puree

½

cup

honey

½

cup

white chocolate chips
Instructions
In a large bowl, combine oats, flaxseed, and spices. Fold in the remaining ingredients using a rubber spatula until well combined.

Using a cookie scoop, roll out 24 balls. Refrigerate balls for at least 20 minutes before serving. Store in an airtight container in refrigerator for up to a week.
Notes
Make ahead and refrigerate in an airtight container for up to a week. 
*You can substitute 3 teaspoons of pumpkin spice in place of the spices in this recipe. 
Nutrition