Chocolate Coconut Energy Balls without Dates are the perfect after school snack or lunchbox treat that are made in only 5 minutes! Easy to make and no bake, kids and adults will love this protein-packed snack.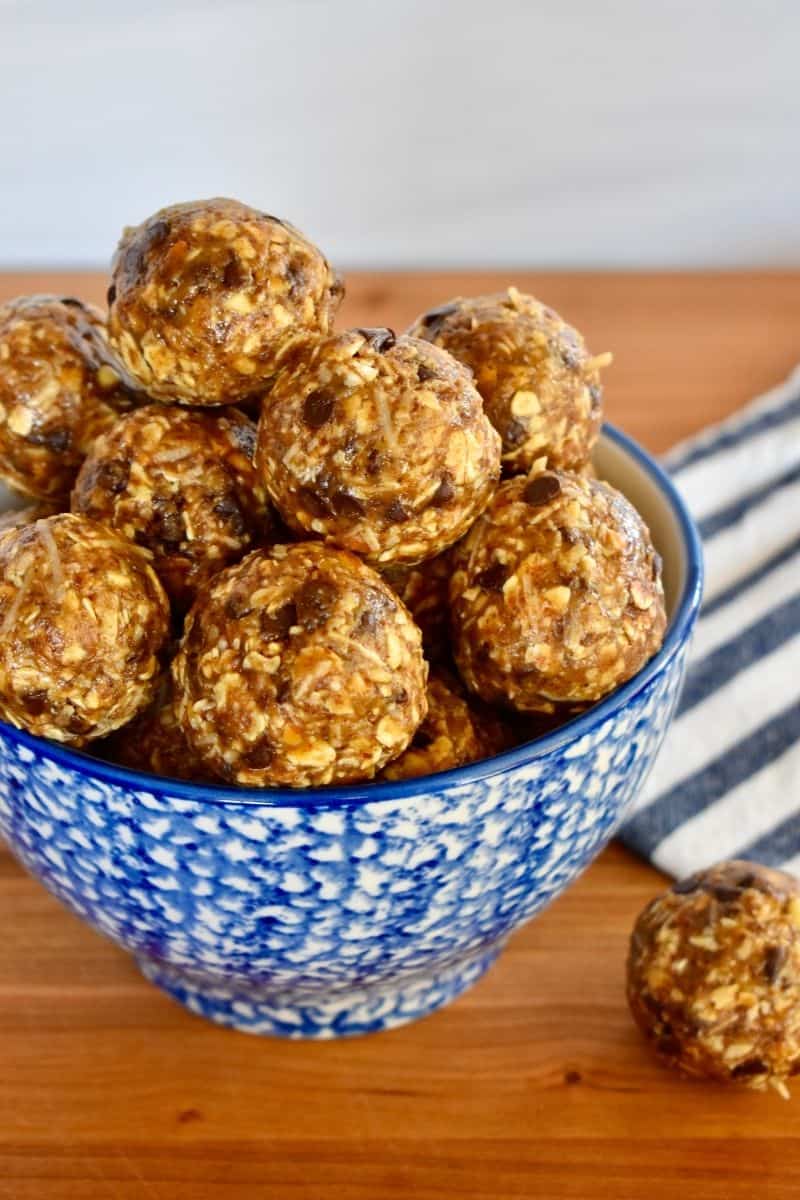 Why this recipe is the best!
Got hungry kids after school? Well these energy balls are the perfect snack to have on hand. So easy to make, just add all of the ingredients in a bowl, stir, roll, and refrigerate… done! And, because this is made without dates, you don't even need a food processor to make them.
The great part, they are so delicious and taste just like an Almond Joy bar, but so much healthier! These protein-packed treats are a great alternative to granola and cereal bars too.
These balls stay fresh in the refrigerator for up to two weeks. They are a great treat to add to lunches or snack on when you're hungry.
Also, you can get the kids to help roll the balls because they keep their form and won't crumble in little hands. So whip up a batch today and enjoy!
Love energy balls? Don't miss my no-bake Carrot Coconut Energy Balls, or my fall favorite Pumpkin Spice Energy Balls with white chocolate chips. Looking for another after school treat? Don't miss my super easy Donut and Fruit Kabob Skewers!
Recipe Ingredients and Notes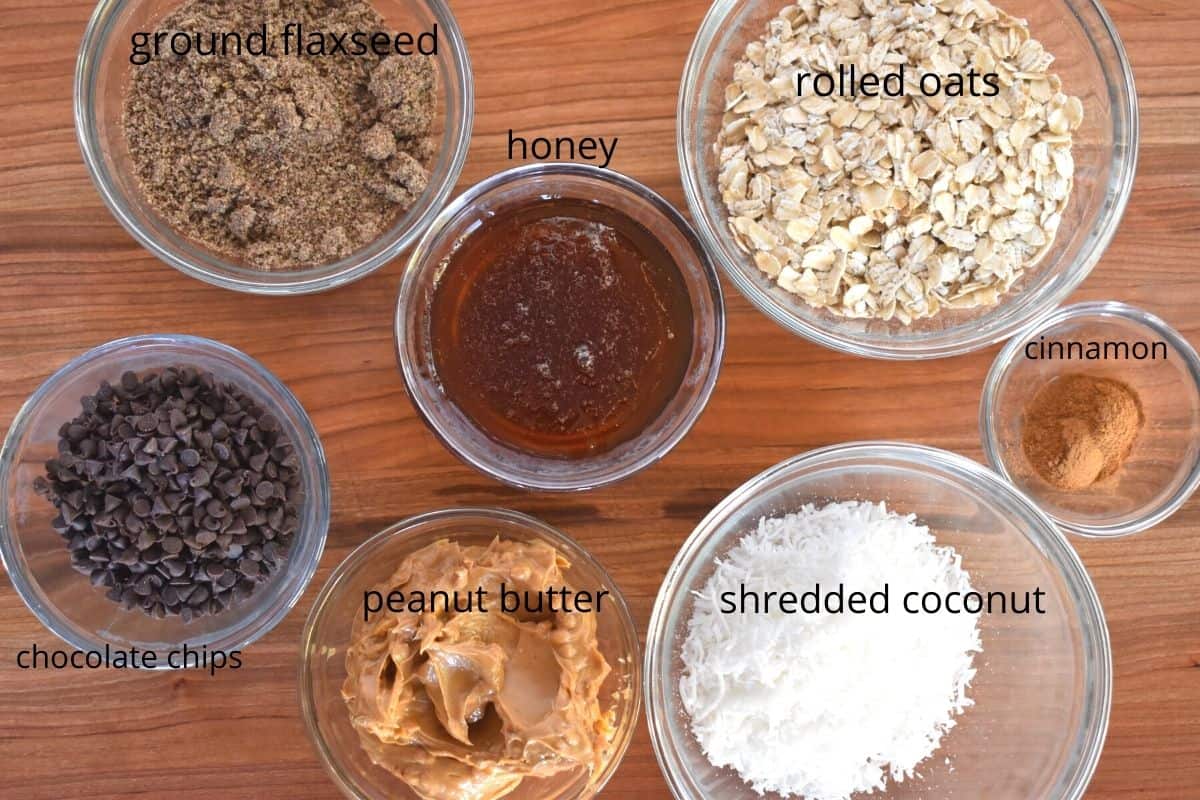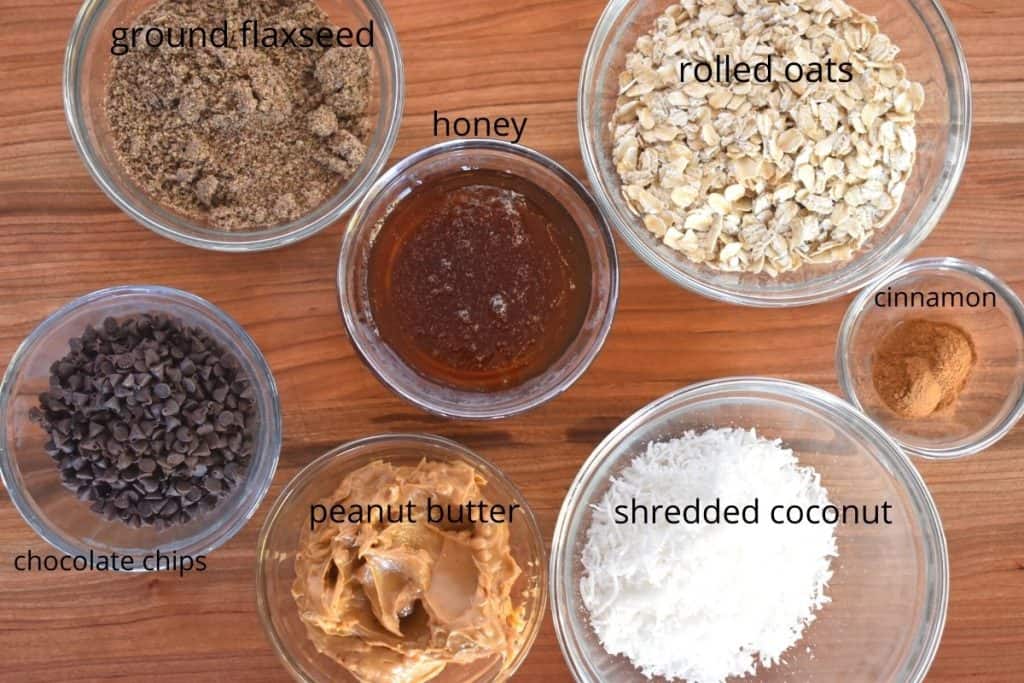 These energy balls only have seven ingredients: rolled oats, ground flaxseed, shredded sweetened coconut, honey, peanut butter, mini chocolate chips, and cinnamon. Read on to see necessary ingredients and substitutions for this recipe.
Rolled oats: this is a necessary ingredient. Substitute gluten-free oats if you are looking to ensure that all gluten is omitted in this recipe.
Ground flaxseed: this gives the energy balls a nutty flavor. If you don't have flaxseed, you can use equal part rolled oats its place.
Peanut butter: you can use any nut butter you like, or even sun butter if there is a nut allergy. Almond butter would be an excellent substitute. I like to use chunky peanut butter, but smooth works too.
How to make chocolate coconut energy balls without dates
This recipe comes together in just a couple of minutes with no special equipment required! All you need is a large mixing bowl and spoon.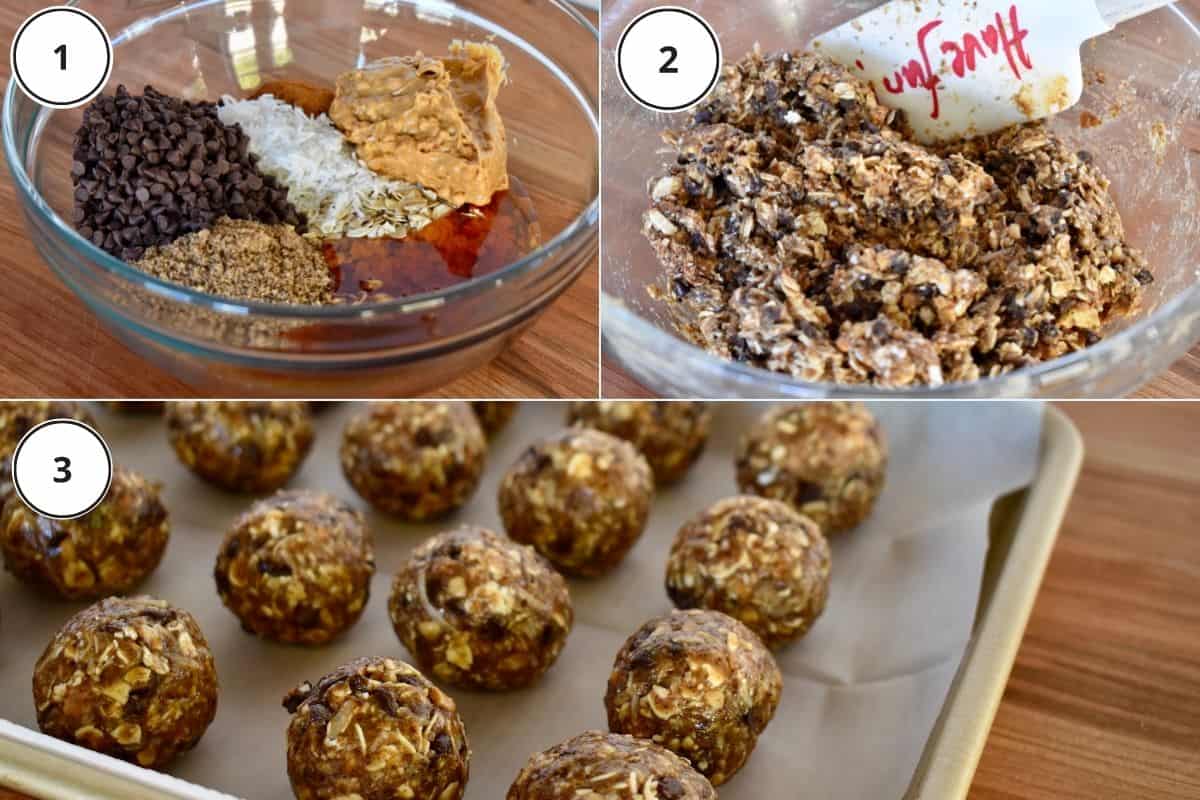 Simply add all of the ingredients into a large mixing bowl (step 1). Use a spoon or rubber spatula to mix together the ingredients, being sure that they are all well incorporated (step 2).
Lastly, using a cooking scoop or spoon, measure out about 18 equal parts of the dough. Use your hands to roll into balls and place on a lined baking sheet (step 3). Refrigerate for at least 15 minutes, and that's it! No baking and only one bowl to clean.
Recipe Tips and FAQs
Related Recipes
Energy balls are a great on-the-go snack or easy breakfast treat. I like to have a variety of options prepped in the fridge so that there's always something to grab when I'm hungry. Here are some other delicious snacks to have on hand.
If you are craving something sweeter, this Zucchini Ricotta Bundt Cake is a moist breakfast cake that's great served cold on the go. Olive Oil Bundt Cake is another delicious breakfast treat that's made with healthy olive oil instead of butter.