This recipe for Loaded Cookie Pie is a great alternative to cookies, and even easier to make! Slice up like a cookie pizza, and kids will love having a slice by itself or with ice cream.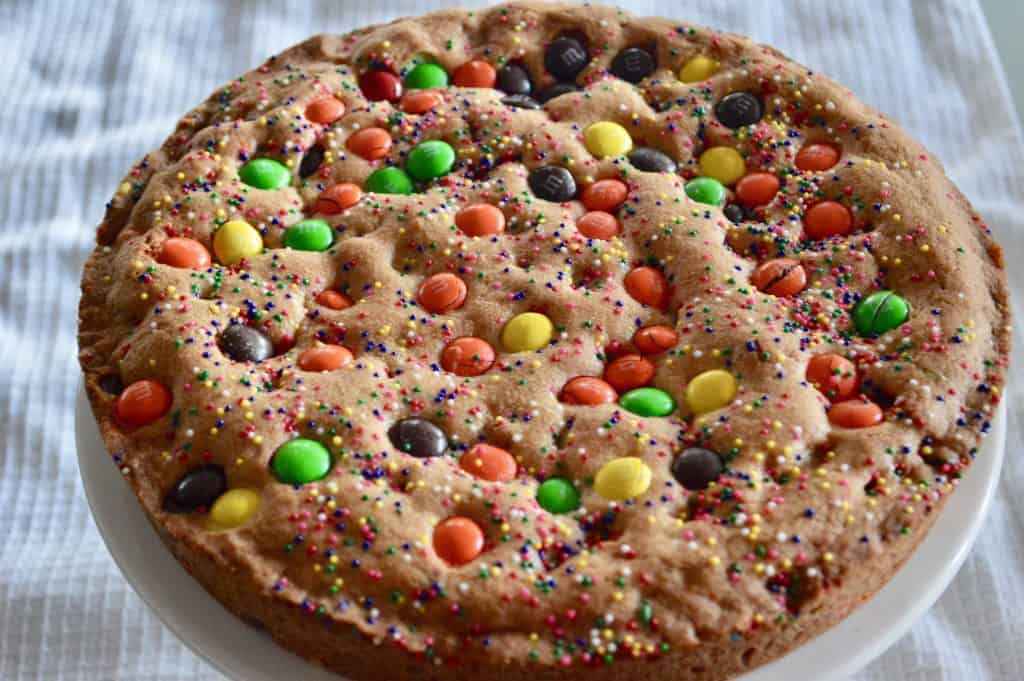 Kids and adults are going to love having a slice of this delicious and so easy to make loaded cookie pie. Moreover, it is perfect as a birthday cake or a back-to-school treat! Can you imagine kids faces when they see this giant cookie pie?! Whip up a batch today and give them a big surprise.
This is a great dessert to make for birthday parties or holiday get togethers, especially when kids are involved. So easy to make and you can substitute whatever yummy toppings you have on hand. Thus, this would be great with Reeces Pieces, chopped up peanut butter cups, or really any chocolaty treat you have.
How to Make a Giant Cookie Pie
Making loaded cookie pie couldn't be easier. Done just like cookies in a stand up mixer, add in some extra treats, sprinkle the top, and bake for about 26-28 minutes.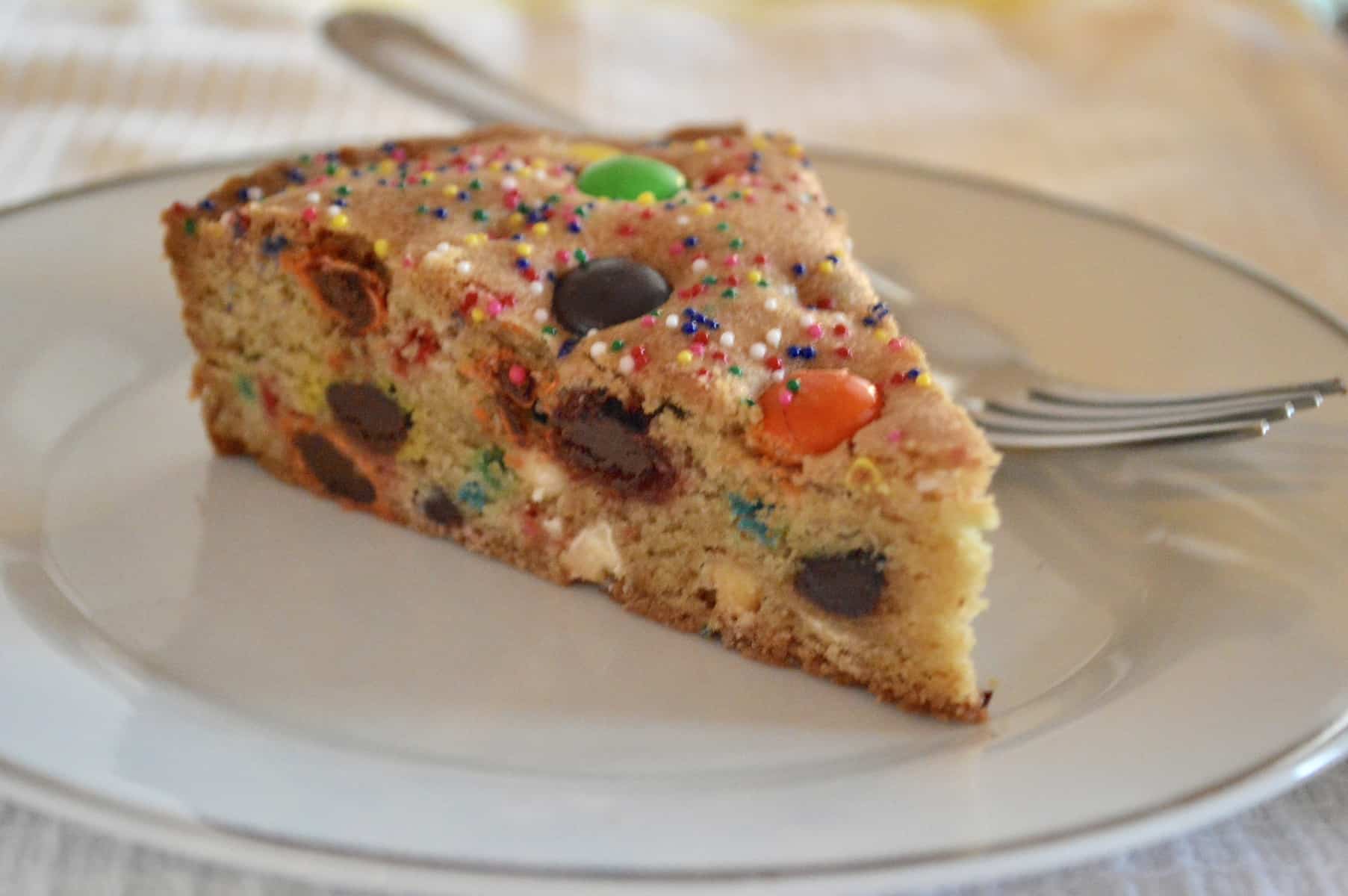 This recipe makes 2 pie/cake sized giant cookies, so you could even sandwich ice cream between them to make a giant ice cream sandwich! Who wouldn't love that?!
Surprise your loved ones with this awesome treat that's so delicious and easy to make. Enjoy!
Be sure to check out some of my other delicious treats:
Loaded Cookie Pie
A fun and easy alternative to individual cookies. Bake these cookies in a pan and serve a slice! Great for birthdays or a treat. Makes two 9-inch round cakes. Could also sandwich between ice-cream for the ultimate cookie sandwich cake!
Ingredients
2

sticks

unsalted butter, softened

1

cup

granulated sugar

1

cup

brown sugar, packed

3

large

eggs

2

teaspoons

vanilla

3

cups

all purpose flour

3/4

teaspoon

baking soda

1/2

teaspoon

salt

1

cup

chocolate chips

1/2

cup

white chocolate chips

1/2

cup

M&M's (plus more for decorating)

1/4

cup

Sprinkles (plus more for decorating)
Instructions
Preheat oven to 350 degrees. Spray two 9-inch cake pans with cooking spray and line bottom with parchment paper.

In a stand up mixer, cream the butter and sugars. Add in the eggs and vanilla and mix until combined scraping down the edges and bottoms of the bowl. Next, add in the flour, baking soda, and salt, and mix until combined. Fold in the chips and sprinkles.

Put half of the dough into each of the prepared pans. Use damp hands or a spatula to press down dough. Sprinkle on extra M&M's and sprinkles for decoration. Bake for 26-28 minutes or until tops are golden brown. Cool on wire rack for 10 minutes before removing from pans.
Notes
For a fun and easy birthday cake, sandwich ice-cream between the two cake layers for a giant ice-cream sandwich! 
Here at This Delicious House, I strive to provide my readers with simple and delicious recipes and meals. Sign up for our weekly newsletter and get simple and fun party ideas and recipes in your inbox.
Check out my super easy to make 3-Ingredient Oreo Cake Pops!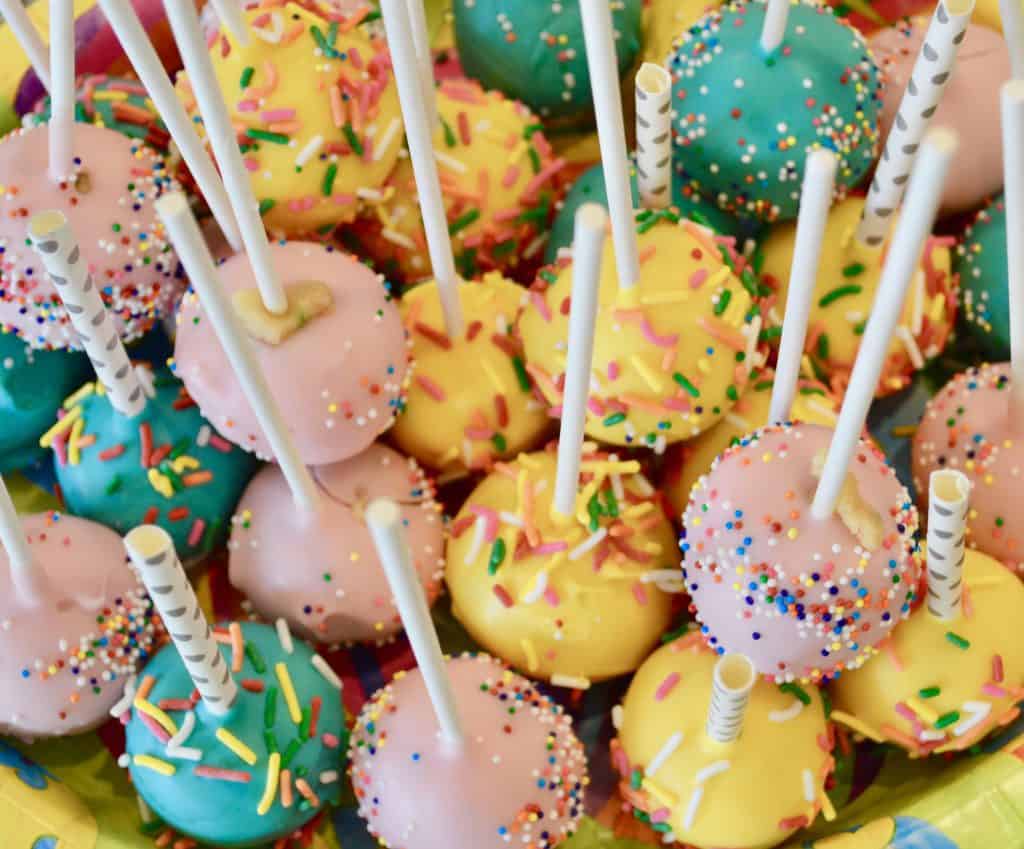 P.S. Stay up-to-date and Sign Up for recipes to your inbox!