Healthy, low carb, and so easy to make, don't miss these delicious Stuffed Zucchini Boats filled with lean ground turkey and tasty Italian flavors.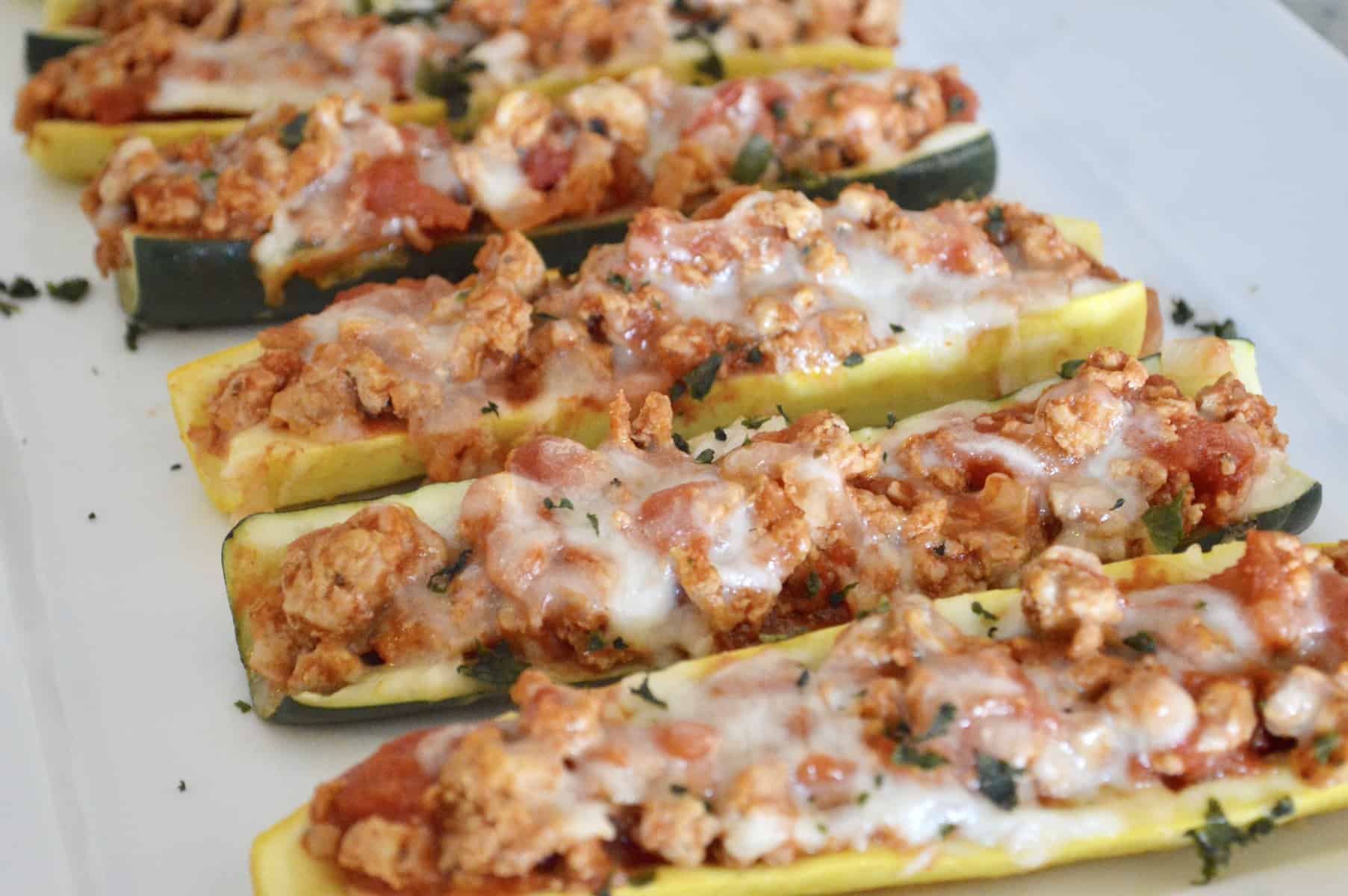 So easy to make and full of flavor, these Stuffed Zucchini Boats are the perfect weeknight dinner. Low calories (only 320 per serving!), low carbs, and so full of flavor!
This would be a great way to use up the surplus of zucchini that many gardeners get. The dish can also be made ahead and frozen for an easy and delicious zucchini freezer meal.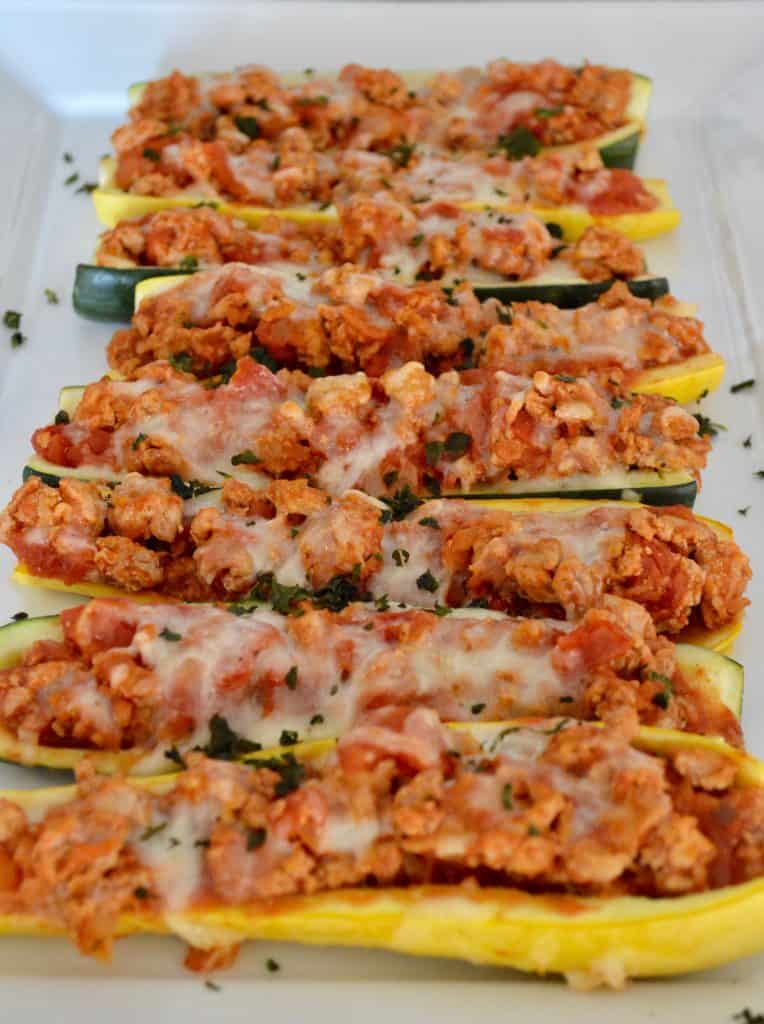 Stuffed Zucchini Boats is a great diet refresh recipe too. Works well with Keto diet and the Mediterranean diet, and it's so yummy and kid friendly that the whole family will love it too.
How to make stuffed zucchini boats
The recipe couldn't be simpler either. Just cook the filling and bake for 35 minutes. The dish can even be made ahead and refrigerated until ready to bake.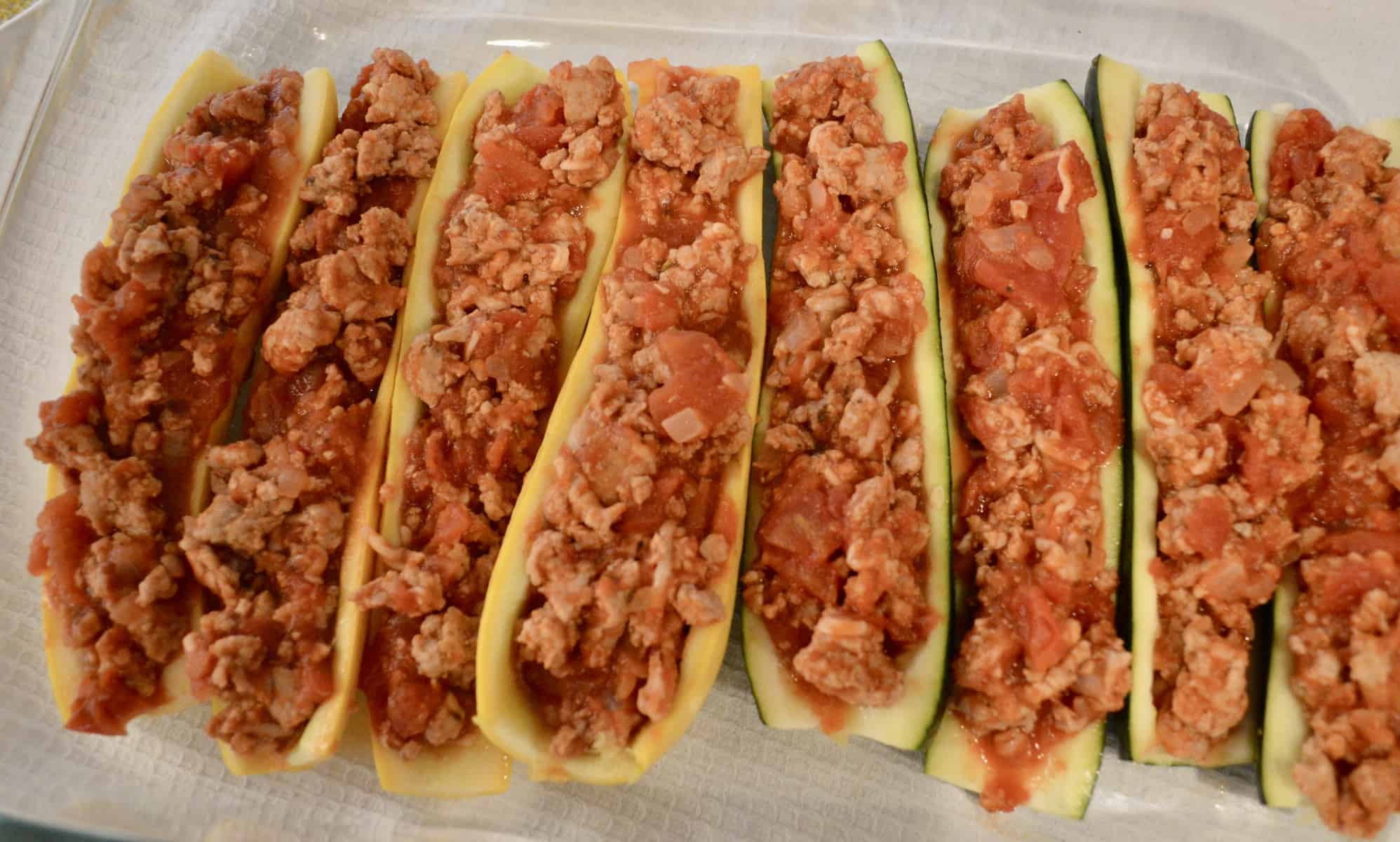 Stuff the hollowed out zucchini and/or yellow squash and add the filling. Lastly, top with cheese, cover with foil, and bake, removing the foil during the final five minutes of cooking.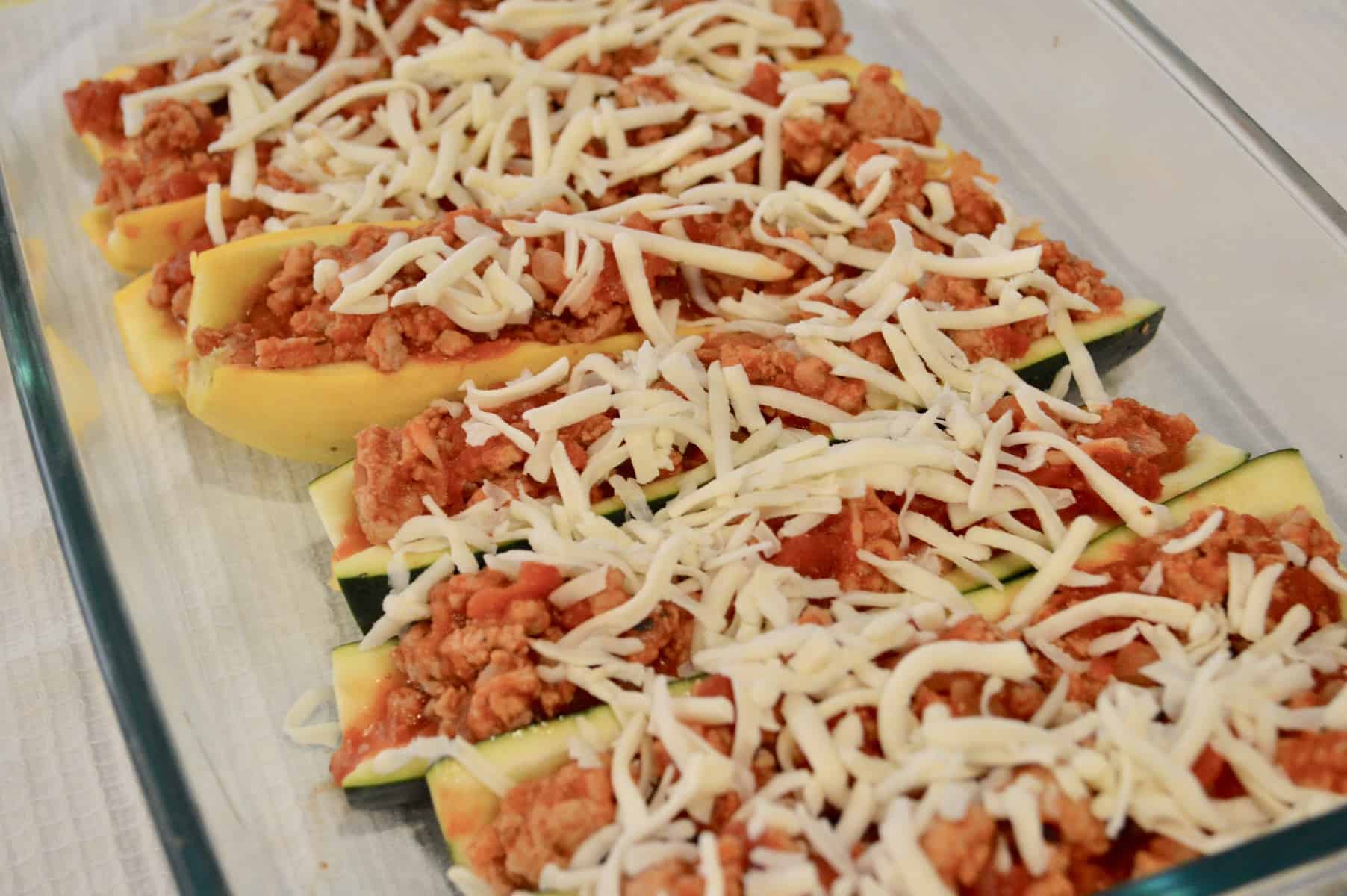 Let the zucchini boats sit five minutes before serving. Delicious, healthy, and so easy! Makes for amazing leftovers too.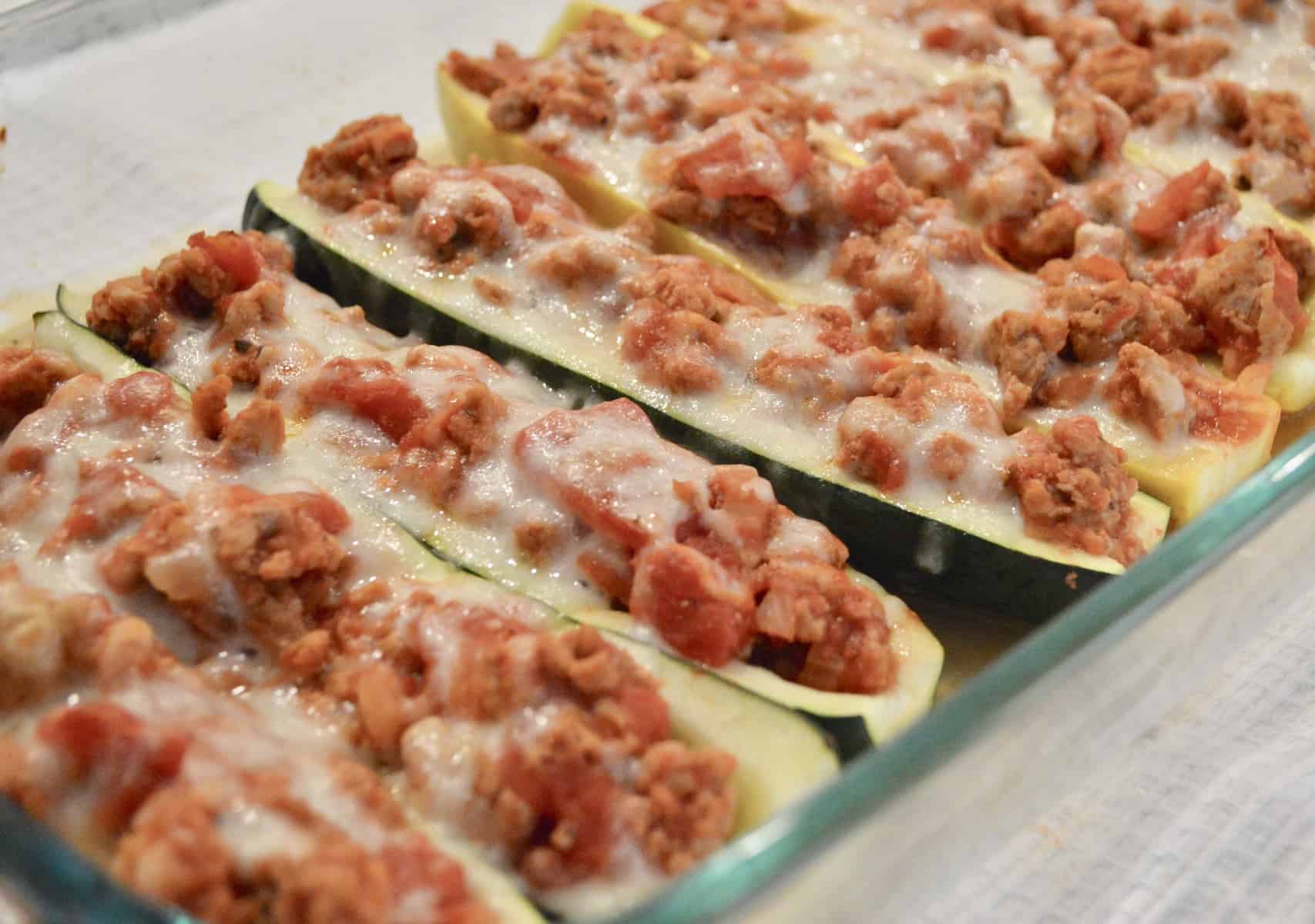 Lastly, garnish with chopped basil if desired. Enjoy!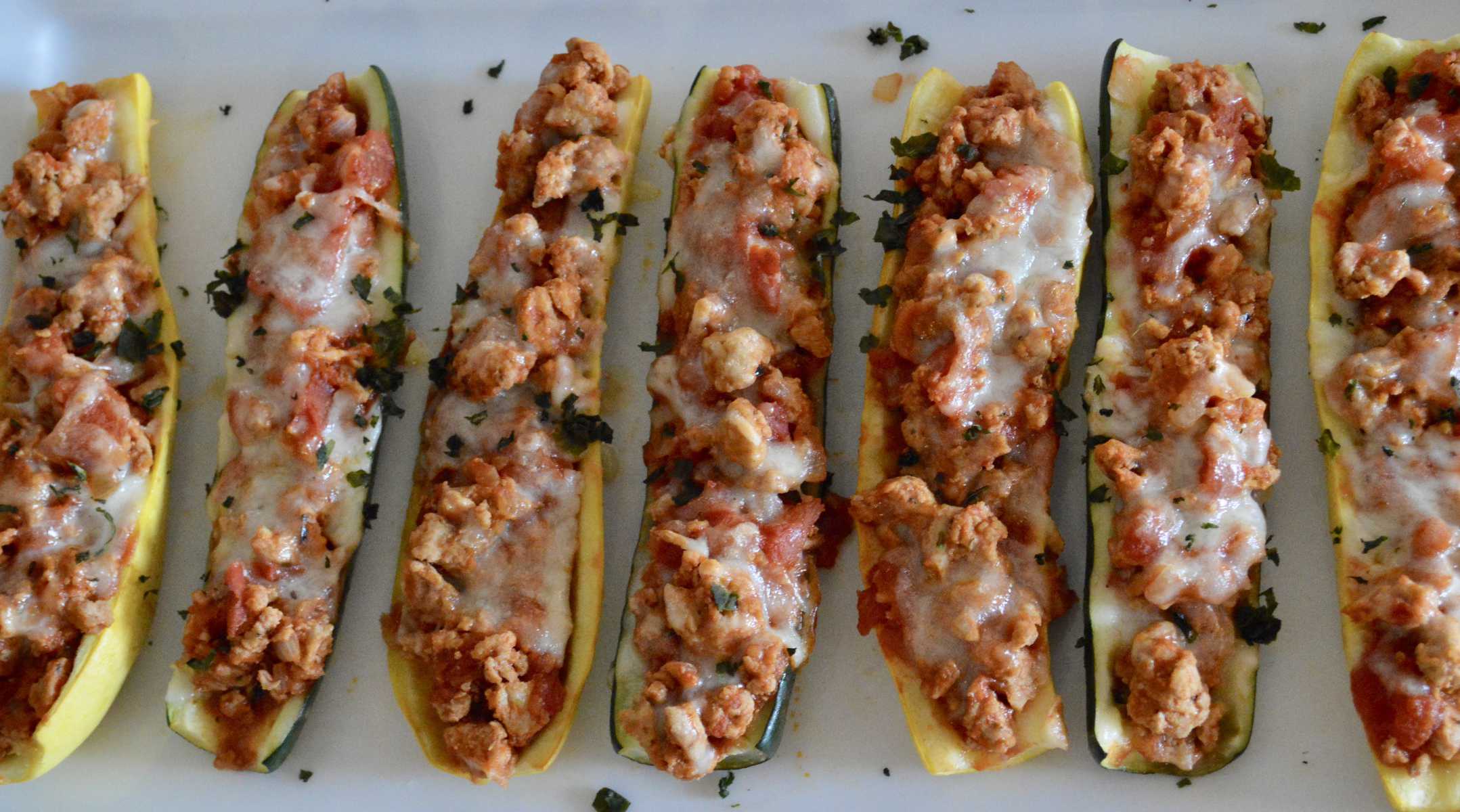 Check out my other quick weeknight dinner ground turkey recipes like: Cheesy Taco Pasta and Green Enchilada Casserole.
Make these easy zucchini boats tonight and feel good about the healthy protein-packed meal you are eating!
Italian Stuffed Zucchini Boats
So easy and healthy, these Stuffed Zucchini Boats are low carb and totally satisfying. Use either all zucchini, all yellow squash, or a combination of both.
Ingredients
4

zucchini or yellow squash

about 1 3/4 pounds total

1

teaspoon

olive oil

1/2

cup

onion, diced

1

clove

garlic, minced

2

tablespoons

tomato paste

1

pounds

ground turkey

1

teaspoon

Italian seasoning

1/4

teaspoon

kosher salt

1

15 ounce can

diced tomatoes

1/4

cup

parmesan cheese, shredded

1/2

cup

mozzarella cheese, shredded

chopped basil for serving (optional)
Instructions
Preheat oven to 400 degrees. Cut the zucchini and squash in half lengthwise and remove seeds and some of the flesh using a metal spoon. Set aside.

Heat oil in a skillet over medium heat. Add in the onion and cook until softened, about 2-3 minutes. Add in garlic and tomato paste and cook for another minute. Push the onion mixture to the sides of the pan and add in the ground turkey, breaking up with a spoon. Add in salt and Italian seasoning, and cook until meat is brown, about 8 minutes. Pour in the canned tomatoes (undrained) and simmer on low for 3-4 minutes until thickened. Stir in the parmesan.

Fill the zucchini and squash cavities using the ground turkey mixture. Place in a large baking pan and top with mozzarella. Cover with foil and bake for 30 minutes. Remove foil and bake for another 5 minutes. Let sit 5 minutes before serving.
Notes
Make the entire recipe ahead of time and refrigerate. Cover and bake when ready to serve. 
Have a freezer full of ground turkey in your home? Don't miss my Top 10 Ground Turkey recipes and whip up a healthy and fast weeknight dinner in no time! It's a great way to use up all of that ground turkey you have in the freezer.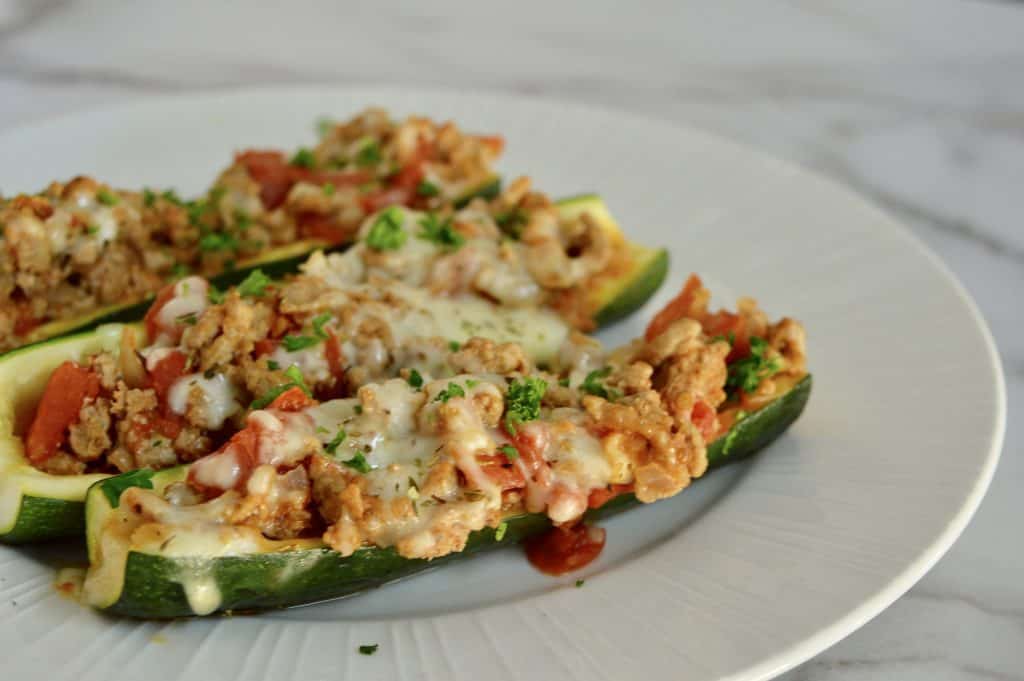 Sign up and never miss a delicious and simple recipe!