Zucchini Ricotta Roll Ups are a healthy, low carb meal that is easy to make and full of flavor. It's a great meatless main dish, or serve it as a side dish or starter course.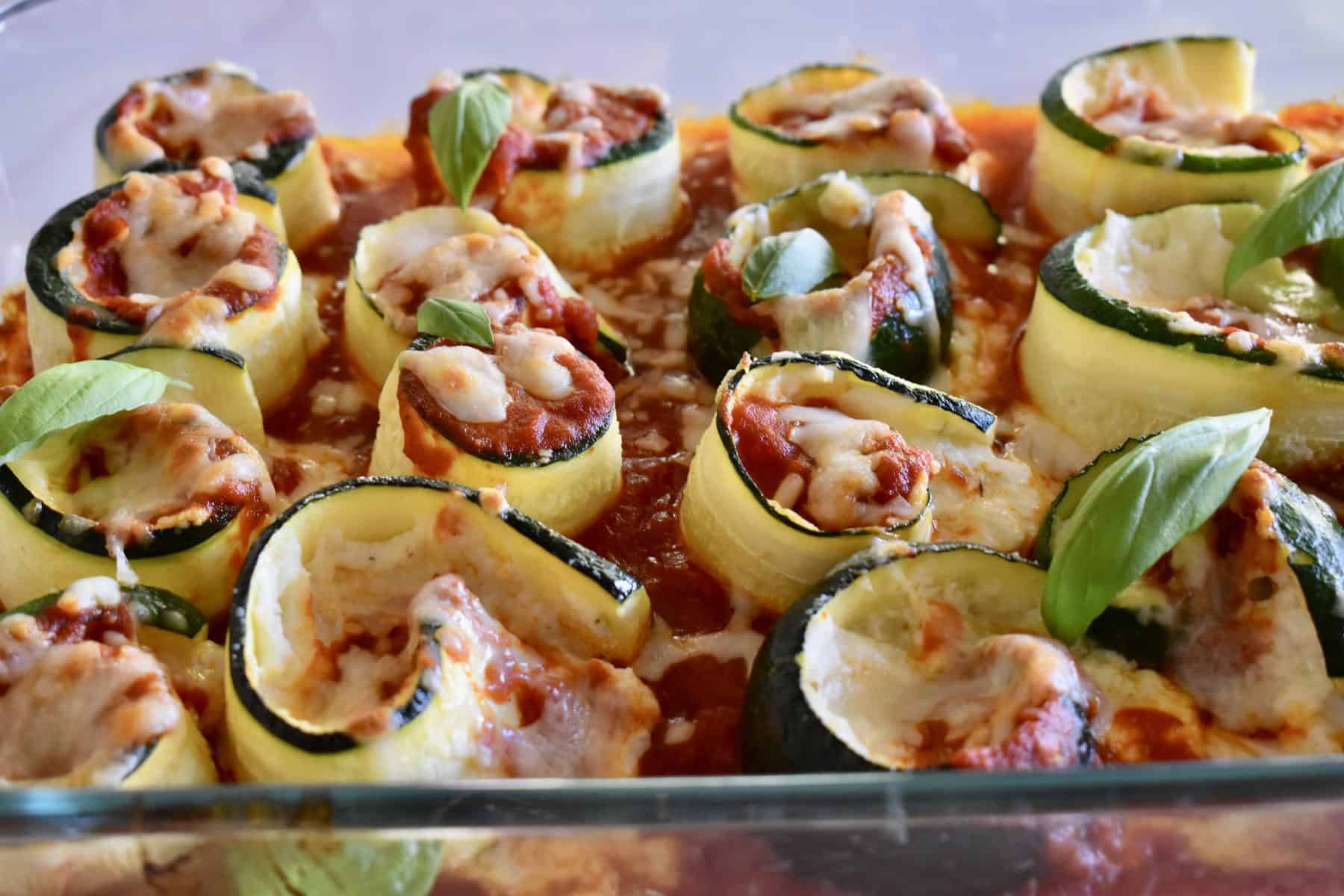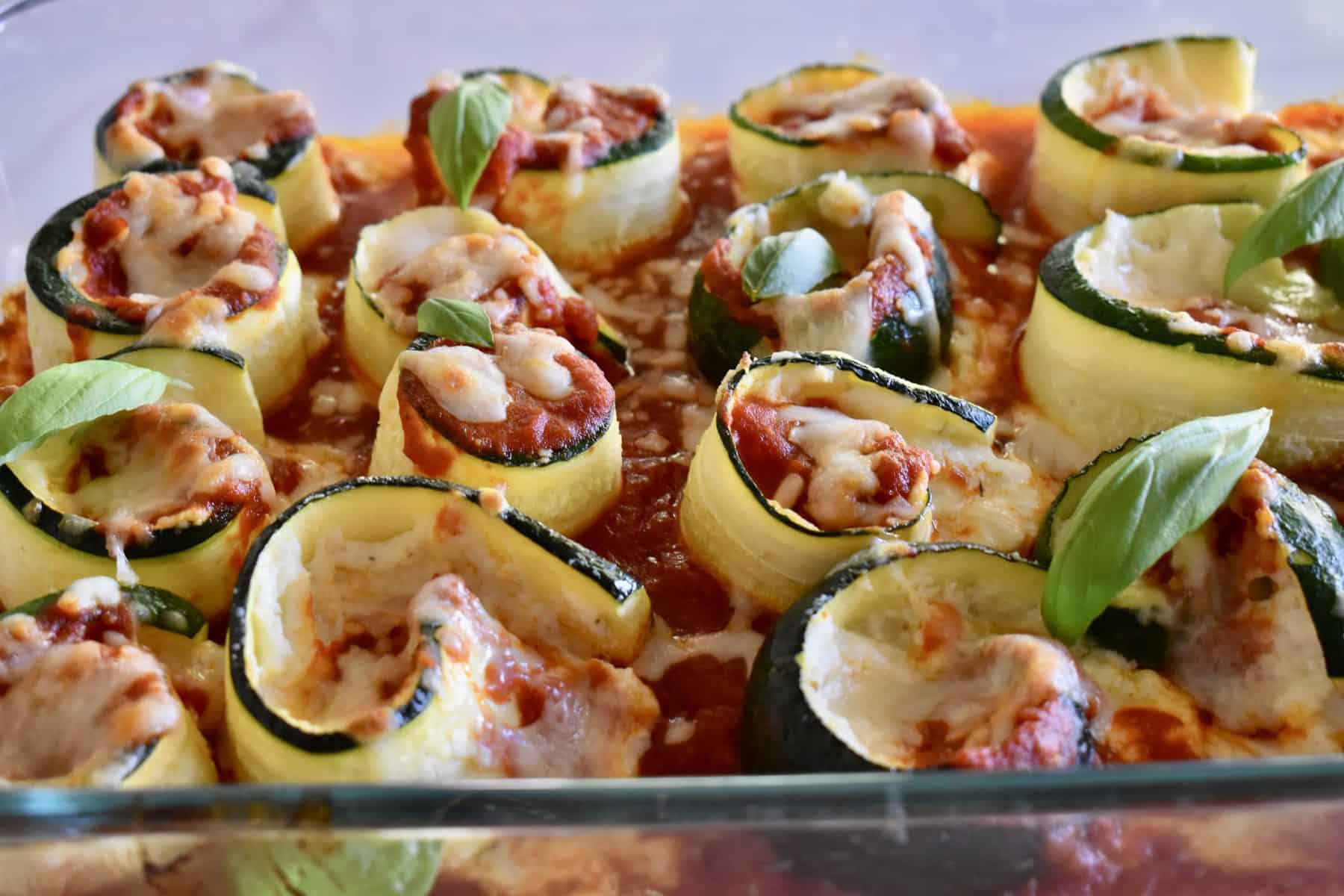 One bite of these roll ups and I guarantee you'll love them! Cheesy and flavorful, these are a perfect dish for any occasion.
Why this recipe works
This simple dish comes together quick and is a delicious low carb option. I love to make these during zucchini season. Plus, it's a great way to get my kids to eat their veggies.
I have managed to make these zucchini roll ups super simple for any home cook by eliminating the need for a mandoline slicer. My secret is using a sharp knife and slicing the zucchini lengthwise then roasting it.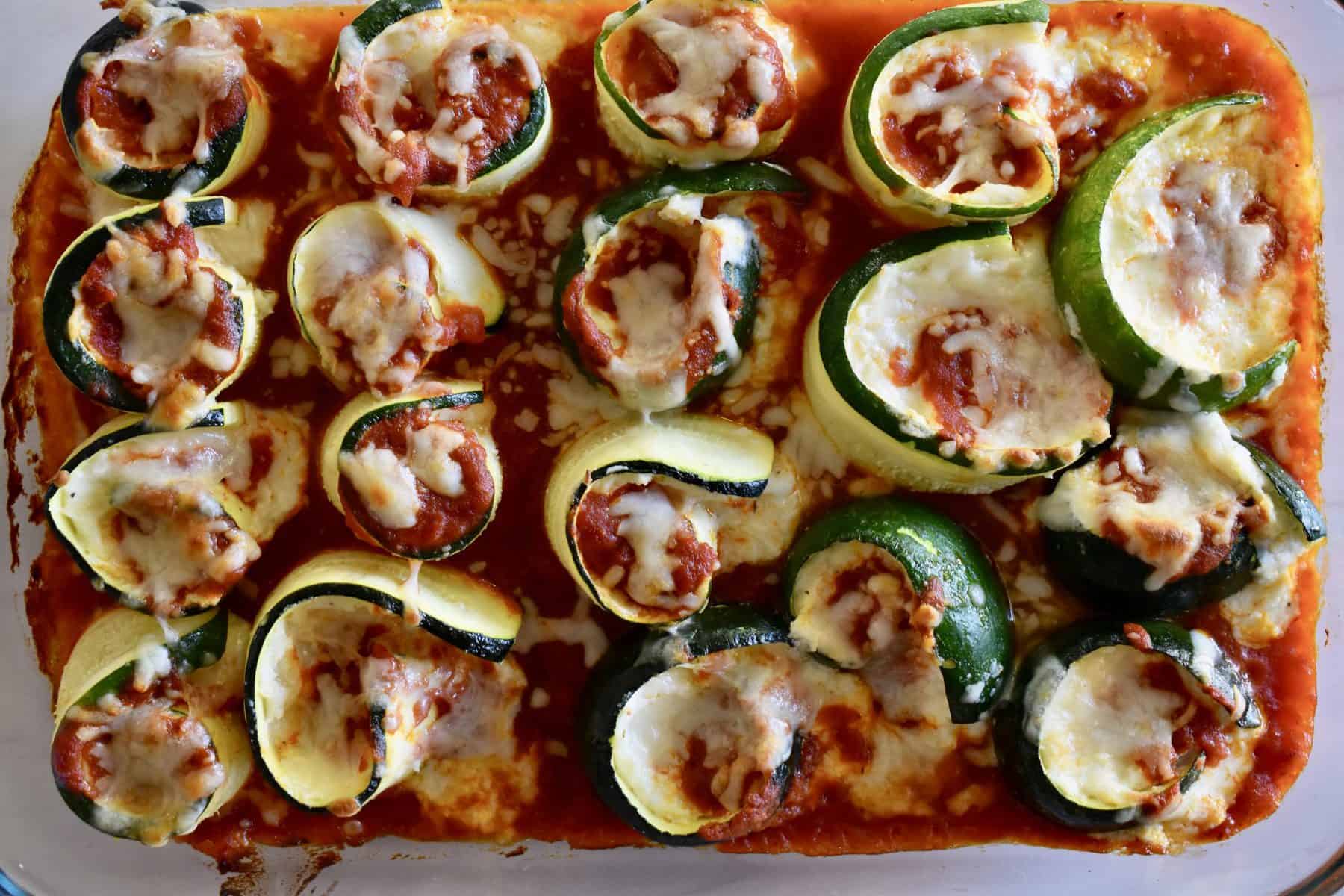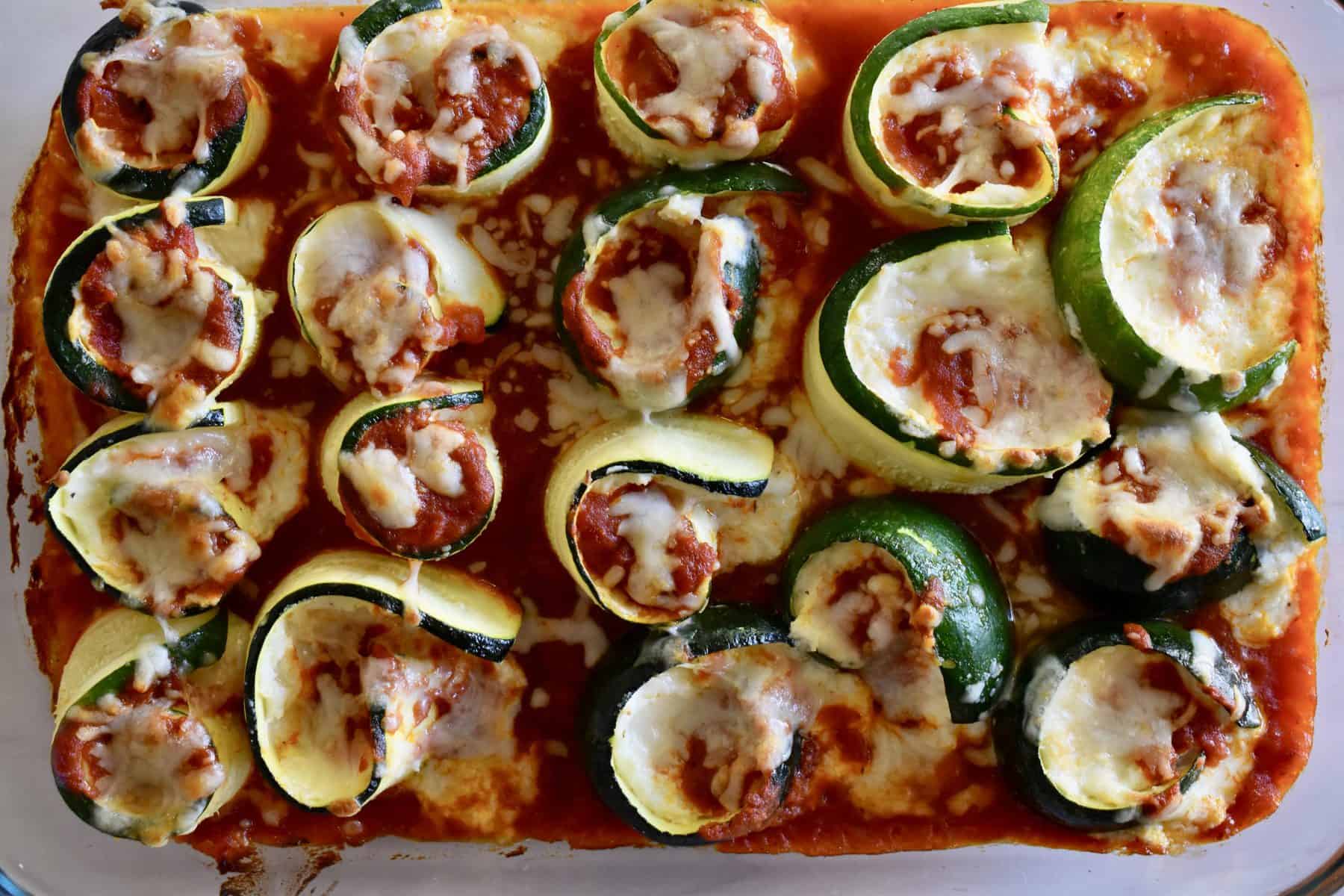 Read on to see how easy it is to make healthy and quick zucchini ricotta roll ups. And if you love healthful Italian-inspired recipes, be sure to check out Turkey Spinach Manicotti and my super easy Italian Polenta Skillet. For a fan-favorite casserole, you don't want to miss this delicious Baked Spaghetti with Ground Turkey!
How to Make Zucchini Ricotta Roll Ups
These zucchini roll ups are super easy and quick to make. And you can even make them ahead and just bake before serving. Read on to see step-by-step how to make zucchini ricotta roll ups.
Step 1: Slice Zucchini and Bake
My key tip for making zucchini roll ups is to roast the zucchini for a couple of minutes ahead of time. This extra step does two things. First, it makes the zucchini so much easier to roll up. Second, it softens the zucchini so that slices don't need to be super thin.
Firstly, cut off the tops and bottoms of the zucchini. Then, holding the zucchini lengthwise, use a sharp knife to carefully slice into 6-7 long pieces. Repeat with all of the zucchini.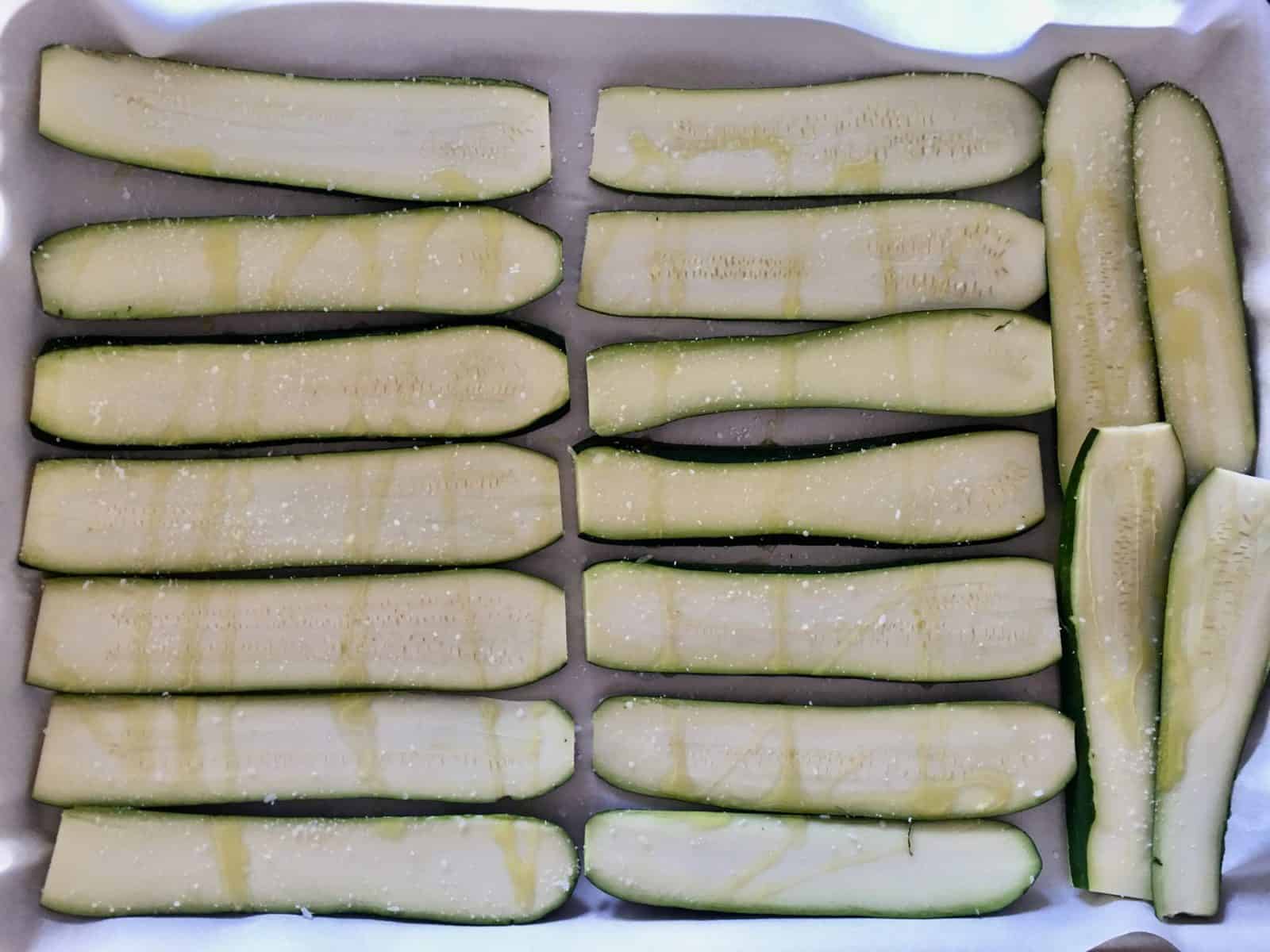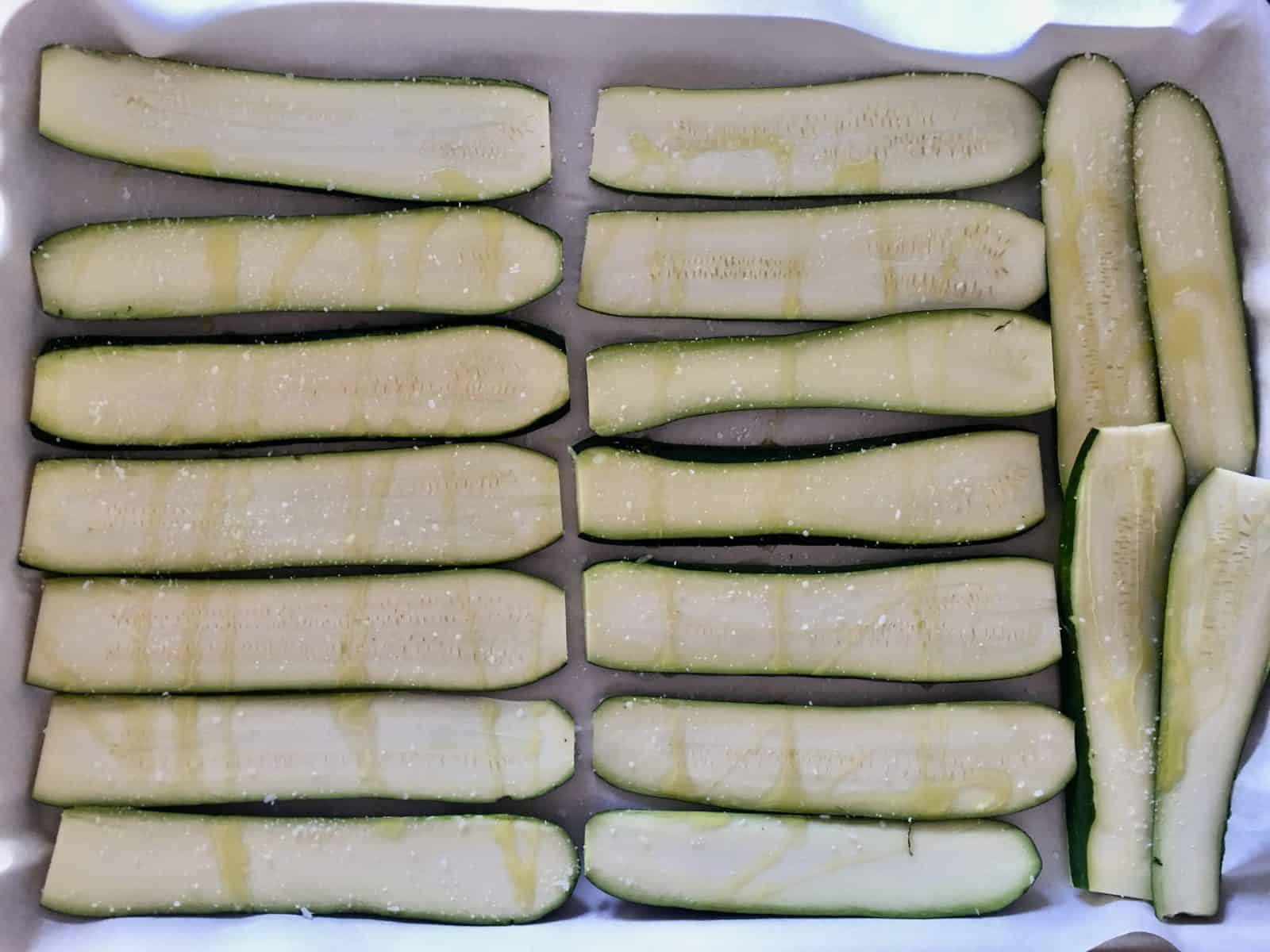 Next, lay the zucchini on a baking sheet lined with parchment paper. Drizzle with olive oil and spinkle on kosher salt. Bake for about 10-15 minutes, until the zucchini softens and becomes pliable.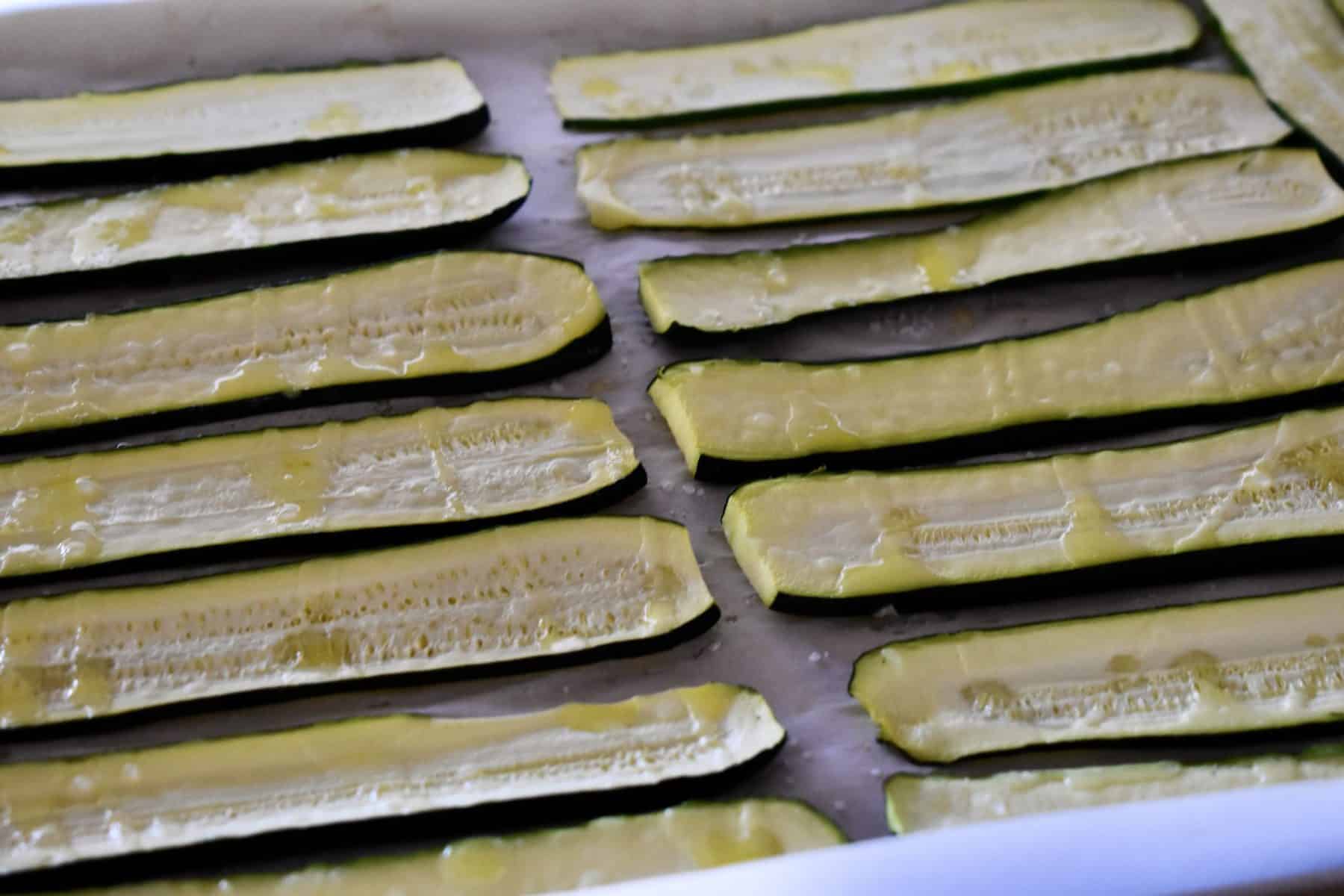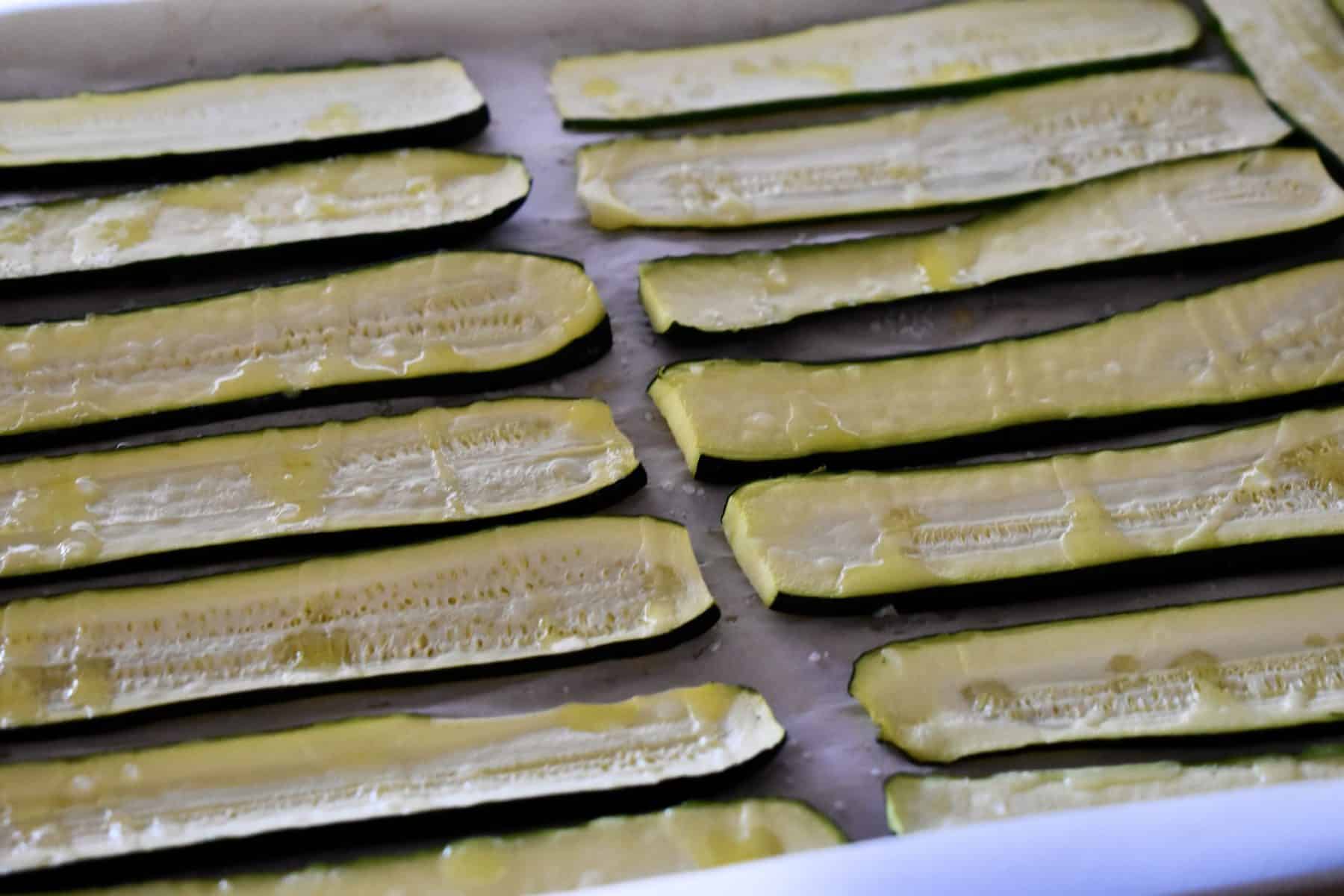 Let the zucchini cool slightly before spooning on the filling.
Step 2: Make the Ricotta Filling
While the zucchini is roasting, make the impossibly easy ricotta filling. No chopping or cooking required! This is a simple one bowl filling that comes together fast.
In a bowl, mix together the ricotta, mozzarella, parmesan, salt, pepper, garlic powder, and Italian seasoning. If you don't have Italian seasoning, you can use dried oregano instead.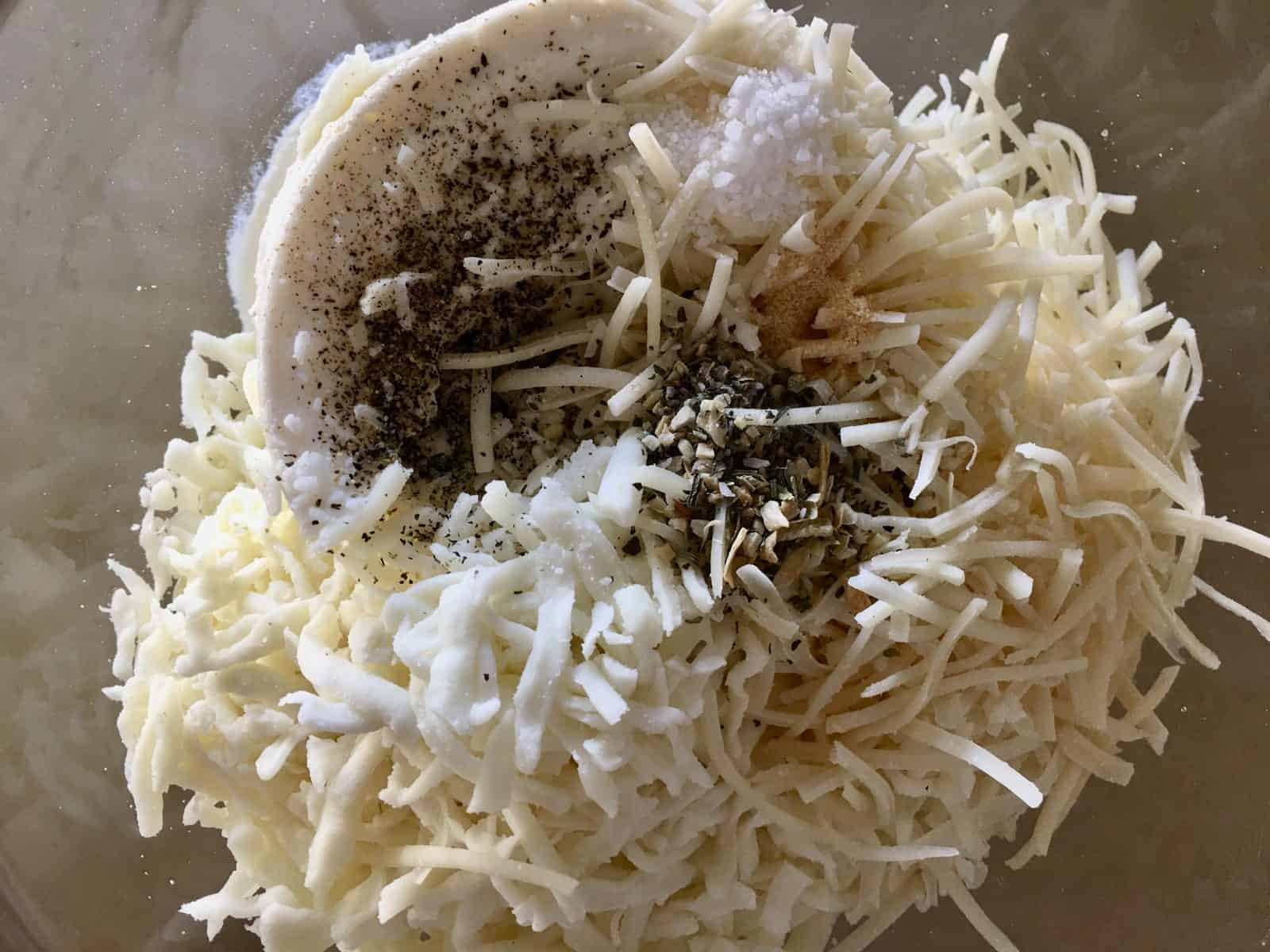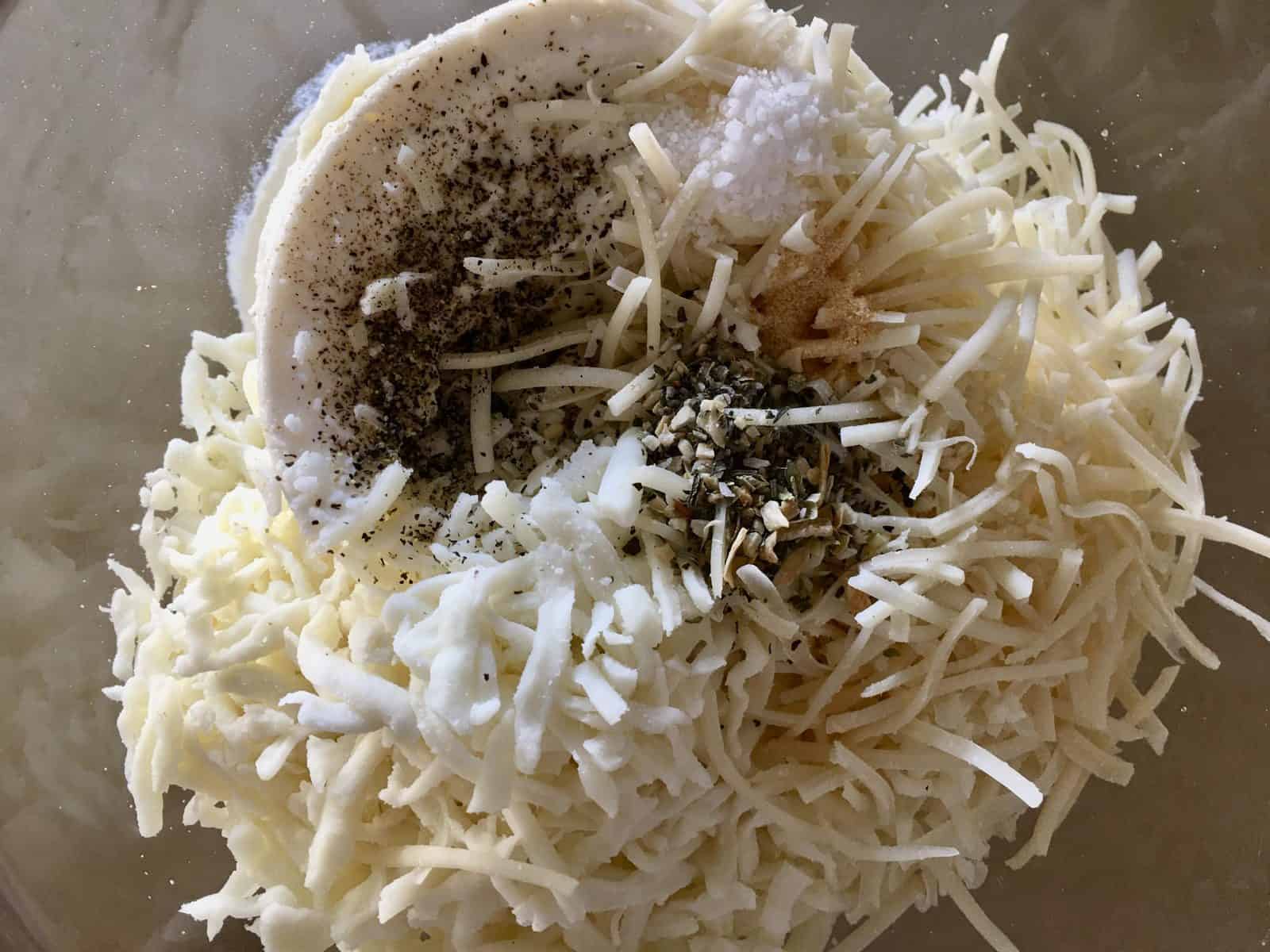 Then, simply mix together the ingredients. And that's it for the ricotta filling!
Step 3: Fill and Bake Zucchini Ricotta Roll Ups
Firstly, prepare the dish you are going to bake the zucchini in by spooning in one cup of marinara sauce on the bottom of the pan. Here, I used a 9 x 13 pyrex glass dish, but you can use any casserole dish you have on hand. A large pie pan or even a skillet would work too.
Next, layout a cooled slice of zucchini and spread on about a tablespoon and a half of ricotta mixture evenly over top of it.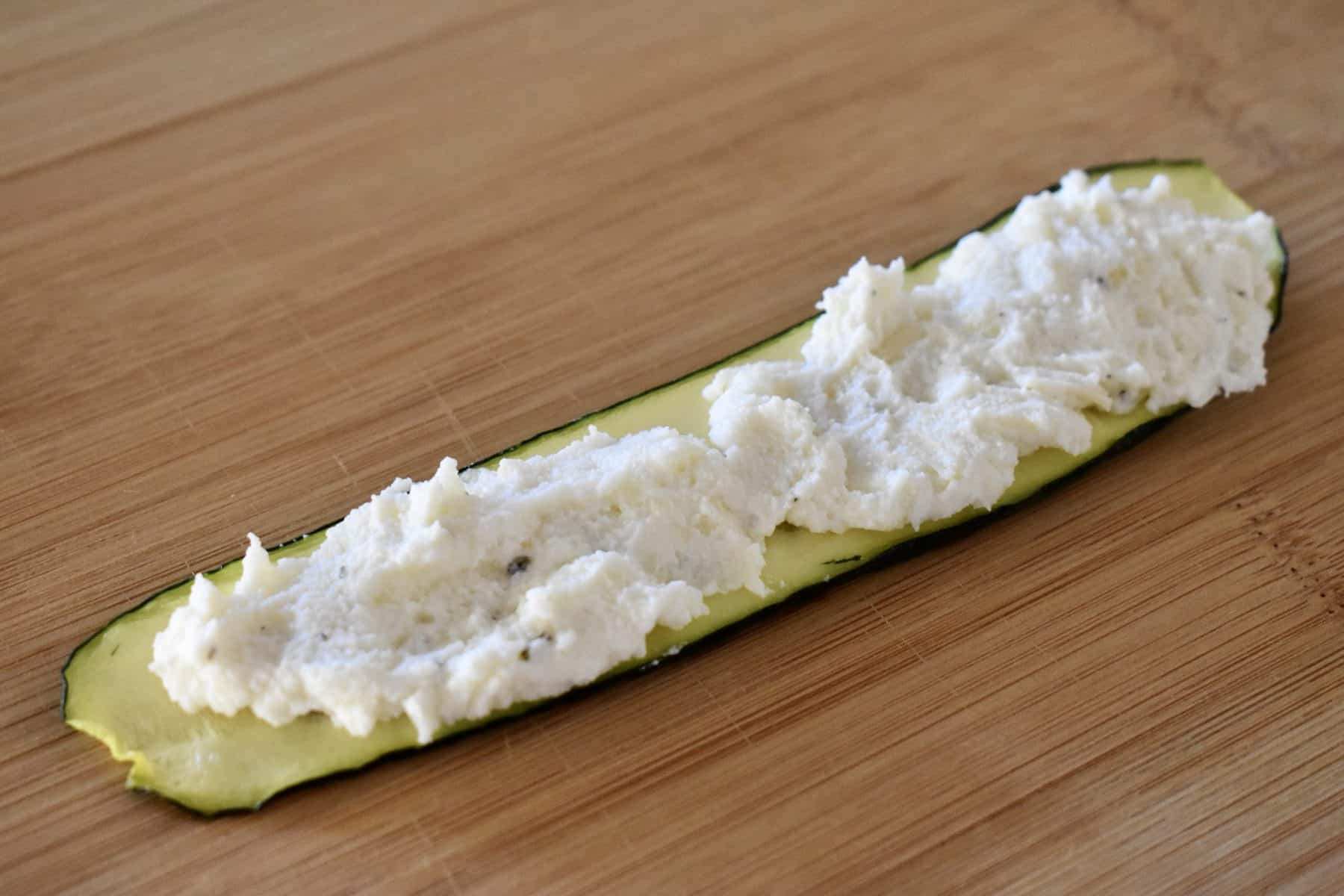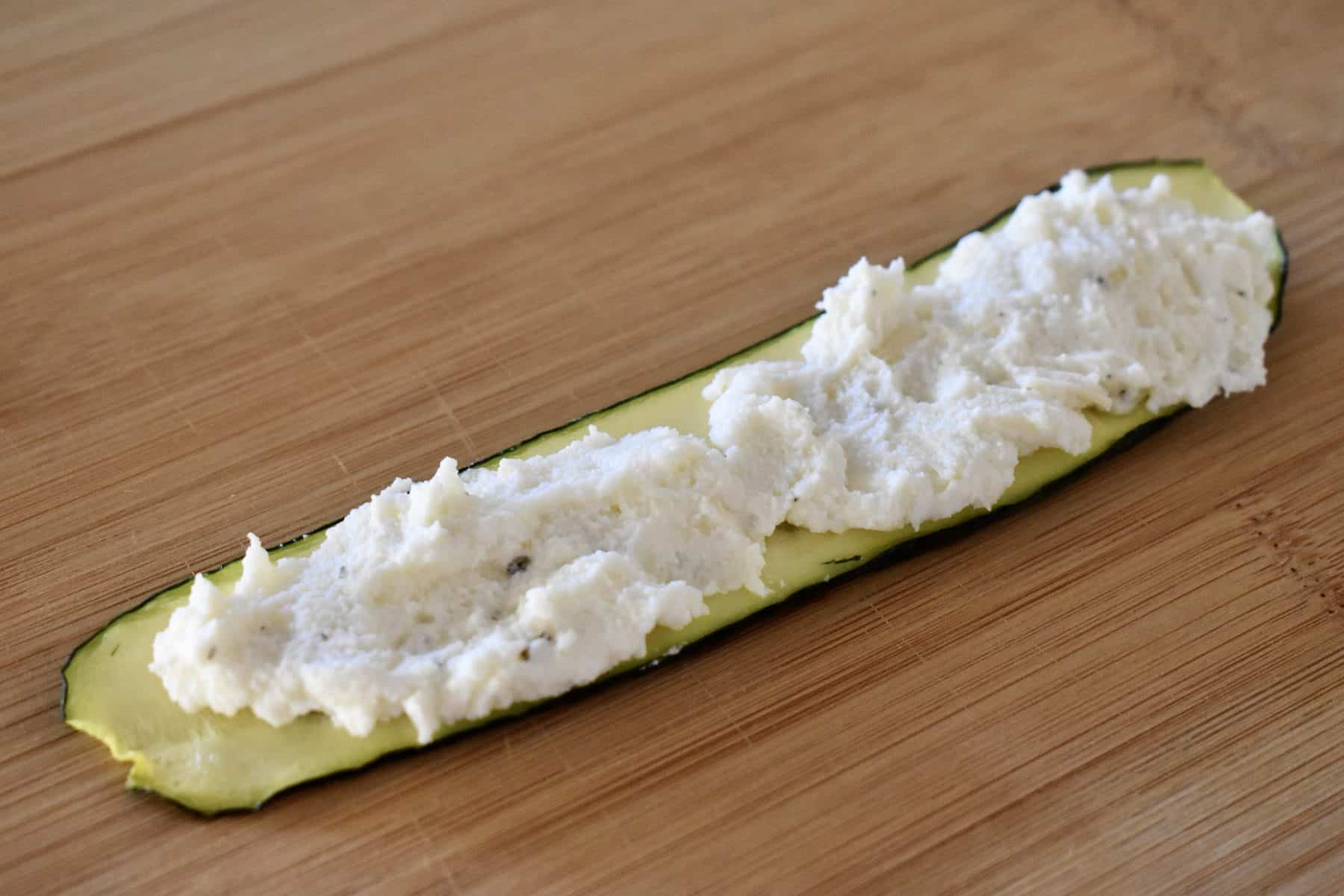 Roll the zucchini up and place upright in the bottom of the prepared pan. Repeat with remaining zucchini and ricotta mixture. If you are using a smaller pan, you can squeeze the zucchini roll ups together, or spread them out in a larger pan.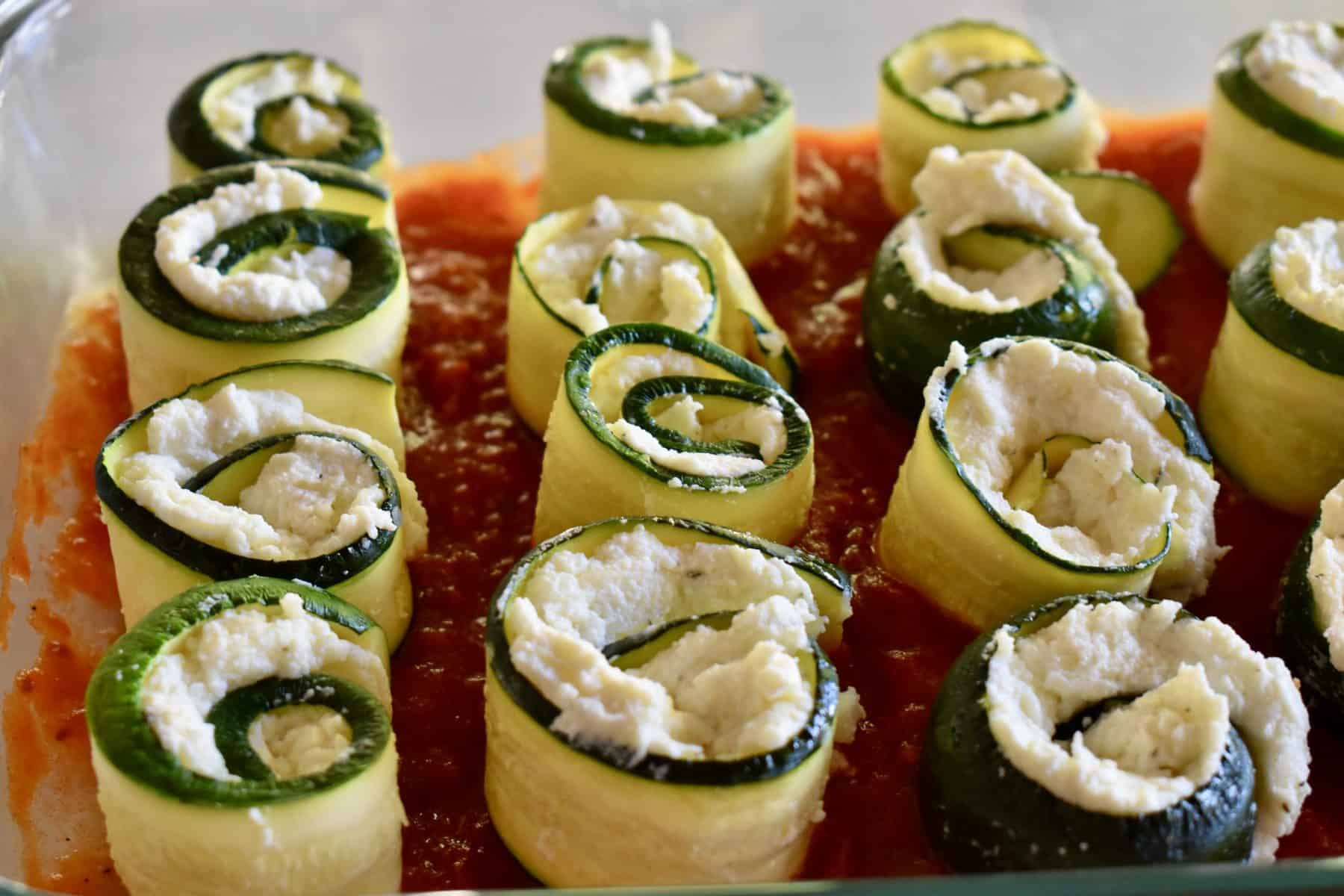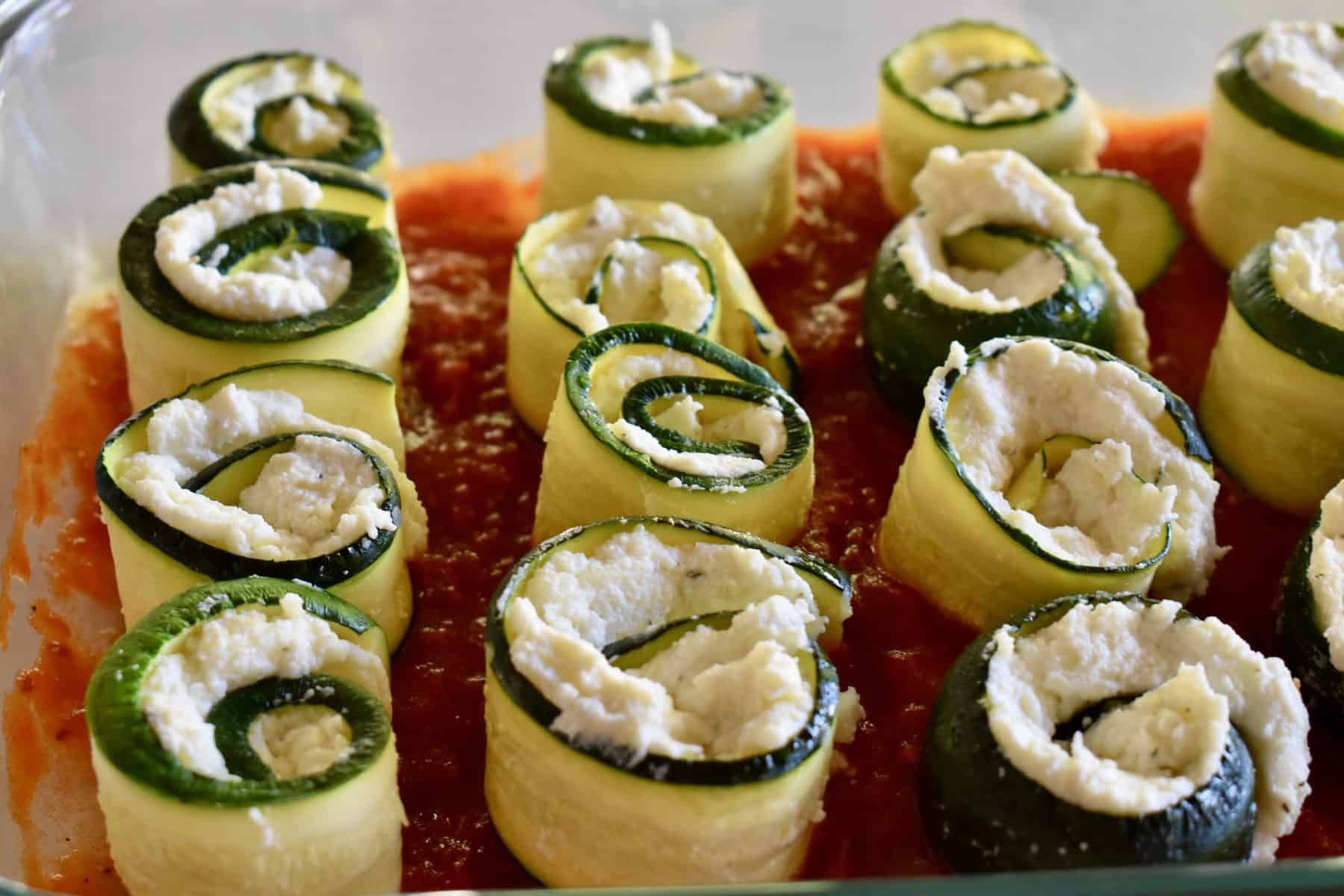 Lastly, use remaining half cup of marinara and mozzarella to top each of the zucchini roll ups.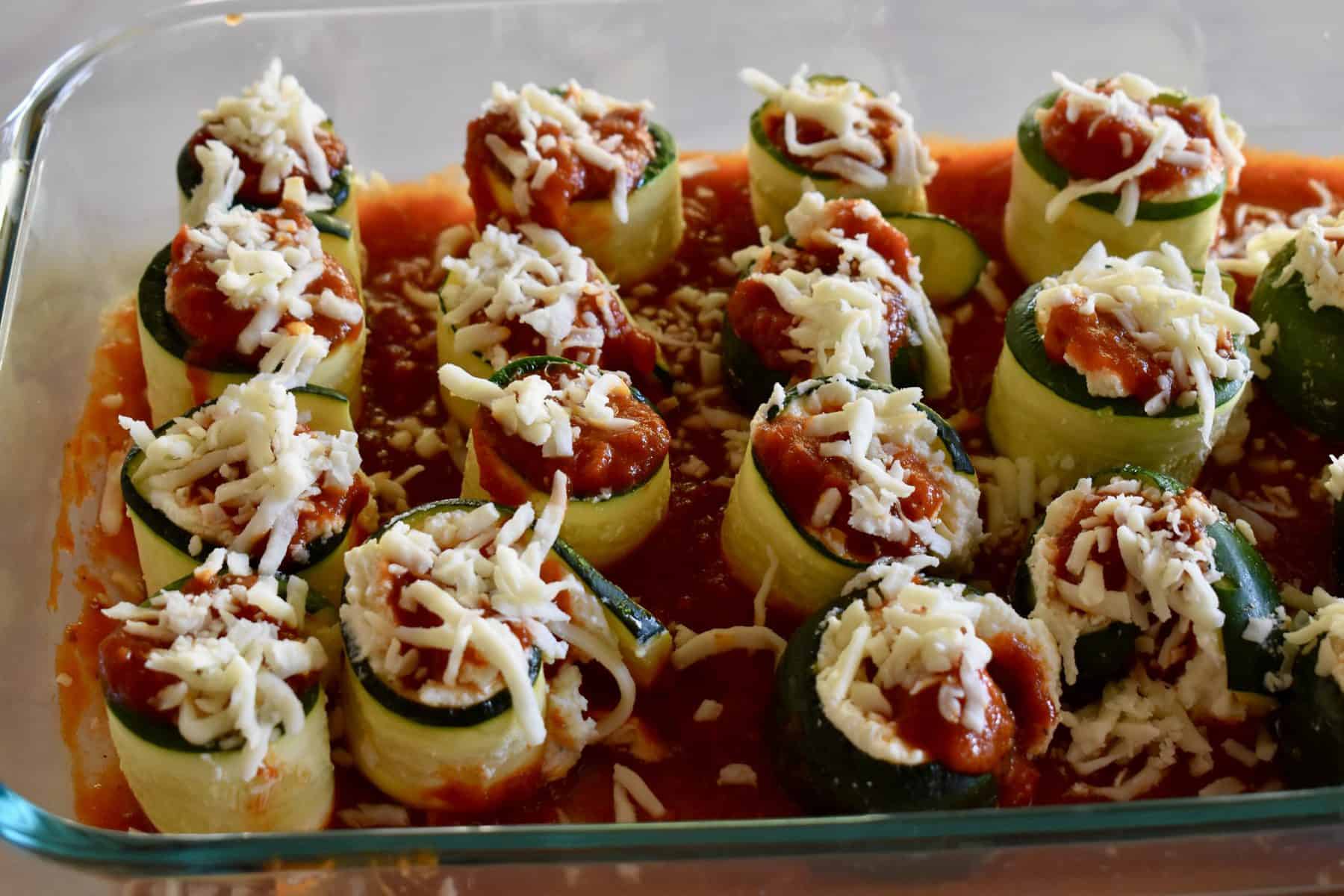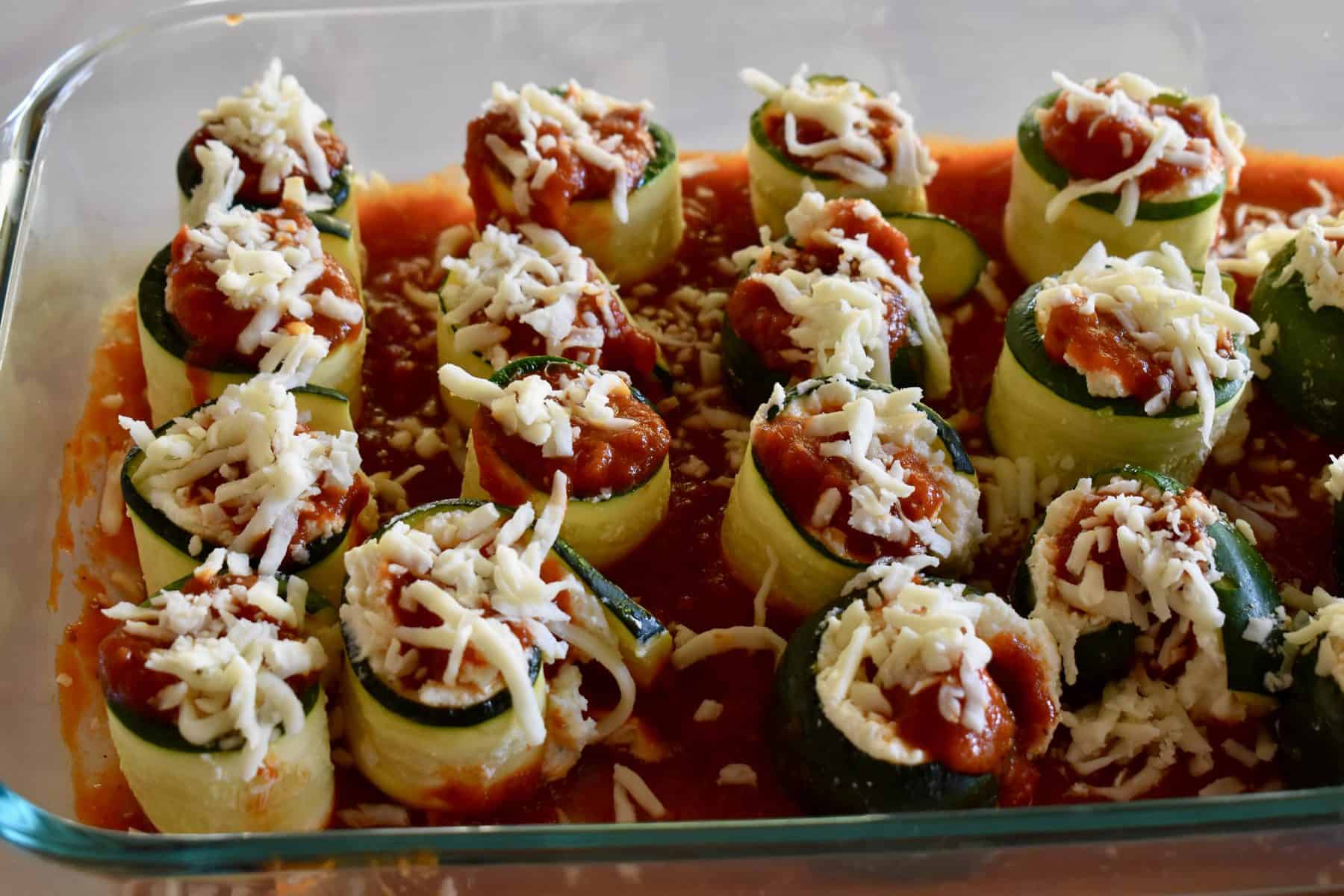 Bake in preheat oven for about 20 minutes or until the cheese is melted and the sauce is bubbling. If you want to brown the cheese slightly, turn on the broiler for the last minute of baking. Let sit for about five minutes before serving.
More Zucchini and Ricotta Recipes
Zucchini and ricotta are a great pair! Check out some of these other reader favorite recipes that use zucchini and ricotta cheese.
Italian-Style Stuffed Zucchini Boats
Zucchini Carrot Raisin Muffins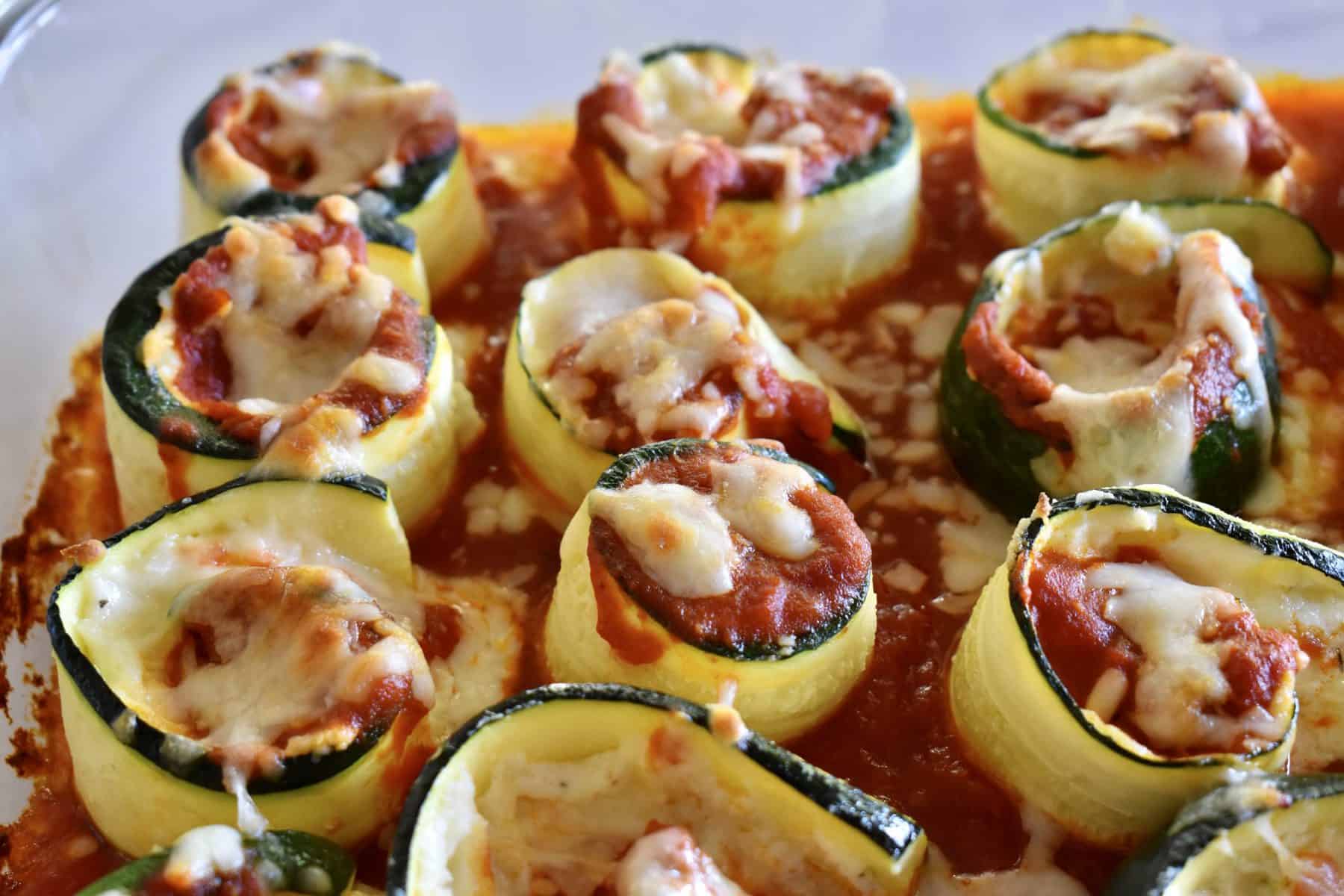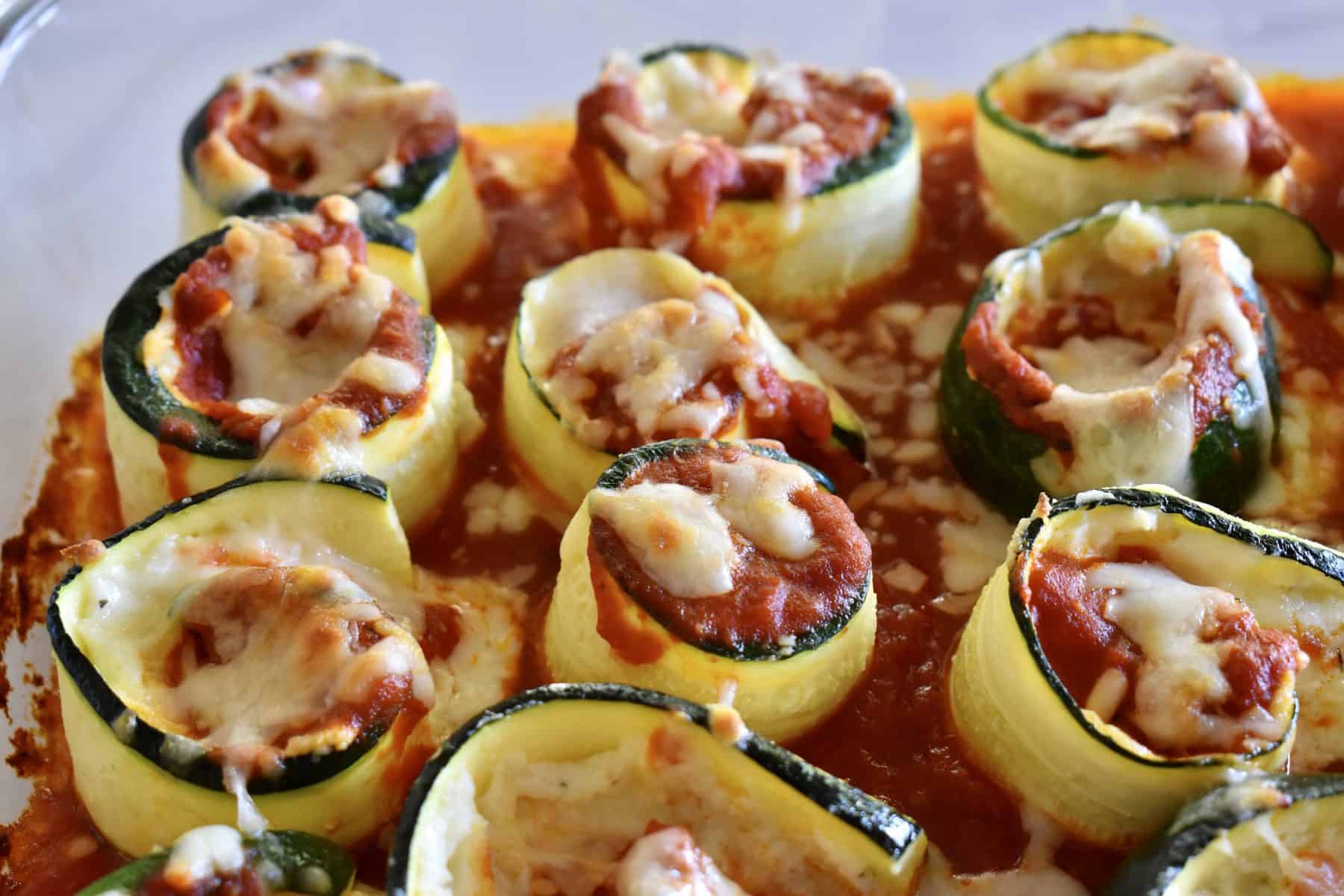 I hope you love this recipe for Zucchini Ricotta Roll Ups. Be sure to comment below if you try them. Enjoy!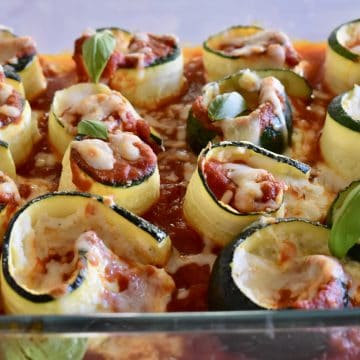 Zucchini Ricotta Roll Ups
Zucchini ricotta roll ups are a healthy meatless meal that comes together fast. You can slice the zucchini thin lengthwise using a sharp knife or a mandoline slicer if you have one. Roasting the zucchini ahead makes it easier to roll up and more forgiving for thicker slices of zucchini.
Print
Pin
Rate
Ingredients
3

medium

zucchini, ends removed and sliced thin lengthwise

(should have about 18-20 slices total)

1

tablespoon

olive oil

¾

teaspoon

kosher salt, divided

1 ½

cup

marinara sauce, divided

15

ounces

ricotta cheese

(part skim works)

1 ½

cup

shredded mozzarella, divided

½

cup

shredded parmesan

½

teaspoon

Italian seasoning

¼

teaspoon

garlic powder

⅛

teaspoon

black pepper
Instructions
Preheat oven to 425 degrees. Line a baking sheet with parchment paper. Place slices of zucchini on the baking sheet and drizzle with olive oil and ½ teaspoon kosher salt. Bake for 10-15 minutes or until zucchini is softened. Set aside.

Spread one cup of marinara sauce on the bottom of an ovenproof baking dish; set aside.

In a bowl, combine ricotta, one cup mozzarella cheese, parmesan, Italian seasoning, garlic powder, ¼ teaspoon kosher salt, and pepper.

Spoon about a tablespoon and half of ricotta mixture evenly on to zucchini slices. Roll up and place into the prepared baking dish, standing upright. Repeat with remaining zucchini.

Spoon remaining ½ cup marinara sauce evenly over zucchini roll ups. Sprinkle on remaining ½ cup of mozzarella cheese.

Place into oven and bake for 20-25 minutes until the sauce is bubbly and the rolls are heated through. Remove from oven and let sit for a couple of minutes before serving.
Notes
To make ahead, you can prepare the entire dish and then just bake before serving. This also reheats beautifully and makes for tasty leftovers or lunch the next day. 
Nutrition
Calories:
296
kcal
|
Carbohydrates:
10
g
|
Protein:
19
g
|
Fat:
21
g
|
Saturated Fat:
11
g
|
Polyunsaturated Fat:
1
g
|
Monounsaturated Fat:
7
g
|
Cholesterol:
66
mg
|
Sodium:
691
mg
|
Potassium:
569
mg
|
Fiber:
2
g
|
Sugar:
6
g
|
Vitamin A:
1041
IU
|
Vitamin C:
22
mg
|
Calcium:
407
mg
|
Iron:
2
mg