Bruschetta Salad, also known as Panzanella, is made with toasted bread, tomatoes, fresh mozzarella, and basil and is ready in 20 minutes! This recipe is a great way to use up day-old bread.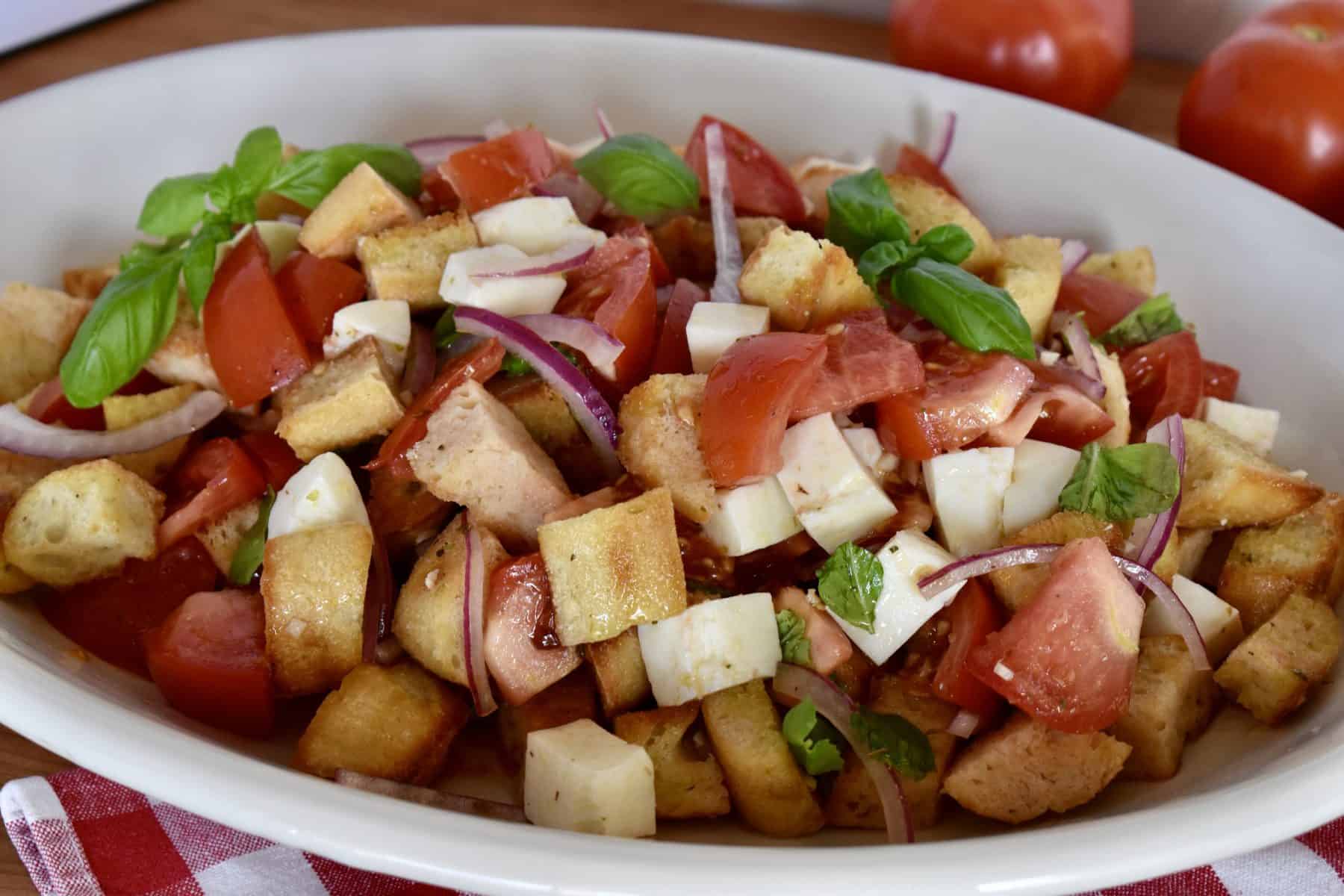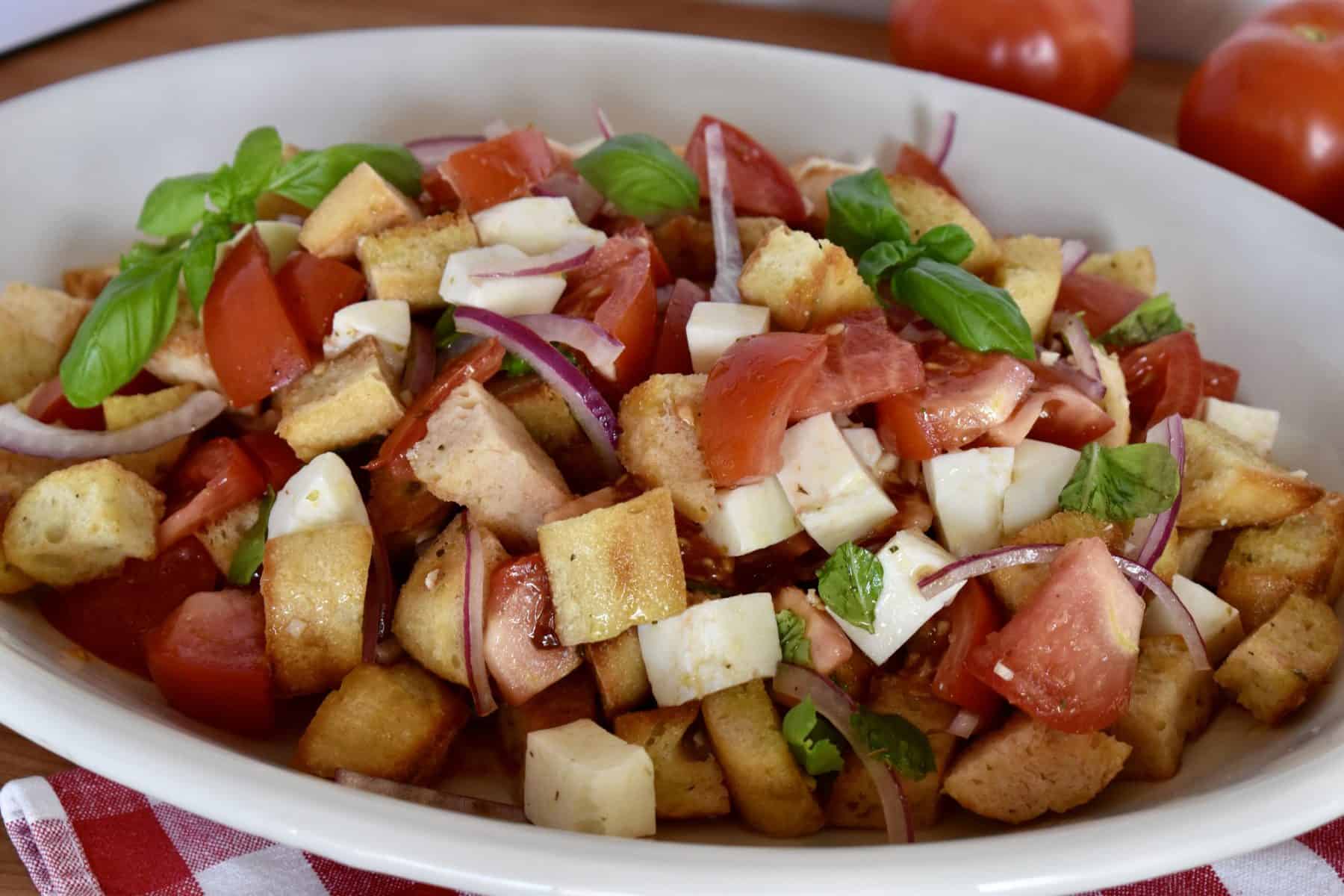 If you love bruschetta, you are going to love this salad. It tastes just like bruschetta in a bowl, but much easier to make and eat.
This salad has it all: crunchy bread, sweet tomatoes, and a tangy dressing. Similar to an Italian panzanella salad recipe, this is a great way to use up day old bread.
Bruschetta Salad is a tasty and vibrant summer Panzanella salad. It's great for served as a side dish or as meal. Plus, it gets tastier the longer it sits.
If you love summer produce salads, be sure to check out Italian Tomato Onion Salad or Strawberry Blueberry Spinach Salad. And, don't miss this Italian Roasted Vegetable dish!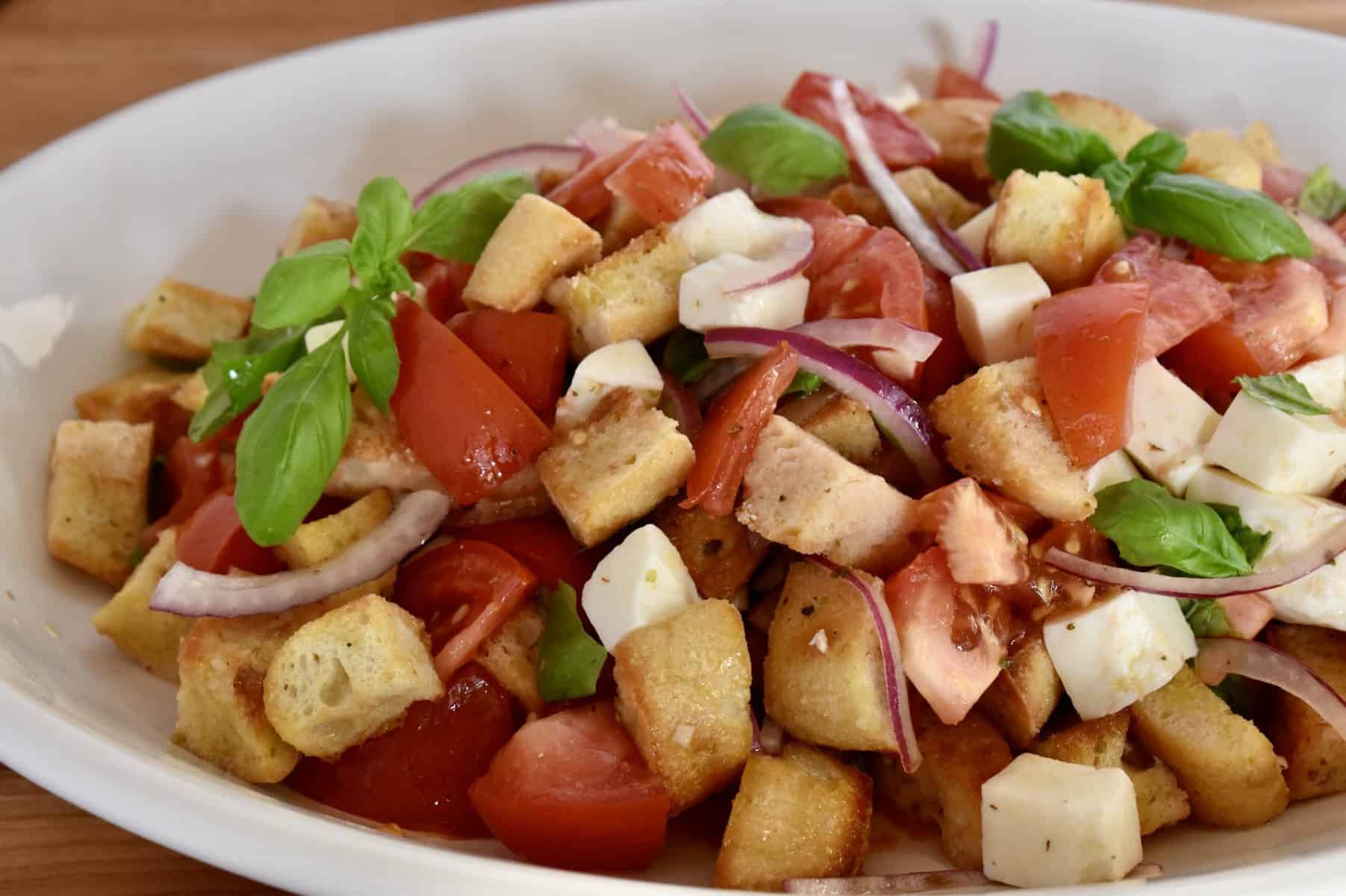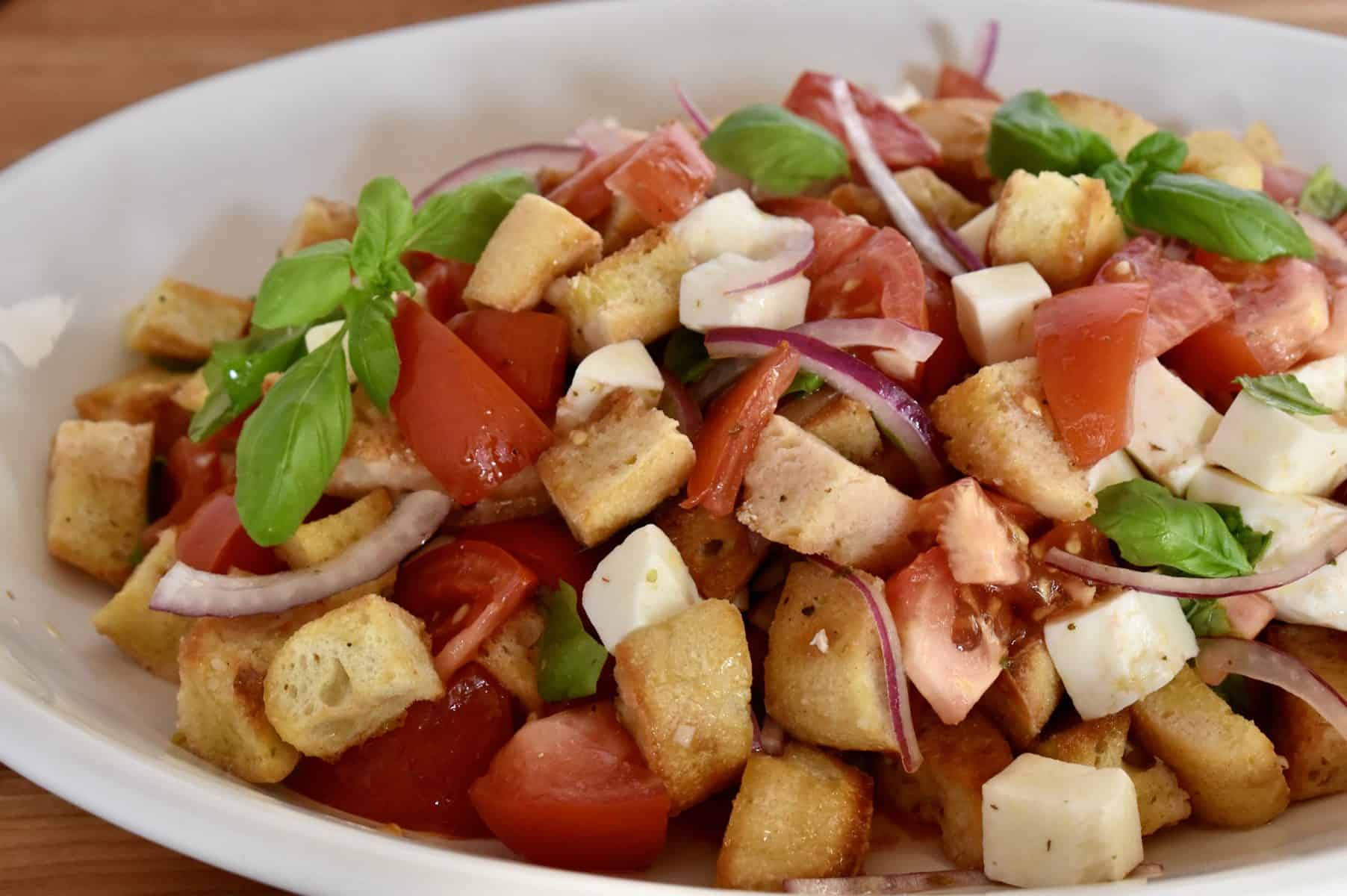 Bruschetta Salad is a great way to use up that stale bread too! In fact, the salad works better with bread that's a day or two old. So read on and see how easy it is to make this tasty Italian dish.
What type of bread to use
Anytime you make a bread salad, you want to use a hearty loaf of bread. Breads like French baguettes, Italian loafs, or ciabatta work great and won't get mushy in the salad.
Traditional panzanella salad uses day old (stale) Italian bread. Baguettes work great here if you prefer more edges rather than centers for your bread salad.
The key is to toast the bread ahead of time. It adds flavor and ensures that the bread stays nice and crunchy, just like bruschetta.
Ingredients for panzanella salad
The traditional ingredients for panzanella salad include day old bread, tomatoes, onions, basil, and vinegarette dressing. However, there are many variations of the salad that include diced cucumbers, bell peppers, pepperoncini, and mozzarella.
The one essential ingredient is day old bread. Panzanella originated as a peasant dish and they would use whatever ingredients were on hand, such as stale bread.
Another essential ingredient for panzanella are fresh tomatoes. That's why this is such a great summer dish. It allows you to use up all of those fresh tomatoes from your garden.
How to make Bruschetta Salad
To make bruschetta salad, you need to start with your day old bread. You want to use a hearty bread for this recipe. A baguette, ciabatta, or loaf from the bakery would work great. Preferably, use a white bread with a crunchy outside… no sliced white bread here!
Firstly, cut the bread in to bite-sized cubes. I like to have about one inch cubes here. It helps to use a serrated knife to cut the bread so that you aren't pressing down too hard when cutting.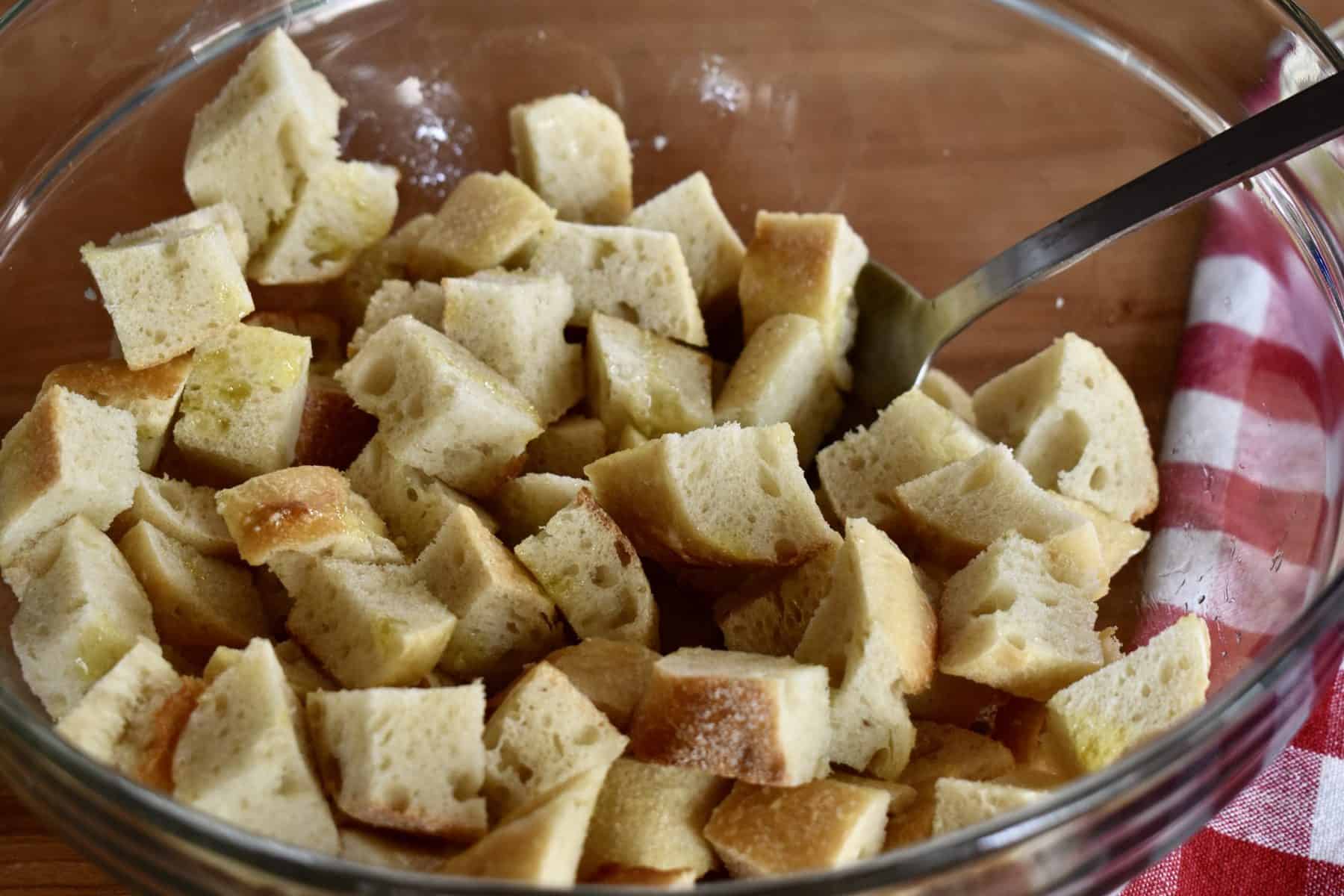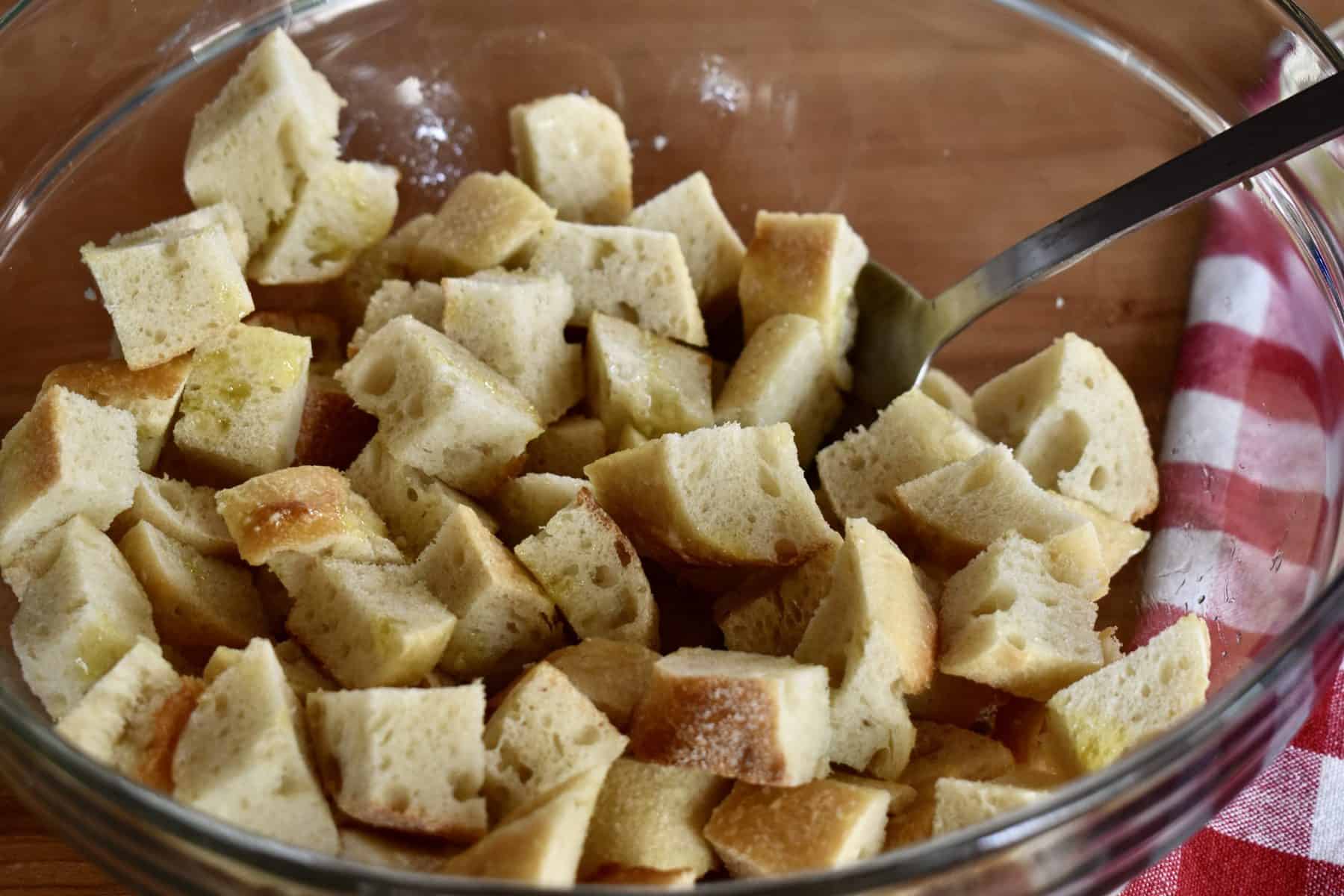 Then, place the bread in a large mixing bowl and add in one tablespoon of olive oil and half a teaspoon of kosher salt. Toss the bread to combine.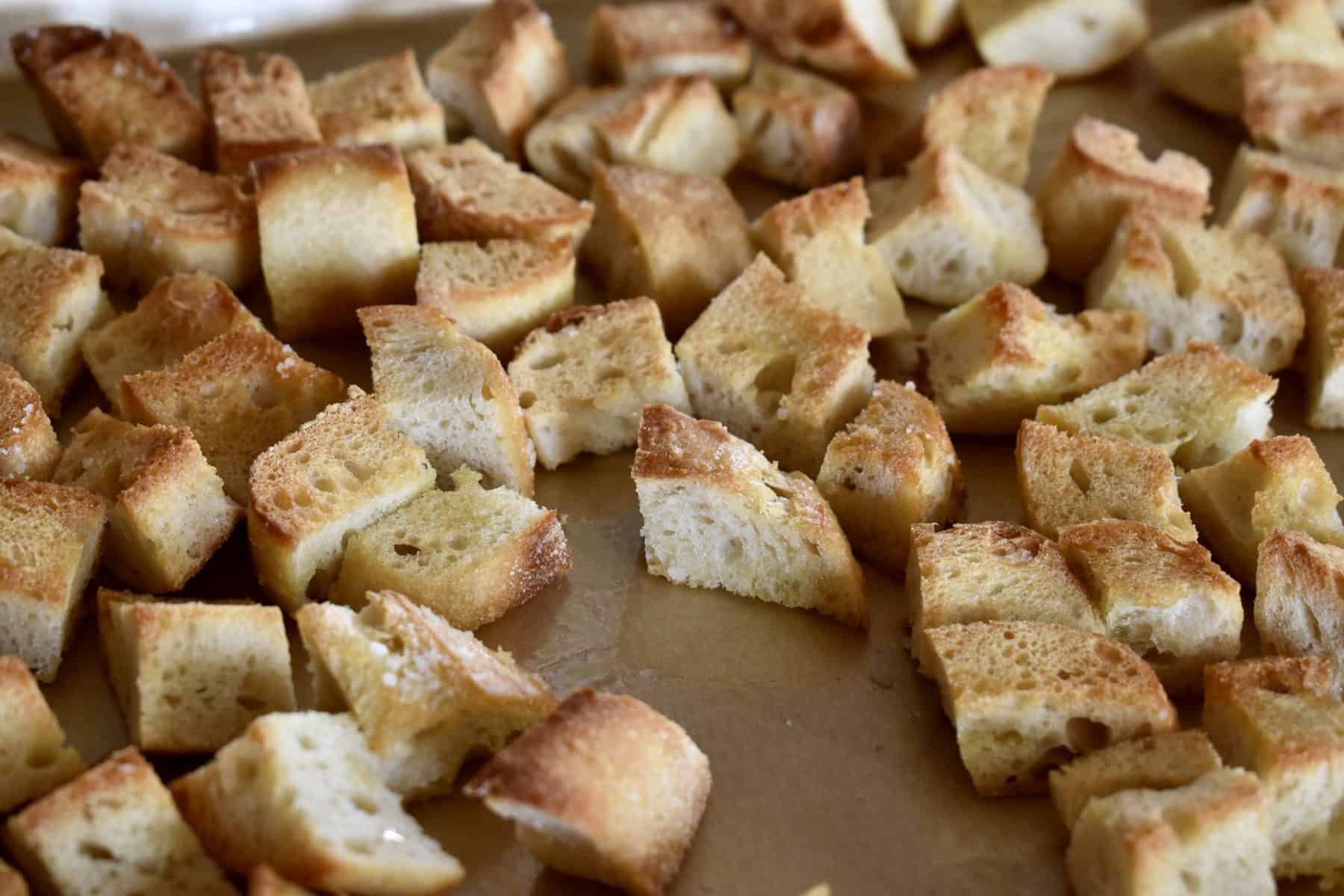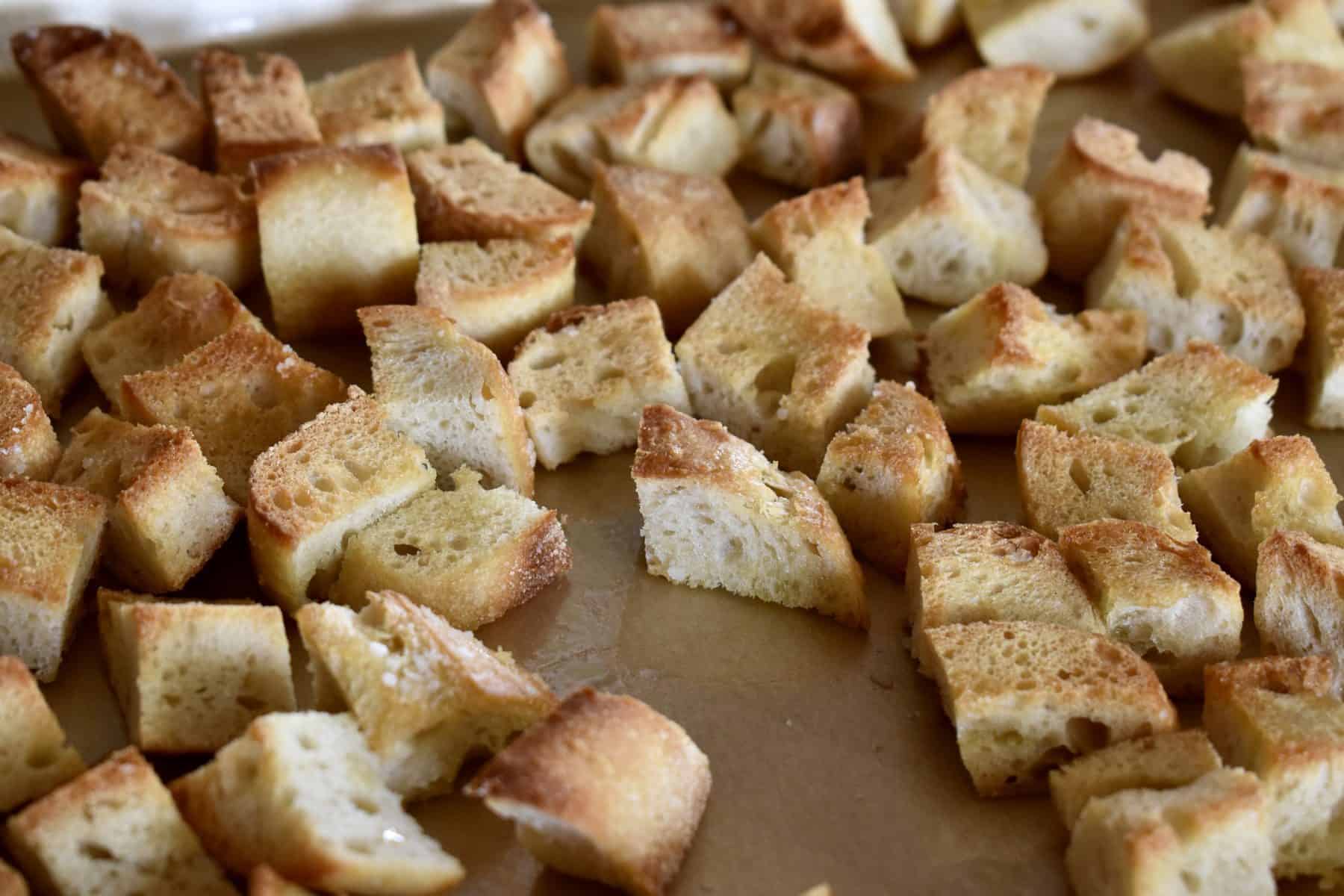 Place the bread on a baking sheet and bake for 10 minutes in a preheated oven. You want the bread to be a golden brown in color. Set aside to cool slightly.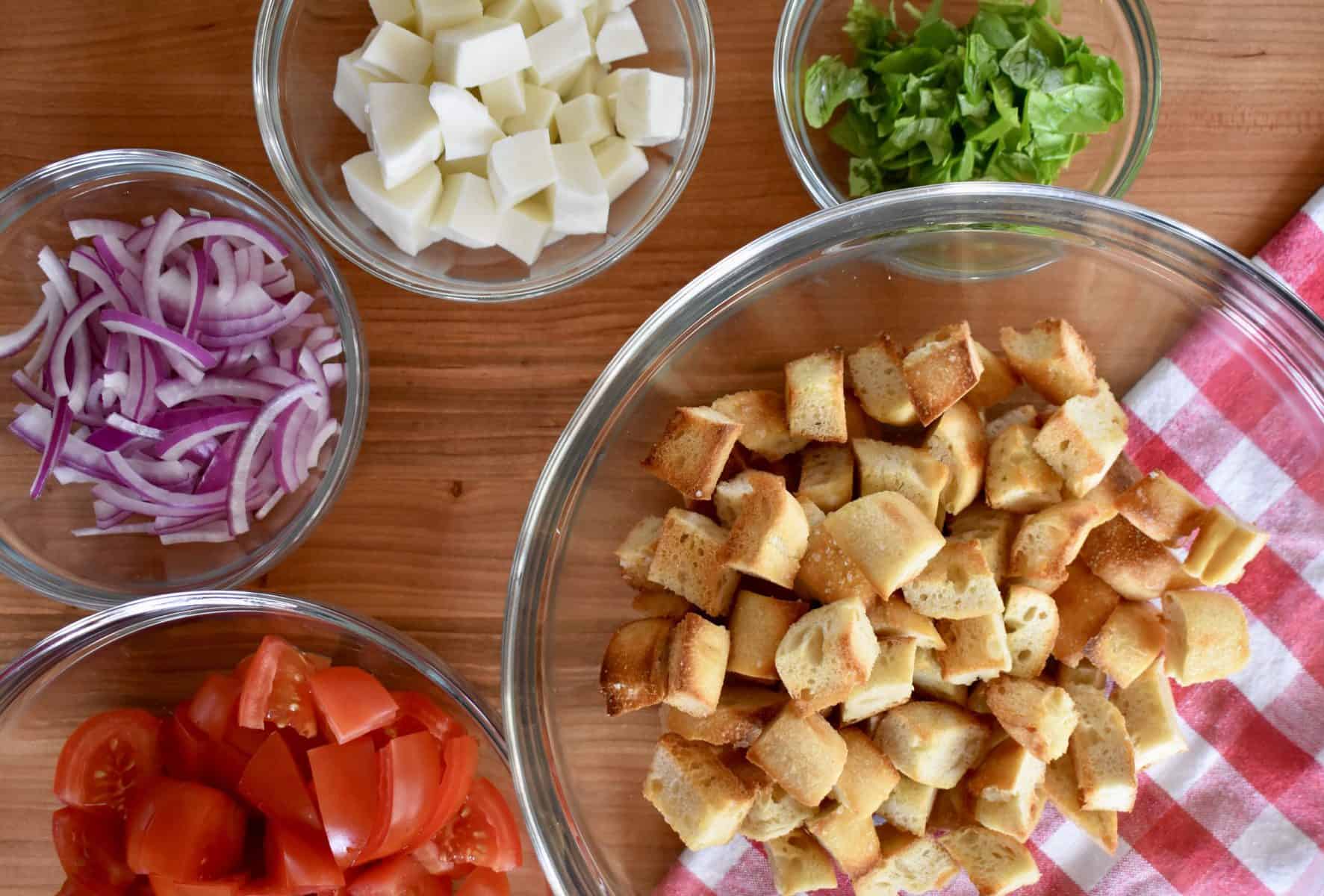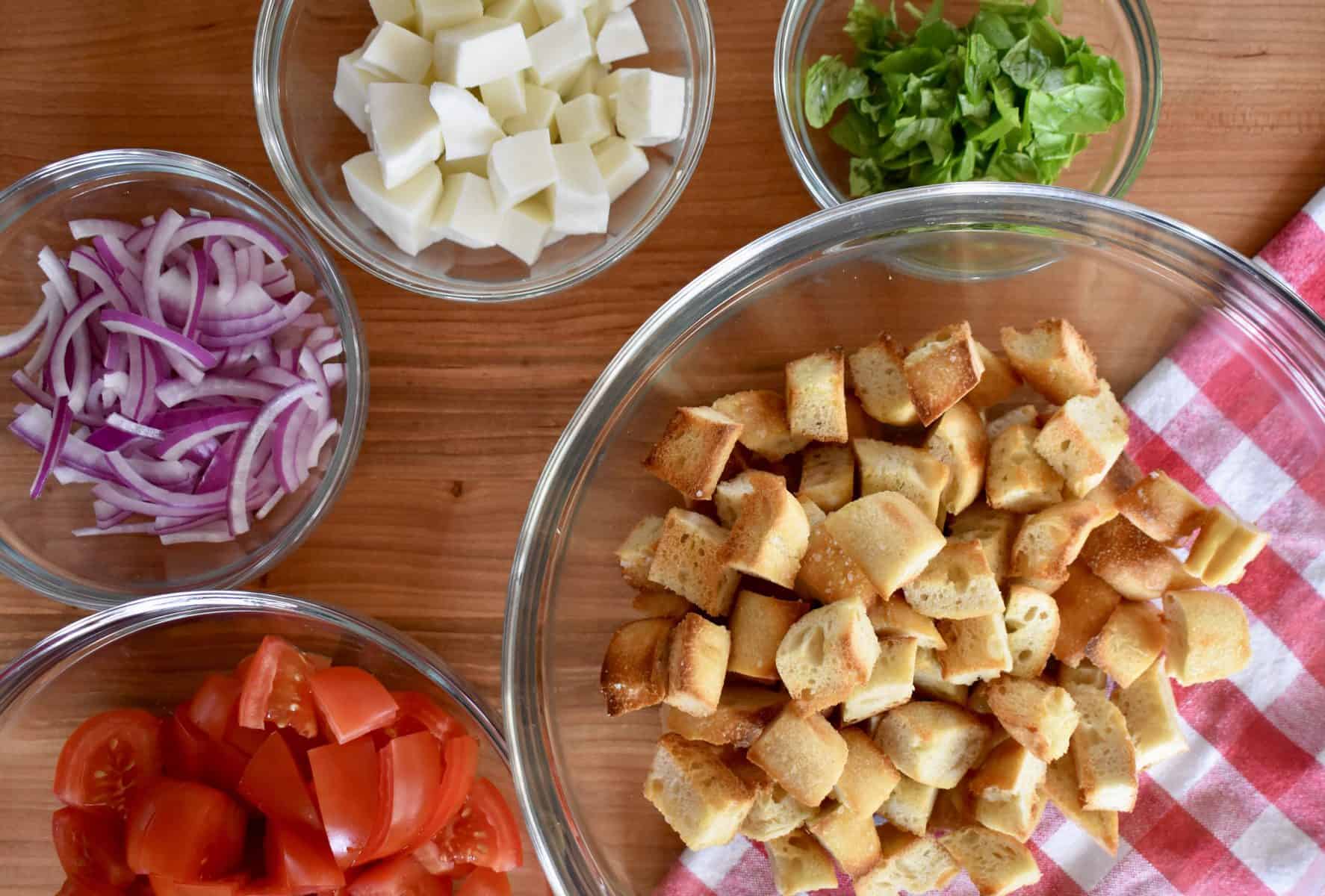 Then, put the toasted bread cubes back in the large mixing bowl and add in the remainder of the salad ingredients. For the tomatoes and mozzarella, dice into bite-sized chunks. Slice the red onion thin and just tear the basil into pieces using your hands.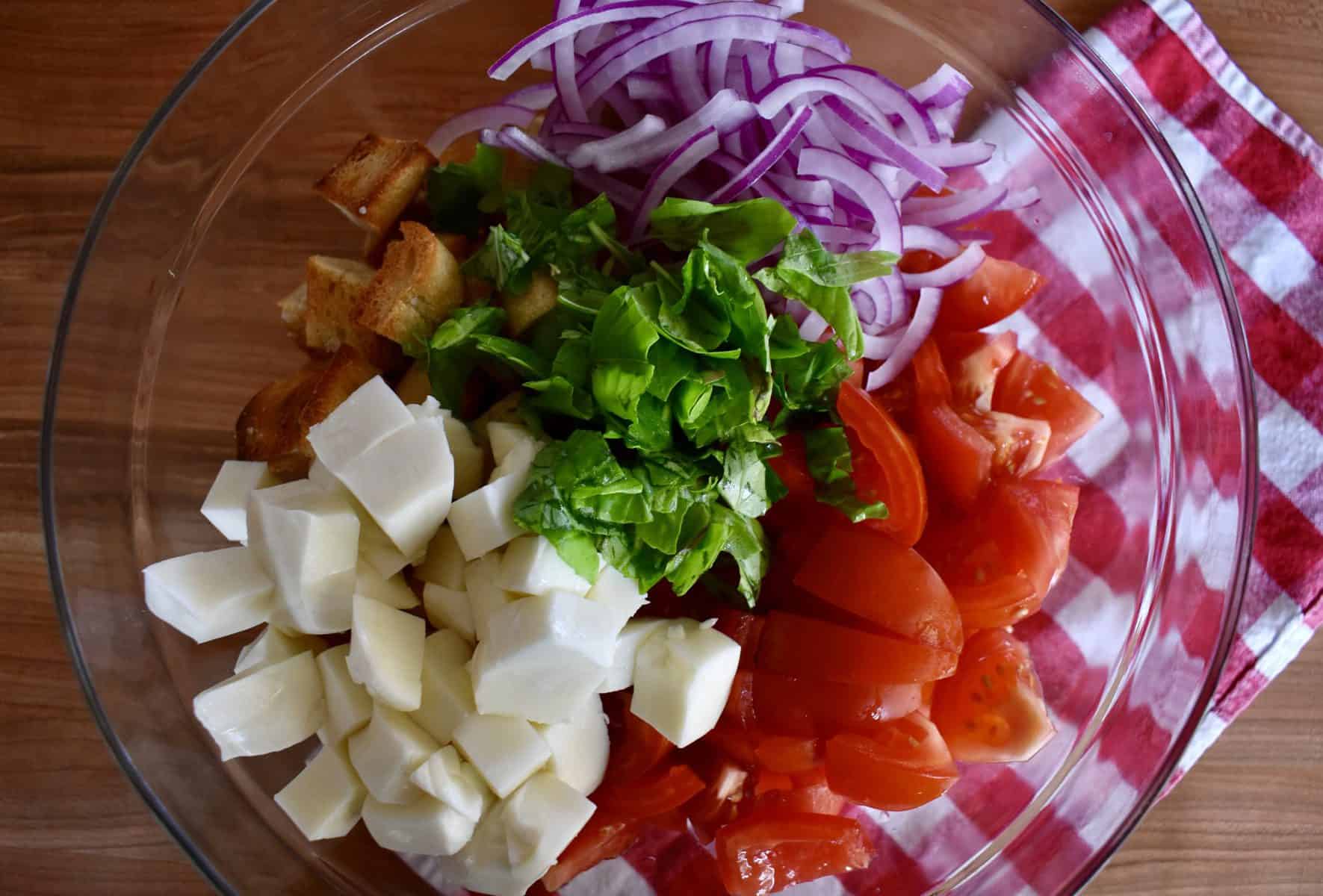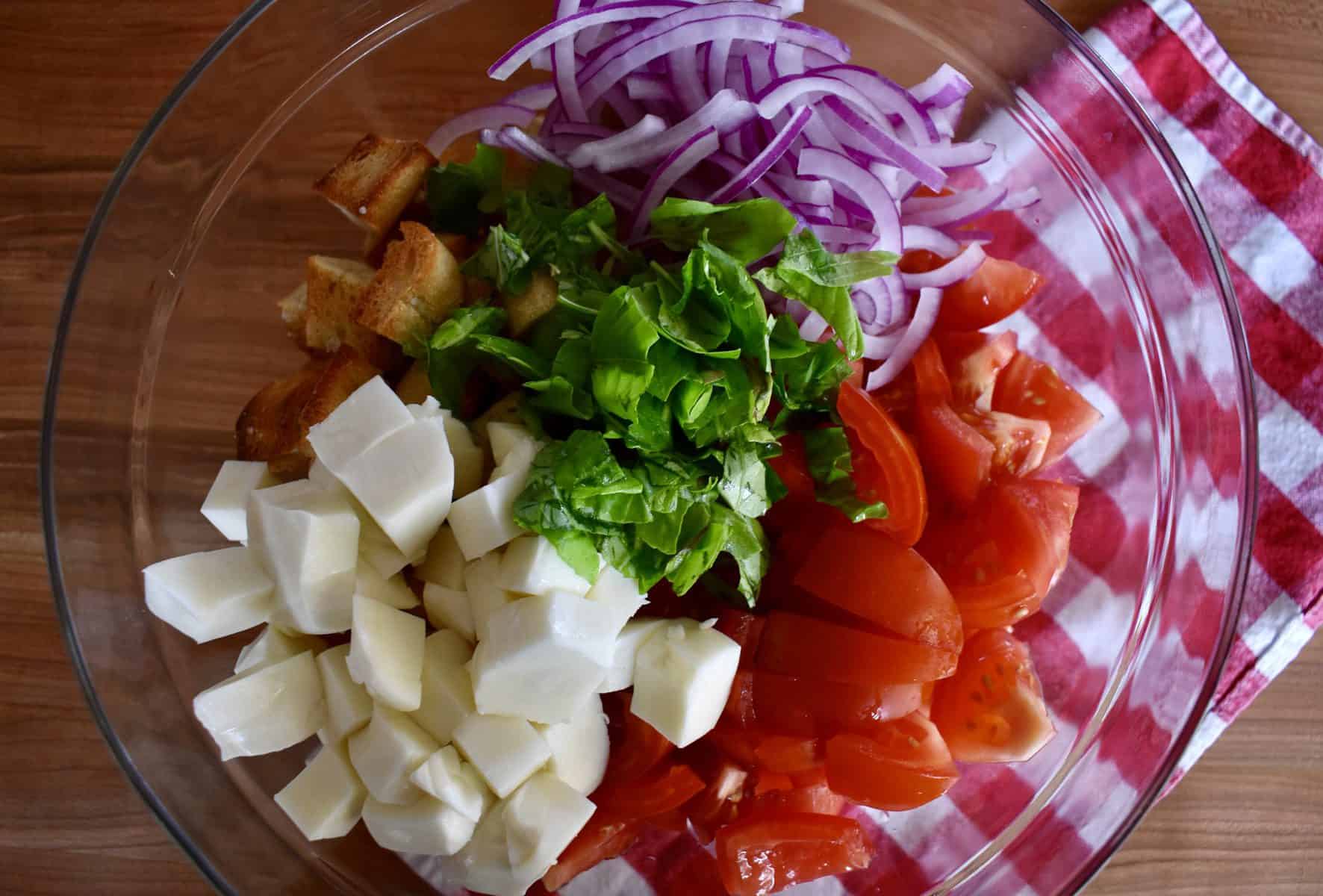 Once all of the salad ingredients are ready, prep the simple dressing. Don't skip this homemade dressing either and try to use store-bought. It's a simple recipe that really needs the fresh ingredients to make it pop.
Simple Dressing
This bruschetta salad dressing is really easy to make and adds a ton of great flavor. Moreover, all you need is a few pantry staples and some fresh garlic.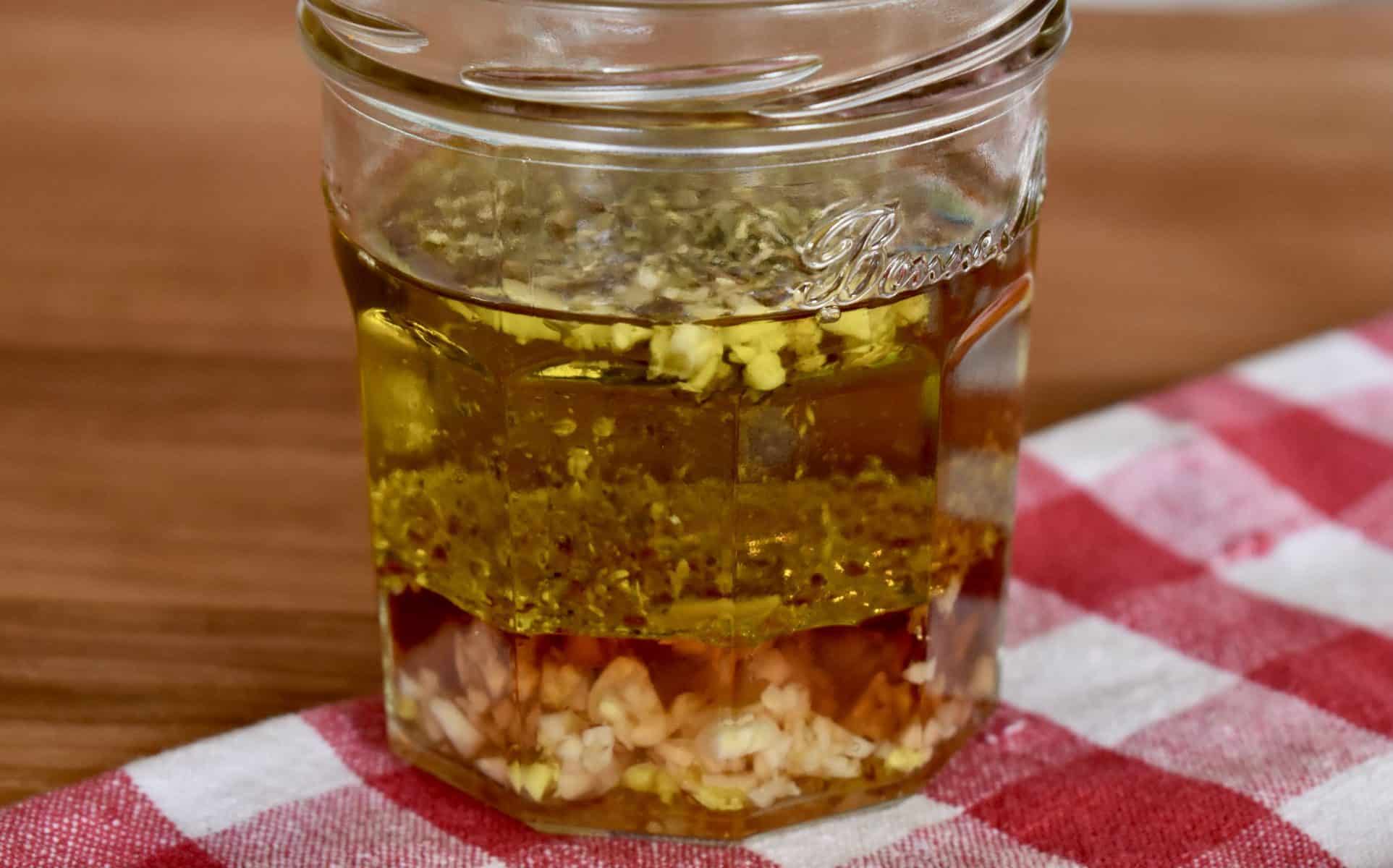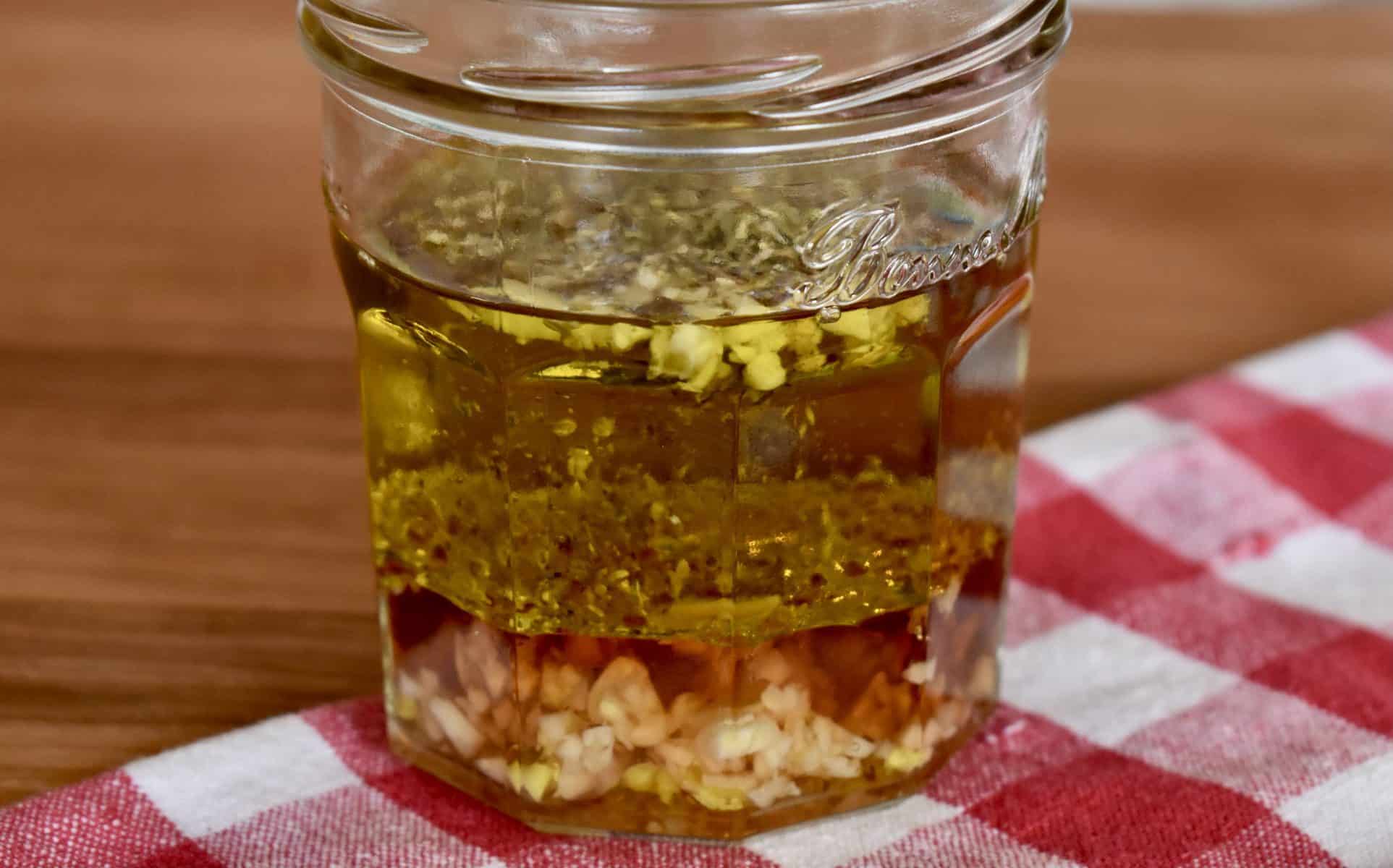 Firstly, in a dressing container or mixing bowl, combine the olive oil, red wine vinegar, fresh minced garlic, dried oregano, and kosher salt. Whisk together to combine and pour over the salad.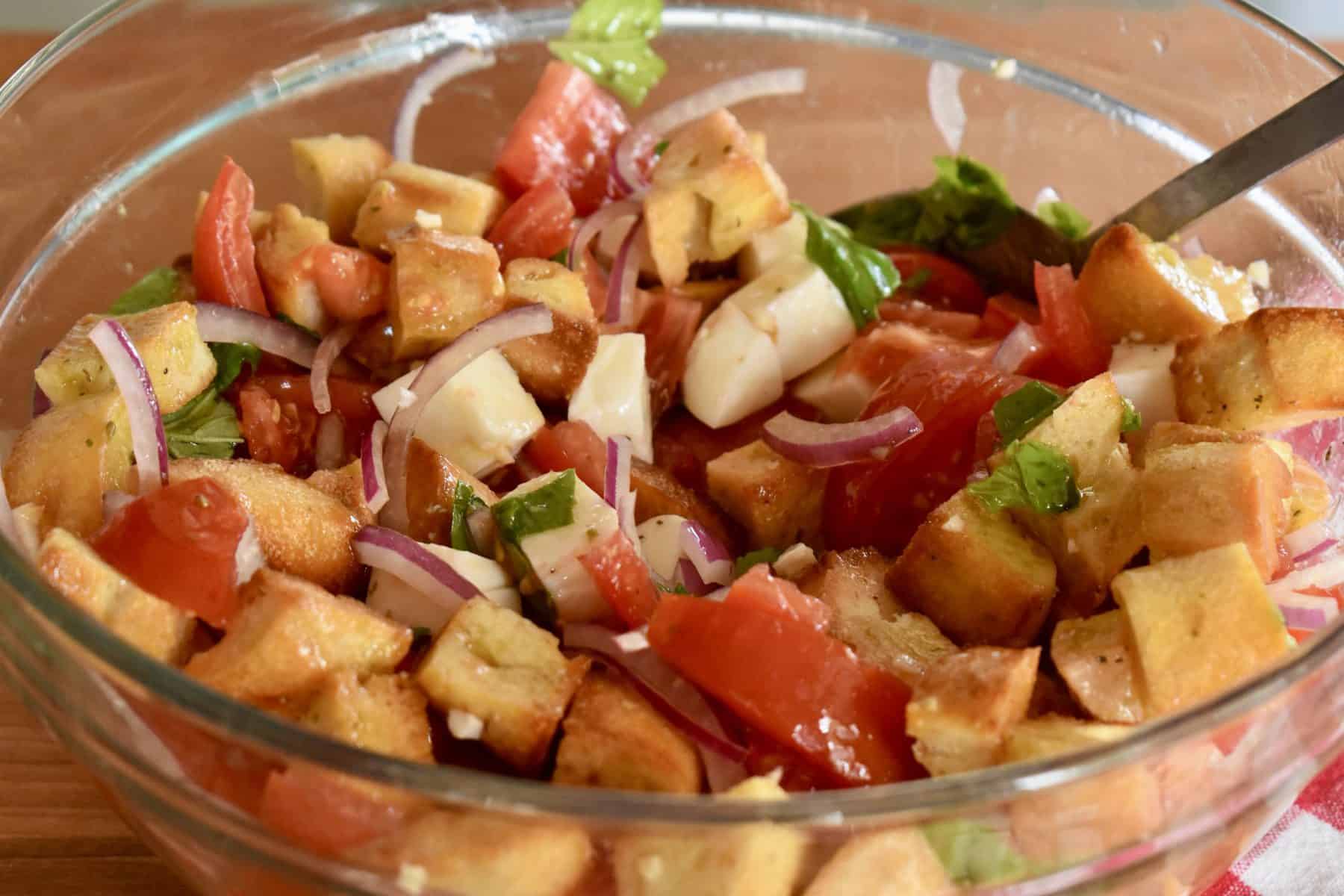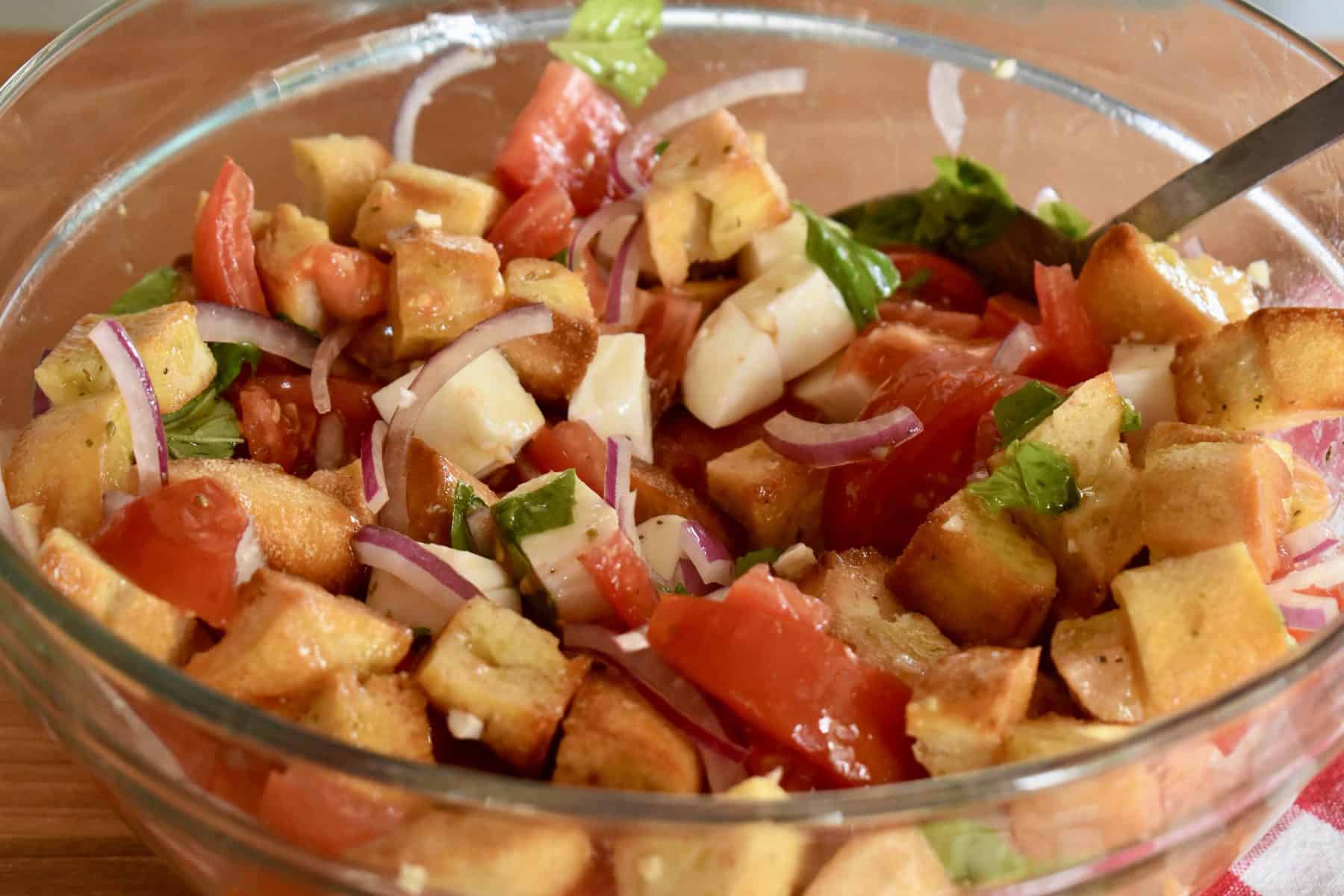 Lastly, toss the dressing with the salad and let sit for about 30 minutes so that they flavors have time to develop and soak into the bread.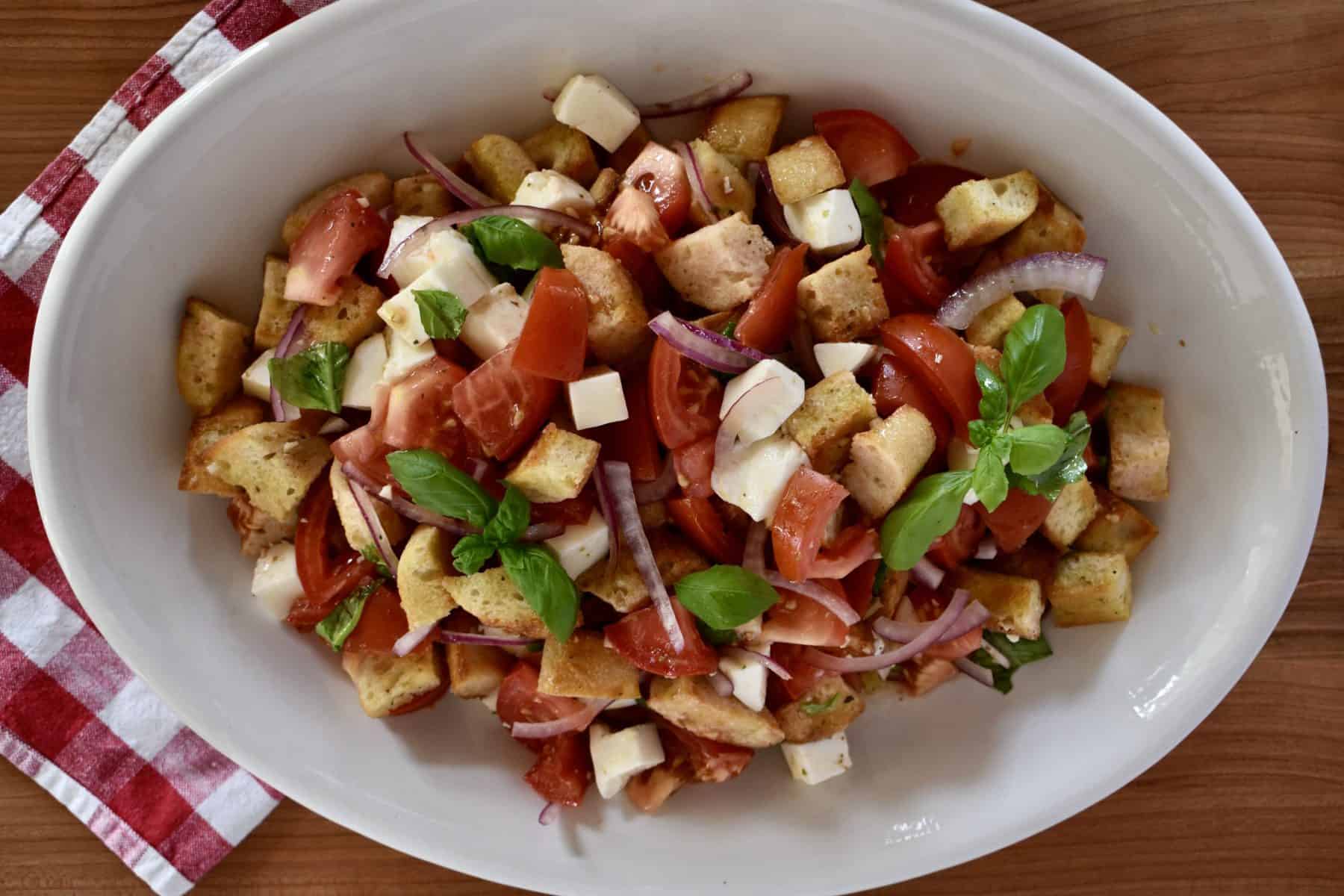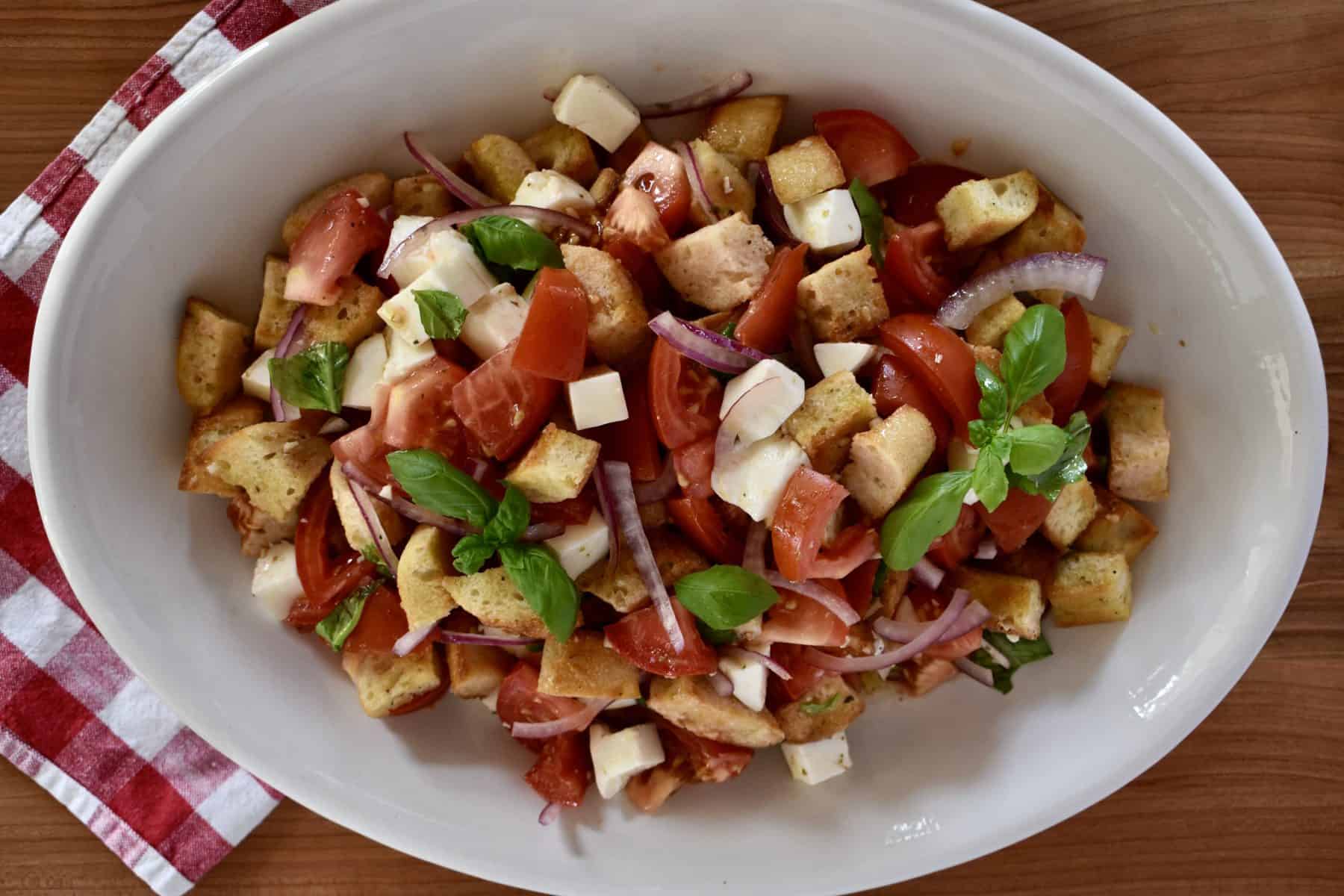 Recipe FAQs
Does panzanella get soggy?
Panzanella salad is a dish that should be eaten within 24-48 hours. It does have the tendency to get soggy if it sits longer than that.

However, toasting the bread cubes does a great job to ensure that this salad doesn't end up too soggy. The bruschetta salad should sit for about 30 minutes after it's tossed with the dressing. It's best eaten within the same day it is made.
What is the best bread to use for panzanella?
Hearty breads such as French baguettes, Italian loafs, or ciabatta work great for panzanella. And, if you have day-old bread, that works even better.
More Italian Side Dishes…
Italian-inspired side dishes are always a hit! Don't miss these delicious Italian side dishes that are great for any occasion.
Peas and Pancetta is a delicious and easy Italian side dish that comes together fast! Made with frozen peas, diced pancetta, and sliced shallots.
Eggplant Caponata is a delicious veggie-packed Italian condiment that's great for topping bruschetta or eating on its own.
Pinwheel Bread Rolls are made from scratch and filled with delicious bacon and Parmesan cheese. The perfect dinner rolls, appetizer, or savory breakfast bread.
Italian Mashed Potato Casserole is made with ricotta and Parmesan cheeses. It's a delicious side dish that's great to make ahead too.
Antipasto Italian Pasta Salad is a delicious twist to your traditional pasta salad that uses salami, green olives, mozzarella, and roasted red peppers.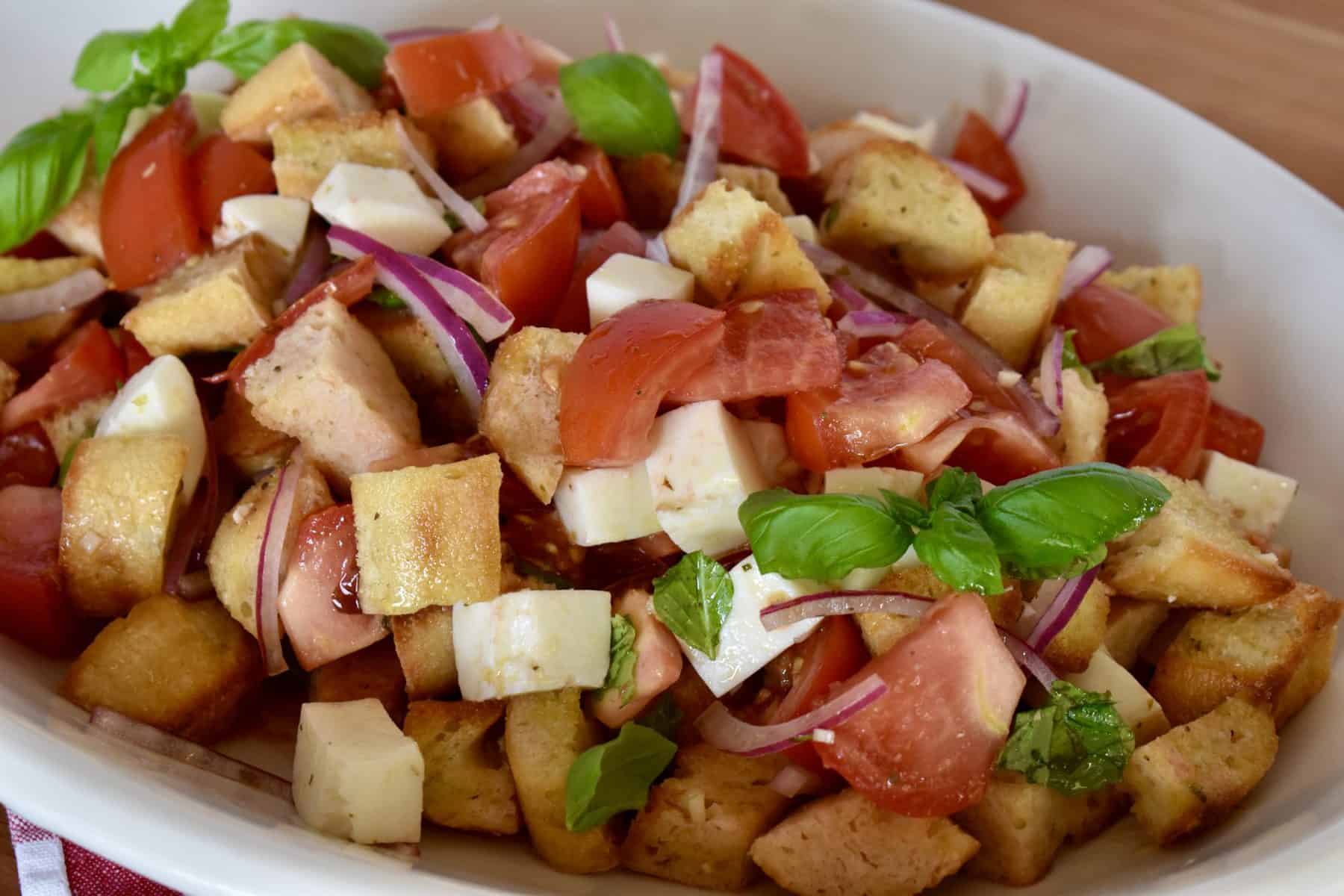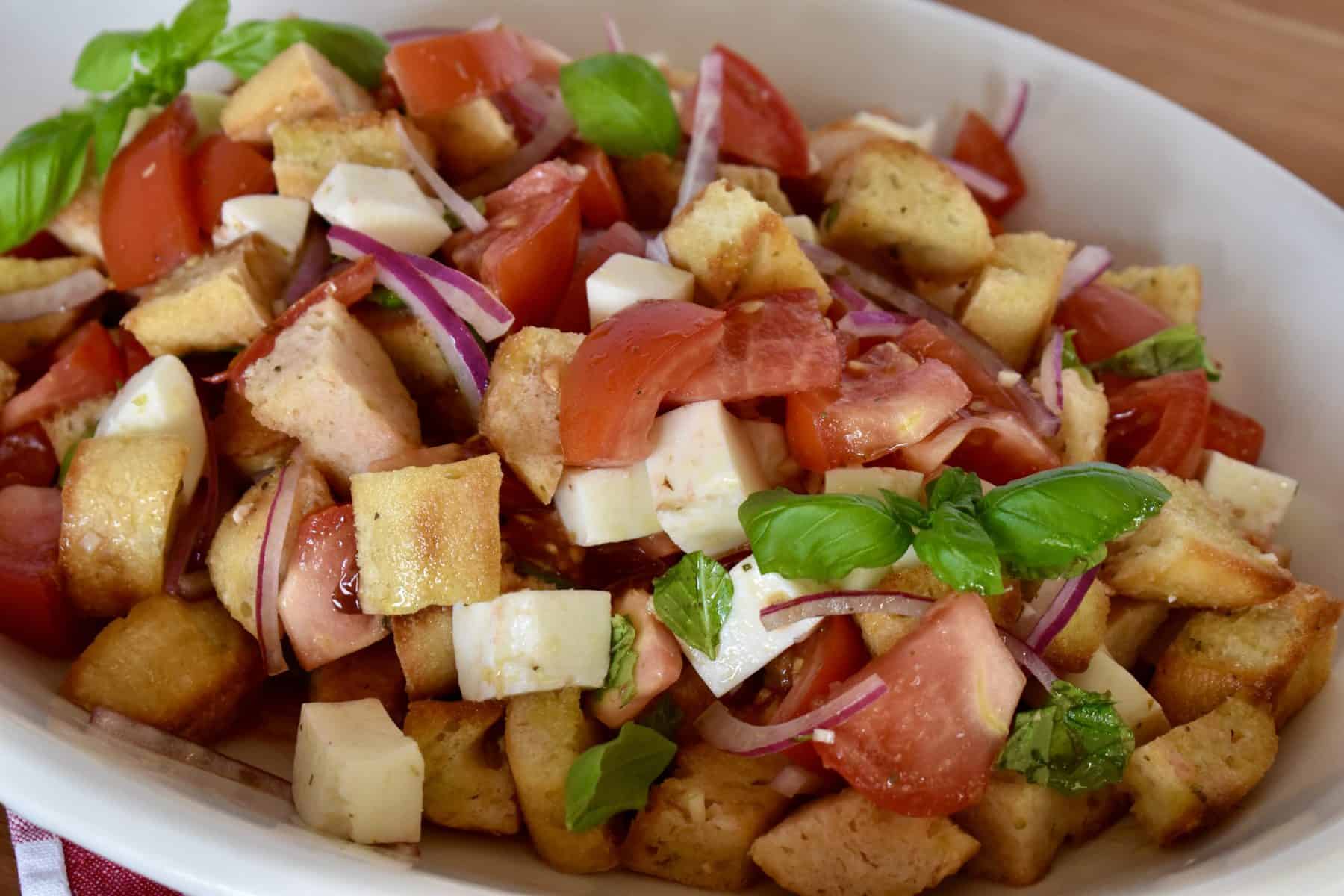 Be sure to comment below if you try this recipe. Enjoy!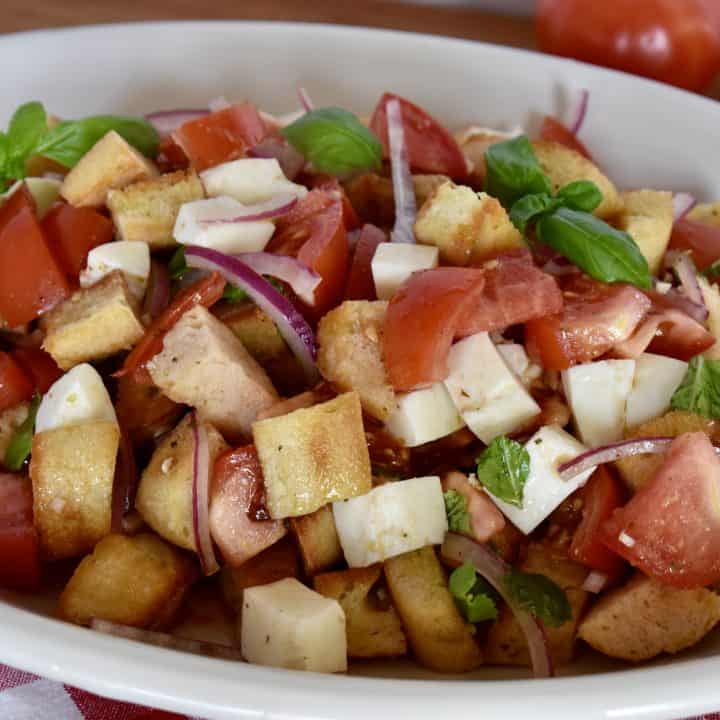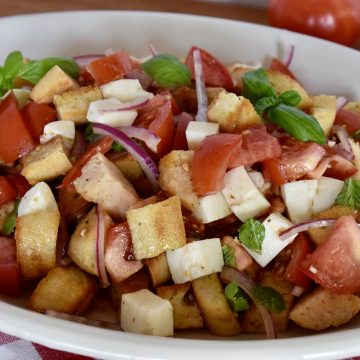 Bruschetta Salad
All of the flavors of bruschetta in an easy-to-make salad! It's best to use bread that's a day or two old. You can use any hearty bread such as french bread, baguette, Italian bread, or ciabiatta.
Print
Pin
Rate
Equipment
large mixing bowl

baking sheet
Ingredients
Bread Cubes
6

cups

french bread

(cut into one inch cubes)

1

tablespoon

olive oil

½

teaspoon

kosher salt
Salad Ingredients
4

large

ripe tomatoes, cut into bite-sized pieces

(about 1 ¼ pounds)

¼

red onion, sliced thin

(about ¾ cup)

8

ounces

fresh mozzarella, cut into cubes

½

cup

basil leaves, roughly torn
Dressing Ingredients
½

cup

olive oil

¼

cup

red wine vinegar

2

cloves

minced garlic

½

teaspoon

dried oregano

½

teaspoon

kosher salt
Instructions
For the bread cubes, preheat oven to 400 degrees. Toss together the cubed bread, 1 tablespoon of olive oil, and ½ teaspoon kosher salt in a large bowl. Spread bread on to baking sheet and bake for 10 minutes, until lightly golden.

In a large bowl, combine the toasted bread cubes, tomatoes, onion slices, mozzarella cubes, and torn basil.

For the dressing, combine the olive oil, red wine vinegar, garlic, oregano, and ½ teaspoon of kosher salt in a salad shaker or bowl, and mix until well combined.

Pour the dressing over the salad and toss to combine. Let the salad sit for 30 minutes before serving.
Notes
Toasting the bread gives this bruschetta salad a delicious bite without the soggy bread texture. This salad keeps well in the refrigerator for up to two days. 
Nutrition
Calories:
266
kcal
|
Carbohydrates:
33
g
|
Protein:
13
g
|
Fat:
9
g
|
Saturated Fat:
4
g
|
Polyunsaturated Fat:
1
g
|
Monounsaturated Fat:
3
g
|
Cholesterol:
22
mg
|
Sodium:
730
mg
|
Potassium:
317
mg
|
Fiber:
2
g
|
Sugar:
4
g
|
Vitamin A:
1029
IU
|
Vitamin C:
13
mg
|
Calcium:
180
mg
|
Iron:
2
mg