Hot and flaky Pinwheel Bread Rolls are made from scratch and filled with delicious bacon and parmesan cheese. The perfect dinner rolls, appetizer, or savory breakfast bread.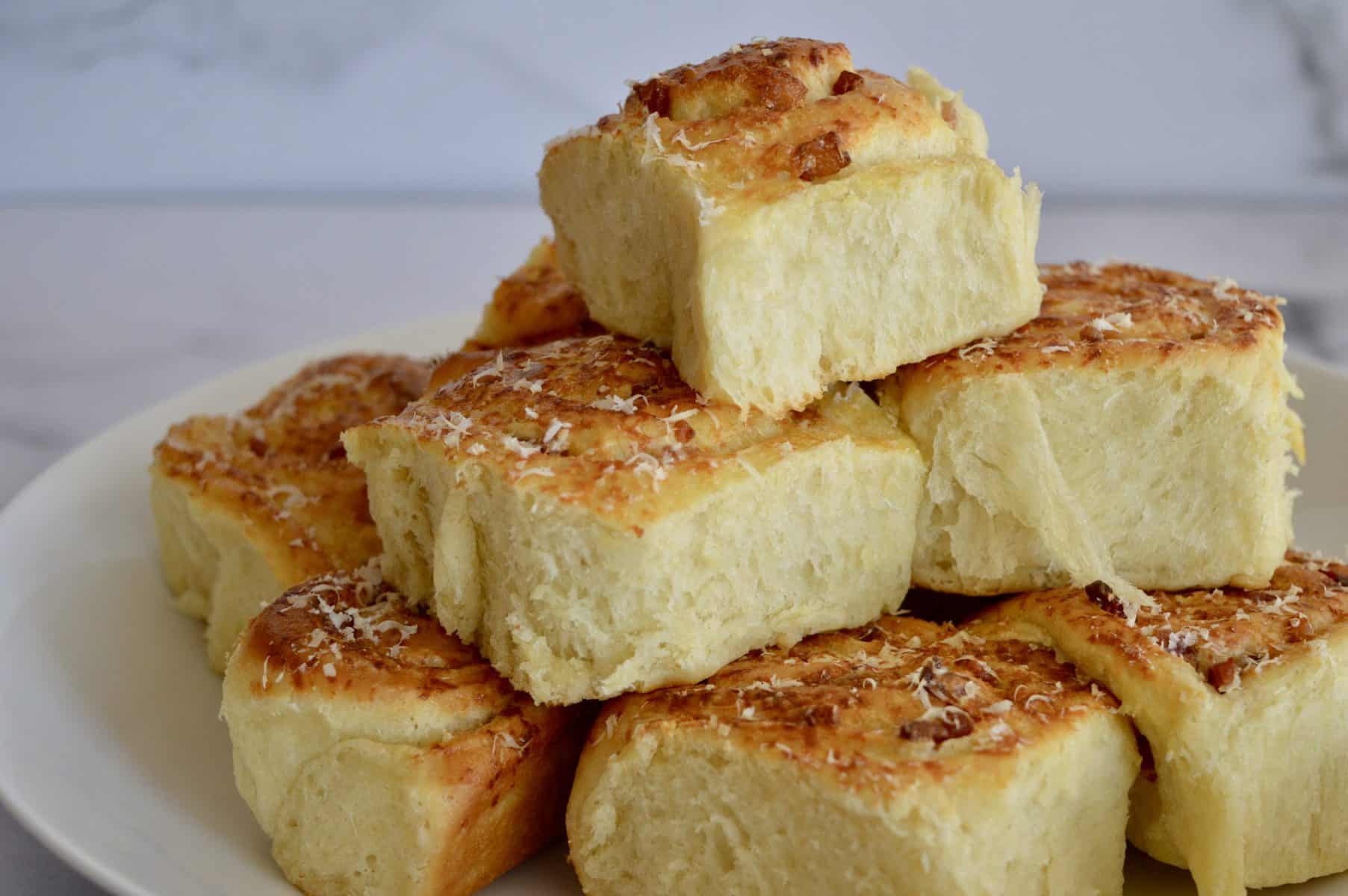 If you are craving some real comfort food, then this flavorful Pinwheel Bread Roll filled with diced bacon and grated parmesan cheese is for you. This bread recipe is perfect for dinner, appetizer, or as a savory breakfast option.
Also, these bread rolls can be assembled up to 24 hours in advance and baked before serving. This makes them perfect for whatever meal you are serving them with.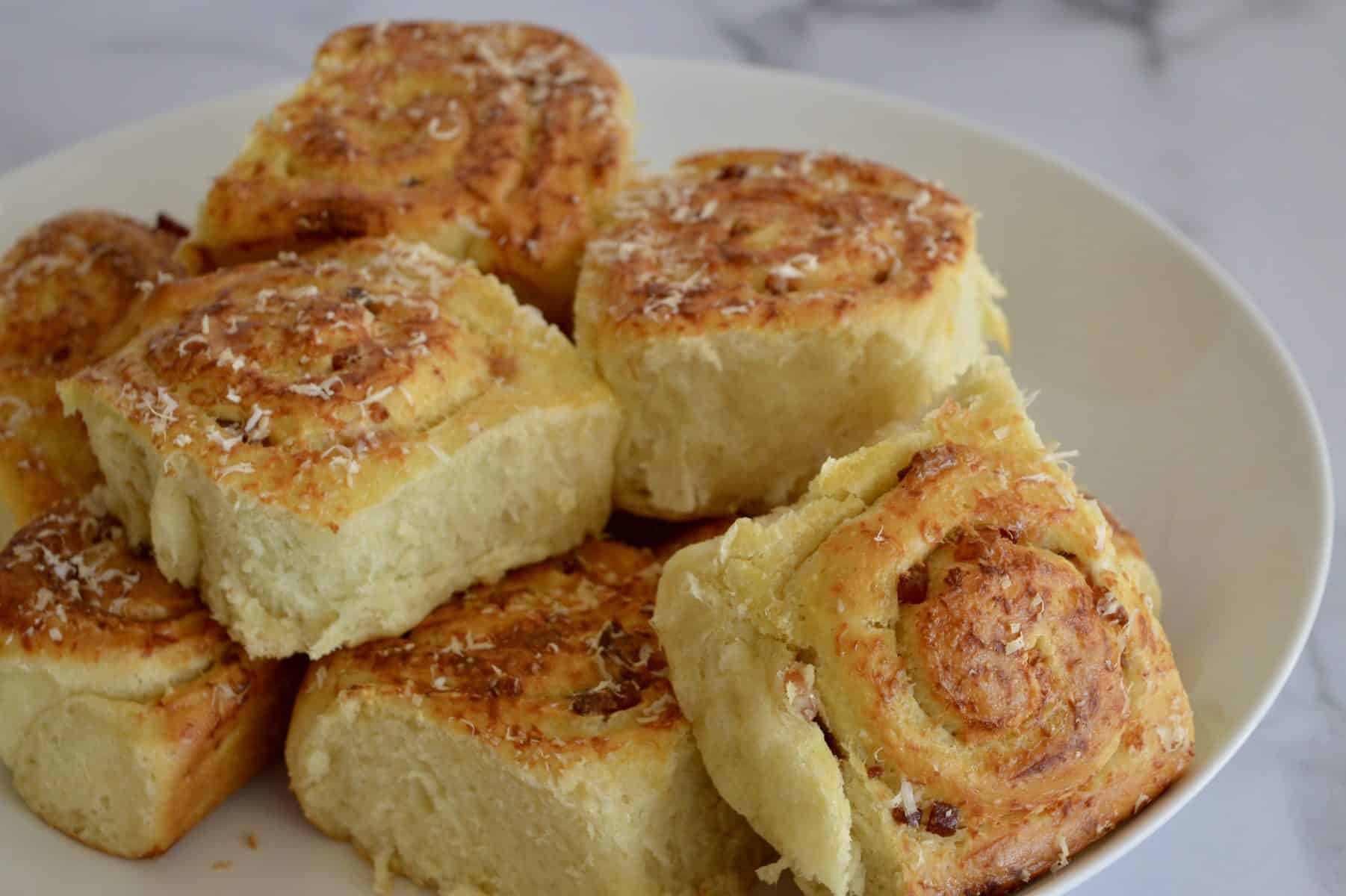 And if you feel intimated making bread, don't be! This simple dish comes together fast with little actual hands on work. Also, this recipe is a perfect use for the dough hook attachment of your stand up mixer. Simply add the ingredients and let the mixer do all of the hard work.
Pinwheel bread rolls are similar to their appetizer cousin made with tortillas. My favorite is Chicken Bacon Ranch Pinwheels.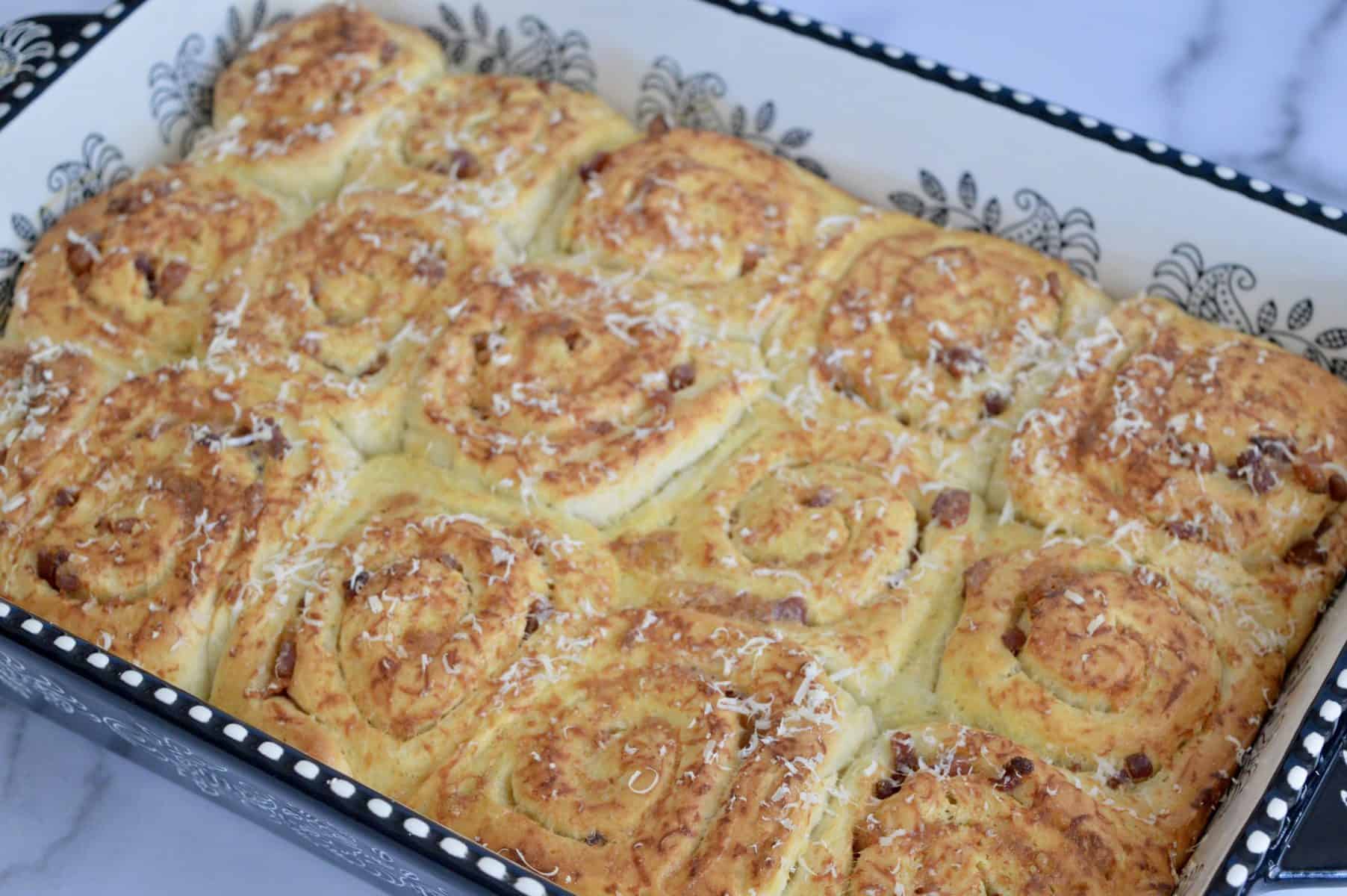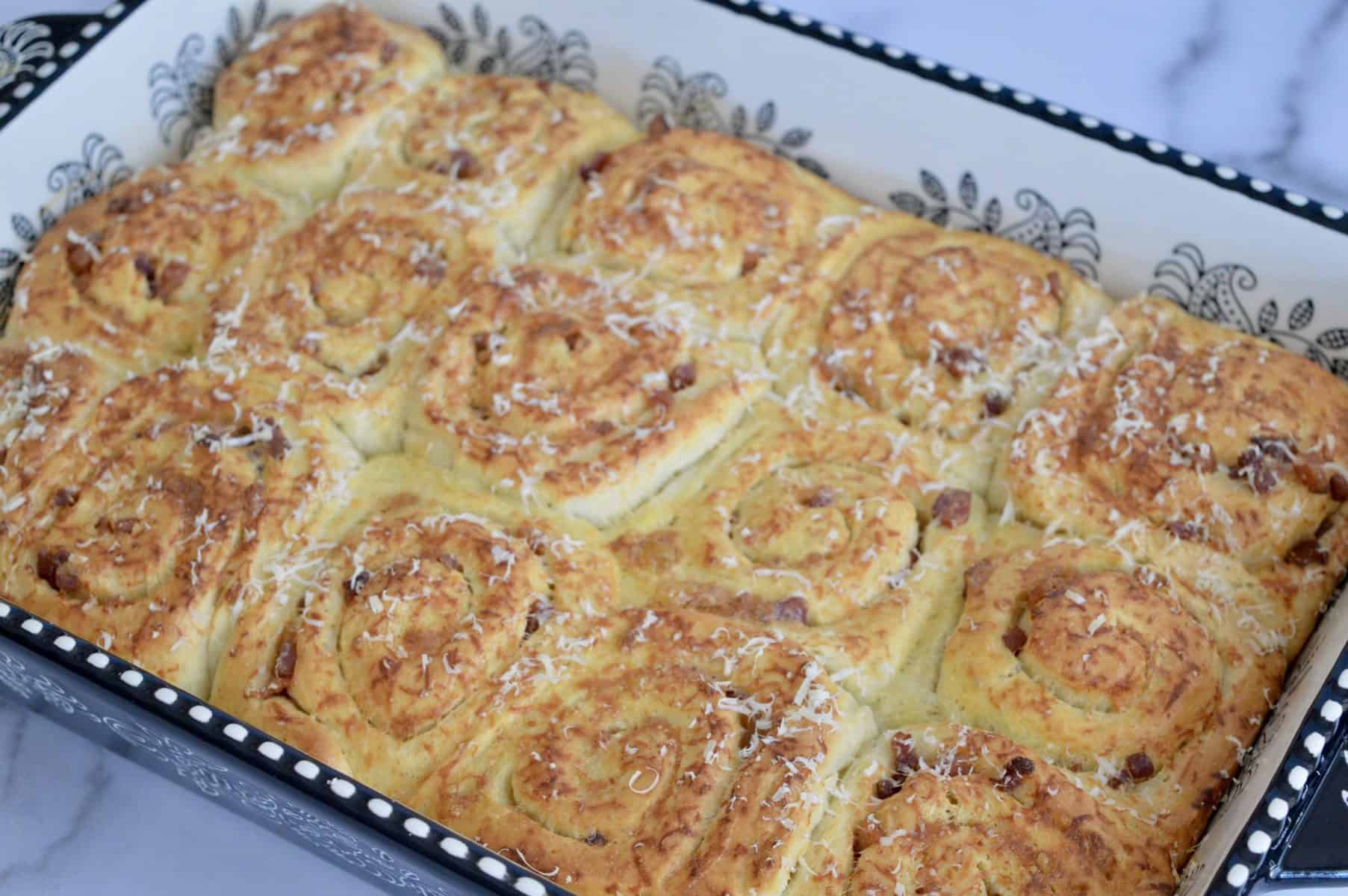 Here, however, instead of using a tortilla or flatbread, you make a bread dough. Spread the fillings on the dough and roll into a log just as you would cinnamon rolls. Slice, bake, and serve hot!
How to Make Pinwheel Bread Rolls
To start, grease a 9 x 13 inch baking dish with butter or olive oil; set aside. Also, if you have a stand up mixer, now is the time to pull it out. It will make kneading the bread so much easier, especially since it is a sticky dough.
Start by adding the flour, salt, and yeast to your stand up mixer fitted with the dough hook attachment. Next, you will need to warm the milk until it's warm to the touch, about 110 to 115 degrees. Use a thermometer for accuracy.
With the mixer running on medium low speed, carefully pour in the warm milk, beaten eggs, and honey. Mix on medium speed until dough pulls away from the sides of the mixing bowl, about 10 minutes.
Place dough in a large greased bowl and let rest in a warm area away from drafts. I personally always let my dough rise in the microwave where it is warm and draft free. The dough will be ready for the next step once it has doubled in size, about an hour or so.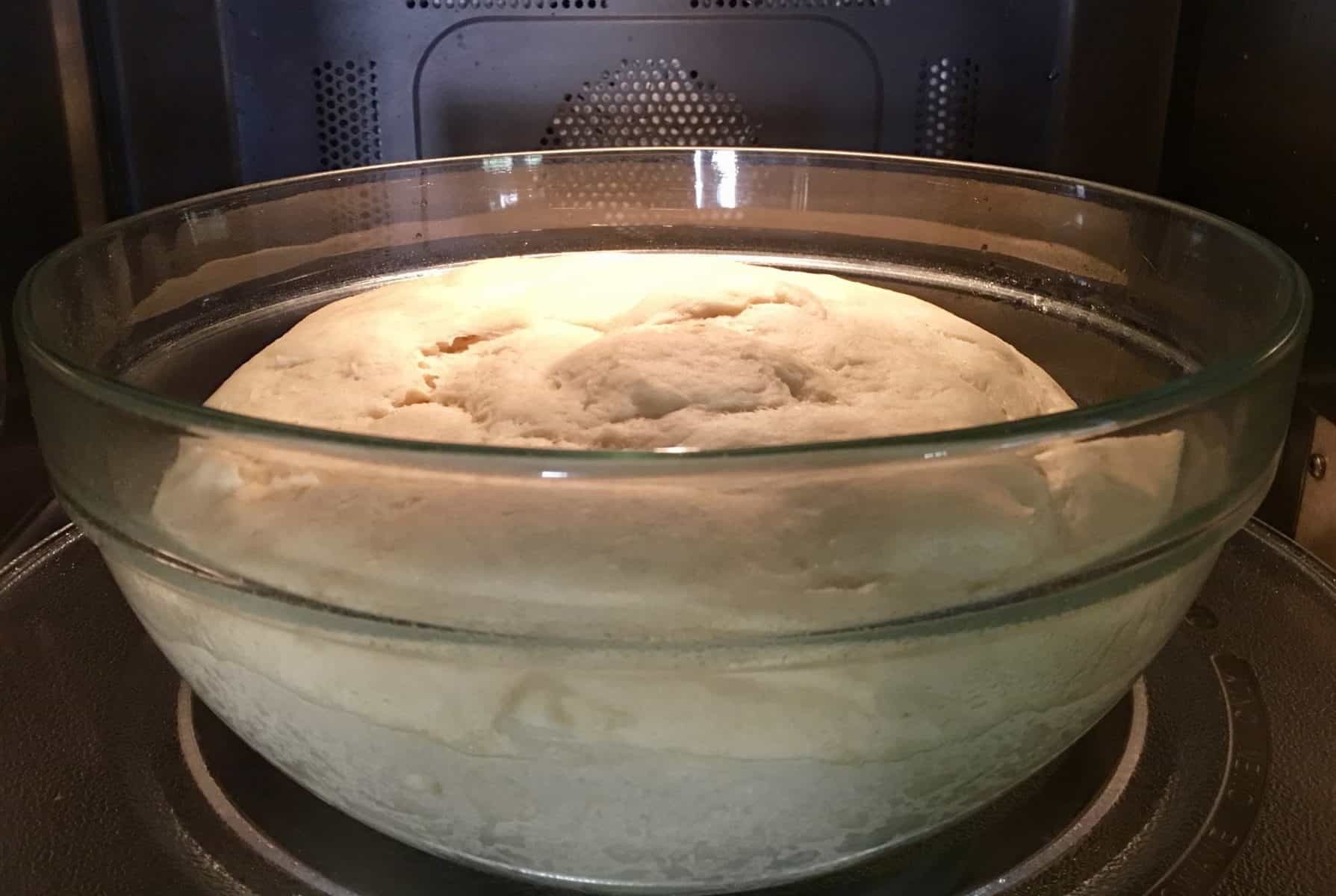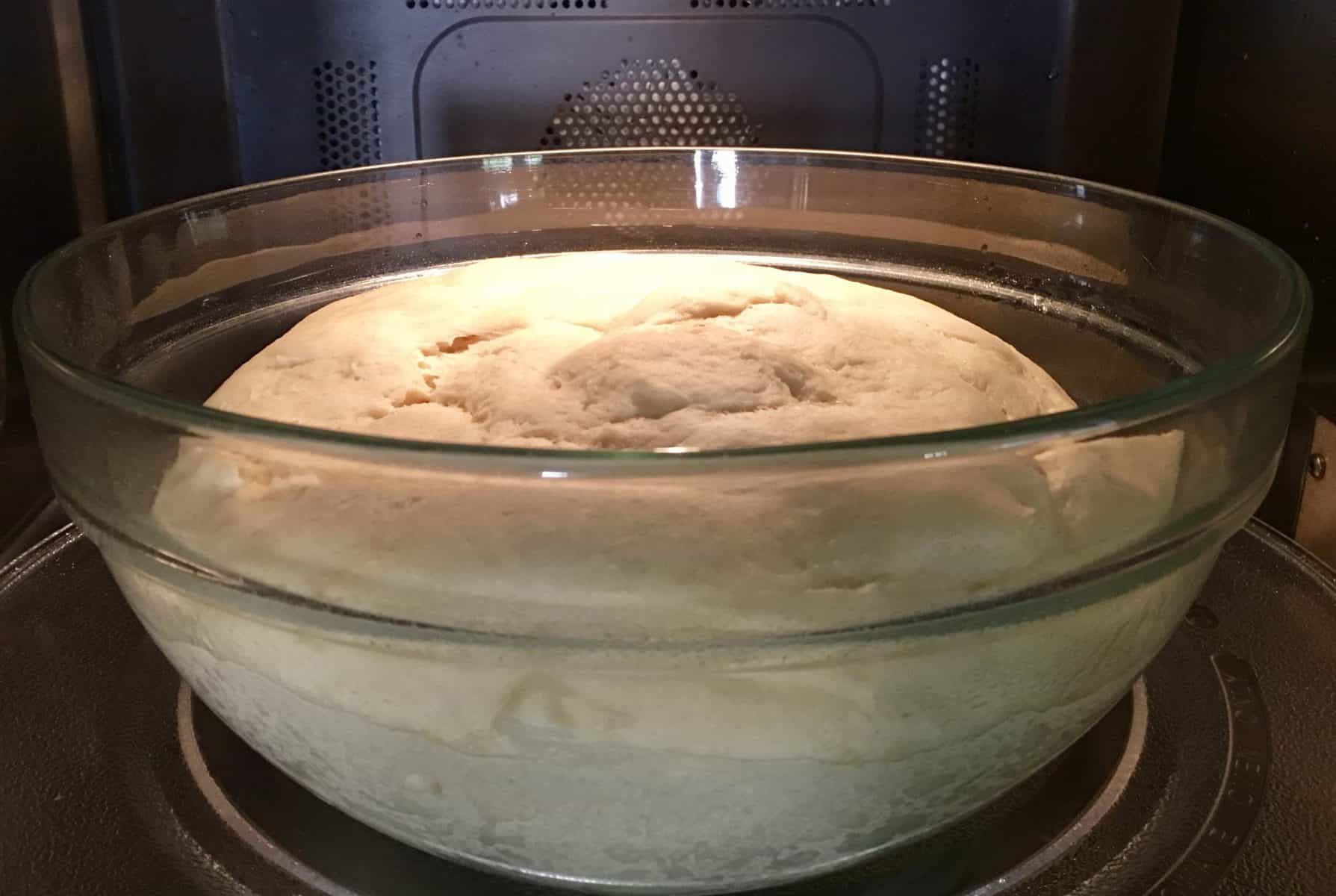 Roll and Fill the Pinwheels
Next, once the dough has doubled in size, punch it down and move it to a large floured surface. Use your rolling pin to roll the dough into a roughly 12 x 16 inch square.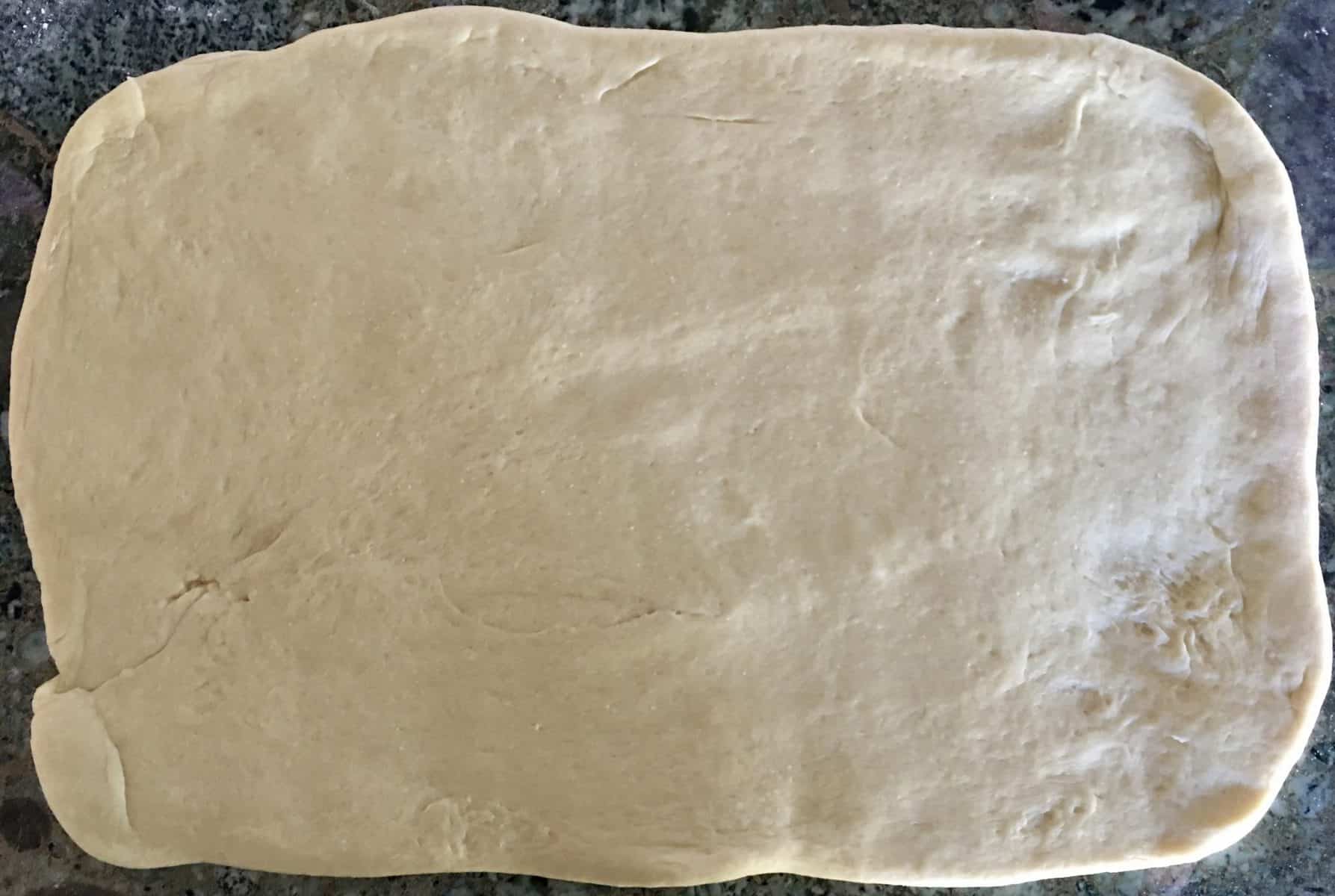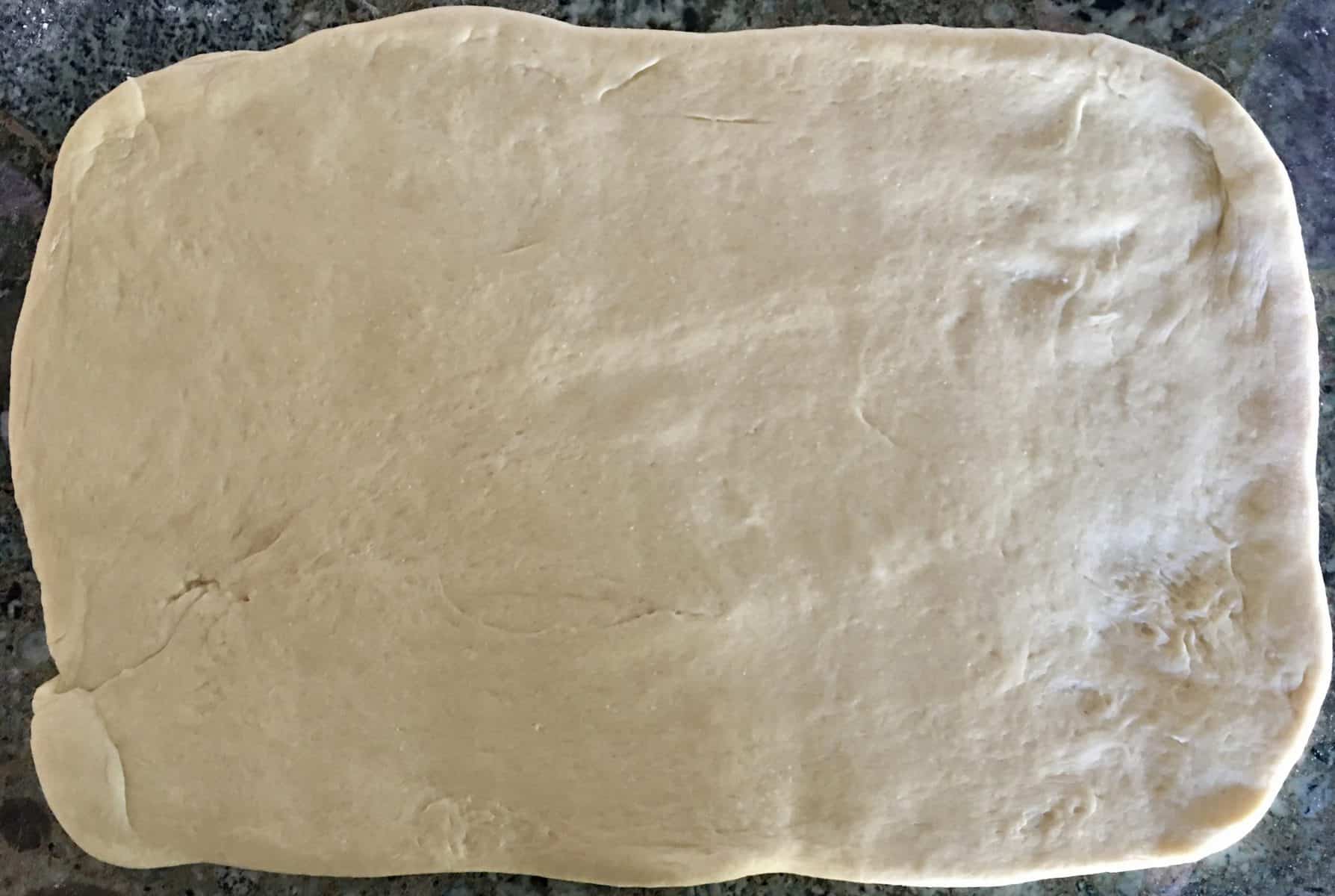 Next, spread ¼ cup of softened butter on to the dough using a butter knife.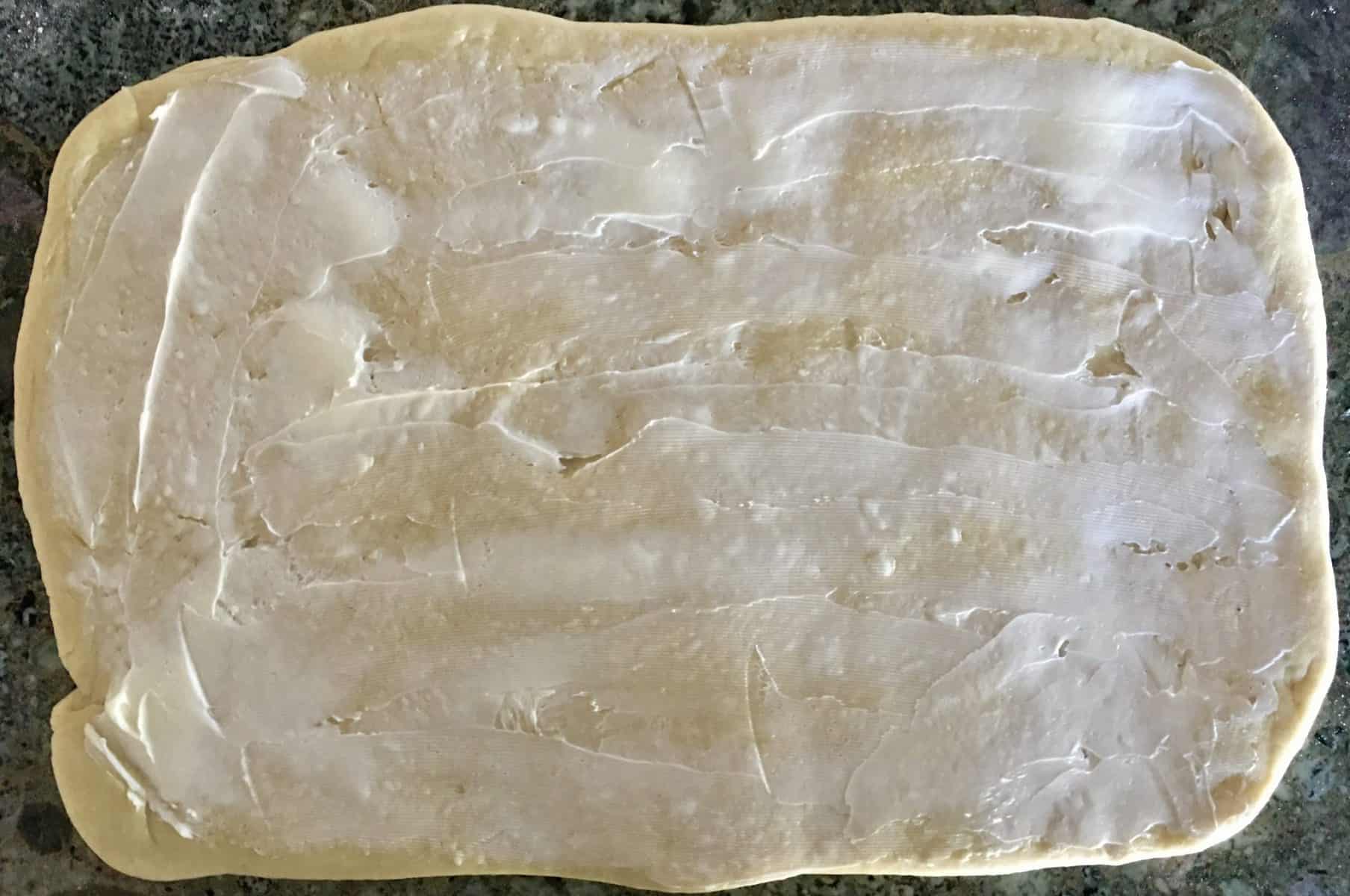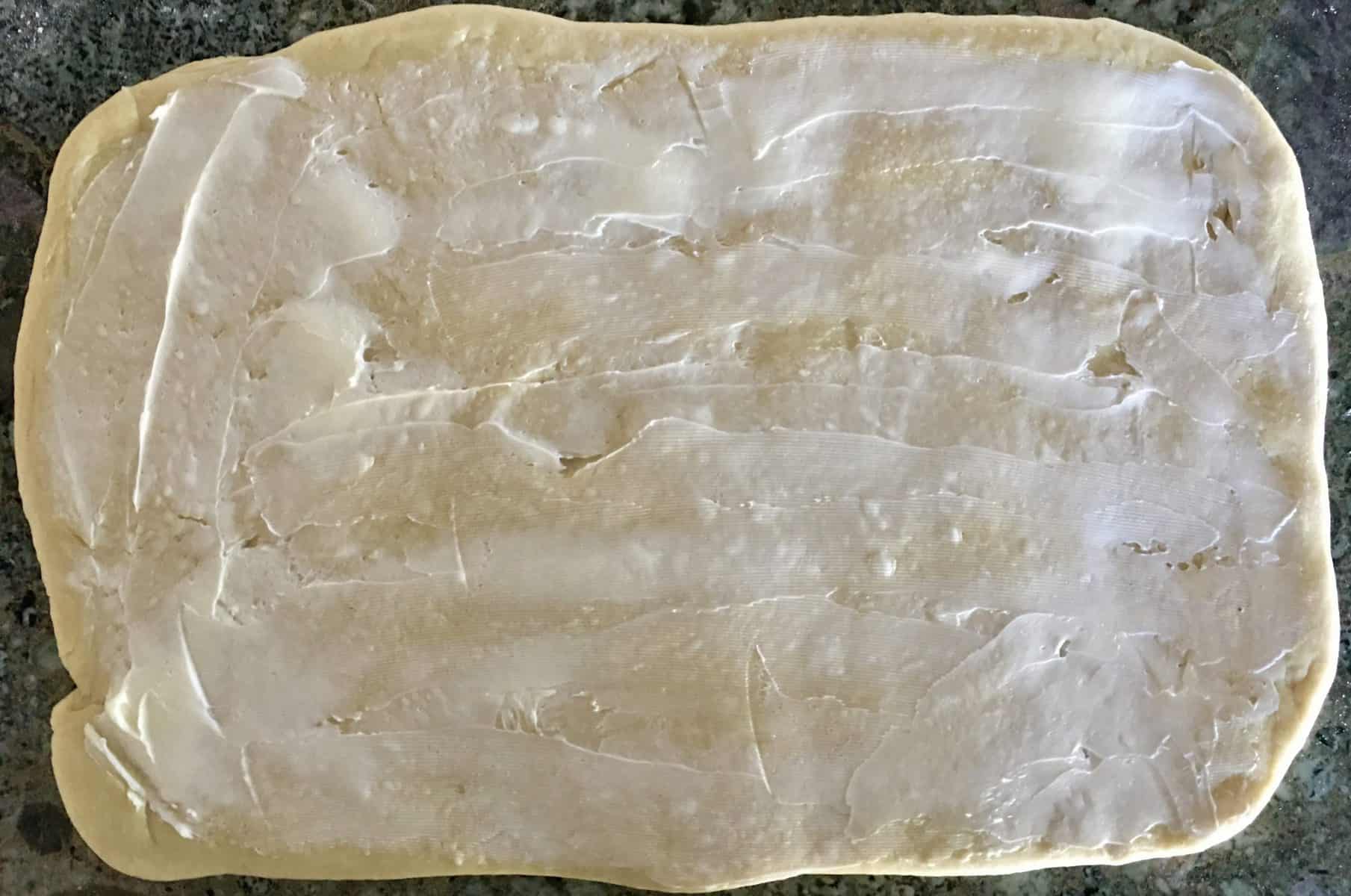 Sprinkle on the shredded parmesan and cooked bacon pieces. You could also substitute other cheeses, meats, or add herbs to change up the flavors of these pinwheel bread rolls.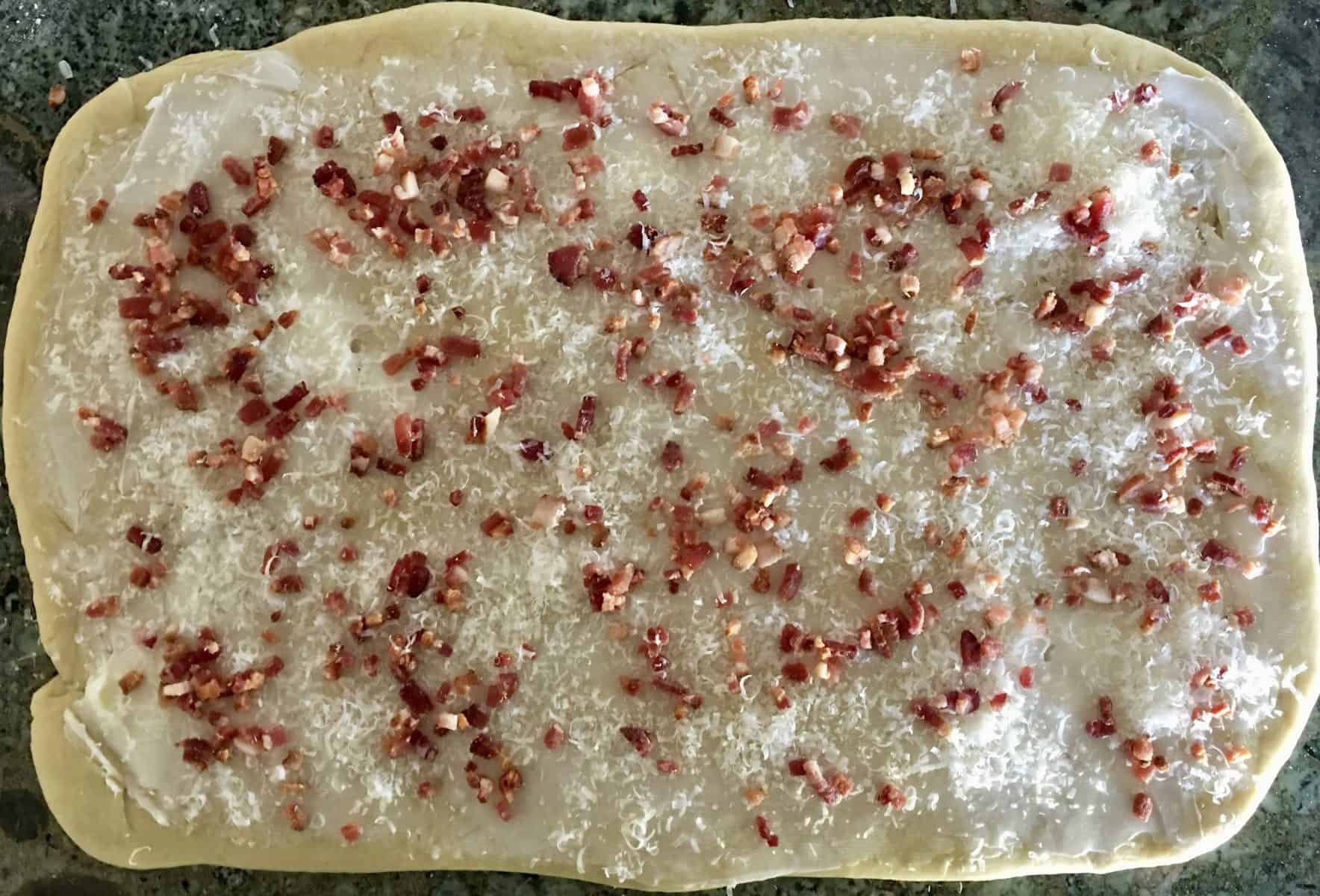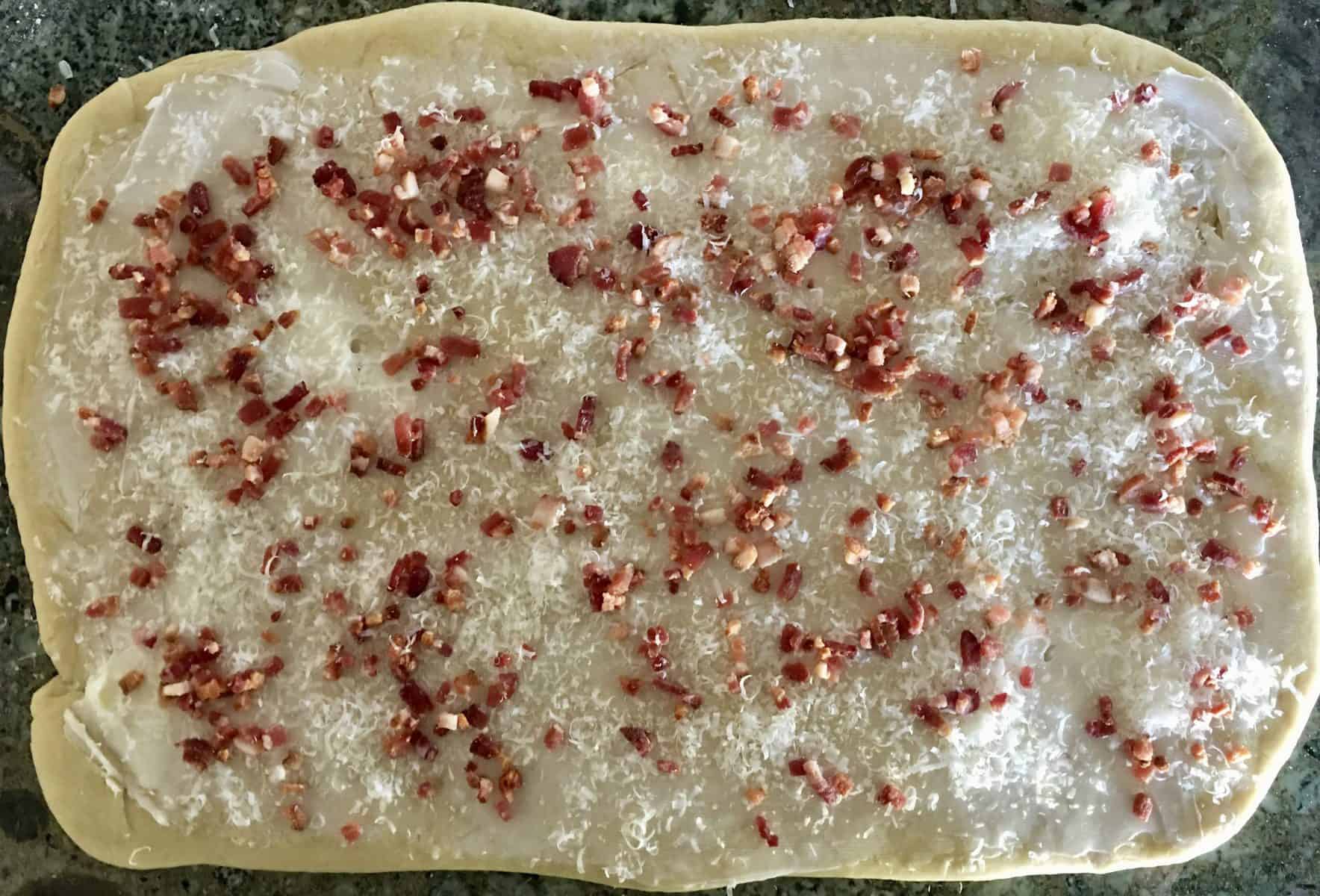 Roll, cut, rise, and bake
Starting at the long end of the dough, roll it upwards into a long log shape.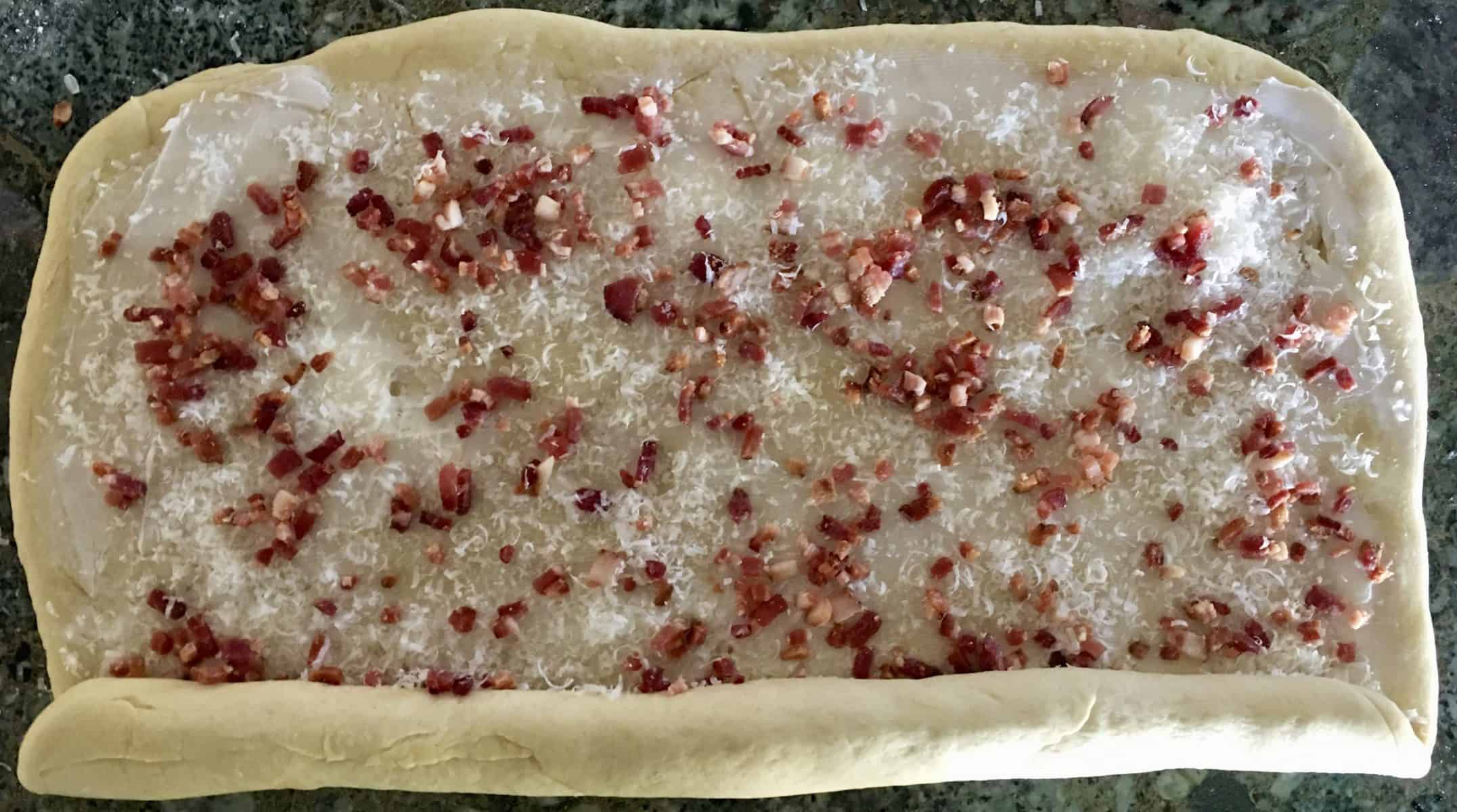 Then, use a sharp knife to score fifteen equal-sized pieces of dough. Lastly, use a serrated knife or unflavored dental floss to cut the dough in to fifteen equal pieces. Don't worry about any of the filling falling out; you can just place it on top of the rolls in the pan.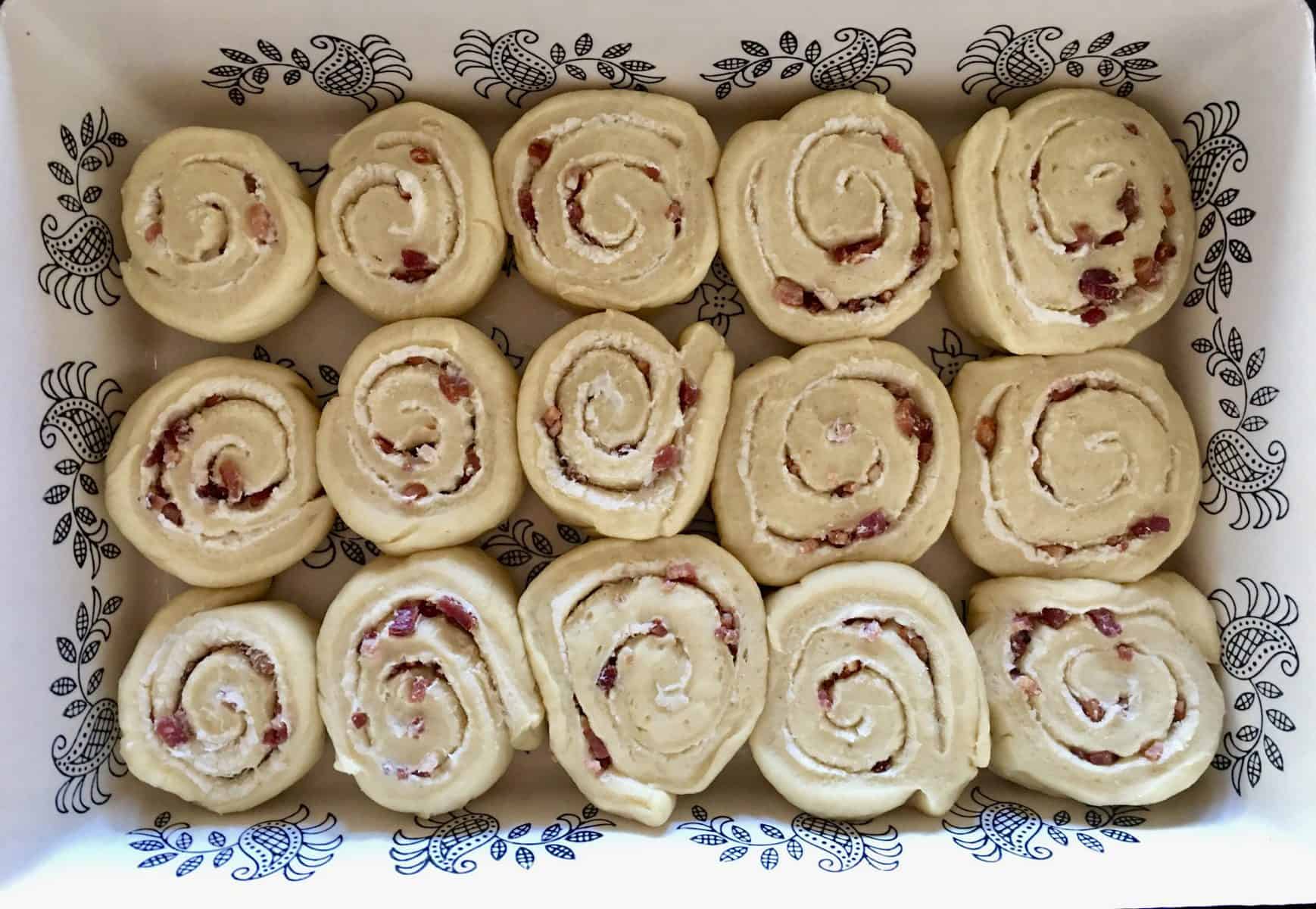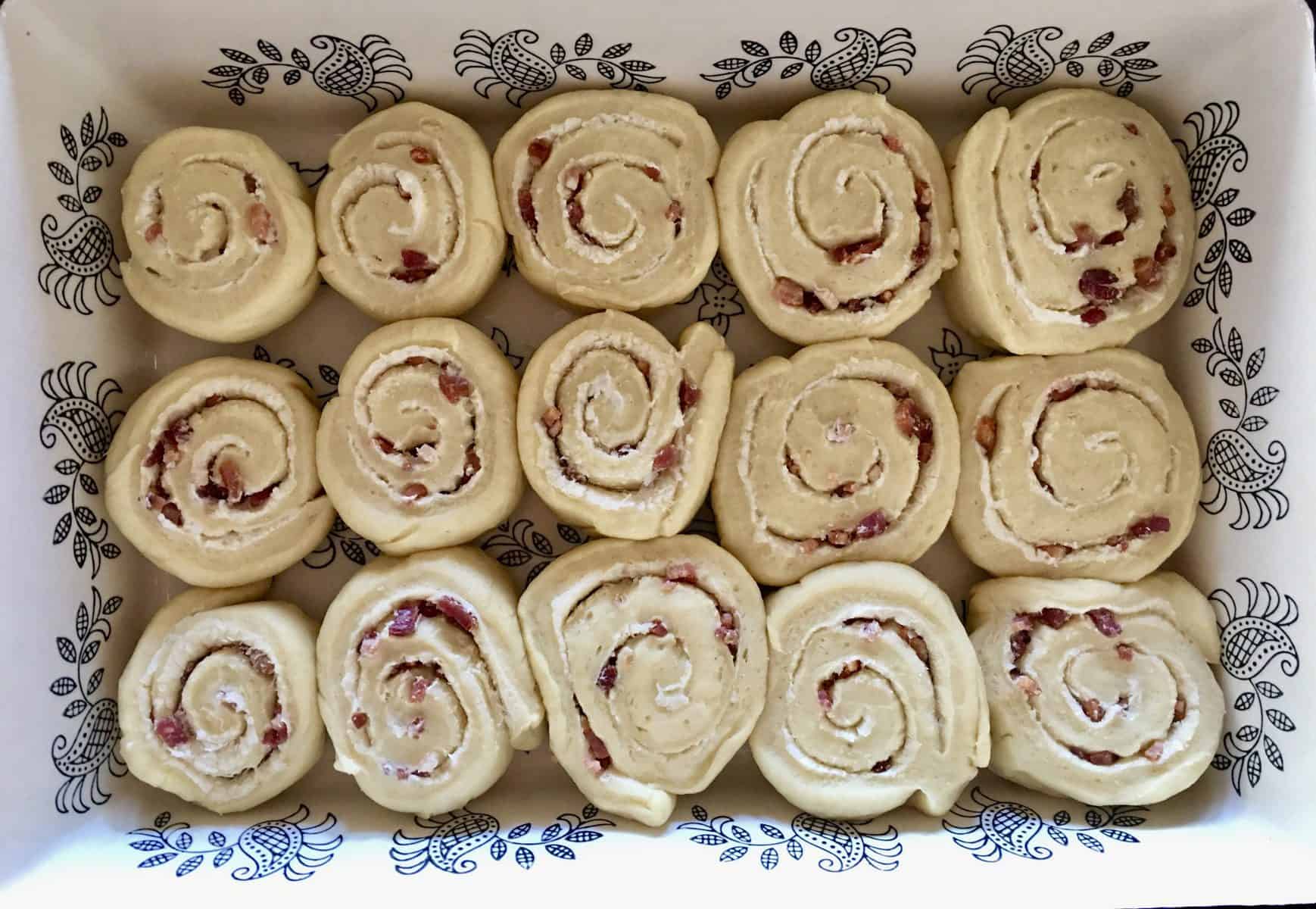 Place the pinwheel bread rolls in a lightly greased baking dish. If baking immediately, cover with a clean dish towel and let sit in a warm area for 30 minutes to rise.
If making ahead, cover the pinwheels tightly with plastic wrap and refrigerate for up to 24 hours. Once ready to bake, be sure to let the pinwheels rest at room temperature for 30 minutes before baking.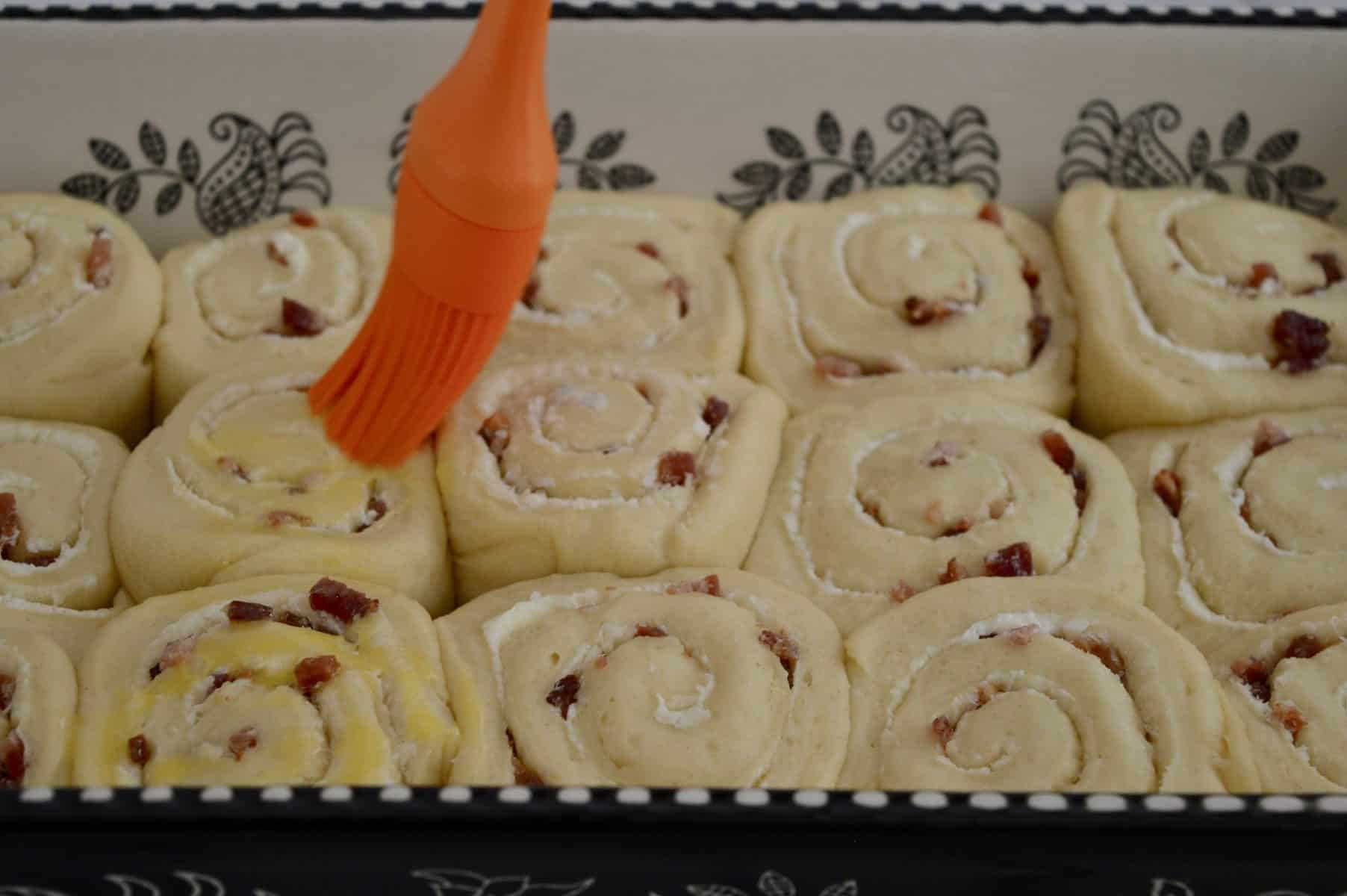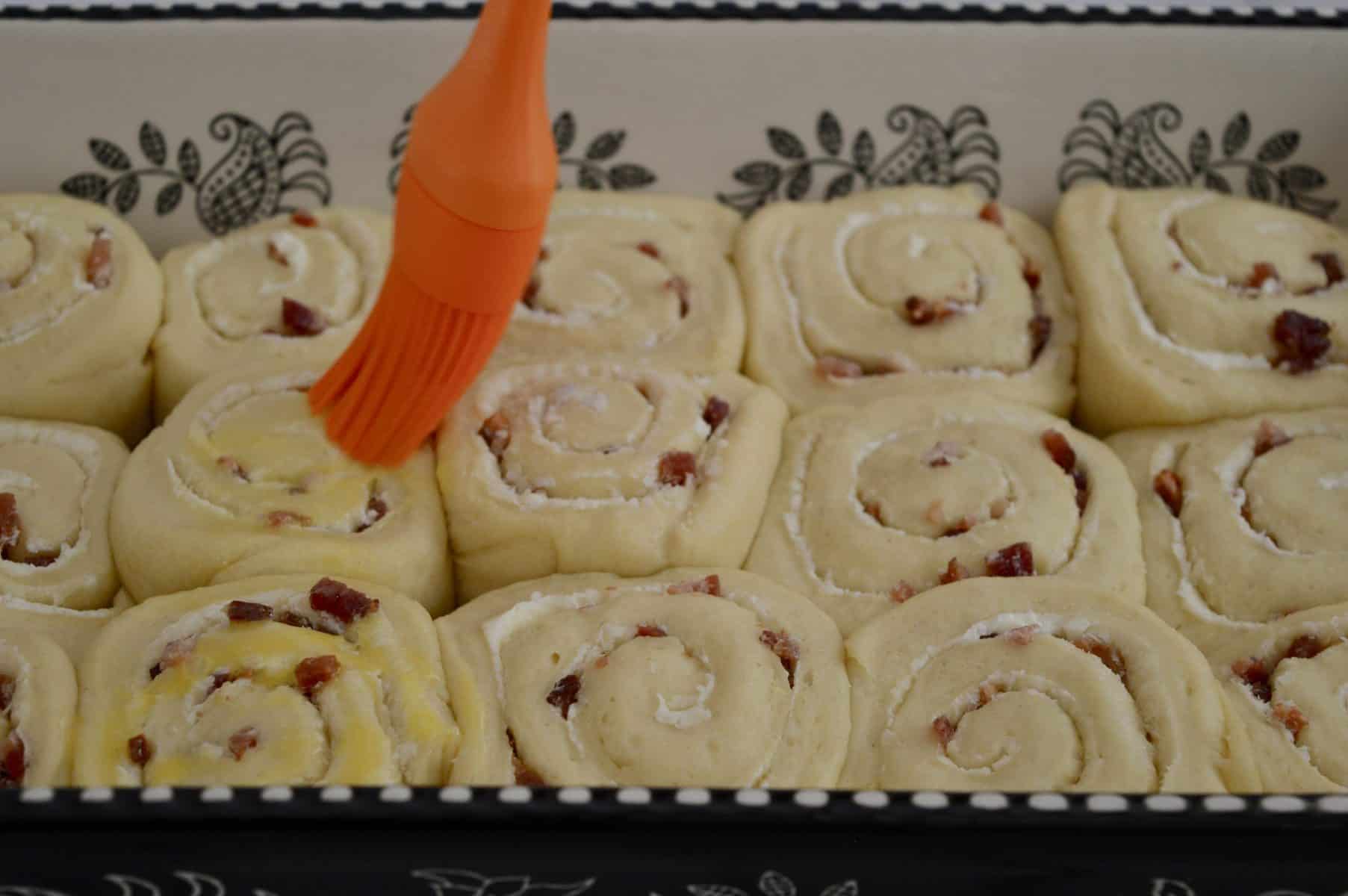 Lastly, brush the tops of the pinwheel bread rolls with beaten egg until tops are just coated (discard the remaining egg). Sprinkle with a tablespoon of grated parmesan and bake at 350 degrees for about 30 minutes.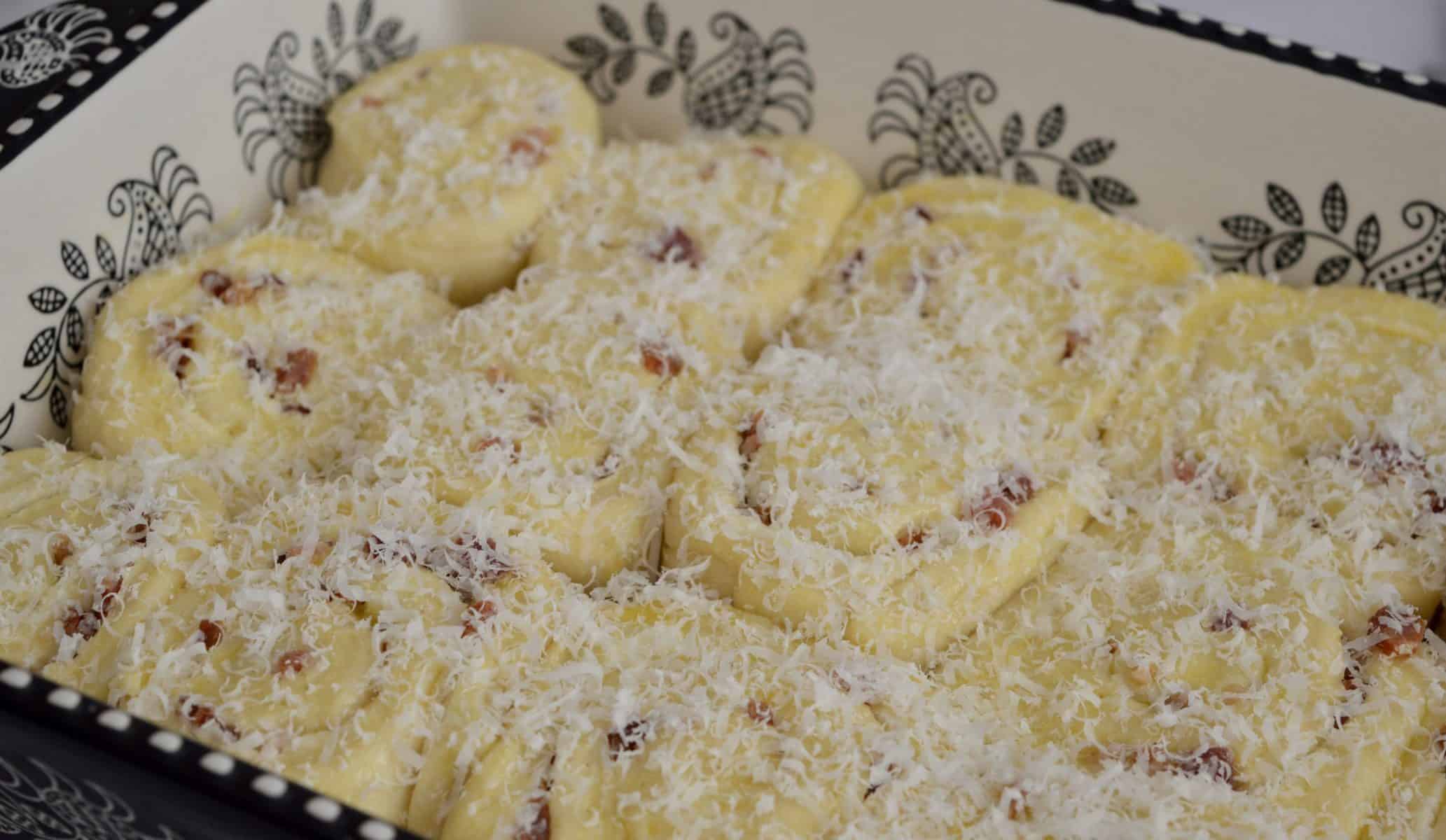 You will know when when the pinwheels are done when they have puffed up and are a light golden brown. You can also tap on the rolls and listed for a hollow sound to indicate doneness.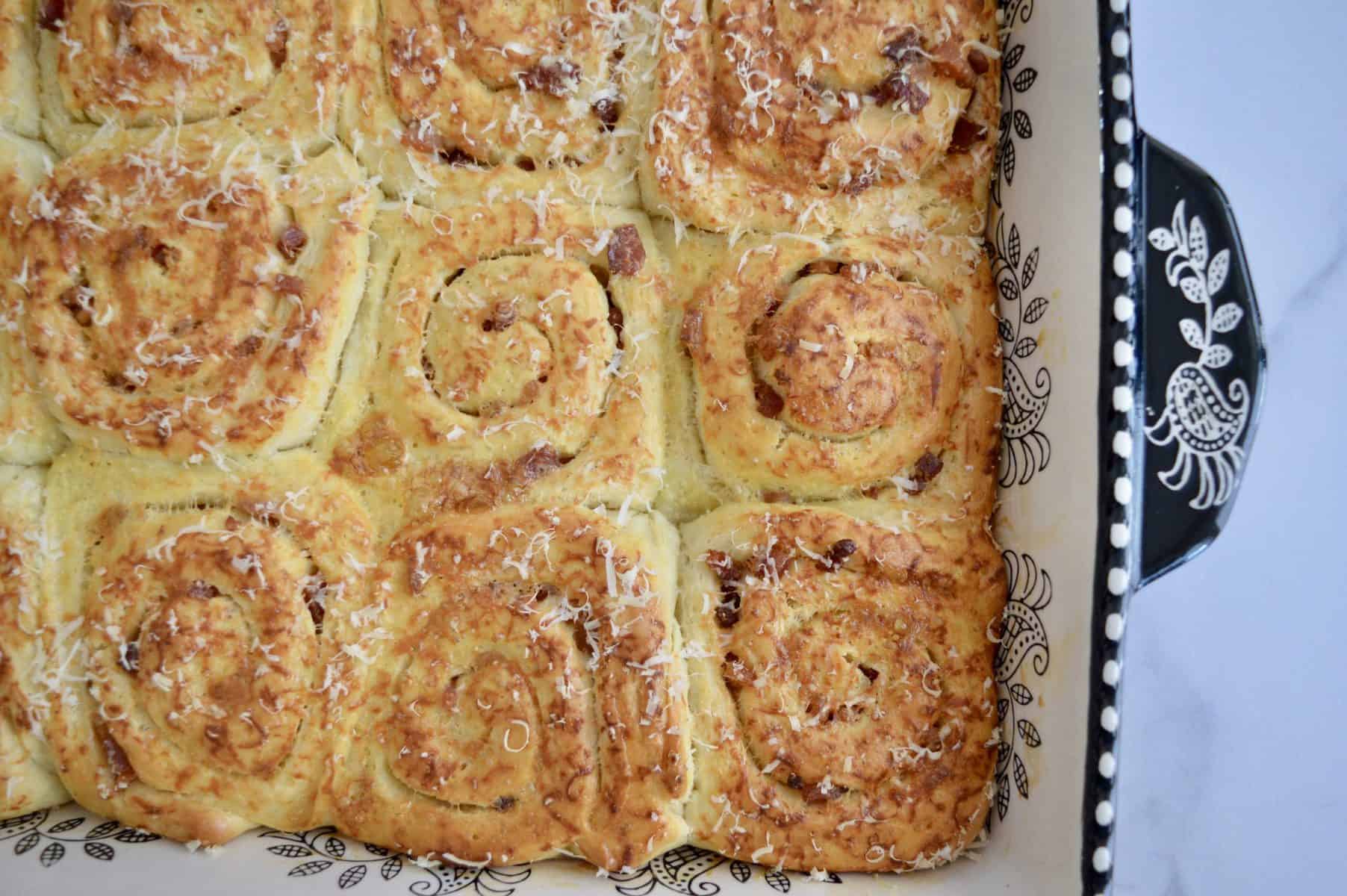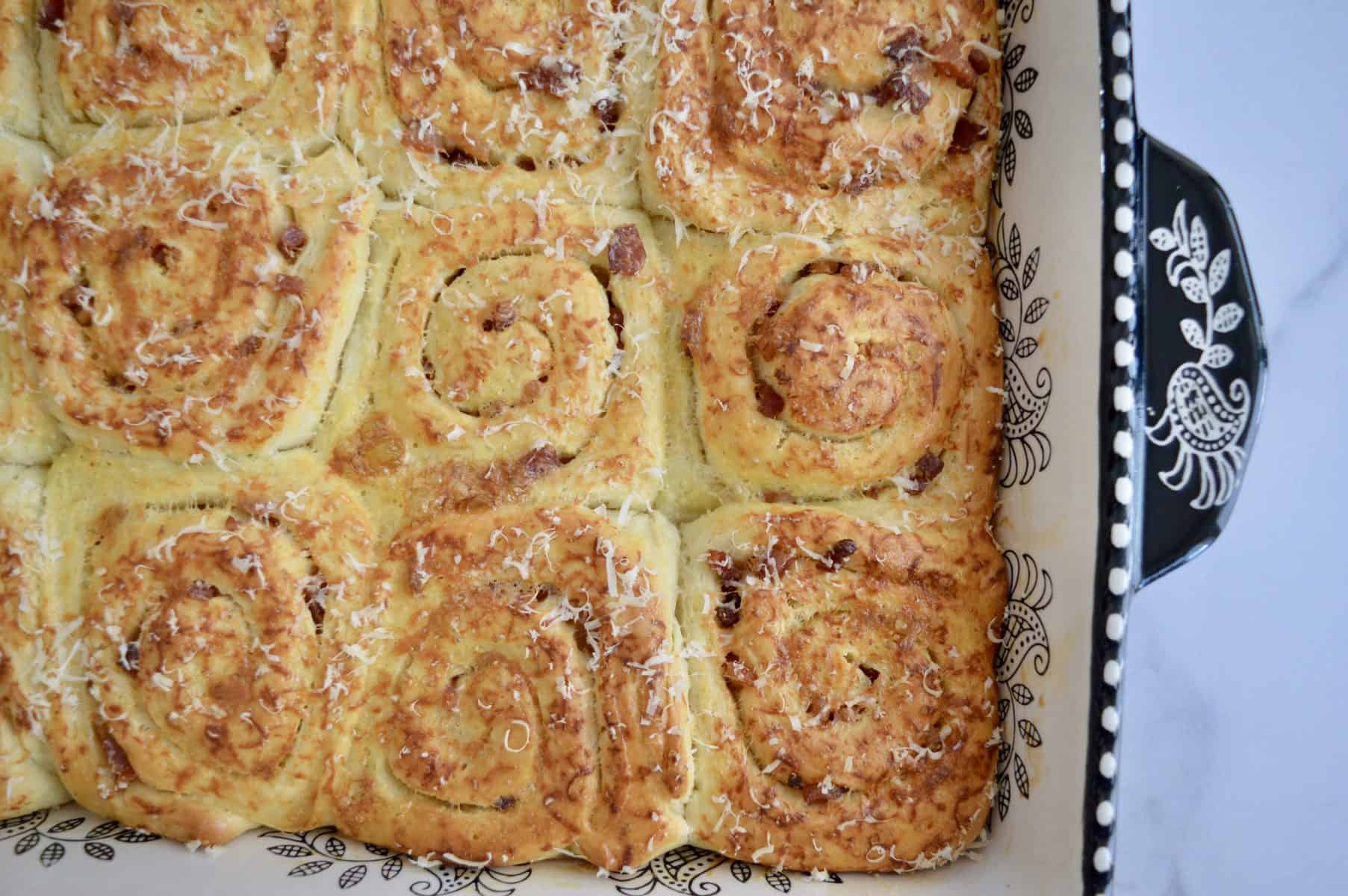 Pinwheel Bread Rolls with Bacon and Parmesan
Be sure to serve these rolls warm! I like to serve these rolls piled up high and served as an appetizer or dinner side dish. Moreover, leftover rolls can be refrigerated and reheated. I usually just heat mine on high for 30 seconds in the microwave and have it for breakfast.
If you love easy flavorful recipes, be sure to check out my other fan favorites:
Three-Ingredient Bacon Stuffed Dates are a great make-ahead appetizer that guests go crazy over.
Almond Ricotta Cake is a super moist Italian cake that's great to have on hand.
Turkey and Spinach Manicotti is a healthy version of traditional manicotti.
Mushroom Pea Risotto is a simple dish that is great as a side or meal.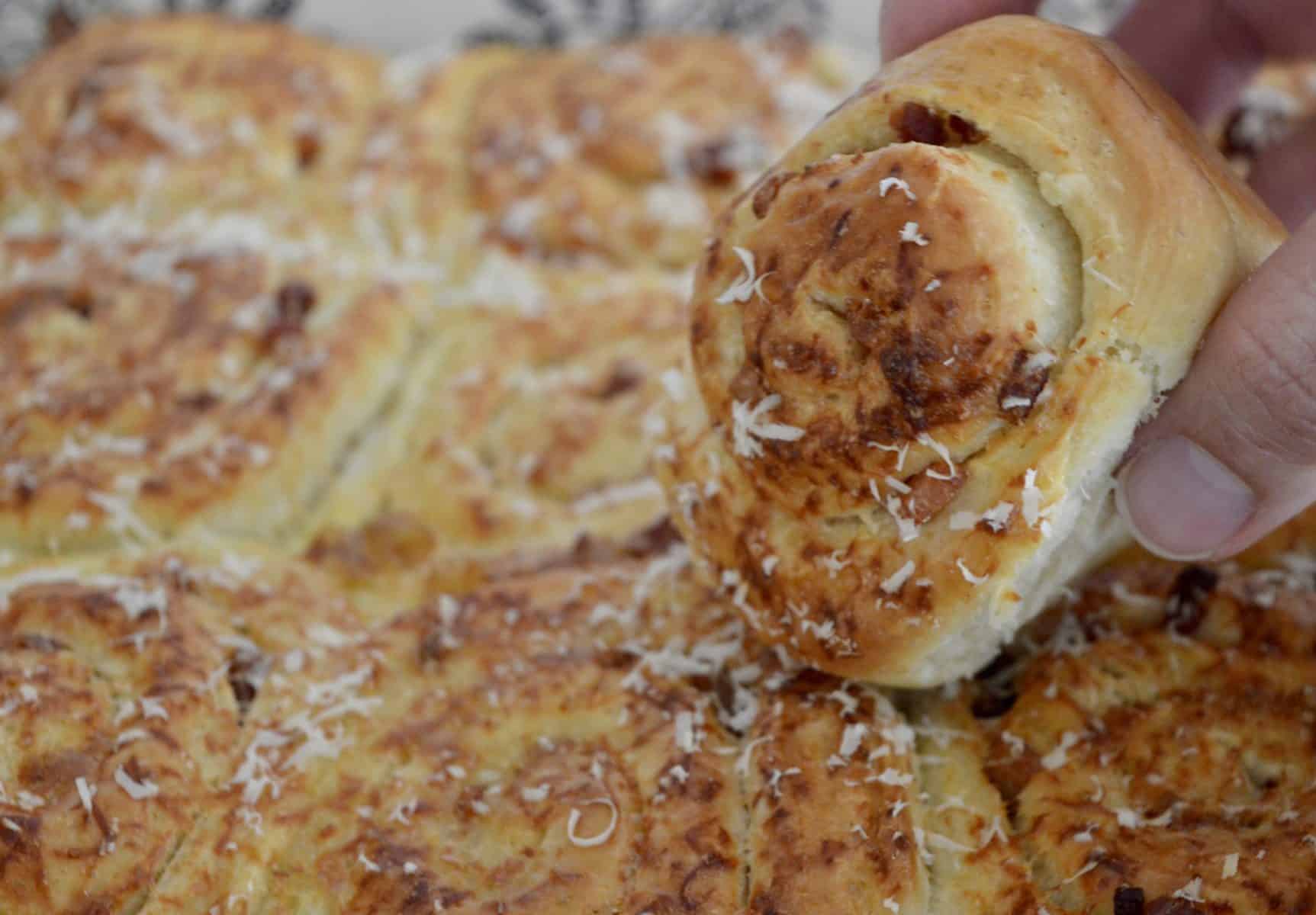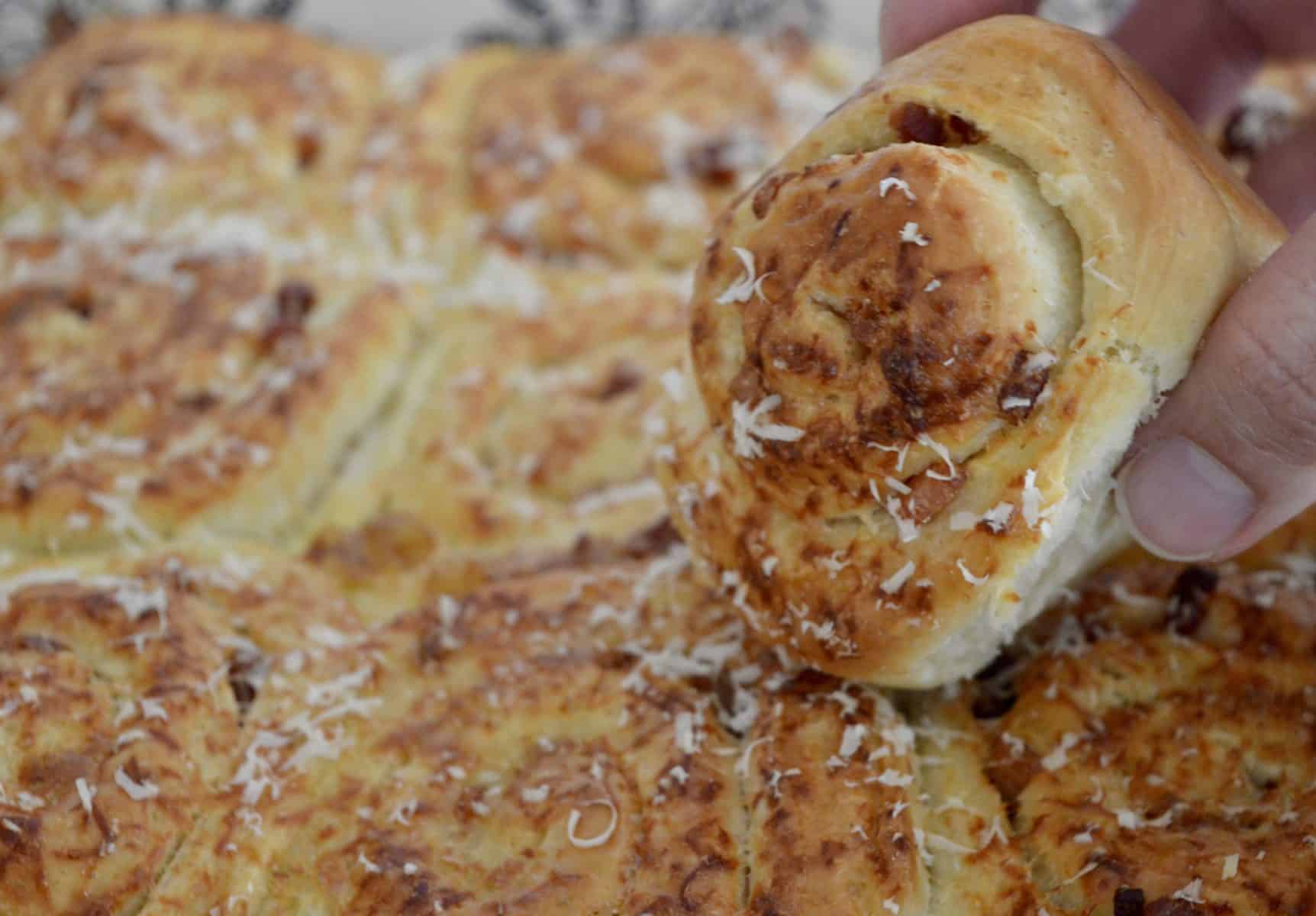 Give these bacon and parmesan Pinwheel Bread Rolls a try today! Be sure to comment below and let me know what you think. Enjoy!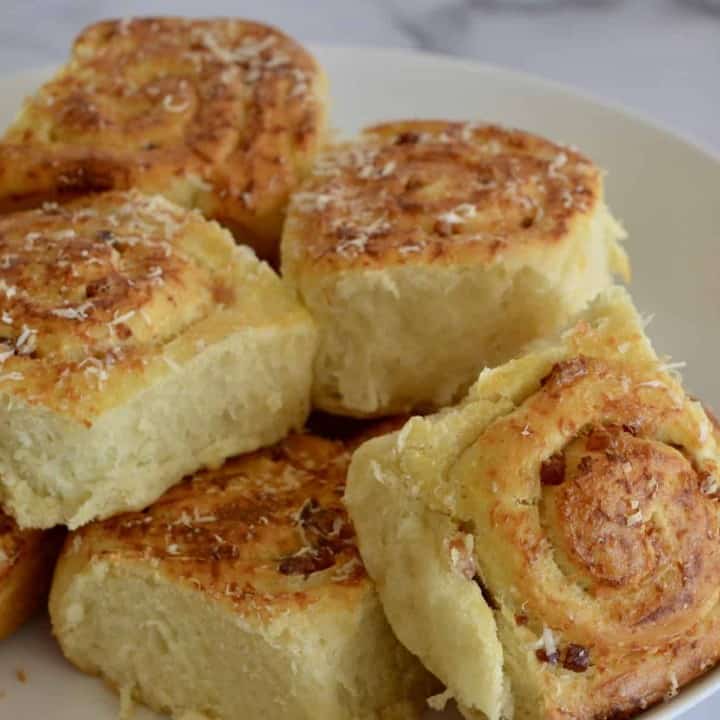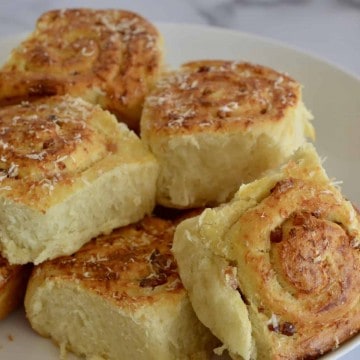 Pinwheel Bread Rolls with Bacon and Parmesan
Flaky and delicious Pinwheel Bread Rolls are simple to make from scratch. Rolled up with diced bacon and parmesan.
Print
Pin
Rate
Equipment
stand up mixer with dough hook

9 x 13 inch baking dish
Ingredients
4

cups

all purpose flour

(plus more for dusting)

1

package (¼ oz.)

active dry yeast

(2 ¼ teaspoons)

2

teaspoons

kosher salt

1 ¼

cups

whole or 2% milk

2

large

eggs, beaten

3

tablespoons

olive oil

(plus more for greasing)

2

tablespoons

honey
Filling
¼

cup

butter, room temperature

½

cup

cooked diced bacon

½

cup

grated parmesan cheese
Topping
1

large

egg, beaten

1

tablespoon

grated parmesan cheese
Instructions
Grease a 9 x 13 inch baking dish and set aside. In your stand up mixer fitted with the dough hook attachment, mix together the 4 cups of flour, package of yeast, and salt. In a small saucepan, heat milk over medium heat, stirring constantly, until the milk registers between 110 and 115 degrees on a thermometer (about warm but not hot).

With the stand up mixer running on low speed, add in the warm milk, eggs, olive oil, and honey. Knead the dough on medium speed for about 10-12 minutes, until the dough pulls away from the side of the bowl. The dough will sticky at this point. Transfer the dough into a large lightly greased bowl. Cover with a dish towel and let sit in a warm place until the dough doubles in size. This should take about an hour.

Punch the dough down and move to a lightly floured surface. Sprinkle the dough and a rolling pin with a little bit of flour and roll out into a roughly 12 x 16 inch rectangle. (It doesn't have to be perfect.) Use a butter knife or spatula to spread the butter over the dough then sprinkle with diced cooked bacon and ½ cup parmesan cheese and press gently into dough.

Starting from the long side of the dough, roll the dough into a log shape, lightly pushing in the ends to even out the shape of the log. Score the bread using a knife into 15 equal-sized pieces. Use either plain dental floss or a serrated knife to cut the dough log crosswise into 15 pieces. Arrange the rolls in the baking dish, cut side up. Cover with dish towel and let sit in a warm place for at least 30 minutes.

Preheat oven to 350 degrees. Uncover the rolls and brush on the beaten egg just to coat the top of the rolls, discarding any remaining egg. Sprinkle with 1 tablespoon of grated parmesan cheese. Bake until the tops of the rolls are light golden and the rolls sound hollow when tapped, about 30 minutes. Serve warm.
Notes
The rolls can be made ahead and baked before serving. Just prep rolls, cover with plastic wrap, and refrigerate overnight. Let sit at room temperature 30 minutes before baking. 
Nutrition