Pumpkin Ginger Cupcakes are the perfect pumpkin cupcake recipe. Amplify your cupcakes by adding zesty crystalized ginger and delicious cinnamon ginger cream cheese frosting. It'll be your new favorite cupcake recipe!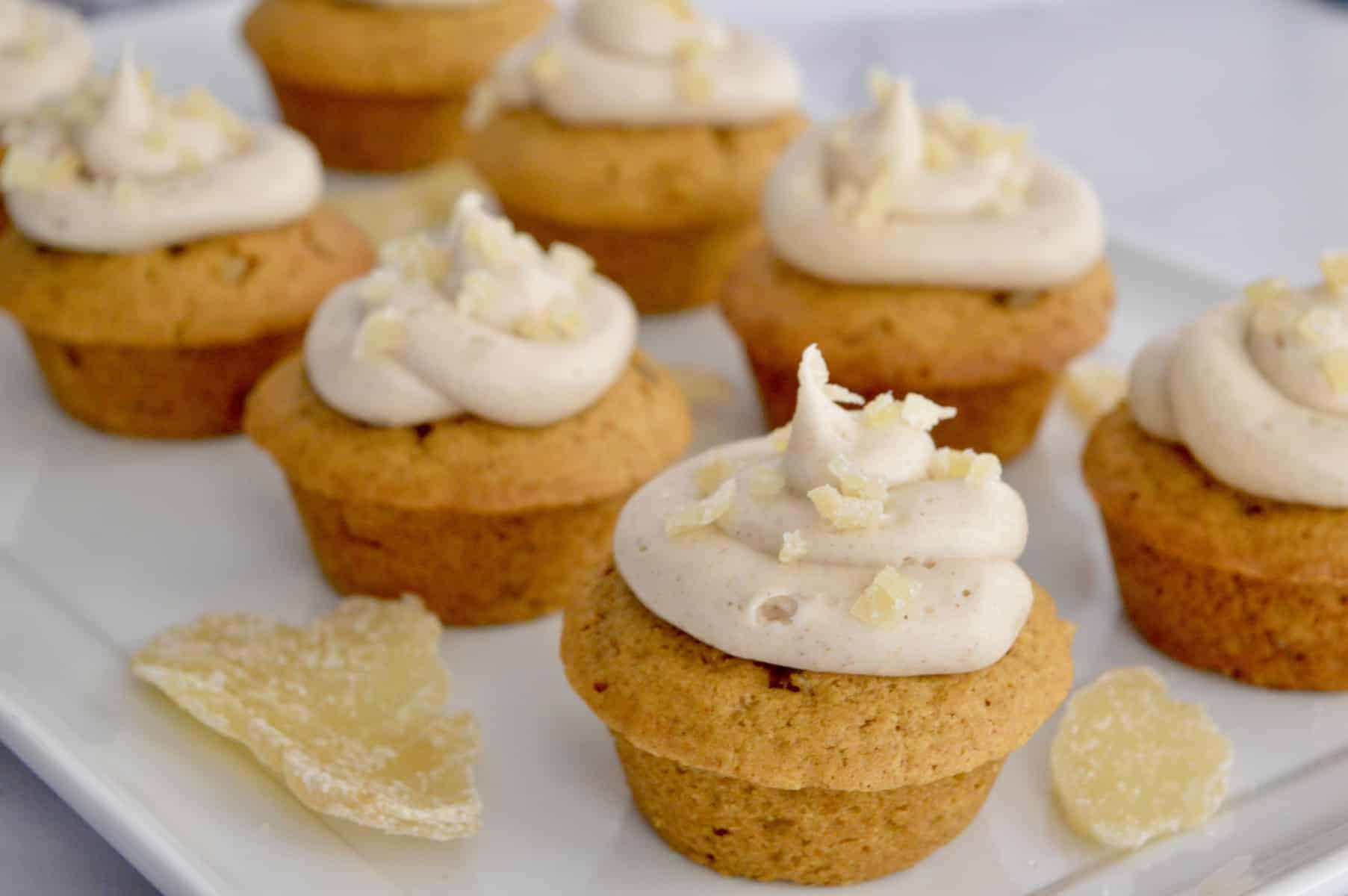 Pumpkin Ginger Cupcakes are the perfect dessert. These sweet and flavorful cupcakes are sure to be the star of your dessert table. Great year round, these cupcakes are especially festive with the cooler months and would be the perfect addition to your Thanksgiving feast.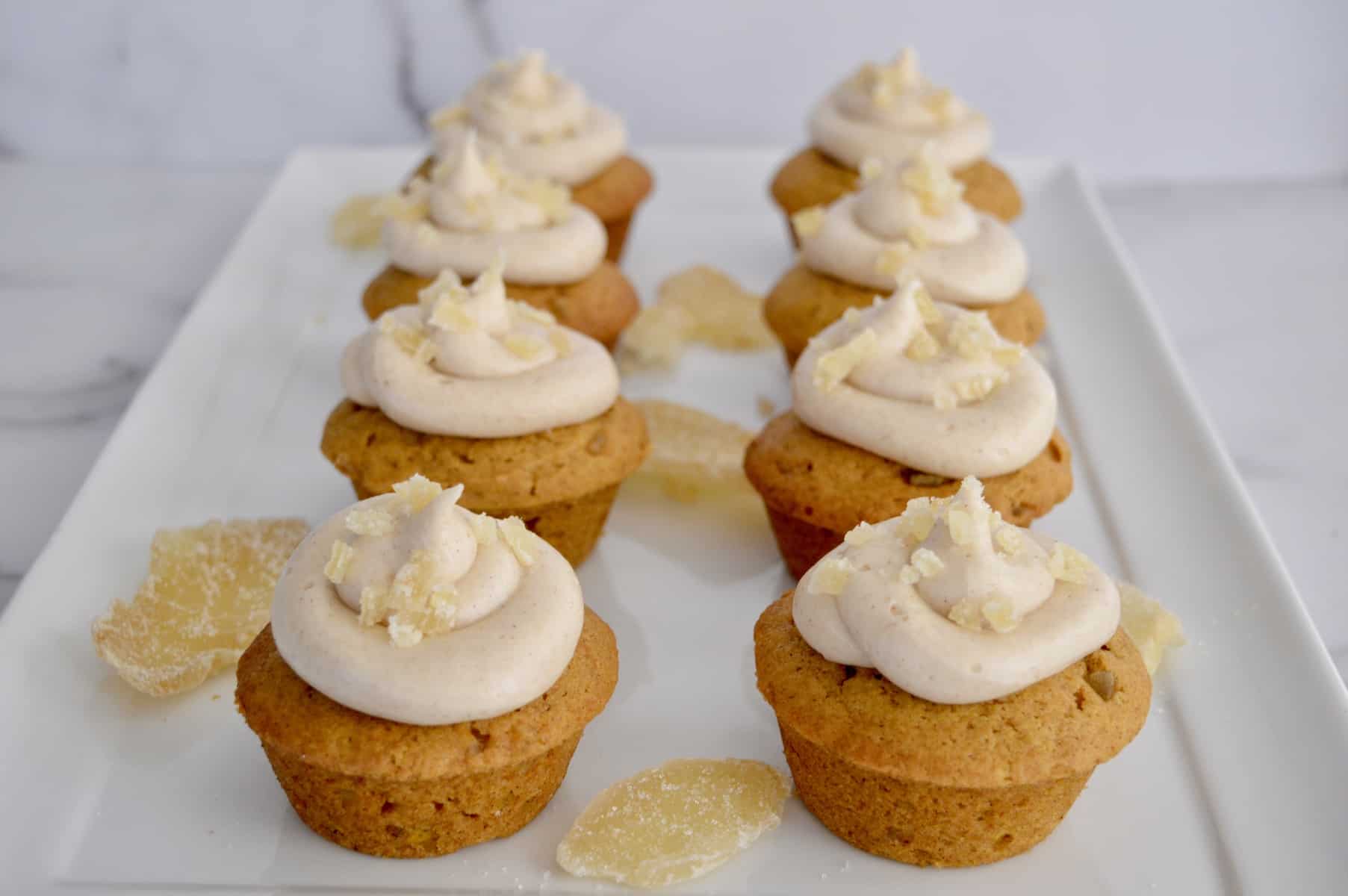 Moreover, these beautiful little cupcakes are easy to make too! Using crystalized ginger and canned pumpkin, you are able to transform your cupcakes into a delicious and festive treat.
Make ahead! Even better, you can make these cupcake ahead of time and freeze the muffins up to a month in advance. Or, bake and frost in advance and refrigerate in an airtight container up to three days.
Why Ginger?
If you've never cooked with ginger before, you may be skeptical. Sweet, tart, and peppery ginger can be a bit much on it's own.
But ginger can be a perky partner for quieter flavors, like pumpkin. These normally mellow pumpkin cupcakes with cream cheese frosting are just the buddy ginger needs.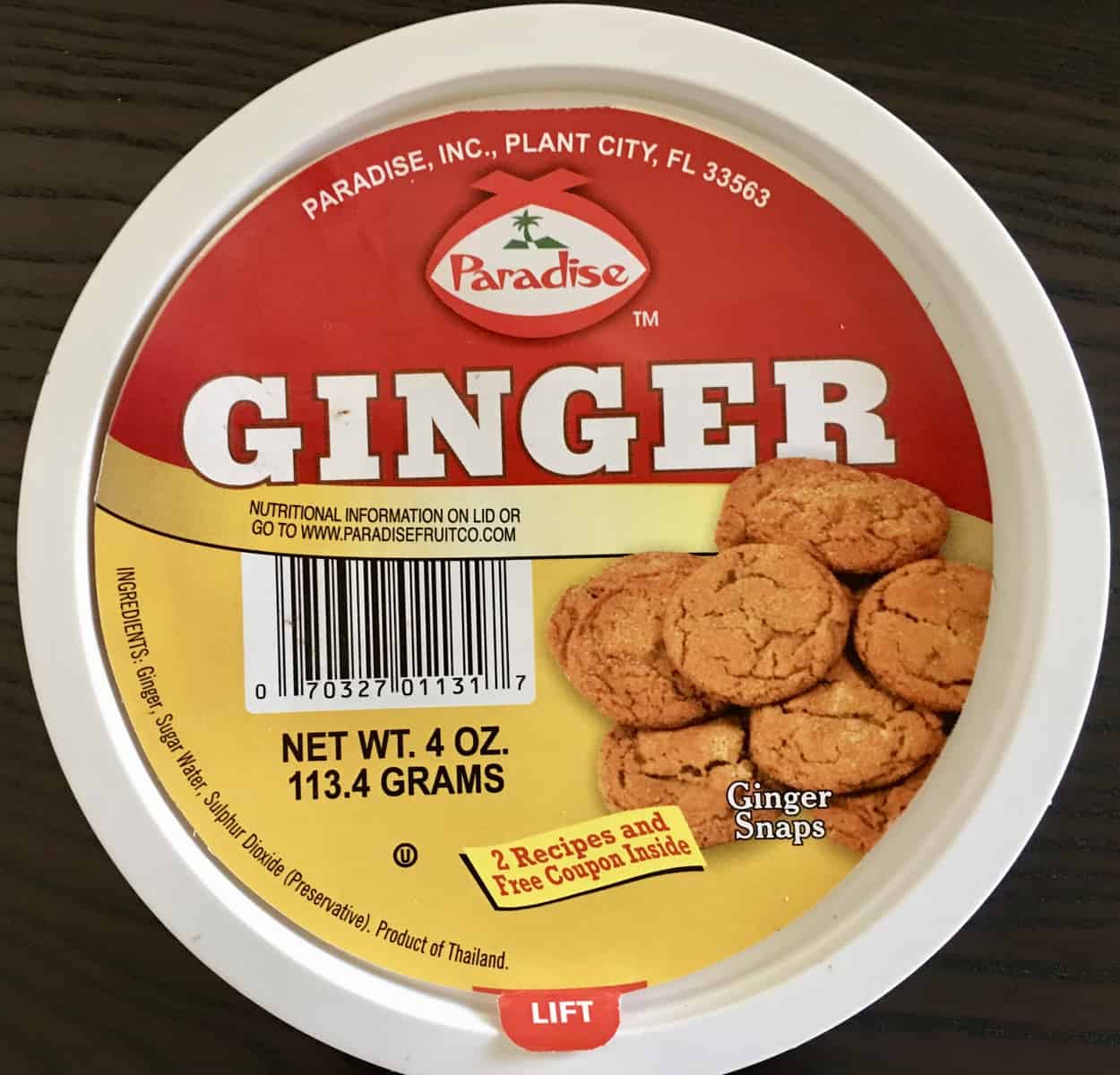 So, the key to using ginger in your baking it to stick with ground ginger and crystalized ginger; not raw ginger you find in the produce section. I like to use Paradise Crystalized Ginger for these cupcakes. These two ingredients give you the flavor without packing too much of a punch.
The crystalized ginger will usually come in large slices and is simple to dice for this recipe. It's great to use in the batter of the cupcakes as well as garnish at the end.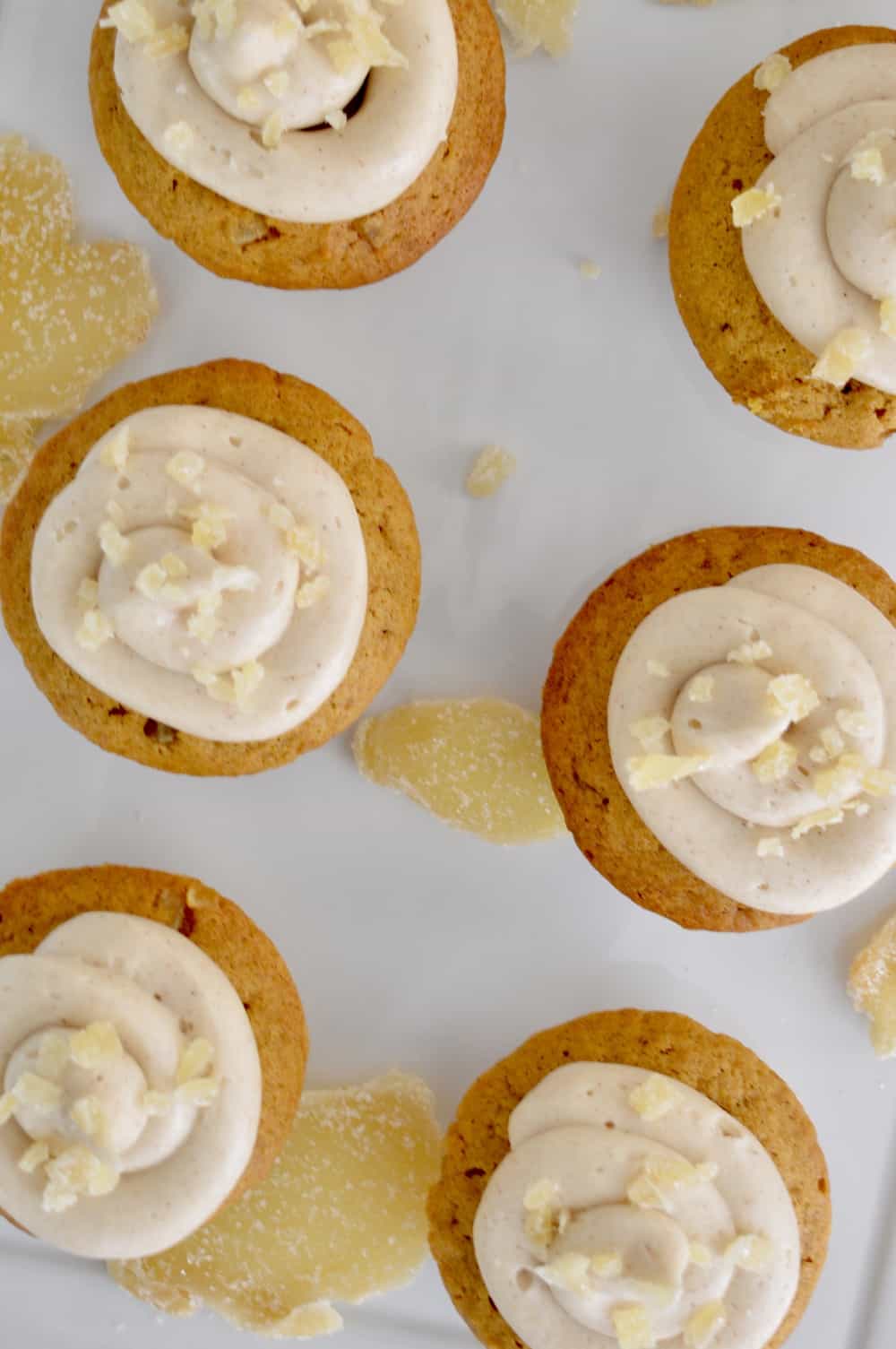 If you have leftover ginger, it's great for snacking on too! Moreover, it's always great to have crystalized ginger in the house as it calms an upset tummy as well.
What to do with leftover canned pumpkin?
This recipe calls for ¾ cup of canned pumpkin, which means that you are going to have some leftovers. Thankfully, there are a bunch of sweet and savory recipes that use canned pumpkin. You'll use up the rest of that canned pumpkin, and maybe even open an extra can or two!
Sweet Pumpkin Recipes
Glazed Pumpkin Bread is super simple to make and a guaranteed crowd pleaser. I love double this recipe and give out loaves as gifts.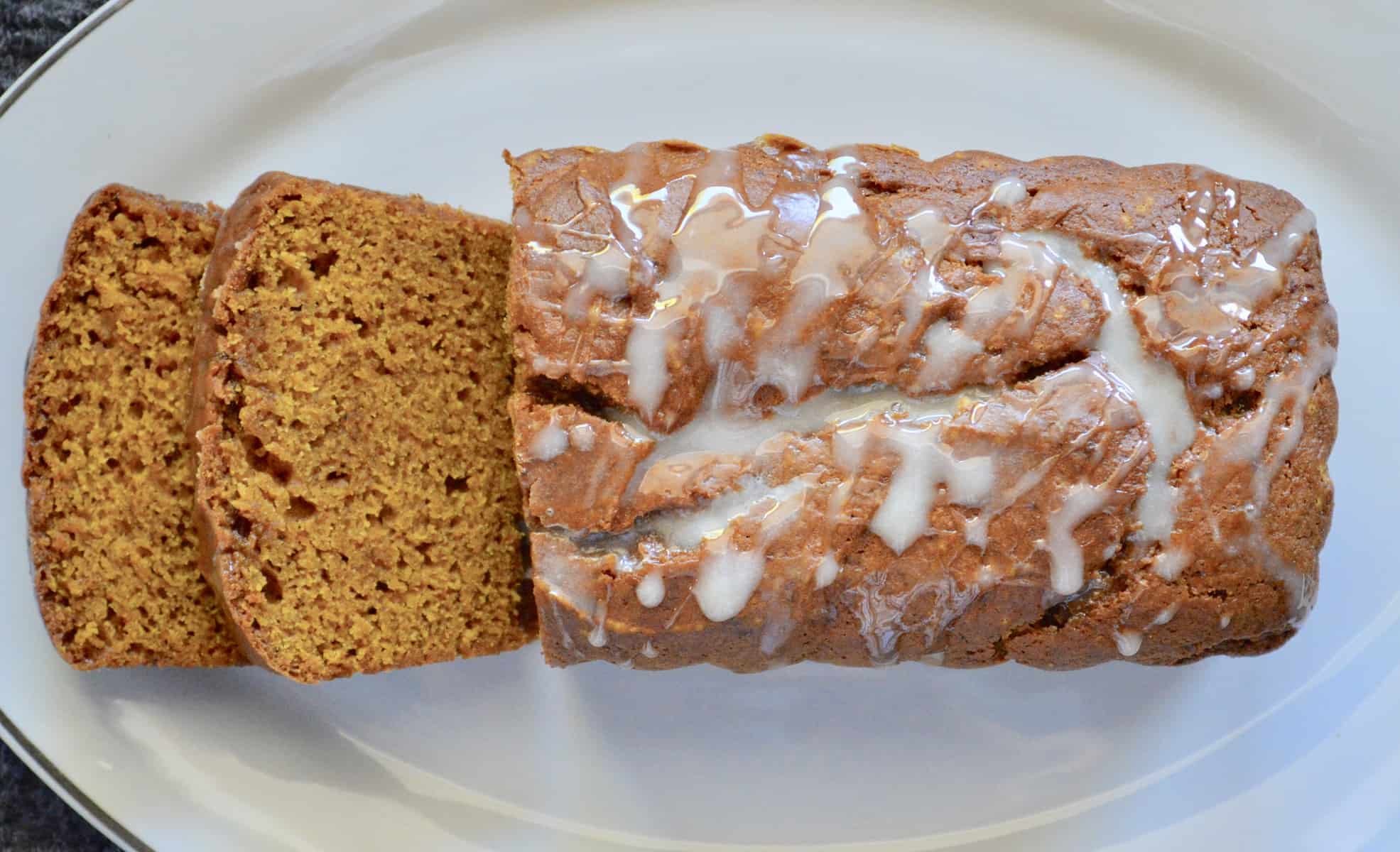 Pumpkin Walnut Raisin Bread is a super moist and delicious bread that's also great for gifting. This loaf freezes beautifully and can definitely be made ahead of time.
Pumpkin Pie Bars with a delicious pecan crumble is a fun way to serve pumpkin pie. Made in a sheet pan, these tasty bars are great for serving a crowd and taste just as delicious as pie!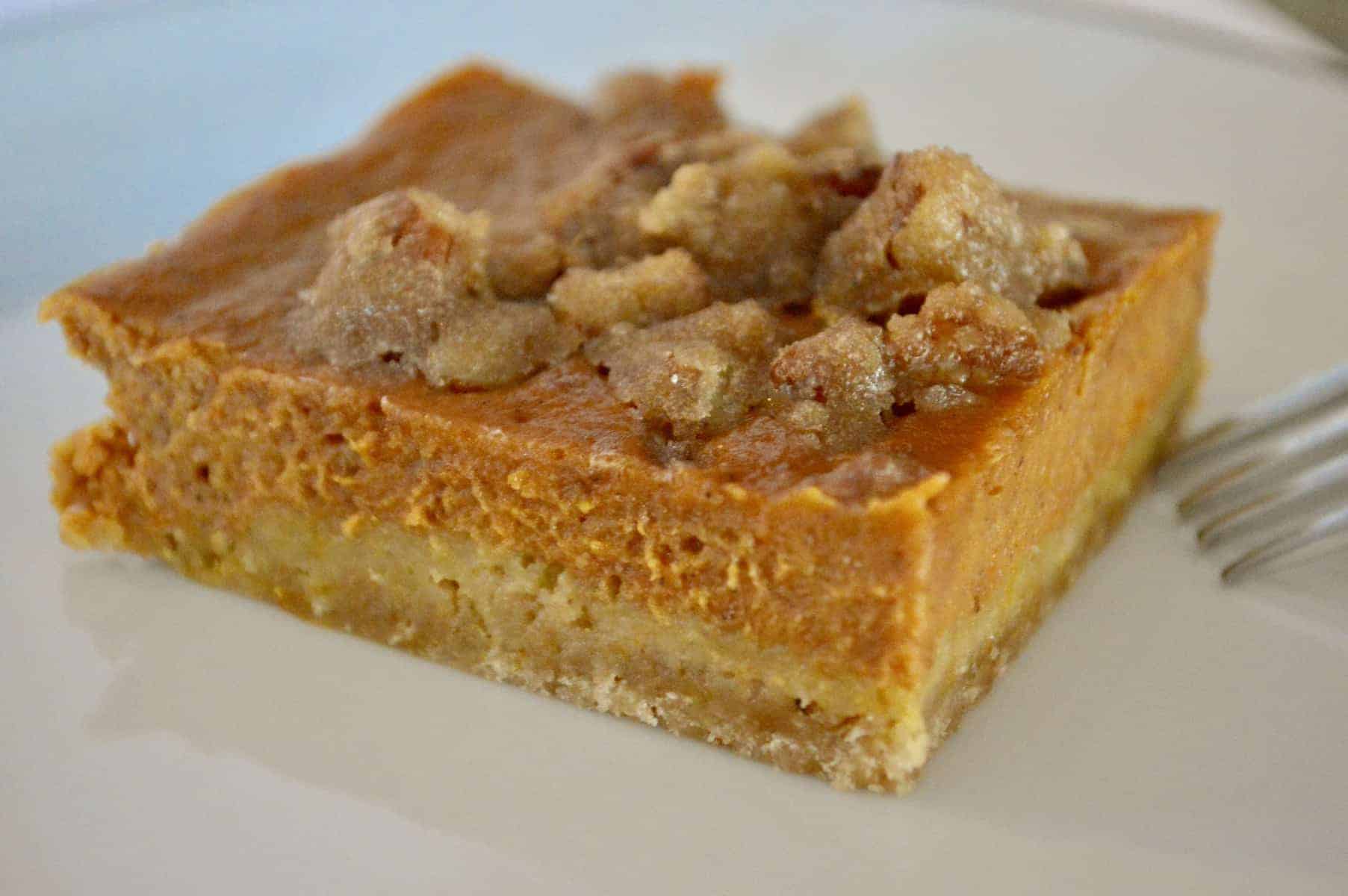 Make ahead this delicious Pumpkin Streusel Coffee Cake with a delicious brown sugar middle. Perfect for brunch or as a snacking cake when guests come over.
Pumpkin Spice Truffles dipped in white chocolate is a seriously addicting treat that everyone loves. Great use for that leftover pumpkin, this may become your new favorite dessert recipe.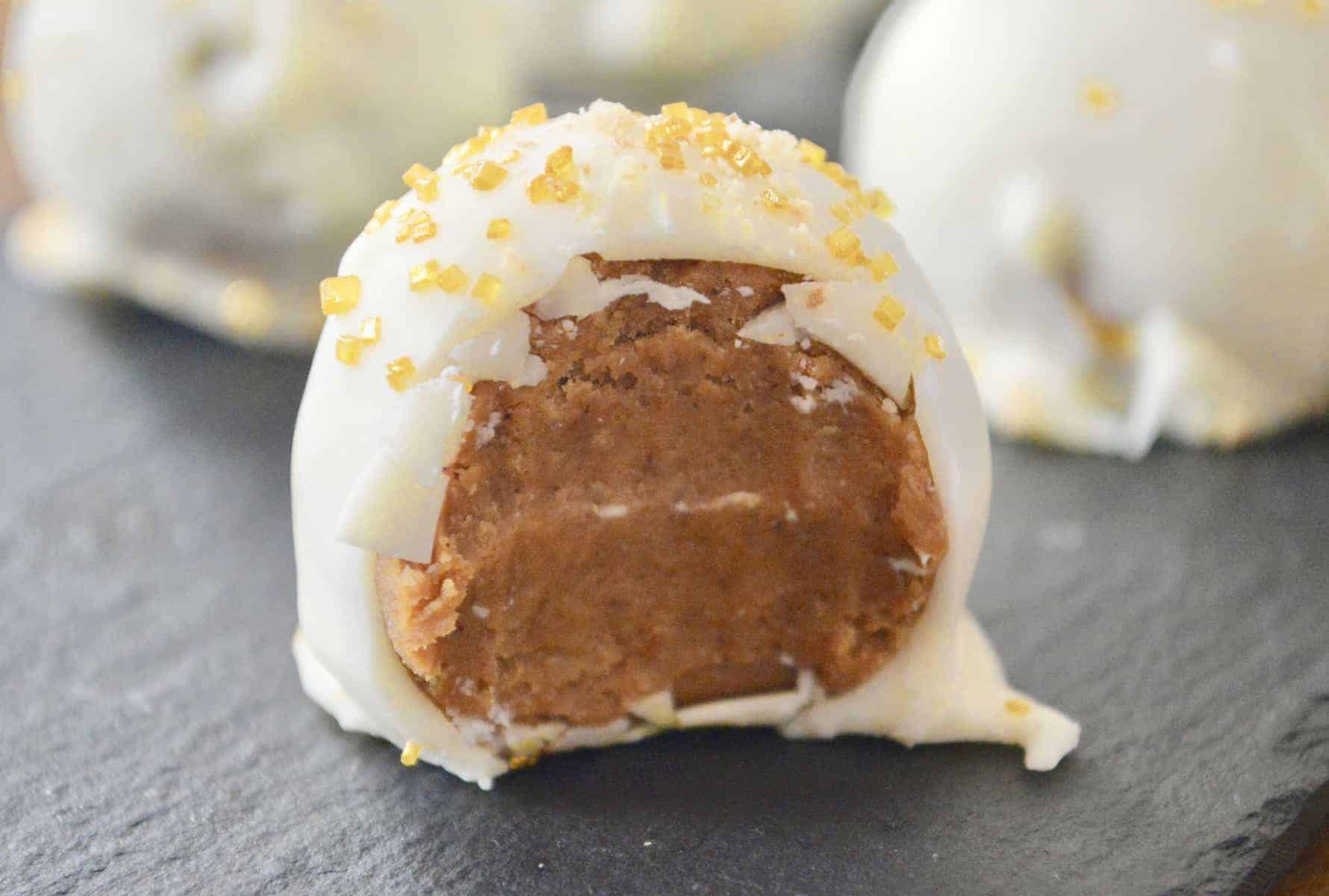 Portable and delicious, these Pumpkin Spice Energy Balls are a great way to use up leftover canned pumpkin. Made with white chocolate chips and rolled oats, these fun and healthy treats are so addicting.
Savory Pumpkin Recipes
Giada's Creamy Pumpkin Lasagne Rolls is one recipe I always include on my holiday menu. Love the combination of the nutmeg-spiced béchamel sauce and fried sage leaves.
Lighten up dinner or make a delicious Thanksgiving side dish with my Pumpkin Mac and Cheese. You're going to love how easy this dish to is make and make ahead! Plus, it's super kid friendly and full of flavor.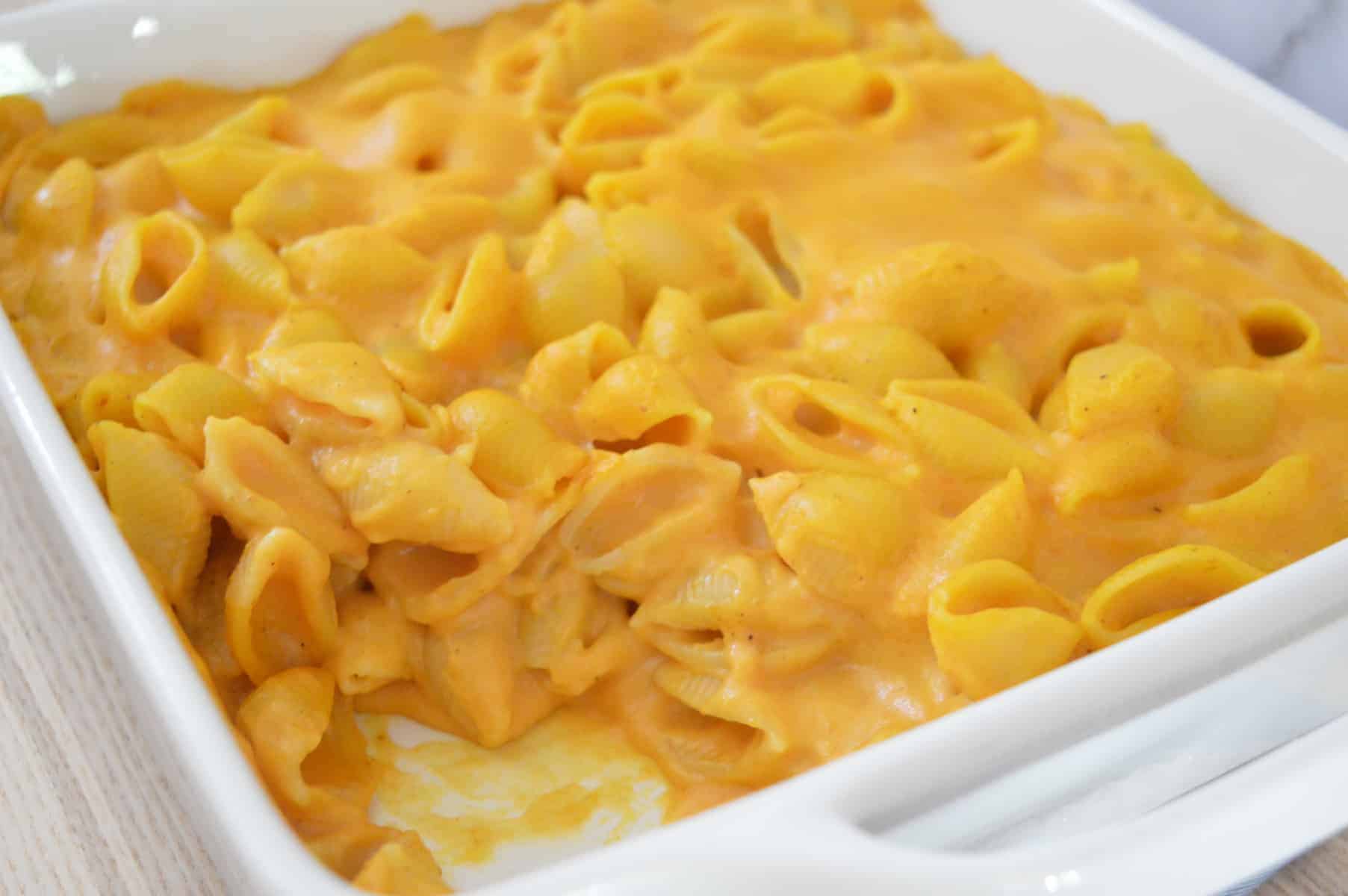 Pumpkin Ginger Cupcakes Recipe
Elevate your pumpkin cupcakes with these easy to make Pumpkin Ginger Cupcakes recipe. And don't forget the cinnamon ginger cream cheese frosting to really send these delicious treats over the top!
Bake these in a 12 cup standard muffin tin, either lined with cupcake liners or sprayed with cooking spray. If you are using cupcake liners, spray the liners with cooking spray so that the cupcakes don't stick as much when the liners are peeled off.
Firstly, whisk together the dry ingredients. Here, for spices it's best to use a combination of cinnamon and ground ginger. Personally, I find a little ground ginger goes a long way, so ½ teaspoon works. If you are looking for a spicier cupcake, use up to a teaspoon of ground ginger.
Secondly, cream together the butter and sugar using either a stand up mixer or handheld electric mixer. Add in the eggs, canned pumpkin, and vanilla. Fold in the dry ingredients.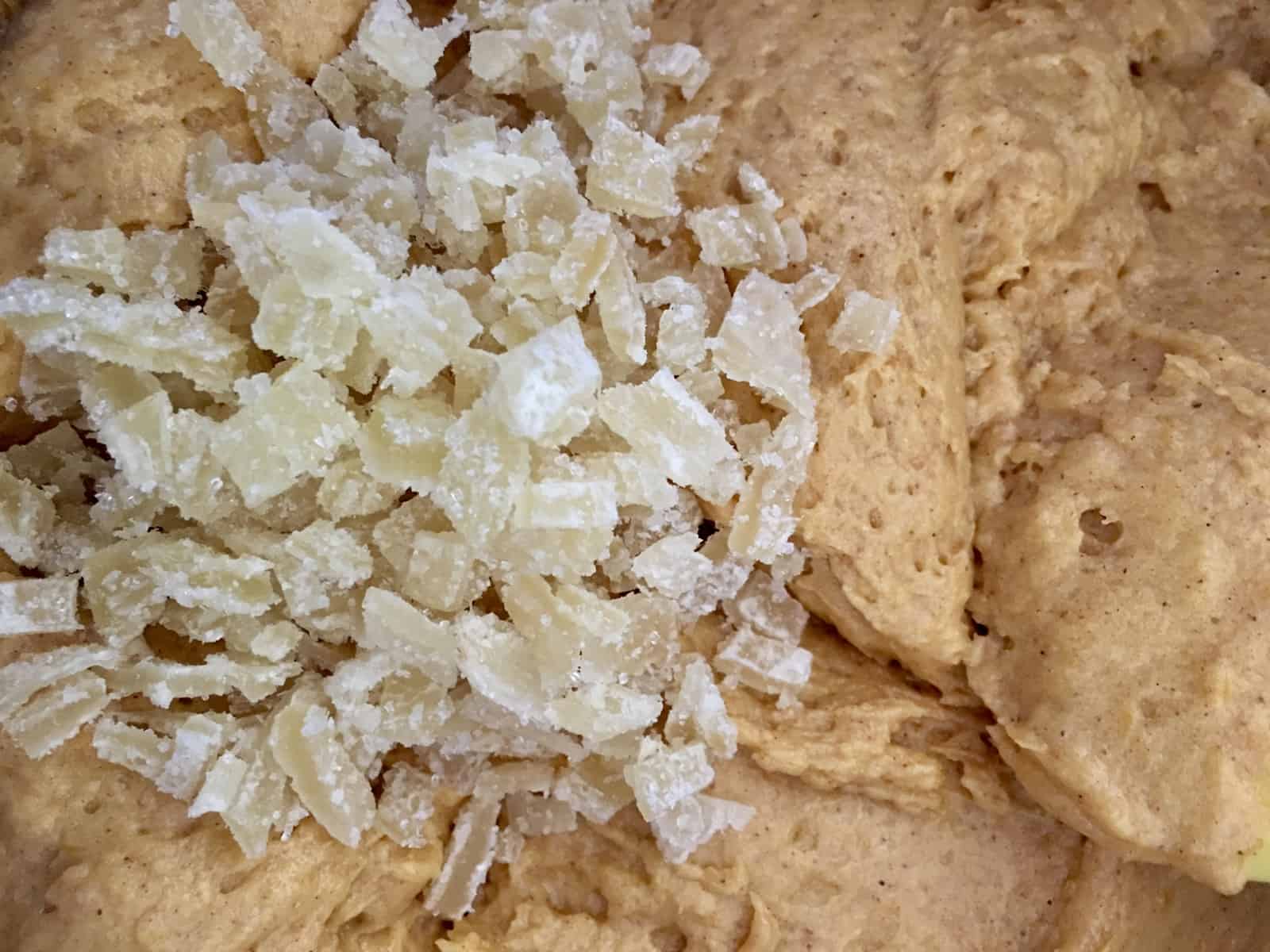 Next, finely dice the crystalized ginger. This is one step you don't want to omit unless necessary. Thankfully, crystalized ginger can be found in most grocery store baking sections. You can always order Paradise Crystalized Ginger online at Amazon.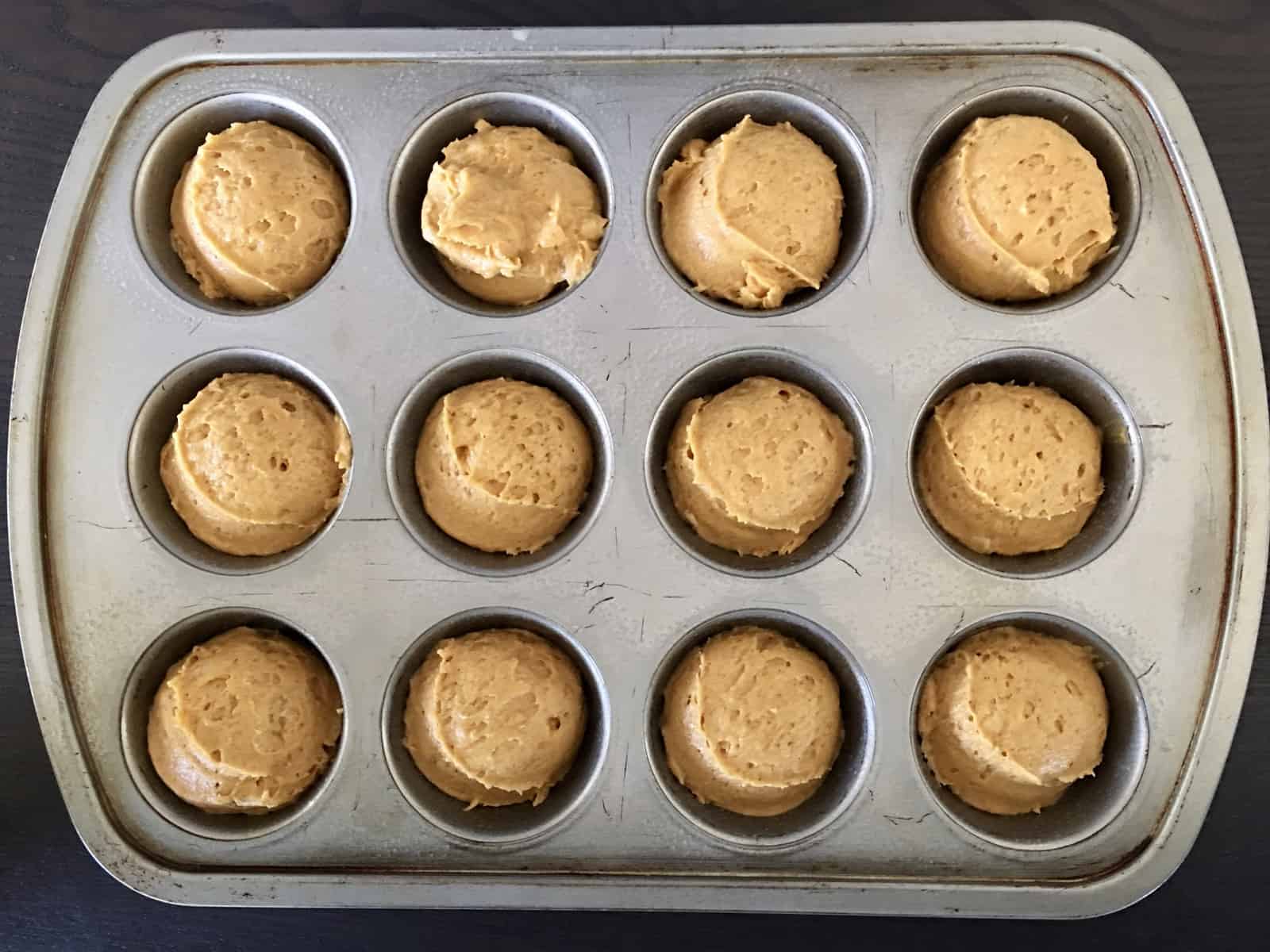 Fold in the diced crystalized ginger and scoop the batter into the prepared muffin tin. Bake until a toothpick inserted in the center of the muffin comes out clean. Cool for 10 minutes before removing to a wire baking rack to cool completely.
Pumpkin Ginger Cupcakes Cream Cheese Frosting
Lastly, prepare the cinnamon ginger cream cheese frosting. It's a good idea to take the cream cheese and butter out of the fridge and allow to come to room temperature while the cupcakes bake. Room temperature ingredients will ensure that the frosting comes together with no lumps.
Firstly, cream together the butter and cream cheese until well combined. You can use your standup mixer or handheld mixer for this.
Next, add in the spices and powdered sugar and continue mixing until well combined. Additionally, dice up more candied ginger to top the cupcakes with. You could also use larger pieces of candied ginger to give a more dramatic effect.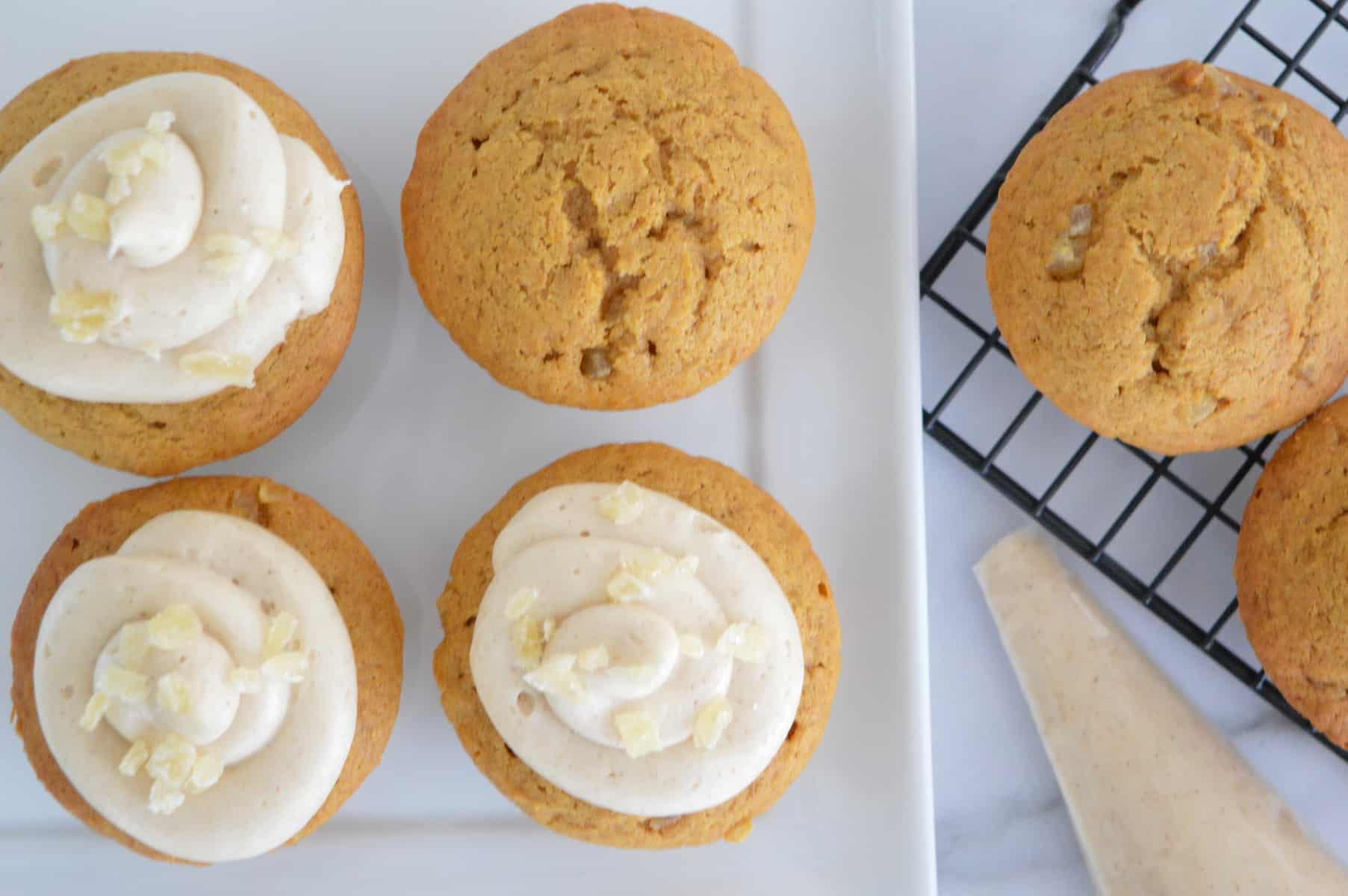 This cream cheese frosting recipe will yield enough to spread about 2 tablespoons of frosting over each cupcake. If you are looking to add a greater amount, consider doubling the recipe.
To make piping on the frosting easier, simply fill a ziplock bag with the frosting and snip the corner piece to pipe on a thick tube. Sprinkle on the ginger and you're all set!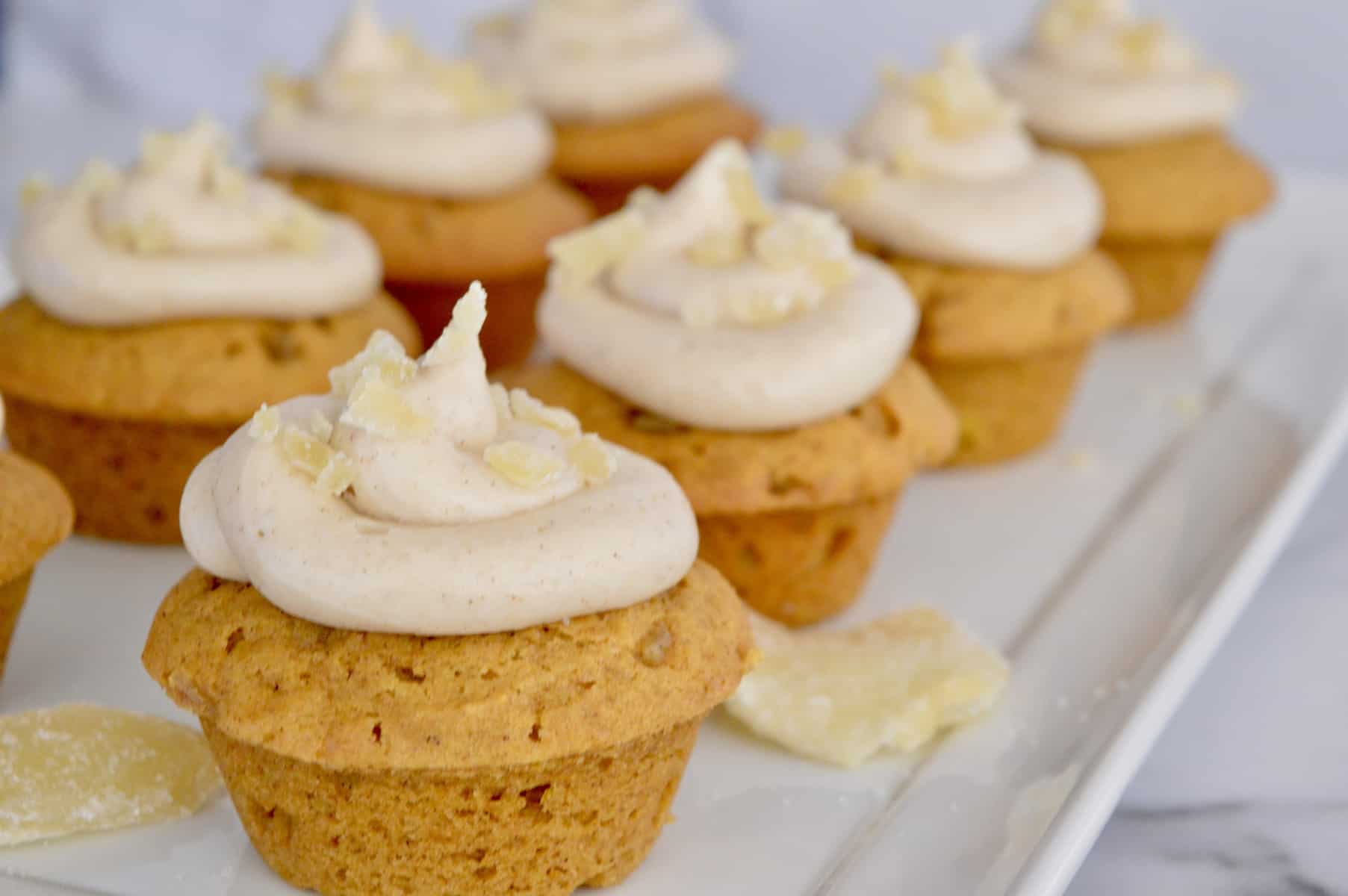 Hope you have enjoyed this recipe. Comment below and let me know what you think!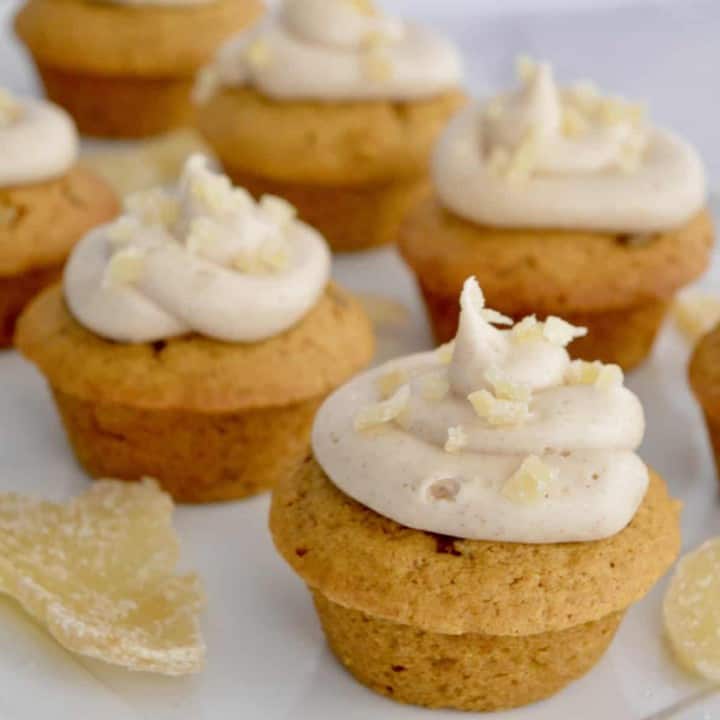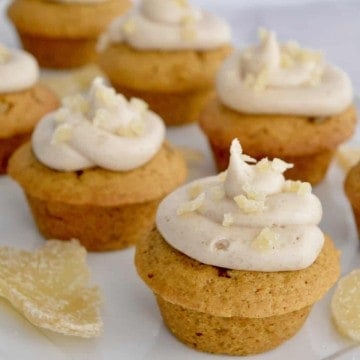 Pumpkin Ginger Cupcakes with Cream Cheese Frosting
Delicious and easy Pumpkin Ginger Cupcakes get a kick of flavor from candied ginger. Don't miss the tasty Cinnamon Ginger Cream Cheese Frosting!
Print
Pin
Rate
Equipment
standard 12 cup muffin tin
Ingredients
1 ½

cups

all purpose flour

1

teaspoon

baking powder

½

teaspoon

baking soda

2

teaspoons

ground cinnamon

½

teaspoon

ground ginger

½

teaspoon

salt

½

cup

unsalted butter, softened

1

cup

sugar

2

large

eggs

¾

cup

canned pumpkin

1

teaspoon

vanilla

¼

cup

diced crystalized ginger

(like Paradise)
Cinnamon Ginger Cream Cheese Frosting
4

ounces

cream cheese, softened

¼

cup

unsalted butter, softened

1 ½

cup

powdered sugar

½

teaspoon

vanilla

½

teaspoon

ground cinnamon

¼

teaspoon

ground ginger
Topping
1

tablespoon

diced crystalized ginger

(like Paradise)
Instructions
Pumpkin-Ginger Cupcakes
Preheat oven to 350 degrees. Grease 12 muffin cups or line with paper liners, set aside.

In a medium bowl, whisk together the flour, baking powder, baking soda, cinnamon, ginger, and salt. Set aside.

In a large bowl, beat butter and sugar with an electric mixer at medium speed until light and fluffy, about 2 minutes. Add eggs, canned pumpkin, and vanilla and beat well. Add in flour mixture and beat on low until just incorporated. Fold in ¼ cup of diced candied ginger.

Pour the batter into the prepared muffin tins (a muffin scoop helps here). Bake until golden, and a toothpick inserted in the middle of the cupcake comes out clean, about 24-27 minutes. Let cool in pans 10 minutes, then transfer cupcakes to a wire rack to cool completely.
Cinnamon Ginger Cream Cheese Frosting
Use an electric mixer to beat together cream cheese and butter in a medium bowl for about 2 minutes. Add in the powdered sugar, vanilla, cinnamon, and ginger and beat until well combined. Spread frosting over cupcakes using a butter knife, or pipe on using a piping bag. Sprinkle on remaining diced candied ginger.
Notes
Make ahead the cupcakes and freeze for up to a month in an airtight container. Defrost, then add the frosting before serving. Alternatively, you can make the entire cupcake up to 2 days in advance and store in an airtight container in the refrigerator until ready to serve. 
Nutrition