Indulge your sweet tooth with these easy to make Peanut Butter Banana Blondies loaded with peanut butter, banana, chocolate chips, and peanuts. Sweet and crunchy, you are going to love these fun bars.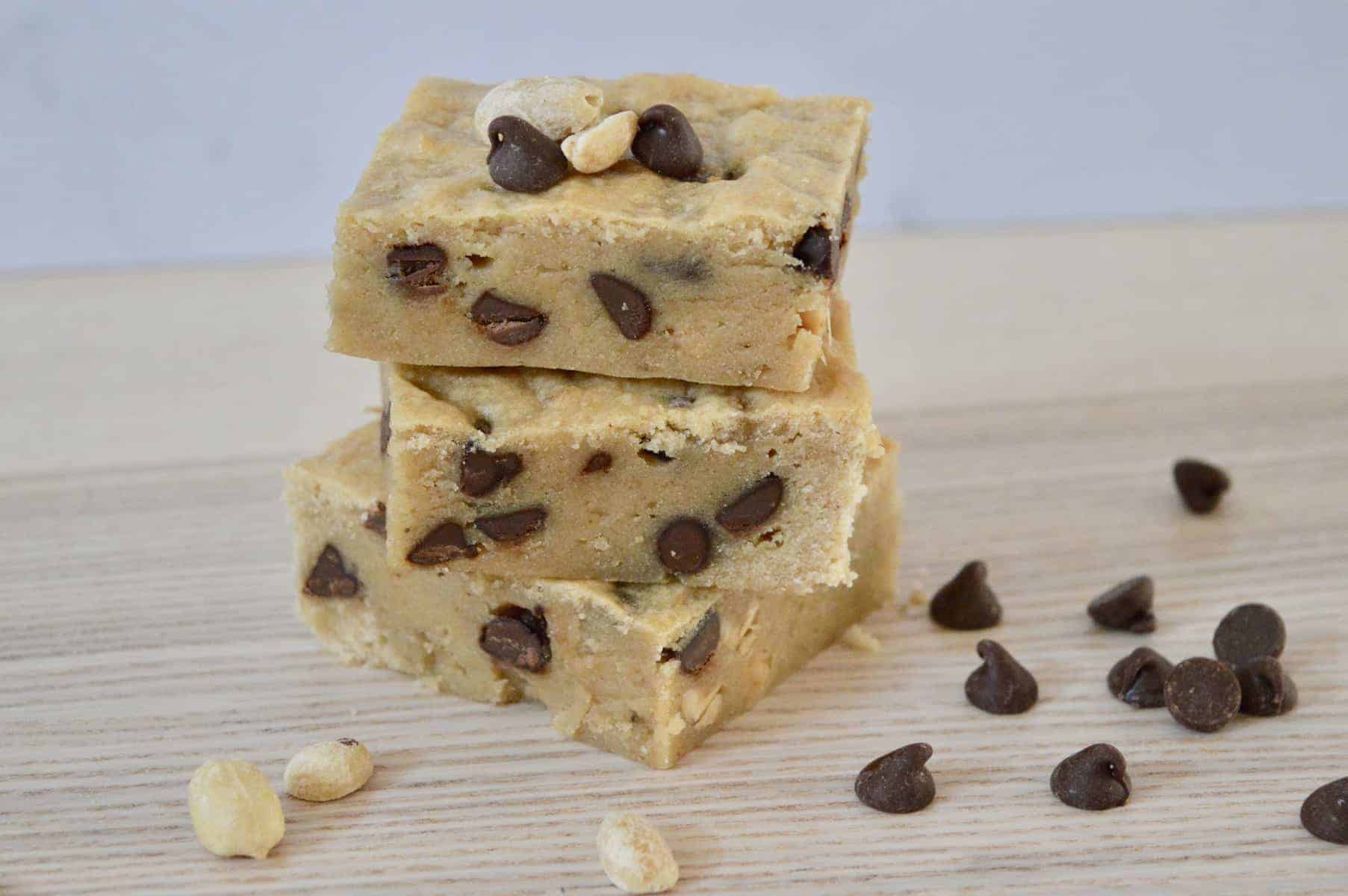 There is nothing better than reaching for a sweet and having it hit all of the right notes. These Peanut Butter Banana Blondies do just that with their gooey brownie-like texture and satisfying peanut chocolate crunch.
So if you're a lover of peanuts and chocolate, give this recipe a try. The banana adds great texture and just a hint of taste. Guaranteed that all the loves in your life are going to go bananas for this treat!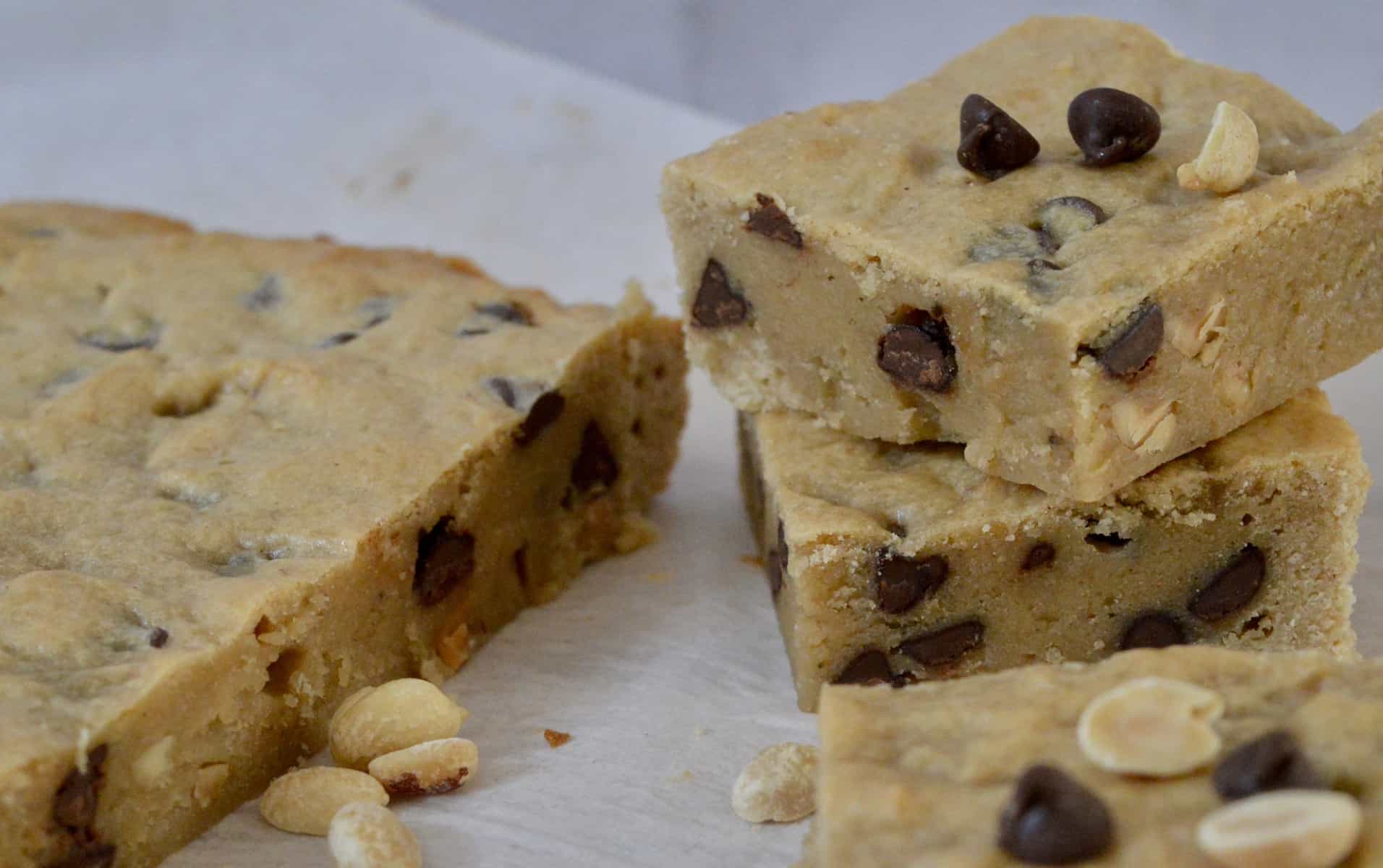 What's Difference the between a Blondie and Brownie?
One look and you'll see the difference between a blondie and a brownie. The name itself gives it away!
A blondie is a lighter in color and is a brown sugar based treat. Meanwhile, a brownie is darker and contains cocoa powder which gives it that rich color. Blondies and brownies are both considered cookie bars and have similar ingredients to cookies. They are softer than cookies, however, and denser than cake.
Ingredients wise, both blondies and brownies call for flour, eggs, butter, and sugar. However, blondies are typically made with more brown sugar, while brownies have a combo of sugar and cocoa powder.
Here are some of my favorite blondie and brownie recipes:
Frosted Butterscotch Blondies have a delicious vanilla blondie bottom topped with a brown sugar frosting.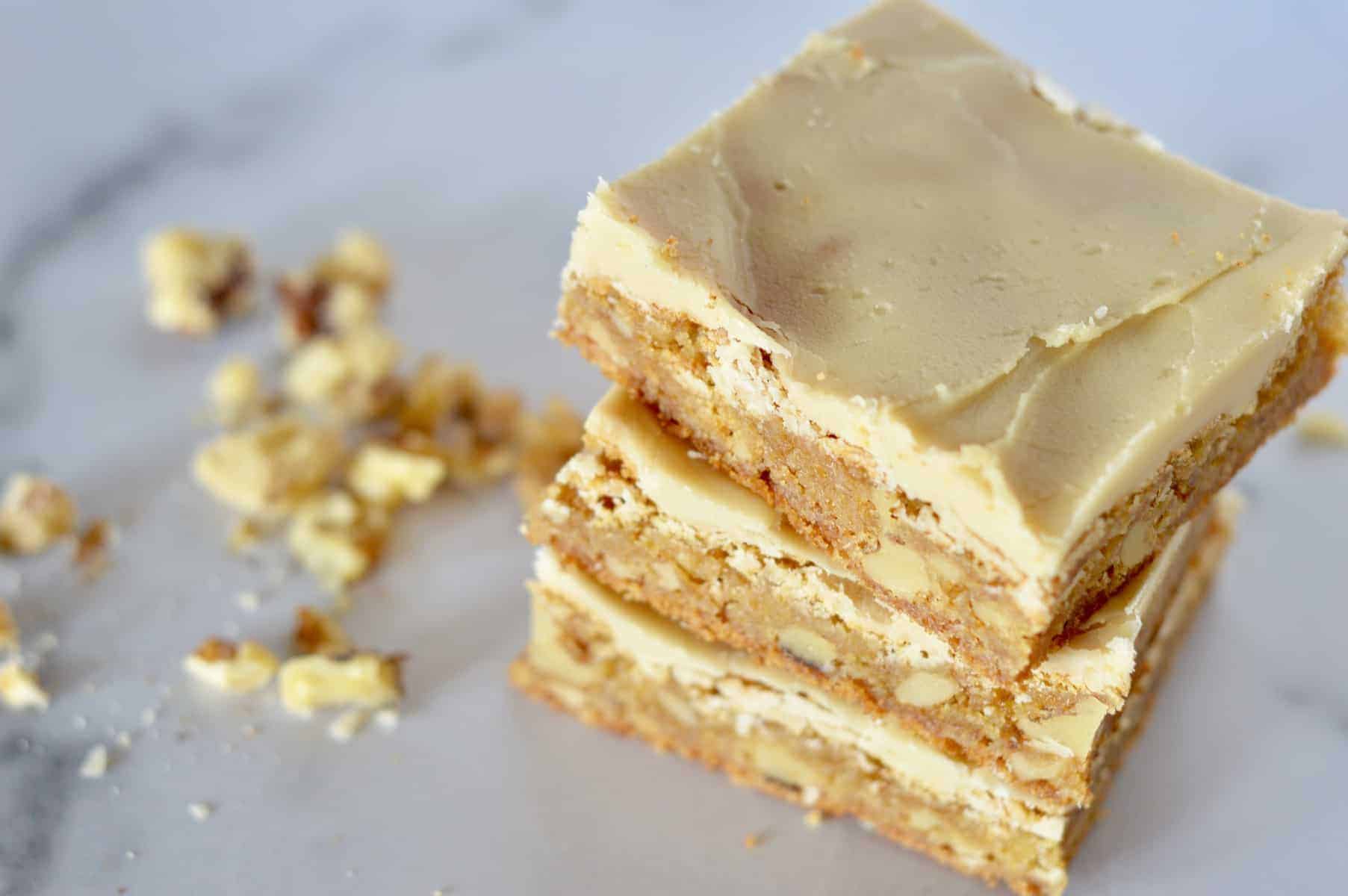 Candy Corn Blondies are super fun to make in the fall and have an unbeatable chewy texture you're going to love.
Oreo Cheesecake Brownie Bars are out of this work delicious with a cream cheese Oreo filling.
Classic Fudge-Walnut Brownies from Cooking Light is my go-to recipe whenever I need an easy brownie treat.
Cinnamon Sugar Blondies have all of the cinnamon roll flavors you love, including a delicious cinnamon frosting.
BEST Reese's Brownies are a chocolate and peanut butter lover's dream!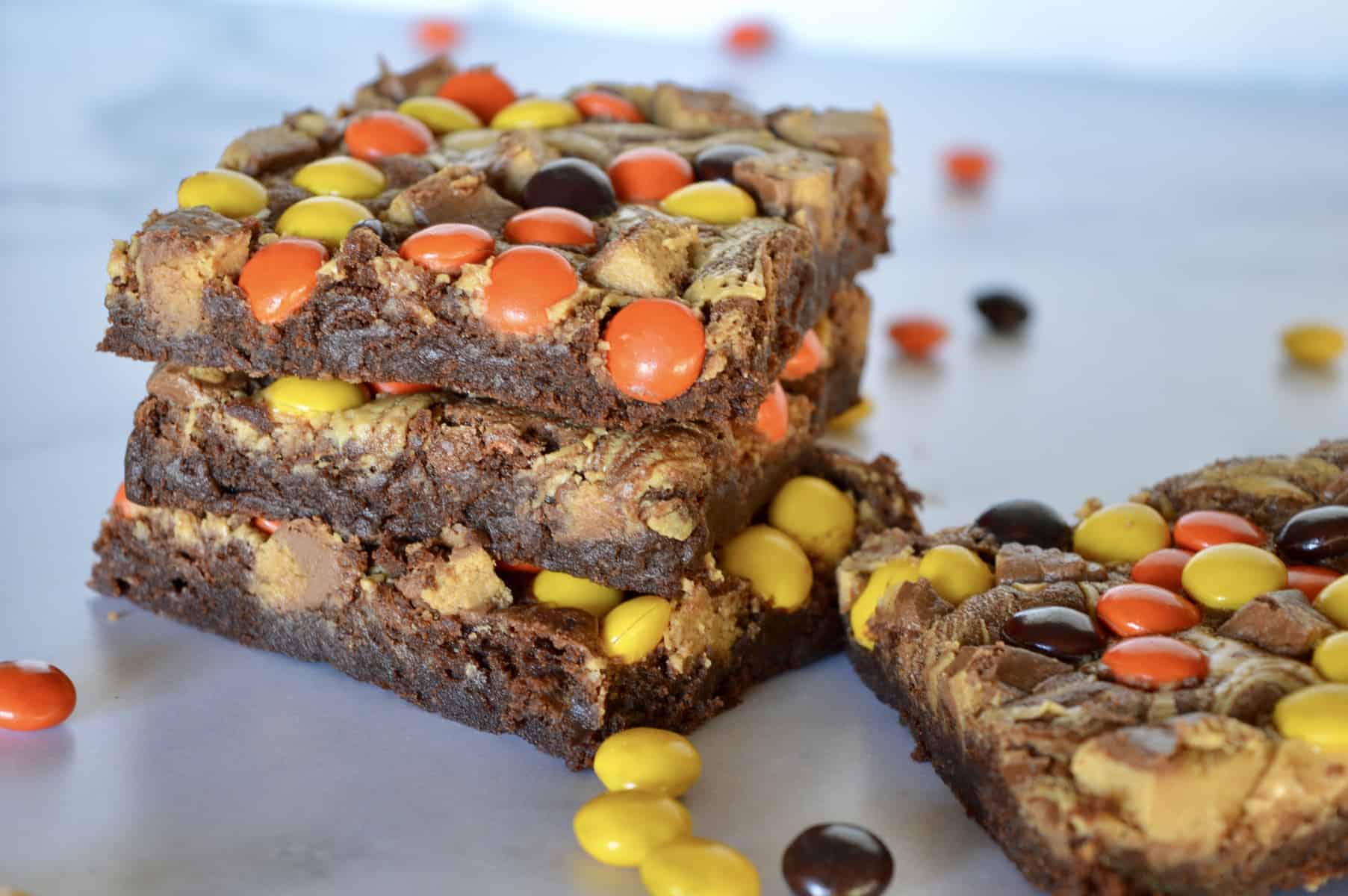 And for the ultimate Brownie and Blondie combo, you can't beat my Blondie Brownie Bars with brown sugar icing! With this recipe, you don't have to choose between blondie and brownies.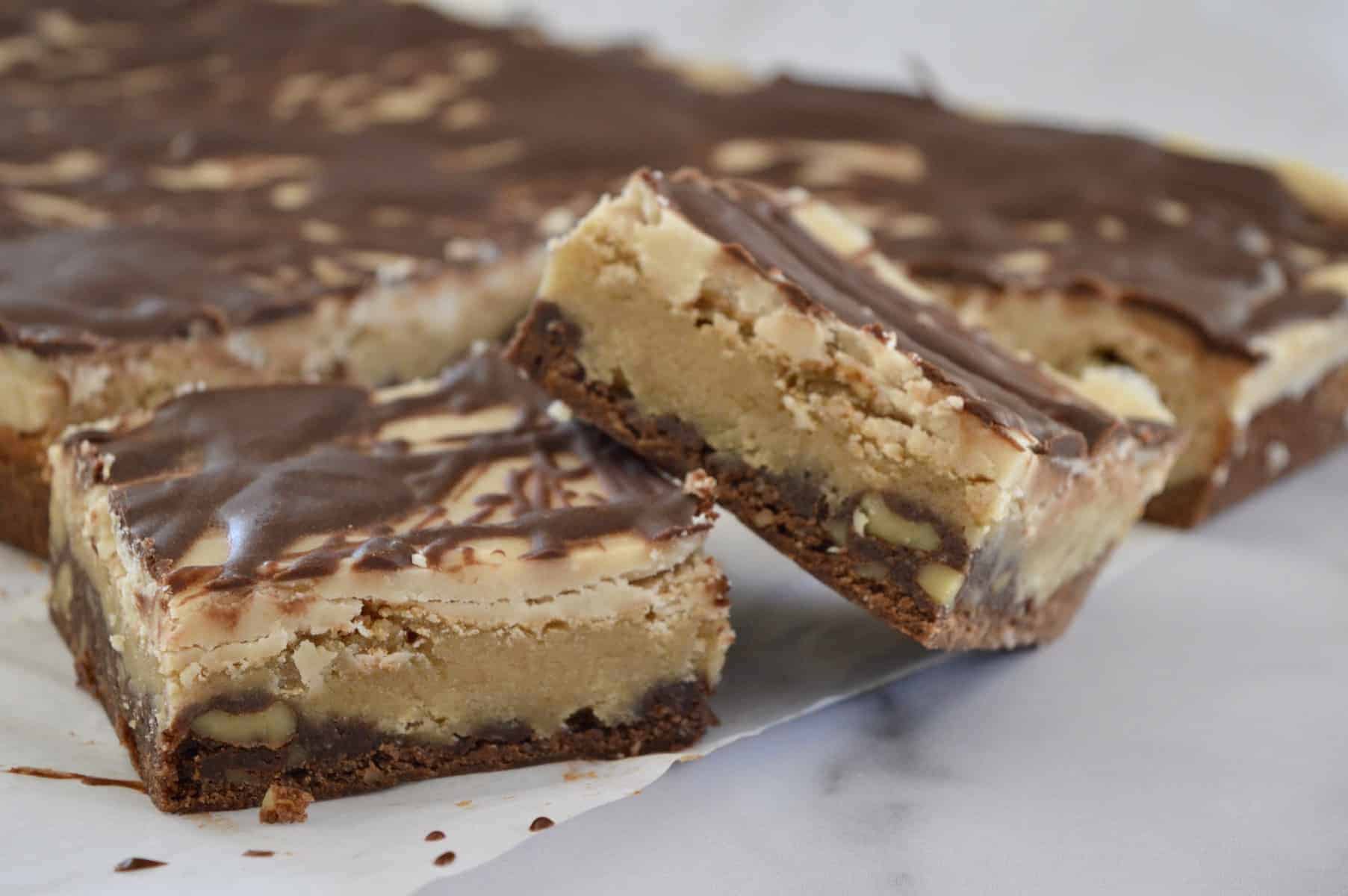 Do you need baking soda or baking powder for Blondies?
The key to making fudge-like gooey brownies and blondies is to skip the leavening agents like baking soda and baking powder.
By definition, a leavening agent is a substance that causes expansion of doughs and batters by the release of gases within such mixtures. This in turn produces baked products with a porous structure. In simple terms, baking soda and baking powder causes baked goods to rise.
Typically, you will not see leavening agents added to blondie or brownie recipes. If these agents are added, it is more than likely in a very small amount and done only to counter another ingredient in the recipe.
So, when you're baking your blondies and see that there are no leavening agents in the ingredients list, you can rest assured that it's not a typo.
Peanut Butter Banana Blondies Recipe
This simple recipe comes together in minutes and only requires one bowl! Plus, it uses ingredients you probably already have on hand and serves as a good base recipe for substitute ingredients as well.
Firstly, grease and line a 9 x 13 baking dish with parchment. I recommend using a glass baking dish if you have it as aluminum pans tend to brown the edges too quickly.
Secondly, beat together the butter, peanut butter, and sugars. Here, you could use whatever type of nut butter you have on hand: almond butter, sunflower butter, or cashew butter would all work great.
Then, beat in the mashed banana, eggs, and vanilla. Stir in the flour and salt then fold in the chocolate chips and peanuts. Again, feel free to substitute whatever flavored chips you have on hand, or omit them altogether, or use walnuts or pecans in place of the peanuts.
Pour the batter into the prepared pan and, using damp hands, press the blondies into the pan. Bake in the preheated oven for 35-40 minutes. Note that the blondies will not rise or brown much, so you'll have to rely on a checking them with a toothpick to ensure doneness.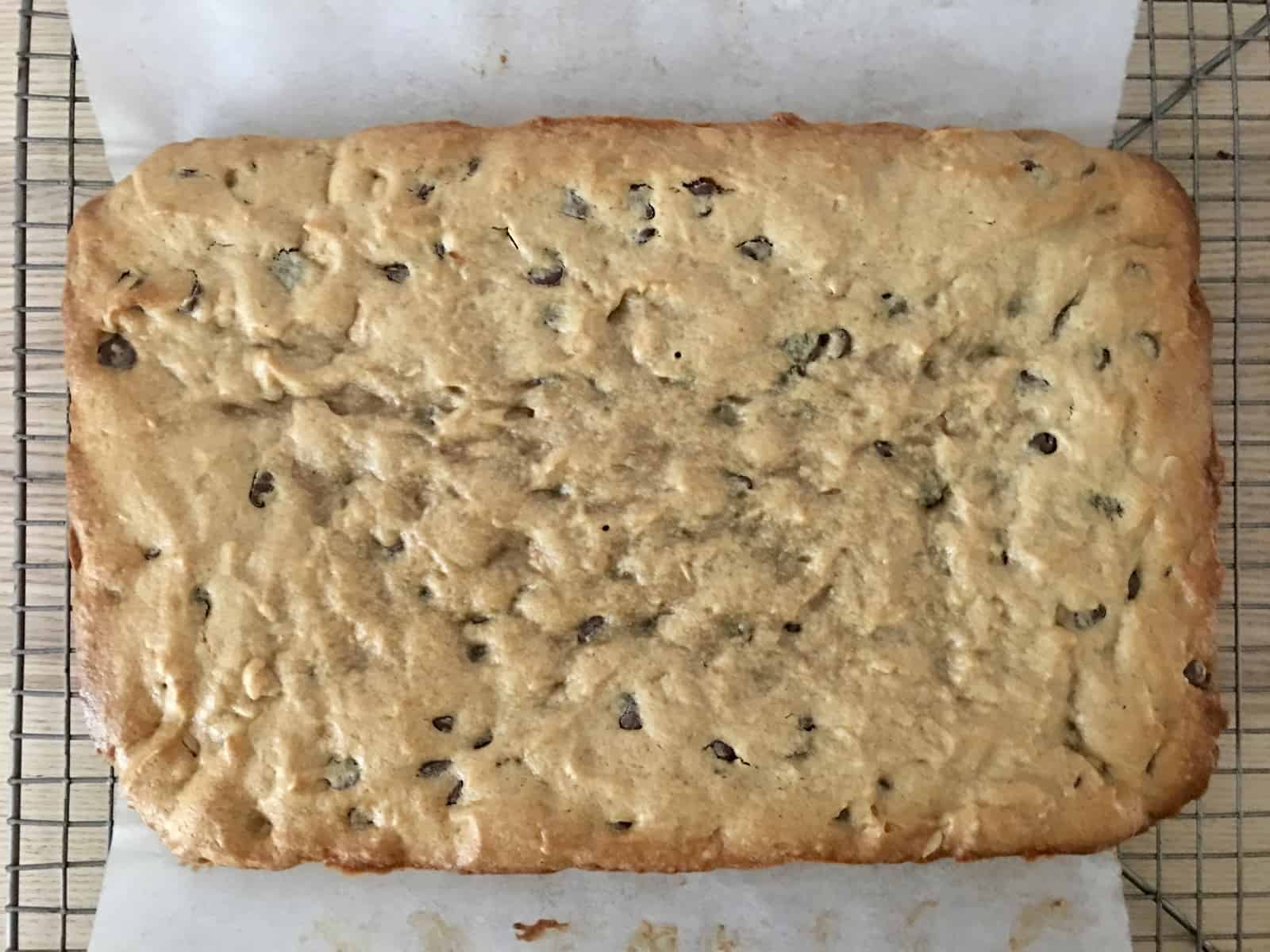 Once done, let the blondies cool in the pan before lifting out the parchment and letting it cool on a wire baking rack. Cool completely before cutting. You can also refrigerate to speed up the process.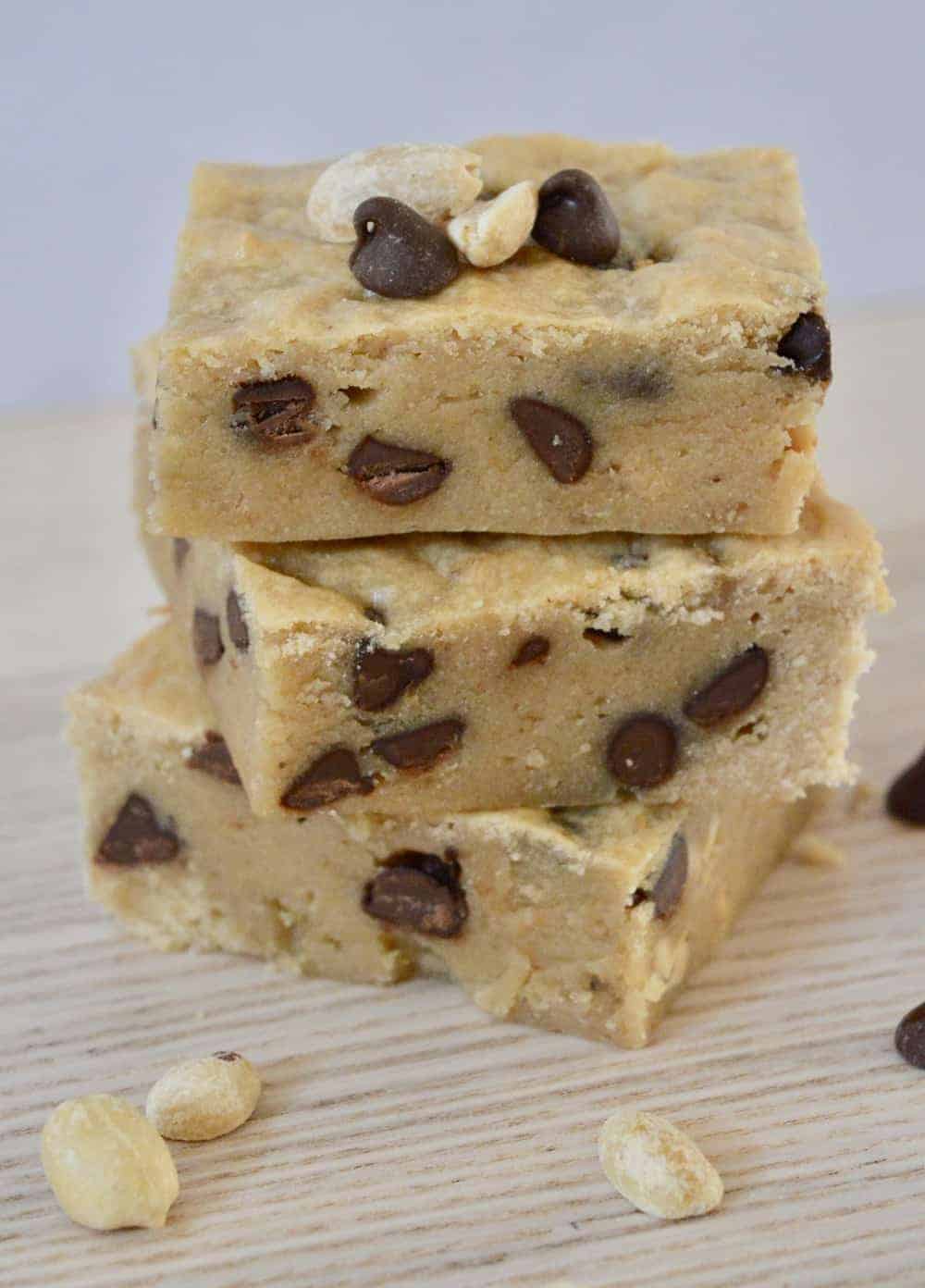 Cut into squares using a sharp knife. Peanut Butter Banana Blondies are a great make-ahead treat and can be stored in an airtight container in the refrigerator for up to a week.
Tried this recipe? Comment below and let me know what you think!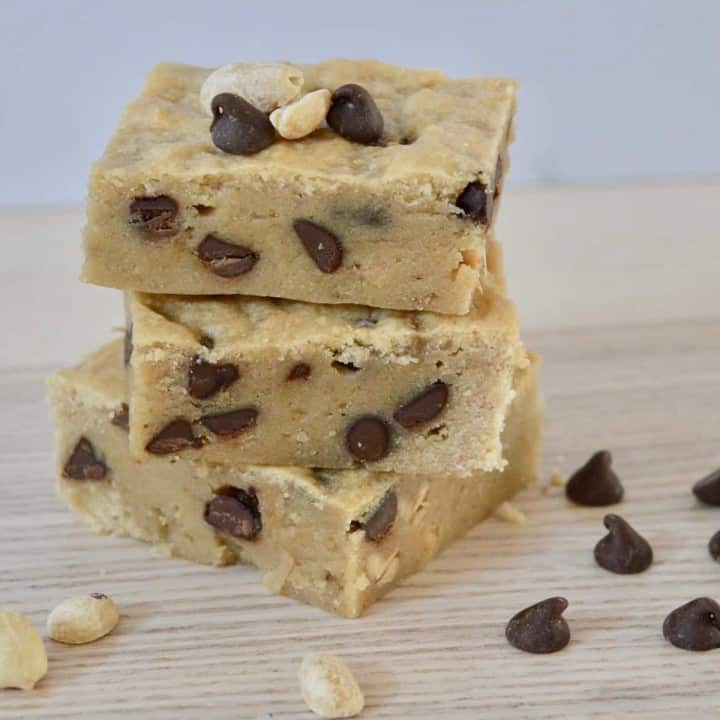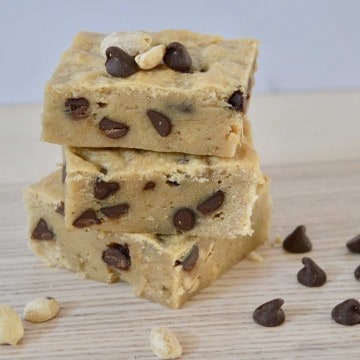 Peanut Butter Banana Blondies
Delicious and easy to make Peanut Butter Banana Blondies are a simple treat made with ripe bananas, peanut butter, chocolate chips, and peanuts.
Print
Pin
Rate
Equipment
9 x 13 inch glass baking dish
Ingredients
½

cup

unsalted butter, softened

½

cup

peanut butter

1

cup

brown sugar

½

cup

sugar

3

large

eggs

1

large

ripe banana, mashed

2

teaspoons

vanilla

2 ½

cups

all purpose flour

½

teaspoon

salt

1

cup

chocolate chips

½

cup

peanuts
Instructions
Preheat oven to 350 degrees. Spray a 9 x 13 baking dish with cooking spray and line with parchment. Set aside.

In a large bowl, beat together the butter, peanut butter, and sugars, until light and fluffy, about 2 minutes. Add in the eggs, banana, and vanilla and mix until combined. Add in the flour and salt and mix to combine. Fold in the peanuts and chocolate chips.

Pour the batter into the prepared baking dish using a spatula or damp hands to spread evenly in the pan. Bake for 35-40 minutes, or until a toothpick inserted in the bars comes out clean. (Note that this dish will not brown much so you will have to check for doneness using a toothpick.) Cool in pan for 10 minutes, then remove bars using parchment to cool on a wire rack completely before cutting.
Notes
This is a great make-ahead recipe that can be refrigerated for up to a week.  
Nutrition