Want a make-ahead Easter Brunch Menu that lets you sleep in on Easter Sunday? Don't miss these great recipes for the easiest and most delicious Easter Brunch Menu you could ask for.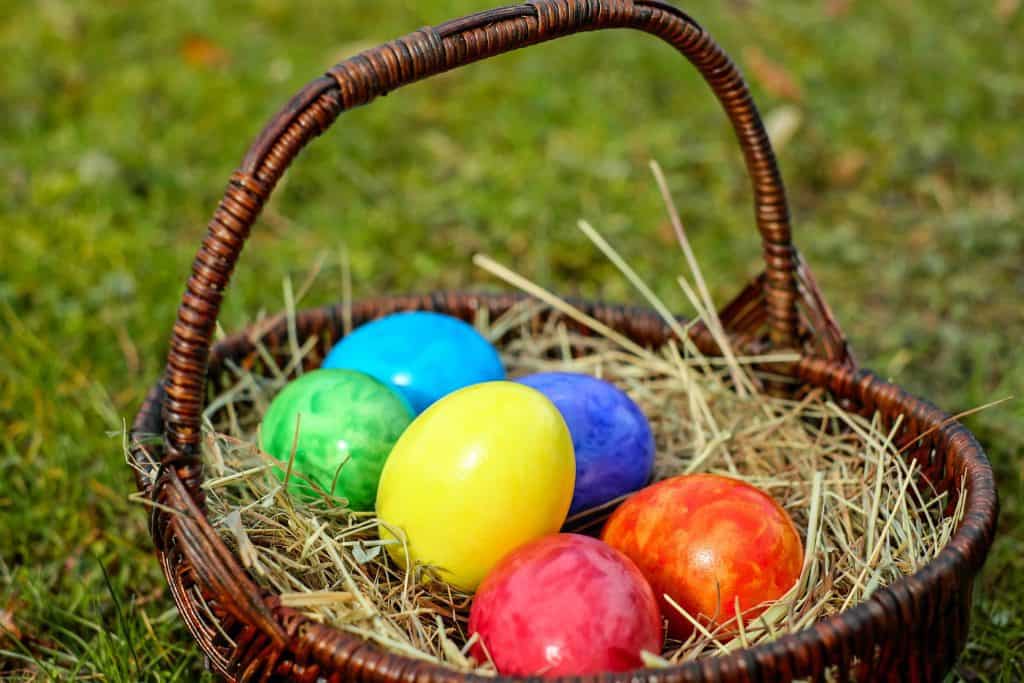 It's Easter morning and your kids are waiting for a visit from the Easter bunny and your extended family is coming over in an hour. Everyone is hungry, of course. You want to wow them all, but don't want to spend your time in the kitchen cooking while everyone else is outside enjoying the festivities. The pressure is on, as it seems to always be, to get it all put together and be able to enjoy the day with family. I get it, I live it.
I have devised a menu that involves mostly make ahead items so that you actually be with your family for Easter brunch without having to hover over the stove.This menu definitely brings the wow factor, and sticks to the traditional Easter premise. All it involves is a little planning and prep… well worth it to be able to hunt for eggs with your littles.
Easter Brunch Menu
I will break down what should be prepared when, but to get your mouth watering, here is a look at the Easter Brunch Menu (links below and printable recipes at the end of this post):
Make-Ahead Easter Brunch Menu Preparations
This list may seem daunting at first, but I promise you that with planning and prep, this Easter Brunch Menu can be done ahead with little work the day of.
The best way to approach a holiday menu is to print out all of the recipes and make two lists. The first list is for the ingredients that I need to purchase, and other is a timeline of when things need to be prepared.
A week or so prior to the big day, make efforts to decorate as much as you can and try to clean out the fridge to make room for groceries and prepared dishes. It's also a good idea to clean your oven if it hasn't be done in a while. If you are setting up extra tables and chairs, do this ahead of time as well in case anything needs a good scrubbing, something you don't want to do Sunday morning.
On Friday do all of your shopping and on Saturday plan to do most of your cooking. Hit up Costco and the grocery store in the morning with lists in hand, and some patience to boot because you know it's going to be busy! When you get home, make as much room as possible in the fridge and organize your groceries.
Saturday Food Prep
This whole food prep process will take about 4-5 hours, so pour yourself a glass of wine and enjoy knowing you're going to have a stress-free and totally delicious Sunday morning!
Boil the eggs and remove the shell. Cool and refrigerate until the next morning.
Completely prepare the Creme Brûlée French Toast and refrigerate and bake the next morning.
Completely prepare and bake the Sausage and Cheese Breakfast Tart. The next morning I cover in aluminum foil and bake at 350 degrees for 10-15 minutes to warm it up.
Prepare the glaze for the ham and refrigerate.
Trim the asparagus and prepare the filling for the Asparagus Tart. Refrigerate until the next morning.
Shred the Brussels sprouts and make the dressing. Refrigerate until the next morning.
Rinse the blueberries and strawberries for the fruit platter (don't wash the raspberries until you are ready to use them). Cut the cantaloupe; leave half the cantaloupe for the bunnies face, and two wedges for the bunnies ears. Refrigerate.
Bake the cake layers for the Carrot and Pineapple Cake. When completely cool, freeze the cake layers in an airtight ziplock bag – this will make frosting so much easier in the morning. (Unfrosted cakes can actually be made up to a week advance and frozen until the day of.)
Blend the puree for the Bellinis and refrigerate.
Set the table and, if doing a buffet, set the plates and know the layout of the buffet area.
Put up and final decorations and make sure the Easter bunny is ready for the morning!
Easter Morning
Say the company is coming over at 10:00 for brunch, so you should get started on final preparations around 7. Here is how your morning should go when preparing this make-ahead Easter brunch menu:
Take the cake out of the freezer to thaw at room temperature. At the same time, take the butter and cream cheese out to soften.
Take the breakfast tart and French toast out of the refrigerator and allow to come to room temperature.
Get the ham in the CrockPot. It will take about 3 hours on high, 6 hours on low.
Prepare the Asparagus tart and get ready to bake.
Finish the fruit platter and put in on the buffet table.
Make the frosting and frost the cake.
At around 9:00 start your baking. Bake the asparagus tart first at 425 degrees, then reduce the heat to 350 degrees and bake the French toast and warm the breakfast tart for the reminder of the time.
While things are in the oven, cut your eggs in half and prepare and fill them. Also toss together the Brussel sprouts salad.
Lastly, arrange the buffet. Right before guests arrive, set the Bellini Bar… making sure to pour one for yourself!
The best part is that you can actually enjoy your meal and spend time with guests when they arrive.
Easter Brunch Menu Recipes:
Like I said, it's always best to start by printing out your recipes and making your grocery list. The recipes I use are all provided below. If you are super savvy and have the time, stores readily discount items like ham, eggs, and asparagus this time of year, so look around and see what kind of deals you can find.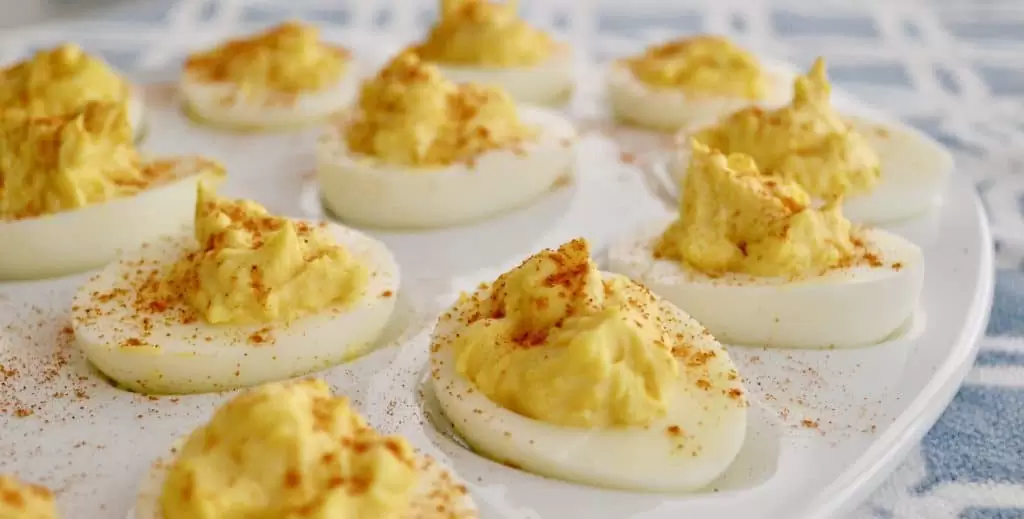 Easiest Ever Deviled Eggs
You can boil and peel the eggs the night before to make the day of prep a breeze!
Ingredients
12

large

eggs

1/2

cup

mayonnaise

1

tablespoon

dijon mustard

1

teaspoon

white vinegar

1/4

teaspoon

kosher salt

paprika to garnish
Instructions
Place the eggs in a single layer in a saucepan and cover with enough water to completely cover the eggs. Heat on high until water begins to bubble, then bring to a simmer and cover. Cook for 10 minutes. Remove from heat immediately submerge eggs in ice water to cool.

Crack egg shells and carefully peel under cool running water. Gently dry the eggs and refrigerate in airtight container if making the next day. Otherwise, proceed to next step.

Slice the eggs in half lengthwise and remove the yolks to a bowl. Mash the yolks and add in the mayonnaise, mustard, vinegar, and salt. Mix well.

Set the egg whites on a tray, cut side up. At this point you could either spoon the yolk mixture evenly into all of the eggs, or pipe the yolks in to create a fancier look. To do this, put the yolk mixture into a ziplock bag, snip the corner of the bag and pipe into the eggs. Sprinkle with paprika and serve.
Notes
You could also garnish this with chopped dill, sliced green onions, or chopped shallots.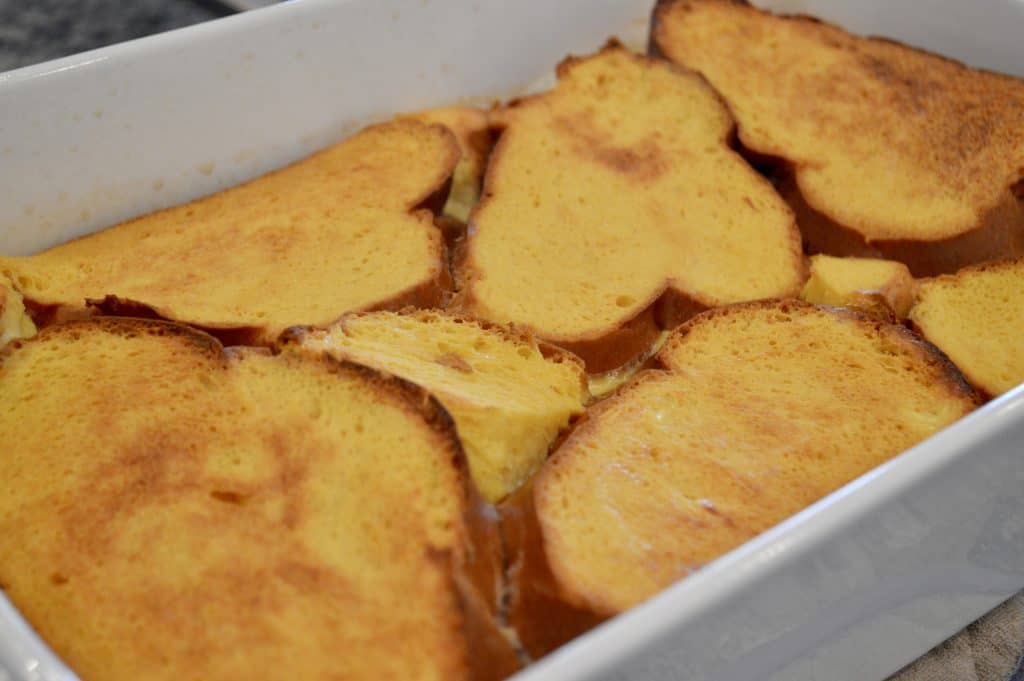 Creme Brûlée Baked French Toast
Delicious dish to prepare the night before and bake in the morning.
Ingredients
1/2

cup

unsalted butter

2

tablespoons

corn syrup

1

cup

brown sugar, packed

5

large eggs

1 1/2

cups

half & half

could use fat free

2

teaspoons

vanilla

1/4

teaspoon

salt

1

loaf of Challah bread

could substitute French bread
Instructions
Melt butter, brown sugar, and corn syrup in a small saucepan. Once melted, remove from heat and whisk to combine the mixture until smooth and fully incorporated. Pour into a 13 x 9 inch baking dish.

Cut 6 (1 inch thick) slices from the bread and arrange them in a single layer in the baking dish, squeezing them to fit snuggly.

In a bowl, whisk together eggs, half & half, vanilla, and salt. Pour over the bread. Gently push bread down to make sure the custard covers all pieces. Cover the bread mixture and refrigerate for at least 8 hours. (Can make up to 24 hours in advance).

When ready to eat, bring bread to room temperature (about 30 minutes). Preheat oven to 350 degrees. Bake uncovered until the bread is puffed and the edges are pale and golden, approximately 40 minutes.

Allow bread to sit for 5 minutes before serving. Serve with warm maple syrup.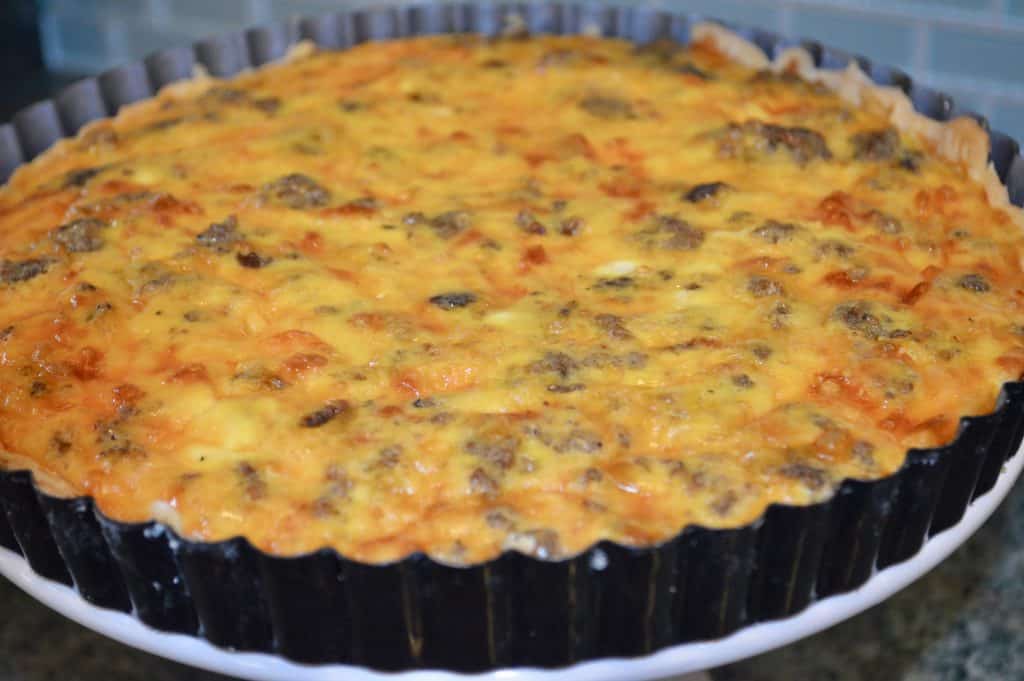 Sausage and Cheddar Breakfast Tart
A delicious and fun way to serve breakfast to your family and friends.
Ingredients
1

unroll-and-bake refrigerated pie crust

1

egg white, lightly beaten

6 oz

pork breakfast sausage

like Jimmy Dean

5

eggs

1/2

cup

cream cheese, at room temperature

2

cups

shredded cheddar

1/2

teaspoon

kosher salt

diced green onion for topping

optional

nonstick cooking spray
Instructions
Preheat oven to 400 degrees. Grease a 9-inch tart or pie pan with cooking spray.

Unroll pie crust and arrange it on prepared pan. Gently press the crust into the bottom and sides of pan, trim any excess dough. Use a fork to prick the pie crust in several places (sides too). Brush on the beaten egg white on the dough. Bake the pie crust until slightly brown, about 10 minutes. Allow the crust to cool for 5-10 minutes.

In a nonstick skillet over medium-high heat, crumble in the sausage and cook until brown, about 5 minutes. Drain on a paper lined plate and set aside to slightly cool.

In a large bowl, beat the eggs, then add in the cream cheese, cheddar, and salt, mixing until smooth. Pour the mixture into the cooled crust and bake until set and the top is golden, about 25-30 minutes. Cool the tart for 10 minutes before removing from tart pan or cutting. Optional, garnish with diced green onion.
Notes
This recipe is customizable: you could swap different meats and cheeses. Great served with hot sauce or salsa.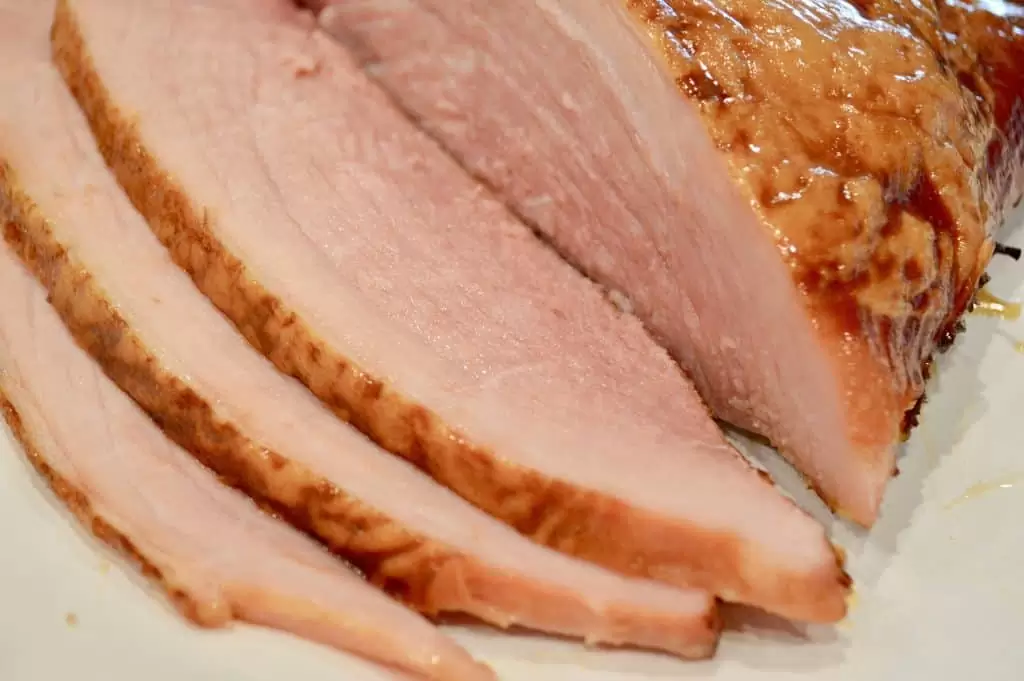 Slow Cooker Ham with Brown Sugar Glaze
Save oven space and make your ham on the countertop! Use your slow cooker Crockpot and get excellent results with this recipe.
Total Time
1
hour
5
minutes
Ingredients
1

boneless ham

I use the Kirkland brand

1/2

cup

brown sugar

1

tablespoon

dijon mustard

1

tablespoon

apple cider vinegar
Instructions
Spray the inside of a slow cooker with cooking spray. Remove ham from packaging and place in slow cooker set at low heat. Make the glaze by combining the brown sugar, dijon, and vinegar in a small bowl. Pour over the ham. Cook ham at low heat for 5-7 hours or until thermometer reads 140 degrees.
Notes
In a rush? Set the slow cooker to high and cook for 3-4 hours or until thermometer reads 140 degrees.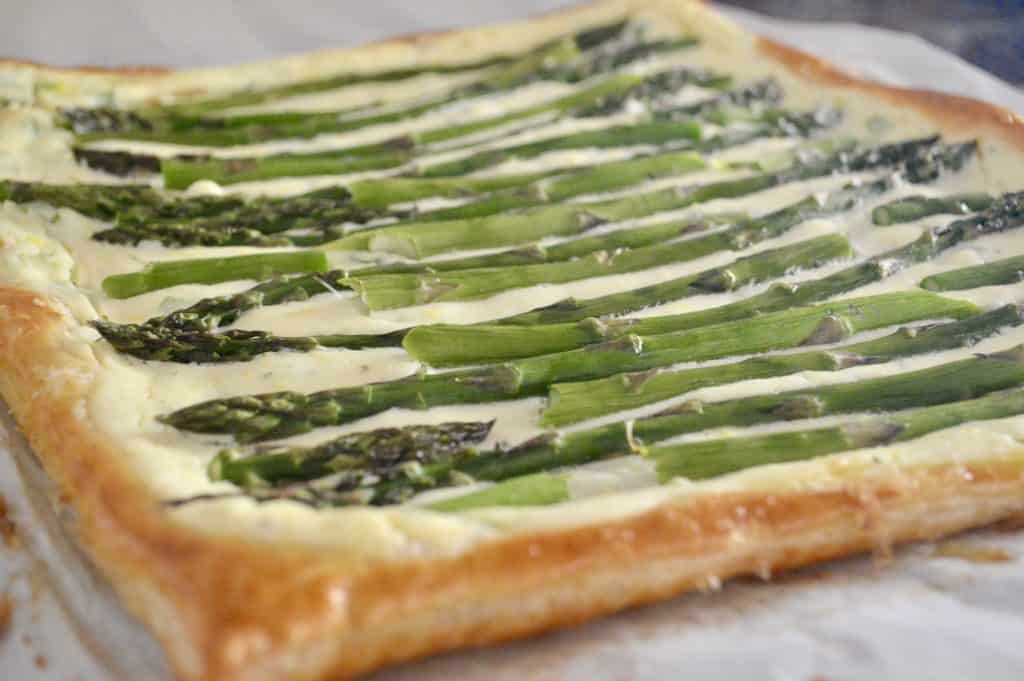 Roasted Asparagus and Ricotta Tart
To make ahead, trim the asparagus and prepare the ricotta – refrigerate. The tart will have to be baked the day of for best results
Ingredients
1

sheet

frozen puff pastry (half of 17.3 ounce package, thawed

1

large egg

1

cup

ricotta cheese

1/2

cup

Garlic and Herbs Spreadable Cheese

like Boursin or Rondele

1/4

teaspoon

kosher salt

1/4

teaspoon

pepper

1

lemon, zested

2

scallions, chopped

12

ounces

asparagus, trimmed

1/2

tablespoon

olive oil
Instructions
Heat oven to 425 degrees; place oven rack in lower third of oven. Unfold pastry onto piece of parchment paper and roll 1/2 inch bigger on all sides. Slide parchment and pastry onto baking sheet. In medium bowl, beat egg. Lightly brush 1/2-inch border of egg around pastry.

Add ricotta, garlic and herbs cheese, and salt, pepper, and lemon zest into bowl with remaining egg. Mix well then fold in scallions. Spread onto pastry, leaving 1/2 inch border uncovered.

Top filling with asparagus using remaining pieces to fill in any empty spaces; drizzle with olive oil. Bake until crust is golden brown, 18 to 20 minutes.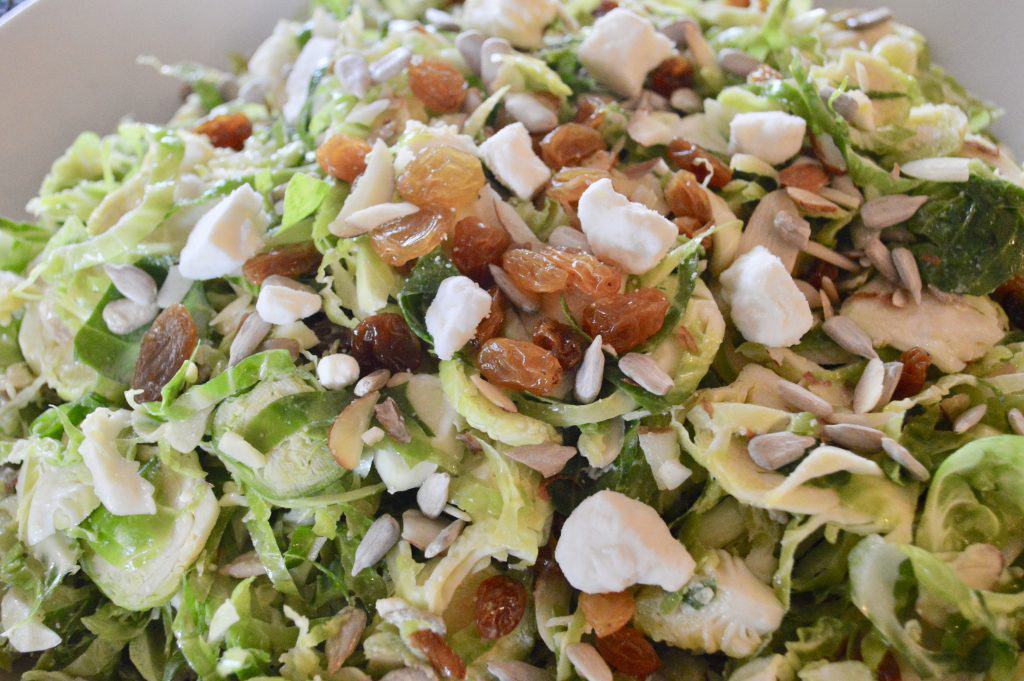 Easy Brussels Sprouts Salad
This is customizable salad that holds up well after days in the fridge. Feel free to swap toppings and dressings. For make ahead, prep the sprouts and dressing the day before of time and refrigerate.
Ingredients
1

pound

brussels sprouts

1/2

cup

golden raisins

1/2

cup

sliced or slivered almonds

1/2

cup

feta cheese crumbles

1/4

cup

sunflower seeds
Dressing Ingredients
1/2

cup

extra virgin olive oil

1/4

cup

lemon juice

approximately one lemon

1

tablespoon

dijon mustard

1

clove of garlic, finely minced

1/2

teaspoon

kosher salt

add more to taste

1 /2

teaspoon

fresh ground black pepper
Instructions
Trim the Brussels sprouts if needed and either slice thinly or put through the shoot of a food processor using the slicing blade. Put the shredded sprouts in a large mixing bowl. Add the raisins, almonds, feta, and sunflower seeds.

Make the dressing. Combine all ingredients and mix well until completely combined.

Add about half the dressing to the salad and toss. Taste to see if more dressing is needed.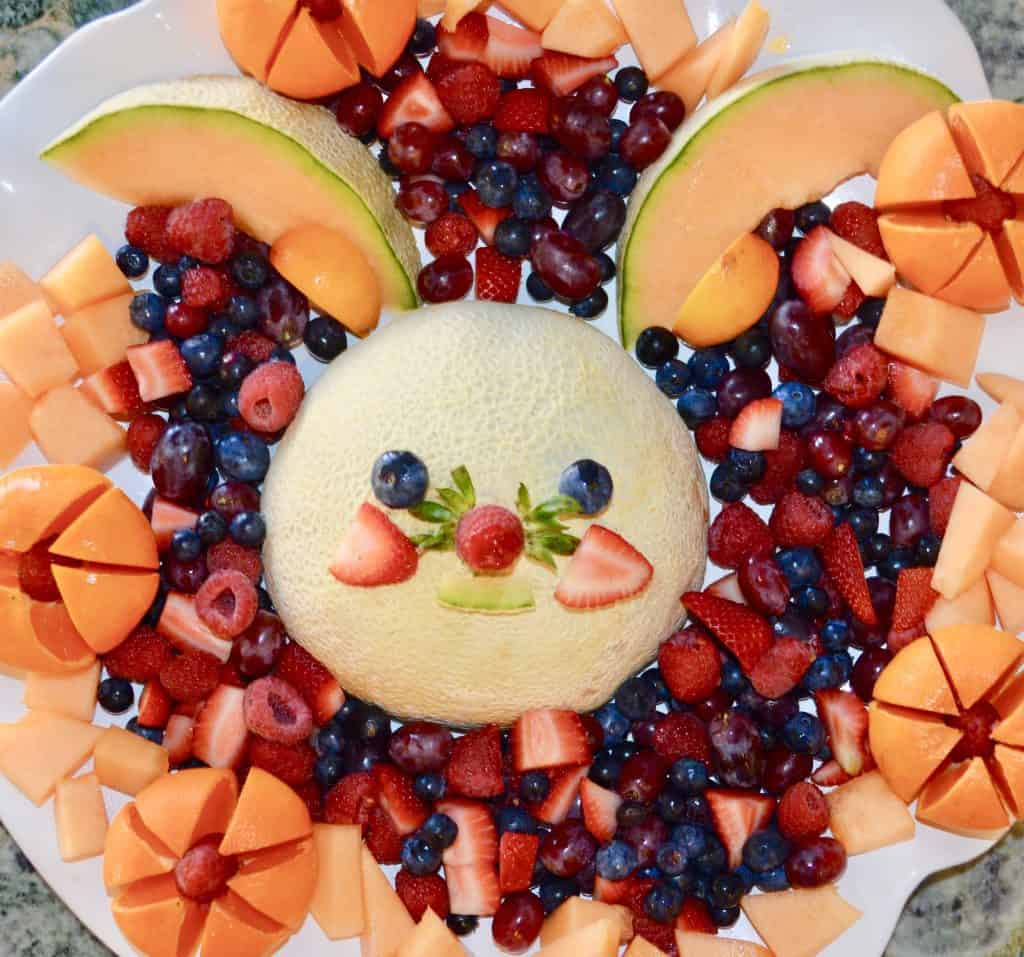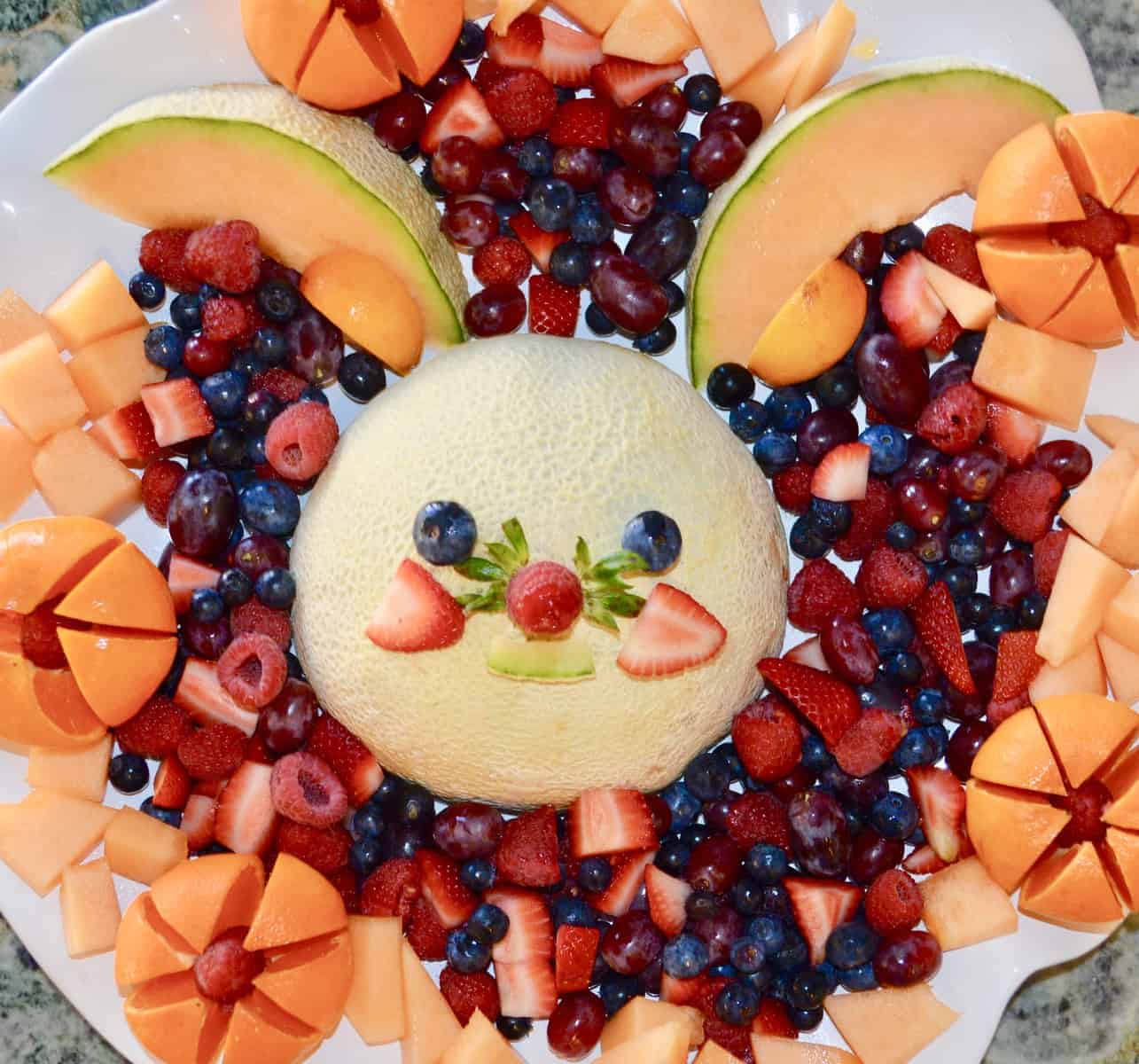 Funny Bunny Fruit Platter
Substitute whatever fruits you have on hand for this fruit platter.
Ingredients
1

cantaloupe

5

oranges

1

pint

raspberries

2

cups

sliced strawberries, save a leafy top for the bunny whiskers

2

cups

grapes
Instructions
1. Slice the cantaloupe in half and remove the seeds. Save one half of the cantaloupe for the bunny's face. Cut 2 lengthwise slices from the other half of the cantaloupe for the bunny's ears. Cube or ball the reminder of the cantaloupe for the platter. 2. Make three long slices through the top of the orange, being careful not to cut all the way through the orange. Place a raspberry in the middle of the orange opening. 3. Wash and cut the remainder of the fruits. Arrange the bunny on the platter using toothpicks to spear the fruits onto the bunny's face if necessary. Use blueberries for the bunny's eyes, a raspberry for the nose, strawberry tops for the whiskers, and a sliver of melon for the mouth. Surround the platter with the rest of the fruit and arrange the oranges on the outside of the platter.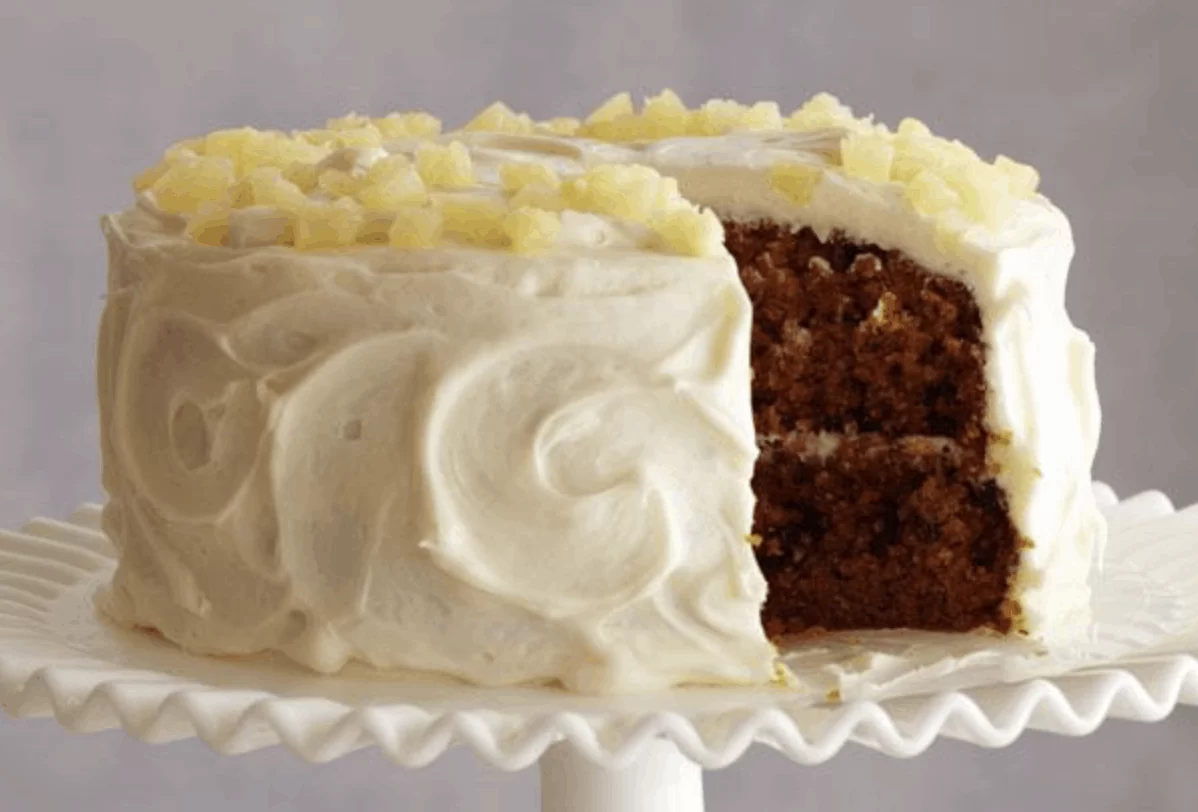 Barefoot Contessa's Carrot Pineapple Cake
Make-ahead Ina Garten's famous Carrot and Pineapple Cake with these tips. Hands down the best carrot cake recipe out there! Recipe credit: Food Network
Total Time
1
hour
10
minutes
Ingredients
2

cups

granulated sugar

1 1/3

cups

vegetable oil

3

extra large

eggs, room temperature

1

teaspoon

vanilla extract

2 1/2

cups

all purpose flour

plus 1 tablespoon for raisins/walnuts

2

teaspoons

ground cinnamon

2

teaspoons

baking soda

1 1/2

teaspoons

kosher salt

1

cup

raisins

1

cup

chopped walnuts

1

pound

grated carrots

1/2

cup

diced fresh pineapple
For the Frosting
3/4

pound

cream cheese, at room temperature

1/2

pound

unsalted butter, at room temperature

1

teaspoon

vanilla extract

1

pound

confectioners' sugar, sifted
For the decoration
1/4

cup

chopped walnuts

1/4

cup

candied pineapple

(like Paradise)
Instructions
Preheat the oven to 350 degrees F.

Butter 2 (8-inch) round cake pans. Line with parchment paper, then butter and flour the pans.

Beat the sugar, oil, and eggs together in the bowl of an electric mixer fitted with the paddle attachment until light yellow. Add the vanilla. In another bowl, sift together 2 1/2 cups flour, the cinnamon, baking soda, and salt.

Add the dry ingredients to the wet ingredients. Toss the raisins and walnuts with 1 tablespoon flour. Fold in the carrots and pineapple. Add to the batter and mix well.

Divide the batter equally between the 2 pans. Bake for 55 to 60 minutes, or until a toothpick comes out clean. Allow the cakes to cool completely in the pans set over a wire rack.

For the frosting:Mix the cream cheese, butter and vanilla in the bowl of an electric mixer fitted with the paddle attachment until just combined. Add the sugar and mix until smooth.Place 1 layer, flat-side up, on a flat plate or cake pedestal. With a knife or offset spatula, spread the top with frosting. Place the second layer on top, rounded side up, and spread the frosting evenly on the top and sides of the cake. Decorate with diced walnuts and candied pineapple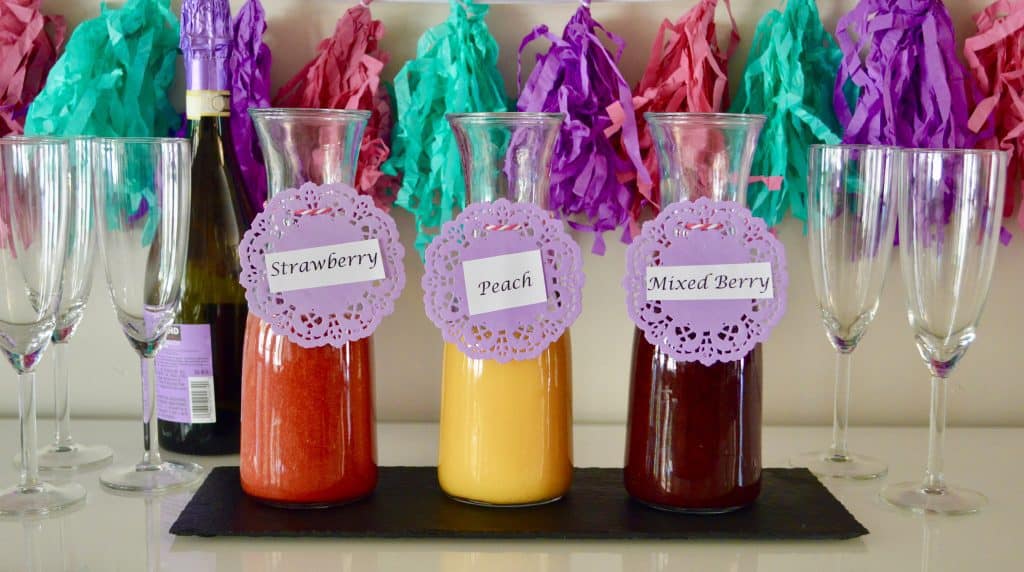 Bellini Bar
The traditional Bellini is just white peach puree and Prosecco. This bar puts a spin on it by pureeing other fruits along with the peaches to offer variety and make a host of Bellini-style drinks.
Ingredients
1

(16 ounce bag)

frozen peaches, thawed

1

(16 ounce bag)

frozen strawberries, thawed

1

(16 ounce bag)

frozen mixed berries, thawed

4

bottles

Prosecco, chilled

can substitute other sparkling white wine

fresh berries, peaches, mint sprigs for garnish

(optional)
Instructions
1. Blend separately the peaches, strawberries, and mixed berries. Strain each through a fine mesh sieve, put in three separate carafes and refrigerate. 2. Make the simple syrup. Bring the sugar and water to a boil and stir until sugar dissolves. Remove from heat and chill. 3. Pour a third of the sugar mixture to each carafe and stir to combine. 4. Set up the Bellini Bar. Put out 12 Champagne glasses, the chilled Prosecco, and the three carafes of purees. Include the garnishes at the end of the bar.
The most important part of this Easter Brunch Menu is to have fun and enjoy time with your family. These recipes are easy enough to follow that you shouldn't stress about pulling it all together for the big day. The ingredients are simple and inexpensive (especially this time of year!) so you can really put this together for the cost of 1-2 adults at a fancy resort buffet. And think of the leftovers! You'll have enough to eat for the week.
Happy Easter!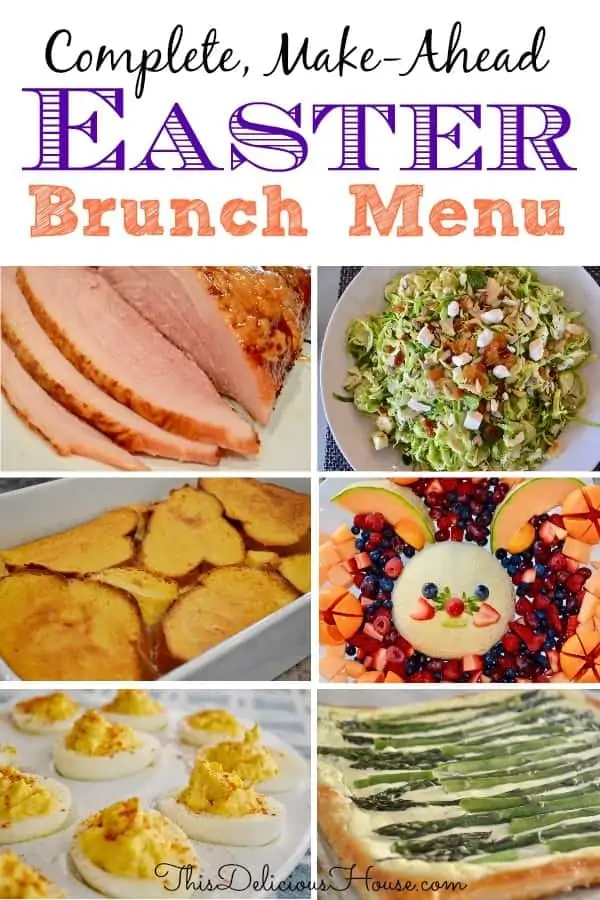 Love Easy Recipes? Me Too!
Sign up Now and Never Miss a Simple and Delicious Recipe!