Easy Deviled Eggs are a great appetizer, brunch treat, holiday item, or perfect for baby showers and bridal showers! Made with just eggs, mayo, dijon, and vinegar, they are a low cost and so simple yet delicious.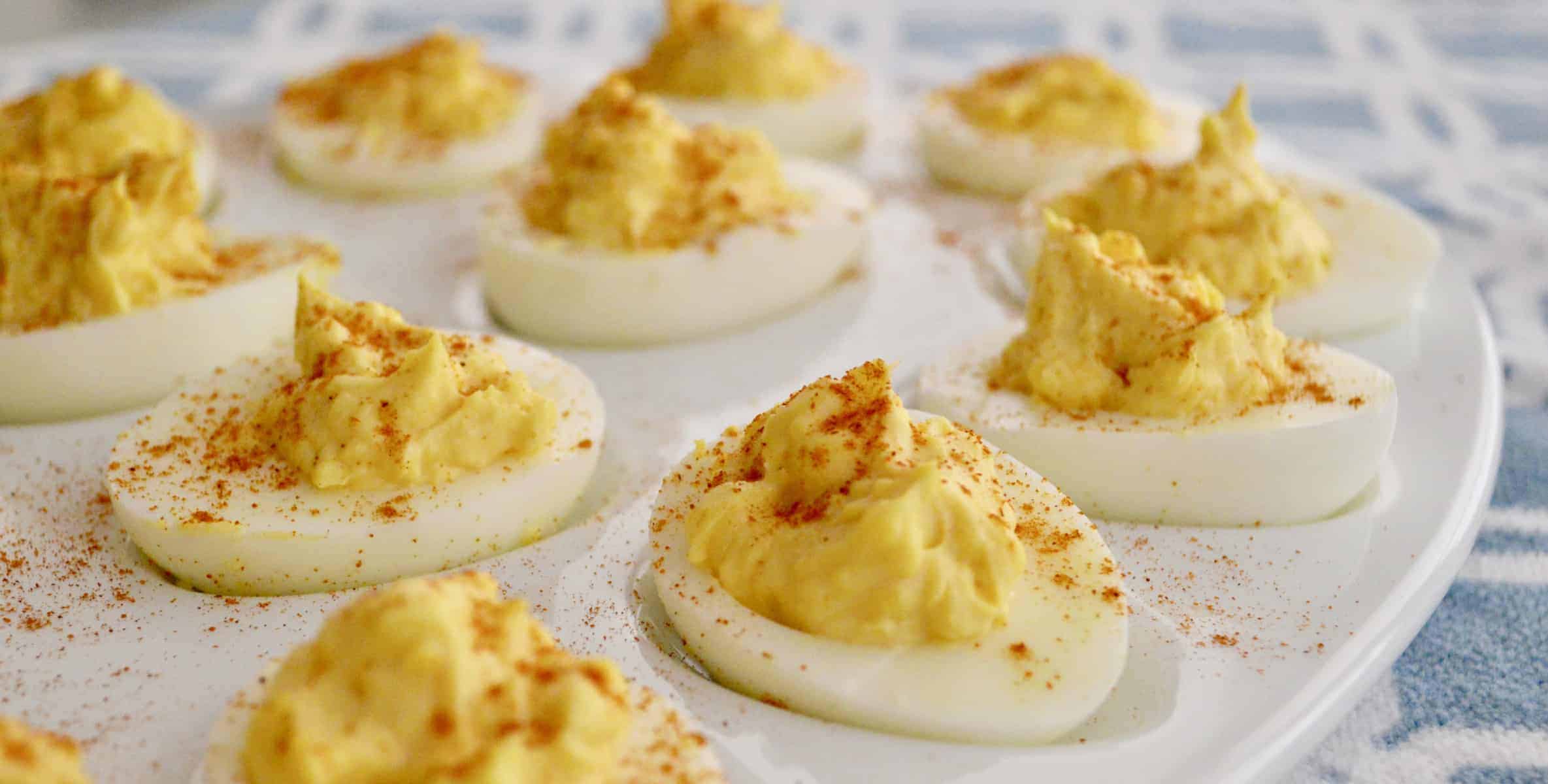 Everyone loves Deviled Eggs and they are so easy to make. I personally make these year round and the always seem to be the first gone on my buffet.
This classic dish can actually be very easy to make even for the beginning chef. Firstly, it's good idea to get a platter to actually hold all those eggs so they're not sliding around. You can get a beautiful White Porcelain Egg Dish on Amazon.
Deviled Eggs are great for brunch or as an appetizer, heck they are even good as a snack! And the fact that a dozen eggs are no more than 1-2 dollars and the rest of the ingredients you probably have in your pantry already, these are a super cheap crowd pleaser.
Can you make ahead deviled eggs?
I wouldn't recommend making deviled eggs more than a couple of hours in advance. If you make them too far ahead, you risk the eggs getting slimy or browning.
However, there are ways to make day-of deviled eggs easier than ever. Follow these tips and you'll be all set for making these tasty eggs come Easter morning.
My main make-ahead trick is to boil and peel the eggs the day before and refrigerate overnight. There are many different thoughts on how to boil and egg and get the shell to peel off properly. Here's how I do it:
Place eggs in a single layer in a pot and cover with water. Add about 2 tablespoons of salt to the water.
Put the pot on the stove and bring to a boil. Once boiling, cover and reduce to simmer for five minutes.
With the cover on still, shut off the heat completely and let the eggs sit for another five minutes.
Prepare a large bowl of ice water and place the cooked eggs into the water; let sit for a minute before peeling.
Use the palm of your hand to gently roll the egg on the counter. You should be able to peel the shell of easily now.
Store the peeled eggs in the refrigerator in an airtight container for up to three days.
I like to make the filling for the deviled eggs the day of the event. Firstly, because who actually has room for a tray of deviled eggs in their refrigerator? And, because once you cut the egg, the white is best eaten sooner than later.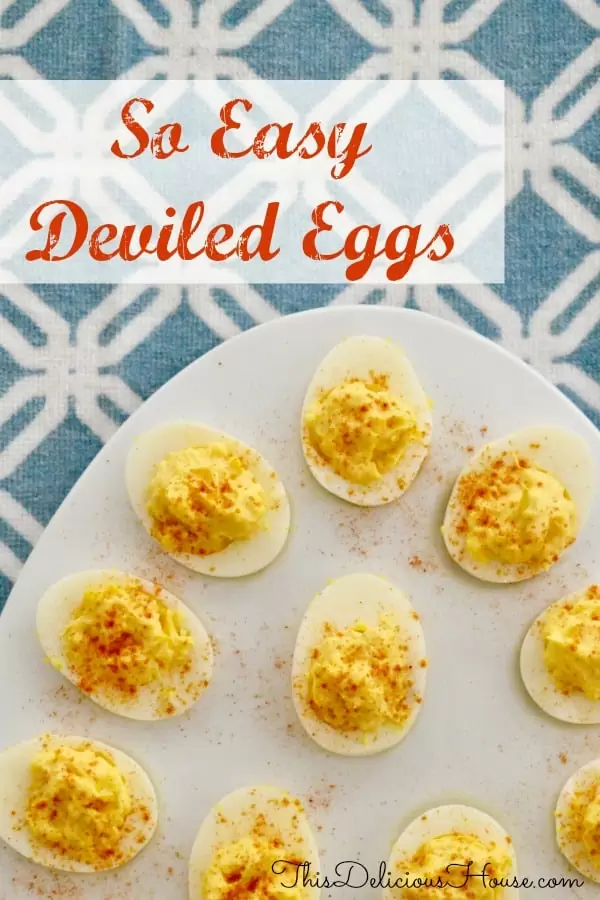 How to make deviled eggs
The whole process is super simple and even easier if you have a egg tray to place the eggs on.
To start, cut the peeled egg in half lengthwise. Then, remove the yolk using a small spoon, and place into a mixing bowl.
Use a fork to mash the yolk then mix it with mayo, dijon, vinegar, and salt and pepper. To get the filling back into the egg whites, you can either pipe it using a pastry bag, or spoon it back into the halved egg white. (I always just spoon it in there using two small kids spoons).
I like to garnish my eggs with a sprinkle of paprika – you can't really taste the paprika but the color is awesome! You could also garnish with chopped dill (yum!) or green onions.
Hands down, these Deviled Eggs are the easiest and most satisfying dish to serve. Perfect anytime of the year or for your Easter Menu. Enjoy!
More Tasty Brunch Recipes
Some other great brunch and lunch ideas to go with Deviled Eggs are: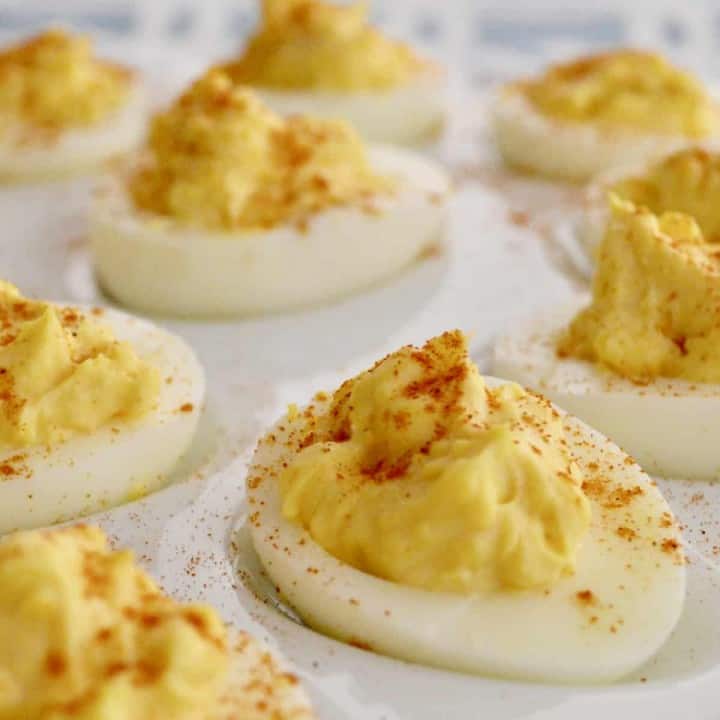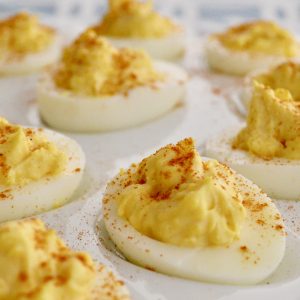 Easiest Ever Deviled Eggs
You can boil and peel the eggs the night before to make the day of prep a breeze!
Print
Pin
Rate
Ingredients
12

large

eggs

½

cup

mayonnaise

1

tablespoon

dijon mustard

1

teaspoon

white vinegar

¼

teaspoon

kosher salt

paprika to garnish
Instructions
Place the eggs in a single layer in a saucepan and cover with enough water to completely cover the eggs. Heat on high until water begins to bubble, then bring to a simmer and cover. Cook for 10 minutes. Remove from heat immediately submerge eggs in ice water to cool.

Crack egg shells and carefully peel under cool running water. Gently dry the eggs and refrigerate in airtight container if making the next day. Otherwise, proceed to next step.

Slice the eggs in half lengthwise and remove the yolks to a bowl. Mash the yolks and add in the mayonnaise, mustard, vinegar, and salt. Mix well.

Set the egg whites on a tray, cut side up. At this point you could either spoon the yolk mixture evenly into all of the eggs, or pipe the yolks in to create a fancier look. To do this, put the yolk mixture into a ziplock bag, snip the corner of the bag and pipe into the eggs. Sprinkle with paprika and serve.
Notes
You could also garnish this with chopped dill, sliced green onions, or chopped shallots. 
Nutrition