Slow Cooker Ham is a great way to cook your holiday ham. Using a boneless ham and a delicious brown sugar glaze, this ham requires little prep and cooks easily in your slow cooker.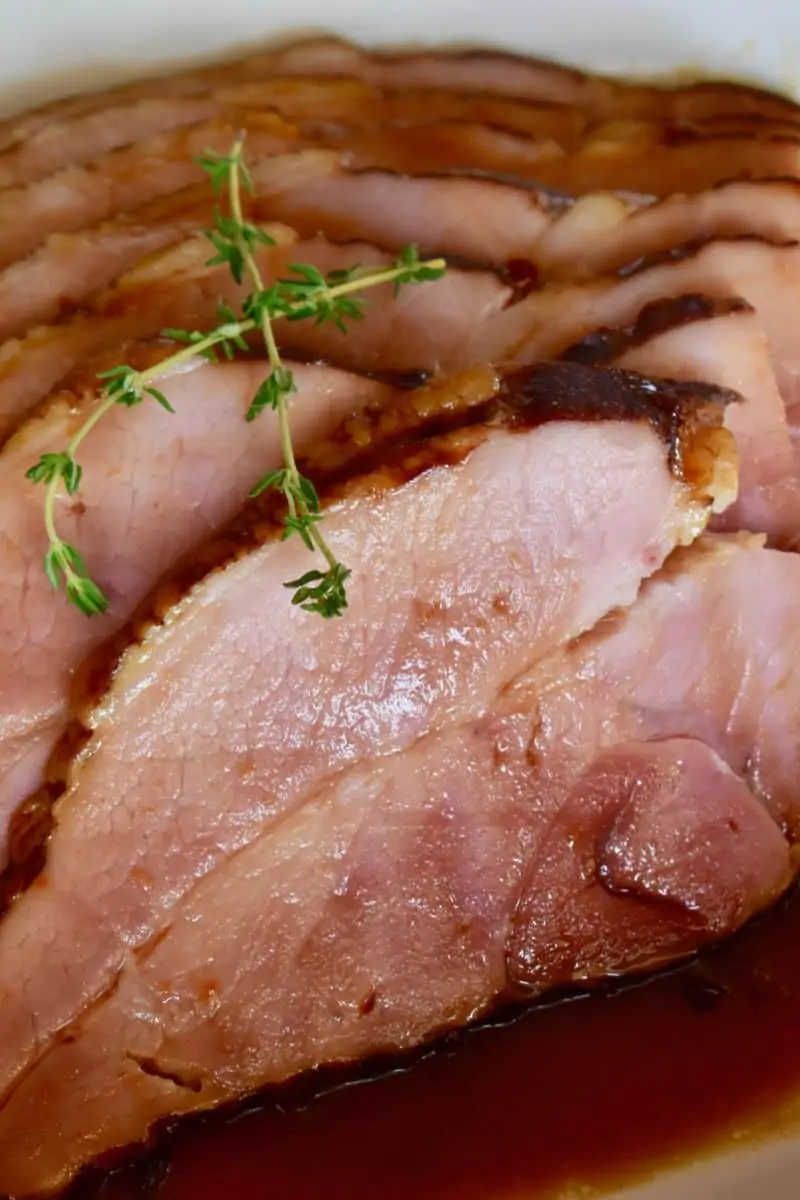 Hosting a big get together and need to save space in the oven? This great idea for Slow Cooker Ham yields excellent results and takes up no oven space because you cook it on the counter in the CrockPot!
Need to cook a turkey breast? Give the slow cooker a try with this delicious and easy recipe for Slow Cooker Turkey Breast. And, for another delicious holiday favorite, don't miss this Cranberry Pineapple Sauce or my fan-favorite Cornbread Stuffing. Change up your mashed potatoes with this tasty recipe for Cacio e Pepe Mashed Potatoes!
Why this Slow Cooker Ham is the Best!
Recently I discovered that Costco sold a boneless ham year-round, and since then I've been sold. My family loves ham and we love having leftovers to add to sandwiches, Mac n cheese, breakfast burritos, or just by itself.
My ode to boneless ham continues… I love the fact that you can slice it however you want and don't have to deal with a bone to cut around. Moreover, you can make ham cubes, perfect for scrambled eggs.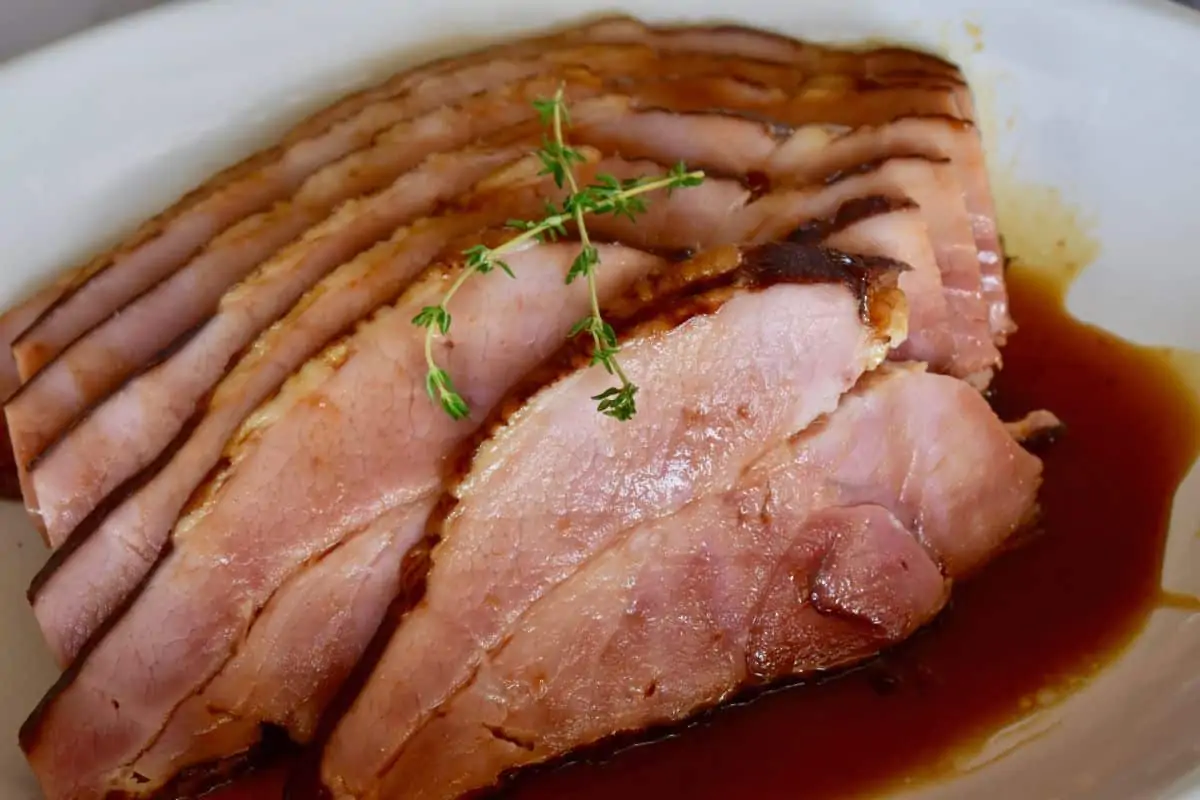 Boneless hams come in all different sizes. If possible, try to find one that is on the small size and not so long, so that it can fit in your slow cooker. However, you can always cut the ham into two or three large pieces so it fits.
Cooking your ham in the slow cooker is a great way to save oven space while keep the ham juicy and warm. You can slice the ham and serve it directly in the slow cooker in all of those delicious juices and glaze flavors.
The glaze make this ham extra special. It's just a few ingredients that really do give the ham so much flavor. The brown sugar brings out the sweetness, while the mustard and vinegar add a nice bite.
Ingredients
To make a slow cooker ham all you need is a boneless half ham and the glaze ingredients:
brown sugar
dijon mustard
apple cider vinegar
The ham size you get depends on what the store has to offer. I find that the glaze is the perfect amount no matter what size ham I get.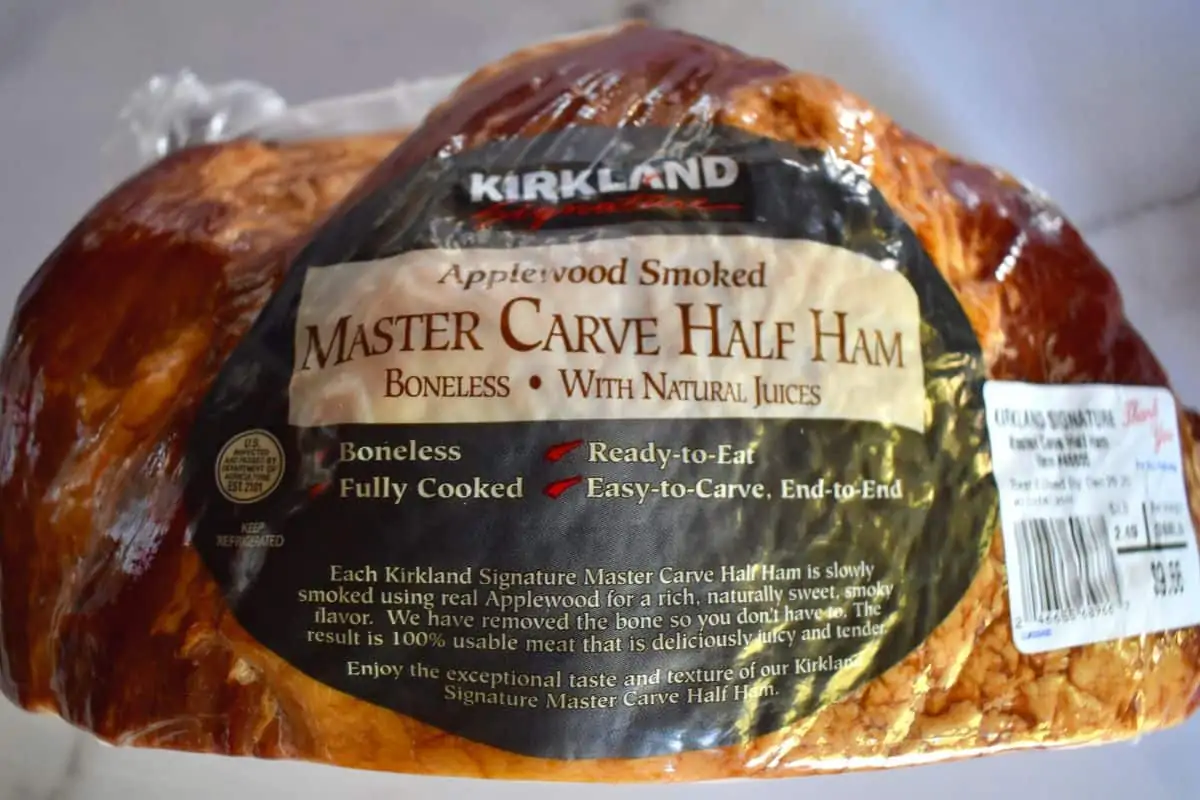 How to Make Slow Cooker Ham
To start, set your slow cooker to low and spray the inside with nonstick cooking spray. You could also use a crockpot bag insert to make clean up a breeze.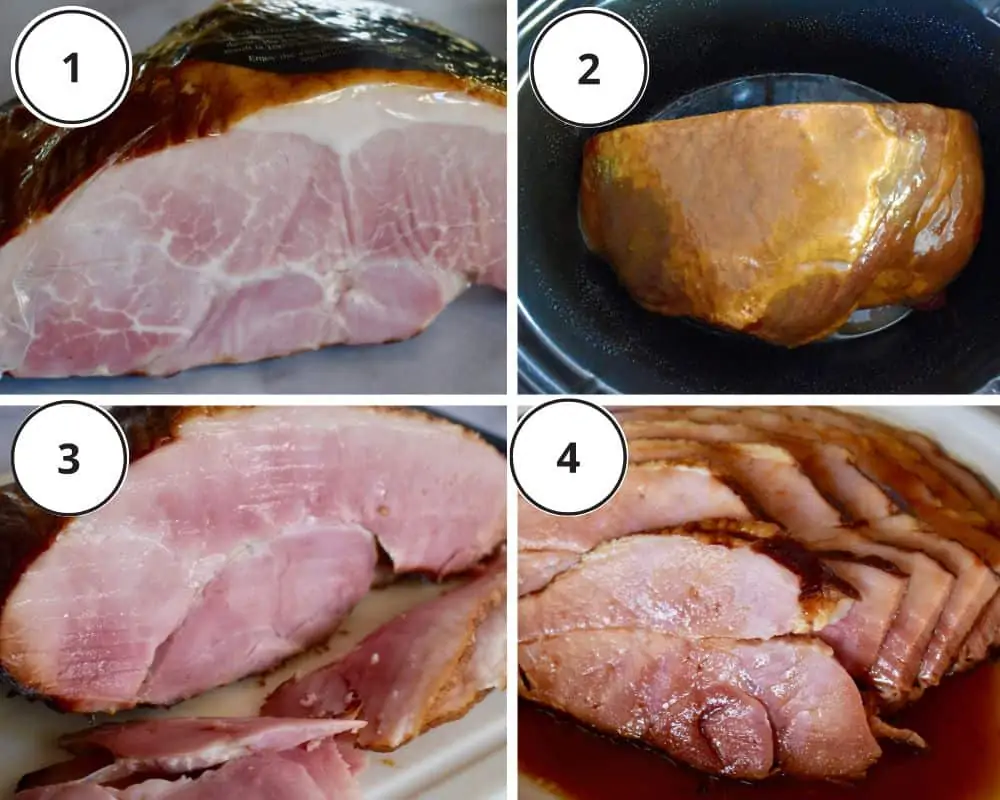 Step 1: remove the ham from its packaging. You can drain any juices off or add them to the slow cooker.
Step 2: in a small bowl, whisk together the glaze ingredients including the brown sugar, dijon mustard, and apple cider vinegar. Pour the glaze over the ham in the crock pot. Turn the temperature to low and cover with a lid.
Step 3: Start to check the ham for doneness around 3 hours. You want to use a thermometer to make sure the ham is 140 degrees. Next, remove the ham from the slow cooker and let rest on a cutting board for 5 minutes. Slice the ham into desired size.
Step 4: Serve the sliced ham with the juices from the slow cooker. You can put the ham slices back in the slow cooker or serve on a platter with juices poured overtop.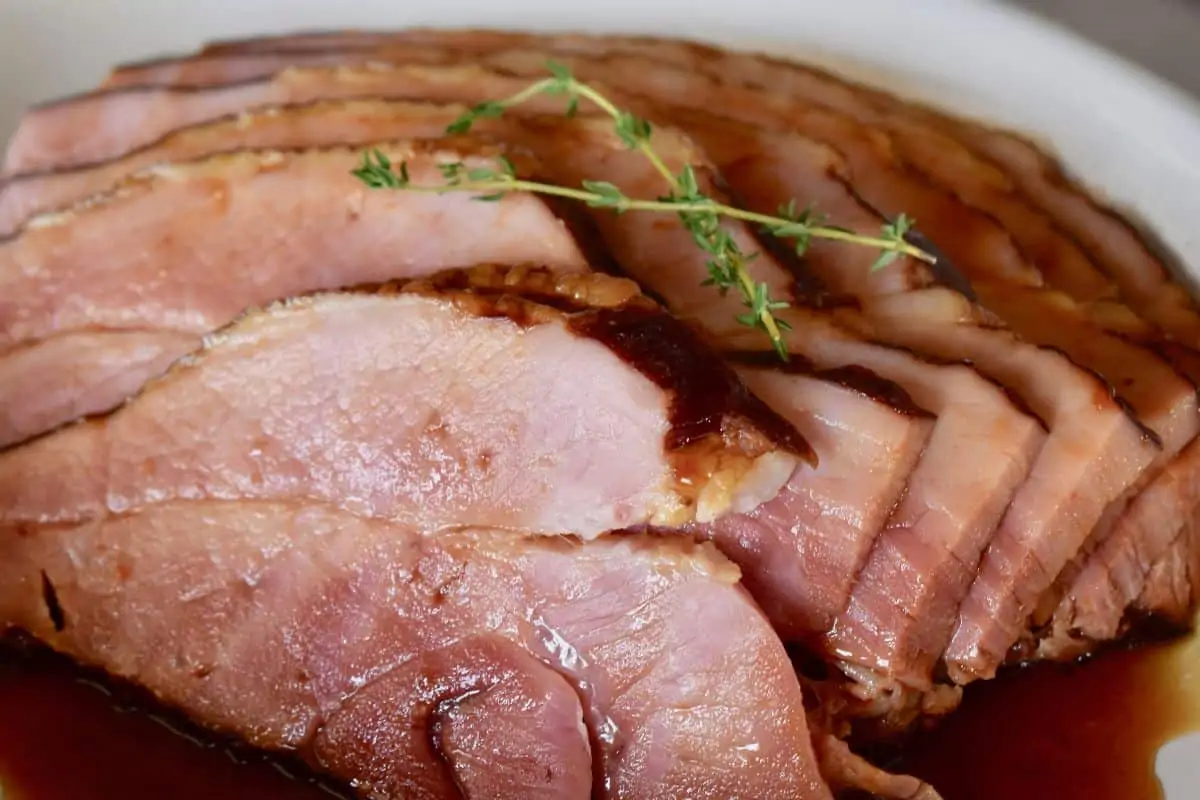 What is the best ham to use in a slow cooker?
A traditional bone in ham will more than likely be too large for a standard slow cooker. I recommend using a boneless half ham. If the ham still doesn't fit, you can always cut it in half to make it fit in the slow cooker.
What is an easy glaze for ham?
For a delicious and easy ham glaze, whisk together brown sugar, dijon mustard, and little bit of apple cider vinegar. Brush it on the ham while it cooks in the slow cooker.
Recipe Tips and FAQs
Short on time? Then set the crockpot to high and cook in half the amount of time.
If you can't fit your boneless ham in the slow cooker, try cutting in half or into large chunks.
Even though the ham is fully cooked, you still want to bring it to 135-140 degrees before serving.
Need a slow cooker? Check out my favorite Crock-Pot on Amazon – love that it's programable!
How long do I cook a ham in the slow cooker?
If you are using a boneless half ham, it should cook at low setting in about 3-5 hours. No matter what size ham you are using, the internal temperature should read 140 degrees on a meat thermometer.
Should I buy pre-sliced ham?
Pre-sliced ham is served on the bone and will take up extra space in the oven. If you don't cover the ham, you risk the slices drying out before the ham is done cooking. I recommend using a boneless half ham that isn't pre-sliced, and cooking it low and slow in the slow cooker.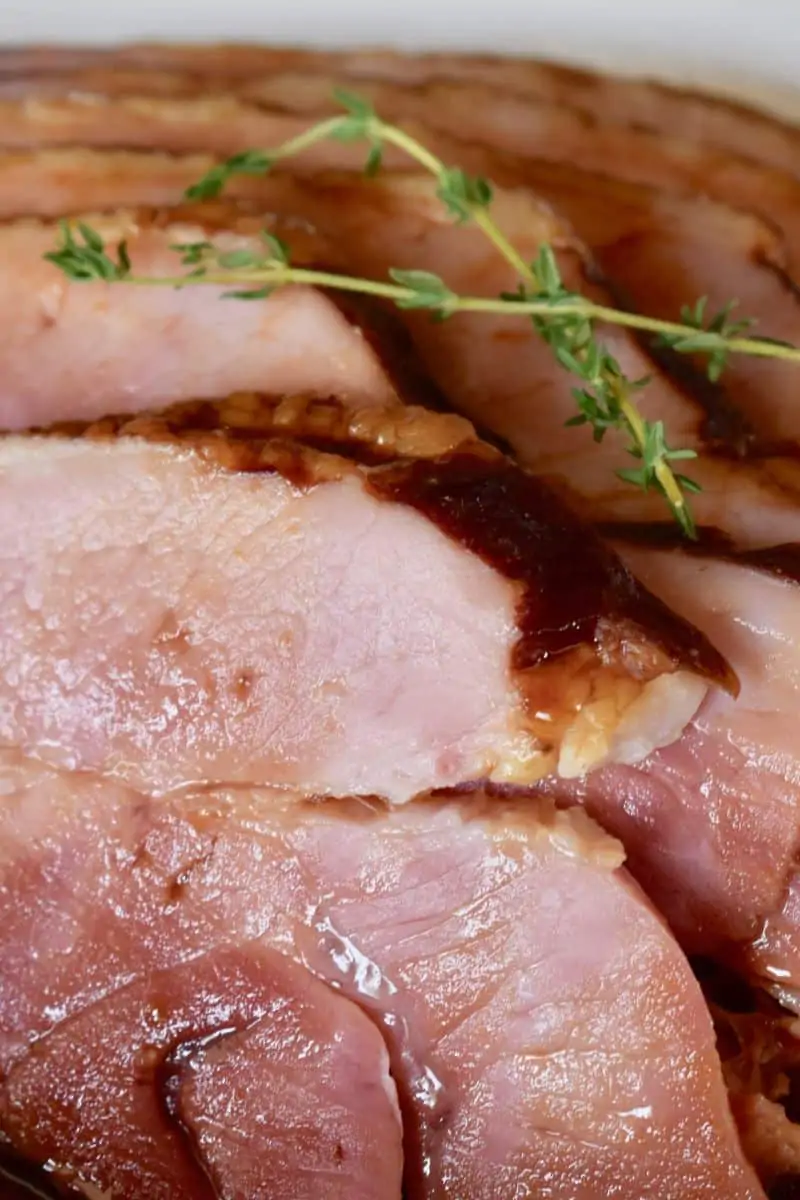 Be sure to serve with my Roasted Asparagus Ricotta Tart and Brussel Sprout Salad for a complete meal. For another delicious side, don't miss this Italian Roasted Potatoes recipe!
Leftover Ham Recipes
If you have leftover ham, be sure to check out these delicious recipes featuring leftover ham: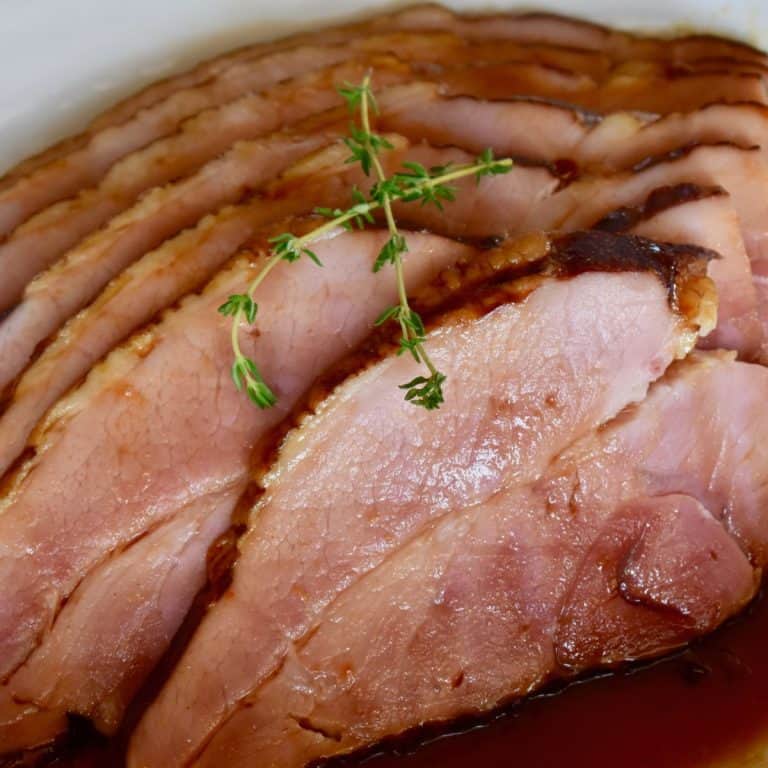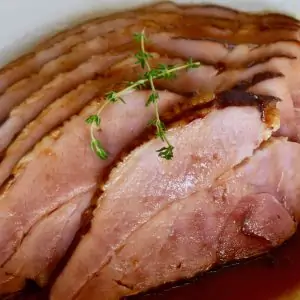 Slow Cooker Ham
Save oven space and make your ham on the countertop in the slow cooker! The simple brown sugar glaze makes this ham truly special.
Print
Pin
Rate
Ingredients
1

boneless ham

I use the Kirkland brand

½

cup

brown sugar

1

tablespoon

dijon mustard

1

tablespoon

apple cider vinegar
Instructions
Spray the inside of a slow cooker with cooking spray. Remove ham from packaging and place in slow cooker. (If the ham doesn't as is, you can cut it to make it fit.)

Make the glaze by combining the brown sugar, dijon, and apple cider vinegar in a small bowl. Pour over the ham. Cook ham at low heat for 3-5 hours or until thermometer reads 140 degrees. Let the ham rest for 10 minutes before slicing. Pour on glaze from the slow cooker.
Notes
Got leftover ham? Go to https://thisdelicioushouse.com and search "leftover ham" for some great recipes! 
Nutrition