Hosting a big get together and need to save space in the oven? This great idea for Slow Cooker Ham yields excellent results and takes up no oven space because you cook it on the counter in the CrockPot!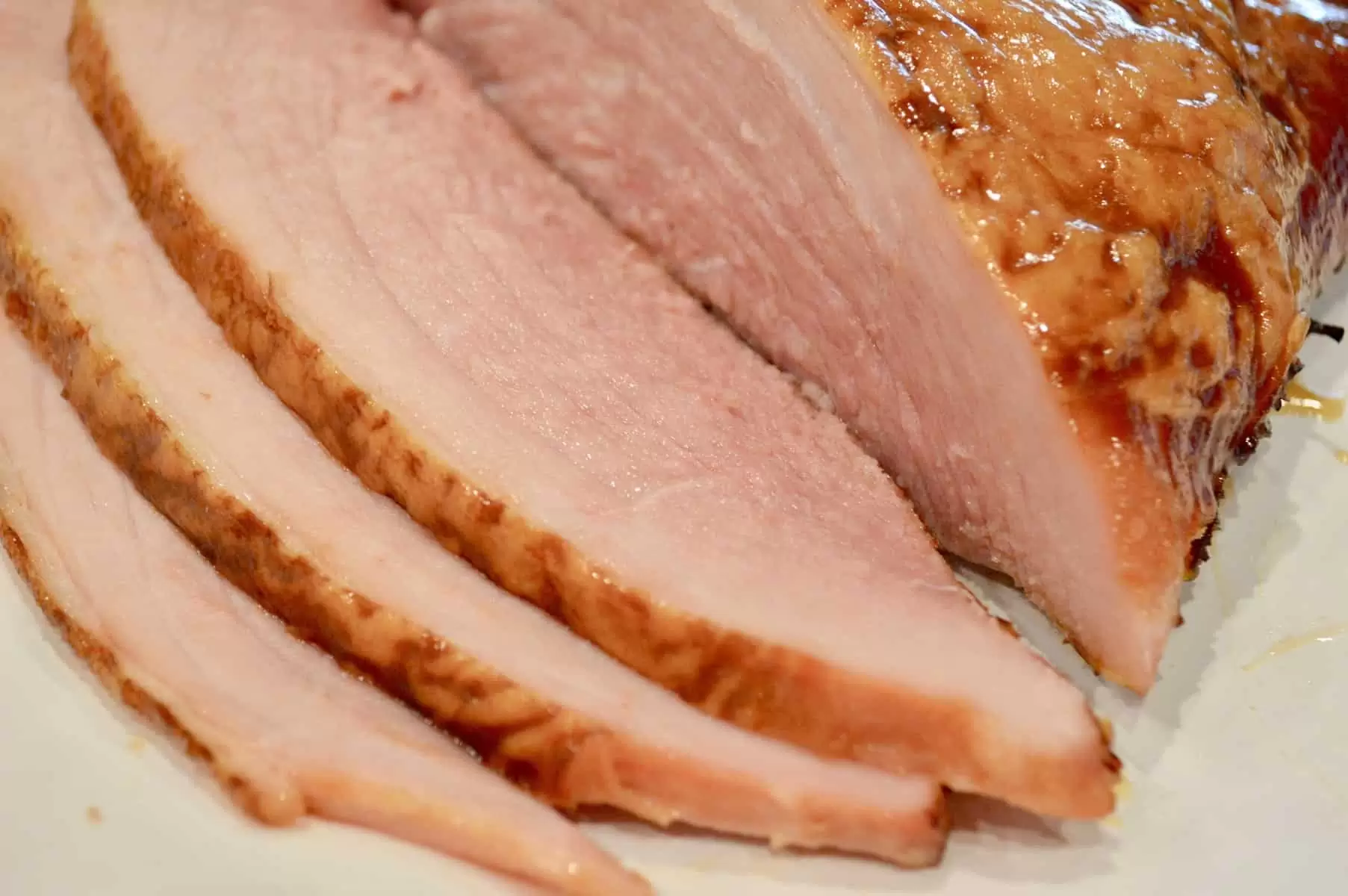 Recently I discovered that Costco sold a boneless ham year-round, and since then I've been sold. My family loves ham and we love having leftovers to add to sandwiches, Mac n cheese, breakfast burritos, or just by itself.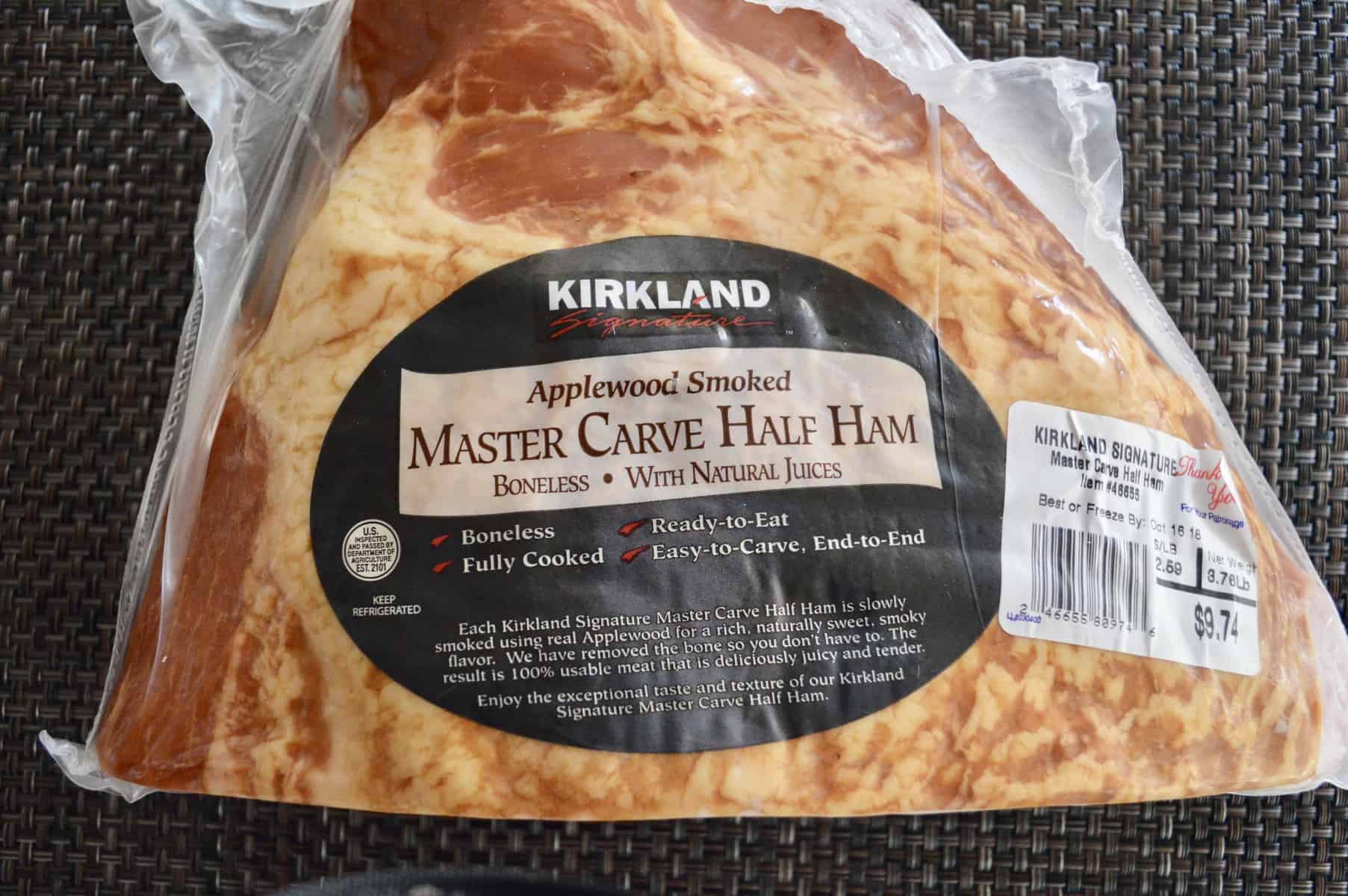 My ode to boneless ham continues… I love the fact that you can slice it however you want and don't have to deal with a bone to cut around. Moreover, you can make ham cubes, perfect for scrambled eggs. But if you can't find boneless ham, bone in spiral cut will work as well.
Slow Cooker Ham
The glaze is great and super easy too. Only three ingredients and items you most definitely have on hand already. It's all pure deliciousness with this slow cooker ham recipe!
To cook, just set the ham in the slow cooker. Brush on the glaze and cook on low for 5-7 hours, depending on the size of the ham. You want the internal temperature to reach 140-145 degrees.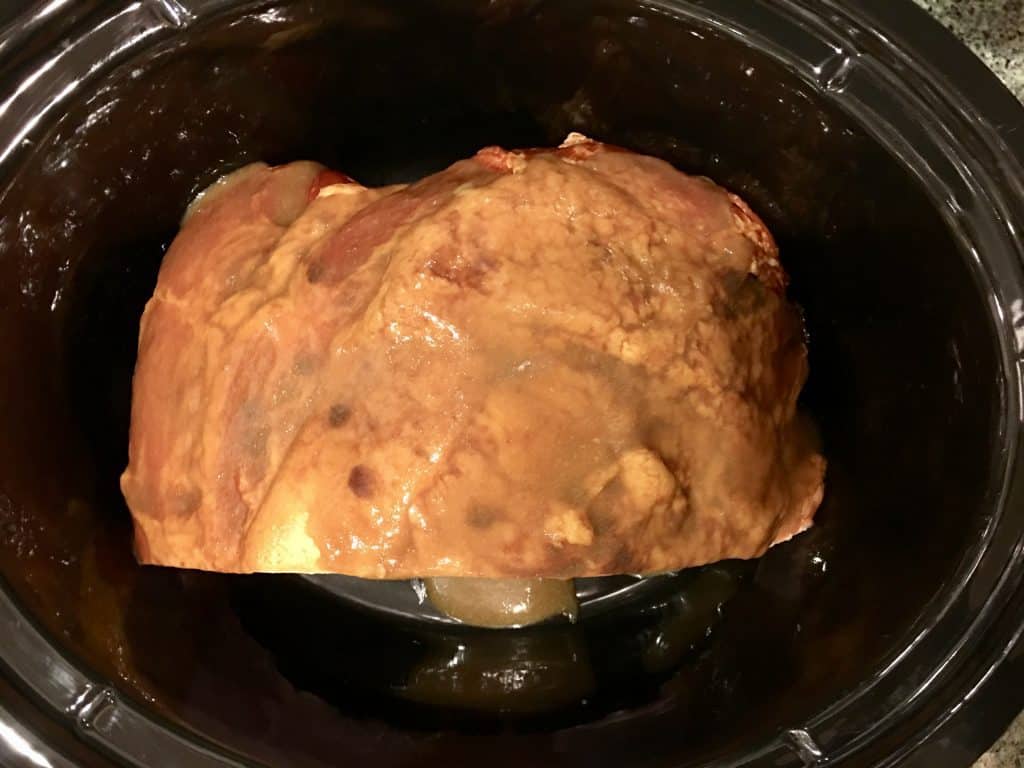 Need a slow cooker? Check out my favorite Crock-Pot on Amazon – love that it's programable!
Short on time? Then set the crockpot to high and cook in half the amount of time. So if you're hesitant to cook in your slow cooker or Crockpot, I say give this a try, you'll be amazed what that crockpot can do!
Be sure to serve with my Roasted Asparagus Ricotta Tart and Brussel Sprout Salad for a complete meal.
Got leftover ham? Make a delicious and easy Ham and Cheese Quiche or slice thin and make Ham and Cheese Sliders. Moreover, it freezes great and reheats beautifully!

Slow Cooker Ham with Brown Sugar Glaze
Save oven space and make your ham on the countertop! Use your slow cooker Crockpot and get excellent results with this recipe.
Ingredients
1

boneless ham

I use the Kirkland brand

1/2

cup

brown sugar

1

tablespoon

dijon mustard

1

tablespoon

apple cider vinegar
Instructions
Spray the inside of a slow cooker with cooking spray. Remove ham from packaging and place in slow cooker set at low heat. Make the glaze by combining the brown sugar, dijon, and vinegar in a small bowl. Pour over the ham. Cook ham at low heat for 5-7 hours or until thermometer reads 140 degrees.
Notes
In a rush? Set the slow cooker to high and cook for 3-4 hours or until thermometer reads 140 degrees.