Want to wow your guests with a fun alternative to the Mimosa? Try this easy to set up Bellini Bar and give your guests a happy alternative to orange juice and champagne. Fruit purees and Prosecco are where it's at for this Bellini Bar!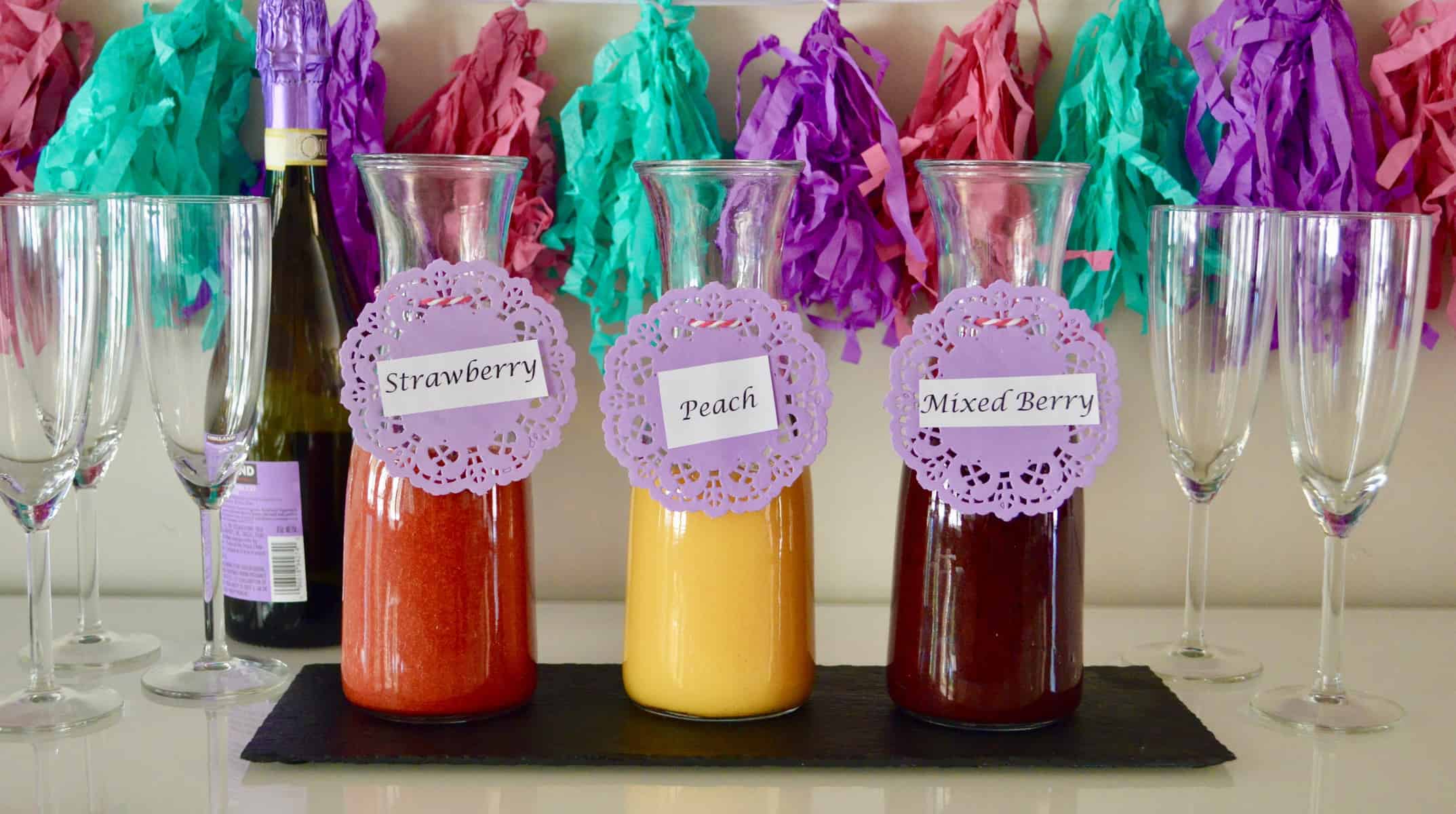 What is a Bellini? So simple, yet so delicious. It is just pureed white peaches and Prosecco (an Italian sparkling white wine). To which I say, "move over Mimosas, there is a new brunch cocktail in town!"
Harry's Bar traditionally used fresh white peach puree for their Bellinis. I have found that using frozen peaches can give you the same deliciousness with out the hassle of actually finding in season white peaches.
So yes, this recipe is incredibly simple, but it is also customizable because you can puree a variety of different fruits to add to Prosecco. And the best part is that all of the fruit is actually better if it's the precut frozen kind you find at the grocery store. So grab whatever fruit looks good to you: frozen raspberries, blueberries, strawberries, or even mixed berries. Because you know what, it'll all be delicious!
For the Bellini Bar, set up a big ice tray with a bunch well-chilled Prosecco bottles. Then you can add little carafes of the different purees and some Champagne glasses, but if you only have regular glasses or plastic cups that works too! These little carafes Anchor Hocking 0.5 Liter Glass Wine Carafe would be cute to use.
Bellini Bar Set Up
Guests can serve themselves and tailor the puree/Prosecco ratio to their liking. Although it should be noted that the traditional Harry's Bar ratio is 2 parts Prosecco to 1 part peach puree. It is also fun to add some of the fresh fruit and mint leaves alongside the bar for garnishing the drinks. If you are hosting a kid friendly brunch, you can just add some sparkling water or sparkling apple juice to go along with the bar. Kids love being able to make their own drinks, even mixing the flavors of the puree.
A make-ahead tip for this: do the purees up to a day in advance and chill the Prosecco. That way the day of your party all you have to do is put everything out on the bar. It is also helpful to have tags identifying the different purees so your guests will know what they are drinking.
For another fun brunch cocktail, be sure to try this Grapefruit Paloma recipe! And, make a fun cocktail using this Rhubarb Simple Syrup recipe!
So host your own Bellini bar and make sure to have lots of Prosecco on hand, it's delicious!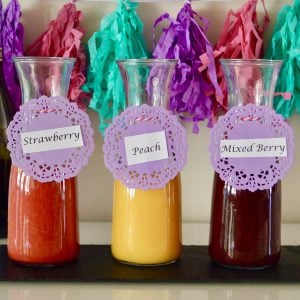 Bellini Bar
The traditional Bellini is just white peach puree and Prosecco. This bar puts a spin on it by pureeing other fruits along with the peaches to offer variety and make a host of Bellini-style drinks.
Print
Pin
Rate
Ingredients
1

(16 ounce bag)

frozen peaches, thawed

1

(16 ounce bag)

frozen strawberries, thawed

1

(16 ounce bag)

frozen mixed berries, thawed

4

bottles

Prosecco, chilled

can substitute other sparkling white wine

fresh berries, peaches, mint sprigs for garnish

(optional)
Instructions
Blend separately the peaches, strawberries, and mixed berries. Strain each through a fine mesh sieve, put in three separate carafes and refrigerate. 

Make the simple syrup. Bring the sugar and water to a boil and stir until sugar dissolves. Remove from heat and chill. 

Pour a third of the sugar mixture to each carafe and stir to combine. 

Set up the Bellini Bar. Put out 12 Champagne glasses, the chilled Prosecco, and the three carafes of purees. Include the garnishes at the end of the bar. 
Give the Bellini Bar and shot and really wow your guests. So fun and customizable, you'll definitely be saying "move over, Mimosa!"
For a fun gathering with the girls, pair the Bellini Bar with my Donut and Fruit Kabobs. Yumminess on so many different levels.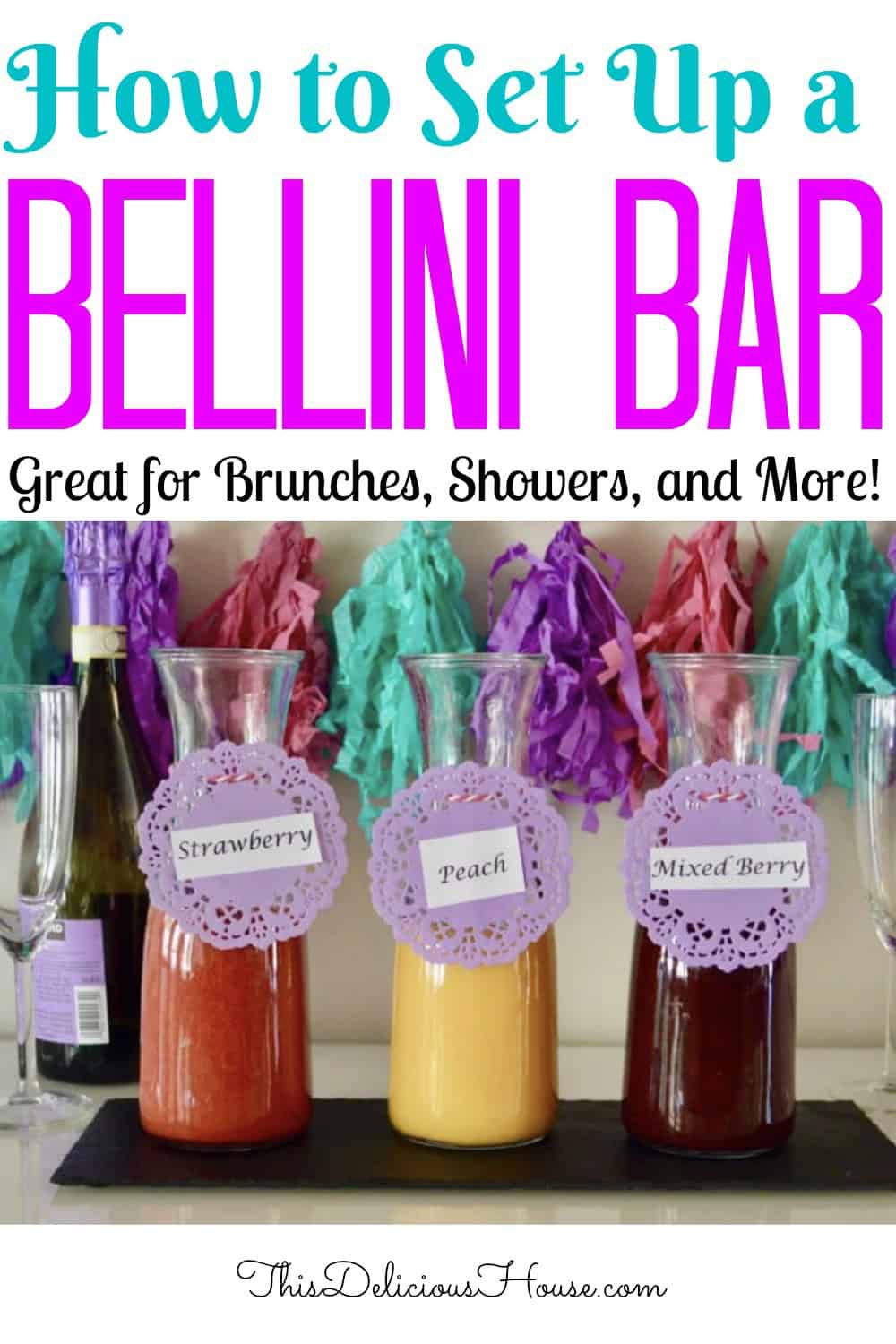 Get Your Free Party Planning Checklist!