Grapefruit Paloma is a refreshing cocktail made with grapefruit juice, tequila, lime juice, and sparkling water. This classic cocktail is a tasty margarita alternative that's ready in 5 minutes!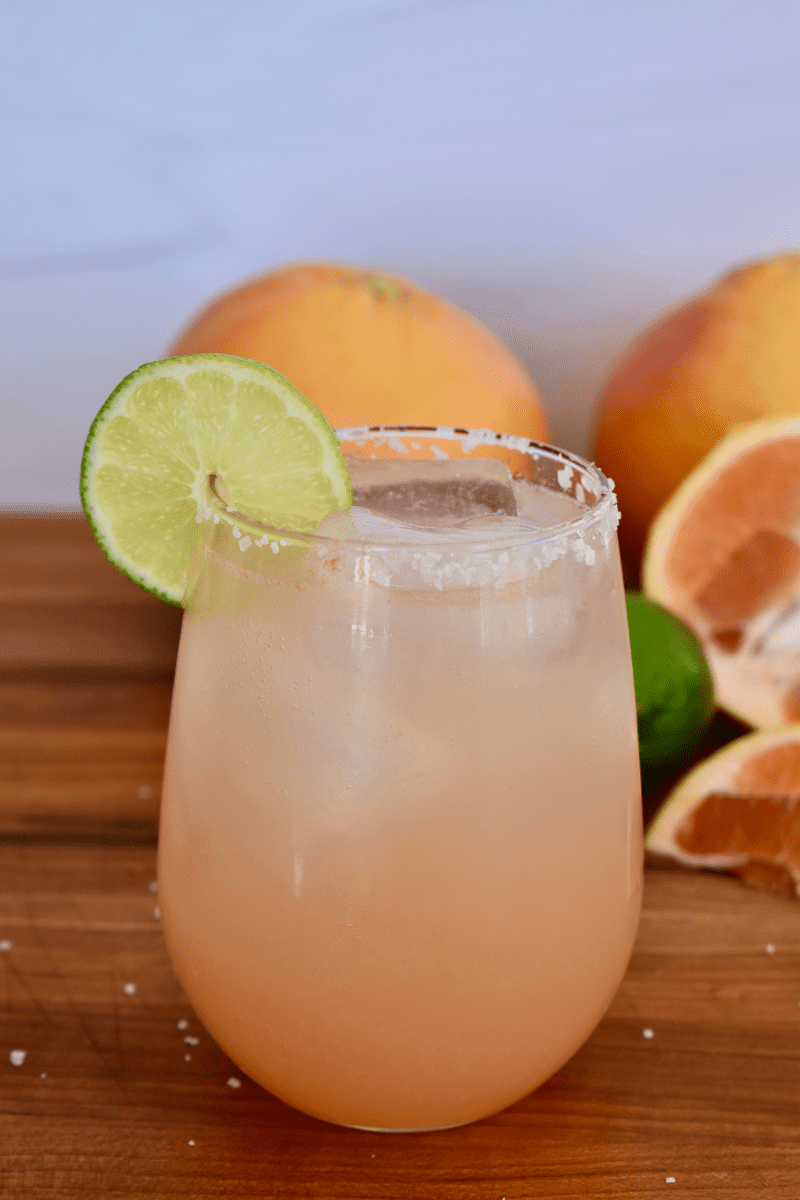 If you're craving something different from the usual margarita, this Grapefruit Paloma is for you! Still made with those classic margarita flavors you love, this slightly sweet and tart drink is perfect for a hot day.
So, if you're looking for a fun cocktail that's simple to make, be sure to give this paloma a try. And, for an amped up version of the classic margarita, check out my Pineapple Margarita Recipe made with pineapple, orange, and lime juices. For a super easy take on a bar favorite, be sure to try my recipe for Espresso Martini with Kahlua. And, for another refreshing summer cocktail, don't miss this simple Limoncello Spritz!
Why this Grapefruit Paloma is the best!
One sip, and this Grapefruit Paloma recipe may become your new favorite cocktail. This simple drink is easy to make and is perfect for your barbecue, swim party, or just a great weekend cocktail recipe to have on hand.
This paloma is easy to make and doesn't require any special equipment. Once you have all of the juices squeezed, it's just a matter of measuring and pouring.
You can make this grapefruit paloma year round using bottled grapefruit juice, or fresh grapefruits in the warmer months when the fruit is in season. It's a welcome change to your standard cocktail and margarita recipe!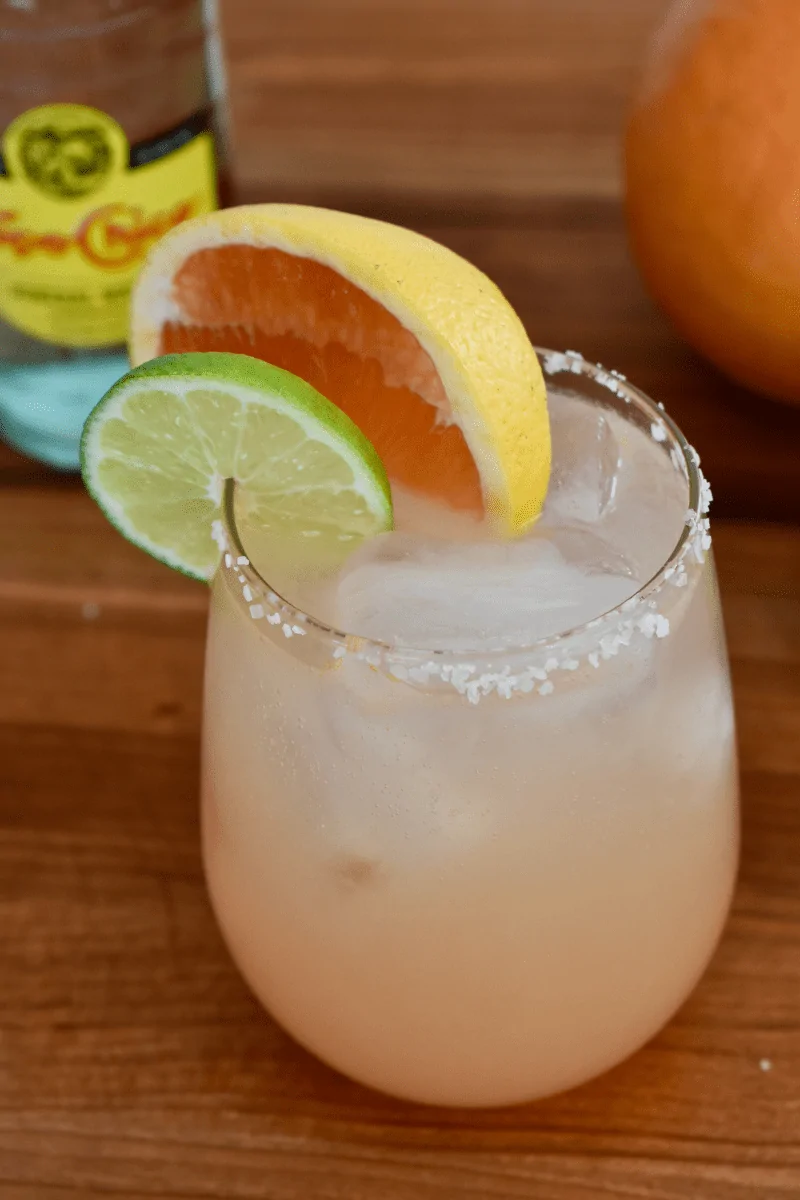 What really makes this drink special is the combination of slightly sweet and tart flavors. The grapefruit and lime pair perfectly with the tequila. And, if you like it on the sweeter side, just add more simple syrup.
For another fun summer drink, be sure to check out this Watermelon Water recipe!
Ingredients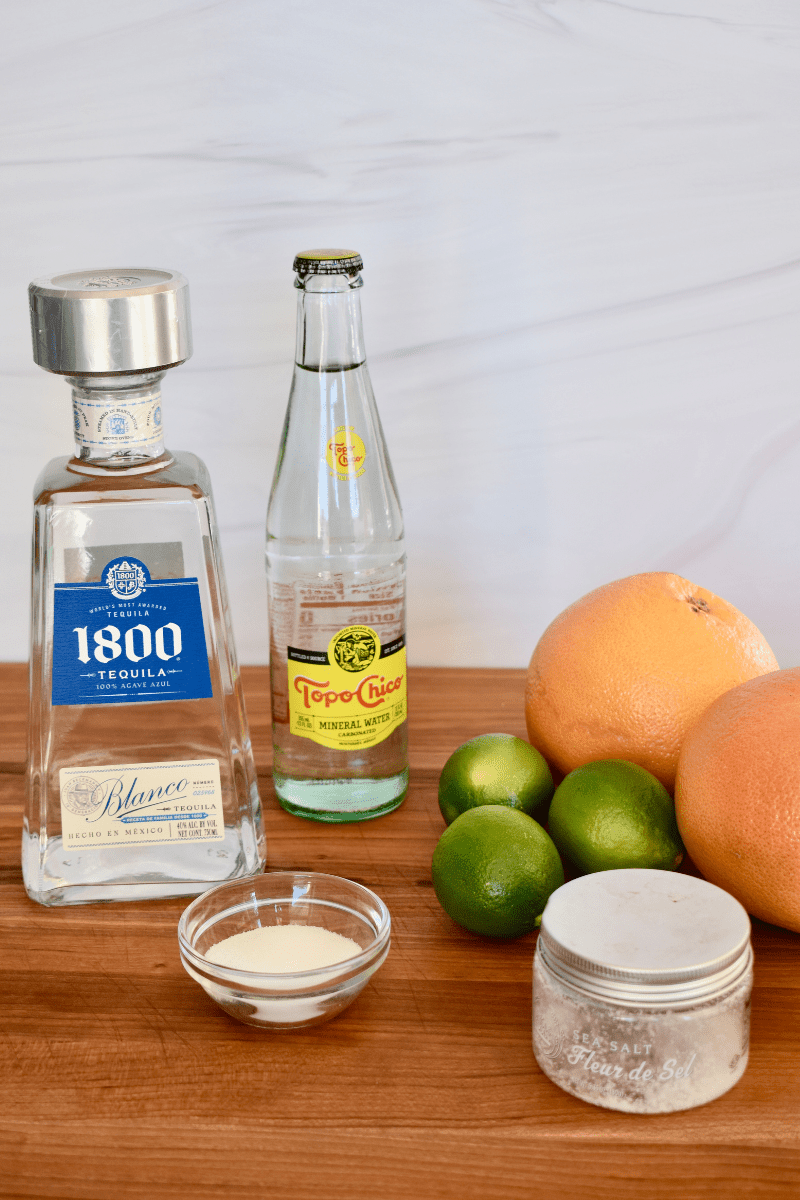 The ingredients needed to make a grapefruit paloma include: grapefruit juice, lime juice, tequila, simple syrup, and sparkling water.
Grapefruit juice: you can use fresh squeezed or bottled grapefruit juice for this recipe. I actually prefer bottled grapefruit juice since it's easier and the flavors are more consistent.
Lime juice: skip the bottled stuff, fresh squeezed limes are best in this recipe!
Tequila: if you can find tequila blanco or tequila silver, use that. It has a smoother finish and pairs well with the sweet and sourness of the cocktail.
Simple syrup: to sweeten the paloma, you will need a simple syrup. This is literally equal amounts of water and sugar that is heated and dissolved.
Salt: I like to rim the glasses of the Grapefruit Paloma with salt before making the drink. The best salt to do this is sea salt. This step can be omitted altogether though and you will still have a tasty cocktail.
Read on to see how easy it is to make this deliciously refreshing cocktail!
How to Make a Grapefruit Paloma
The first thing you need to do to make a grapefruit paloma is prepare a simple syrup. You can do this on the stove or in the microwave.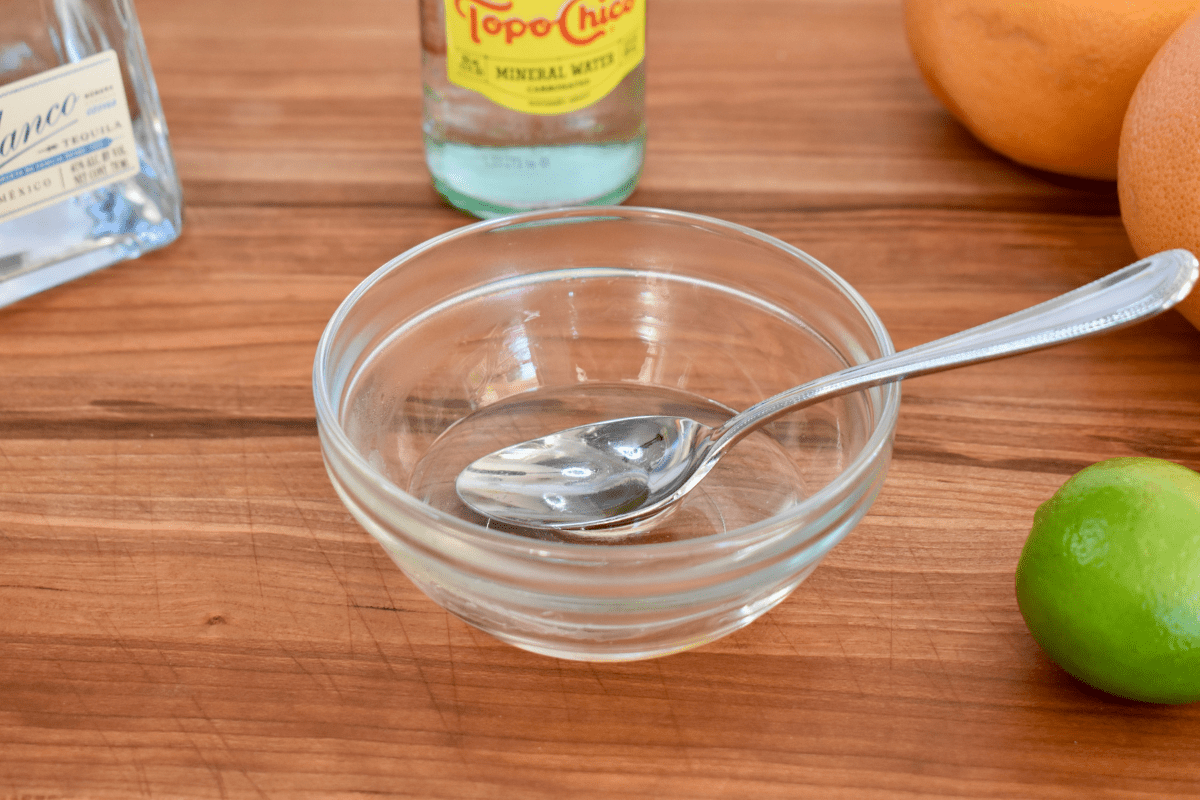 Simply mix together equal parts of sugar and water. Bring the mixture to a low simmer, turn off the heat, and stir until the sugar has dissolved.
Use as much or as little simple sugar as you need in the recipe. Leftover simple syrup can be refrigerated for up to a week and used to sweeten other cocktails or teas.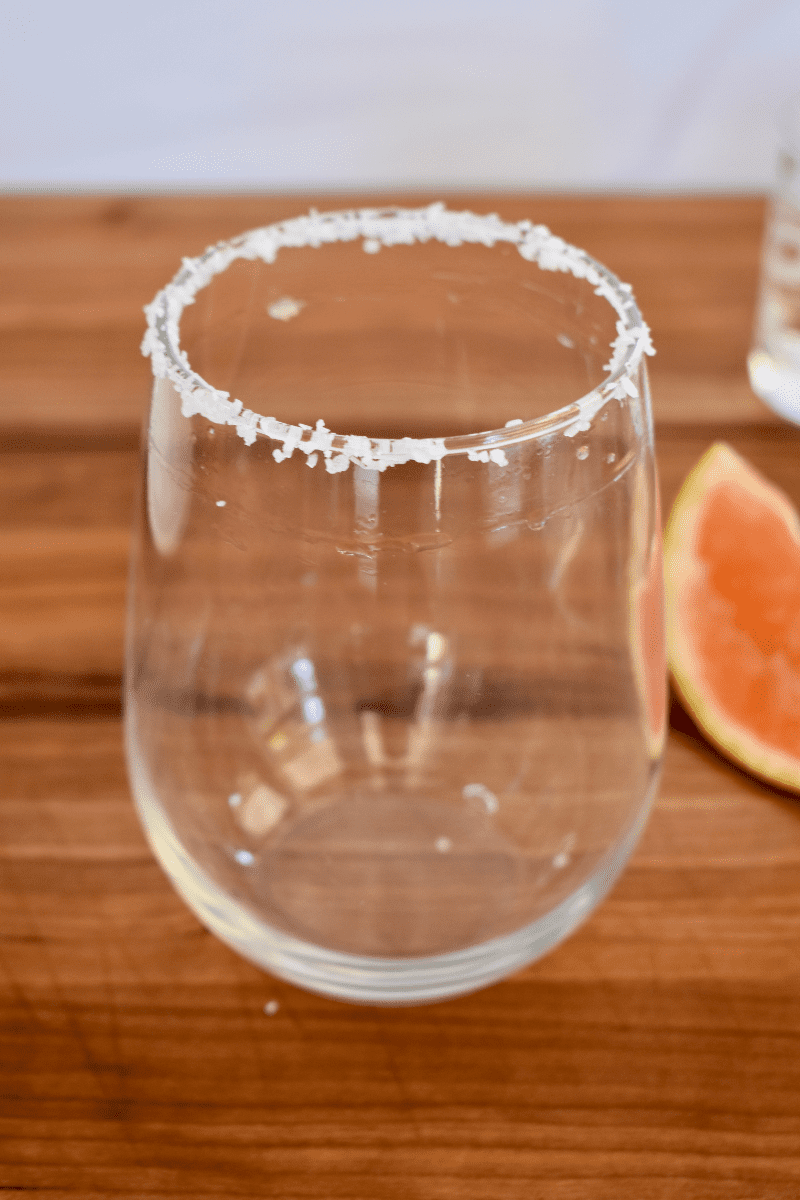 Next, pour some sea salt on to a plate. Moisten the rim of your glass with either water or juice, then flip it over and dip into the salt. This will give you a nicely salt-rimmed glass for serving.
Once your glass and simple syrup are prepared, you can put together the grapefruit paloma. Start by filling the glass with ice cubes.
Then, add in the grapefruit juice (fresh or bottled), lime juice, tequila, and simple syrup. Start with about a tablespoon of simple syrup and then add more if needed.
Top the drink off with sparkling water or mineral water. You could even use a lime-flavored sparkling water if you have it. Stir and taste. Add more simple syrup if desired.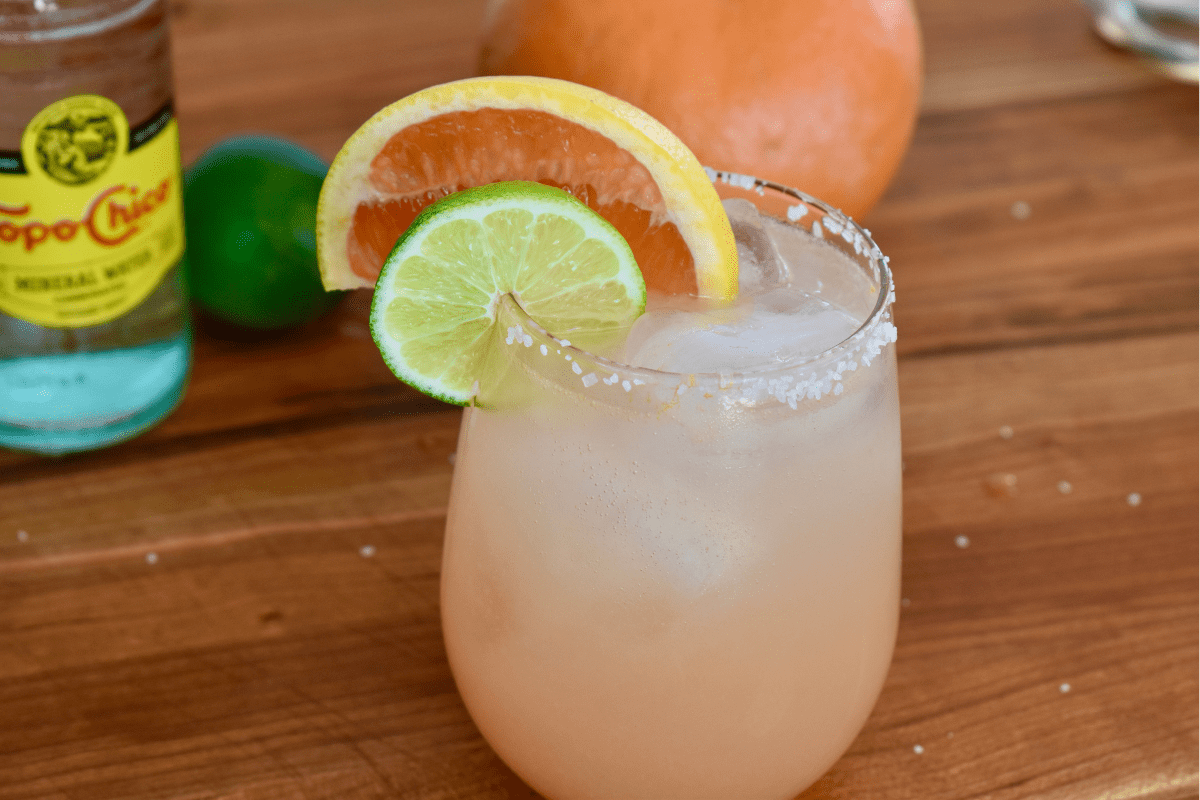 Garnish the glass with a lime or grapefruit slice, or both! Sip and enjoy.
Recipe Tips and FAQs
Check out my tips and tricks for making the most delicious grapefruit paloma cocktails every time!
You can switch up the flavors of the simple syrup by replacing the sugar with an equal amount of honey.
Fresh or bottled grapefruit juice work great here. Bottled is nice because you don't have to worry about the ripeness or sweetness of the grapefruit.
Tequila is traditionally used in palomas. But, if you're not a tequila fan, you can substitute gin, vodka, or white rum.
Should you use grapefruit juice or grapefruit soda in a paloma?
There are a couple of different variations of palmoa recipes, some using grapefruit soda instead of grapefruit juice. However, the traditional way to make a paloma is with tequila, grapefruit juice, and lime juice. Top your paloma with sparkling water and stir in simple syrup to sweeten it up.
What's the difference between a margarita and a paloma?
The drinks are similar in that they are both slightly tart cocktails with tequila as their main alcohol. However, a margarita is slightly sweeter thanks to the addition of triple sec or cointreau. A palomas sweetness comes from grapefruit juice and simple syrup.
What's the difference between a greyhound and a palmona?
A greyhound is simply a cocktail made with grapefruit juice and either gin or vodka. A paloma is a mixture of grapefruit juice, lime, tequila, and sparkling water.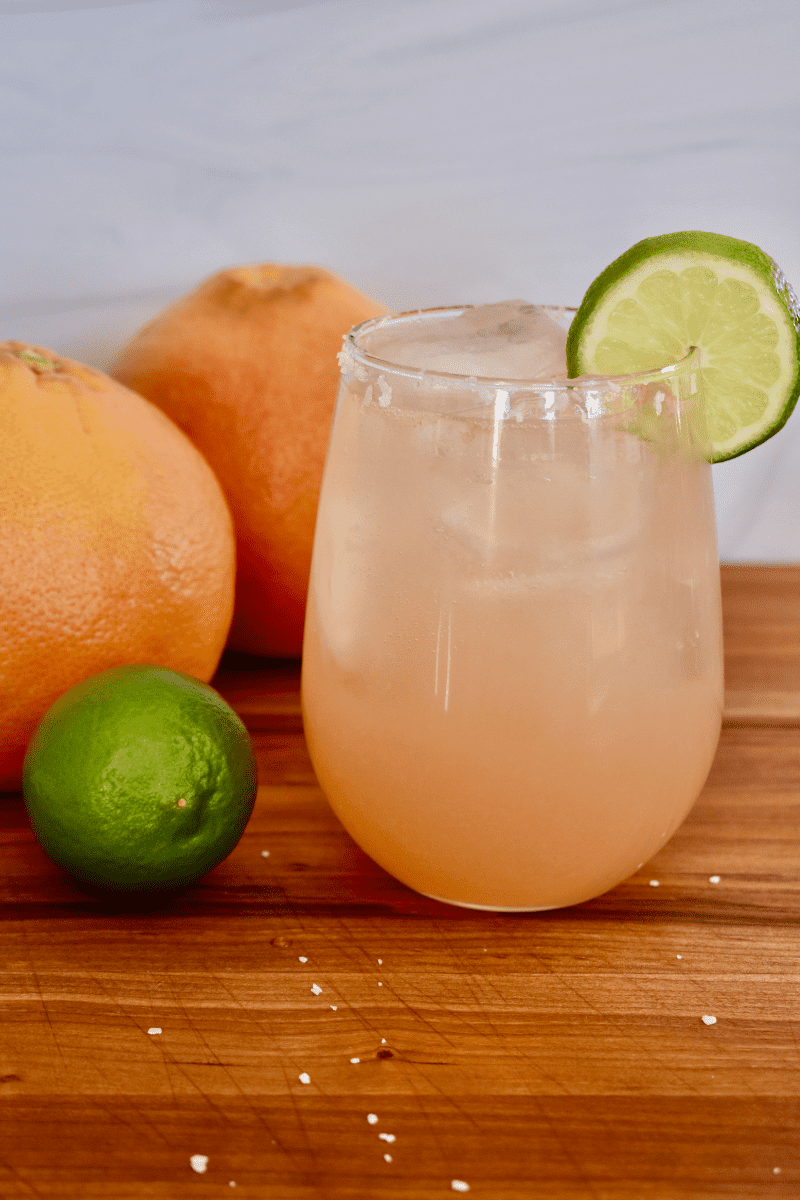 What to serve with your Paloma
Grapefruit Palomas a great drink to serve during the warmer months. Here are some of my favorite dishes to serve with palomas: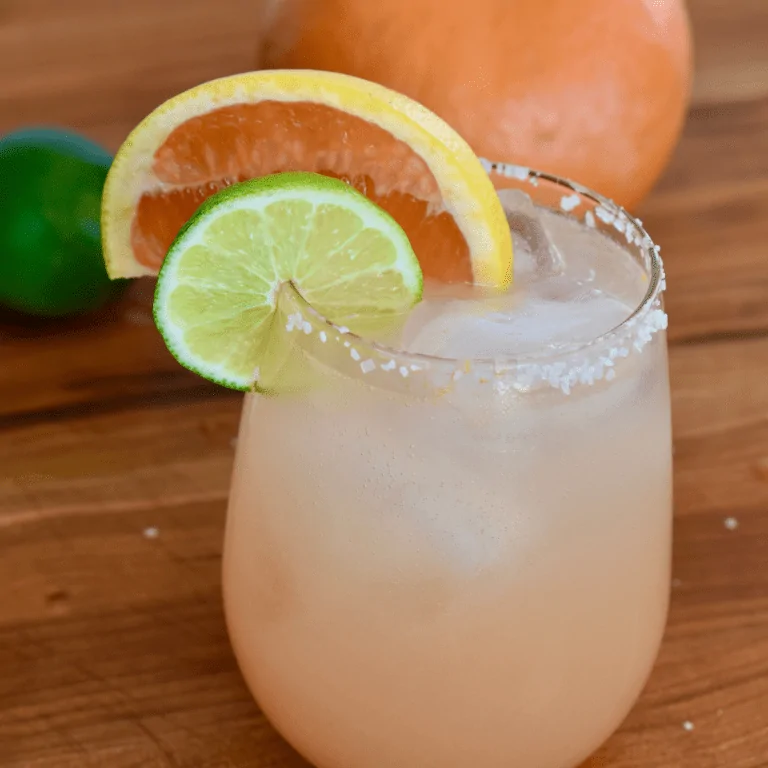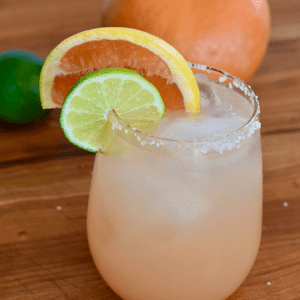 Grapefruit Paloma
Grapefruit Palmoa is a refreshing drink made with tequila, grapefruit and lime juice, and topped with sparkling water. Enjoy served over ice!
Print
Pin
Rate
Ingredients
¼

cup

filtered water

¼

cup

sugar

1

lime slice

sea salt

½

cup

grapefruit juice

2

ounces

silver tequila

2

tablespoons

lime juice

sparkling water
Instructions
Make a simple syrup: combine filtered water and sugar in a small microwave safe bowl. Microwave for about a minute, or until water simmers and the sugar dissolves. Let cool completely. (This simple syrup will keep in the refigerator for about a month.)

Rub the lime slice around the edge of a tall glass, then dip the rim into a small plate of salt. Fill the glass half full with ice cubes.

Pour the grapefruit juice, tequila, lime juice, and 1 tablespoon of simple syrup into the glass. Top with sparkling water and stir to mix all ingredients together. Garnish with a lime slice.
Notes
This recipe makes 1 serving, but can easily be increased to serve however many you'd like. You can prep all of the ingredients ahead of time, just don't add the sparkling water until ready to serve. 
Fresh squeezed or bottled grapefruit juice work great here. Just be sure to get the unsweetened variety. 
Silver tequila is a milder variety that works well in palomas. Feel free to use whatever tequila you have on hand. 
Leftover simple syrup is great to have on hand to sweeten other cocktails or stir it into your iced tea. 
Nutrition
Calories:
241
kcal
|
Carbohydrates:
28
g
|
Protein:
1
g
|
Fat:
1
g
|
Polyunsaturated Fat:
1
g
|
Sodium:
7
mg
|
Potassium:
235
mg
|
Fiber:
1
g
|
Sugar:
26
g
|
Vitamin A:
27
IU
|
Vitamin C:
43
mg
|
Calcium:
18
mg
|
Iron:
1
mg