This recipe for Espresso Martini with Kahlua is so easy to make and will be your go-to martini recipe! Save money and make this delicious cocktail at home!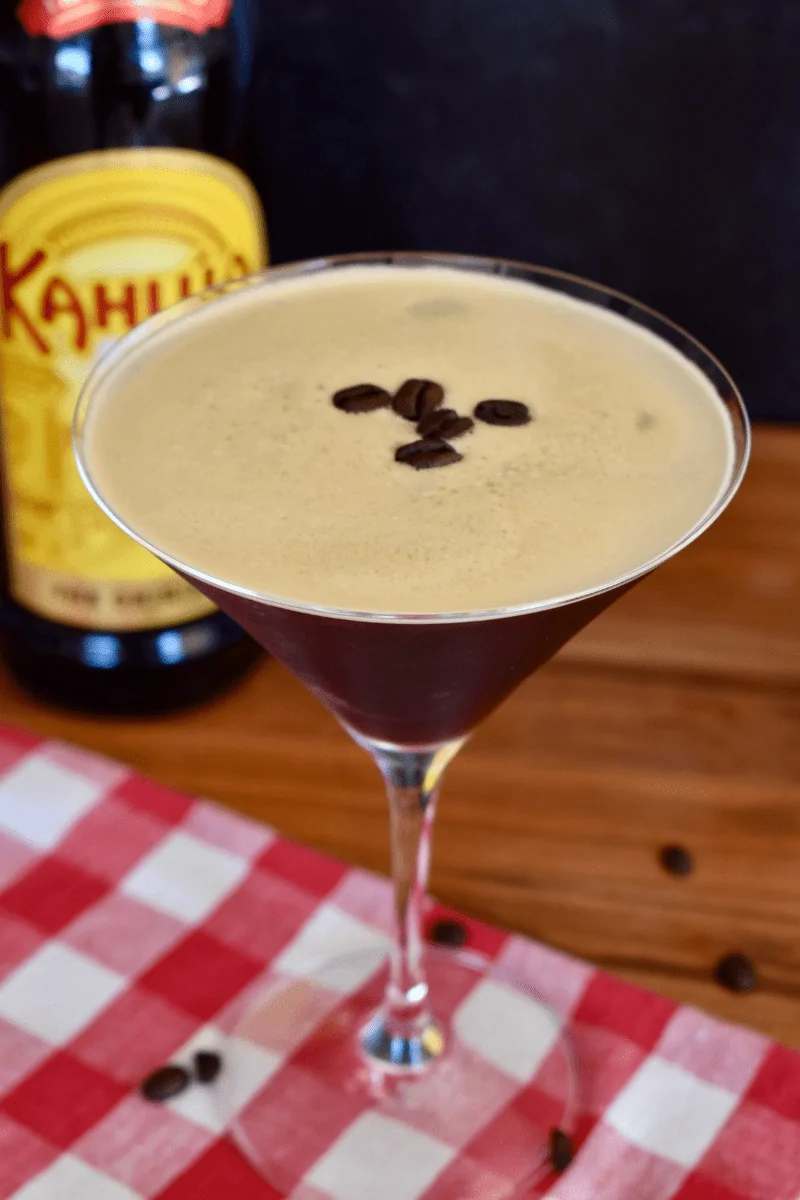 The espresso martini is definitely having its moment, and for good reason! It's absolutely delicious and so easy to make.
You'll never pay restaurant prices for a cocktail again once you see how easy and affordable it is so make at home.
And, if you love delicious classic cocktails, don't miss this Cranberry Moscow Mule recipe or this Apple Cider Moscow Mule. For you Kahlua fans out there, be sure to check out this irresistible Tiramisu with Kahlua recipe!
Why this Espresso Martini is the BEST!
Once sip and you'll agree that this Espresso Martini with Kahlua recipe is the best. And, even better, it's super simple to make at home.
Many other recipes call for a whole list of ingredients. Here, I keep the recipe simple with equal parts of Kahlua, vodka, and espresso. That way you can really taste the flavors of the coffee rather than added ingredients.
Kahlua is the best for espresso martinis because it adds a creaminess without actually having to add extra cream. Plus the smooth coffee liqueur flavor really enhances the espresso taste.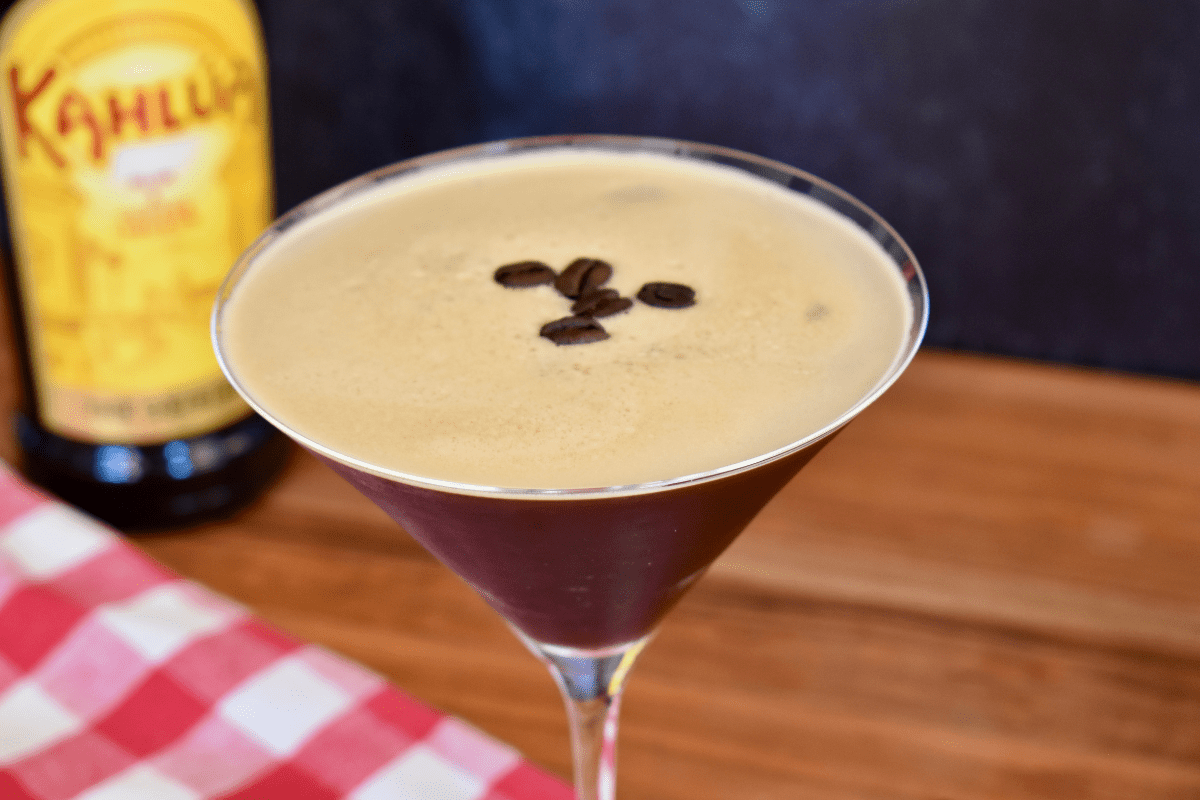 Not only is this recipe deliciously and simple, it's also super easy to make a single drink, or enough for a crowd. Because the ingredients are all equal parts, you can easily double or triple this recipe when needed.
Ingredients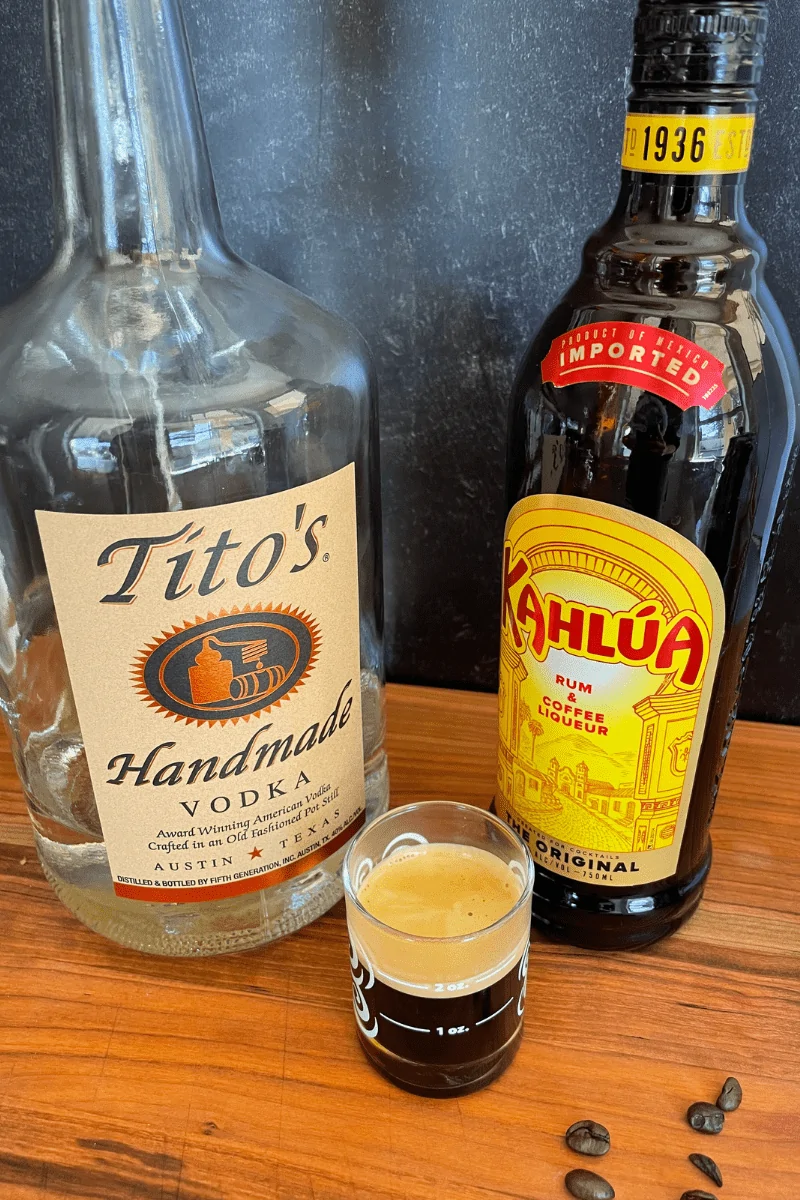 Only three ingredients are needed to make the most delicious Espresso Martini. Here all you need is Kahlua, espresso, and vodka.
Kahlua: Kahlua is a rum and coffee liqueur that has a smooth and dark finish. It's pairs perfectly with espresso martinis and is a great way to add creamy flavor without the cream.
Espresso: if you have the ability to brew fresh espresso for this, great! However, for those of you don't have an espresso maker, you can always use strong black coffee. Or, get instant espresso powder and make espresso according to package instructions.
Vodka: in my opinion, Tito's Vodka is the best and the one I always use. However, feel free to whatever vodka you have on hand.
Read on to see how simple it is to make this delicious cocktail!
How to Make Espresso Martini with Kahlua
One sip and you'll agree that this espresso martini is the best. Plus, you can make it at home with just three ingredients.
To start, you will need to brew your espresso. If you don't have espresso, use one of the options listed above such as instant espresso or strong black coffee.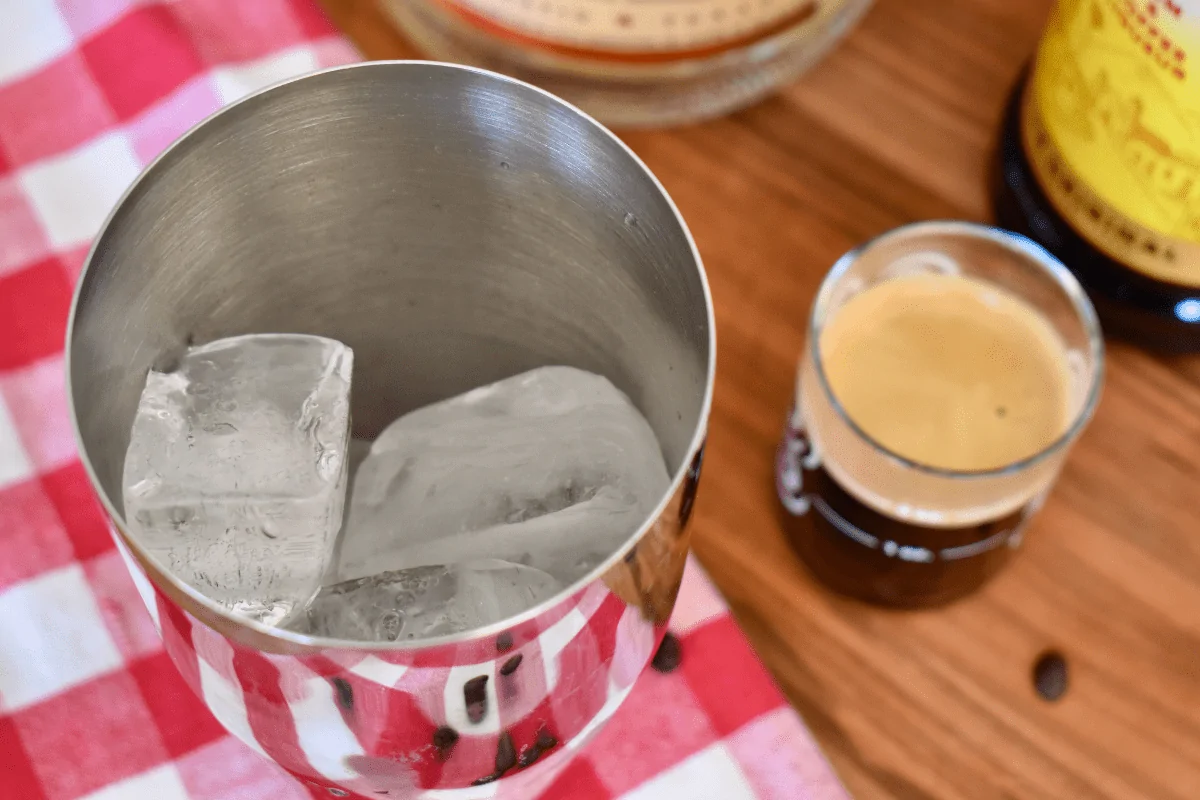 Then, add in equal parts (2 ounces each for one serving) of espresso, Kahlua, and vodka. Place the top back on the cocktail shaker and shake vigorously for at least 20 seconds.
To make this a truly special drink, you really need to shake the ingredients together. That is what is going to get you that gorgeous white foamy top.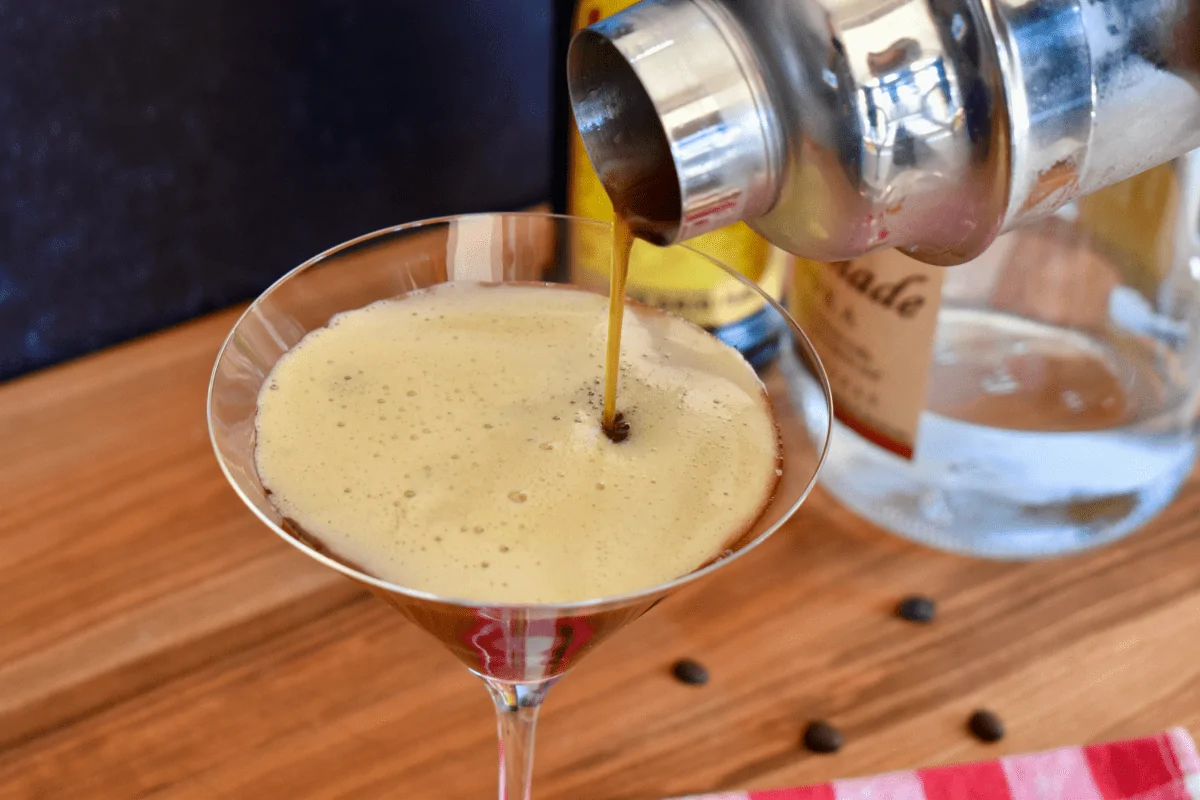 Remove the top lid off of the cocktail shaker and strain the drink into your martini glass. Of course a martini glass isn't necessary here, but it somehow just makes the drink so much more delicious!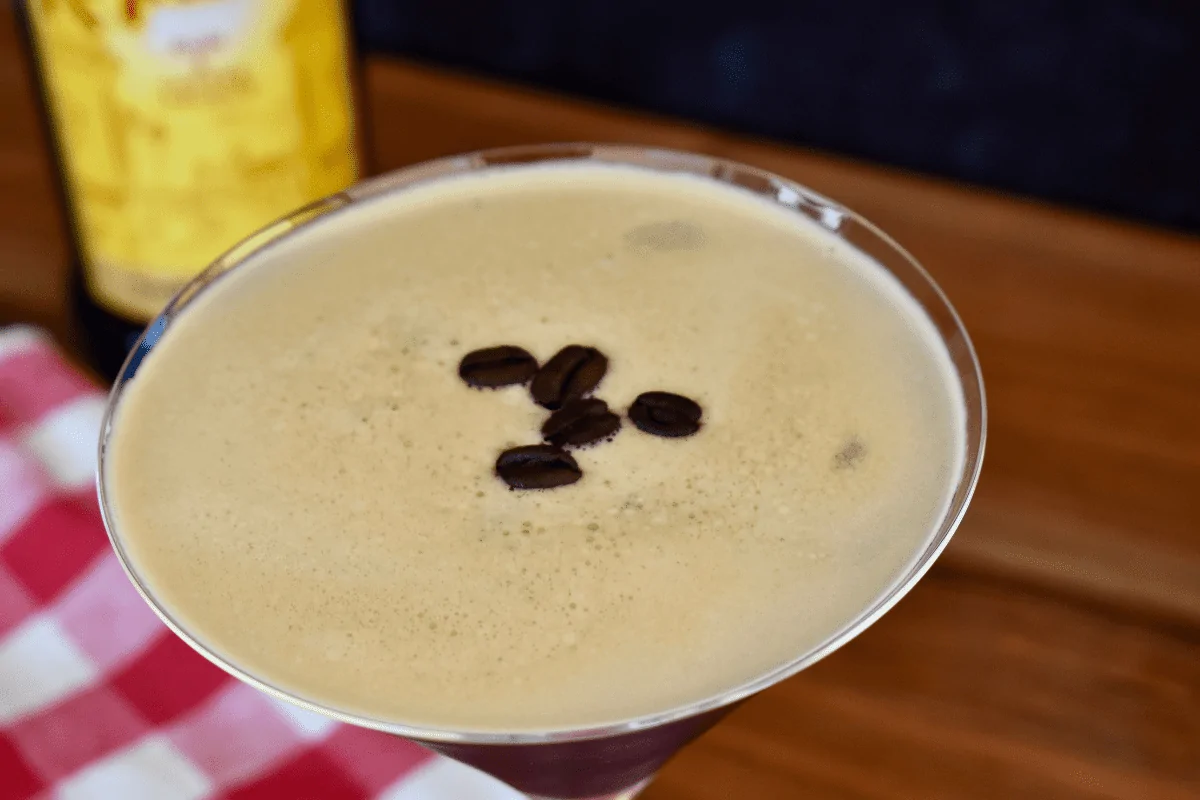 Finish off the cocktail with a few espresso or coffee beans placed on top. This is optional but makes for a pretty presentation.
Recipe Tips and FAQs
Use a good quality vodka with your martini. I like Tito's or Grey Goose.
Kahlua is my go-to with espresso martinis, but you can use other coffee-flavored liqueurs if that's what you have on hand.
Shake the martini in the cocktail shaker with lots of ice vigorously for 20 seconds. If you don't shake your espresso martini, you won't get that delicious foam on top of it.
Need to make martinis for a crowd? Mix together 3 equal parts of the ingredients in a large pitcher, then just pour into cocktail shaker with ice when you're ready to make a drink.
What's in an Espresso Martini?
While there are many variations out there, an espresso martini is simply equal parts of vodka, espresso, and coffee liqueur like Kahlua. The ingredients are then placed in a cocktail shaker with ice and then strained into a martini glass.
Can you make an Espresso Martini with coffee?
Espresso martinis can be made without an espresso maker. You can use strong black coffee instead, or even store-bought iced coffee. Instant espresso powder also works, just brew the espresso according to package instructions.
What if I don't have a cocktail shaker?
It's always good to have a cocktail shaker if you plan on making a lot of cocktails. However, you can always use a stainless steel coffee mug with a lid to shake up your martini. Just be sure the lid is on tight and strain it so you don't get any ice in the drink.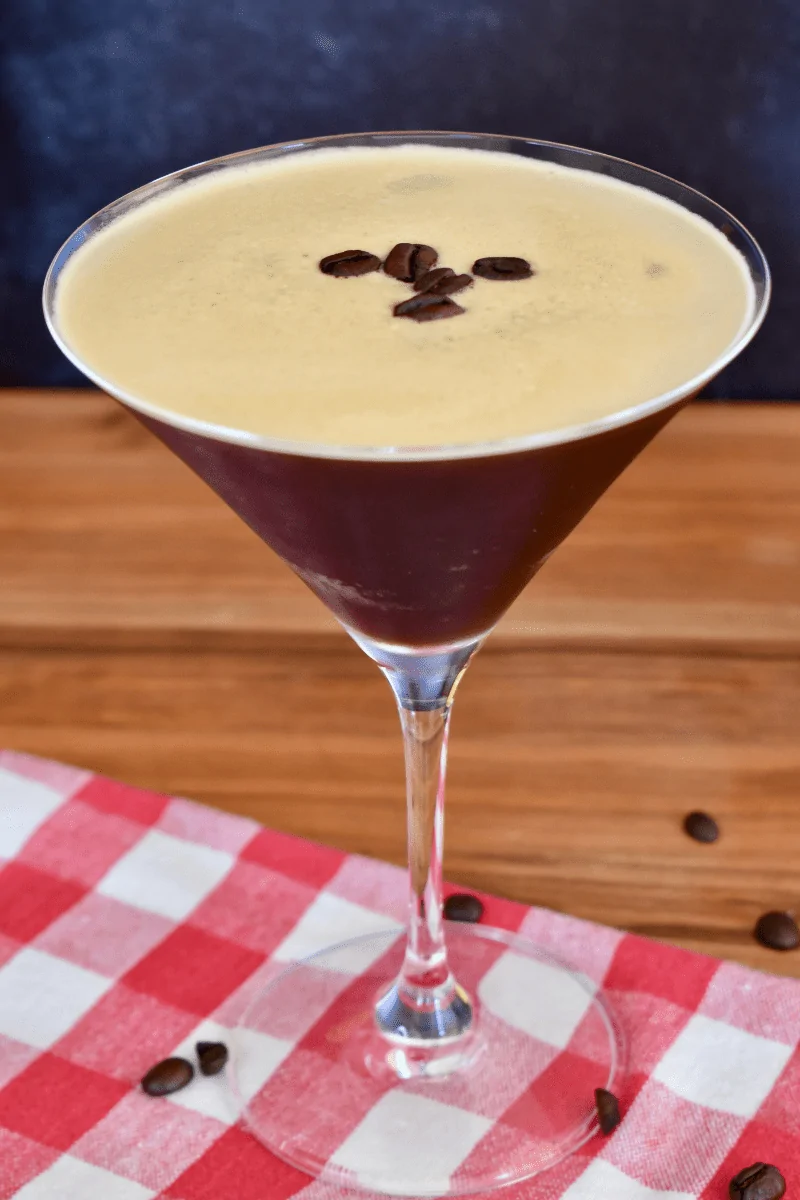 Cocktail Inspired Desserts
Check out some of my favorite desserts featuring different cocktail flavors: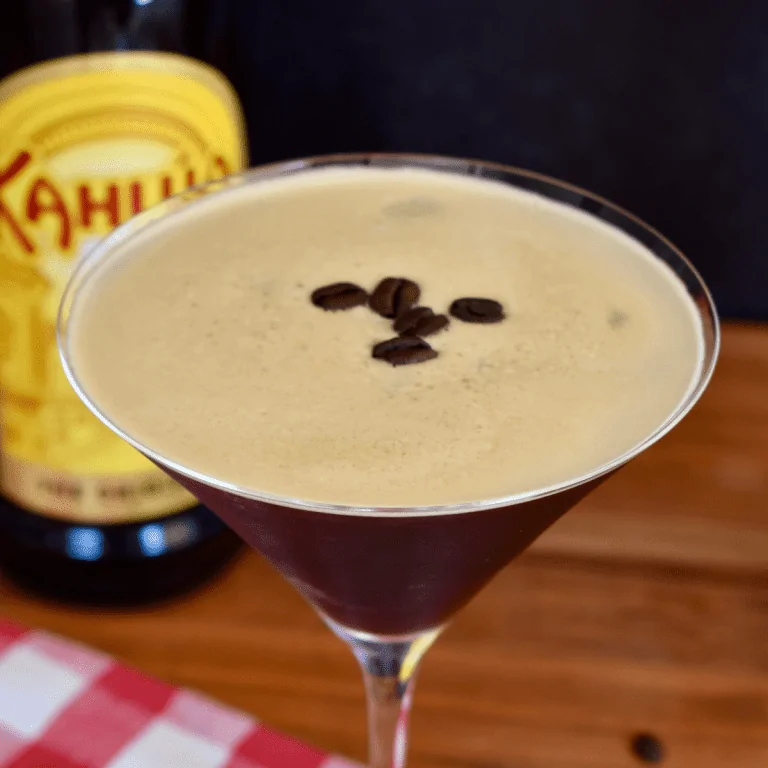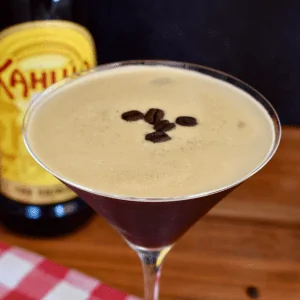 Espresso Martini with Kahlua
This Espresso Martini with Kahlua is guaranteed to be your new favorite cocktail, especially when you see how easy it is to make!
Print
Pin
Rate
Equipment
cocktail shaker

martini glass
Ingredients
2

ounces

brewed espressed

(strong coffee is a good substitute here)

2

ounces

vodka

(I like Tito's)

2

ounces

Kahlua liqueur

espresso beans for garnish
Instructions
Fill a cocktail shaker with ice cubes. Pour the espresso, vodka, and Kahlua into the shaker. Put on lid and shake vigorously for at least 20 seconds. (You want to shake until frothy foam has formed).

Strain the liquid into a martini glass and top with espresso beans.
Notes
This simple recipe is just three equal parts of espresso, vodka, and Kahlua. It can easily be modified to make more more than one cocktail. 
You can make espresso at home without an espresso maker. Just mix together instant espresso powder with hot water according to package instructions. 
To get an extra chilled martini, fill your martini glass with ice and cold water and let sit for a minute. Dump out the ice and water and dry out the glass before adding in the cocktail. 
Be sure to shake the cocktail vigorously in the cocktail shaker. You really want to make sure you create that delicious foam on top of the martini. 
Making martinis for a crowd? Fill a pitcher full of equal parts of the ingredients, stir, and refrigerate. When ready to serve, pour the drink into a cocktail shaker, shake with ice, and serve. 
Nutrition
Calories:
331
kcal
|
Carbohydrates:
27
g
|
Protein:
1
g
|
Fat:
1
g
|
Saturated Fat:
1
g
|
Polyunsaturated Fat:
1
g
|
Sodium:
13
mg
|
Potassium:
66
mg
|
Sugar:
27
g
|
Vitamin C:
1
mg
|
Calcium:
1
mg
|
Iron:
1
mg