Healthy and easy Red Quinoa Beet Salad is a delicious make-ahead side dish that's perfect for any meal. Don't miss this simple and refreshing side dish great for meal planning.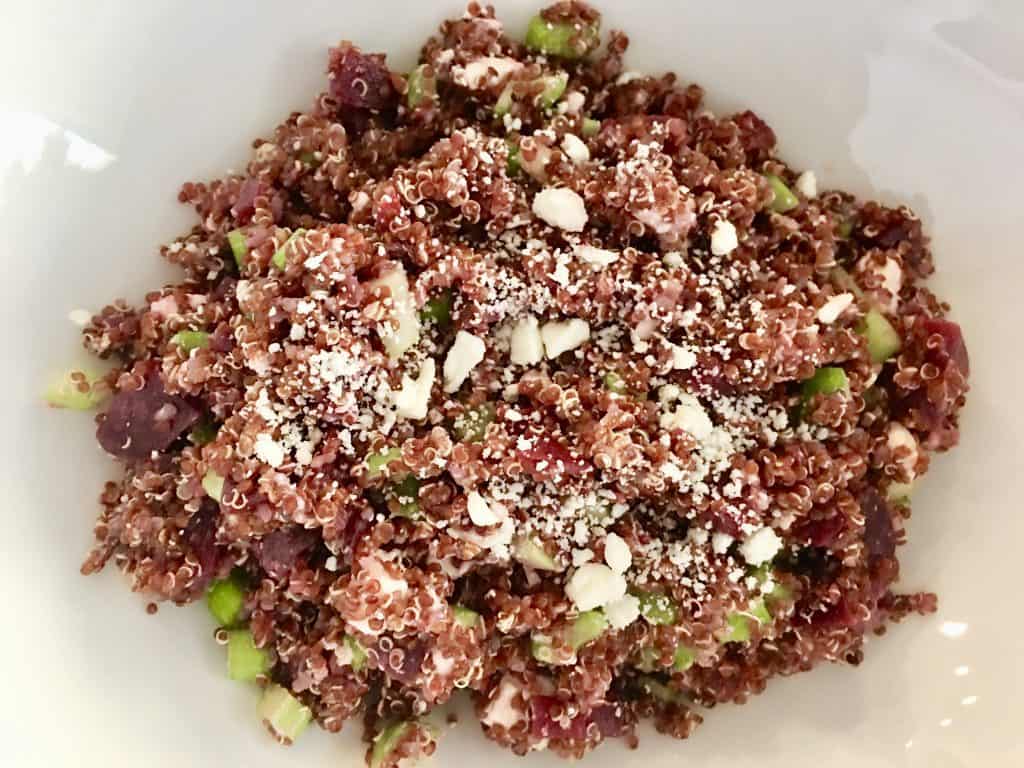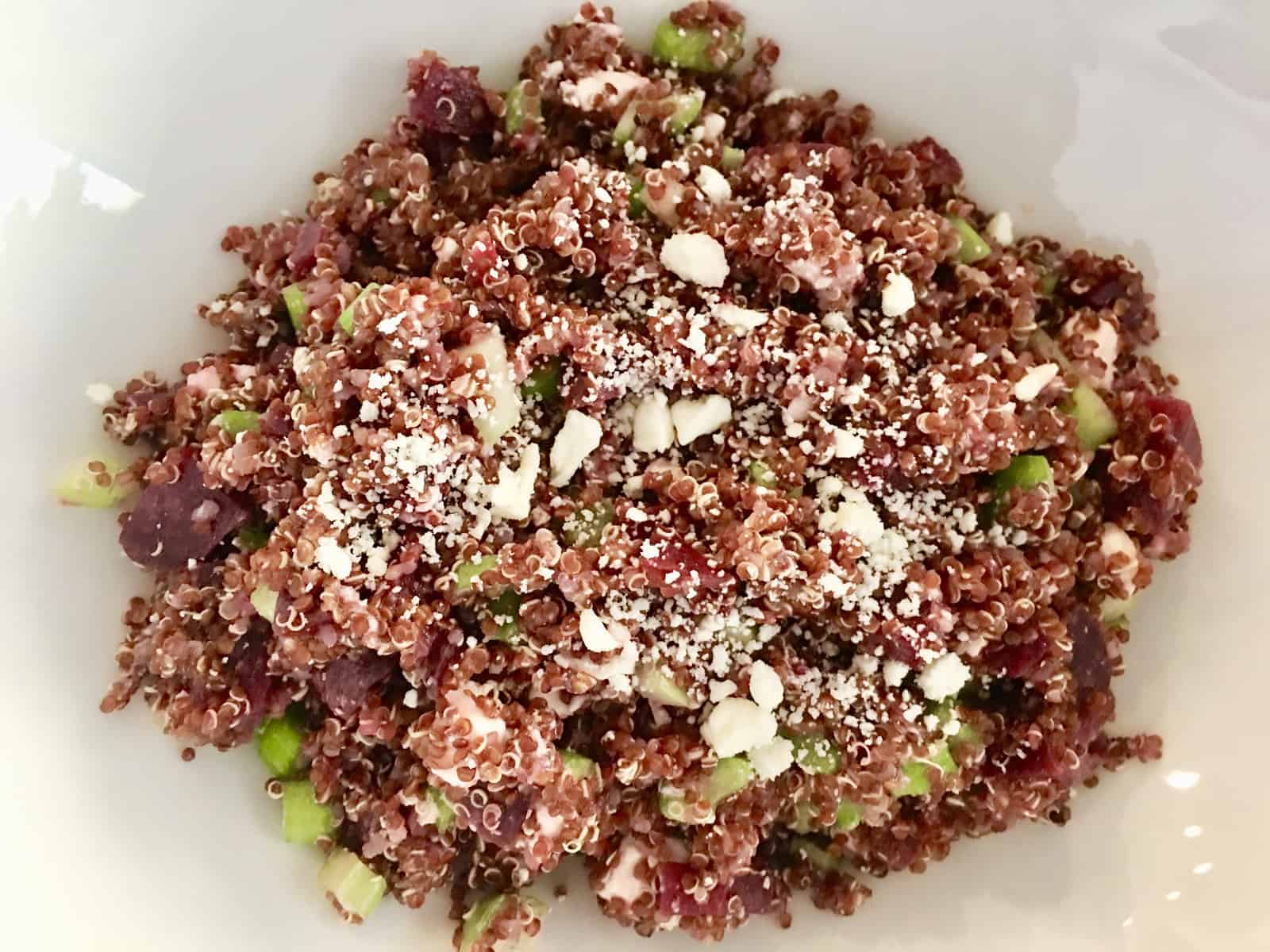 Red Quinoa Beet Salad is the one dish that is always in my fridge. Great on it's own or as a side, this dish seems to get better the longer it sits.
If you've never used Steamed and Peeled Beets before, this is a great dish to try it out on. Also, if you don't have access to red quinoa, substituting regular quinoa is fine. You can buy Red Quinoa on Amazon at Pride Of India Organic Red Royal Quinoa – a great price for a 1.5 pound container!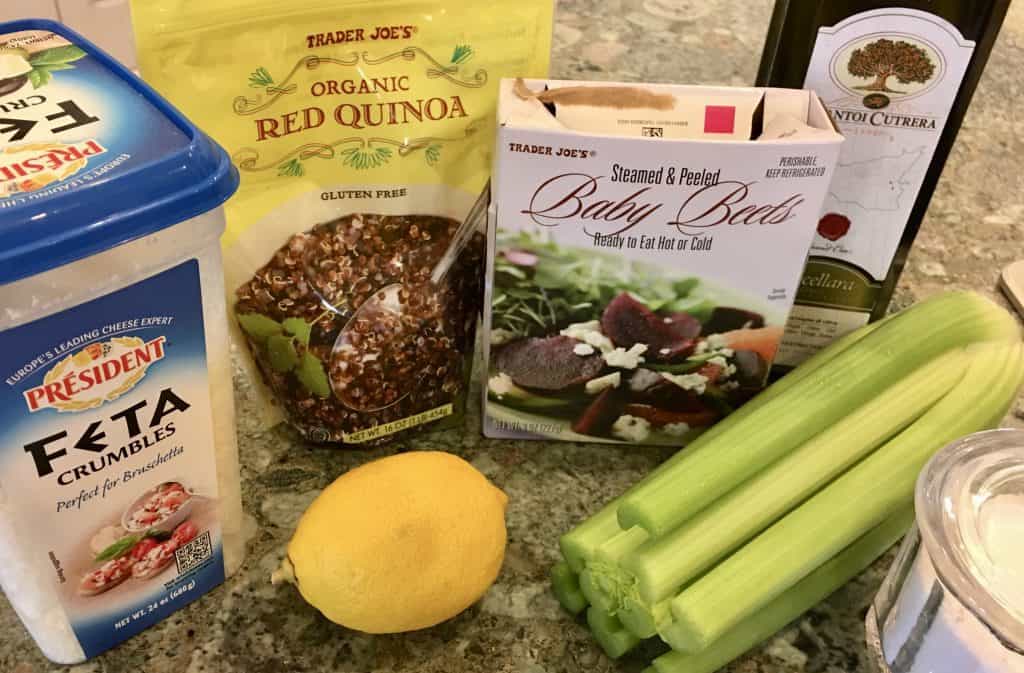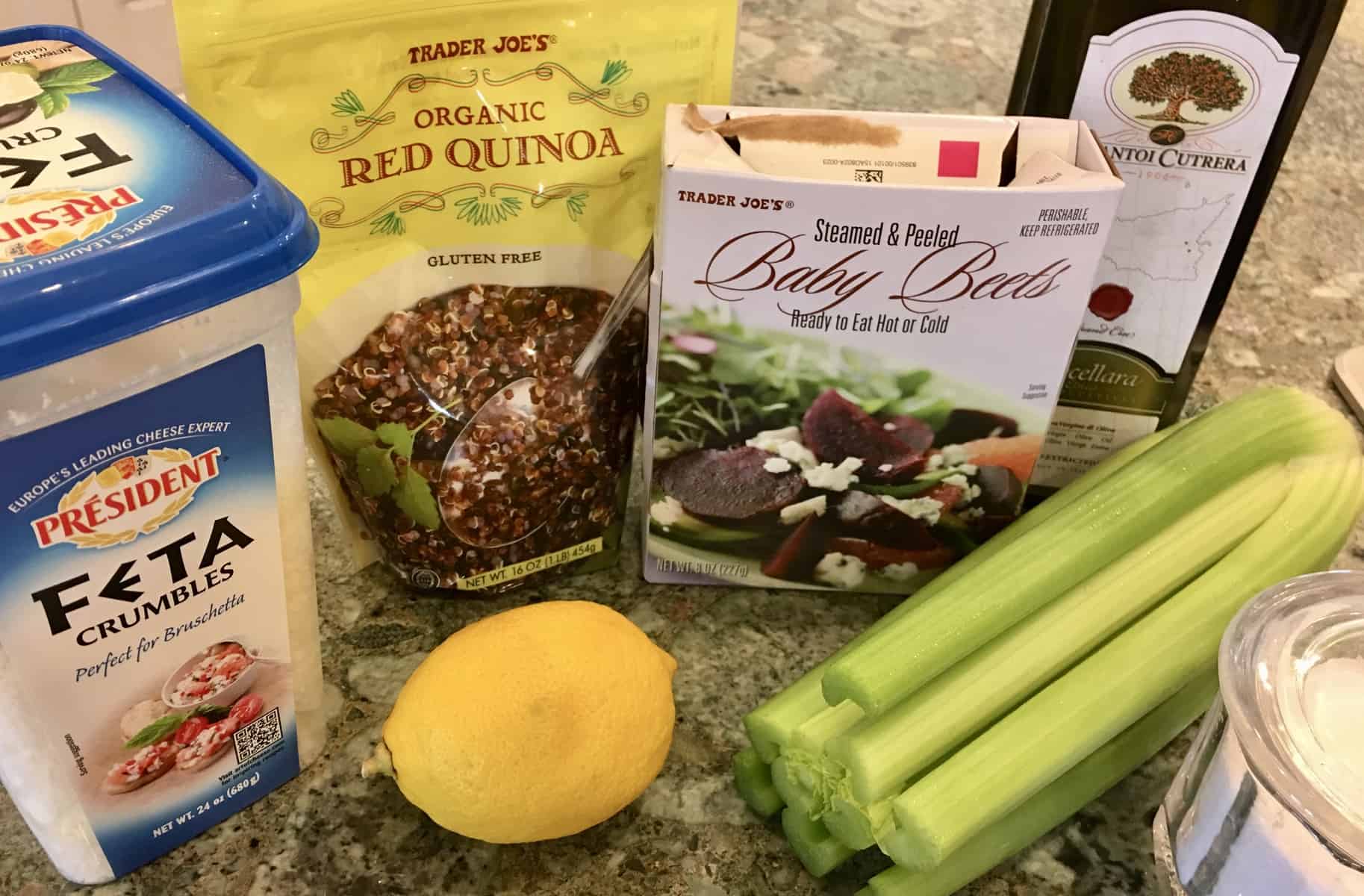 Trader Joe's is a great place to find the ingredients for Red Quinoa Beet Salad and as they always have the peeled and steamed beets in their produce section and red quinoa on the shelves.
Red quinoa is another tasty ingredient that you should buy whenever you find it. It's a hearty grain that is more flavorful than traditional quinoa. However, if you can't find red quinoa, traditional quinoa is a great substitute.
For another easy to make beet salad, check out my Beet Salad with Feta and Celery.
Red Quinoa Beet Salad
To make just cook the red quinoa using either broth or water. Toss with remaining chopped ingredients and you're done!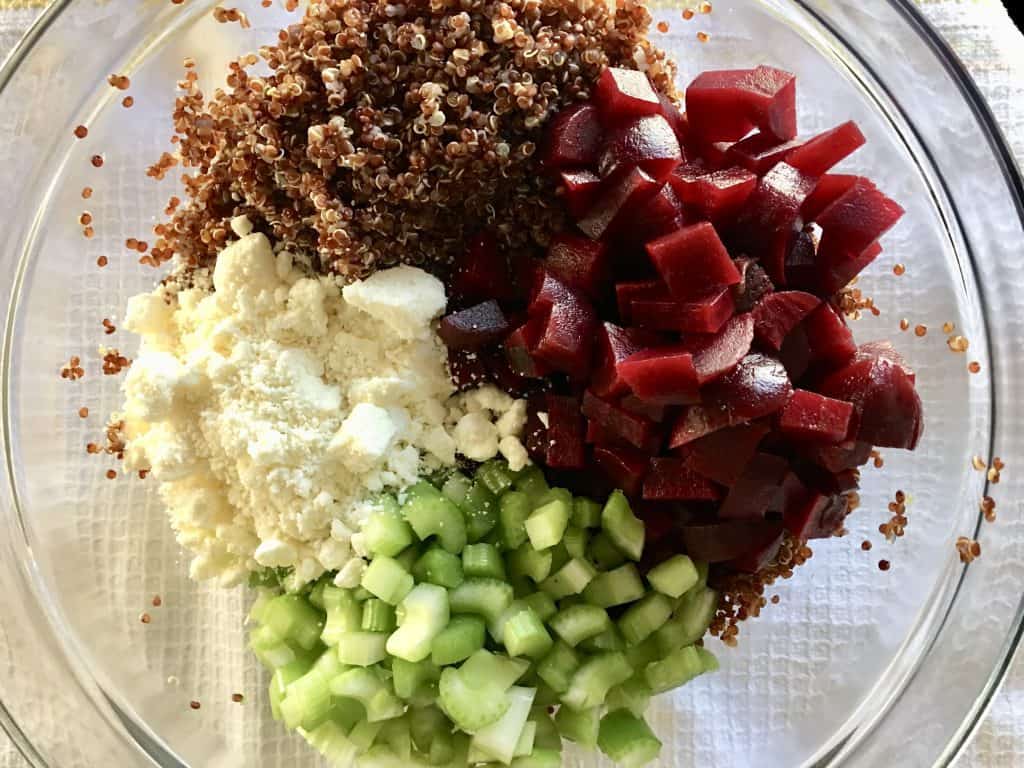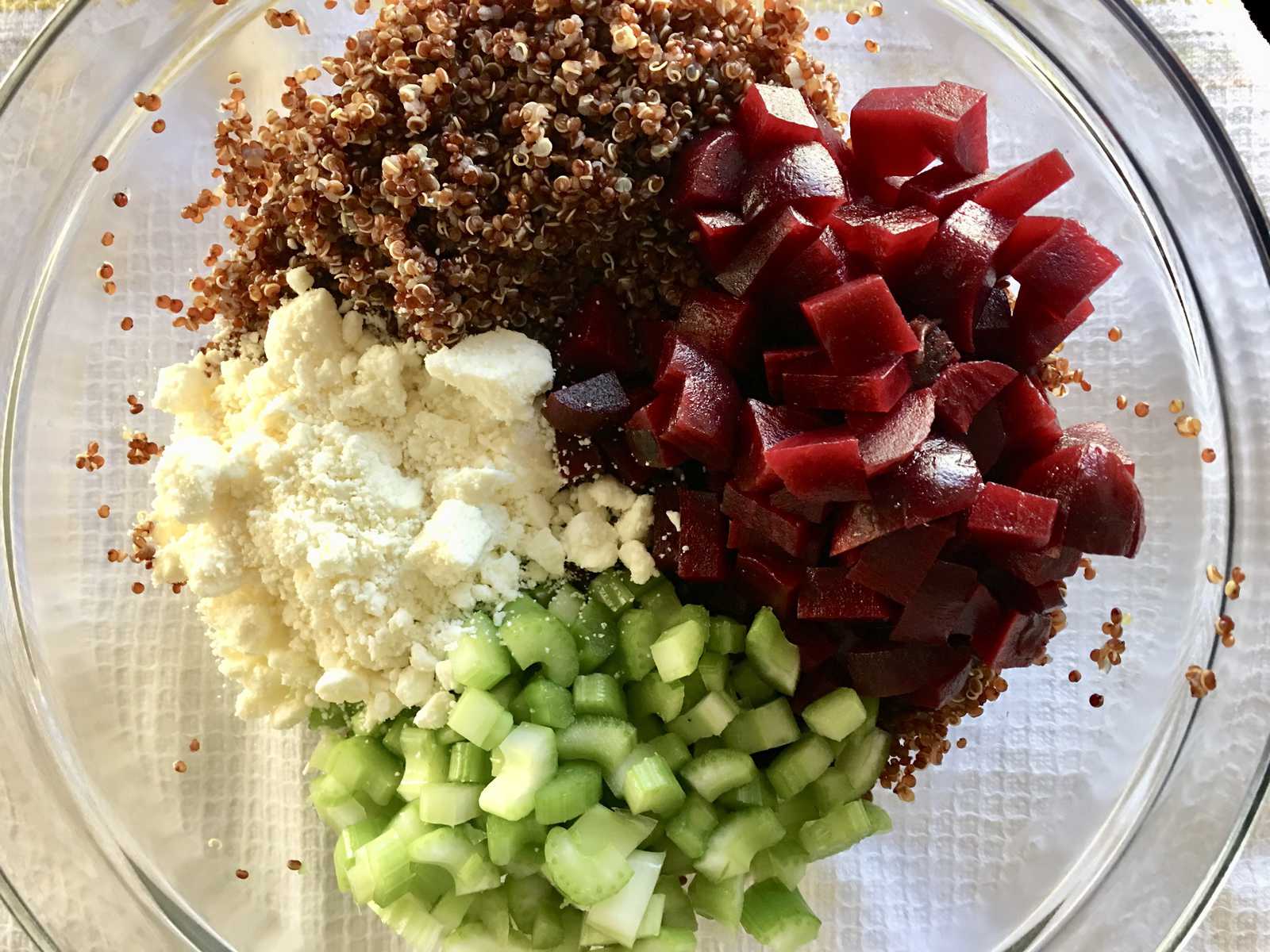 No need to make the lemon/olive oil dressing in a separate bowl. You can just toss it with the salad. Let the salad chill in the refrigerator for at least an hour before serving. Can be make up to a day in advance.
Would be great served with Grilled Marinated Chicken or Grilled Chicken Kabob Skewers.
Great served cold or at room temperature. Enjoy this healthy make-ahead dish any time of the year!
Red Quinoa Beet Salad
Healthy and delicious Red Quinoa Beet Salad is an easy to make side dish that's completely make ahead. Great for picnics, barbecues, brunches, or a healthy side dish for any meal.
Ingredients
1

cup

dried red quinoa

2

cups

chicken broth

could also substitute water

1

8 ounce package

baby beets, steamed and peeled, diced

4

stalks

celery, diced

1/2

cup

crumbled feta

1

lemon, juiced

2

tablespoons

olive oil

1/4

teaspoon

kosher salt
Instructions
Rinse the red quinoa with water and drain. Bring broth or water to a boil, add in quinoa and reduce to simmer. Cover and cook according to package directions, about 15 minutes. When done, set aside to cool slightly.

In a large bowl, combine cooled quinoa, diced beets, celery, feta, lemon juice, olive oil, and salt. Toss to combine. Cover and refrigerate for at least an hour. Serve cold or at room temperature.