Easy, healthy, and delicious. Grilled Chicken Kabob Skewers are marinated in lemon juice, garlic, paprika, and turmeric, then skewered with red onions and bell peppers. The perfect grilled chicken kabob that is so easy to make and everyone will love!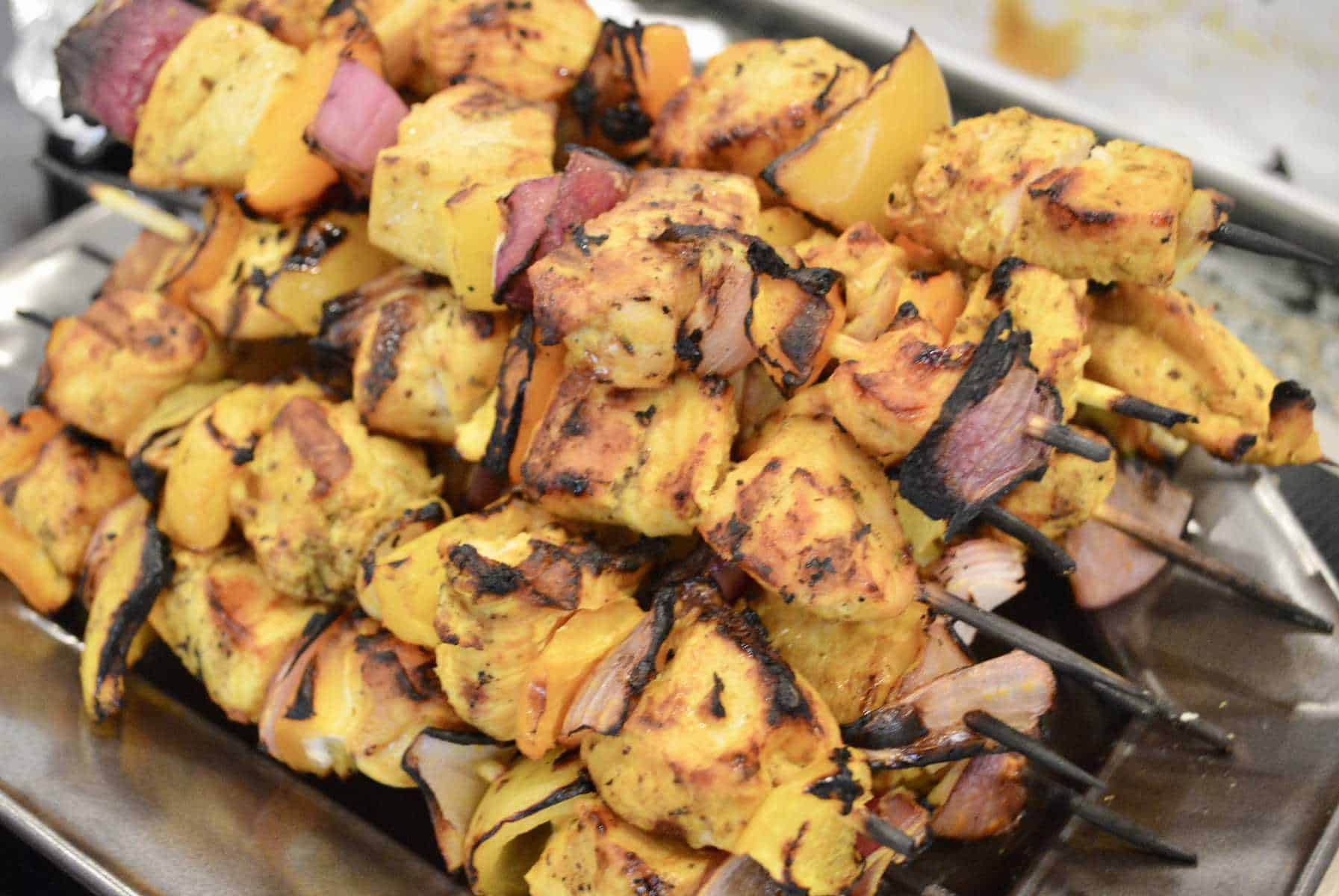 Grilled Chicken Kabob Skewers are healthy and fun to make. They are customizable using whatever veggies you have on hand and you could even substitute the chicken for beef or pork.
Grilled Chicken Kabob with Turmeric and Paprika
The recipe couldn't be simpler. Cube the chicken and toss in a ziplock bag along with the marinade. Refrigerate for at least 30 minutes or overnight. The longer it sits, the more flavor it develops.
Spices for this chicken include dried oregano, paprika, and turmeric, giving it a Mediterranean flair. The turmeric is great to use because it adds such a fun color to the chicken. Just use with caution as it tends to stain bowls and hands. I recommend using disposable kitchen gloves when threading the skewers to avoid yellow hands.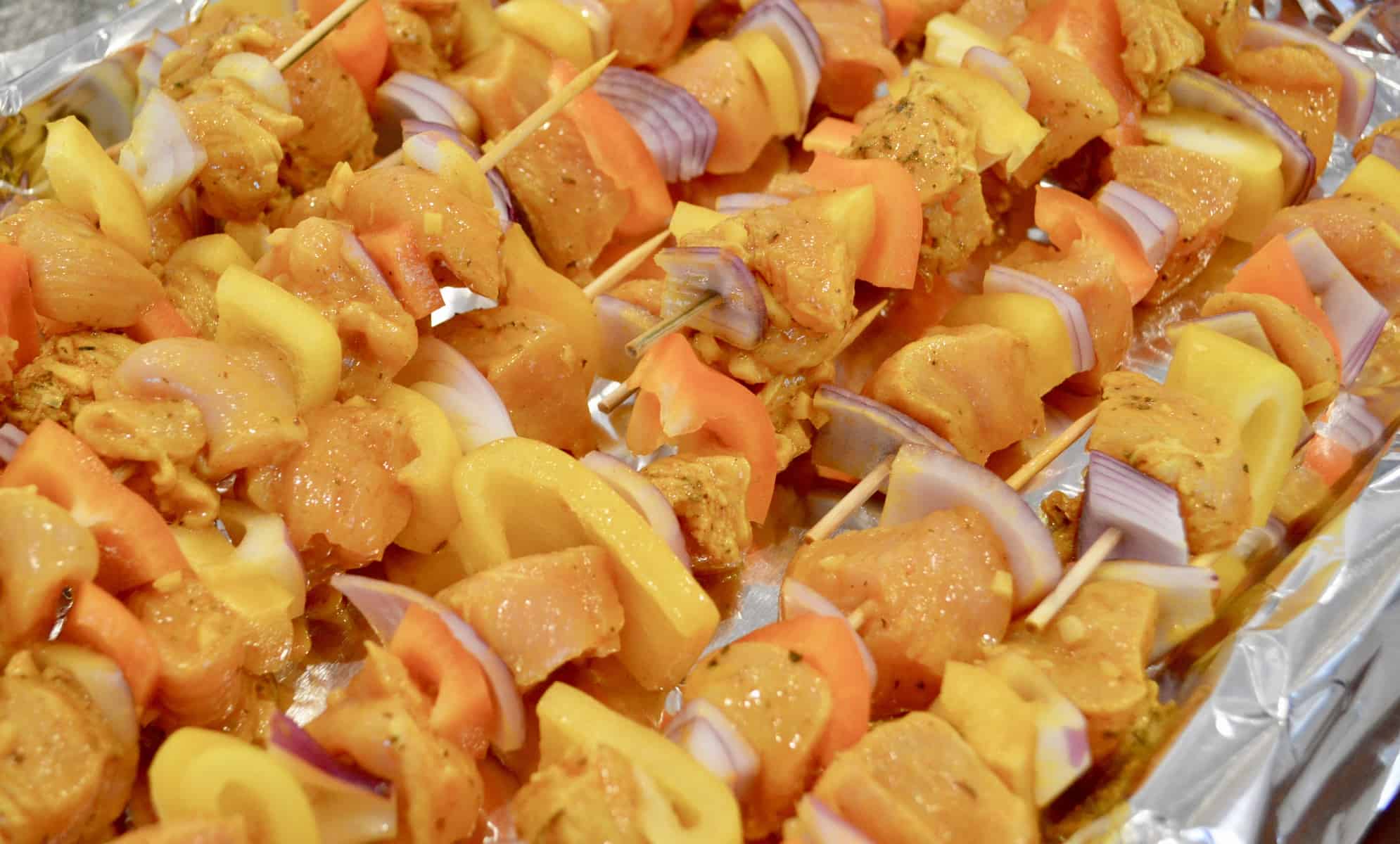 After the chicken is done marinating, thread onto soaked skewers or these stainless steel skewers along with the red onion and bell pepper. At this point, you can refrigerate until ready to grill or head straight to the grill with them. Additionally, if you are making ahead, you can skewer the kabobs and let them refrigerate until ready to grill.
I love to serve this dish along with grilled pita bread, hummus, olives, and my Curried Couscous. Would also be amazing with make-ahead Kale Quinoa Salad or Farro Tabbouleh Salad. Enjoy!
Grilled Chicken Kabob Skewers with Bell Pepper and Red Onions
An easy recipe for tasty and healthy chicken kabobs. Grilling adds flavor without fat and the turmeric gives it a delicious flavor and color.
Ingredients
1/4

cup

olive oil

4

cloves

garlic, minced

2

teaspoons

paprika

1

teaspoon

turmeric

1

teaspoon

kosher salt

1

lemon, juiced

3

pounds

chicken breasts, cut into cubes

(about 4 chicken breasts)

2

bell peppers, cut into large pieces

1

red onion, cut into large pieces

wooden or metal skewers

(about 18-24 wooden skewers)
Instructions
In a small bowl, whisk together the olive oil, garlic, paprika, turmeric, salt and lemon juice. Put the chicken in a large ziplock bag and add the olive oil marinate to it. Seal and refrigerate for at least 30 minutes or up to 6 hours.

While the chicken is marinating, soak the wooden kabob skewers in water, if using, for at least 30 minutes.

Preheat grill on medium heat. Prepare the skewers alternating with the marinated chicken, bell peppers, and red onion. Grill chicken kabobs for about 4-5 minutes rotating once (grilling two sides of the kabob) until cooked through and internal temperature of chicken is 160 degrees. Set aside and tent with foil. Let sit for 2-3 minutes before serving.
Notes
Great served over rice or couscous. Also makes for excellent leftovers for pita sandwiches or on top of a salad. 
Make ahead by preparing the skewers and grilling before eating. Can be made up to a day in advance, just refrigerate in an airtight container. 
If you love this dish, be sure to check out my other grilling favorites like: