Grilled Chicken Kabob Skewers are a healthy and flavorful recipe for chicken marinated in turmeric, garlic, lemon juice, and olive oil. Easy, healthy, and delicious these chicken kabobs are marinated then skewered with red onions and bell peppers.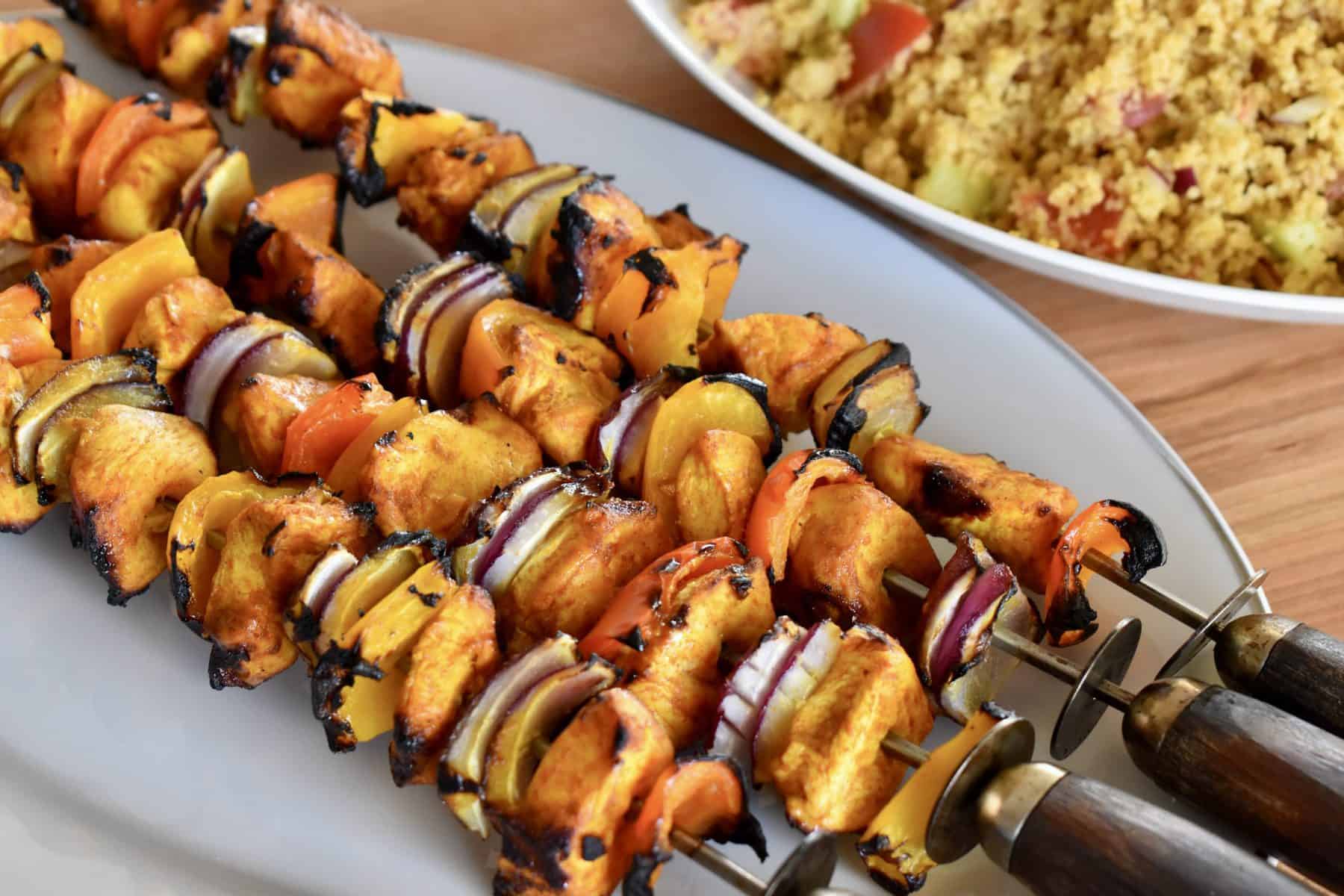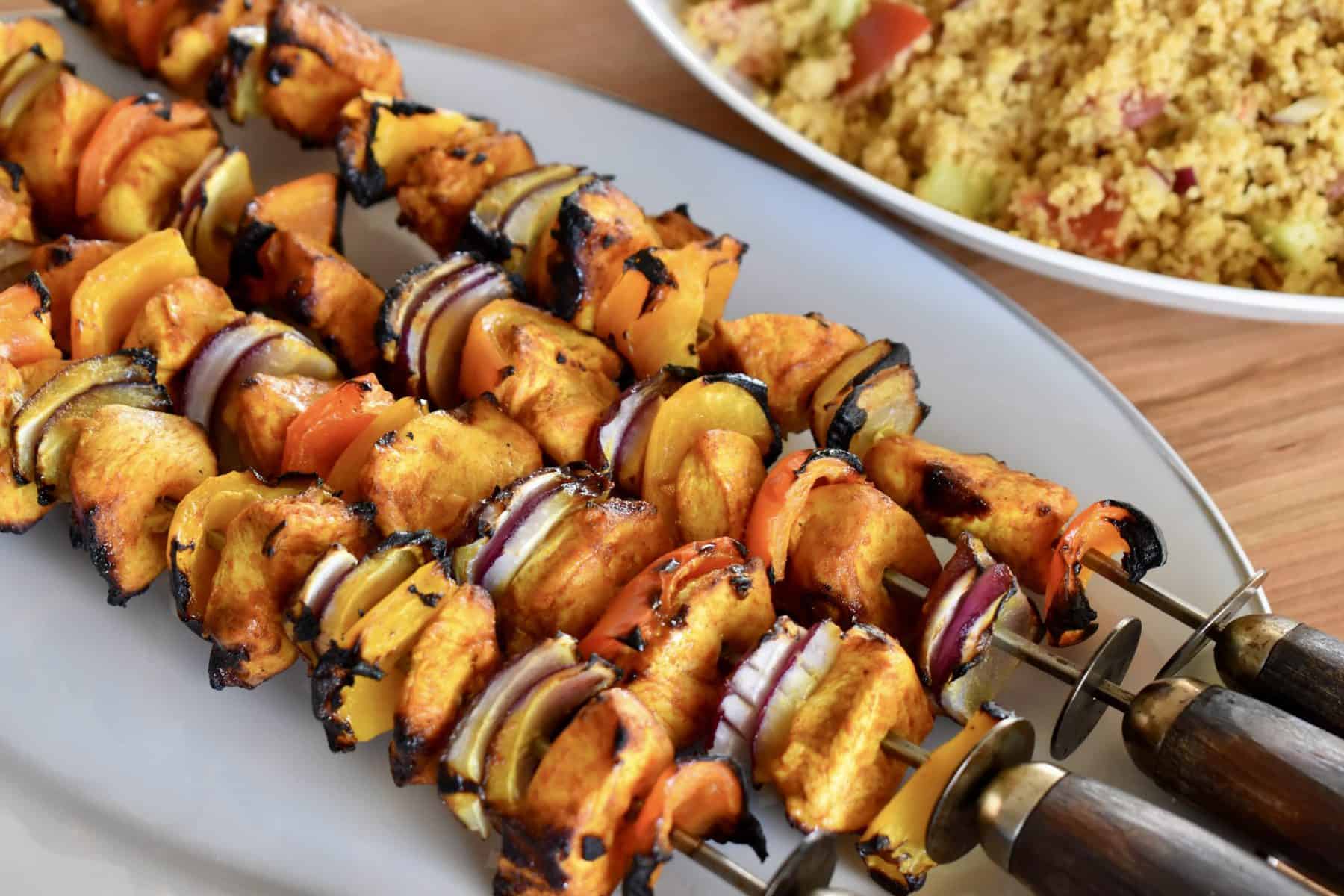 Grilled Chicken Kabob Skewers are healthy and fun to make. They are customizable using whatever veggies you have on hand and you could even substitute the chicken for beef or pork.
What makes these kabobs so special is the marinade. By taking the extra step to marinade the chicken adds an unbeatable flavor.
I like to pair the grilled chicken kabobs with a simple mediterranean inspired side dish. Curried Couscous is a favorite!
Read on to see how easy it is to make these delicious kabobs. They are great for entertaining, weeknight dinner, or easy meal prep.
Grilled Chicken Kabob with Turmeric and Paprika
This recipe comes together quick and is fun to put together. It is recommended to use a grill for cooking the kabobs, however you could use a grill pan and make them on the stove.
For this recipe you will need either wood or metal skewers. I like to use the metal skewers because I can reuse them. However, wood skewers are fine, just be sure to soak them in water beforehand so that they don't burn when place them on the grill.
Turmeric garlic marinade
This turmeric garlic marinade is simple to make and really gives the chicken a delicious flavor and color. To make the marinade simply whisk together: olive oil, garlic, lemon, paprika, turmeric, and kosher salt.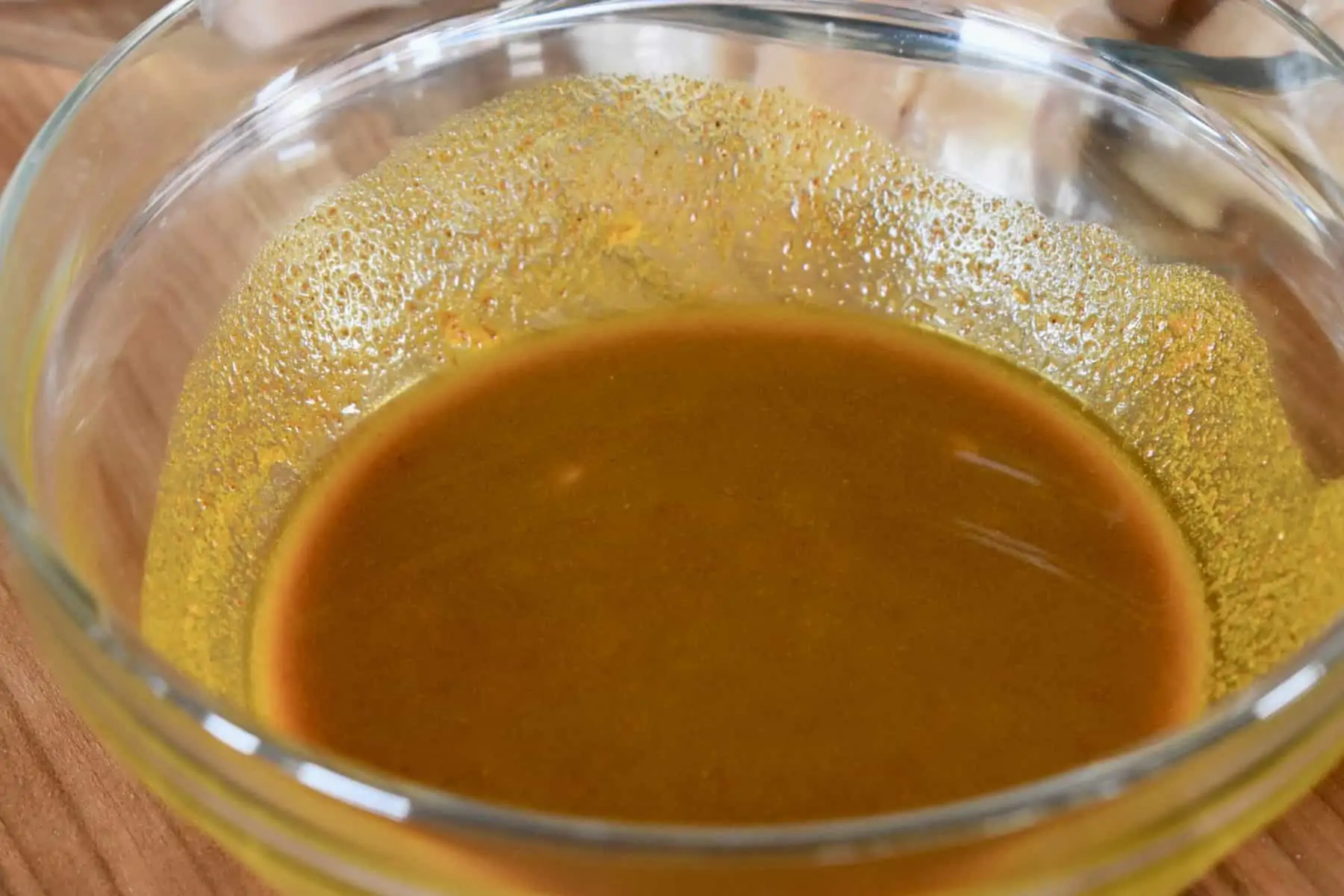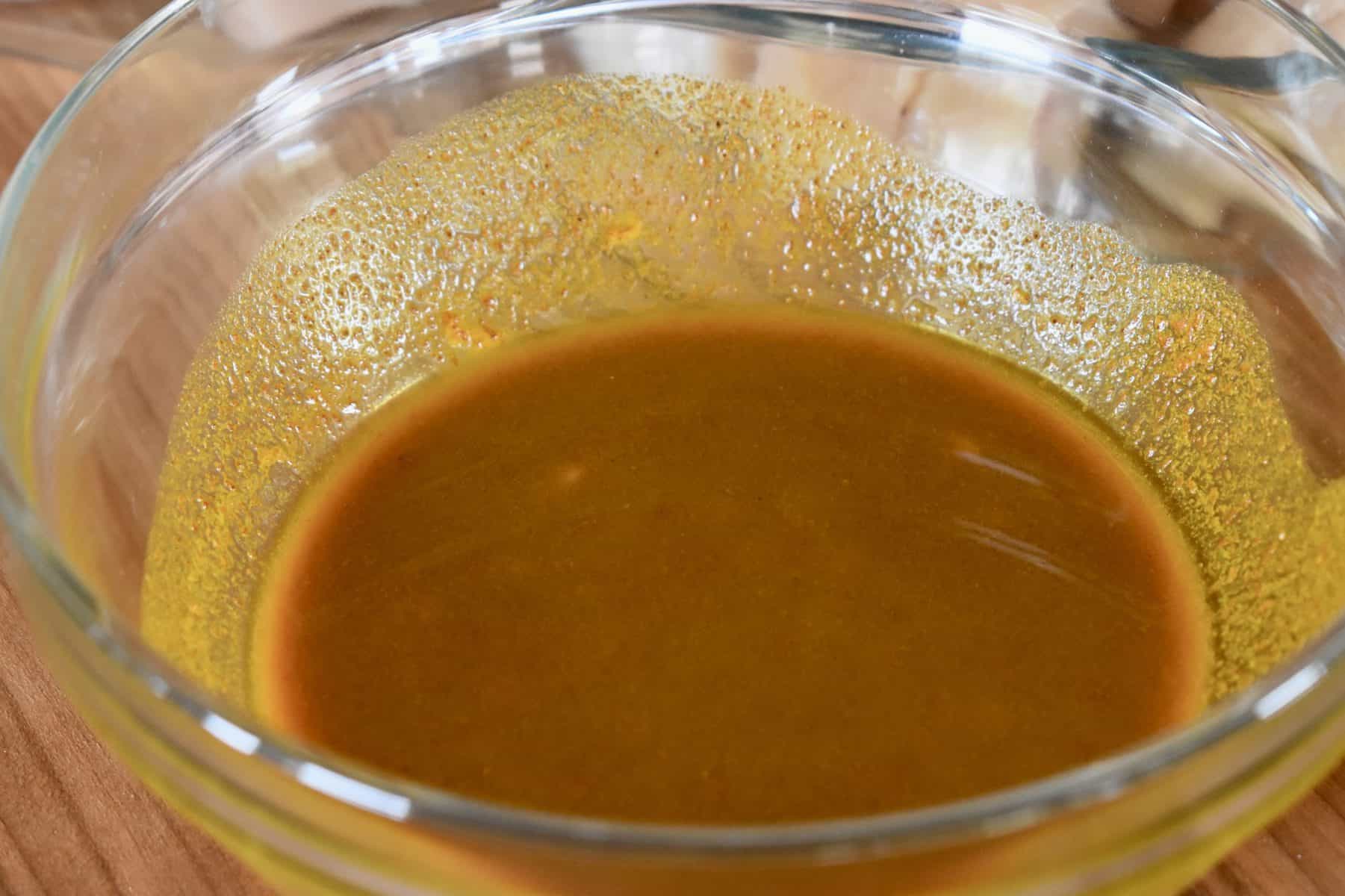 Then, pour the marinade over the cubed chicken, or whatever meat you are using, and let sit in the refrigerator for 30 minutes to an hour. You can marinade the chicken in a glass container or ziplock bag.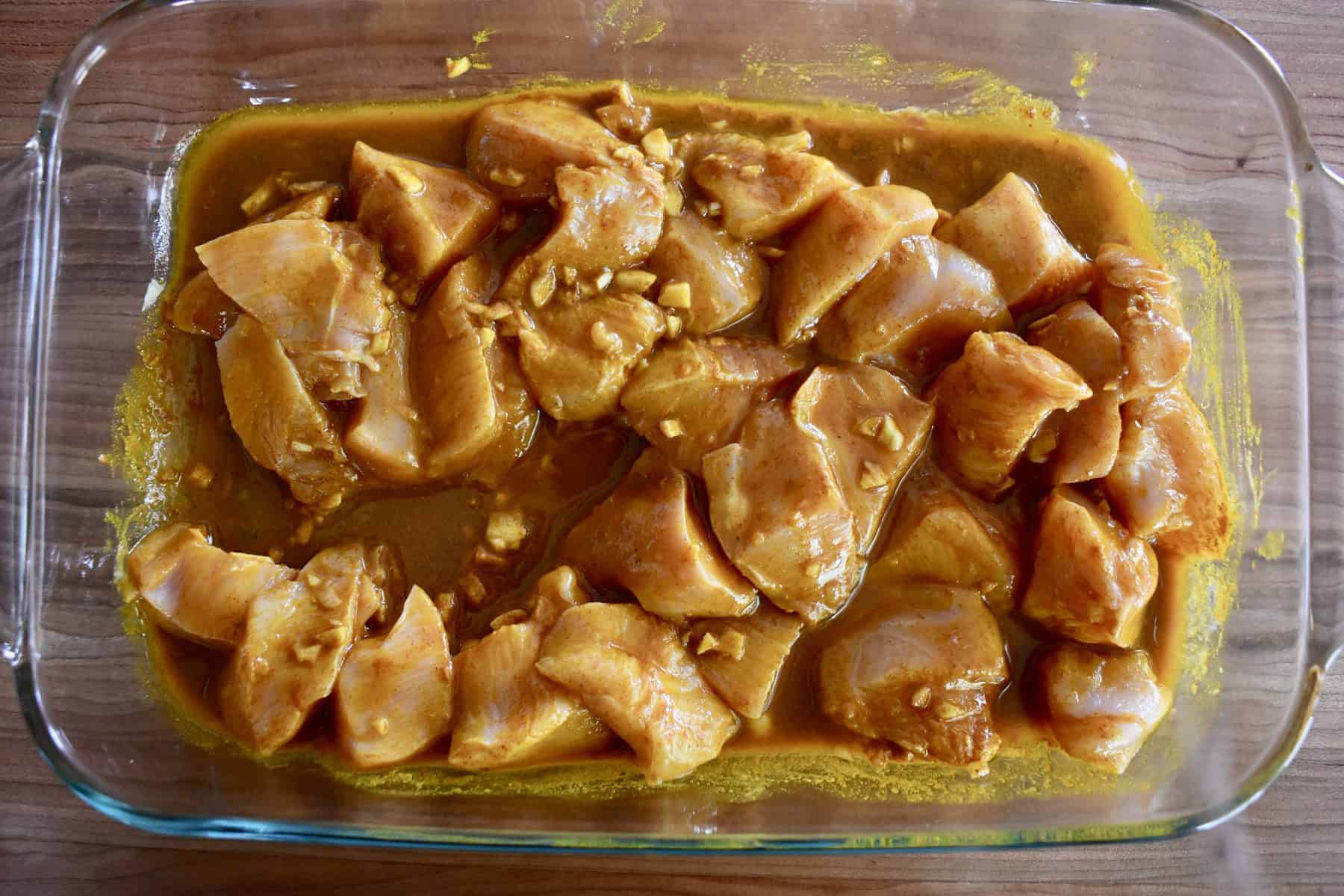 Skewer the kabobs
Next, after the chicken is done marinating, thread onto soaked skewers or these stainless steel skewers along with chunks of red onion and bell pepper.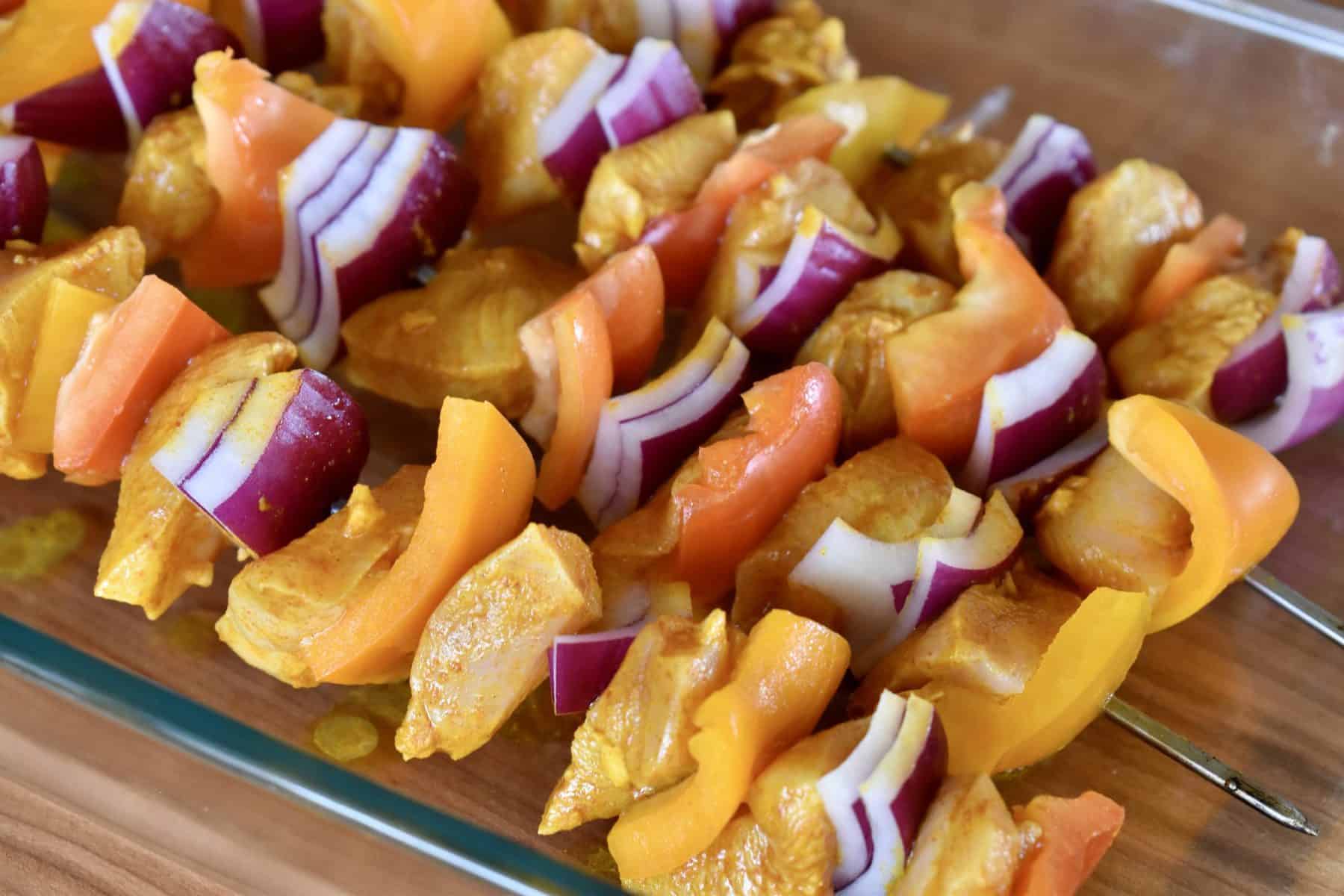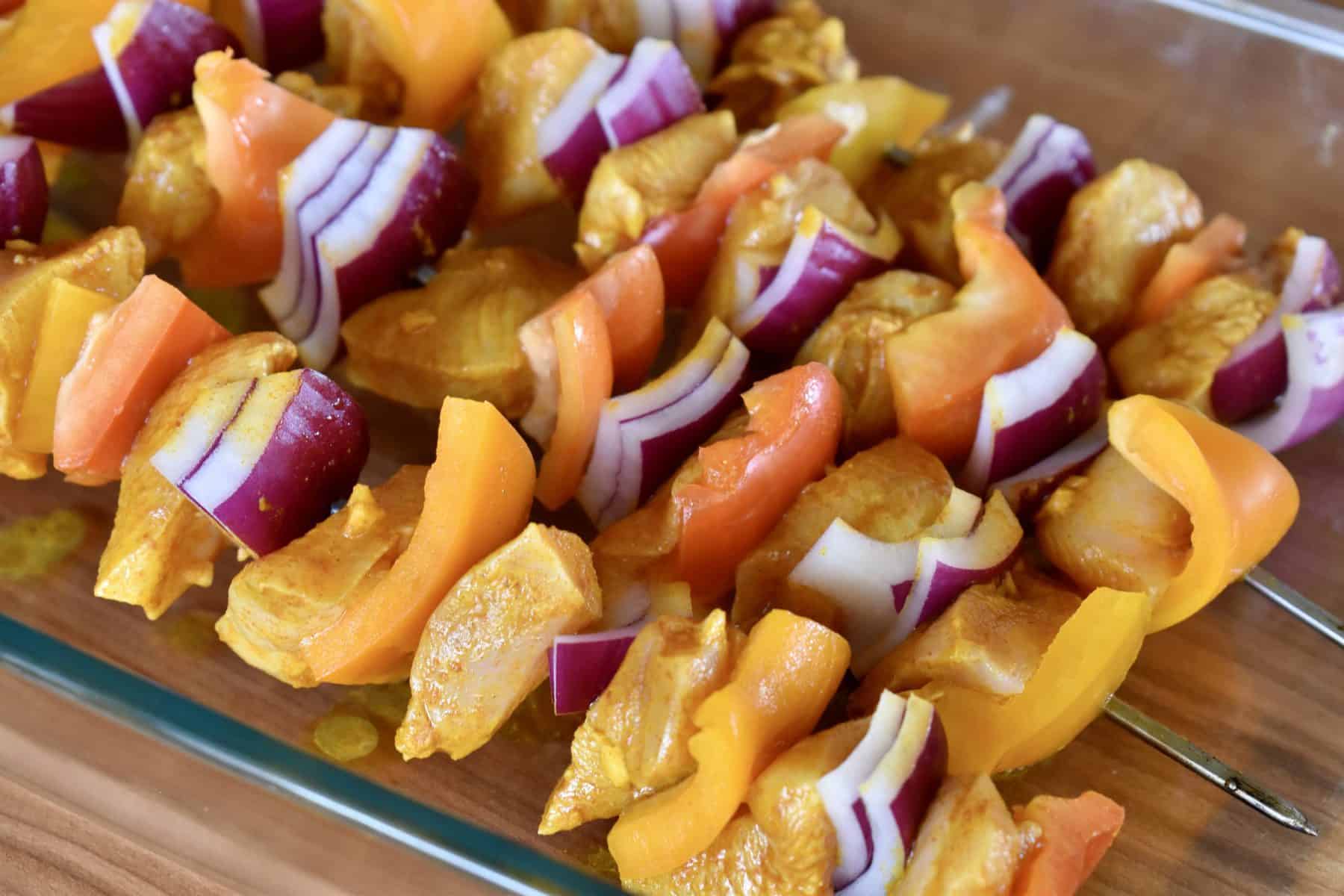 At this point, you can refrigerate until ready to grill or head straight to the grill or grill pan with them.
Heat your grill to medium high heat. Then, use tongs to carefully place the skewers on the grill. Cook one each side for 5 minutes, flipping over once. Totally cooking time should be 10 minutes or so, but always test for doneness using a meat thermometer.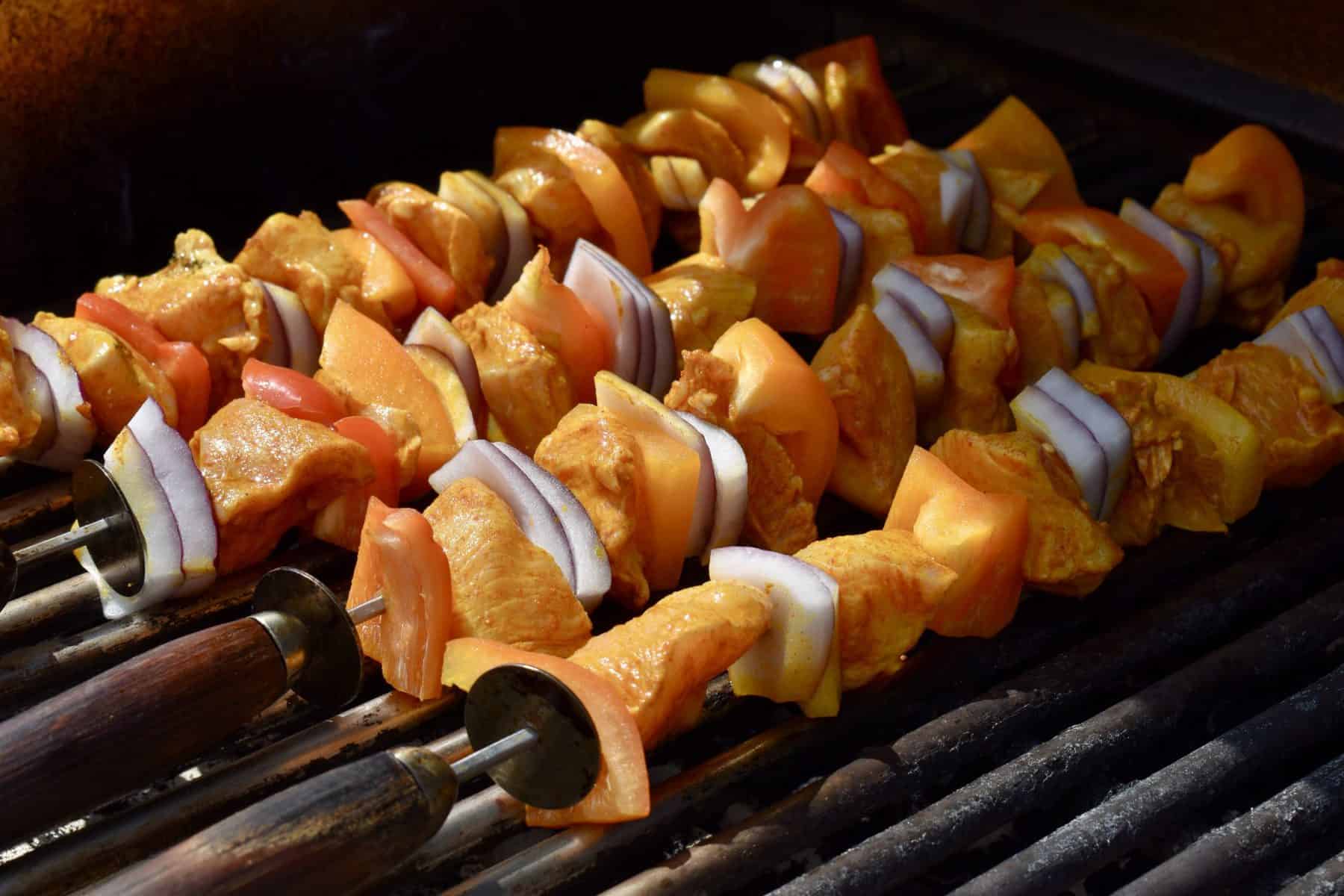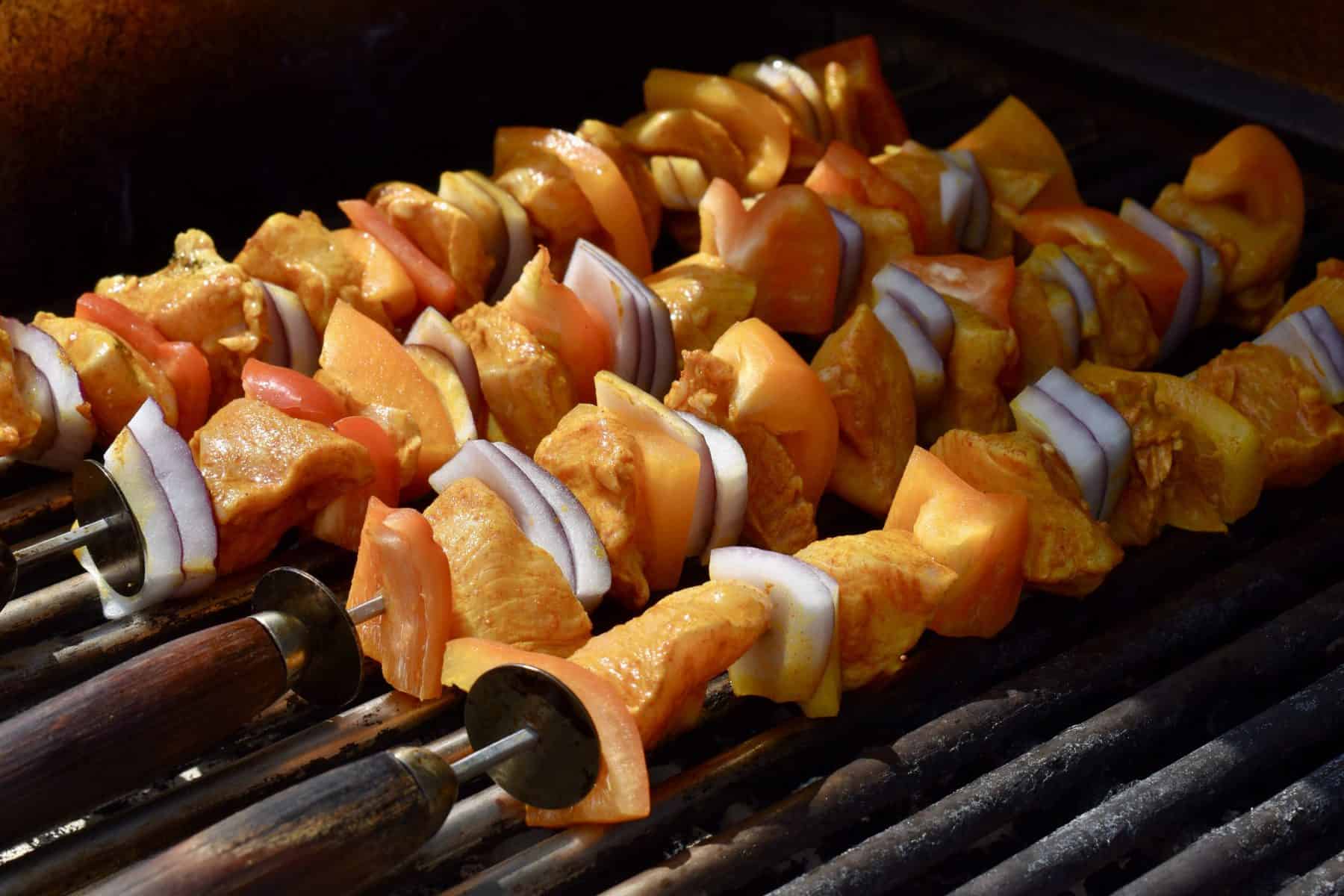 Lastly, remove from grill and tent with foil. Let the kabobs sit for a minute before serving. And, if using metal skewers, be careful because they will be hot!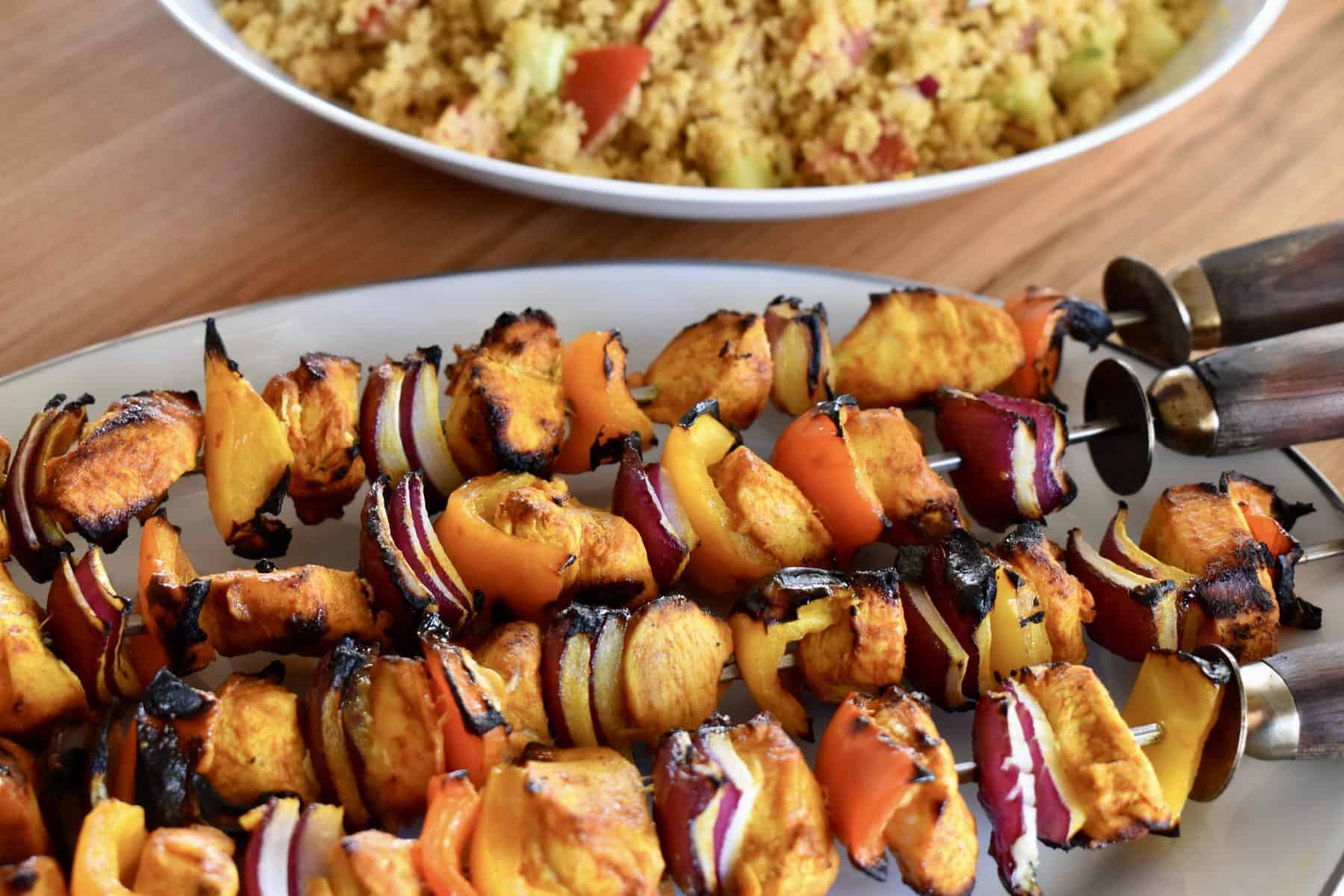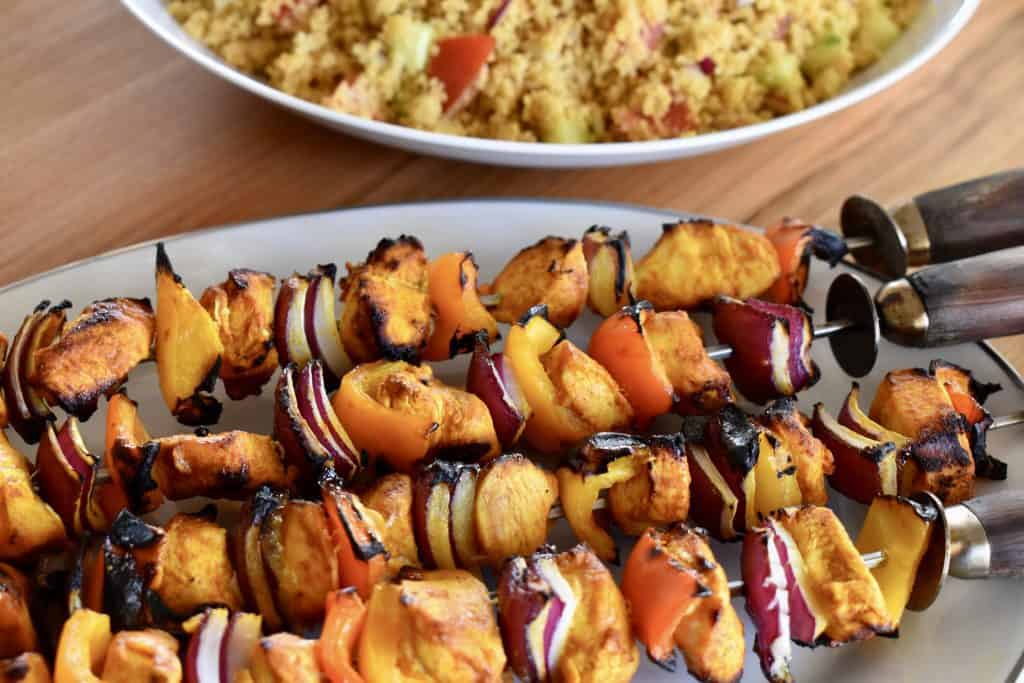 What to serve with Grilled Chicken Kabob
I love to serve this dish along with grilled pita bread, hummus, olives, and my Curried Couscous. Here are some other delicious sides to go with chicken kabobs:
Kale Quinoa Salad is a tasty salad made with quinoa, kale, lemon juice, and parmesan cheese.
Farro Tabbouleh Salad is a hearty take on traditional tabbouleh and a great make-ahead dish.
Eggplant Caponata is a traditional mediterranean condiment that's delicious on bruschetta.
Parsley Quinoa Chickpea Salad is a bright and flavorful dish with so many healthful ingredients.
Italian Tomato Onion Salad is a classic mediterranean salad with fresh ingredients.
Pesto Pasta Salad is a simple 5-ingredient dish that uses store-bought pesto sauce.
I hope you love this recipe for Grilled Chicken Kabob Skewers. Be sure to comment below if you try it. Enjoy!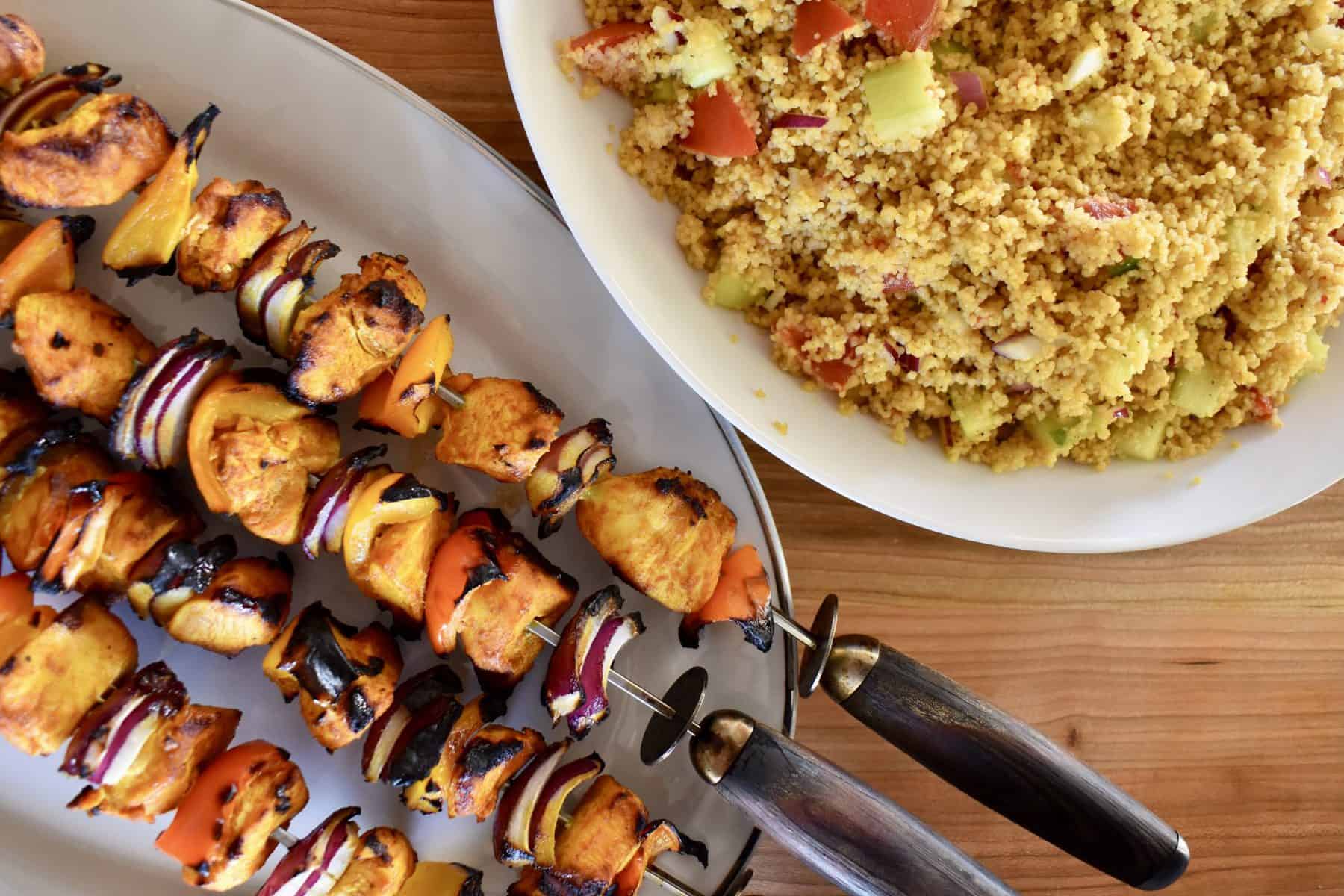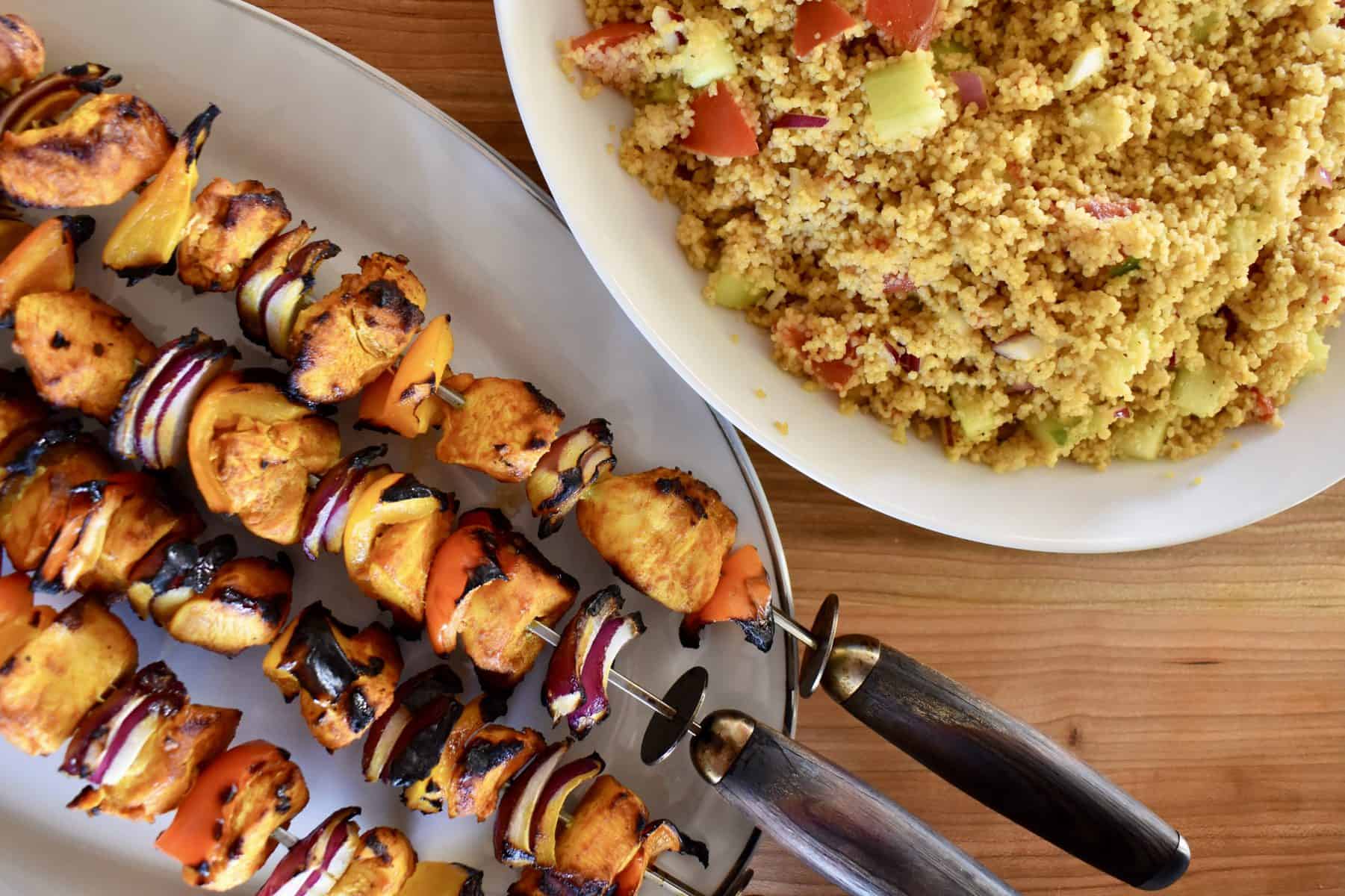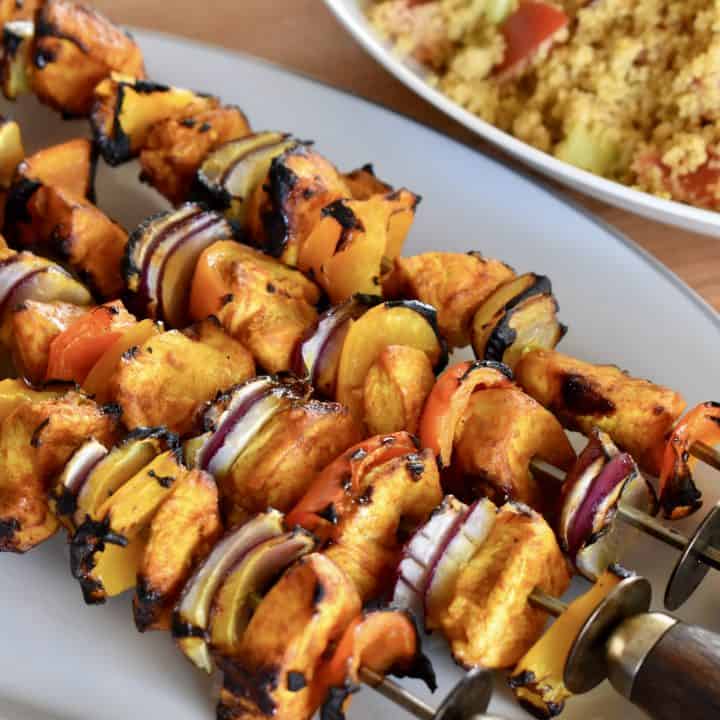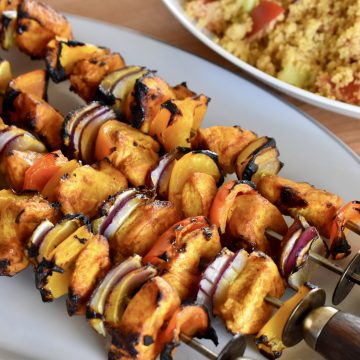 Grilled Chicken Kabob Skewers with Turmeric Garlic Marinade
An easy recipe for tasty and healthy chicken kabobs. Grilling adds flavor without fat and the turmeric gives it a delicious flavor and color.
Print
Pin
Rate
Ingredients
¼

cup

olive oil

4

cloves

garlic, minced

2

teaspoons

paprika

1

teaspoon

turmeric

1

teaspoon

kosher salt

1

lemon, juiced

3

pounds

chicken breasts, cut into cubes

(about 4 chicken breasts)

2

bell peppers, cut into large pieces

1

red onion, cut into large pieces

wooden or metal skewers

(about 18-24 wooden skewers)
Instructions
In a small bowl, whisk together the olive oil, garlic, paprika, turmeric, salt and lemon juice. Put the diced chicken in a glass container or large ziplock bag and add the marinade to it. Seal and refrigerate for at least 30 minutes or up to an hour. 

Preheat grill on medium heat. Prepare the skewers alternating with the marinated chicken, bell peppers, and red onion.

Grill chicken kabobs for about 4-5 minutes rotating once (grilling two sides of the kabob) until cooked through and internal temperature of chicken is 160 degrees. Set aside and tent with foil. Let sit for 2-3 minutes before serving. 
Notes
*if using wooden skewers, be sure to soak the skewers in water for at least 30 minutes prior to grilling. 
Make ahead by preparing the skewers and grilling before eating. Can be made up to a day in advance, just refrigerate in an airtight container. 
Nutrition
If you love this dish, be sure to check out my other grilling favorites like: