Curried Couscous is a great recipe that compliments Mediterranean meals and is perfect for a dinner party or backyard barbecue. This couscous recipe is simple to make and full of flavor!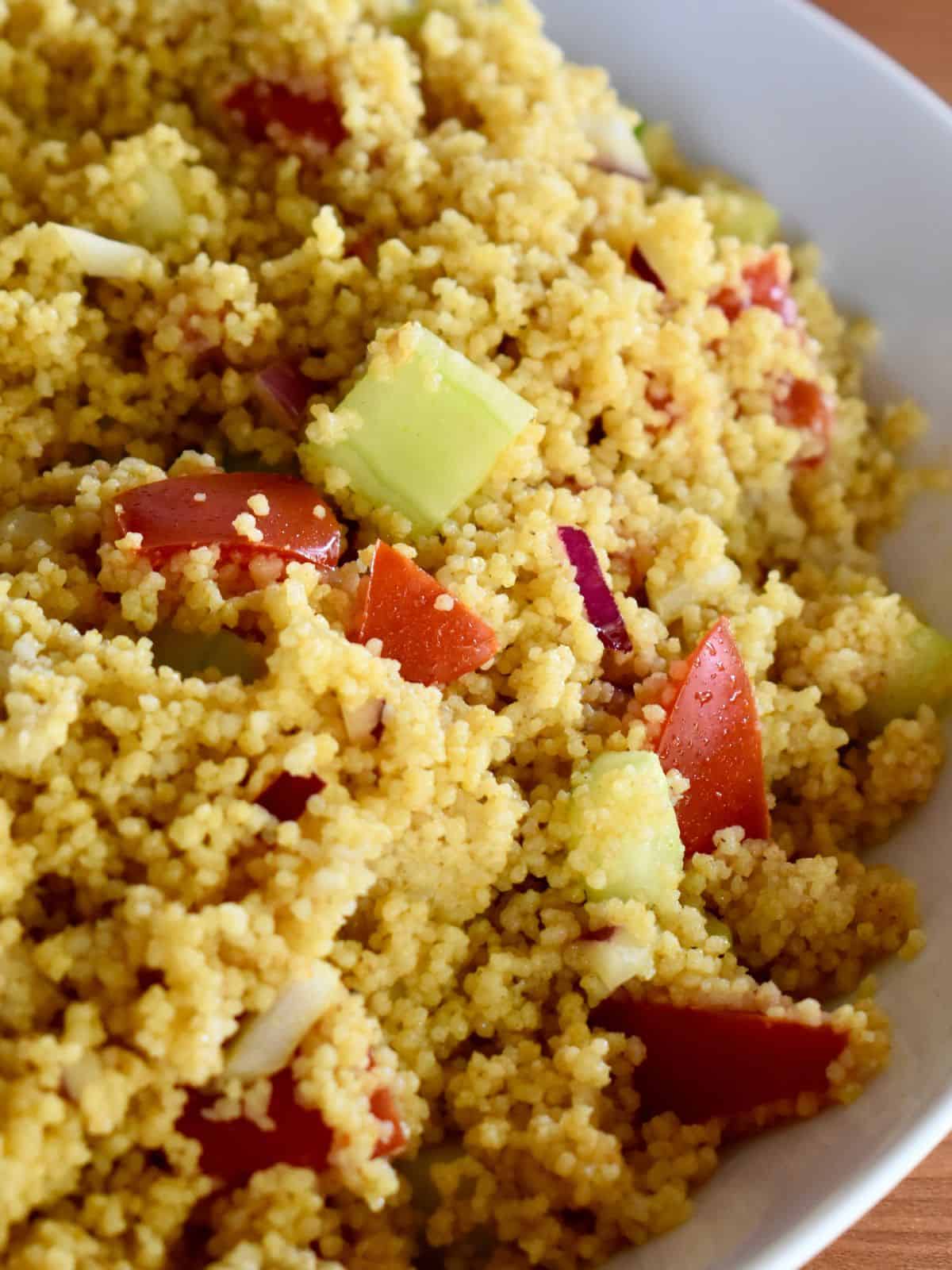 Curried couscous is an easy side dish that you can put together in about 10 minutes. The entire dish can be made up to a day in advance and lasts in the fridge for about five days.
This recipe is perfect served with traditional mediterranean fare like hummus, tzatziki, olives, and grilled chicken. I like to serve it with my Grilled Chicken Kabob Skewers and with a simple Italian Tomato Onion Salad. If you love veggie filled sides, be sure to also try my Easy Vegetable Quinoa Salad.
You'll Love Curried Couscous
What I love about this dish is that it's so easy to make and perfect for meal prep or dinner. The couscous makes the perfect base for a chicken bowl and is great topped with meat or grilled veggies. It's a great alternative to rice.
This entire recipe comes together in minutes! You can save even more time by making the couscous in the microwave and just adding the ingredients.
You can make this with traditional couscous, whole wheat couscous, Israeli couscous, or pearl couscous. I like to use the whole wheat when I can find it, but any are delicious.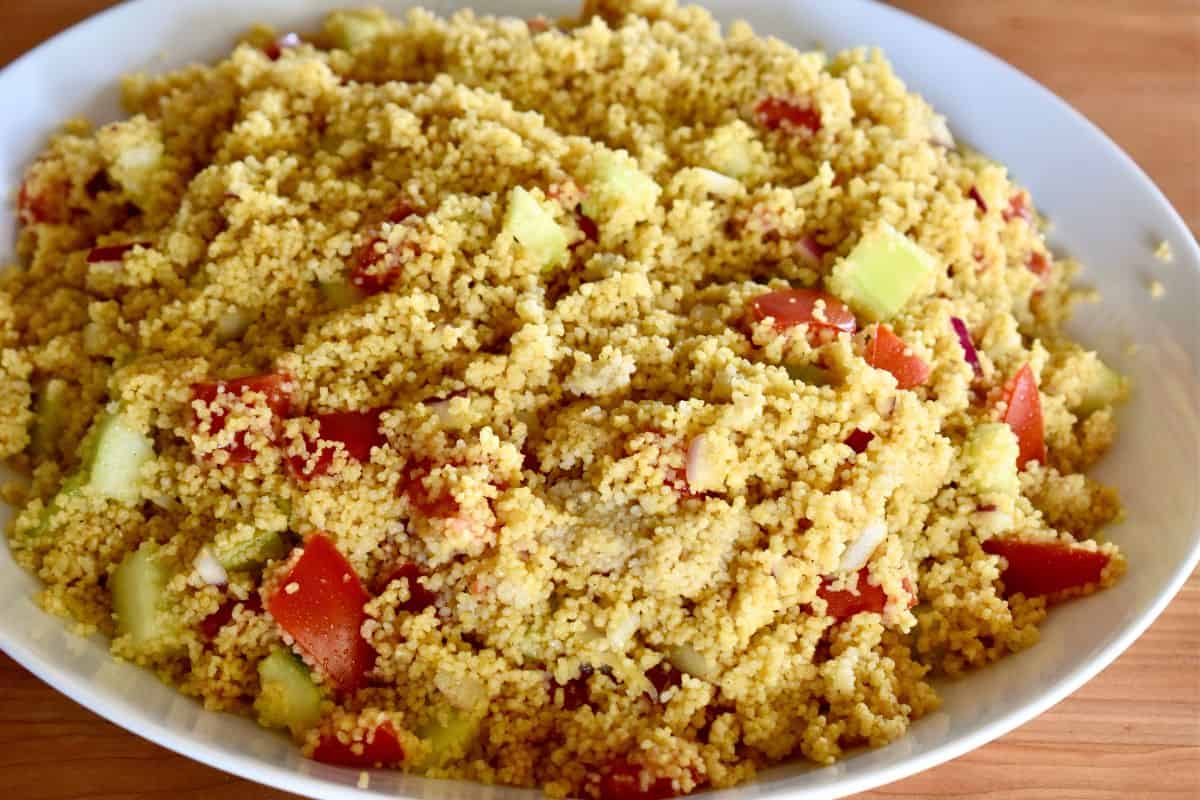 Also, if you don't happen to have a veggie listed here, you can substitute with whatever you have on hand. This is a very forgiving salad that always turns out perfect.
So, if you're looking for a simple and delicious side dish that's full of flavor, give this Curry Couscous recipe a try!
Ingredients and Variations
Couscous: here I list using whole-wheat couscous, however regular couscous works great too. Use whichever one you have on hand or can find in the store. Pearl couscous, instant couscous, or Israeli couscous also work, you will just have to adjust cooking time and instructions. 
Curry powder: the curry powder makes this dish special. If you don't have it, you can substitute whatever spices you like such s garam masala or turmeric powder. Couscous is so mild, any spices would work fine. 
Butter: I like to cook the couscous with a little bit of butter. You can use olive oil instead or omit this entirely. 
Cucumber: I like to use a whole English cucumber in this recipe. Just peel and dice. 
Tomatoes: you can use diced whole tomatoes or halved cherry tomatoes. 
Red Onion: red onions add a great flavor to this dish. You can substitute yellow onion or green onion if needed. 
Olive Oil: toss the cooked couscous with extra virgin olive oil to give the couscous a delicious finish.
Lemon Juice: fresh squeezed lemon juice adds a delicious tang to the salad. You could substitute red wine vinegar or lime juice instead.  
Veggies: you can use whatever variety of raw or roasted veggies you'd like. Things like celery, broccoli, red peppers, green onions, fresh herbs, cauliflower florets, or roasted zucchini or squash would be delicious in here. 
Spices: if you like your curry couscous spicy, add a pinch of cayenne pepper or a diced jalapeño. 
How to Make Curried Couscous
This couscous is an easy and healthy side dish that's ready 10 minutes! Filled with fresh ingredients, you're going to love this simple recipe.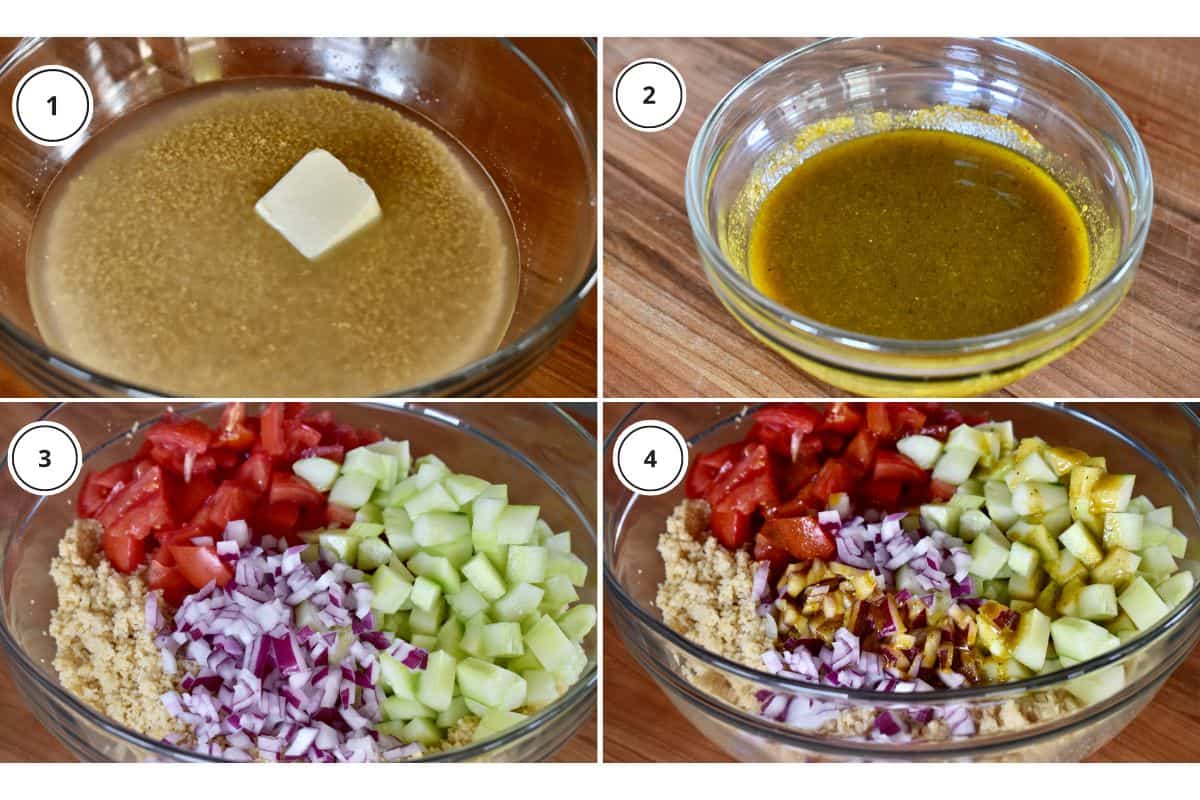 Step 1: prep the couscous
You can do this either on the stove or in the microwave. I love to make this in the microwave and just use the same large bowl for the salad. Here, just combine the couscous, water, salt and butter. Mix the couscous and microwave, uncovered, for 4 minutes. Let the couscous sit for a minute, then use a fork to fluff it.
Alternatively, you can add boiling water to the couscous and cover with plastic wrap. Let it sit for 5-10 minutes before removing wrap.
Step 2: make the dressing
The dressing for this couscous is a simple blend of good olive oil, lemon juice, curry powder, salt and pepper. In a bowl, whisk together the ingredients. Taste for seasonings.
Step 3: add in veggies
Let the couscous cool slightly, then fluff couscous with a fork. Add in the diced cucumber, tomato, and red onion. Feel free to add whatever other ingredients you want like beans, golden raisins, or roasted veggies.
Step 4: dress and toss the couscous
Pour the dressing over the veggies and couscous and toss to combine. Taste for kosher salt and black pepper.
You can serve the couscous warm, room temperature, or refrigerate for later use. This dish tastes even better the next day. Store in an airtight container in the refrigerator for up to a week.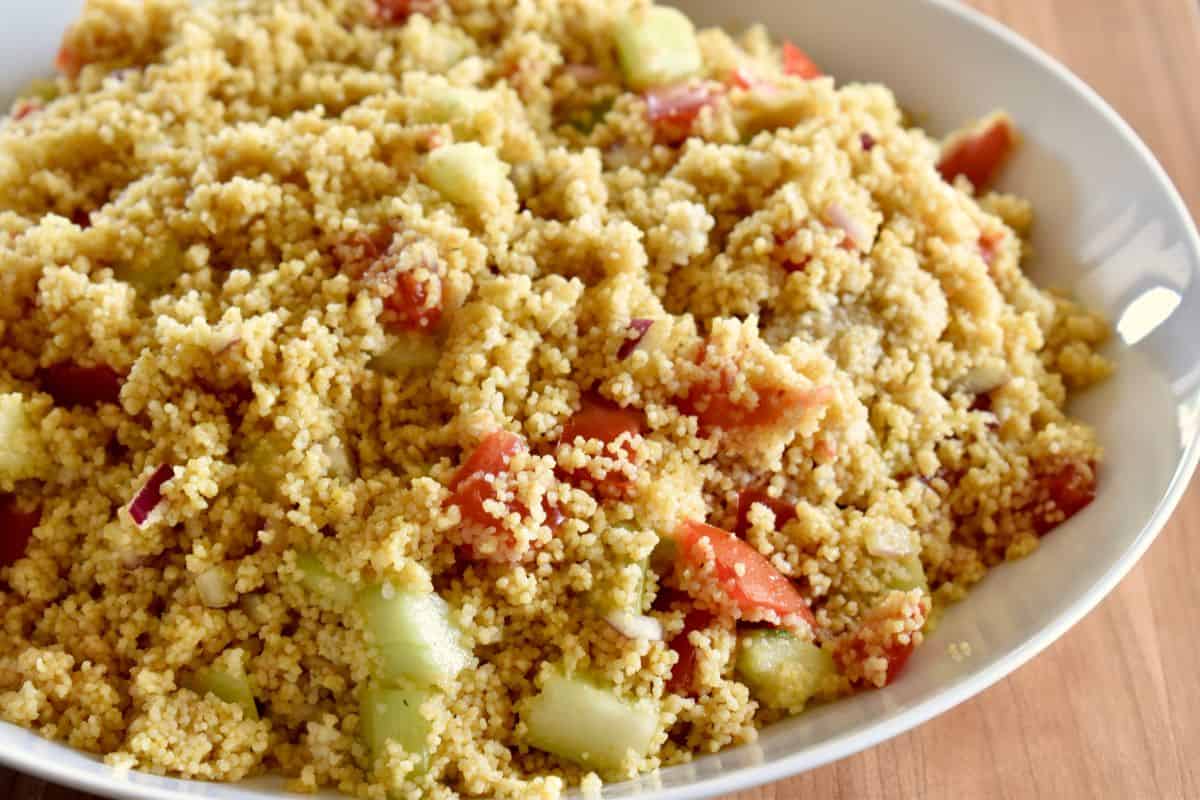 Recipe Tips
If making ahead, make sure the couscous is cooled before adding the veggies.
Curried Couscous is great served warm or chilled.
Toss in feta, parsley, garbanzo beans, or any other veggies to change up the flavors of this salad.
This is delicious served with grilled meats and a side of pita bread.
Frequently Asked Questions
How long does Curried Couscous last?
Curried couscous can last 4-5 days when properly refrigerated in an airtight container.
What is couscous?
Couscous is actually a form of pasta made from semolina flour and water.
Can you cook couscous in the microwave?
Couscous cooks up beautifully in the microwave. Just add equal parts couscous and water to a microwave safe bowl, mix in some butter and kosher salt. Microwave uncovered on high for 4 minutes, or until the liquid is absorbed.
What to Serve with Curried Couscous
Curry Couscous is a great side to serve at barbecues or have on hand for easy weekday meal prep. Here are some other great dishes to serve with this recipe:
Greek Chicken Marinade is full of tangy mediterranean flavors like lemon juice and garlic.
Honey Lime Salmon is super simple to make and a great for meal prep.
Parsley Quinoa Chickpea Salad is a delicious and healthy salad full of veggies.
Asian Sesame Salmon is made with soy and garlic, and has so much flavor!
Farro Tabbouleh Salad is another mediterranean favorite and great with this couscous.
Marinated Chicken with a brown sugar balsamic sauce is the perfect chicken marinade.
Curried Chicken Salad Wraps are another delicious curry recipe.
Similar Recipes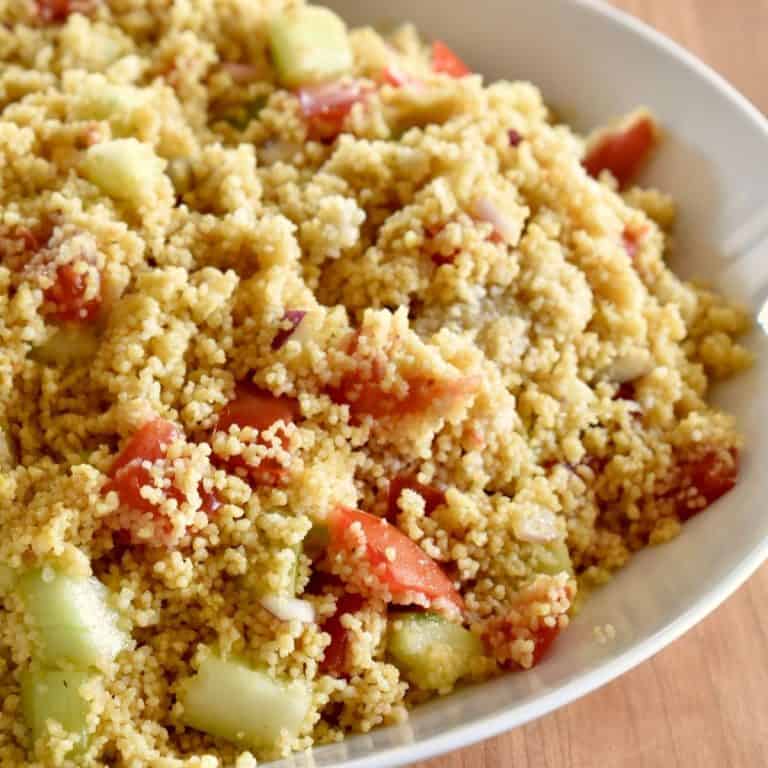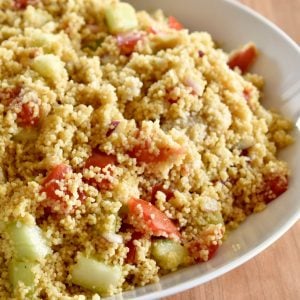 Curried Couscous
Curried Couscous is a simple and flavorful side dish for your next barbecue or Mediterranean-inspired dinner. Microwave the couscous for easy prep.
Print
Pin
Rate
Ingredients
2

cups

couscous

regular or whole wheat

2

cups

water

1

teaspoon

kosher salt

2

tablespoons

butter

1

English cucumber, seeded and diced

2

large

tomatoes, seeded and diced

¼

cup

diced red onion

¼

cup

extra virgin olive oil

1

lemon, juiced

1

tablespoon

curry powder

salt and pepper to taste
Instructions
Place couscous, water, 1 teaspoon kosher salt, and butter, in a microwave safe bowl. Microwave on high (uncovered) for 4 minutes and let sit for one minute. Use a fork to fluff the couscous and set aside.

In a small bowl whisk olive oil, curry powder, and lemon juice with salt and pepper to taste.

To the couscous, add the cucumber, tomatoes, and onions. Pour on the curry dressing and toss to combine. Eat warm or refrigerate for later.
Notes
If making ahead, make sure the couscous is cooled before adding the veggies. 
Toss in feta, parsley, garbanzo beans, or any other veggies to change up the flavors of this salad. 
This is delicious served with grilled meats and a side of pita bread.
Curried Couscous is great served warm or chilled. 
Nutrition
Calories:
322
kcal
|
Carbohydrates:
53
g
|
Protein:
9
g
|
Fat:
11
g
|
Saturated Fat:
3
g
|
Polyunsaturated Fat:
1
g
|
Monounsaturated Fat:
6
g
|
Trans Fat:
1
g
|
Cholesterol:
8
mg
|
Sodium:
322
mg
|
Potassium:
187
mg
|
Fiber:
6
g
|
Sugar:
3
g
|
Vitamin A:
514
IU
|
Vitamin C:
9
mg
|
Calcium:
39
mg
|
Iron:
2
mg