Farro Tabbouleh Salad is a tasty twist on the traditional Lebanese salad made with bulgur. Made with Farro, parsley, cucumber, tomatoes, and lemon juice, this salad is a delicious and easy make-ahead dish that'll keep in the refrigerator all week.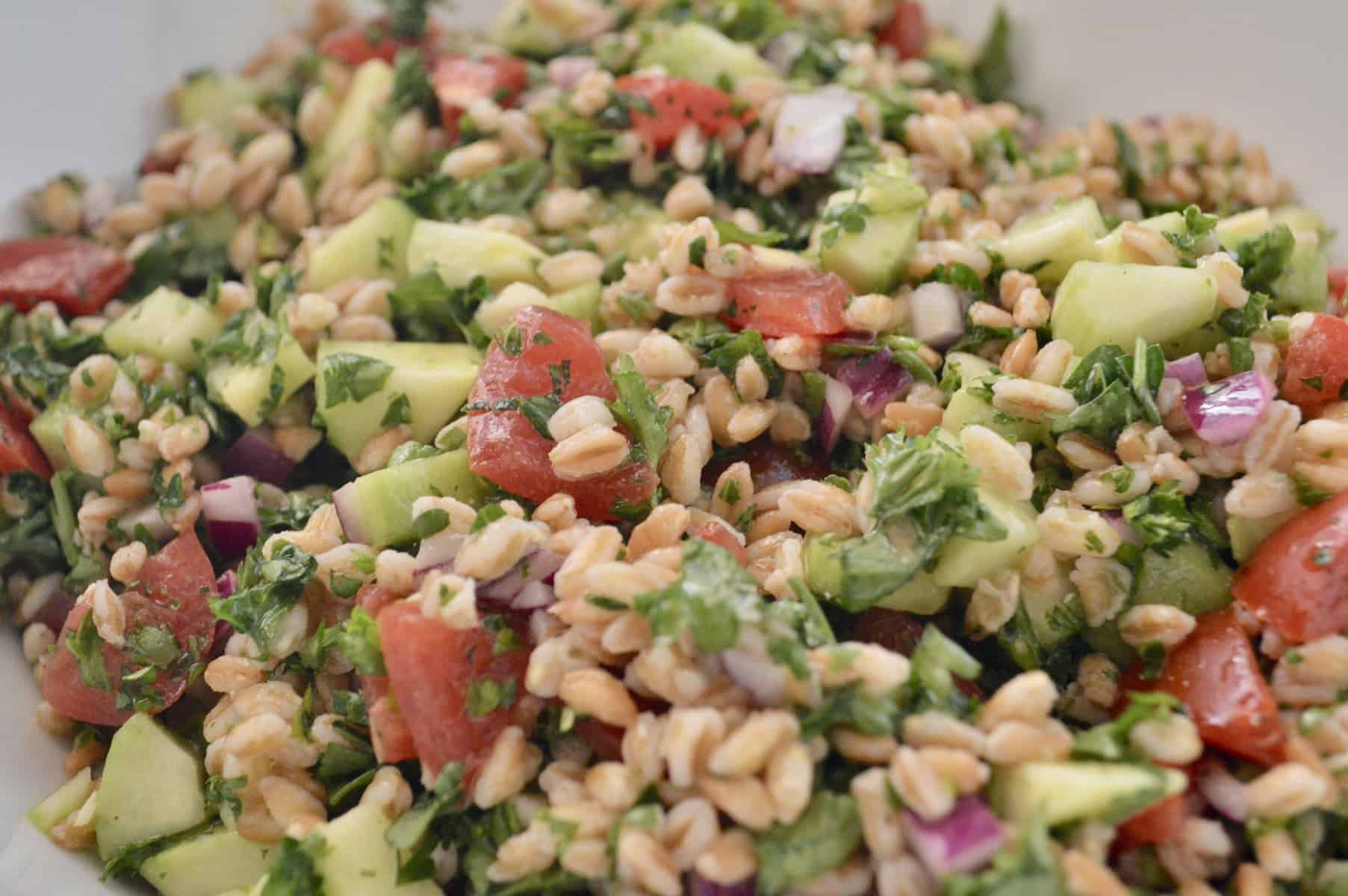 This recipe and combination of flavors make for a true flavor punch. Healthy, quick, make ahead, and delicious, this dish truly has it all. Moreover, it's a salad that seems to get better as it refrigerates.
Easy Farro Tabbouleh Salad
Farro is an ancient grain that hosts a bunch of health benefits. But if you are not a fan, you can always substitute quinoa, barley, or bulgur. These ancients grains are thankfully now grocery store staples, so you should have no problem find them. If you wanted to order online, Amazon has Bob's Red Mill Farro in bulk for a great price.
I was able to find par-cooked Farro at Trader Joe's and it only took 10 minutes to boil. Lastly, just toss with the veggies and dressing, and you are all set!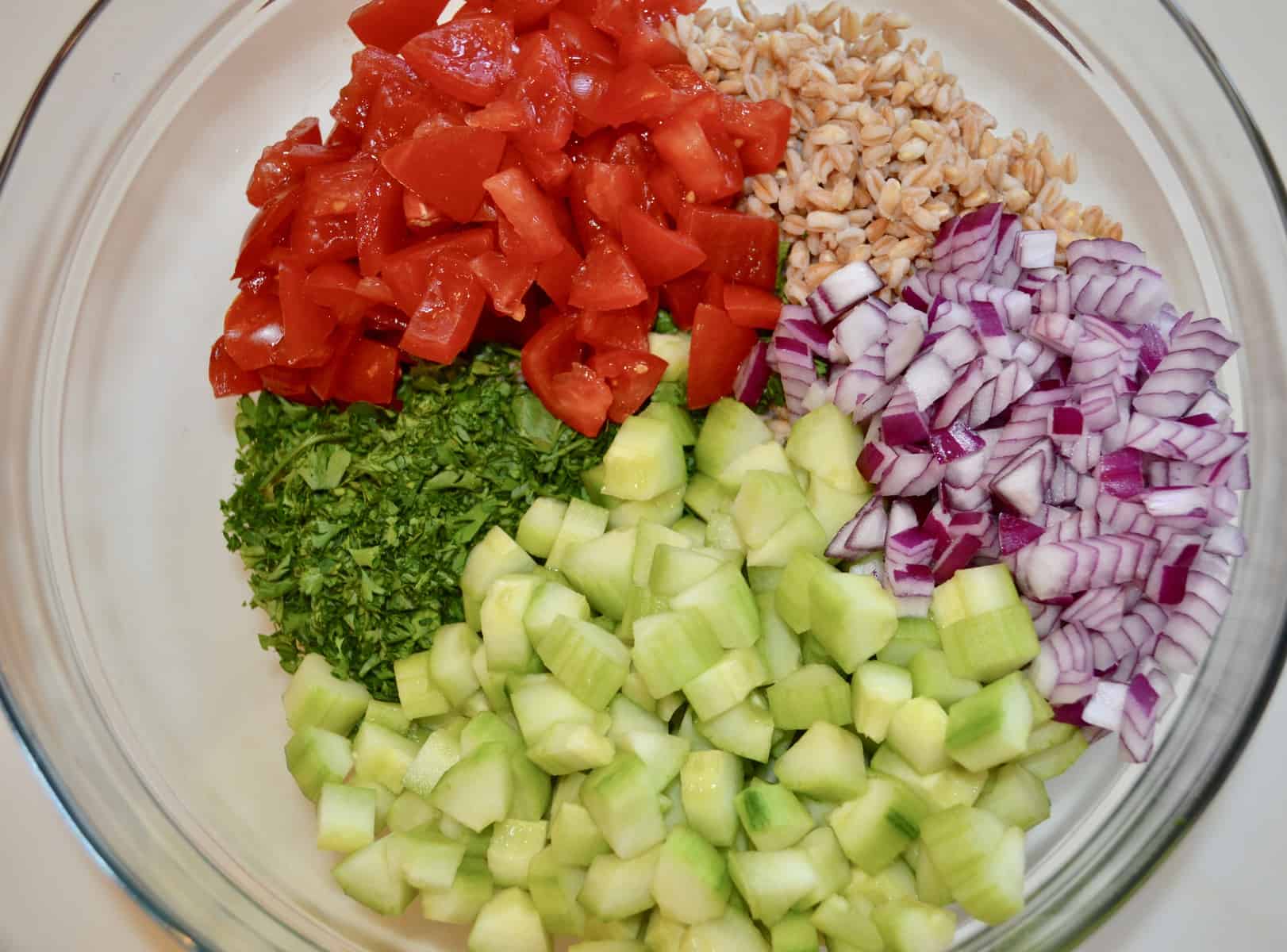 Farro Tabbouleh Salad holds up excellent in the fridge and can last about 5 days. Add grilled chicken, salmon, or tofu, and you have a complete meal. This is such a tasty and refreshing salad, be sure to try it out!
You can also switch up the flavors and toss with Kalamata olives and feta for a more Mediterranean taste. Enjoy!
Farro Tabbouleh Salad
Healthy and delicious take on traditional tabouli salad. This Farro Tabouli Salad can be made a day ahead and lasts for up to a week in the refrigerator. Excellent served with grilled chicken or salmon.
Ingredients
4

cups

cooked farro, cooled

from about 1 1/2 cup dry

1

bunch

parsley, chopped

about 2 cups chopped

1

long

English cucumber, peeled, seeded, and diced

1

cup

tomatoes, seeded and diced

1/2

cup

diced red onion
Dressing:
1/2

cup

lemon juice (from about 2 lemons)

1/2

cup

extra virgin olive oil

2

cloves

garlic, minced

1

tablespoon

dijon mustard

1

teaspoon

kosher salt

1/2

teaspoon

crushed black pepper
Instructions
Combine farro, parsley, cucumber, tomato, red onion in a large bowl. Toss gently to combine.

Whisk together all dressing ingredients in a separate bowl. Add to farro mixture and toss to combine. Refrigerate at least an hour before serving.
For a super simple make-ahead meal, try Farro Tabouli Salad with easy Make-Ahead Greek Chicken. Delicious!
At This Delicious House, I strive to provide readers with easy and delicious make-ahead meals and weeknight dinners. I also provide simple and fun party ideas and menus. So, be sure to sign up for our newsletter and get weekly recipes to your inbox. You can unsubscribe anytime. Thanks for stopping by!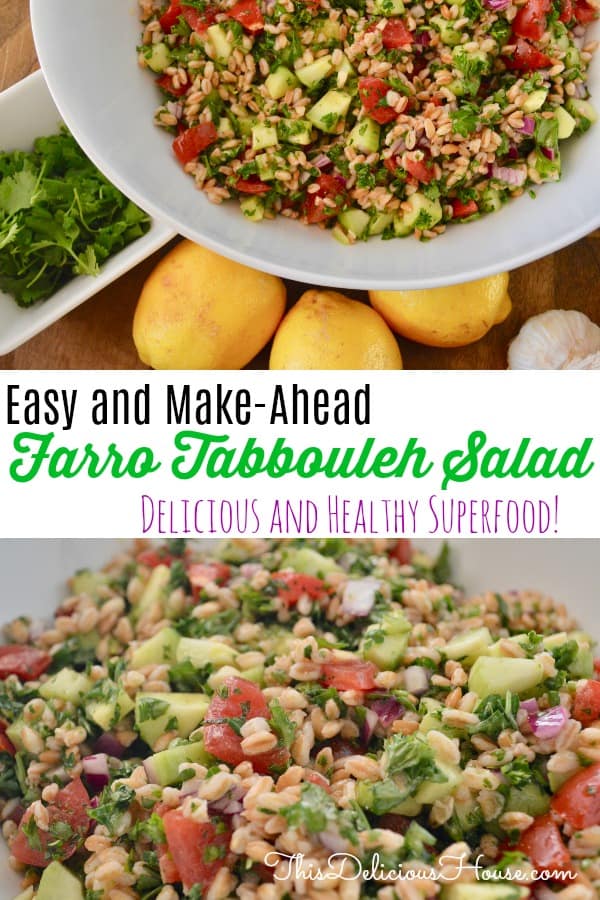 Love Easy Recipes? Me Too!
Sign up Now and Never Miss a Simple and Delicious Recipe!