Lemon Orzo Salad is a delicious and easy to make pasta salad that's full of fresh veggies and lemony flavors. This recipe comes together in 20 minutes and is great for any occasion!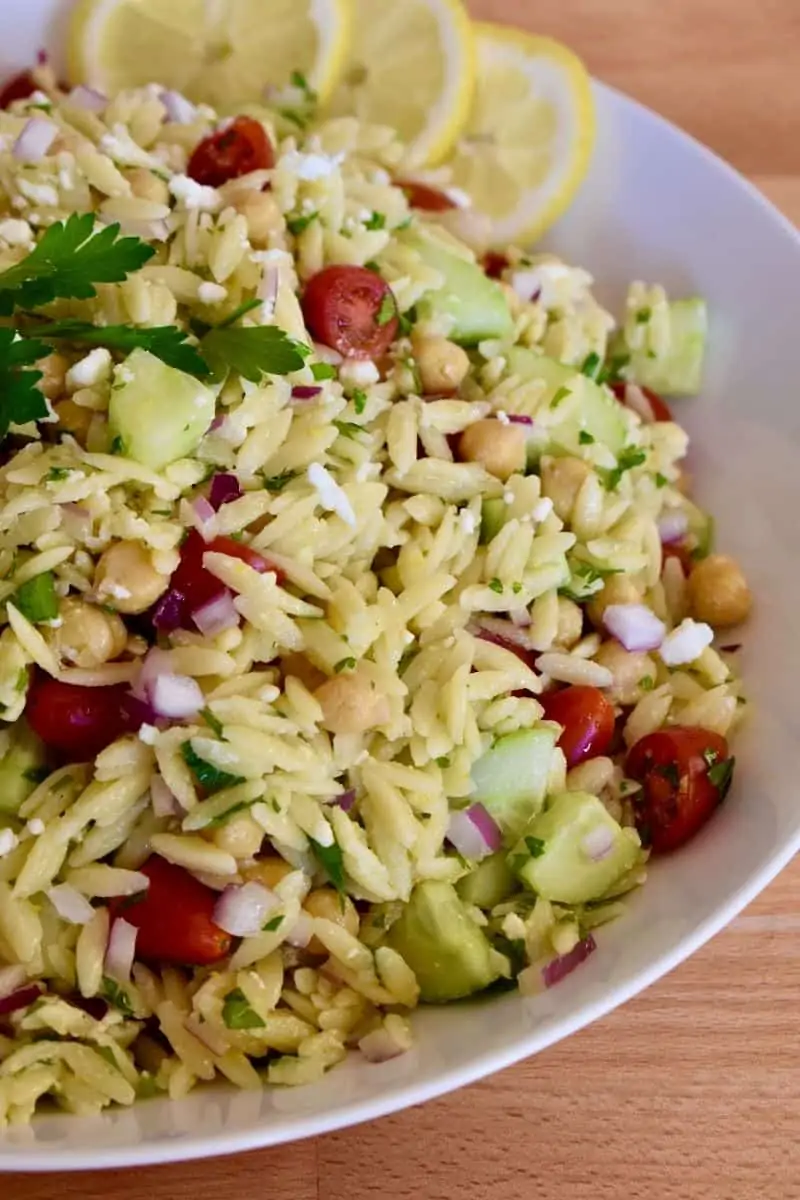 You are going to love all of the fresh flavors of this Lemon Orzo Salad. Super easy to make, this recipe is such a crowd pleaser and great for barbecues, brunches, or anytime you need a delicious side dish.
If you love fresh Italian flavors, be sure to check out this Pesto Pasta Salad, Orzo with Sun Dried Tomatoes, or this Italian Tomato Onion Salad. And, if you happen to have leftover bread, then you definitely need to make my fan-favorite Bruschetta Salad with tomatoes, basil, and mozzarella cheese.
Why this recipe is the BEST!
One bite and you'll fall in love with all of the fresh flavors of this Lemon Orzo Salad. Made with delicious orzo pasta, garbanzo beans, lots of veggies, and lemony flavor, this side dish may just become the star of your meal!
This recipe starts off with a base of orzo pasta. If you've never had orzo before, it's a small pasta that look like a large piece of rice. It has all of the comforts of pasta and is super easy to eat.
The mix-ins for this salad make it super special. I use a combination of fresh veggies along with protein-rich garbanzo beans. To add color and flavor, feta cheese adds a salty bite that can't be beat.
What makes this pasta salad truly the best is the lemony dressing. This salad gets a real flavor boost from the lemon zest and juice, that gets whisked in with the olive oil, garlic, and dijon mustard.
Lemon Orzo Salad can be eaten immediately or refrigerated until ready to serve. It's a great make-ahead pasta salad that's really perfect for any occasion.
Ingredients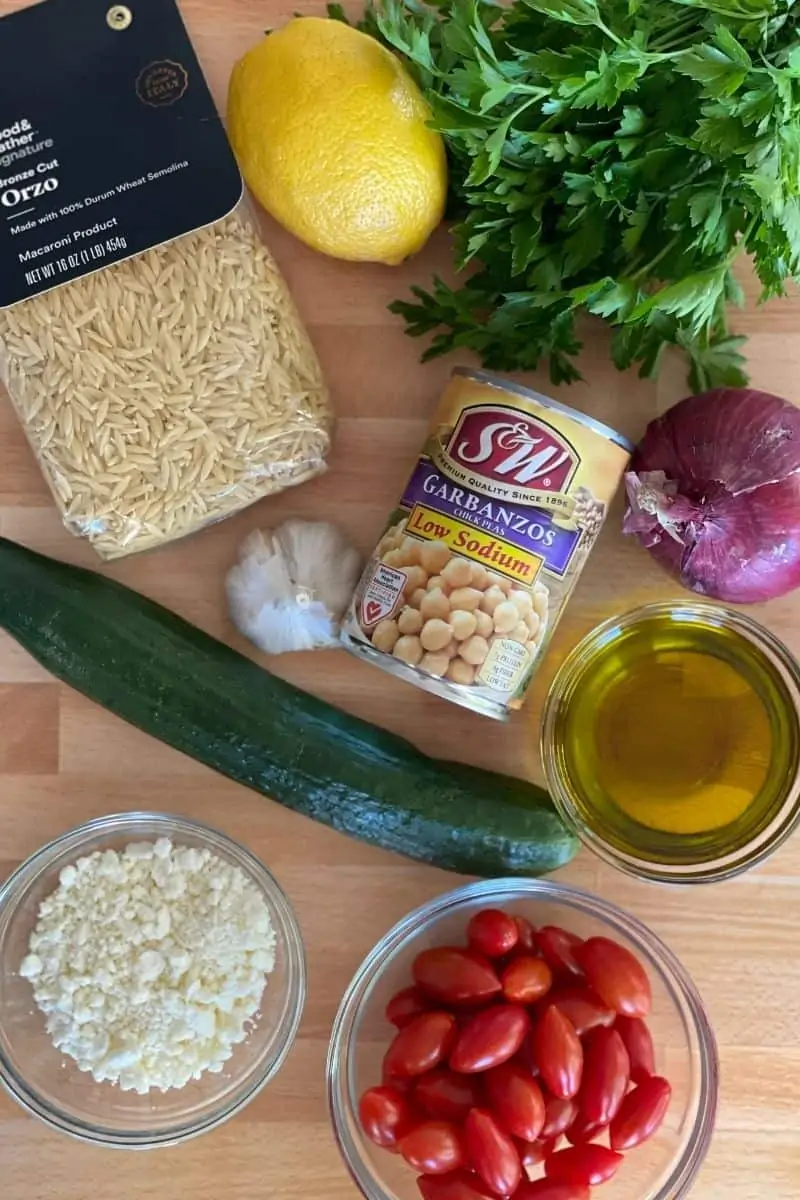 The ingredients for this Lemon Orzo Salad include: orzo pasta, olive oil, lemon, garbanzo beans, cherry tomatoes, feta cheese, garlic, red onion, parsley, and dijon mustard.
Lemon: the lemon is the star of this recipe. Try to use an organic lemon if possible since you will be using the lemon's zest.
Garbanzo beans: also known as chickpeas, the beans add a nice crunch and texture to the salad. You can substitute cannellini beans or any white bean here. Be sure to drain the canned beans and rinse with water before adding.
Orzo: the small orzo pasta can sometimes be hard to find in the store. You can always substitute any other smaller pasta such as macaroni, ditalini, or orecchiette.
This recipe is great for substitutions and additions too! You can add whatever fresh veggies you on hand such as red bell pepper or celery. Also, mix things up by adding chopped olives or sun dried tomatoes.
How to Make Lemon Orzo Salad
If you can boil water and chop veggies, you can make this simple and delicious pasta salad recipe! It comes together quick is impossible to mess up.
Firstly, you will need to cook the orzo pasta. Orzo cooks like ordinary pasta. Just bring a large pot of salted water to boil. Then add in the orzo and cook until just al dente. Drain and rinse pasta with cold water (this will help cool down the pasta and make it less sticky).
Once the pasta is set, you can start assembling the salad.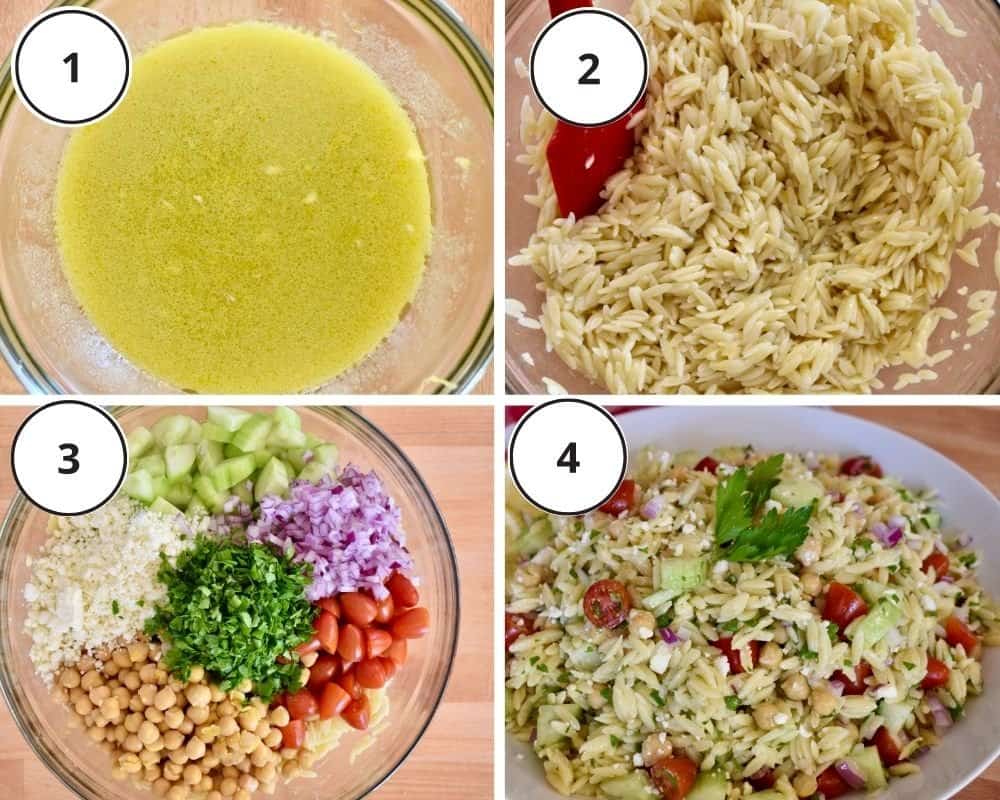 Step 1: prepare the dressing. In a small bowl, whisk together the olive oil, lemon zest and juice, dijon mustard, minced garlic, and kosher salt. I only use ½ a teaspoon, but you can adjust and add more once the salad is tossed.
Step 2: place the cooked orzo in a large bowl and pour the dressing over it. Toss it altogether to coat the orzo with the dressing.
Step 3: add the remaining ingredients to the orzo. This includes the drained garbanzo beans, tomatoes, red onion, cucumber, feta, and parsley.
Step 4: toss all of the lemon orzo salad ingredients together and taste for salt. You either plate the dish and eat it immediately, or refrigerate for later.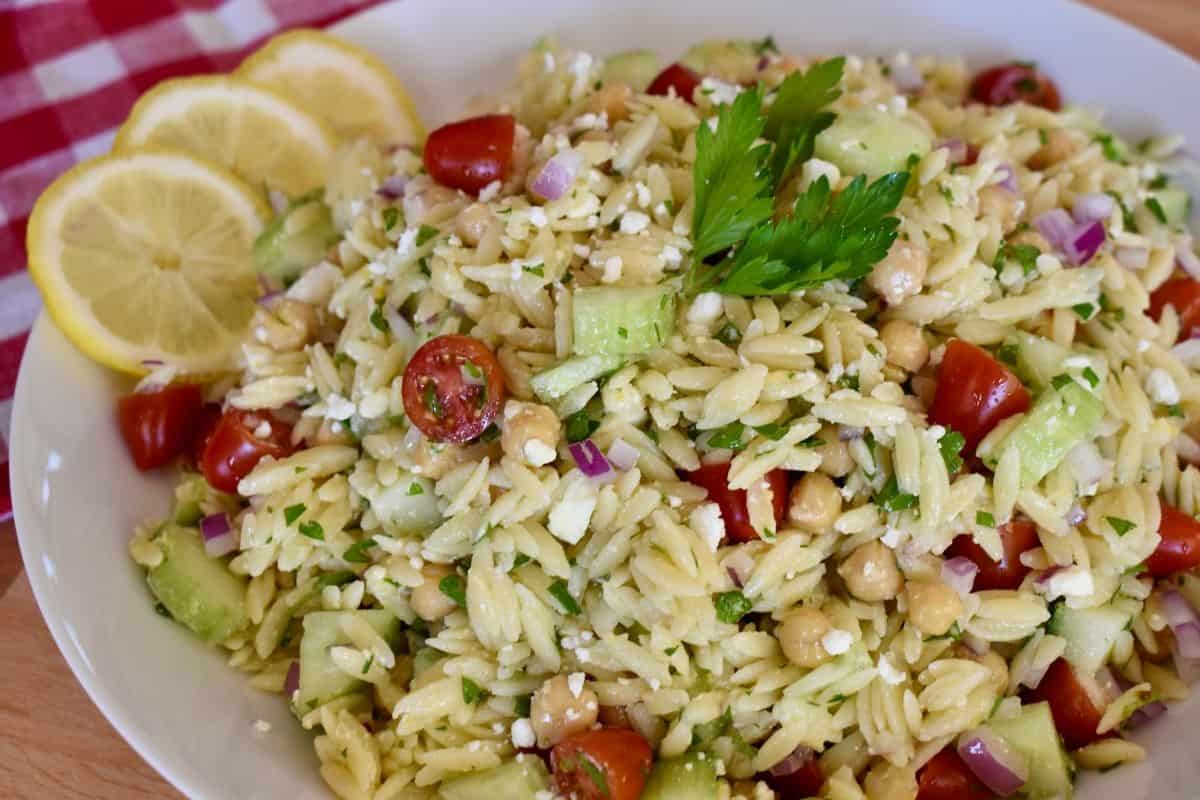 Garnish the salad with sliced lemon and sprig of parsley.
Recipe Tips and FAQs
To make the most delicious Lemon Orzo Salad, be sure to check out these tips and tricks.
Cook the orzo as you would any other pasta. Use a large pot of boiling salted water and cook until al dente. The only difference is you will rinse the orzo after it is cooked, which you wouldn't normally do with other pasta.
Toss the dressing with the orzo before adding the other ingredients. This will help it to get absorbed by the pasta.
Use whatever veggies or add ins you want in this salad. Fresh basil, mozzarella balls, red bell peppers, or cubed salami would all be delicious additions.
If you are making this ahead of time, save the feta and toss it in right before serving.
What's a good mayo free pasta salad?
If you are planning on having a party where the dishes are going to sit out, try to include sides without mayo. Anything with an olive oil base instead of dairy is a good option. Things like Lemon Orzo Salad or an Italian pasta salad would be a good choice.
How long does orzo pasta salad last in the fridge?
Any pasta salad should last about 3-5 days in the fridge. If you notice your pasta salad is dry, you can toss it with more dressing to loosen it up.
Is orzo like rice?
Contrary to it rice-like-shape, orzo is not rice and is actually a pasta. It should be cooked just like you would cook pasta, until al dente.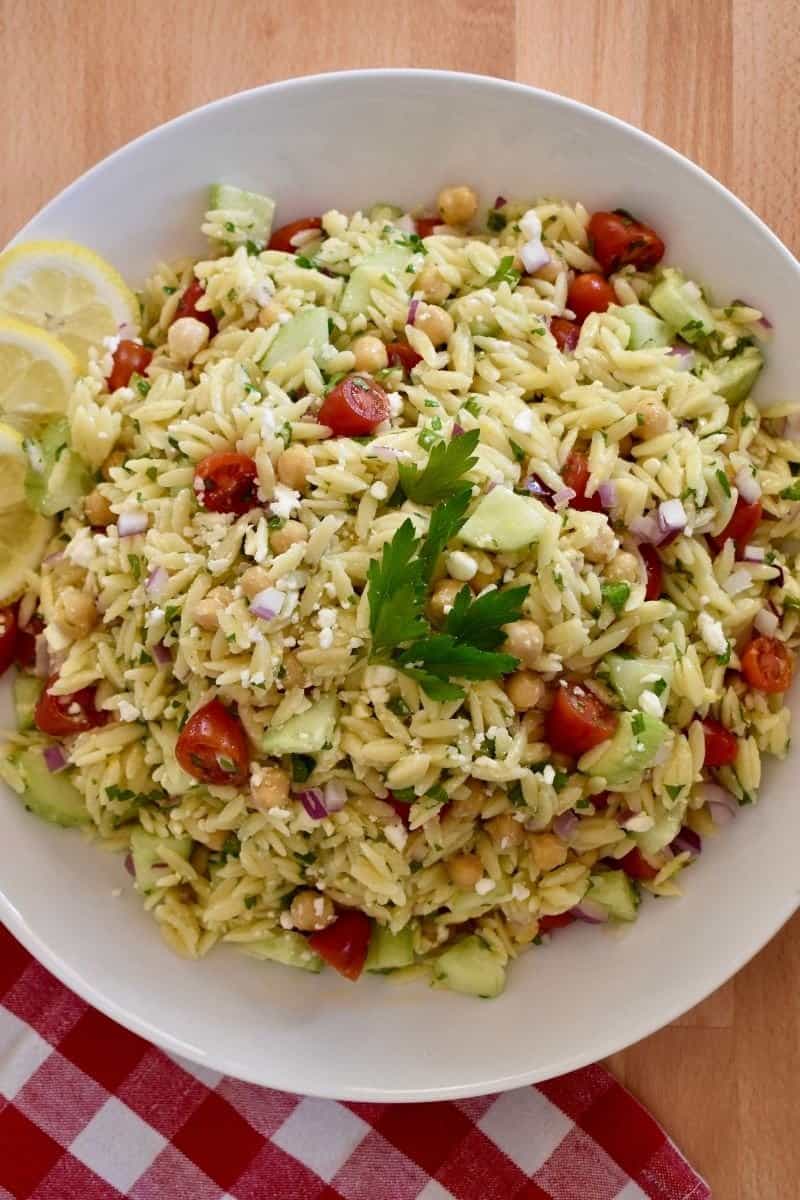 More Pasta Salad recipes!
Pasta Salads are a great dish to entertain with! You can make them ahead and you don't have to worry about serving them warm. Here are some fan-favorites you should definitely try: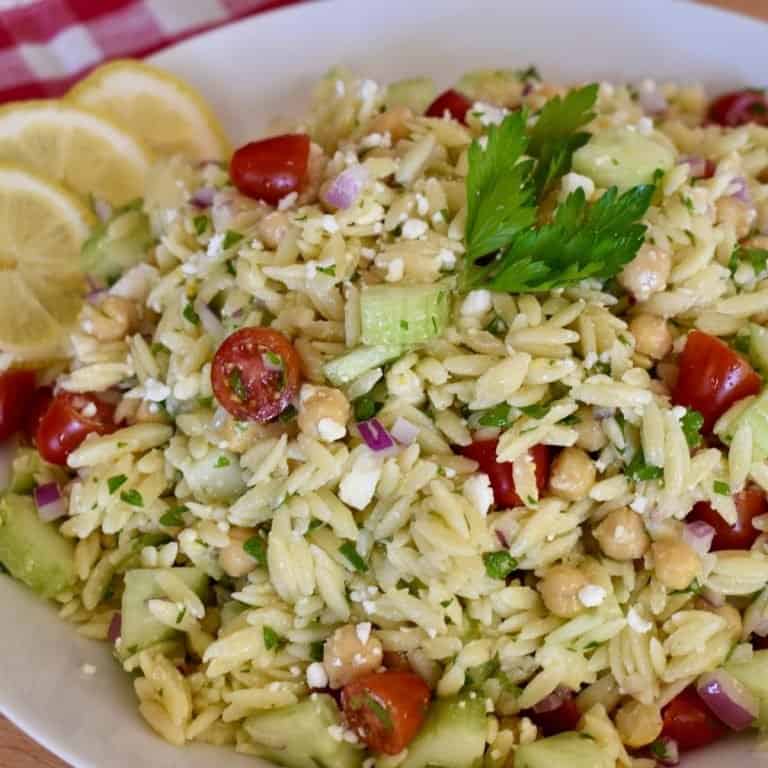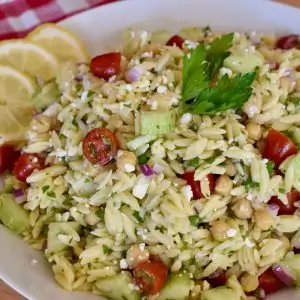 Lemon Orzo Salad
Lemon Orzo Salad is full of bright and lemony flavors. Feel free to use whatever veggies and mix ins you have on hand.
Print
Pin
Rate
Ingredients
1

pound

orzo pasta

15

ounce can

garbanzo beans, drained and rinsed

1

English cucumber, peeled and diced

1

cup

cherry tomatoes, halved

½

cup

red onion, diced

½

cup

feta cheese crumbles

¼

cup

parsley, chopped
Lemon Dressing
½

cup

olive oil

1

large

lemon, zested and juiced

1

tablespoon

dijon mustard

2

cloves

garlic, minced

½

teaspoon

kosher salt
Instructions
Bring a large pot of water to boil. Cook the orzo until al dente, according to package instructions. Drain and rinse; set aside.

In a large bowl, combine the cooled orzo, garbanzo beans, cucumber, tomatoes, red onion, feta cheese, and parsley.

In a small bowl, whisk together the olive oil, lemon zest and juice, dijon mustard, minced garlic, and kosher salt. Pour the dressing over the orzo and toss to combine.

You can serve immediately or refrigerate and serve chilled. Taste for seasonings before serving.
Nutrition
Calories:
334
kcal
|
Carbohydrates:
43
g
|
Protein:
10
g
|
Fat:
14
g
|
Saturated Fat:
3
g
|
Polyunsaturated Fat:
2
g
|
Monounsaturated Fat:
9
g
|
Cholesterol:
7
mg
|
Sodium:
343
mg
|
Potassium:
271
mg
|
Fiber:
4
g
|
Sugar:
3
g
|
Vitamin A:
270
IU
|
Vitamin C:
8
mg
|
Calcium:
74
mg
|
Iron:
2
mg