Delicious and easy make-ahead freezer breakfast burritos will make you look forward to the mornings. Made with bell peppers, cheese, turkey kielbasa sausage, and cheddar, this protein-packed meal will keep you satisfied all morning long!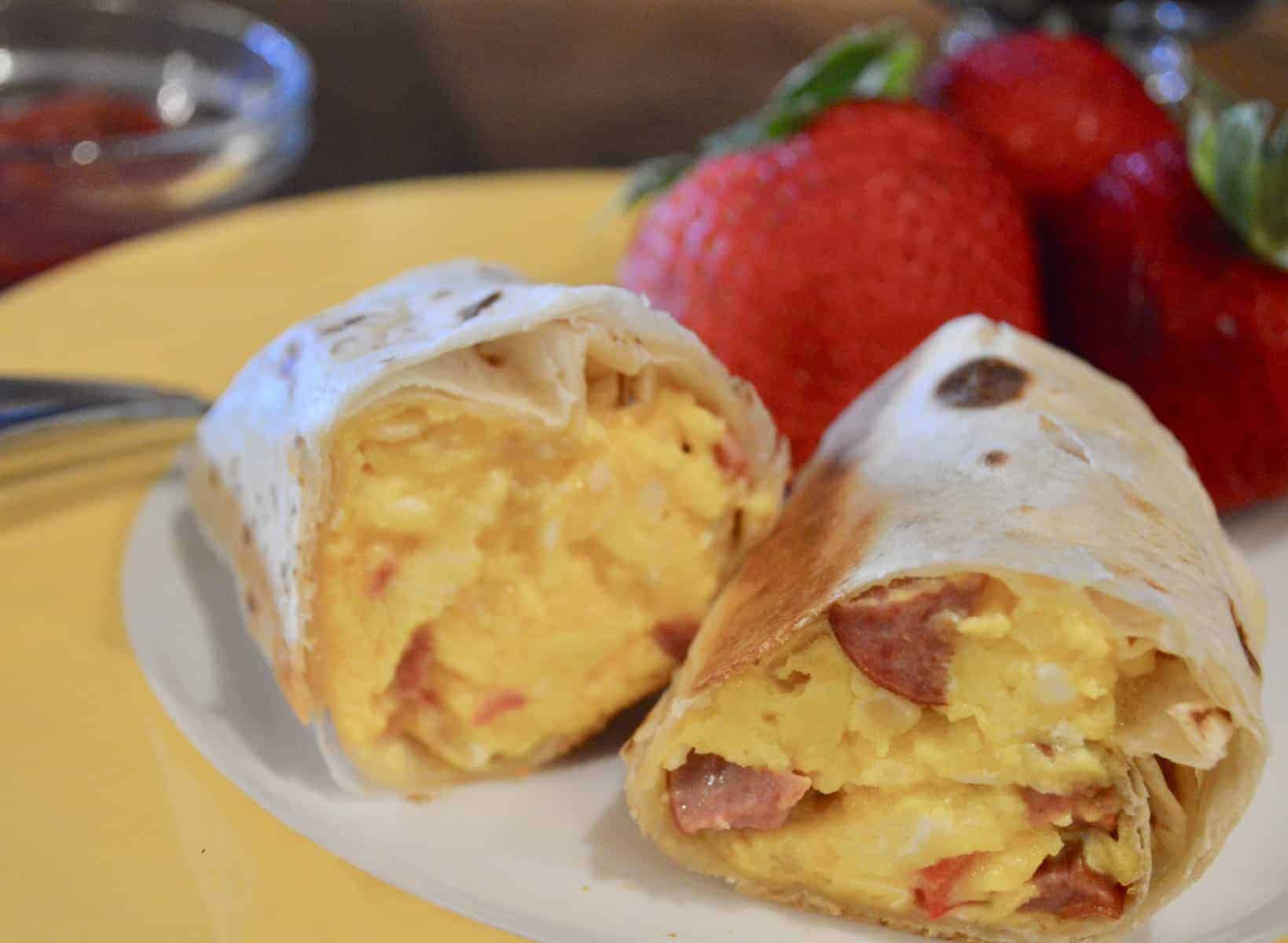 In my opinion, there is no better way to start the day than a breakfast burrito. Think of it as an omelet or scrambled eggs nestled into a tortilla. It is both portable and convenient… and totally delicious!
These Freezer Breakfast Burritos are great to make ahead and have on hand for the week. So simple to do and easy to reheat. They are also customizable using whatever cheese or meat you would like, or you could just load up on veggies instead. Also, I have had great results using whole wheat tortillas instead of white flour.
How To Make Freezer Breakfast Burritos
To make, just heat a skillet over medium high heat and cook the onions and bell peppers to soften. Add in the chopped turkey kielbasa or whatever meat you prefer and heat through. Pour in the beaten eggs, cheese, and salt, and cook until no longer runny.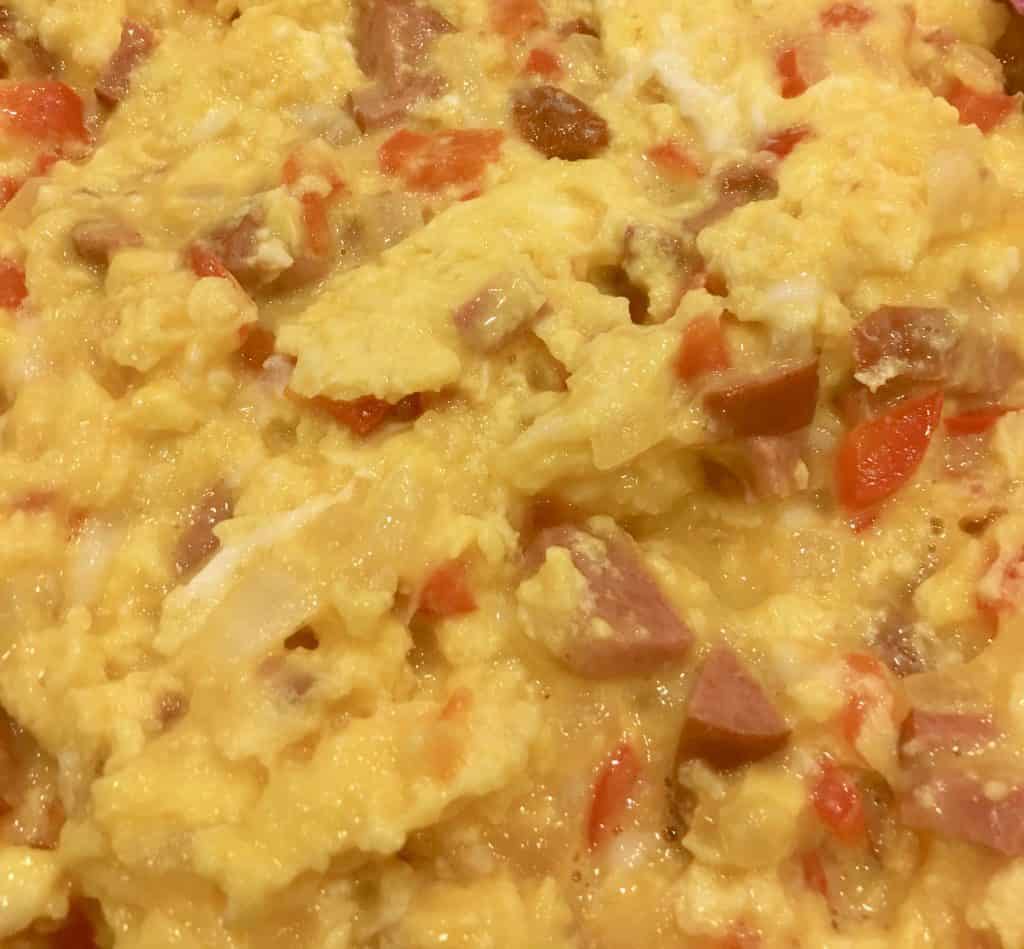 Place 1/8th of the egg mixture (about 1/2 a cup) into the middle of the tortilla. Fold in the sides and then roll into a burrito.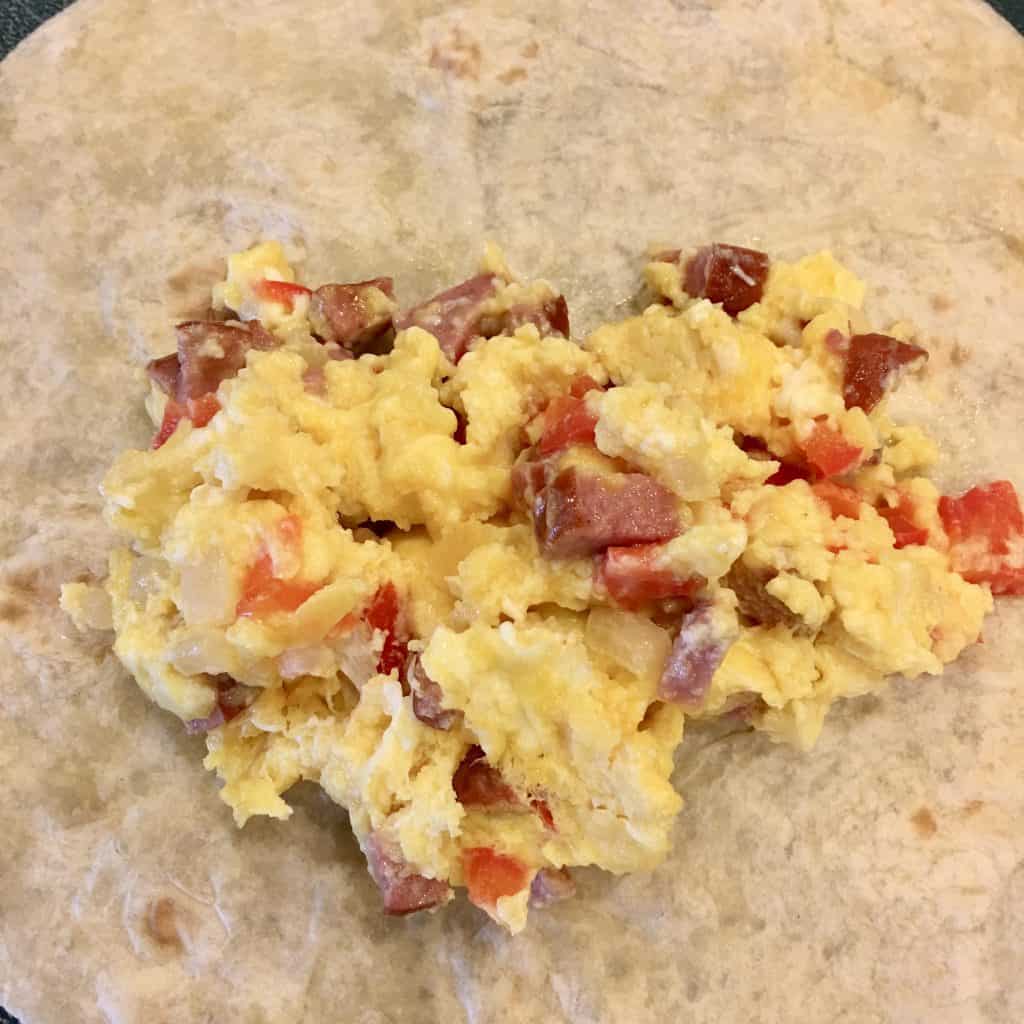 Place the Freezer Breakfast Burritos seam side down into a preheated skillet over medium heat. Cook until lightly brown and turn to brown the other side.
Wrap the burritos in parchment or wax paper and freeze until ready to eat.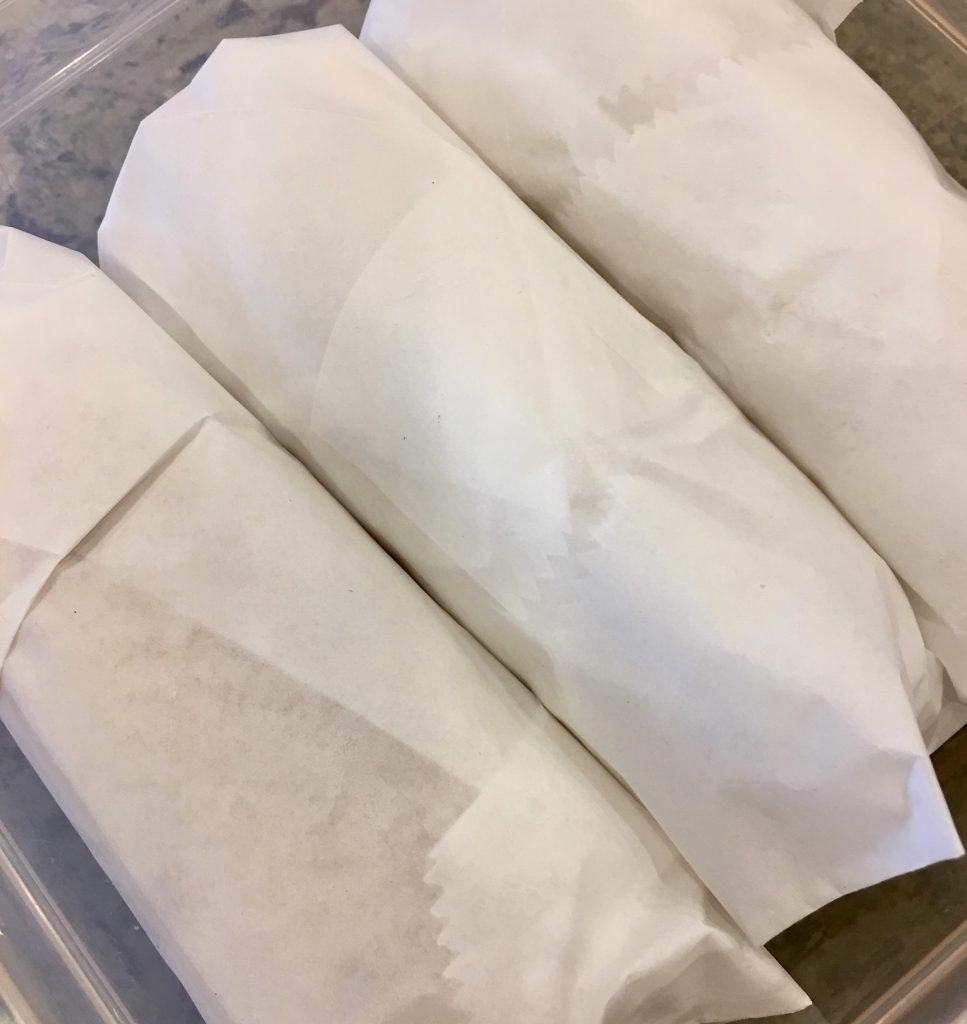 Store in an airtight container. When ready to eat, microwave in parchment wrap on high for 90 to 120 seconds. Let stand a minute before eating. Delicious, easy, and portable breakfast. Enjoy!
Freezer Breakfast Burritos
Delicious make-ahead Freezer Breakfast Burritos are an easy and quick way to fill your freezer with tasty a breakfast treat anytime!
Ingredients
2

teaspoons

olive oil

1/2

cup

onion, diced

1/2

red bell pepper, diced

1

cup

turkey kielbasa, diced

12

large

eggs, beaten

1/2

teaspoon

kosher salt

1

cup

shredded cheddar cheese

8

8-10 inch round

tortillas
Instructions
Heat oil in a large skillet over medium heat. Add onions and bell peppers and cook until softened, about 3 minutes. Add kielbasa and cook for another 2 minutes until warmed through. Lower heat to medium and add in beaten eggs, salt, and cheese. Cook, stirring occasionally, until eggs are scrambled and no longer runny. Set aside.

Heat a nonstick skillet over medium head. Lay out the tortilla and add 1/8th of the egg mixture to the middle (about 1/2 cup). Fold in the middles and roll to seal the burrito. Place the burrito seam side down in skillet and heat until lightly brown then turn and brown other side. Remove from heat and allow to cool slightly.

Wrap each burrito in wax or parchment paper and seal in an airtight container. Can be frozen for up to a month. To reheat, microwave in wax paper on high for 90 seconds to 2 minutes. Let stand for a minute before eating.
Notes
Can substitute other breakfast sausage or ham for turkey kielbasa.  
Check out my other two favorite make-ahead freezer-friendly egg dishes: Ham and Cheese Quiche and Breakfast Tart with Sausage and Cheddar.