Delicious and easy make-ahead freezer breakfast burritos with turkey sausage will make you look forward to the mornings! Made with bell peppers, cheese, turkey kielbasa, and cheddar, this protein-packed meal takes just minutes to prep and will keep you satisfied all morning long!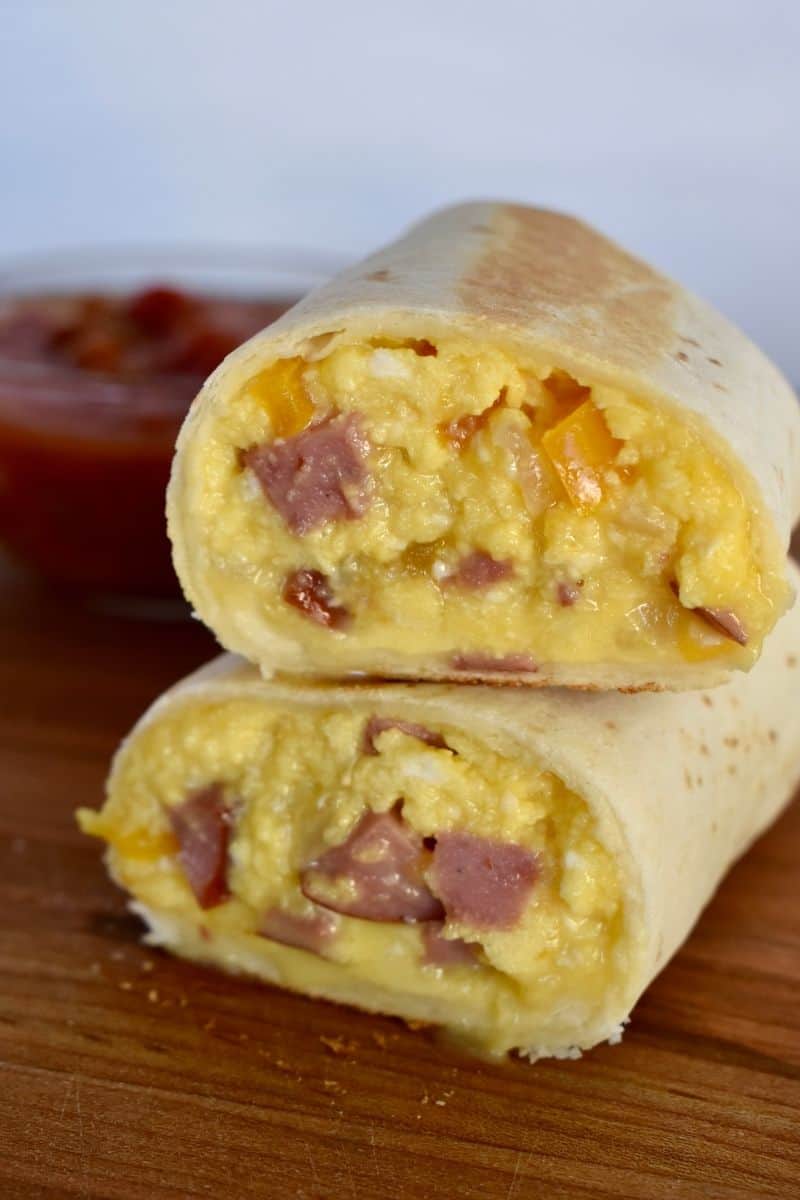 Why this Recipe works
In my opinion, there is no better way to start the day than a breakfast burrito. Think of it as an omelet or scrambled eggs nestled into a tortilla. It is both portable and convenient… and totally delicious!
These burritos are great to make ahead and have on hand for busy mornings. They are so simple to meal prep and reheat beautifully.
They are also customizable using whatever cheese or meat you would like, or you could just load up on veggies instead. Also, I have had great results using whole wheat tortillas instead of white flour.
Ingredients and Notes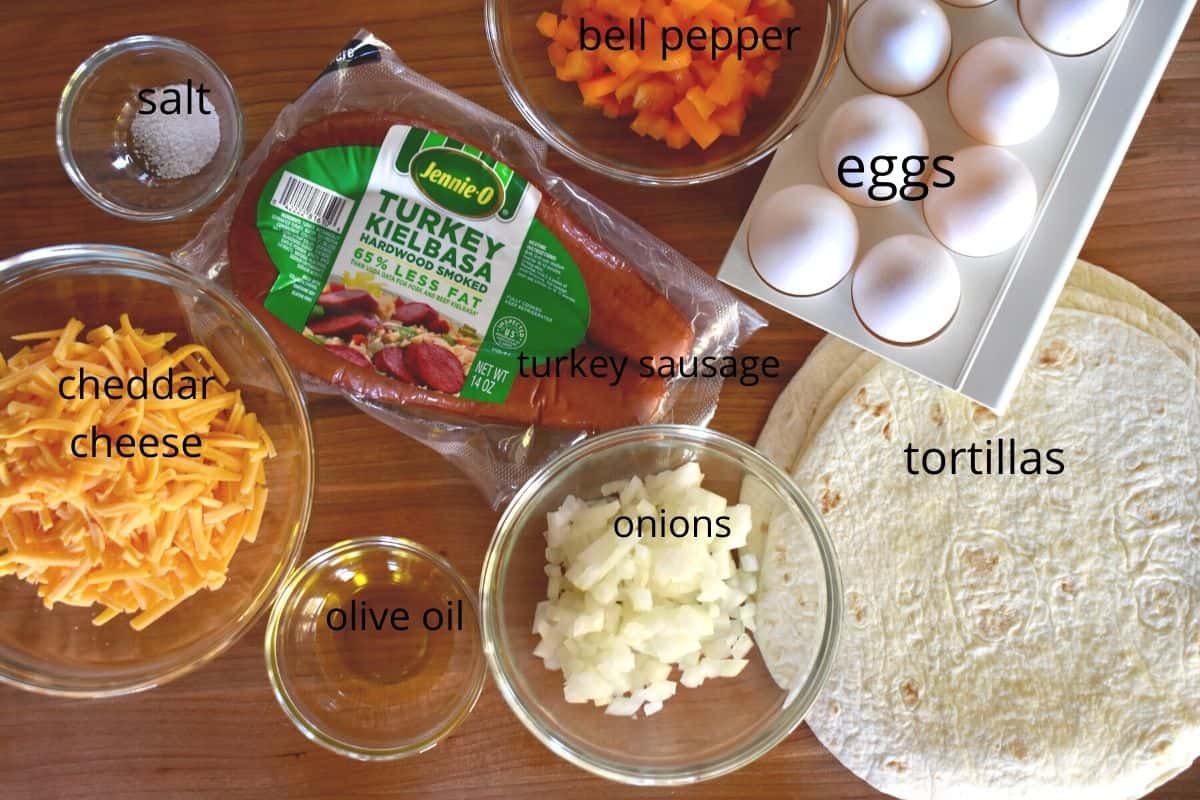 These burritos are made with simple ingredients and have so much flavor. Here you will need a dozen eggs, tortillas, diced onion and bell pepper, cheddar cheese, oil, salt, and turkey kielbasa.
This is also a great way to use up any extra veggies you may have on hand. Mushrooms, zucchini, or broccoli would all be delicious in these burritos.
Turkey Kielbasa: I like to use turkey kielbasa in this recipe because it's leaner than regular kielbasa and you don't need to brown it ahead of time like other breakfast sausage. However, you could always substitute other cooked breakfast sausage, bacon, or omit the meat altogether.
Cheddar Cheese: This is the one cheese I always have on hand and I know my kids are going to love. Feel free to use your favorite shredded cheese here – mozzarella or pepper jack would be delicious.
Tortillas: It wouldn't be a breakfast burrito without the tortilla! To make eight burritos I use 8 to 10 inch tortillas. However you could use larger tortillas and make less burritos or smaller tortillas and make more. Whole wheat or gluten-free tortillas are a great substitution here.
How To Make Freezer Breakfast Burritos
This recipe comes together in minutes and is perfect to have on hand for busy mornings. Prep on the weekend and have delicious burritos all week long!
To start, you will need heat a large pan over medium heat. Add in the oil and cook the diced onions and bell peppers until softened (step 1). Then, add in the diced turkey kielbasa and cook until heated through (step 2).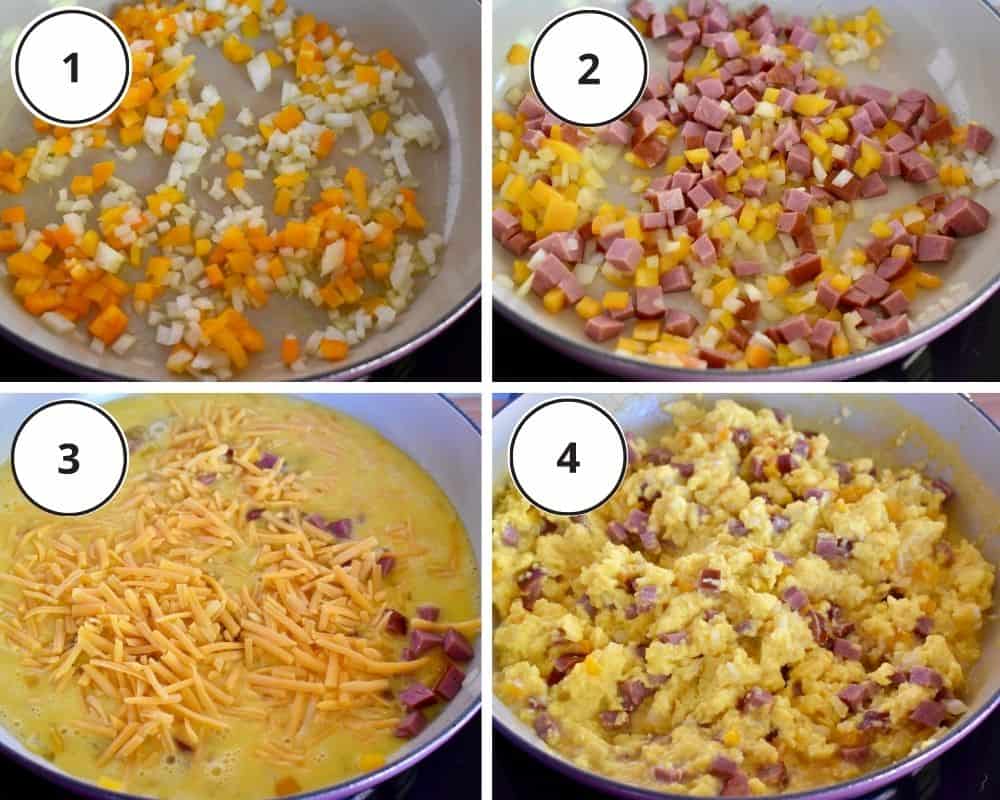 In a separate bowl, beat the eggs until well combined. Pour the mixture into the pan along with the cheddar cheese and salt (step 3).
Using a rubber spatula, slowly scrape the bottom of the pan while the eggs cook. You want to cook the eggs just until they are fluffy and cooked through (step 4). Remove from heat and set aside.
Next, scoop about ⅛th of the egg filling into the center of a tortilla (step 5). Fold in the sides of the tortilla then roll it up into a burrito. Place seam side down on a clean pan (step 6) and cook until light brown in color. Turn and repeat on other side.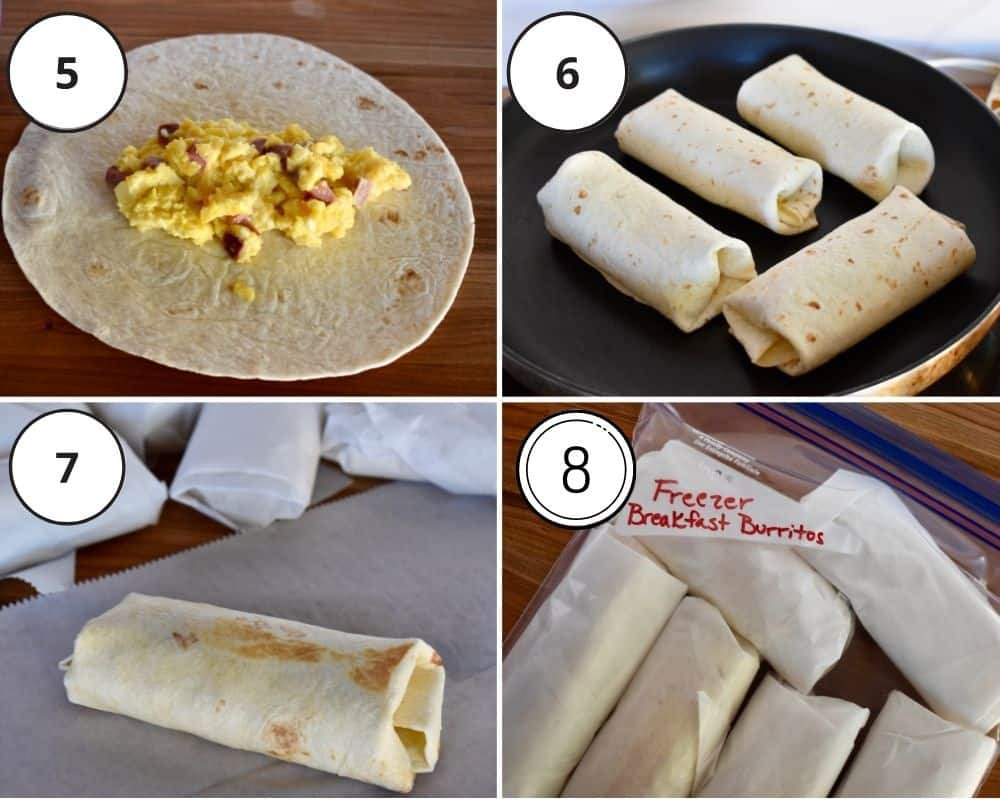 Wrap the burritos in individual pieces of wax paper or parchment paper (step 7). Roll up and place in airtight container or ziplock bag to freeze (step 8).
When ready to eat, microwave for about two minutes then let stand for a minute before eating. Serve with salsa.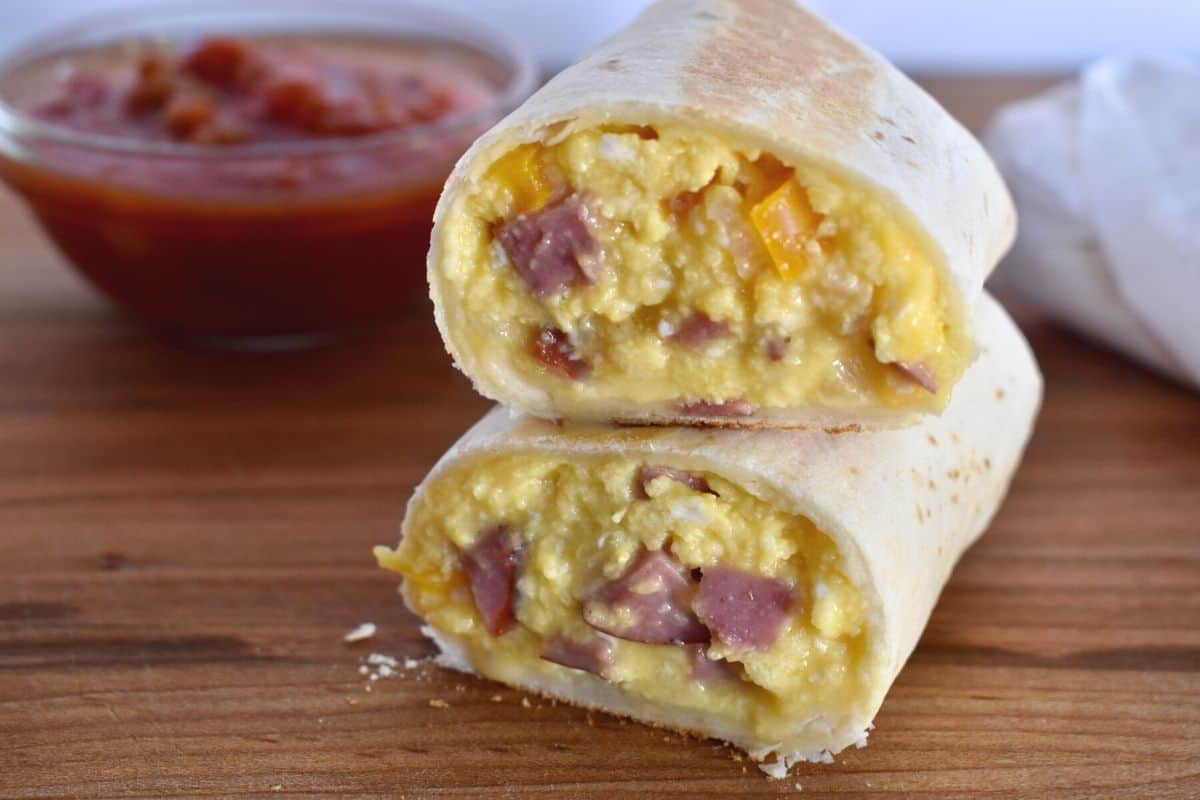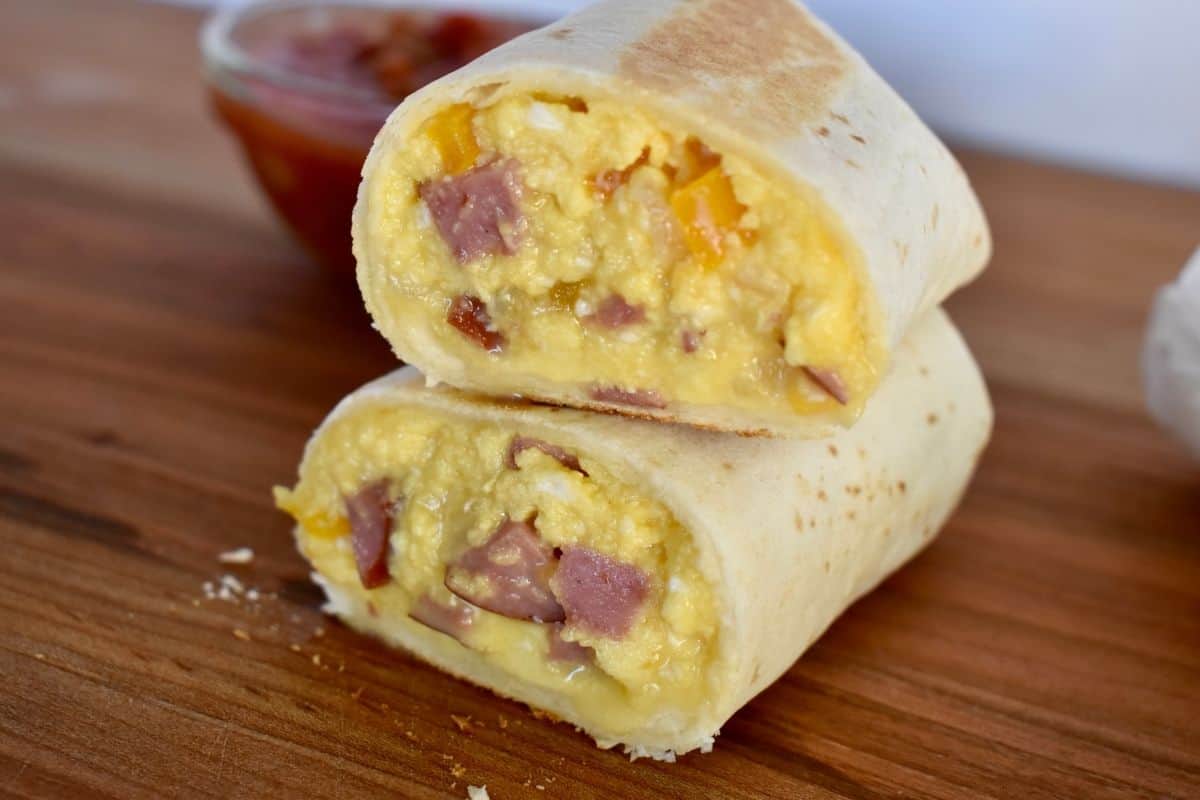 Related Recipes
Weekday mornings can be crazy! That's why it's important to have delicious breakfast options ready to go. Eggs recipes like this Asparagus Ricotta Frittata are great to make ahead and have on hand. Check out some of my other favorites:
And don't miss my other two favorite make-ahead freezer-friendly egg dishes: Ham and Cheese Quiche and Breakfast Tart with Sausage and Cheddar. For easy pancakes, be sure to try my Sheet Pan Pancakes from Mix recipe!