Get all of those classic stuffed peppers flavors you love in this easy to make Stuffed Peppers Skillet that's ready in 30 minutes! Made with Italian sausage and bell peppers, you're going to love this simple version of a classic.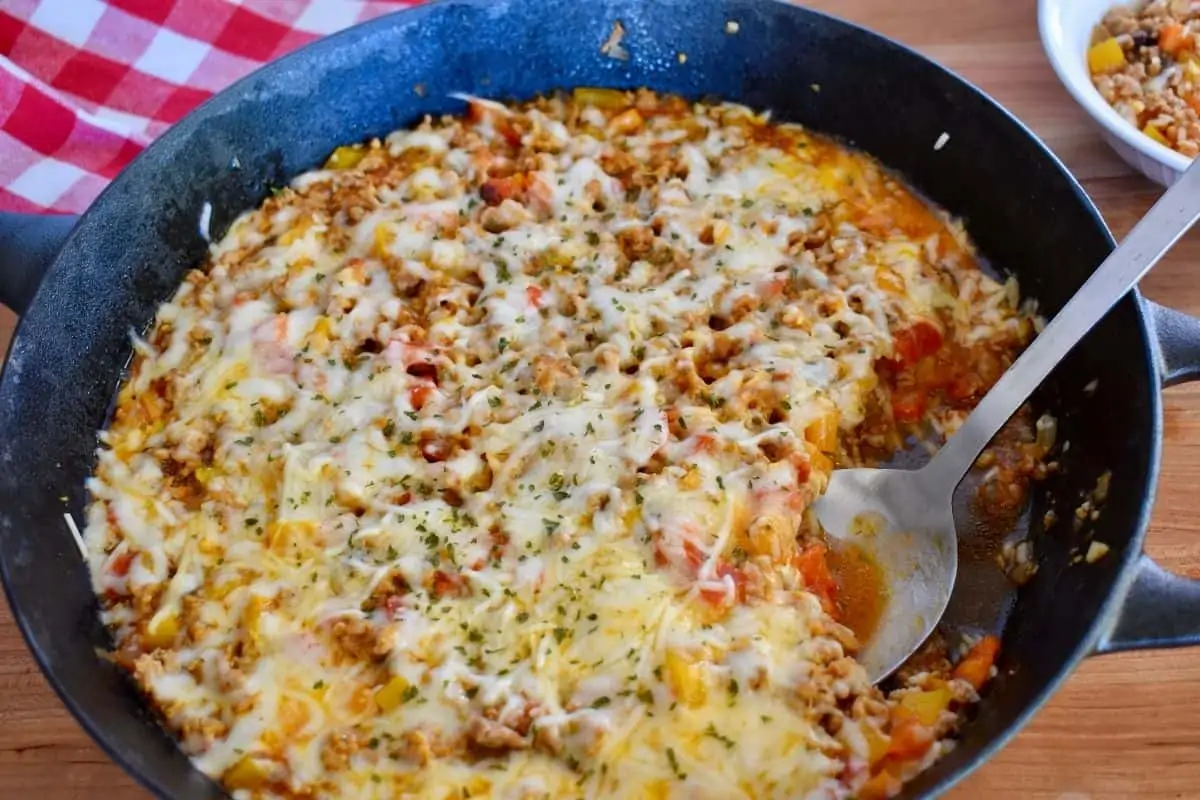 Why this recipe is the best
If you love stuffed peppers but hate the work that goes into making them, then this recipe is for you. Everything is done in one pan and is ready in much less time than it takes to make traditional stuffed peppers.
This is the perfect weeknight recipe too! It comes together quick and only requires a few minutes of active time. Plus, there is only one pan to clean up afterwards.
What sets recipe apart from others is the Italian sausage. It's adds the perfect flavors and makes this pepper skillet taste likes it's been cooking all day. Topped with mozzarella and parmesan cheeses, I guarantee it'll be your new favorite!
What Goes Into This Recipe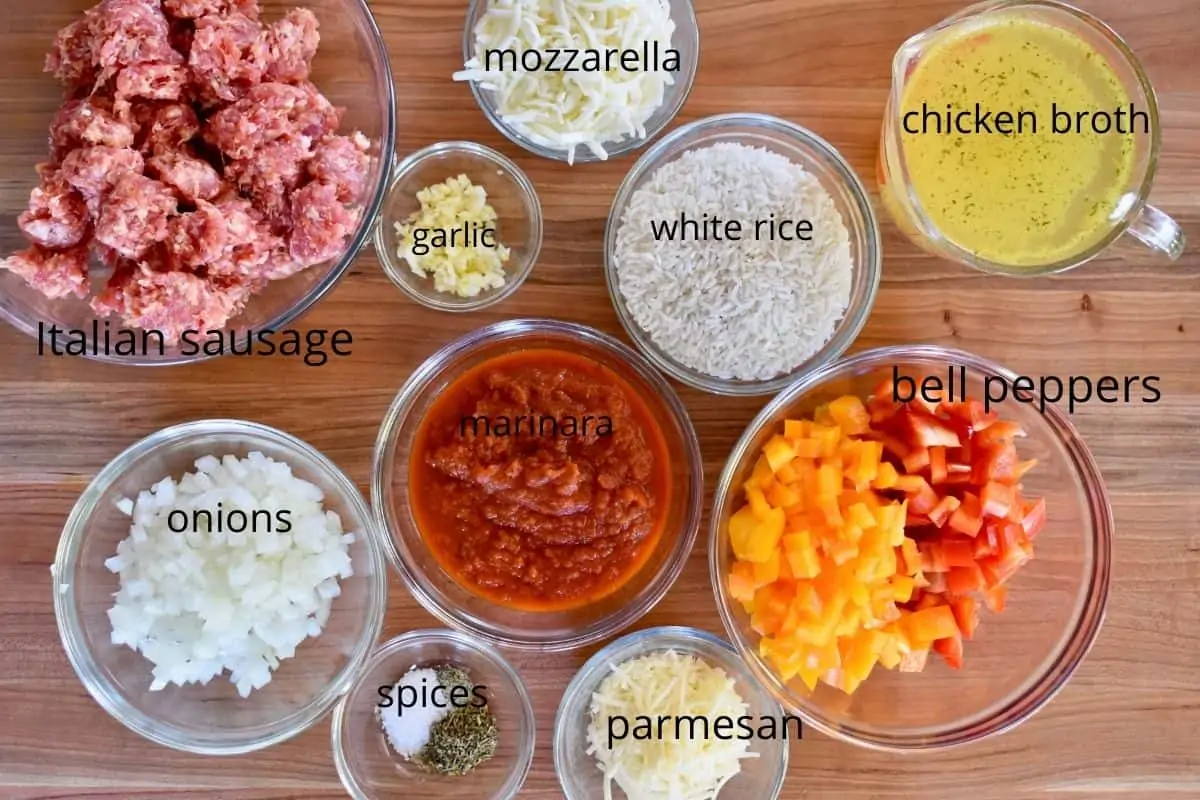 The ingredients are similar to what you'd find in traditional stuffed peppers including: bell peppers, ground meat, marinara sauce, rice, and cheese.
Ingredient Notes
Italian Sausage – About 5 links of sausage is used in this recipe. You can use either mild or spicy sausage depending on your preference. Since you are just using the meat inside the links, you can also use ground Italian sausage. In a pinch, you could use lean ground beef or ground turkey instead.
Bell Peppers – Any color bell pepper works in this recipe. I find that the red, orange, and yellow variety has more flavor than the green. You will need to seed and dice the pepper for the skillet.
White Rice – White rice is the typical grain used in stuffed peppers. I like it because it cooks quickly and gives the skillet volume. You could use brown rice but know that it will take about 40 minutes to cook instead of 20. Quinoa or farro would also be a tasty grain to use in this recipe.
How to Make Stuffed Peppers Skillet
For this recipe you will need a very large skillet with a tight fitting lid. You could also use a dutch oven or large pot.
To start, remove the sausage from its casing. Then, in a large skillet, cook the sausage until browned (steps 1 and 2).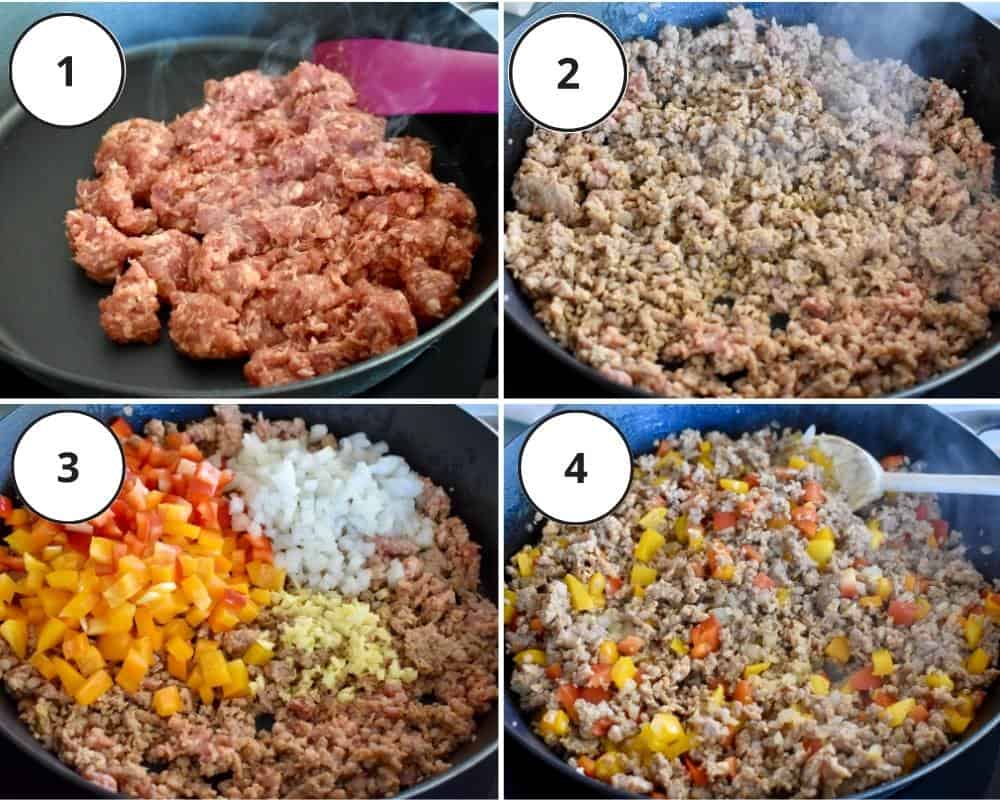 When the sausage is nearly cooked through, add in the diced bell peppers and onions (step 3) and cook until softened; about 4-5 minutes (step 4).
Stir in the spices, marinara sauce, and broth and bring to a low boil (steps 5 and 6). Stir in the rice and bring mixture to a low simmer (step 7). Cover with a lid and cook until rice is tender, about 20 minutes.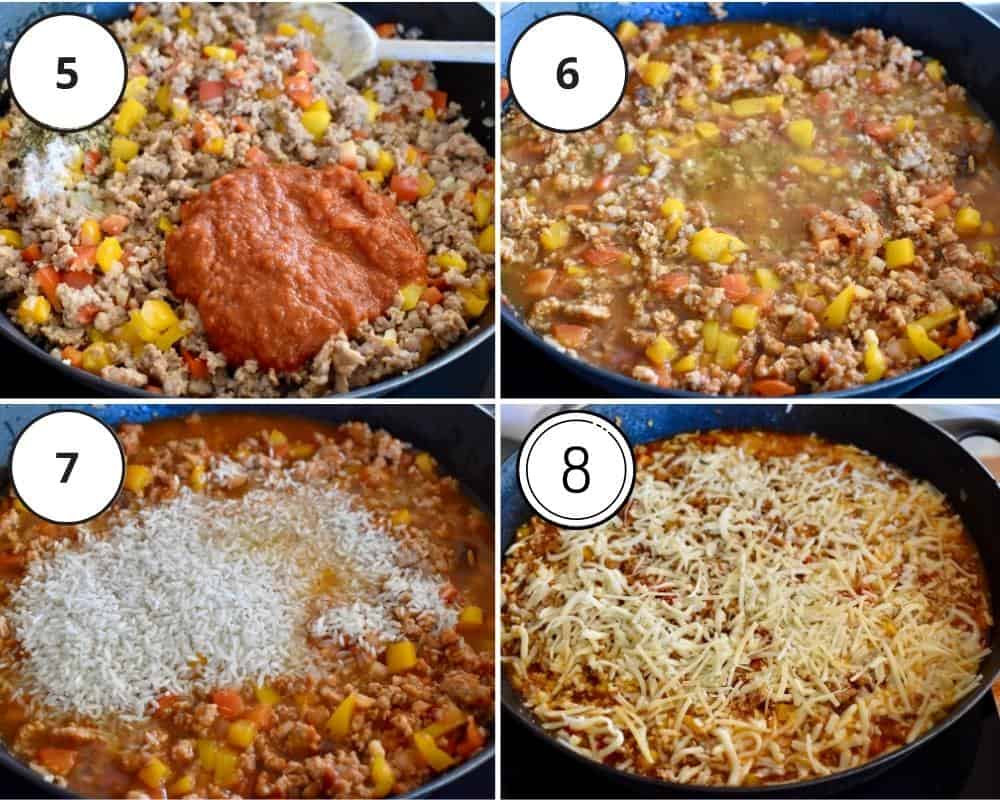 Add shredded mozzarella and parmesan to the top of the skillet (step 8). Place the lid back on and let sit for 5 minutes before serving.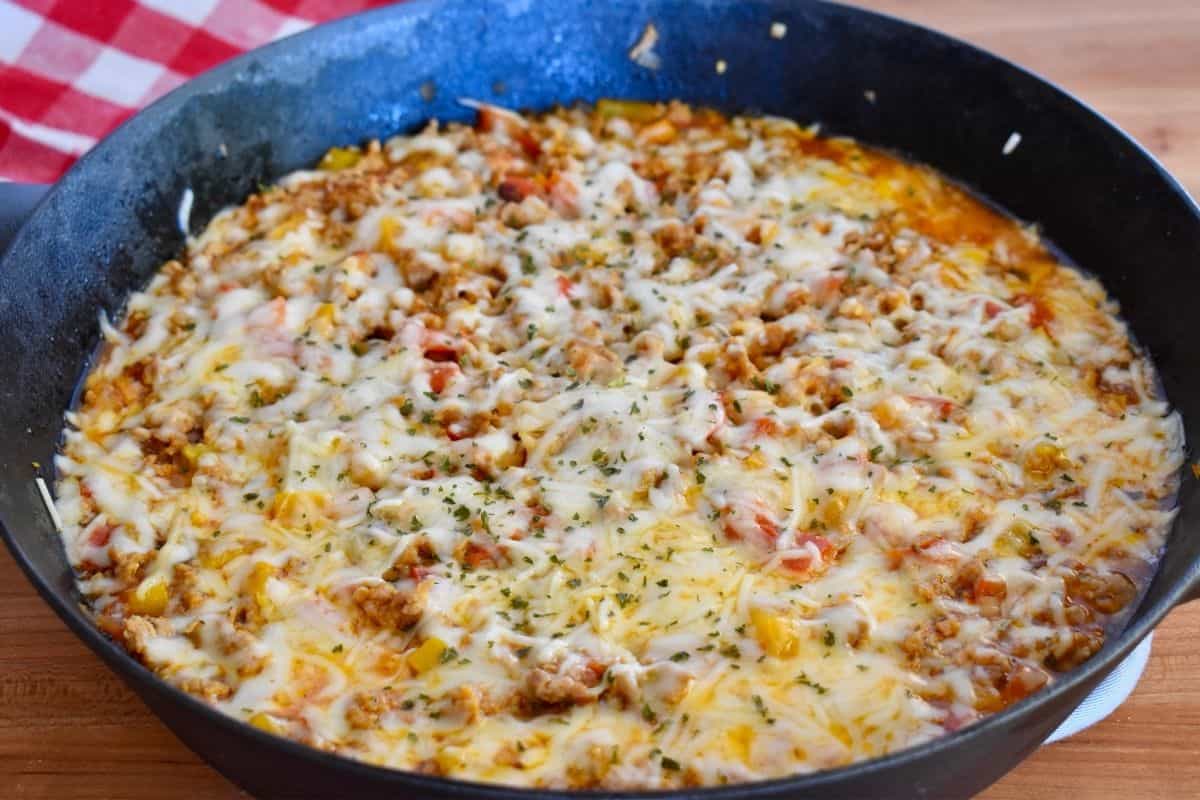 What Goes Good with this Recipe
This is a great one-pot meal. But if you're craving a little more to go with this recipe, try this Bruschetta Salad made with tomatoes and day-old bread. Another great option is this Italian Tomato Onion Salad topped with delicious red wine vinegar dressing.
Craving a little something sweet to go with your stuffed peppers skillet? Try these Cinnamon Sugar Blondies or my Cranberry Magic Bars.
Related Recipes