Fruitcake Cookie Bars have all of those holiday flavors you love in an easy-to-make cookie bar! This simple recipe comes together quick and is great to include in your Christmas baking list.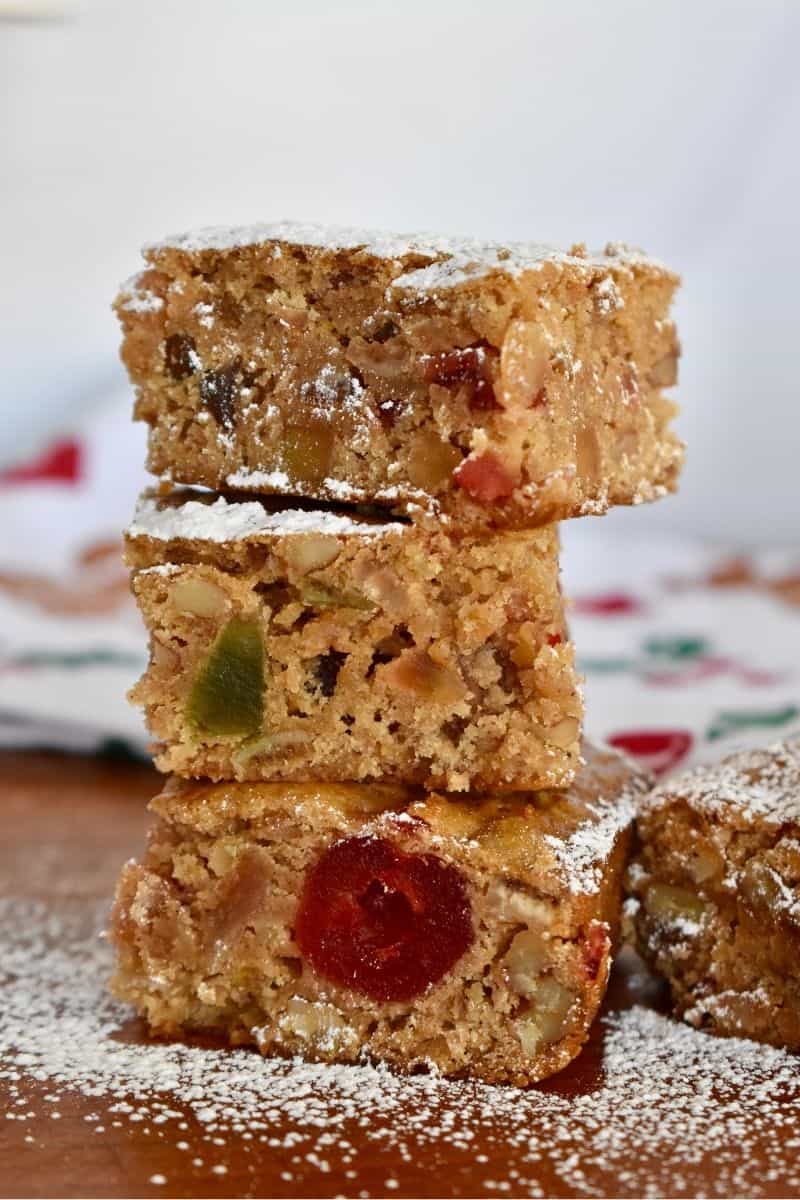 For another delicious holiday bar recipe, be sure to try these Cranberry Shortbread Bars!
Why you should make this recipe!
These cookie bars will give even fruitcake haters a reason to smile. I know that the word "fruitcake" is polarizing, but I promise this recipe will have you reconsidering your thoughts of fruitcake past.
While traditional fruitcake is a dense and often alcohol-infused cake, these fruitcake cookie bars are soft and palatable with a hint of candied fruit and Grand Mariner flavors.
This recipe is also super make-ahead friendly. As with traditional fruitcake, these bars can be made in advance. It's a great way to get a jump start on your holiday baking.
Plus, this recipe is totally customizable. There are plenty of substitutions available and ways to customize to your tastes. And, if you love holiday desserts, be sure to check out this Cranberry Ricotta Cake or Cranberry Magic Bars. For a simple sweet treat, don't miss these Peanut Butter Shortbread Bars!
Ingredients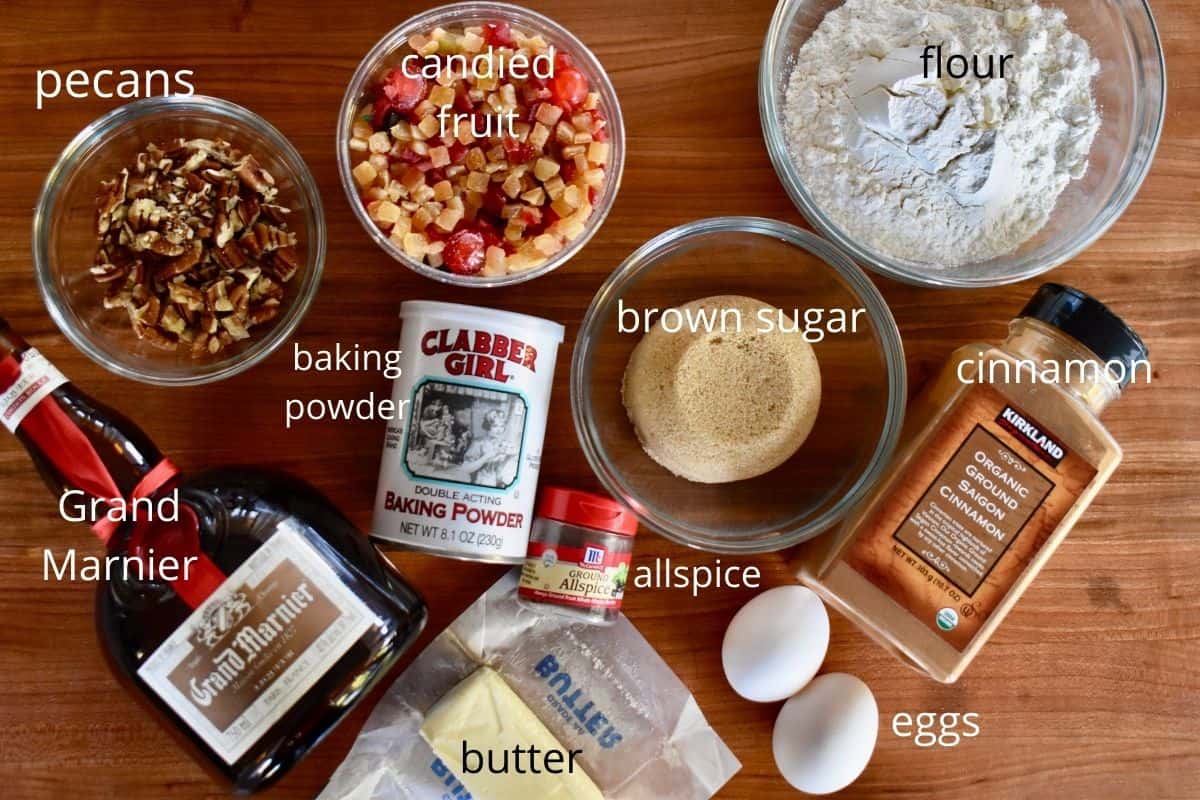 The ingredients for the recipe are simple and you probably have most on hand. They include: flour, baking powder, brown sugar, salt, cinnamon, allspice, eggs, pecans, Grand Marnier, and candied fruit. Many substitutions and customizations are available. See the ingredient notes below:
Candied Fruit – for this recipe I used a 1 pound store-bought container of Paradise Fruitcake Mix containing candied cherries, pineapple, citron, lemon peel and orange peel. However, you can use whatever combination of candied fruits you like. You will need a pound of candied fruit total.
Grand Marnier – soaking the fruit and nuts in liqueur is a necessary step when making fruitcake. Traditionally, the candied fruit is soaked in rum, brandy, or whisky. I like the subtle orange flavor of Grand Marnier, but you can use whatever liqueur you like.
Pecans – diced pecans give this recipe a festive feel. Walnuts, almonds, or any combination of nuts are suitable substitutes in this recipe.
Read on to see how simple it is to make this festive holiday recipe!
How to Make Fruitcake Cookie Bars
Gone are the days of having to prepare fruitcake a month in advance! This recipe comes together fast and is ready to eat in an hour.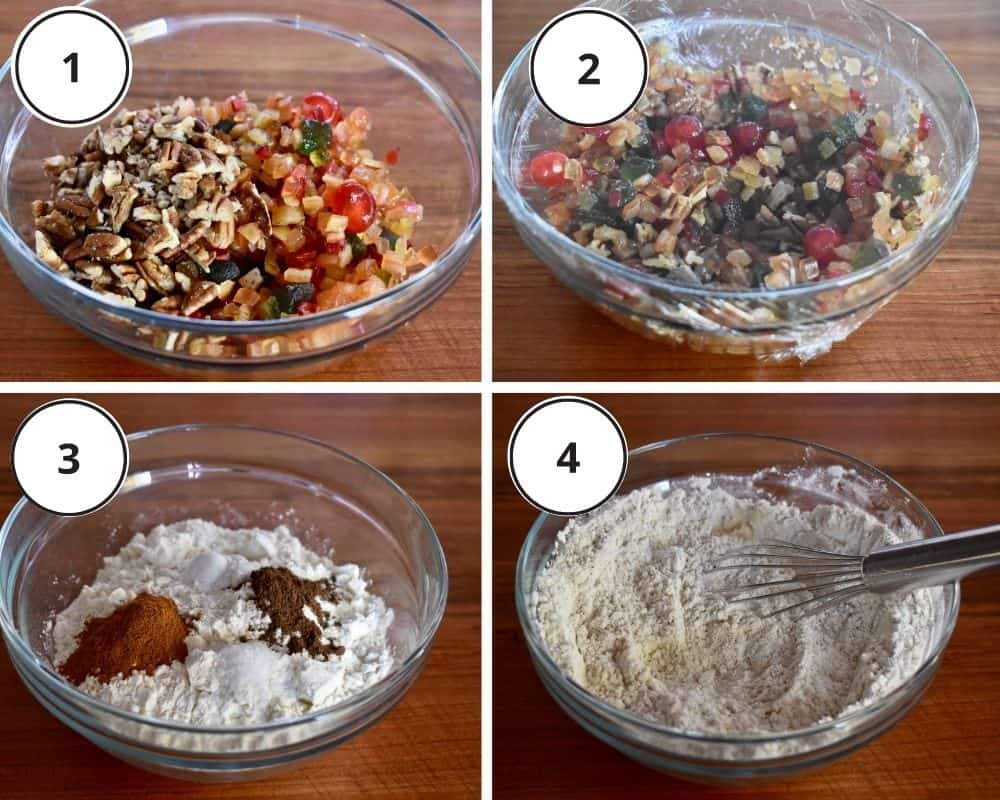 To start, combine the candied fruit, diced pecans, and Grand Marnier together in a microwave safe bowl (step 1). Cover tightly with plastic wrap and microwave on high for 2 minutes (step 2). Let sit for 10-15 minutes while you prepare the remaining ingredients.
For the dry ingredients, in a medium bowl whisk together the flour, baking powder, cinnamon, allspice and salt (steps 3 and 4). Set aside while you prepare the rest of the batter.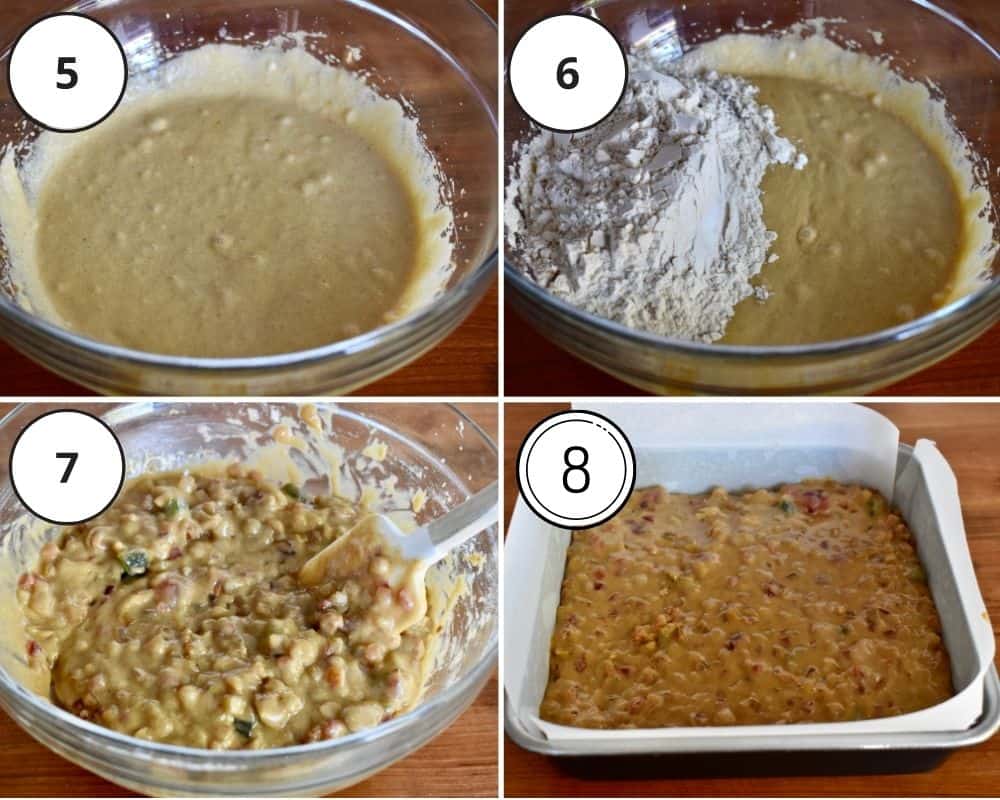 Then, in a large bowl, use a handheld mixer to beat together the brown sugar and eggs, about 2 minutes. Add in the melted butter and mix to combine (step 5). Pour in the flour mixture and mix until batter is fully combined (step 6).
Lastly, fold in the fruit and nut mixture and use a rubber spatula to combine (step 7). Pour the batter into a prepared baking pan that has been lined with parchment paper (step 8).
Bake your fruitcake cookie bars for about 50-60 minutes, or until a toothpick inserted in the middle of the bars comes out clean. You will know the bars are done when they start to pull away from the edges of the pan. Let cool before slicing.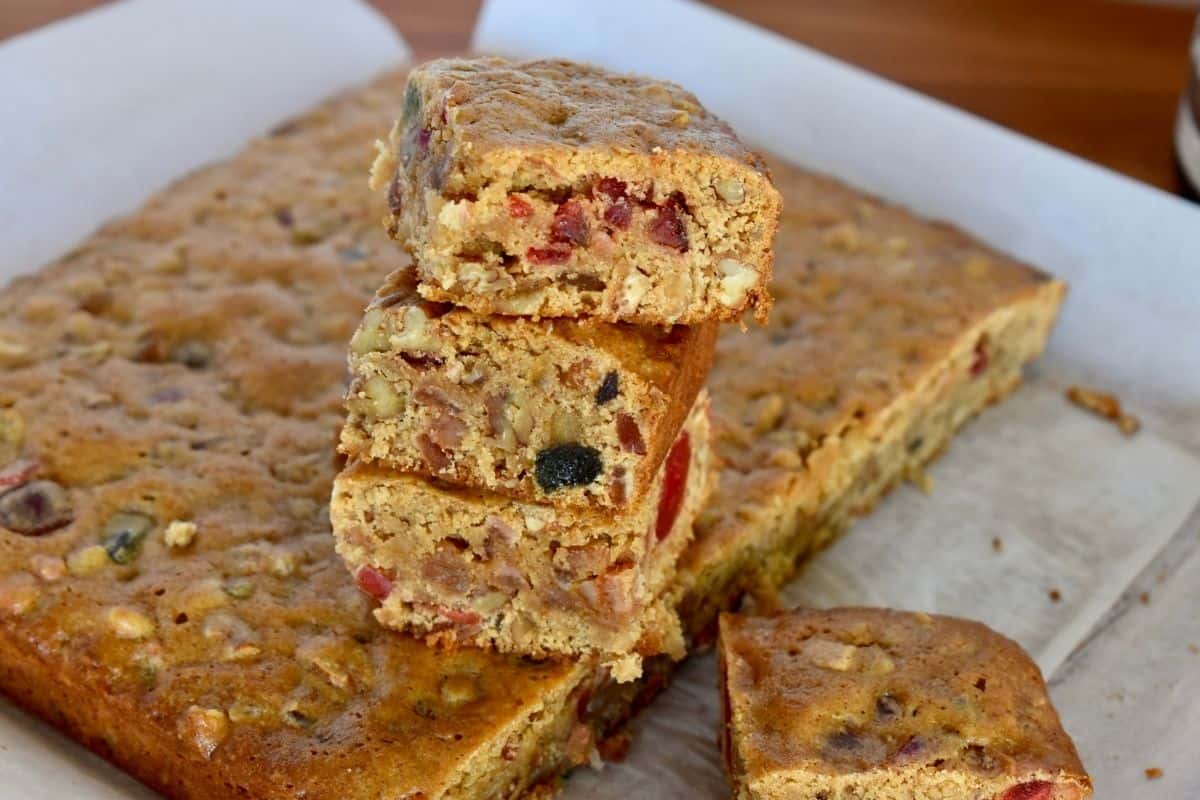 You can serve as is or top with a sprinkle of powdered sugar for a more festive look. Store in an airtight container in the refrigerator for up to two weeks, or in the freezer for up to three months.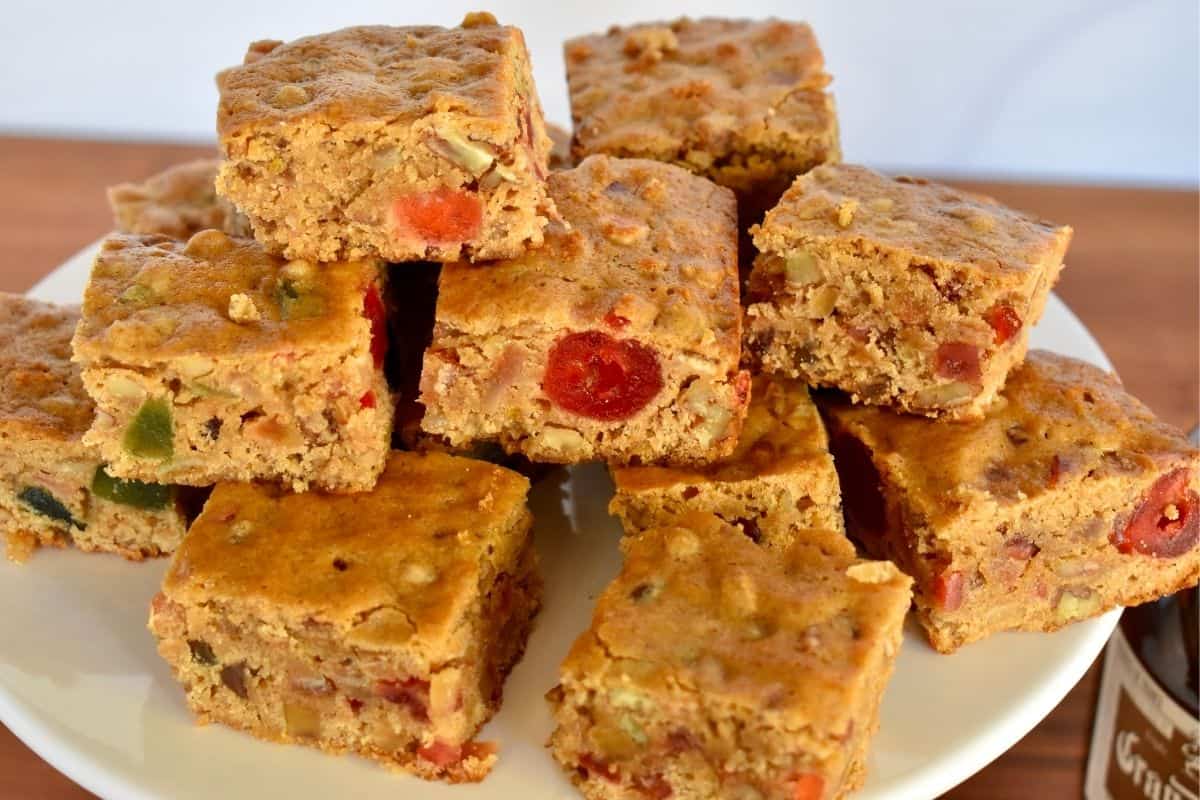 Related Recipes
If you love simple and festive desserts, be sure to check out these other favorites: