Eggnog Cheesecake Bars are the BEST treat for the holidays! These delicious and creamy bars are the perfect way to make-ahead cheesecake for a crowd. Whip up a batch for the holidays today!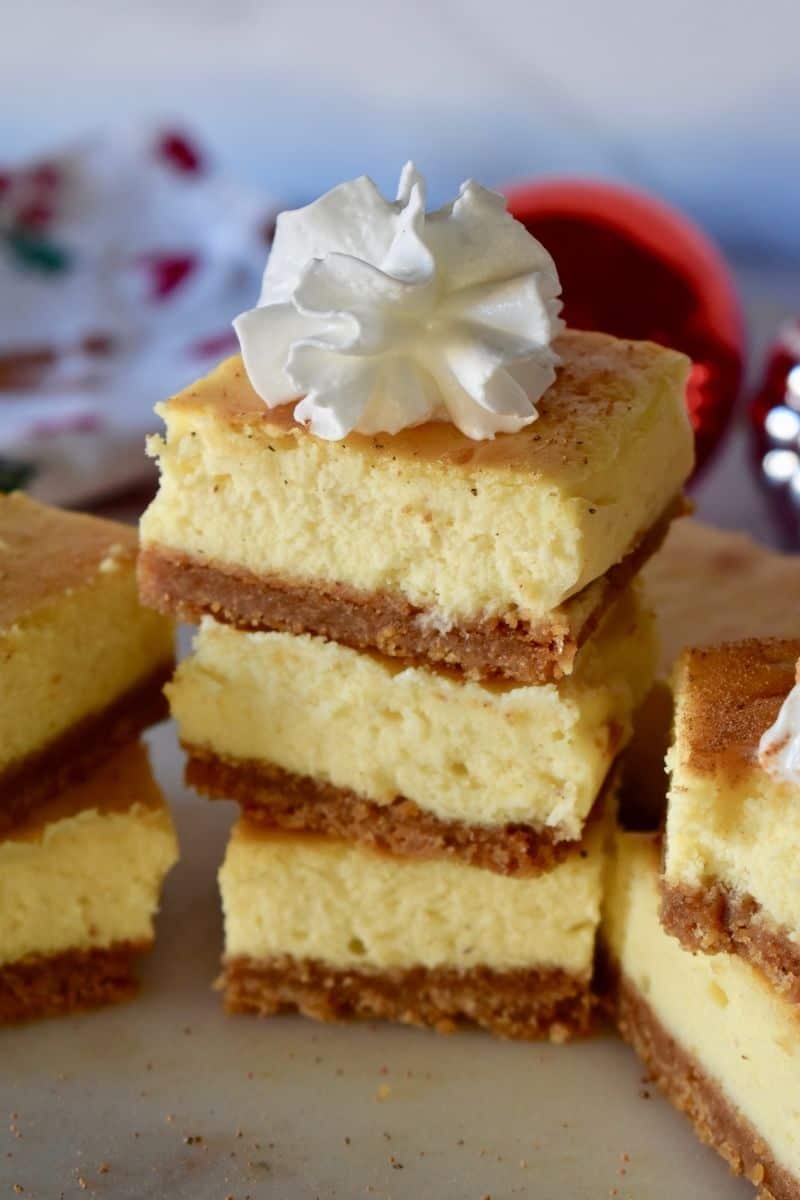 Why this recipe is the best!
While traditional cheesecake can be a labor of love, these bars have all of the cheesecake flavor and texture you love, with a lot less work and fuss. They have been tested and perfected and are sure to become your new family favorite.
Plus, if you love eggnog, these bars give you that flavor without being overpowering. Both adults and kids are going to love the sweet smooth taste of this dessert.
And, if you have leftover eggnog, you can also use eggnog to make a tasty overnight Baked Eggnog French Toast Casserole or this Eggnog Bundt Cake. Also, if you are looking for a truly special cheesecake recipe, be sure to try my Amaretto Mascarpone Cheesecake. And if you want a no-bake treat, try my no-bake Lemon Mascarpone Cheesecake is a fan favorite!
For another fun take on traditional holidays desserts, try this Fruitcake Cookie Bars recipe! And, if you love churros, be sure to check out this Churro Cheesecake Bars recipe!
Ingredients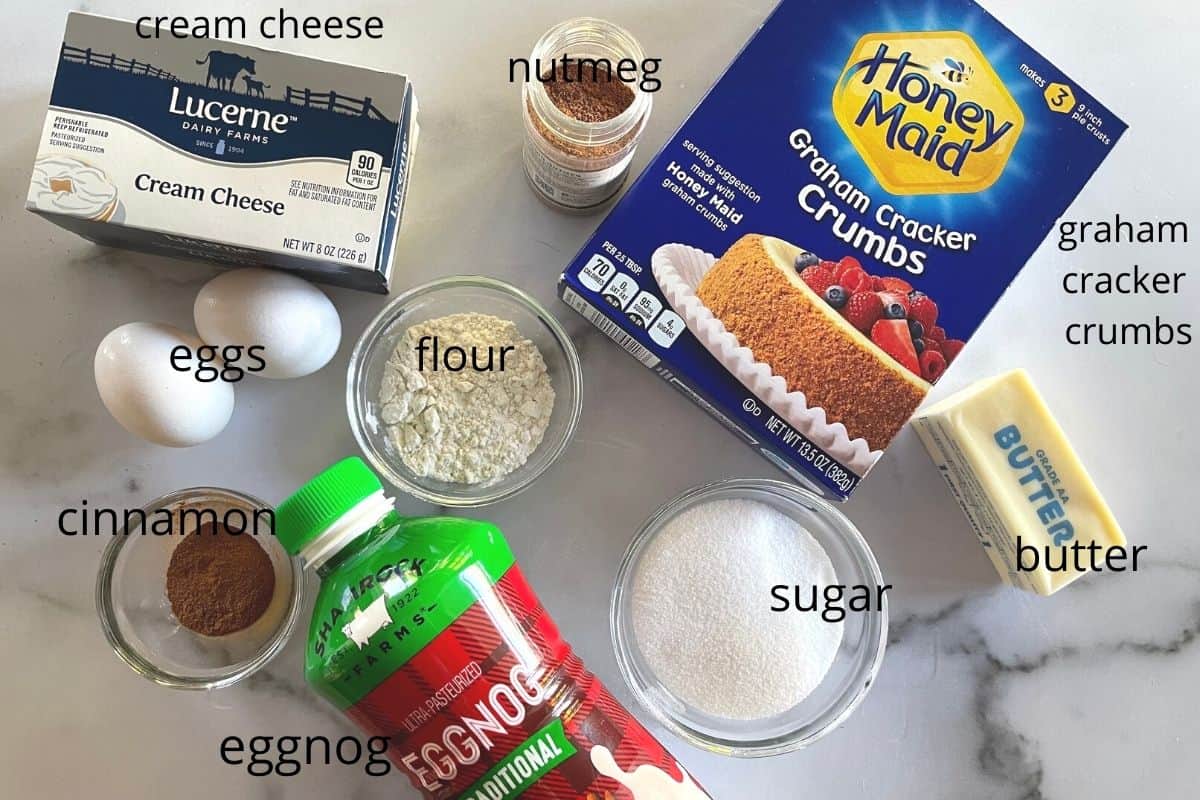 The ingredients for Eggnog Cheesecake Bars are easy to find and fairly standard for cheesecake with some additional touches to make it extra special.
For the crust, you will need graham cracker crumbs, butter, sugar, cinnamon and nutmeg. For the filling, you will need cream cheese, sugar, flour, eggnog, nutmeg, and eggs.
Cream Cheese: If possible use the full-fat cream cheese for this recipe. Low fat versions can be substituted, but they won't give as smooth and creamy of a texture. Make sure the cream cheese is room temperature before starting the filling.
Eggnog: Use the store-bought eggnog you find in the dairy section here. Note that this recipe calls for the non-alcoholic eggnog. Again, use the full-fat version rather than low fat if you can find it.
Nutmeg: The nutmeg really makes this recipe special. It gives amplifies the flavors of the eggnog. Either freshly grated or jarred nutmeg work here.
And, for another festive holiday dessert, be sure to try these Fresh Apple Caramel Squares!
How to make Eggnog Cheesecake Bars
You can make these bars a standard 9 x 9 inch baking pan. To make serving simple, I suggest lining the pan with foil (leaving an overhang) so you can easily remove the bars from the pan when they are set. Spray the foil with nonstick cooking spray to ensure that the bars don't stick.
To make the crumb bottom, mix together graham cracker crumbs, sugar, nutmeg, and cinnamon. If you are using graham cracker sheets to make the crumbs, simply place 12 graham cracker sheets in the food processor and pulse until a fine crumb forms.
Next, add in the melted butter and mix until combined. The mixture will resemble coarse wet sand. Press into the prepared pan (step 1). Bake the crust for 10 minutes in a 350 degree oven. While the crust bakes, prepare the filling.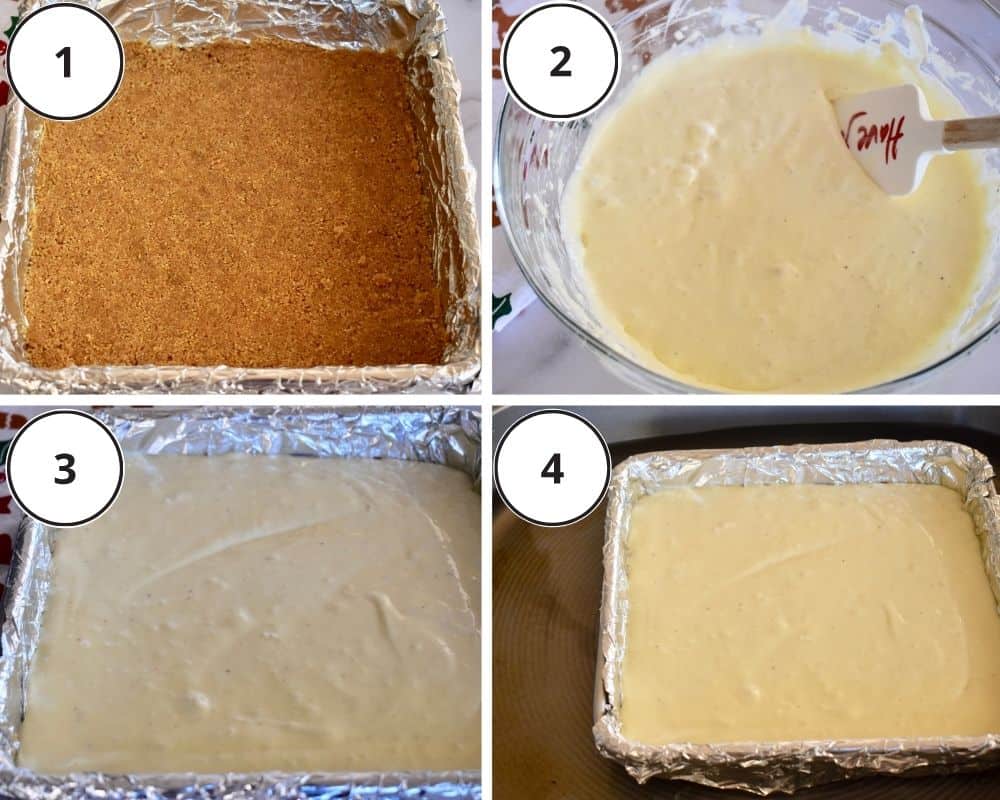 Use a handheld mixer to mix together the cream cheese, sugar, and flour until light and fluffy. Then, mix in the eggnog and the eggs, beating between each addition. Scrape down the sides of the bowl to ensure that all of the ingredients are fully incorporated (step 2).
Pour the filling over the crust and smooth using a rubber spatula (step 3).
Place the bars in a large pan, like a roasting pan. Fill up the pan with about an inch of warm water to make a water bath for the bars (step 4).
Baking Instructions
If you are using a water bath, you will need to bake the bars slightly longer. The total bake time will run about 40-50 minutes, or until the center of the bars look set. Be sure to be extra careful removing the pan from the oven so that you don't splash water and burn yourself, or get water into the cheesecake.
However, without a water bath, these bars take only about 30-40 minutes to bake. Again, you want to make sure the center of the bars look set. You can check for doneness using a toothpick inserted into the center of the bars.
Let the bars cool on a cooling rack for a least an hour. Then transfer to the refrigerator and let cool at least 3 hours before serving. You can make this up to three days in advance and just leave covered in the refrigerator until ready to slice.
Expert Tips
Here are some tips and tricks to ensure your eggnog cheesecake bars come out perfect every time!
Line the pan with foil so that the bars can easily be removed and cut.
Use room temperature cream cheese to get a smooth cheesecake filling.
Don't go low-fat here! If possible, try to stick to the full-fat cream cheese and eggnog versions if you can.
Cool the bars on a wire rack then chill for at least 3 hours before cutting. You can also make up to 2 days in advance and refrigerate until ready to cut and serve.
To get clean lines when cutting, be sure to use a sharp knife and wipe it down in between cuts.
Top with a dollop of whipped cream and a sprinkle of nutmeg right before serving.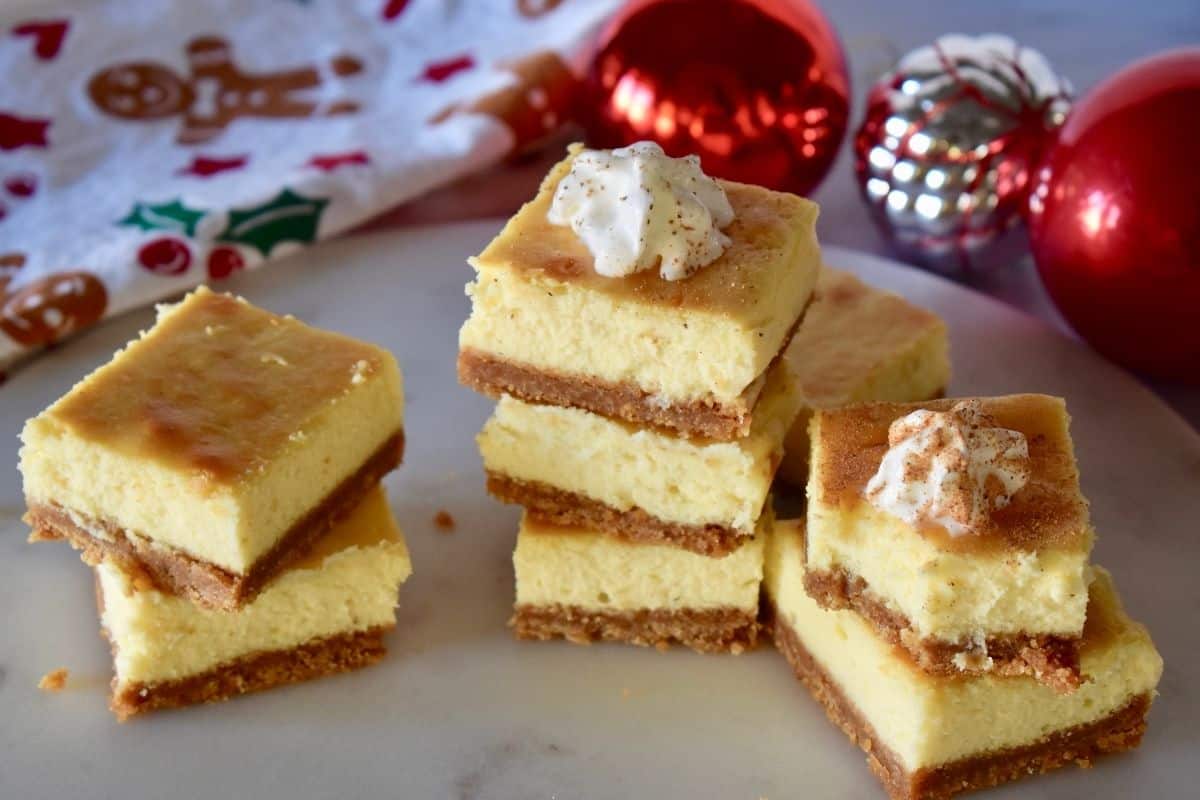 More Holiday Baking Recipes
If you are looking for more delicious and simple desserts to bake this holiday season, be sure to check out some of these fan favorites: