Apple Spice Cake with Cinnamon Buttercream Frosting is made with real apple chunks and applesauce. This moist and flavorful cake is a true recipe perfected. Don't miss the BEST Apple Spice Cake recipe from scratch!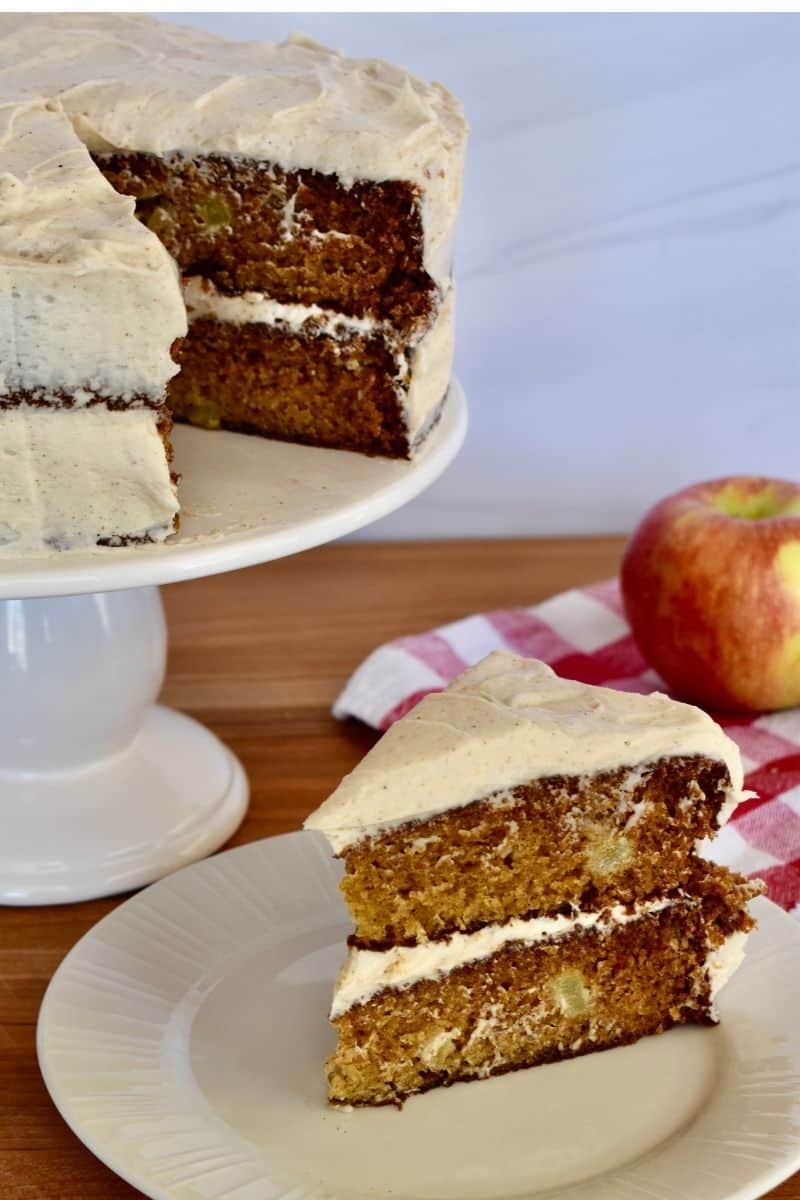 This apple spice cake recipe is guaranteed to become a favorite in your house. Super moist and full of flavor, this is the perfect Thanksgiving or Christmas dessert, or anytime you want an apple spice fix!
What's even better about this cake is that you can make it ahead of time and it stays moist and doesn't lose it's flavor. Be sure to give this recipe a try and let me know what you think.
If you love apple cakes, be sure to try this super moist Italian Apple Cake! And if you are looking for a healthier gluten-free apple cake, you're going to love this simple Almond Flour Apple Cake made with maple syrup or my Almond Flour Pear Cake.
Why This Recipe Works
One bite and I guarantee this will be one of your favorite cakes! This recipe is so good because it's super moist, and has the best flavor and textures.
It's the combination of fresh apple and apple sauce that truly sets this cake apart. It stays super moist and has best texture with chunks of fresh apple. Also, the combination of spices gives it the perfect warmth that everyone loves.
The cinnamon buttercream frosting is the perfect accompaniment to this cake. It's super easy to make with just a few ingredients and gives another layer of flavor with the cinnamon and vanilla.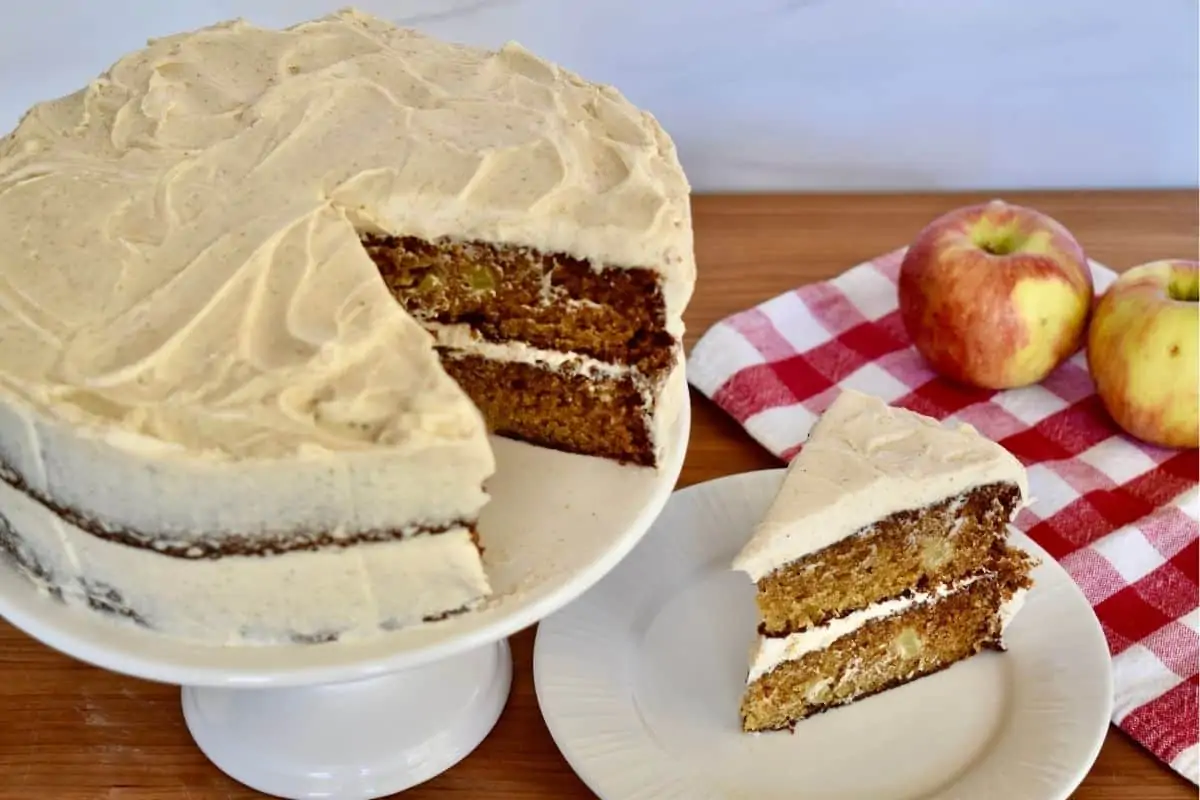 Apple Spice Cake Ingredients
Apple Spice Cake is a fairly simple cake to make and does't require many ingredients. The ingredients for this recipe are similar to most cake recipes: flour, sugars, eggs, vanilla, baking powder, and oil.
In addition, this recipe needs cinnamon and nutmeg, as well as applesauce and diced fresh apple. The cinnamon and nutmeg give the cake its unique spice. You could use equal amounts of apple pie spice in its place, or if you are out of nutmeg, substituting with all cinnamon would work as well.
To make this recipe you will need both:
fresh diced apple
applesauce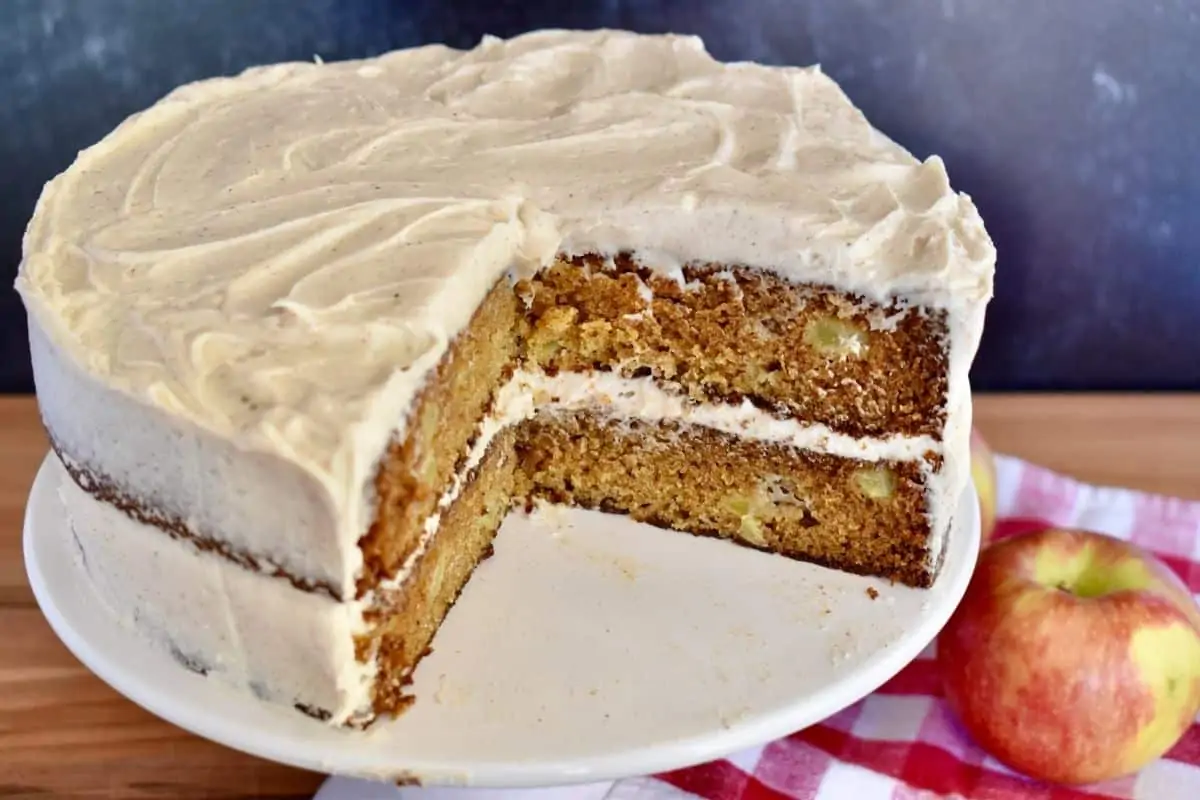 As for the real apple component of this recipe, a large Honey crisp apple adds the perfect bite and sweetness. The honey crisps I get from Costco are notoriously large, so one apple was plenty for this cake. However, feel free to adjust according to the size of the apple as well as your apple preference. Use whatever apples you have on hand and add more if you want additional apple chunks in the recipe.
How to prepare the apple
To prepare the apple, simply peel the skin off the apple using a vegetable peeler. Use a knife to cut the apple away from the core. Then, dice into small chunks, about ¼ to ½ inch in size. If you prefer smaller pieces, you can always grate the apple on a box grater.
How to make apple spice cake from scratch
Once you see how easy it is to make apple spice cake from scratch, you'll never buy the boxed cake mix again! Plus, this is a one bowl cake batter, so less mess too.
For the batter, combine all of the dry ingredients and sugars in a large mixing bowl (step 1). Use a whisk to mix it all together (step 2).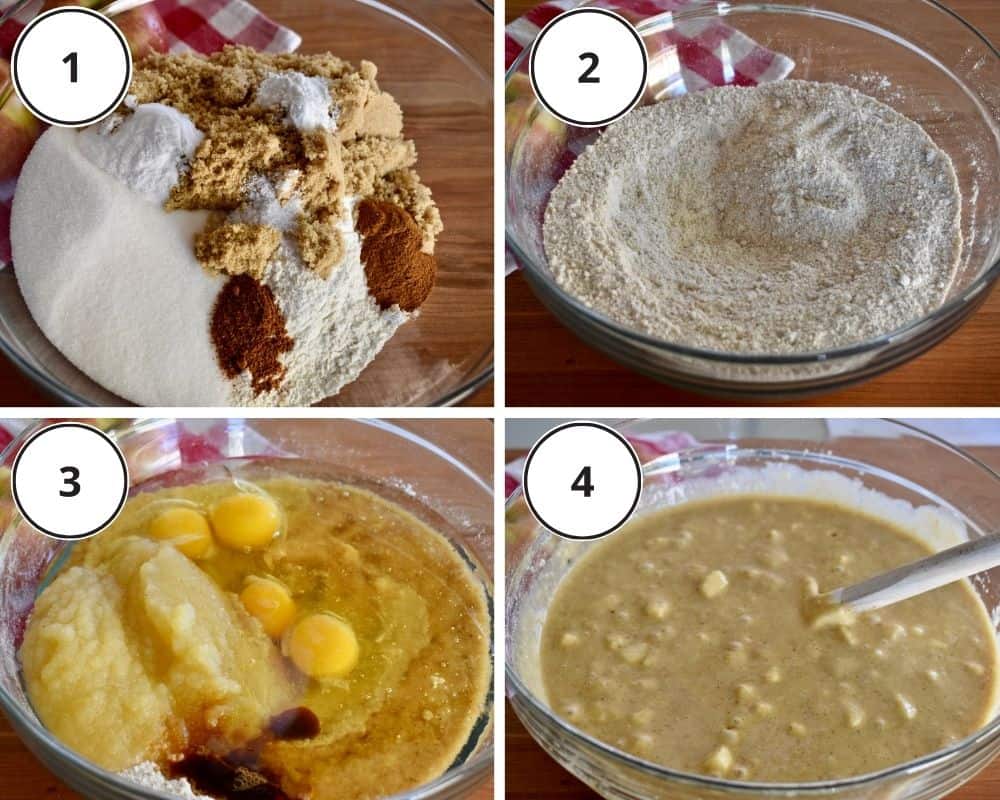 Then, add the eggs, applesauce, oil, and vanilla right to the same bowl (step 3). Use a handheld mixer on low speed to combine the ingredients until smooth (step 4).
Lastly, stir in the peeled and diced apple (step 5). Use a rubber spatula to ensure that all of the ingredients on the bottom of the bowl have been combined.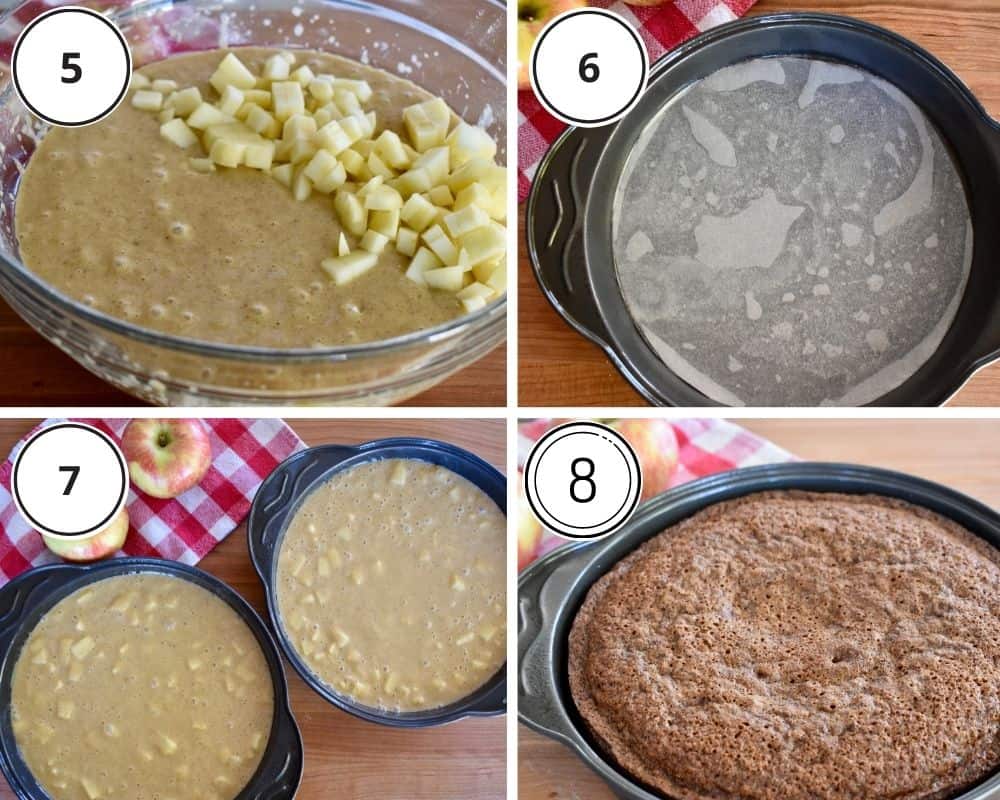 Next, spray the cake pans with nonstick cooking spray. To be extra certain the cake doesn't stick, it's a good idea to line the bottom of the pan with parchment paper. You can trace a circle on parchment using the bottom of the cake pan and cut it out for this. Alternatively, you can use precut paper liners, which are specifically designed for 9-inch cake pans (step 6).
Pour the batter evenly into the cake pans (step 7). To ensure that the cake pans have the same amount of batter, I recommend using a digital kitchen scale if you have one. Otherwise, do your best to eyeball that the cake pans are equal.
Bake the cakes for about 30-35 minutes, or until a toothpick inserted in the center of the cake comes out clean. Also, note that this cake will turn a golden brown as it bakes (step 8).
Cool the Cakes
Remove the cakes from the oven and cool on a wire baking rack for about 10 minutes. Then, loosen the cake by using a butterknife to run around the edges of the cake pan. Flip the cake on the wire cooling rack and out of the cake pan. Remove the parchment liner and cool completely before frosting.
How to make Cinnamon Buttercream Frosting
Cinnamon Buttercream Frosting is so easy to make and the perfect frosting for an apple spice cake. You can make the frosting up to three days in advance and store in an airtight container in the refrigerator. Just bring to room temperature before frosting.
To make the cinnamon buttercream frosting, you will need to start with two room temperature sticks of butter. Place the butter in a large bowl and beat with a hand mixer for about a minute.
Add in the powdered sugar, two tablespoons of milk (any percent works), vanilla, and cinnamon. Mix on low speed until the frosting comes together. Continue to mix, increasing the speed until the frosting is smooth.
If the frosting is too thick, you can add another tablespoon of milk until desired consistency is reached.
How to frost the cake
For this recipe, I like to create the "Naked Cake" effect, similar to what I did for my Limoncello Ricotta Cake recipe. What this means is that instead of applying a thick layer of frosting on the sides of the cake, you use a bench scraper to "scrape off" the side frosting while turning the cake plate.
To start, place about a third of the frosting on the top of the bottom layer of the cake. Spread evenly over the cake using a spatula (step 1).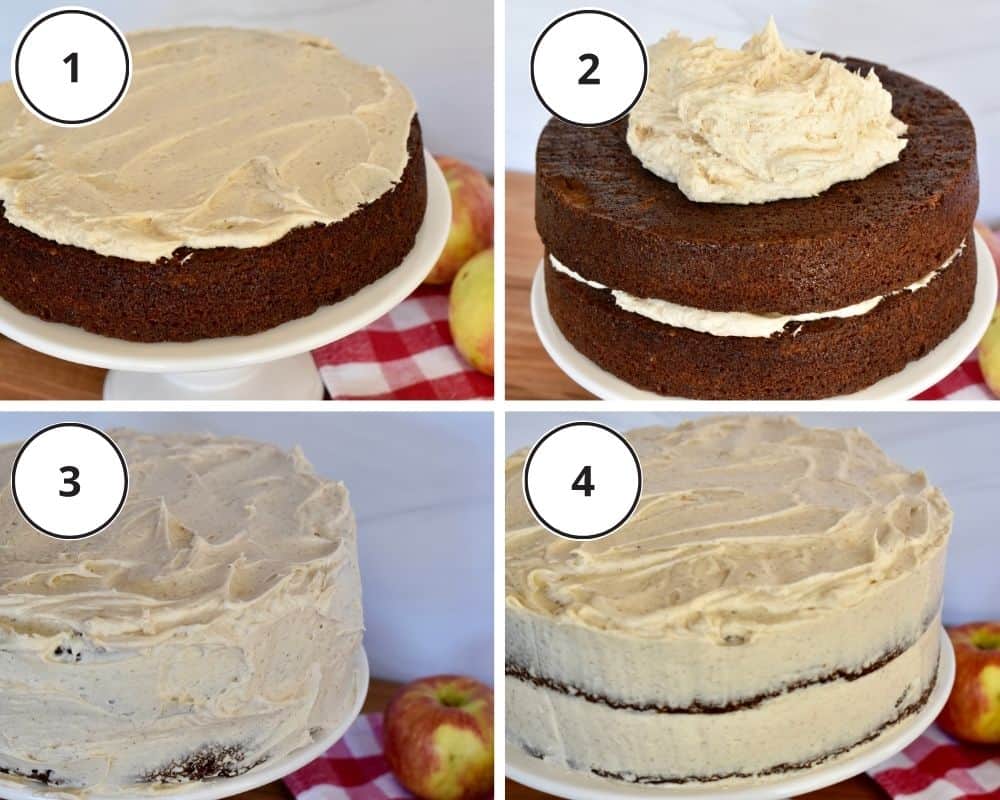 Then, add on the top layer of the cake and dump the remaining frosting overtop (step 2). Use an offset spatula to spread the frosting over the top of the cake and down the sides (step 3).
Lastly, use a bench scraper to remove the excess frosting off the sides of the cake, exposing the cake layer (step 4). Remaining frosting can be smoothed over the top of the cake.
Rustic Cake Effect
These exposed layers add a rustic effect to the cake. Additionally, I omit any garnishes on the cake, however feel free to add any toppings you like. Edible flowers, dried apples, or a caramel drizzle would all be a pretty addition to this cake.
Keeping this cake "rustic" lets the flavors shine through and doesn't overwhelm the cake with too much frosting. Moreover, it's a simple technique that's perfect for the novice cake maker or less than expert decorator (like me!)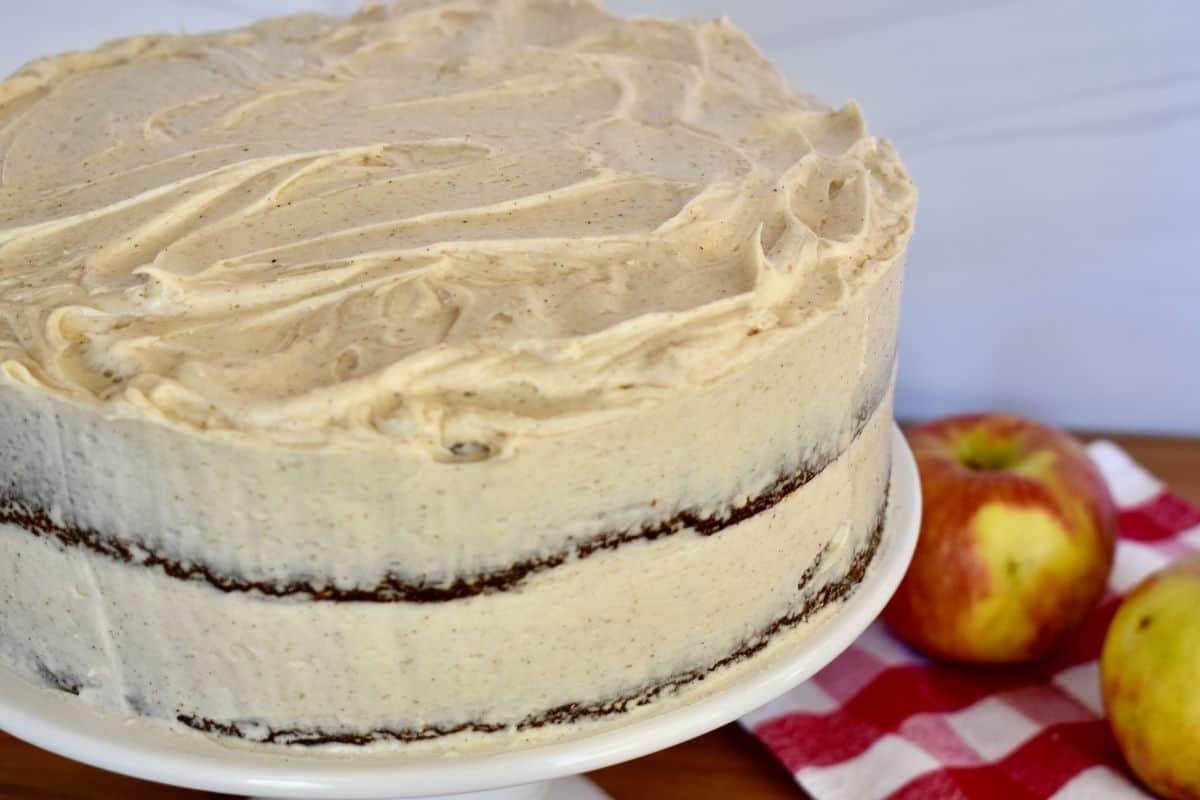 Expert Tips for Apple Spice Cake
Want to ensure your apple spice cake comes out perfect? Check out these tips and tricks to getting the best cake every time.
Don't over mix the batter. You want to mix it just enough so that all of the ingredients are combined.
Use a firm and sweet apple for this cake. I like Honey crisp or Granny Smith apples.
Make sure the cakes are fully cooled before frosting them. Fully frosted cake can be refrigerated up to three days in advance.
Equal amounts of Apple Pie Spice is a great substitution for the cinnamon and nutmeg in this recipe.
FAQs about Freezing Cake
Can you freeze cake layers ahead of time?
Yes, you CAN freeze cake layers ahead of time so long as you follow a couple of steps. (Note that this applies only to the cake layers and not frosting, which can be made up to three days in advance.) Firstly, make the cake according to instructions and cool the cakes on a wire cooling rack. Next, wrap each layer of cake individually using parchment paper. Then, wrap again, tightly, using plastic wrap. Be sure to use enough plastic wrap to fully wrap the individual cake layers so that they are airtight. Finally, to ensure an airtight seal before freezing, place the individual cake layers into gallon-sized ziplock bags. Gently press out any remaining air and seal to close.
How far in advance can you freeze cake layers?
Cake layers can be frozen for up to a month. Just be sure to place in an area in the freezer where the cake layers can't be disturbed or have any heavy items placed on them. Remove the cake from the freezer about three hours before serving. Or you can thaw a day in advance in the refrigerator. Frost with room temperature frosting so that it spreads easily.
More Holiday Baking Recipes
Love baking? Me too! Here are some of my favorite fall recipes that are simple and delicious: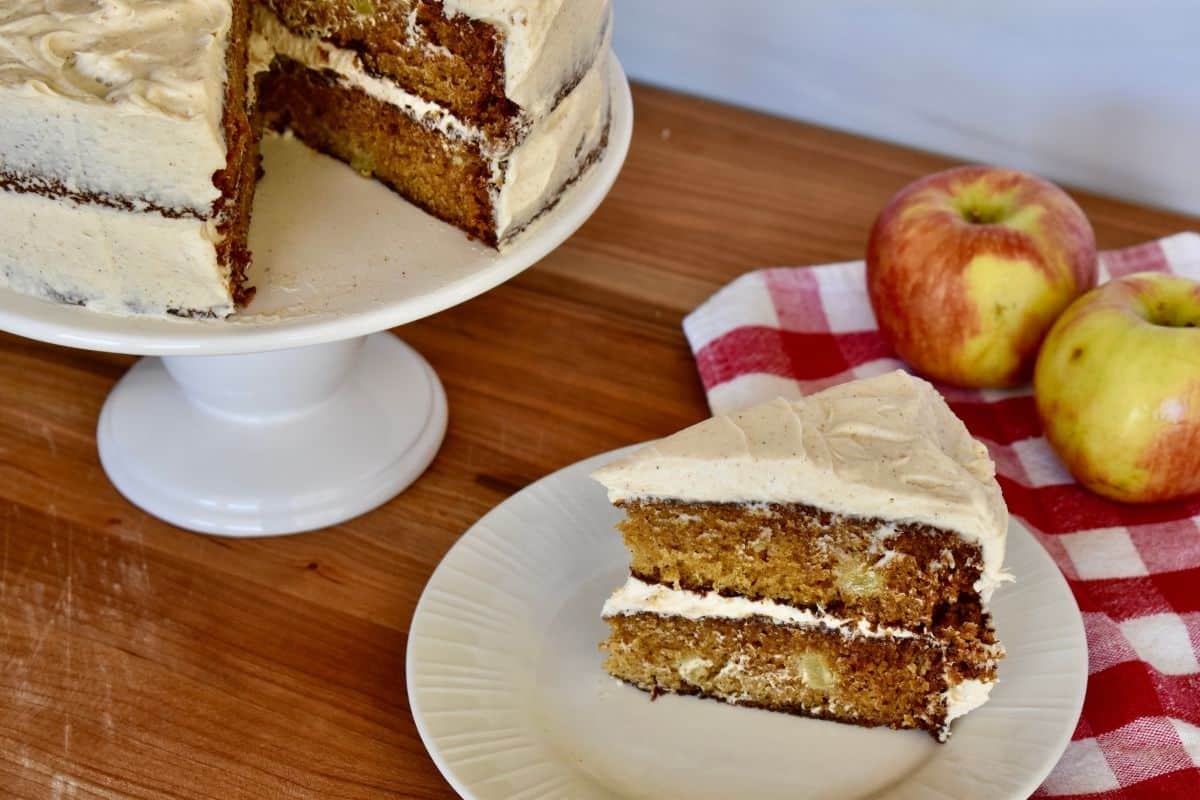 Tried this recipe? Be sure to comment below and let me know what you think. And, be sure to follow me on Facebook for more incredible cake recipes!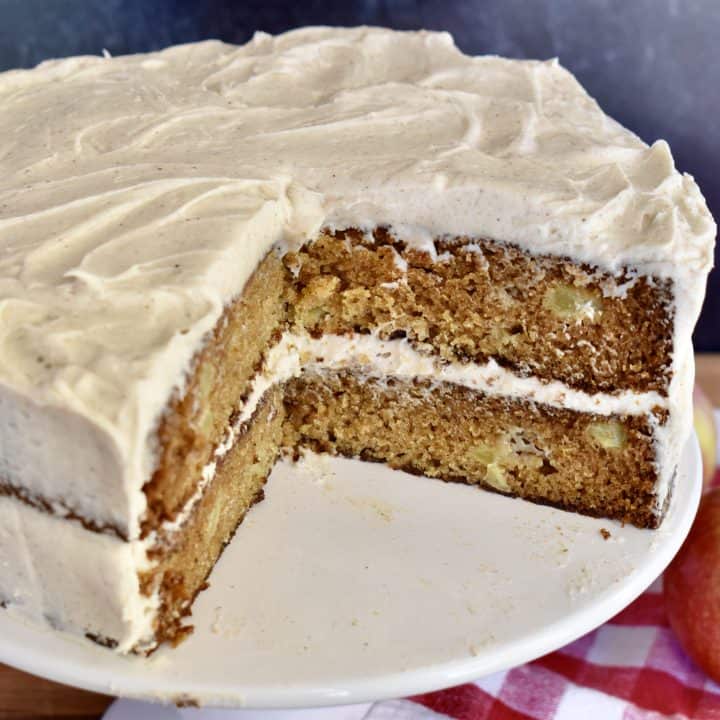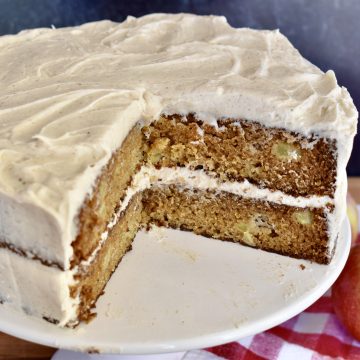 Apple Spice Cake with Cinnamon Buttercream Frosting
Super moist and flavorful Apple Spice Cake is made with both applesauce and diced apple chunks. Top it off with a spiced buttercream frosting for one of the most delicious cakes ever. Great for the holidays or anytime of year!
Print
Pin
Rate
Ingredients
2

cups

all purpose flour

1

cup

sugar

1

cup

brown sugar

2

teaspoons

baking powder

1

teaspoon

baking soda

1 ½

teaspoon

cinnamon

½

teaspoon

nutmeg

½

teaspoon

salt

4

large

eggs

1

cup

vegetable or canola oil

1

cup

applesauce

1

teaspoon

vanilla

1

large

apple, peeled and diced into about ¼ inch chunks

(I used Honeycrisp)
Cinnamon Buttercream Frosting
1

cup

butter, softened

4

cups

powdered sugar

2 – 3

tablespoons

milk

1

tablespoon

vanilla

1

teaspoon

cinnamon
Instructions
Preheat oven to 350 degrees. Spray two 9-inch cake pans with cooking spray and line bottoms with parchment rounds. Set aside.

In a large bowl, whisk together the flour, sugars, baking powder, baking soda, cinnamon, nutmeg, and salt, until well combined. Add in the eggs, vegetable oil, applesauce, and vanilla; beat with an electric mixer on low speed until smooth. Fold in the diced apples using a spatula until evenly combined.

Pour even amounts of the batter into the prepared cake pans (it's helpful to use a kitchen scale for accuracy if you have one). Bake in the middle rack of oven for 35-40 minutes until a deep golden brown color. You will know the cake is done when a toothpick inserted in the center of the cake comes out clean. Cool on a wire cooling rack; remove the cakes from their pans after about 15 minutes of cooling, peeling off the parchment and then let cool completely, about an hour.
Cinnamon Buttercream Frosting
While the cake cools, make the frosting. In a large mixing bowl, cream the softened butter using an electric mixer. Gradually add in the powdered sugar, two tablespoons of milk, vanilla, and cinnamon. Continue mixing until desired consistency is reached, adding an additional tablespoon of milk if needed.

To frost the cake, place one of the cooled cake rounds on a pedestal or serving plate. Add about ⅓ of the buttercream on top and spread over cake layer. Carefully place on the second, top layer of cake. Scoop the remaining frosting on the top of the cake and use a spatula to spread out the frosting over the top and sides of the cake. To give the cake a more rustic "naked" look, while rotating the cake, use a flat edge bench scraper to scrape off the side frosting on the cake. Place any remaining frosting on the top of the cake and use a butterknife to create waves and swirls on top if desired.
Notes
Make-ahead tip: You can make the cake layers up to a month in advance. Just bake and cool completely. Then, wrap tightly in parchment paper, then plastic wrap. Store in an airtight container in the freezer. The day before, remove from freezer and refrigerate until ready to frost. 
Nutrition
Calories:
428
kcal
|
Carbohydrates:
58
g
|
Protein:
3
g
|
Fat:
21
g
|
Saturated Fat:
8
g
|
Polyunsaturated Fat:
7
g
|
Monounsaturated Fat:
5
g
|
Trans Fat:
1
g
|
Cholesterol:
62
mg
|
Sodium:
256
mg
|
Potassium:
74
mg
|
Fiber:
1
g
|
Sugar:
47
g
|
Vitamin A:
354
IU
|
Vitamin C:
1
mg
|
Calcium:
51
mg
|
Iron:
1
mg