This recipe for Almond Flour Apple Cake is naturally gluten-free, dairy-free, and low in sugar. This simple and delicious recipe is great for breakfast, brunch, snack, or a light dessert. Curb your sweetness cravings guilt-free with this almond flour apple cake recipe.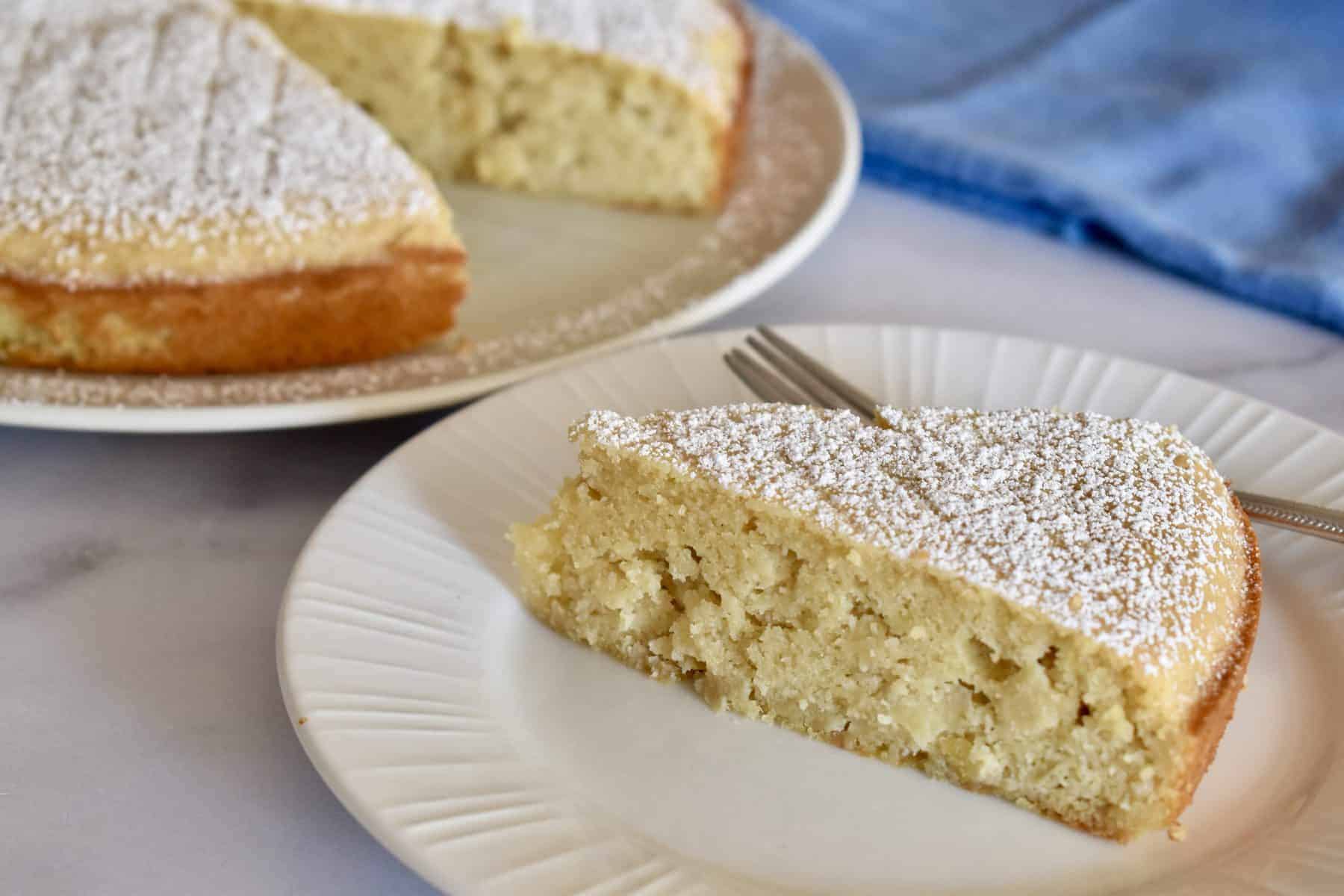 If you're looking for a cake you can feel good about eating, this it. Made with almond flour, coconut oil, eggs, maple syrup, and grated apples, this cake is simple to put together and satisfies your cravings.
Almond Flour Apple Cake is a great recipe to have on hand when you are looking for a guilt-free treat. This cake gets it sweetness from both grated apples and a touch of maple syrup.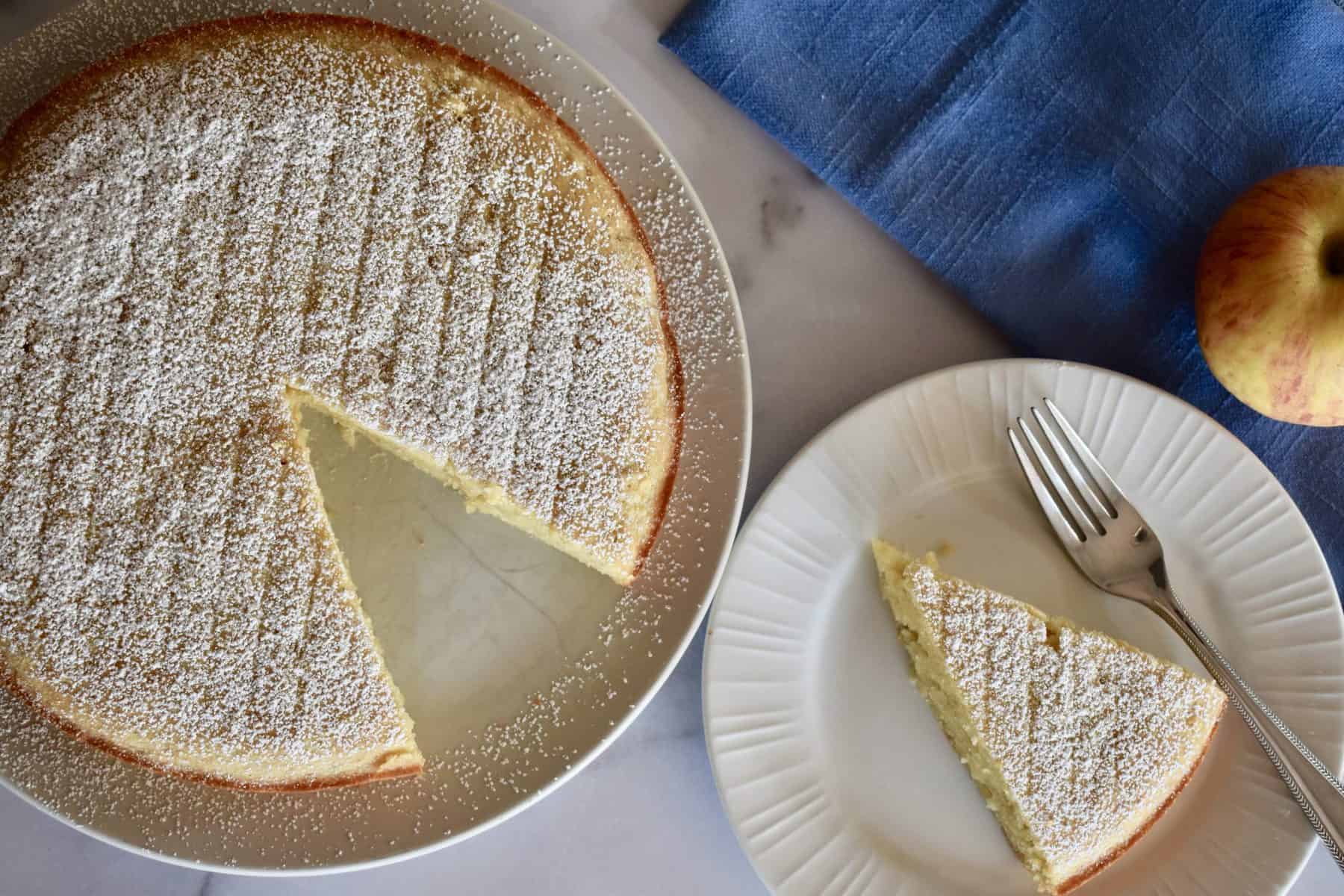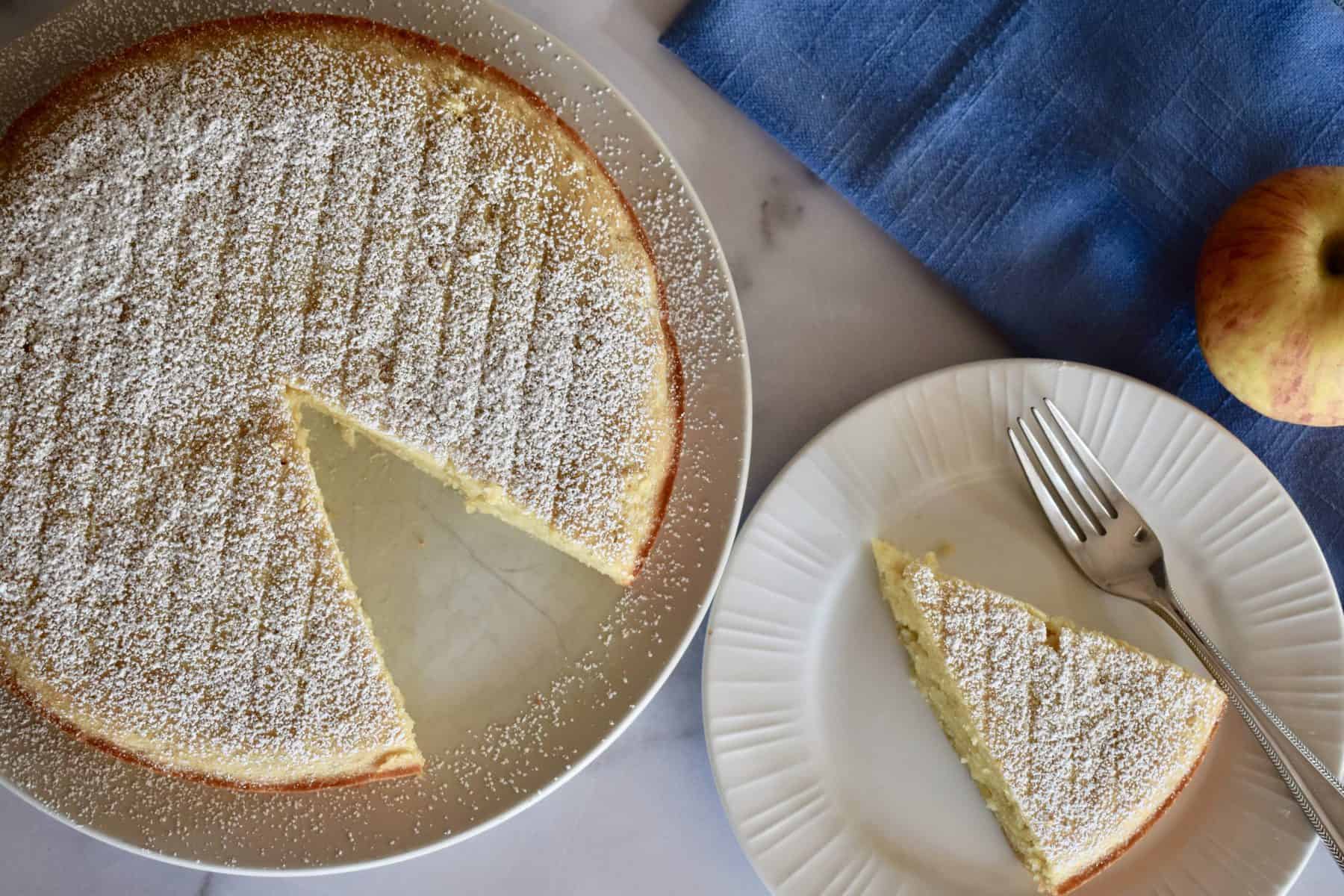 With a few simple ingredients, you can have a delicious apple cake that everyone can enjoy. I like to make this ahead of time and keep on hand for snacking, a quick breakfast, or whenever I'm craving something sweet.
For more sweet breakfast or dessert cakes, be sure to check out this Italian Zucchini Ricotta Ciambella, or my Cranberry Walnut Banana Bread.
For another naturally gluten-free cake, try this Lemon Polenta Cake made with cornmeal. And for another almond flour cake, try my Almond Flour Pear Cake!
Almond Flour Apple Cake
Making this cake couldn't be simpler, plus there is no special equipment needed. Just a cake pan, mixing bowl, and whisk.
To start, you will need to grease and line with parchment a standard cake pan. You could also make this in a 9 x 9 baking pan if you don't have a cake pan on hand.
Firstly, combine the almond flour, salt, and baking powder in a large bowl. Add in the room temperature coconut oil.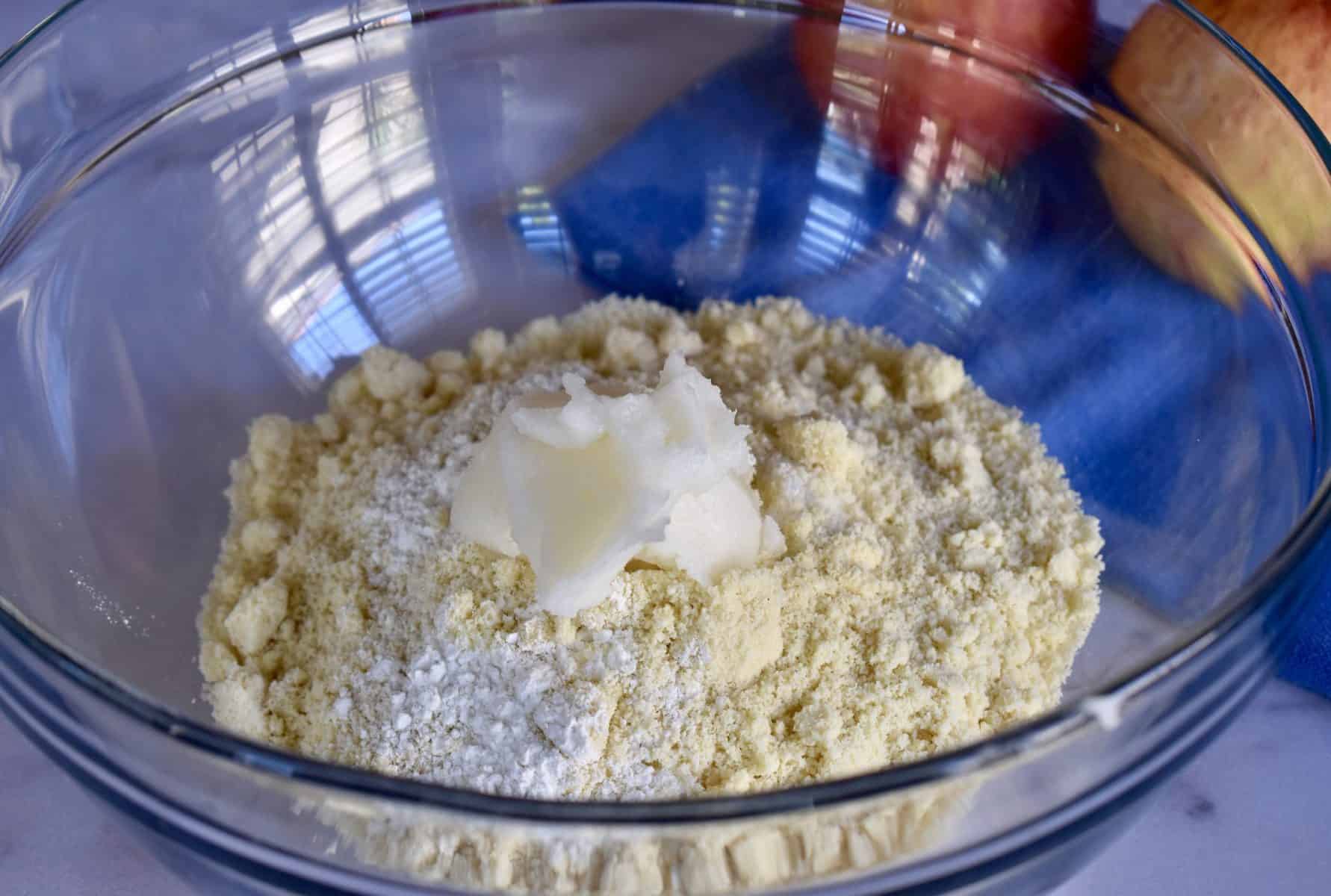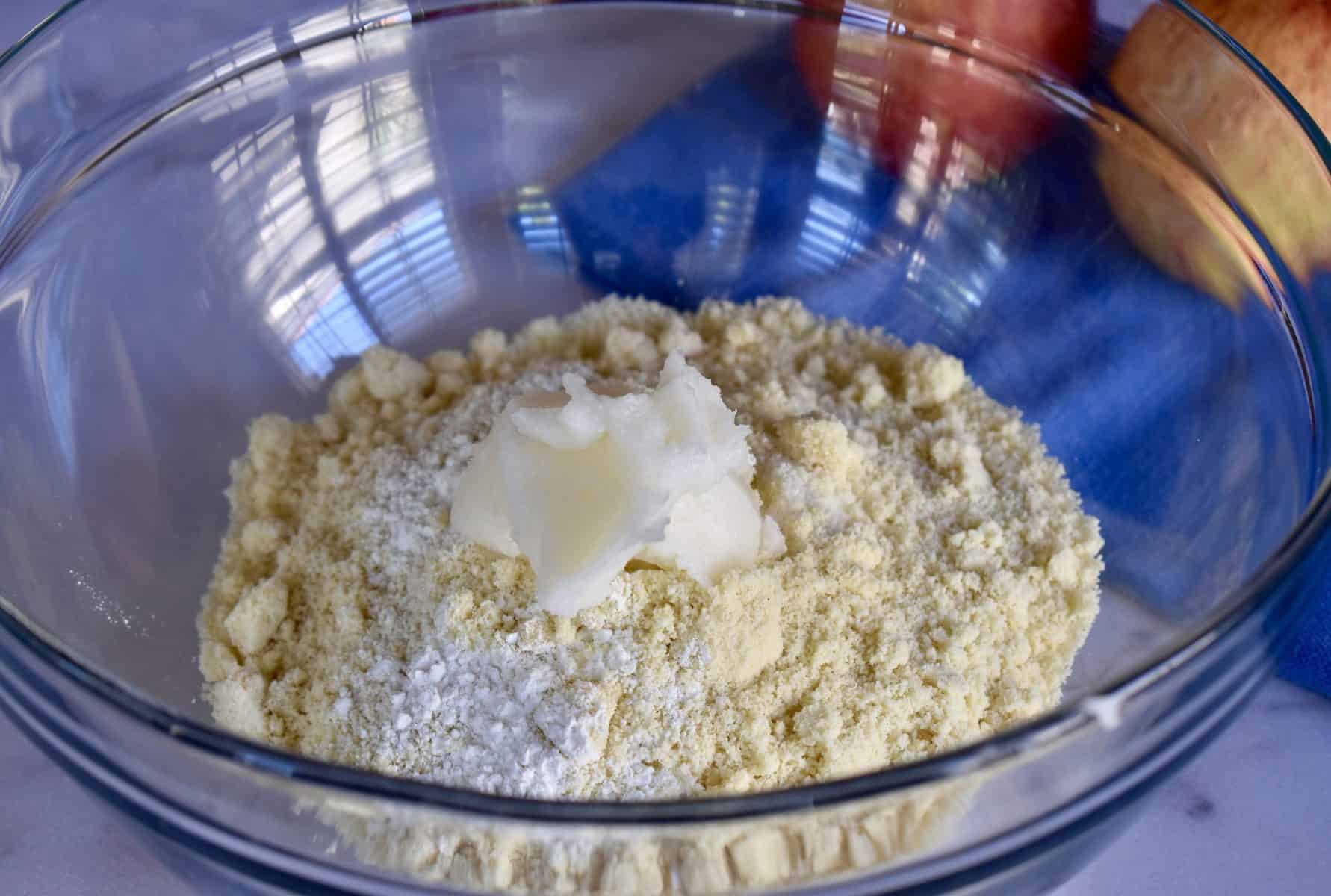 Cut the coconut oil into the flour mixture. To do this, you can either use a pastry cutter to combine the flour or oil, or you can always just combine using your hands. Your end result will be a texture similar to sand.
Next, add in the four eggs, one at a time, being sure to whisk after each addition. You will end up with a smooth batter with some lumps from the coconut oil.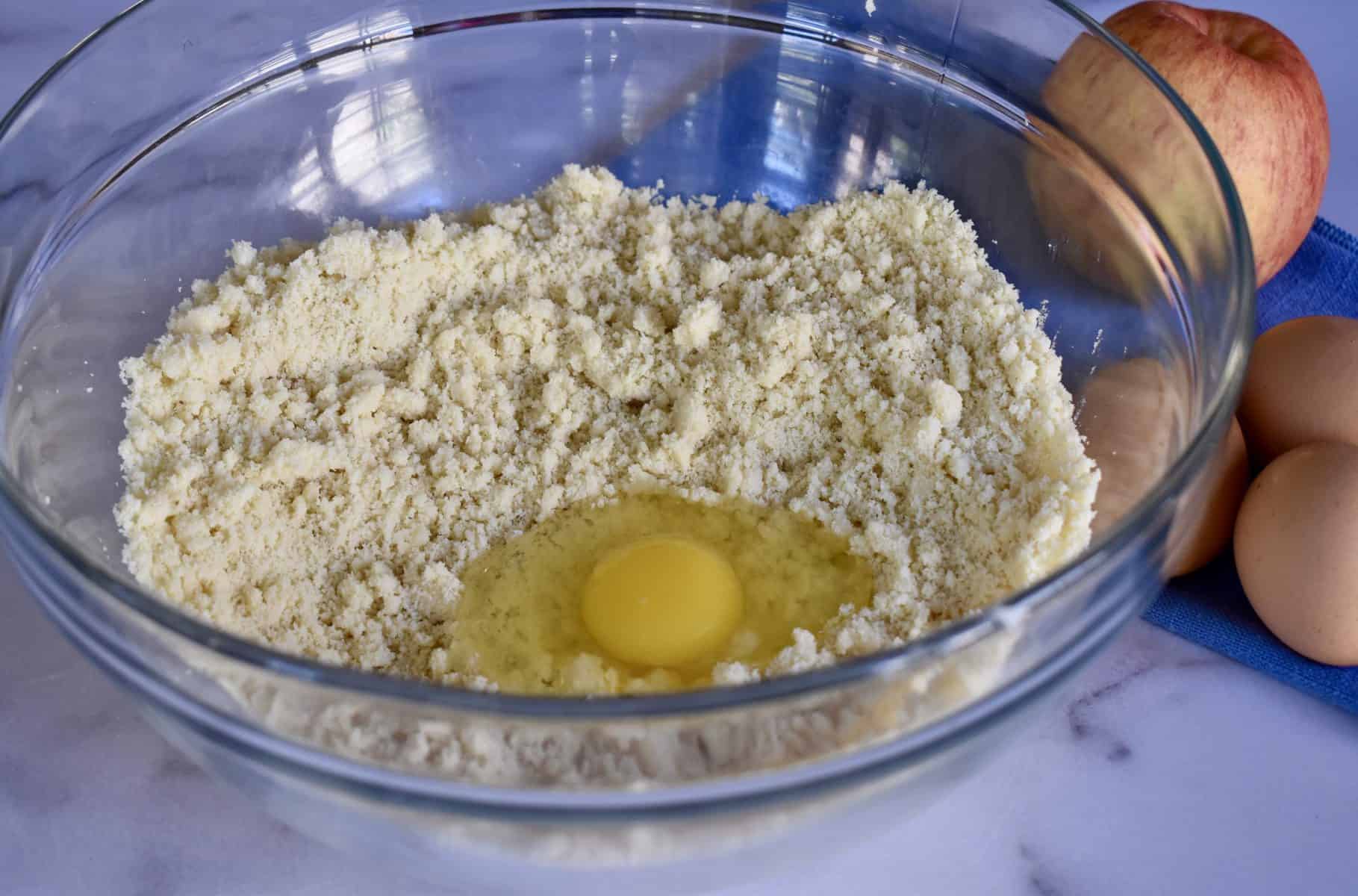 To sweeten and flavor this cake, I like to add maple syrup and vanilla. However, you could use honey or agave nectar instead of the maple syrup. Mix well to combine.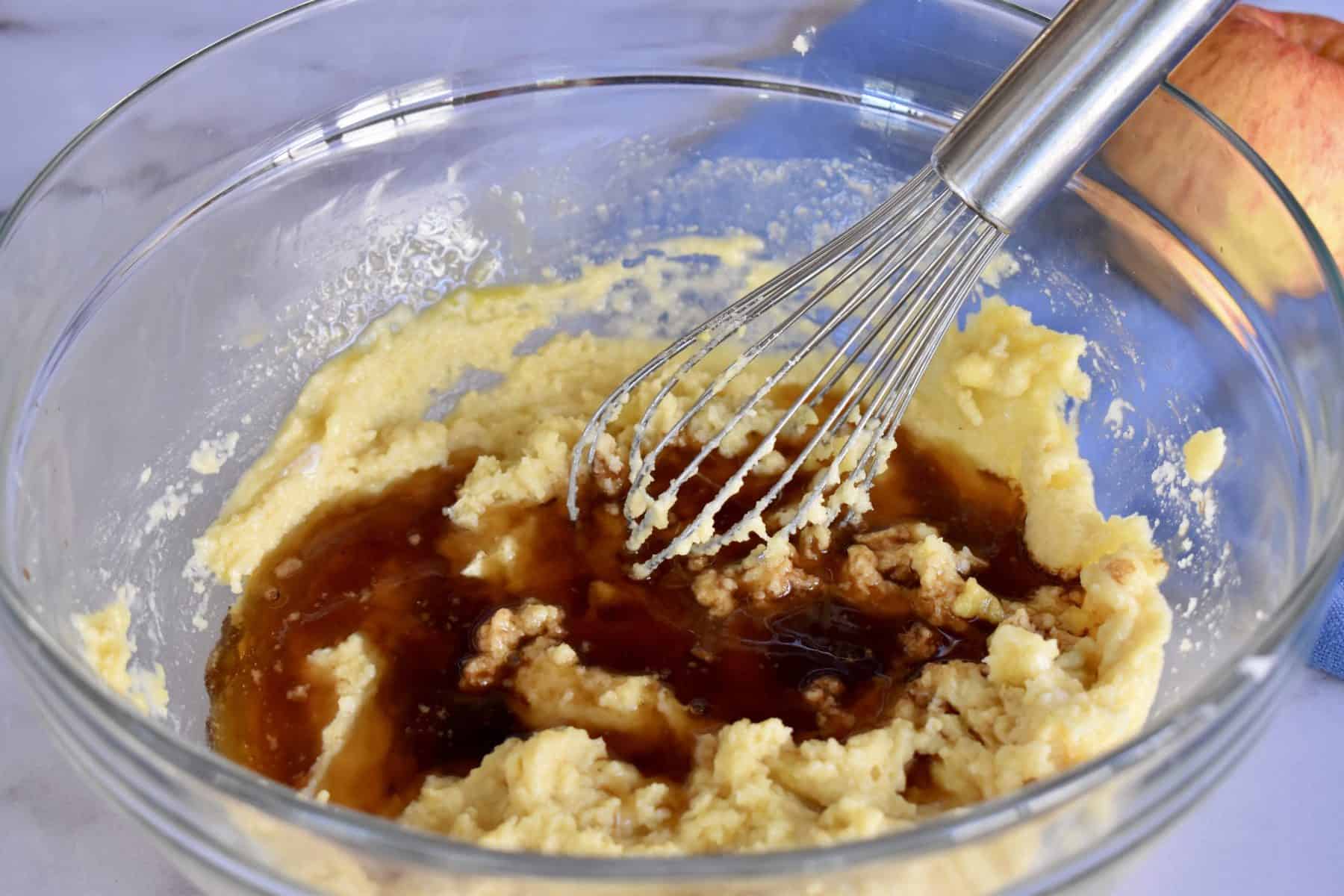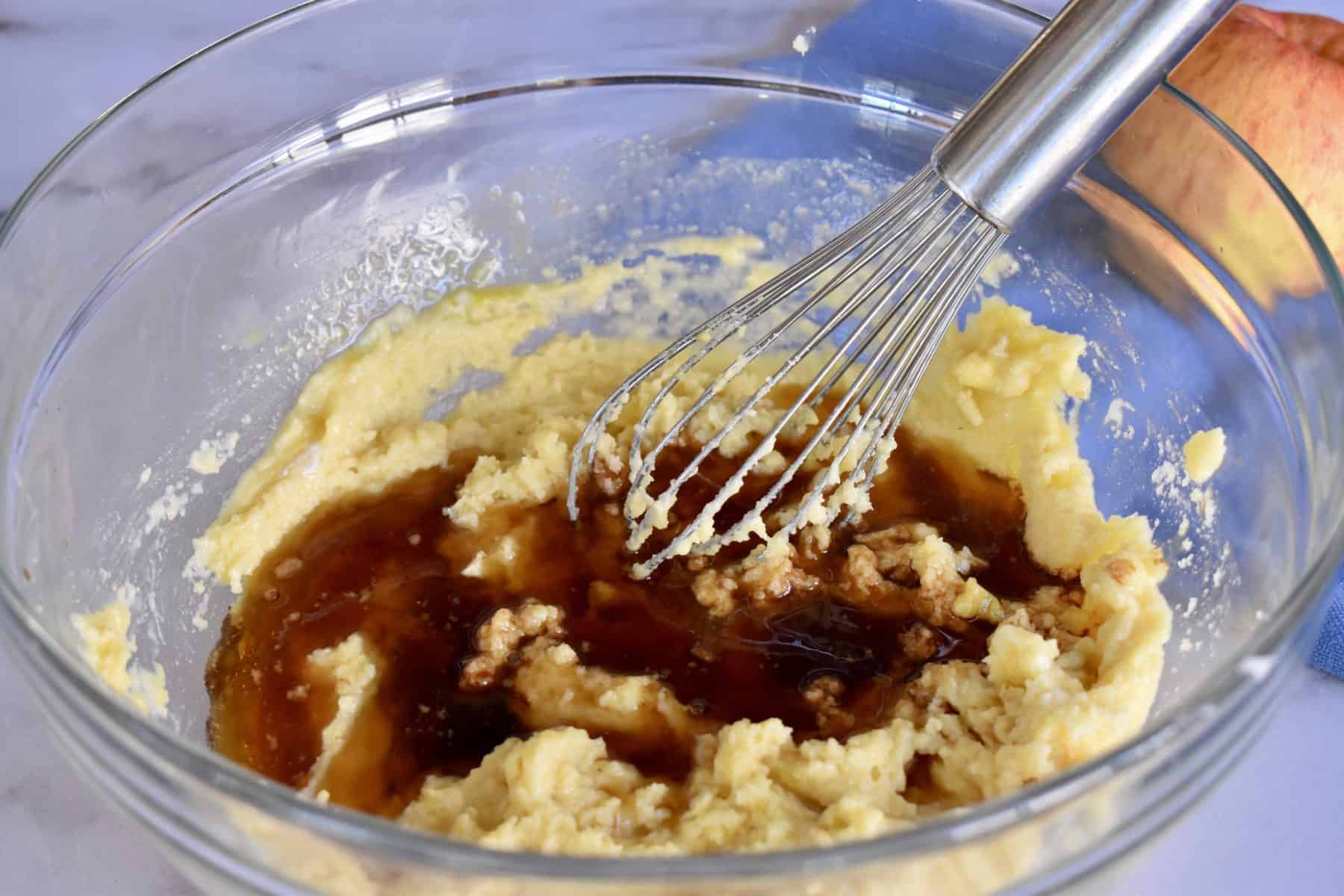 Lastly, add in one peeled, cored, and grated apple. The type of apple you use for this doesn't matter. I prefer honeycrisp, gala, or Fiji apples. Mix the batter and pour into your prepared cake pan.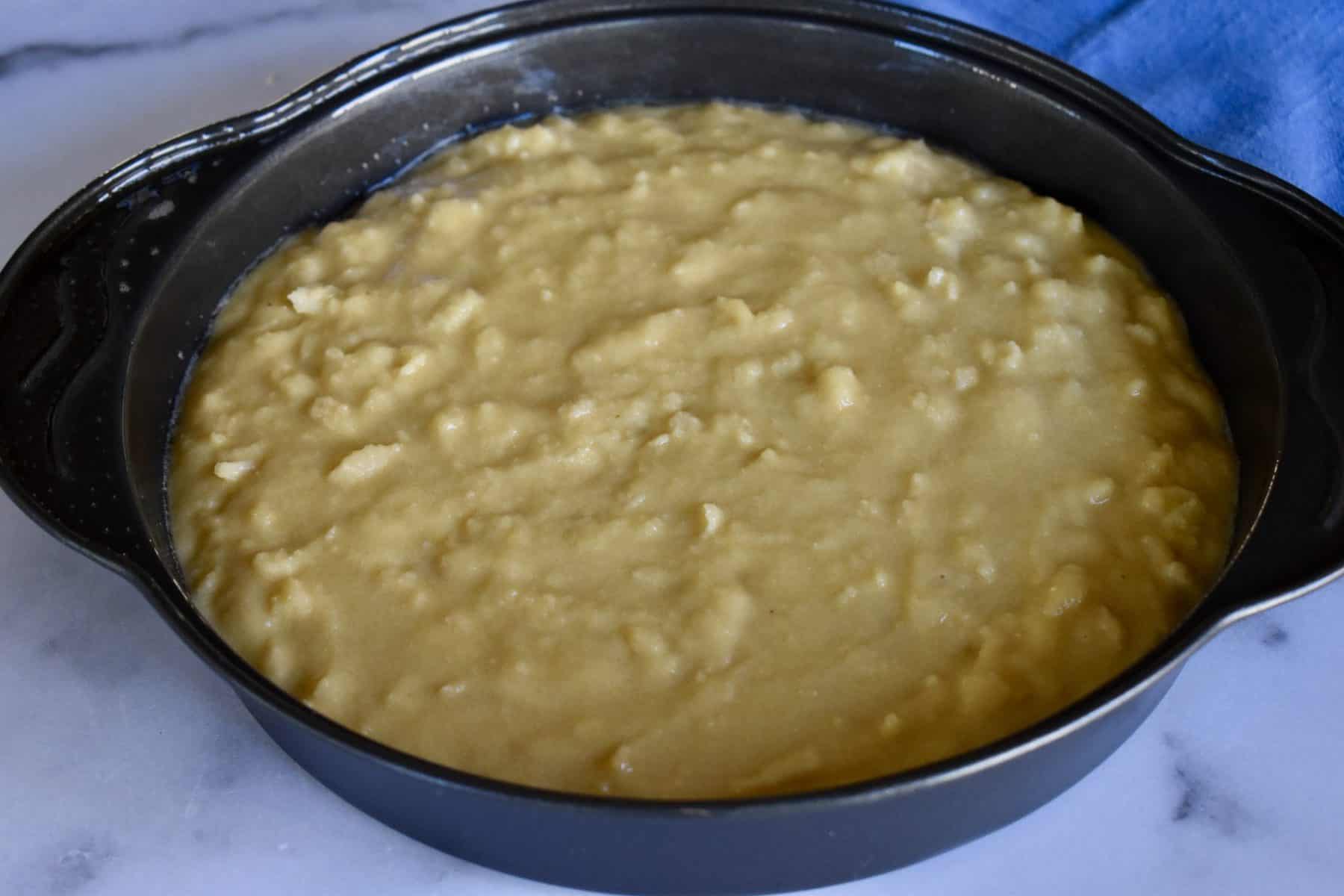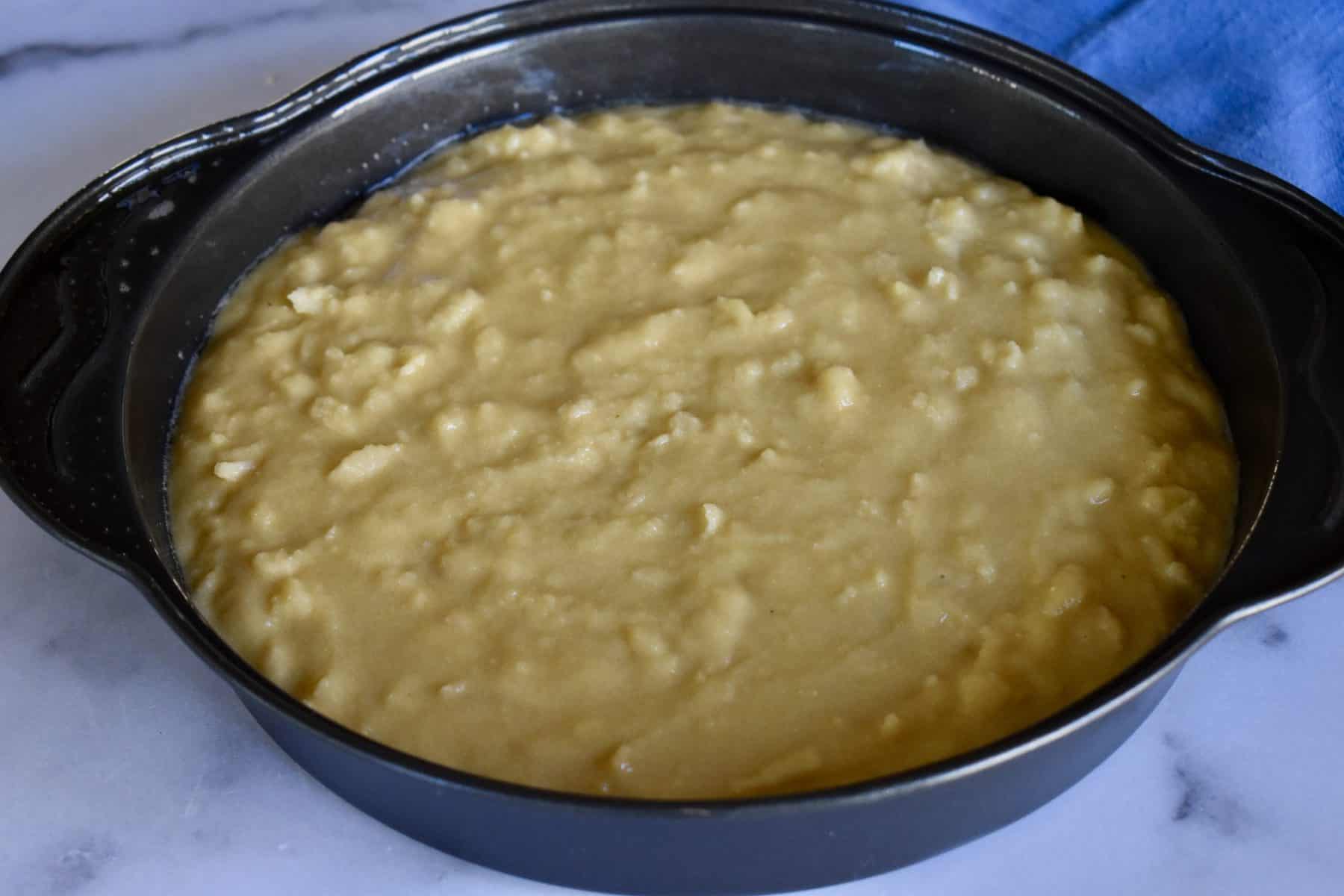 Bake the cake for about 30 minutes, or until a toothpick inserted into the center of the cake comes out clean. Let the cake cool completely on a wire baking rack before slicing.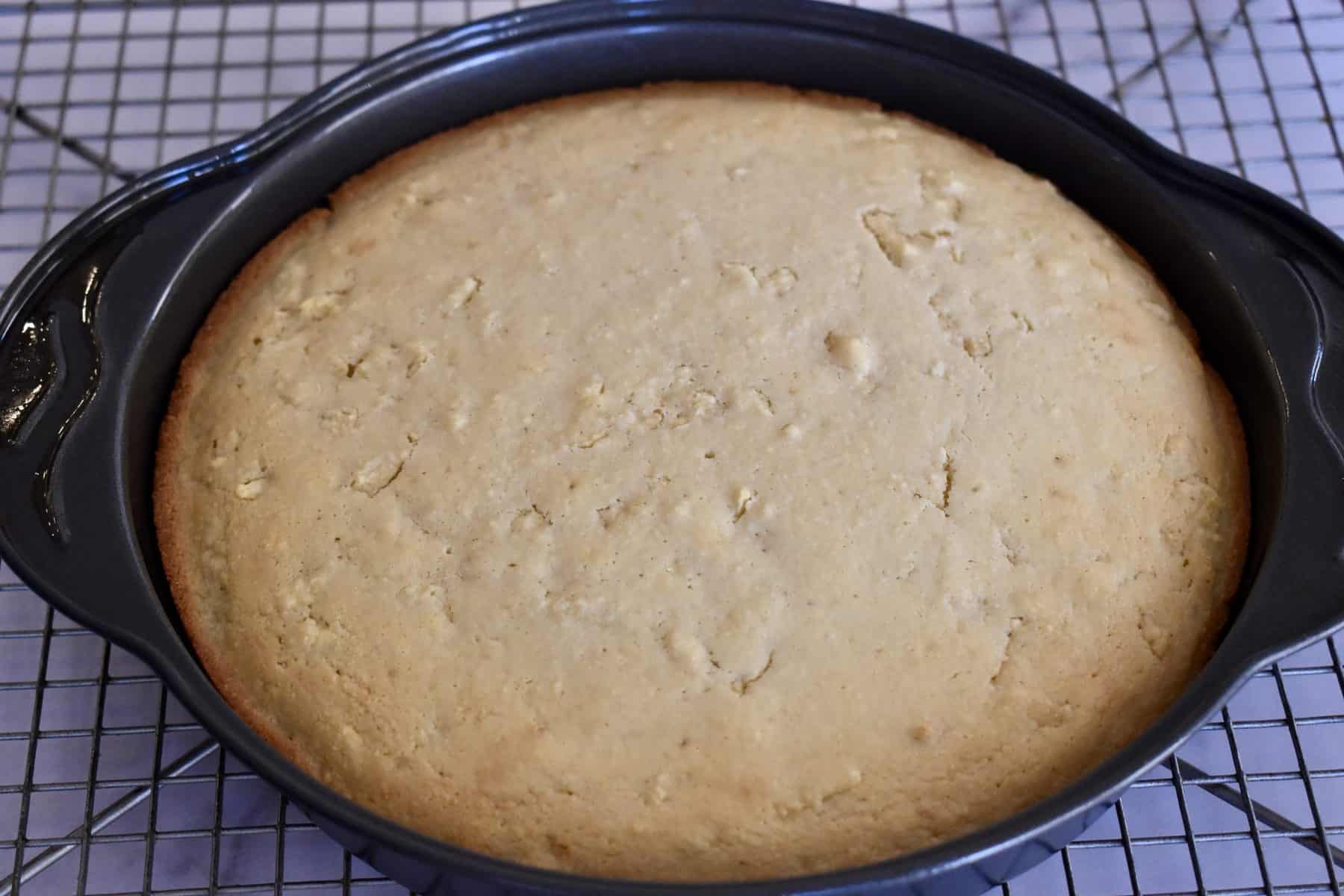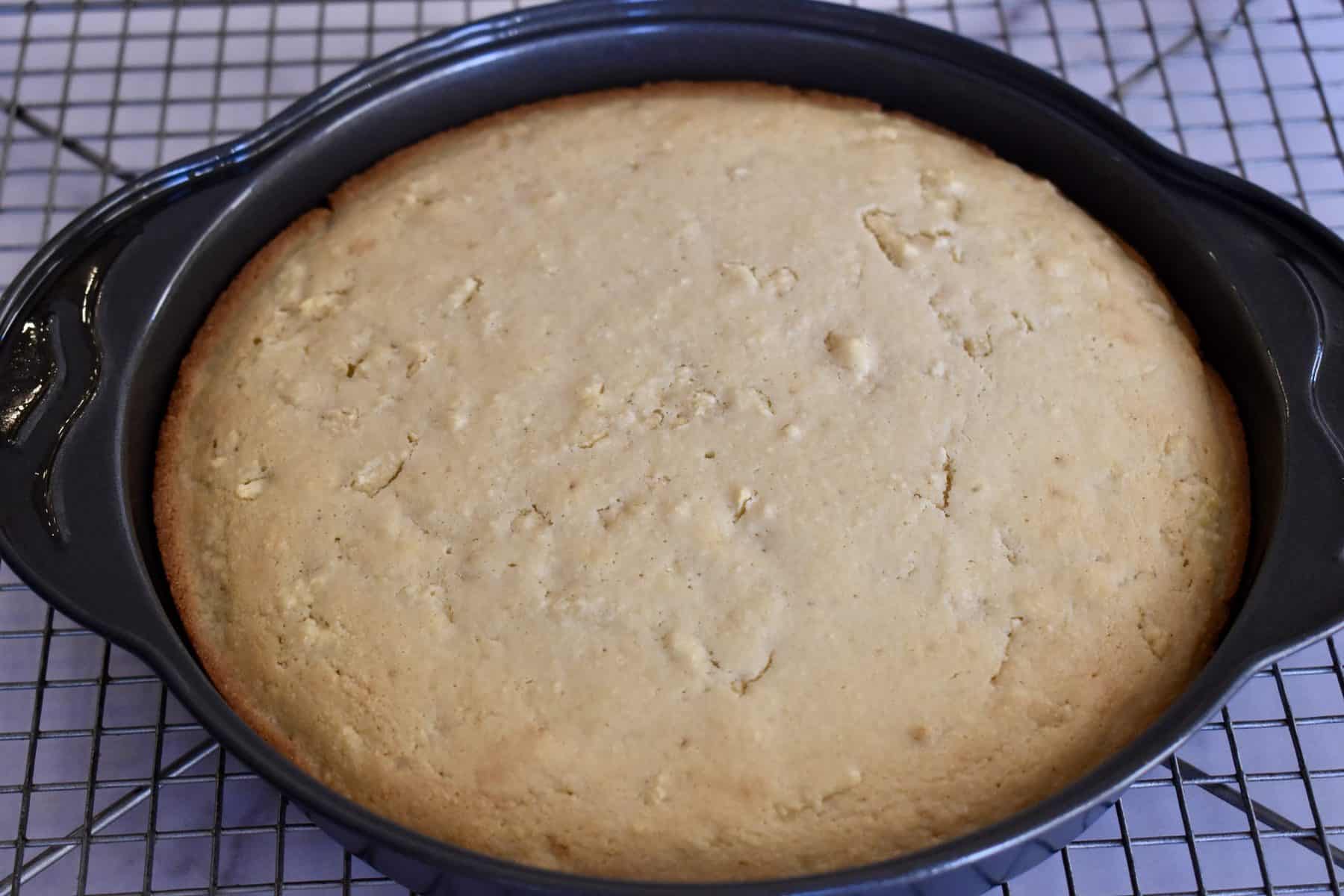 I like to serve this cake with a light dusting of powdered sugar on top. However, it is equally delicious and beautiful served by itself or with a side of fruit.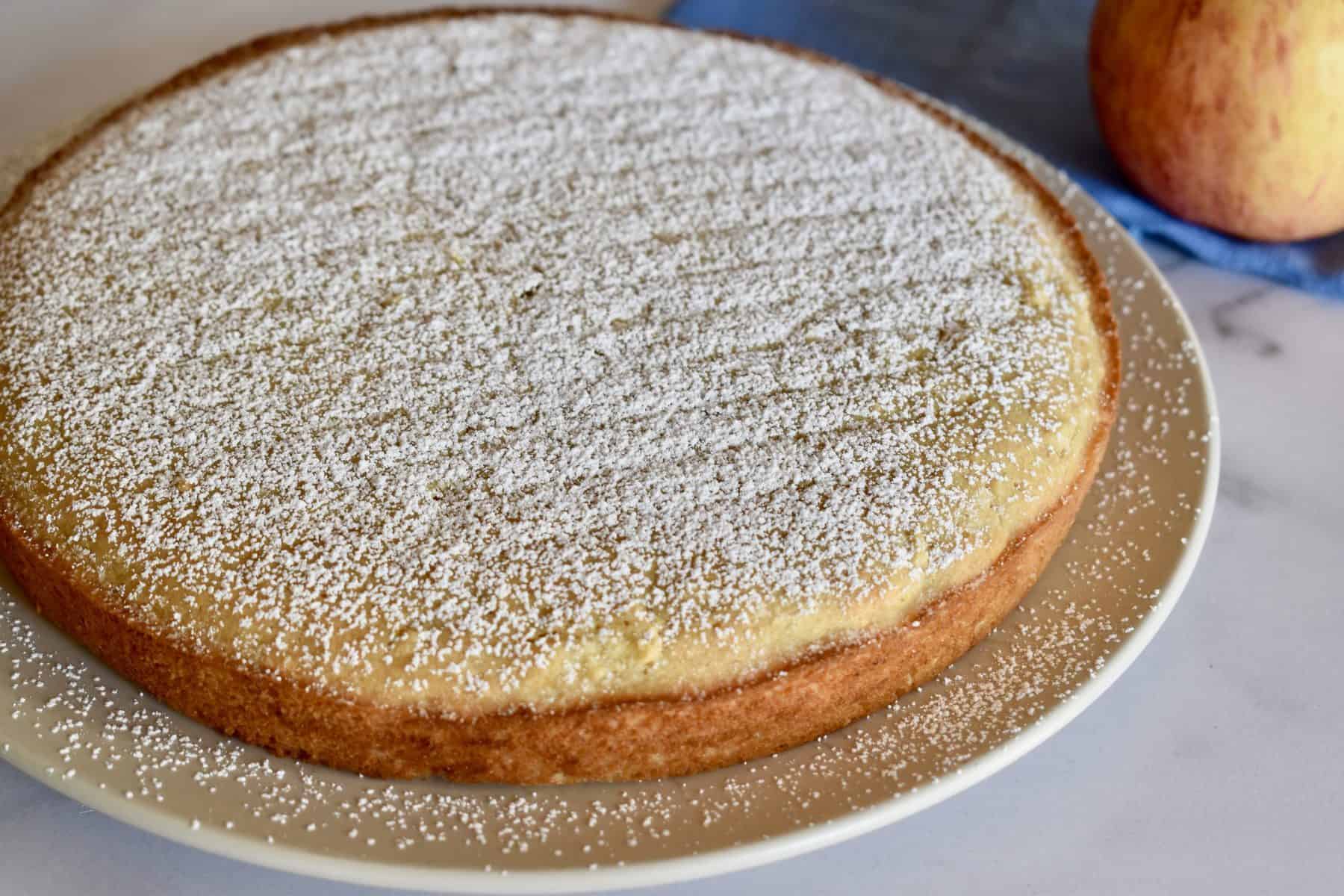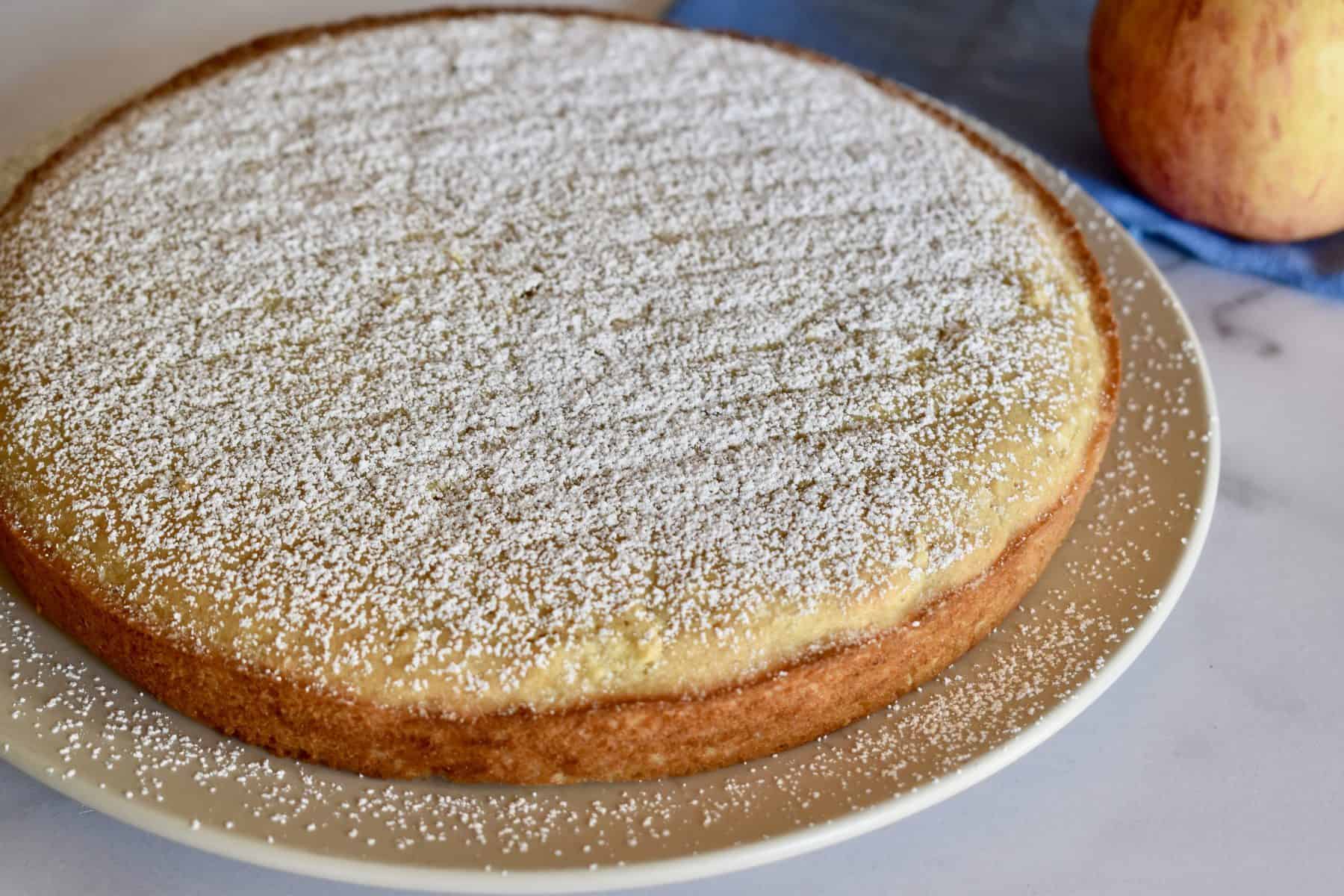 What is Almond Flour?
Almond flour quite simply is ground up almonds. The process of making almond flour involves blanching the almonds to remove the skins and then grinding and sifting them into a fine flour.
Almond meal is not the same as almond flour. It contains the skins of the almonds, resulting in a coarser mixture.
Almond flour is low in carbs and full of nutrients. It also has a slightly sweeter taste which is why you don't need a lot of sweetener when baking with almond flour. Also, it is naturally gluten free and full of protein.
How to store almond flour apple cake?
This cake could be stored at room temperature for up to three days. However, if you do store at room temperature, be sure to place it in an airtight container.
I prefer to store my cake in an airtight container in the refrigerator. This way it lasts up to two weeks. Slice it ahead of time so you can just grab a piece when you want one.
Almond Flour Recipes
When baking with almond flour, it's good to follow a recipe that calls for almond flour specifically, rather than trying to substitute regular flour in a recipe. Otherwise, you could risk ending up with a dense or runny recipe.
Amaretti Cookies are my favorite almond flour cookie ever! Made with beaten egg whites and rolled in powdered sugar, these cookies are great served with hot coffee or tea. If you've never tried them, they are a great almond flour cookie to start with.
Almond Ricotta Cake is a super moist and slightly dense cake that's full of delicious almond flavor. Use almond flour or almond meal in place of the finely diced almonds.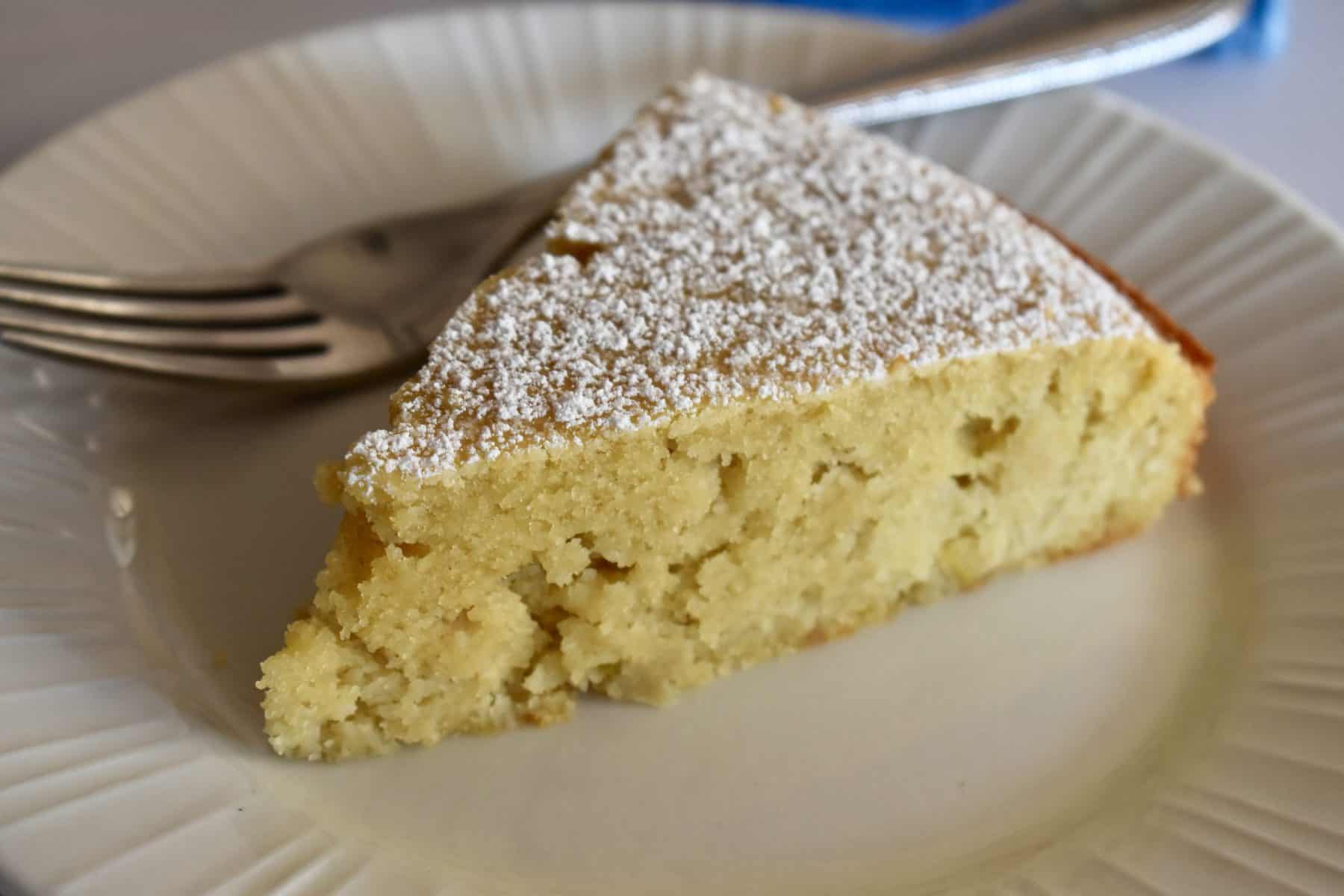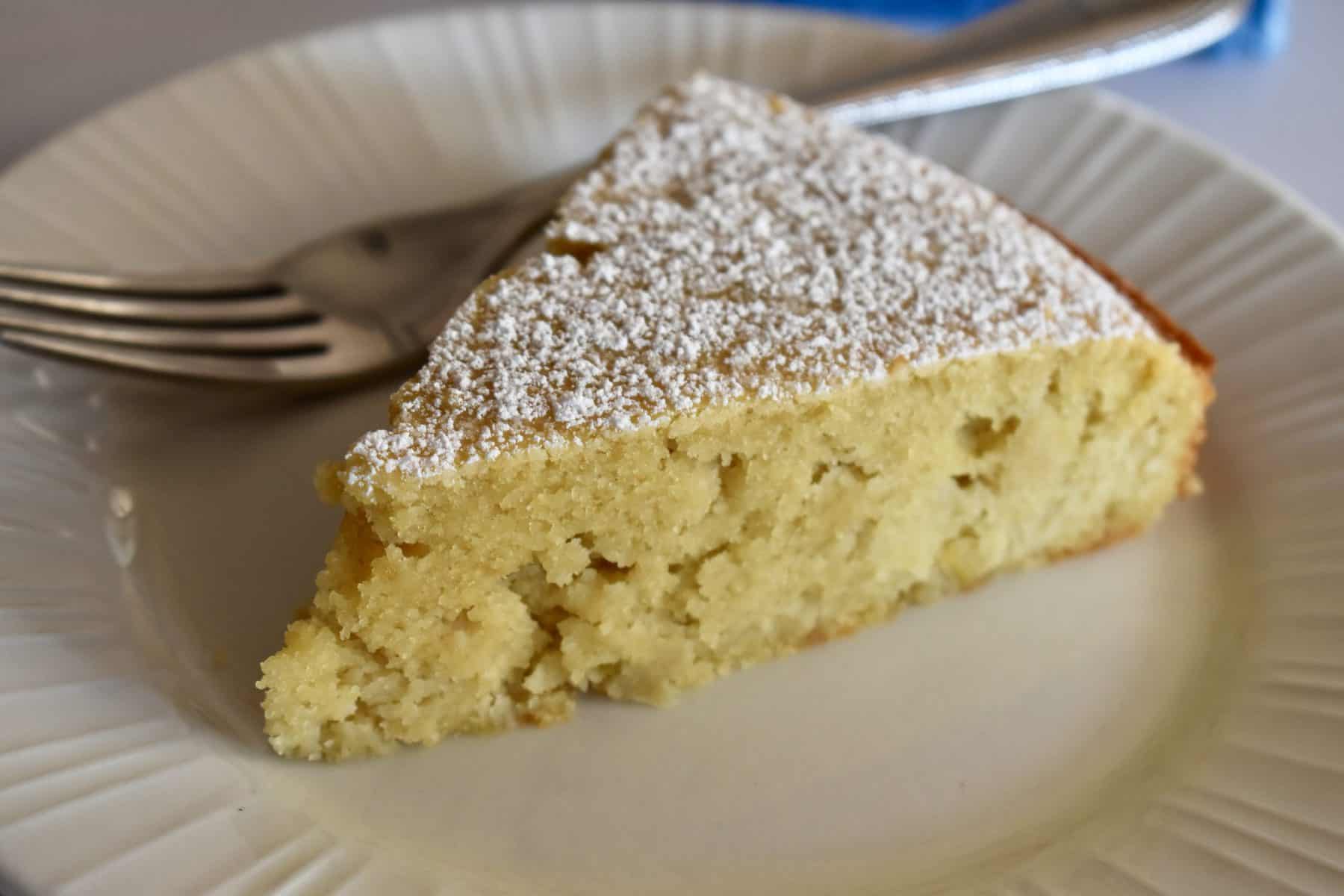 I hope you love this recipe for Almond Flour Apple Cake. It's great to serve for breakfast, snack, or dessert.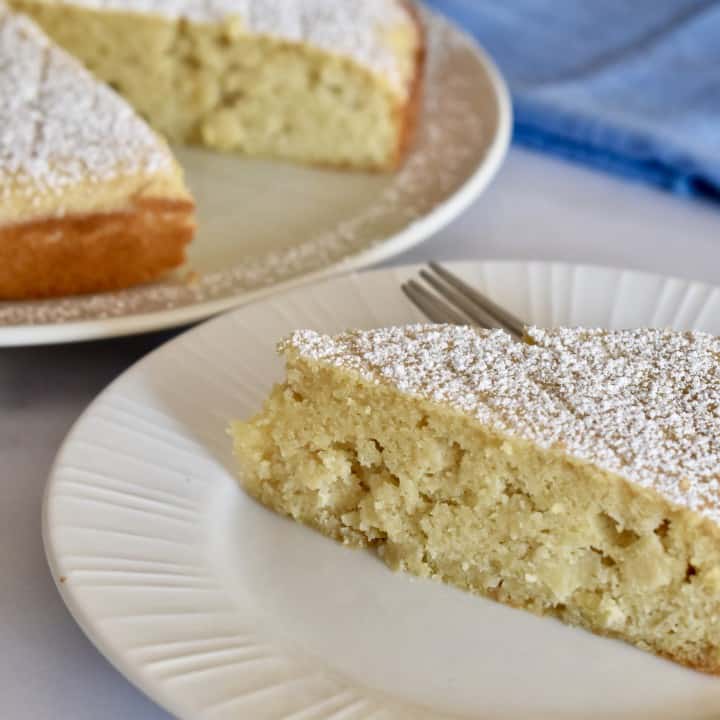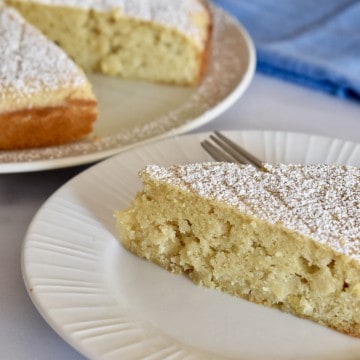 Almond Flour Apple Cake
Simple, delicious, and naturally gluten-free and dairy-free cake that's perfect for breakfast, snack, or a light dessert.
Print
Pin
Rate
Ingredients
2

cups

finely ground almond flour

1 ½

teaspoons

baking powder

½

teaspoon

salt

¼

cup

coconut oil (solid)

(could substitute unsalted butter)

4

large

eggs

⅓

cup

maple syrup

1

teaspoon

vanilla

1

apple, peeled and grated

powdered sugar for topping (optional)
Instructions
Preheat oven to 350 degrees. Grease cake pan and line the bottom with parchment paper; set aside.

In a large bowl, whisk together the almond flour, baking powder, and salt. Add in the coconut oil and use a pastry cutter or your fingers to incorporate the oil into the flour. Whisk in the eggs, one a time. Then add in the maple syrup and vanilla and whisk until combined.

Fold in the grated apple to the batter. Pour the batter into the prepared cake pan. Bake for about 30 minutes, or until a toothpick inserted in the middle of the cake comes out clean.

Allow the cake to cool completely on a wire baking rack. Sprinkle on powdered sugar if desired.
Notes
This almond flour apple cake can be stored in an airtight container in the refrigerator for up to a week. 
Nutrition
Calories:
303
kcal
|
Carbohydrates:
19
g
|
Protein:
9
g
|
Fat:
23
g
|
Saturated Fat:
8
g
|
Polyunsaturated Fat:
1
g
|
Monounsaturated Fat:
1
g
|
Trans Fat:
1
g
|
Cholesterol:
93
mg
|
Sodium:
262
mg
|
Potassium:
90
mg
|
Fiber:
4
g
|
Sugar:
12
g
|
Vitamin A:
147
IU
|
Vitamin C:
1
mg
|
Calcium:
133
mg
|
Iron:
2
mg