Rotisserie Chicken Salad with Grapes is an easy and delicious appetizer or sandwich that is perfect for a baby shower, bridal shower, or weekday lunch. Make ahead and serve with crackers, on a bib lettuce leaves, or on croissants for delicious sandwiches.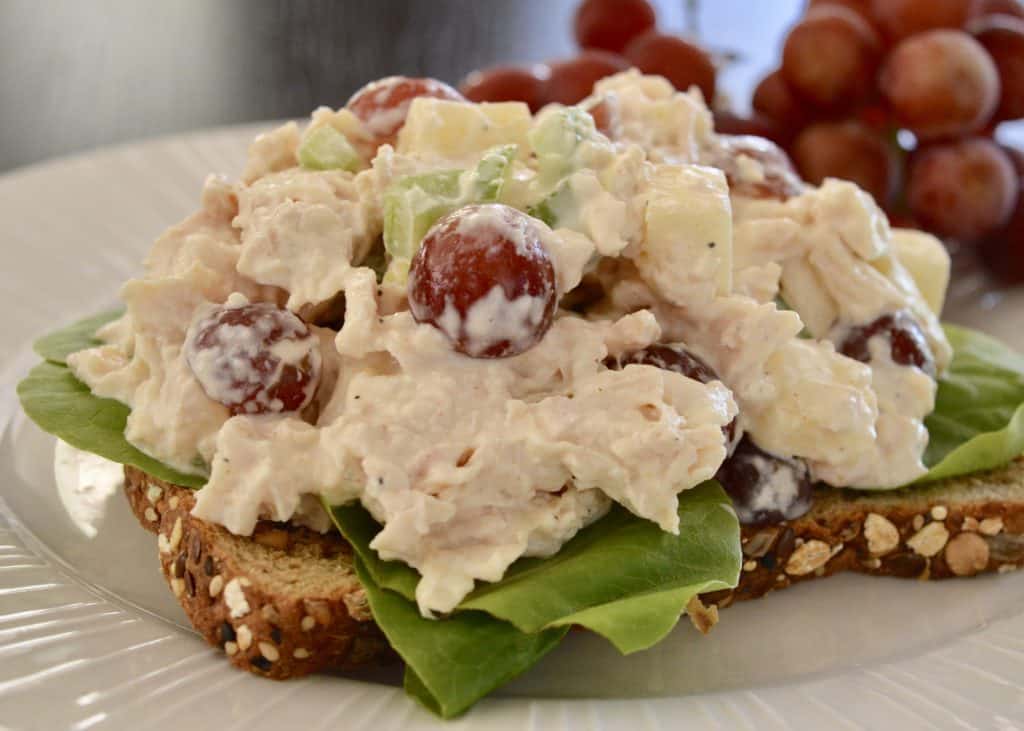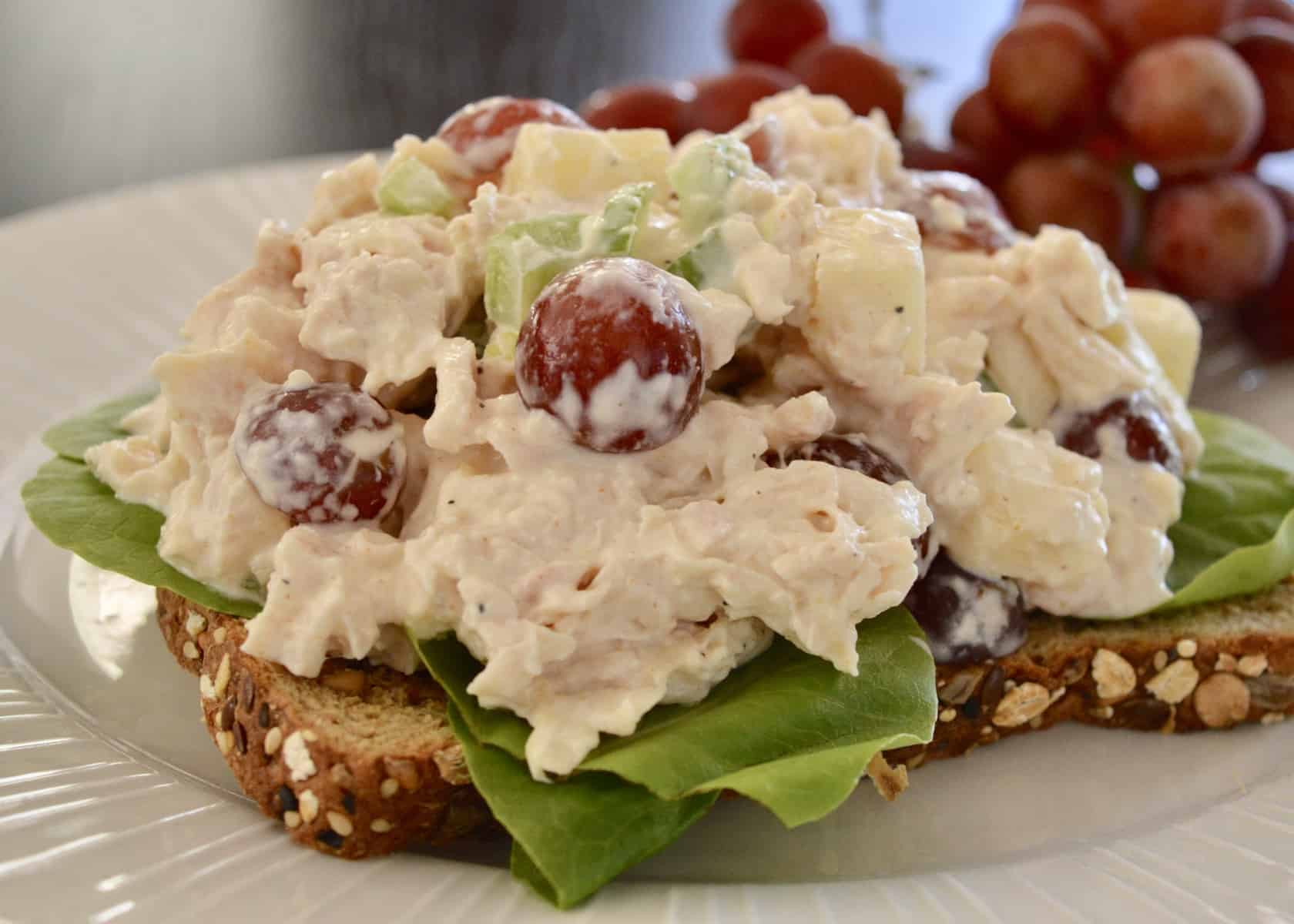 Delicious and so easy, this Rotisserie Chicken Salad with Grapes requires little effort and makes such a big impact.
You have to love something that is so simple and so delicious. This rotisserie chicken salad with grapes is just that! It's a great use for the leftover store-bought rotisserie chicken, you know the one you can get from Costco for $4.99!
Great for brunches or showers, this entire Chicken Salad can be made ahead and refrigerated until serving. Serve with crackers, lettuce leaves, or croissants, yum!
How to Make Rotisserie Chicken Salad
Making this salad couldn't be easier. And this is a great make-ahead dish which seems to taste even better the next day!
To make, simple combine the diced rotisserie chicken breast with onion, apple, celery, and grapes. Toss to combine, then fold in the mayo, yogurt, dijon, lemon juice, and seasonings.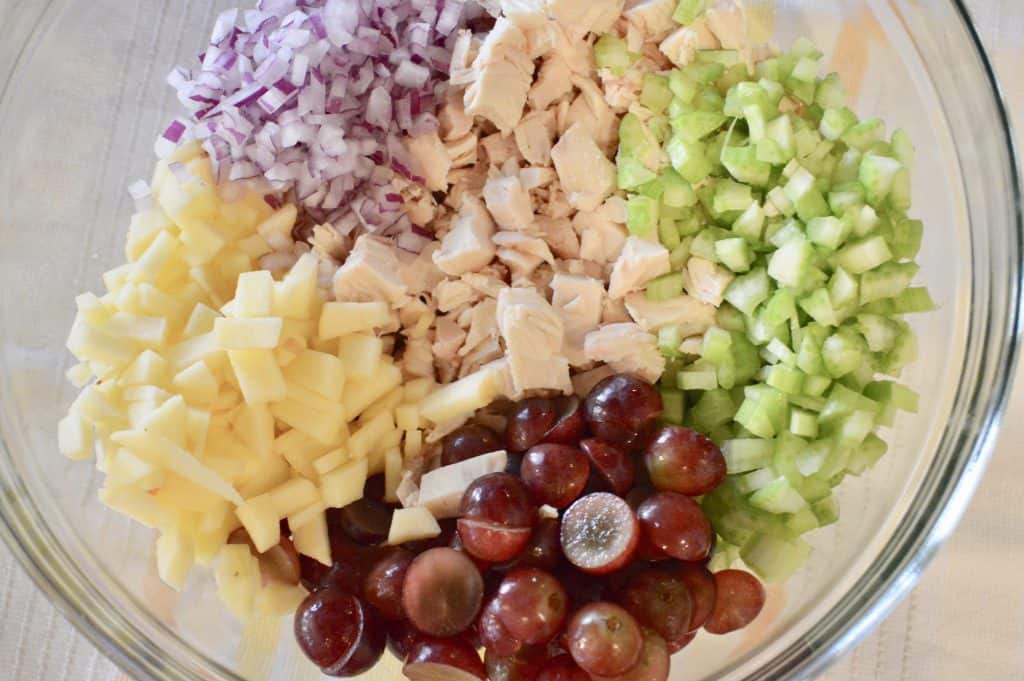 Store in an air tight container in the refrigerator for up to 5 days and have a delicious and healthy sandwich spread or cracker spread anytime.
Got leftover chicken?
Take a helping hand with store-bought rotisserie chicken. Add some crunch and sweetness with grapes and apples, and a few other ingredients including healthy greek yogurt. The best part, make the whole thing in one bowl and refrigerate until ready to serve! A true make-ahead marvel!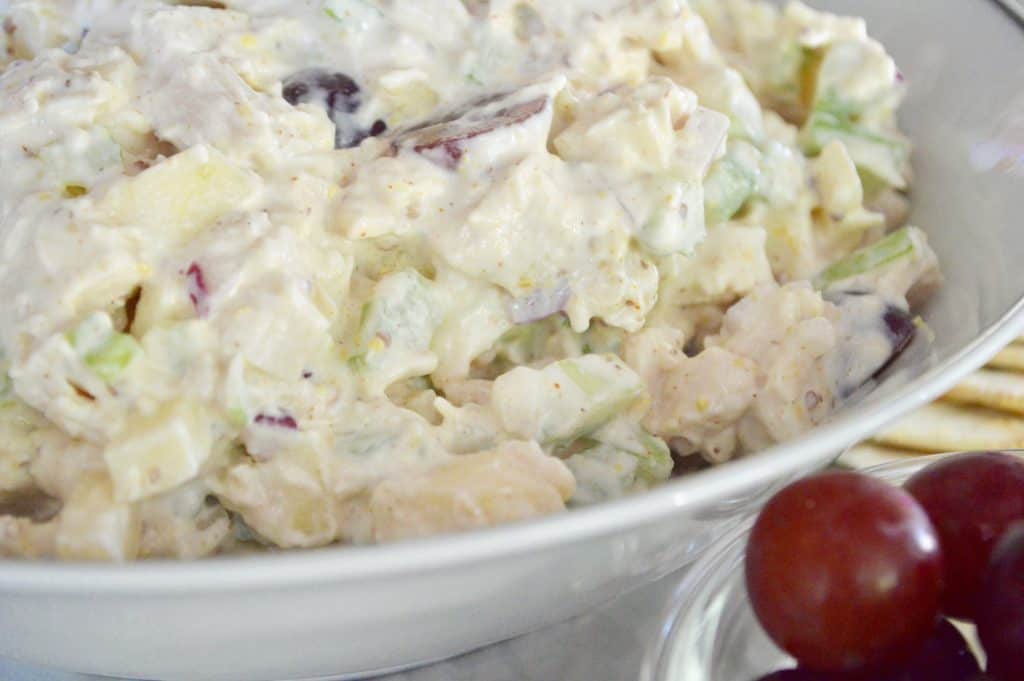 So if you're looking for a chicken salad recipe with a little bit of crunch and sweetness, you're going to love this Chicken Salad with Grapes recipe. Enjoy!
Rotisserie Chicken Salad with Grapes
The perfect use for rotisserie chicken! This chicken salad is sweet and crunchy and would make the perfect appetizer for a baby shower or bridal shower, or just served on wheat bread or croissant for a delicious sandwich.
Ingredients
Dressing
1/2

cup

mayonnaise

1/2

cup

greek yogurt

(nonfat or 2%)

2

tablespoons

lemon juice

(about 1/2 a lemon)

1

tablespoon

dijon mustard

1/2

teaspoon

kosher salt

1/2

teaspoon

paprika

1/4

teaspoon

pepper
Chicken Salad
4

cups

rotisserie chicken, chopped

(about 2 breasts)

2

celery stalks, diced

1

cup

red grapes, halved

1

small apple, peeled and diced

1/4

cup

red onion, finely diced
Instructions
In a large bowl whisk together all of the dressing ingredients. Add the chicken salad ingredients on top and fold together using a rubber spatula until combined.
Notes
The ultimate make ahead recipe, this can be made up to two days in advance. Stir gently when ready to serve. 
Here at This Delicious House, I strive to provide readers with easy and delicious recipes, as well as simple and fun party ideas. Be sure to sign up for the newsletter and get recipes and ideas to your inbox!
For another delicious make-ahead brunch idea or shower idea, try my Ham & Cheese Quiche!
Throwing a baby shower on a budget, don't miss my top picks for Baby Shower Decorations on a Budget
Click here to follow us on Facebook!