Get your Cuban sandwich fix with these delicious and easy to make Pull Apart Cuban Sliders on King's Hawaiian Rolls. Made with ham, pork, mustard, pickles, and Swiss cheese, these sliders have all of the flavors you crave from authentic Cuban sandwiches.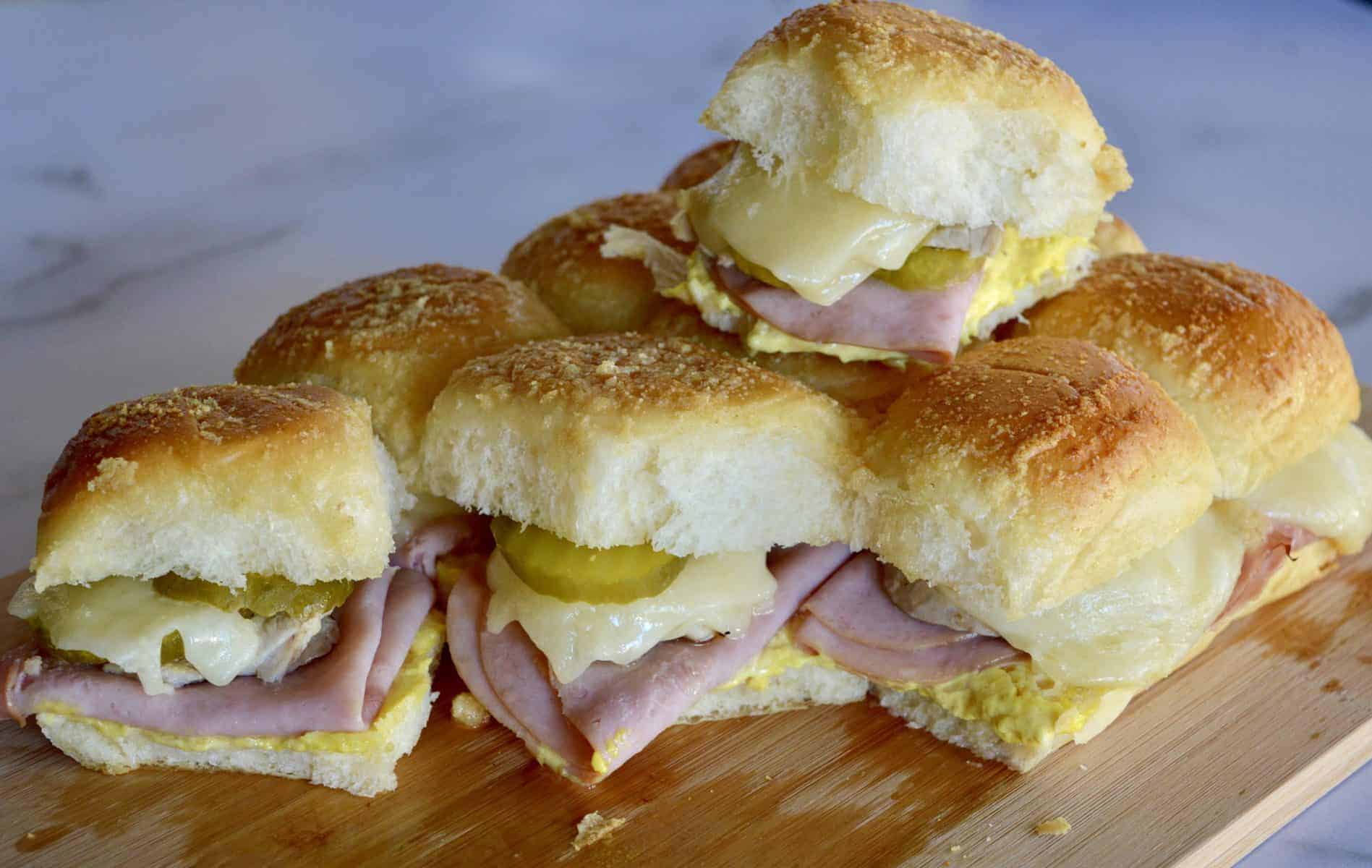 Change up your slider routine with these flavorful and easy to make Cuban sandwich sliders. Made on delicious soft King's Hawaiian Bread Rolls, these pull apart Cuban sliders are a great party food, game day snack, or weeknight dinner option.
If you've never had one, a Cuban sandwich is a variation of a ham and cheese sandwich. The main ingredients include:
Cuban bread
ham
pork
swiss cheese
mustard
pickles
The final sandwich is then warmed through on crispy buttery Cuban bread. It is absolute sandwich perfection. When I lived in Miami, I ate a Cuban sandwich at least once a week. The combination of crunchy, cheesy, and buttery, just can't be beat!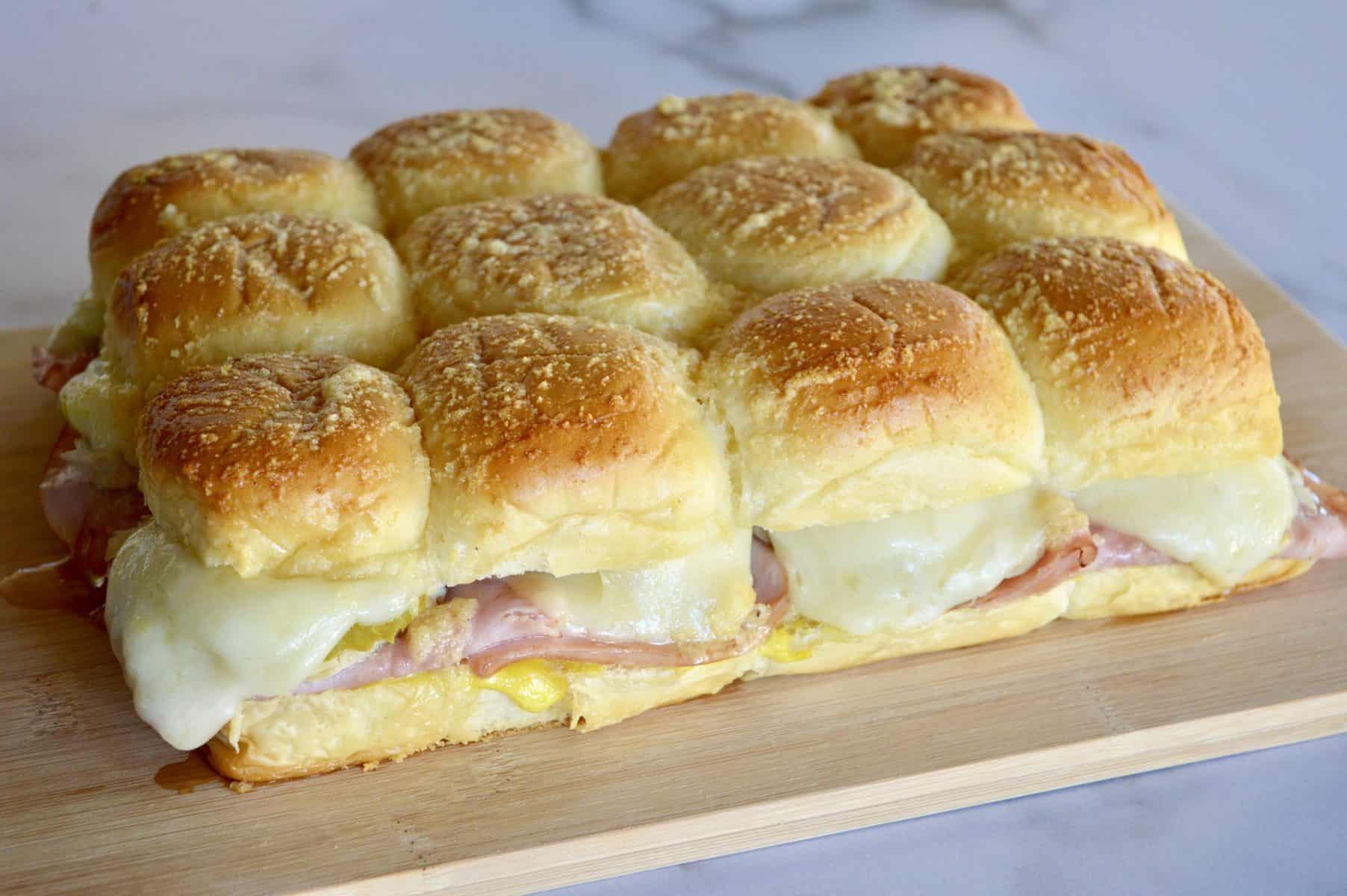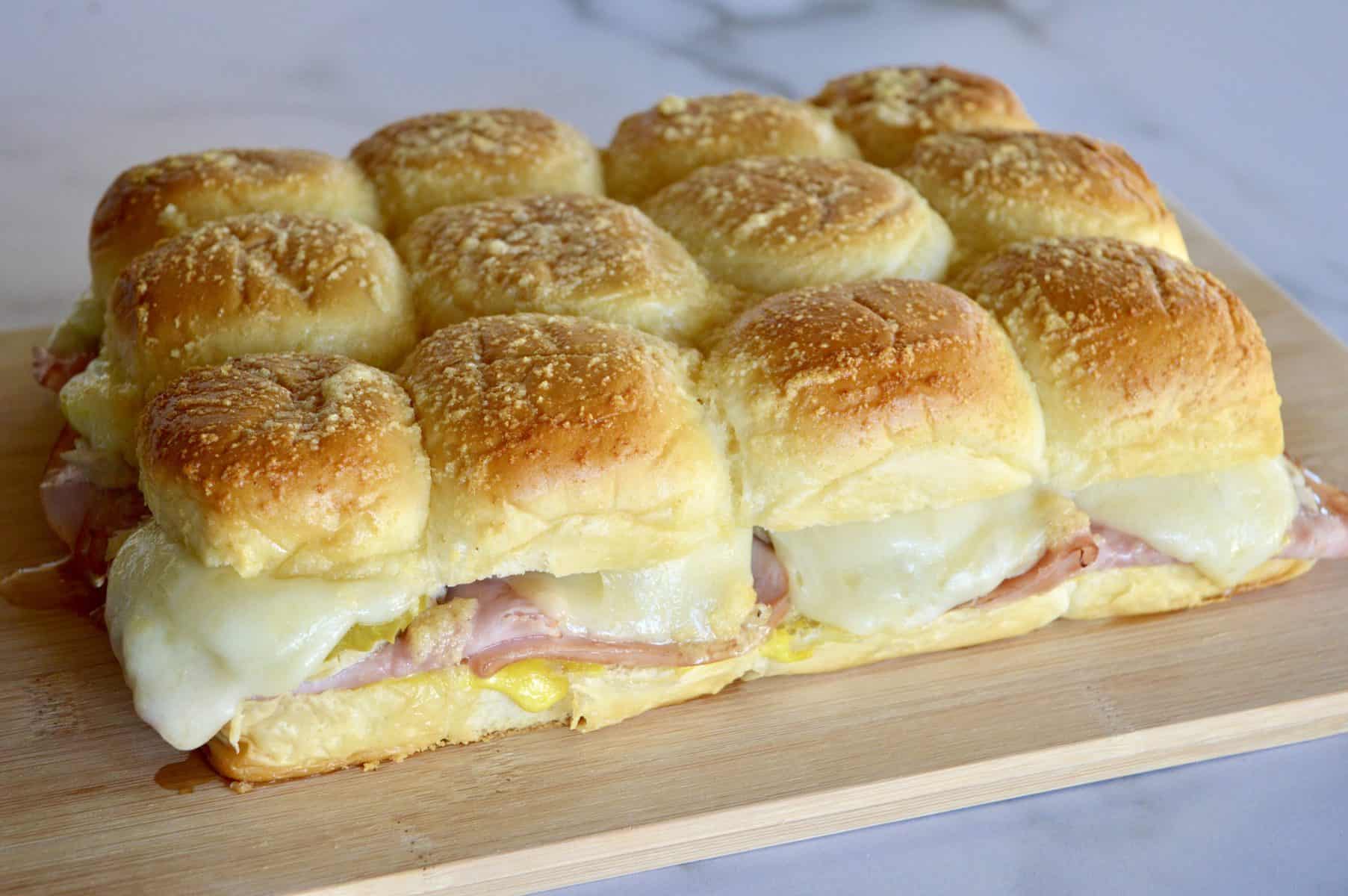 What really makes the sandwich special is the warm buttery bread. However, this may be hard to come by depending on where you live.
Using the King's Hawaiian Rolls, you can recreate that buttery flavorful sandwich, in an easy to make slider. The key is to top the assembled sandwich with a hot buttery mixture and bake. Read below and see how it's all done.
Serve up this slider at your next party. I guarantee it's going to be your new favorite take on ham and cheese.
Pork Tenderloin in pull apart Cuban slider
A classic Cuban sandwich consists of ham, Swiss cheese, pickles, mustard, and pork. For these pull apart cuban sliders, you can use cooked pork tenderloin or a variety of substitutions depending on what you have on hand.
If you don't have pork tenderloin for your Cuban sandwich, you could always just omit it all together or double up on the ham. If you are at the deli, you can see about getting a different variety of ham for the sandwich or using pulled pork.
To prepare a quick and easy pork tenderloin for this sandwich, just season a small pork tenderloin with salt and pepper. Bake at 375 degrees until it reaches an internal temperature of 145 degrees. Let the pork sit for 5-10 minutes before slicing it into thin pieces.
Leftover pork tenderloin is great for a variety of sandwiches or served over rice with veggies. You could also serve it warmed through on top of a baked potato for a quick and easy dinner.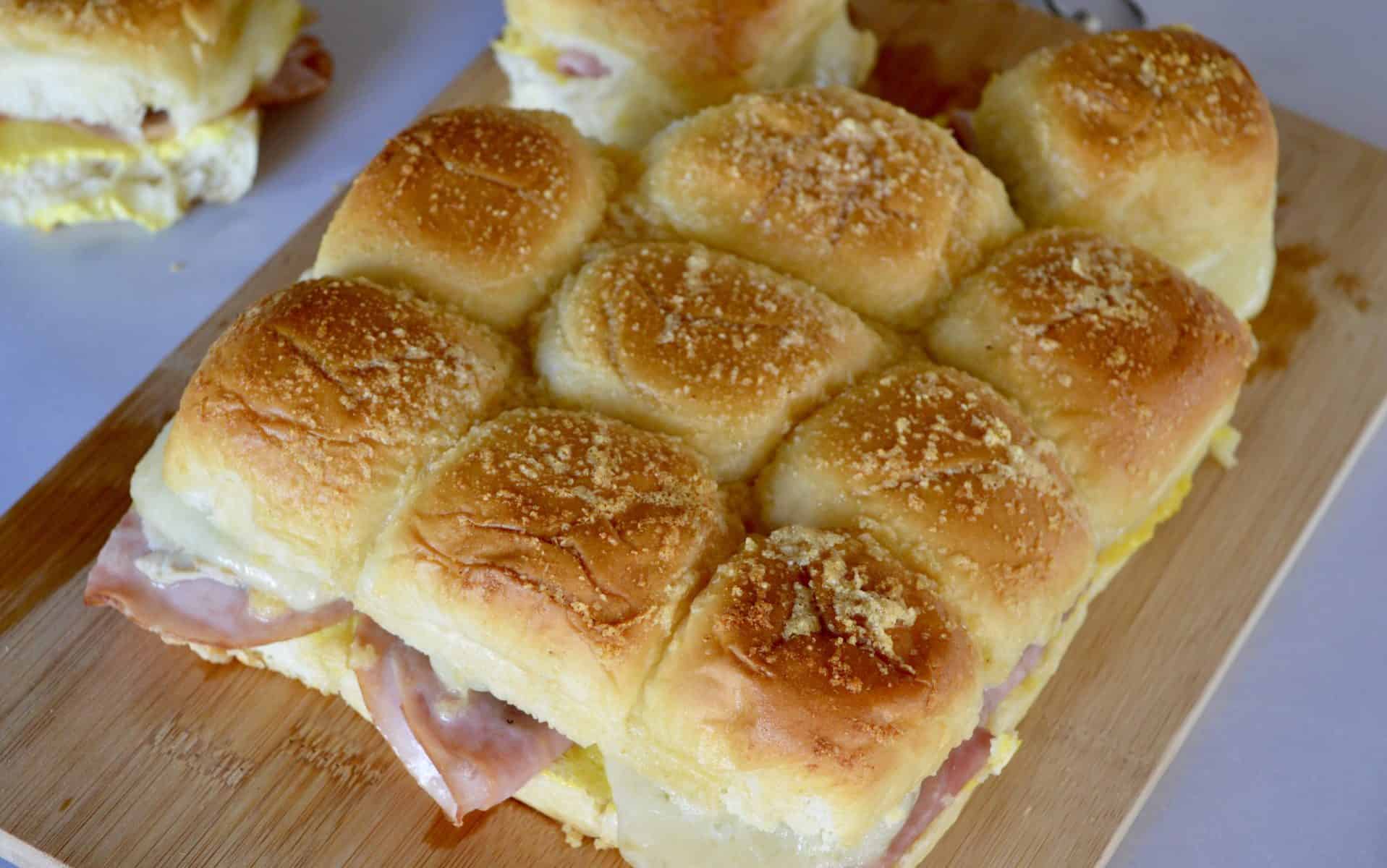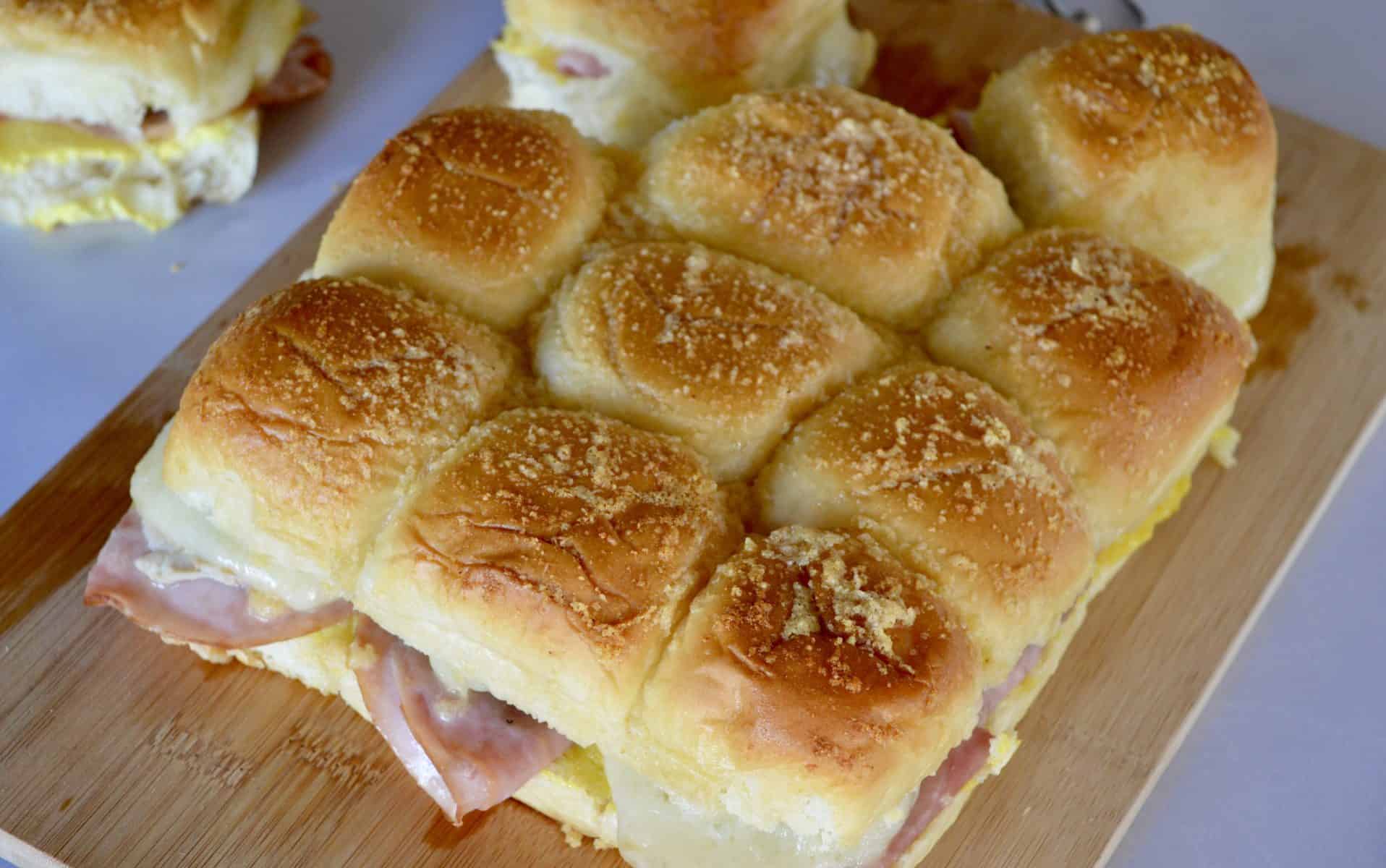 King's Hawaiian Rolls Slider Sandwiches
If you are looking for a delicious and fun way to make a slider, then King's Hawaiian Rolls are where it's at! I've made so many different sliders using these tasty sweet little buns. Everyone loves them, adults and kids alike!
These rolls are easy to use for pull-apart sliders because you can cut a sheet of twelve buns at once. Layer on whatever filling you love and either serve cold or bake for a cheesy delicious treat.
These mini sandwiches are great as appetizers, or even a fun weeknight dinner. Check out some of these other delicious slider variations:
You could even just serve King's Hawaiian Rolls alongside a meat and cheese tray and let guests make their own mini sandwiches.
How to make Pull Apart Cuban Sliders
To start, you will need to slice your buns in half lengthwise. Don't pull apart the individual rolls, but instead use a serrated knife to cleanly slice as if it were a big sandwich bun.
Set aside the top half of the bread and spread on equal parts of mayonnaise and mustard on the bottom half of the bun. I like to use the traditional yellow mustard here, but you could substitute dijon if you prefer.
Next, take your twelve slices of deli ham and fold them so that they fit individually on to each bun. It's ok if they overlap a bit; just make it so that when you pull apart the buns you aren't taking all of the meat off another slider.
Then, place on the sliced pork tenderloin. If you don't have any pork tenderloin you could always skip this step or double up on the deli ham.
Place the pickle slices on top of the pork followed by the Swiss cheese. I like to take a standard slice of Swiss cheese and cut it into smaller squares, then layer it on for extra cheesy goodness.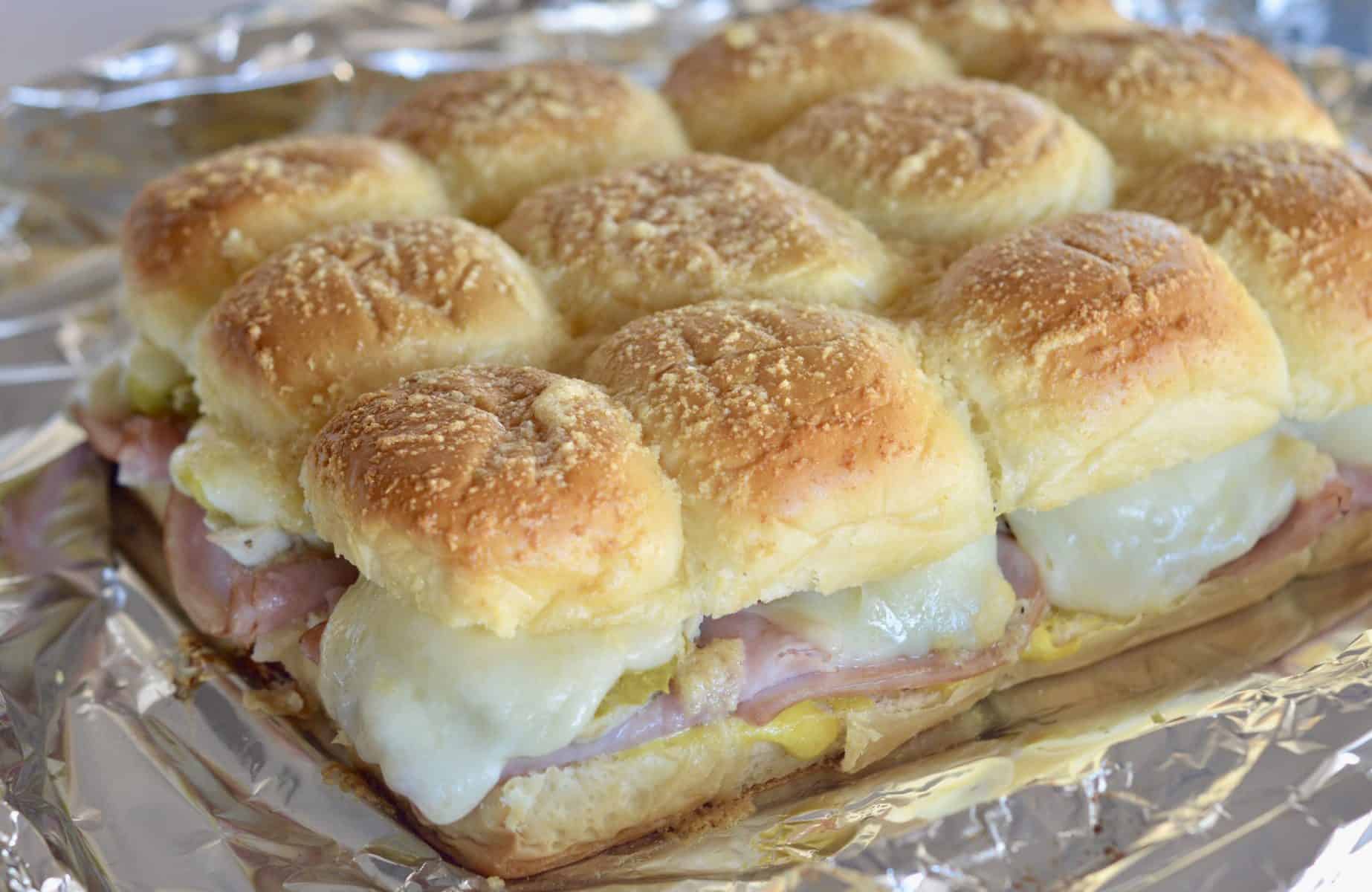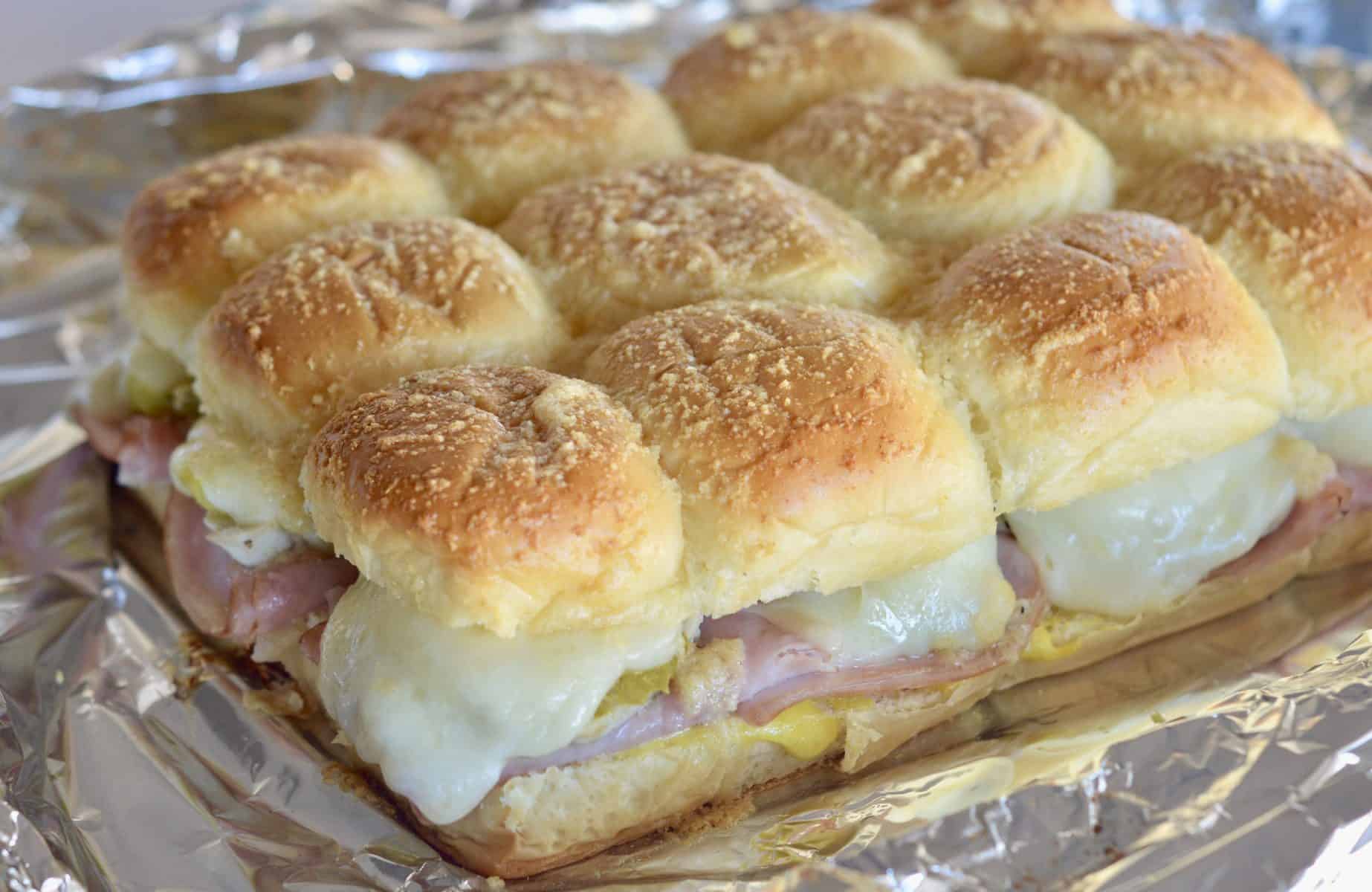 Lastly, place the top half of the sandwich on the bread and press down gently. The sandwich will need to heat through. You can either place it on a large piece of foil that wraps around it, or in a deep enough dish that you can cover with foil.
Onion, Garlic, Butter Slider Topping
What makes this pull apart cuban slider special is the buttery topping you brush on top before baking. This simple topping comes together in seconds and really make the slider delicious.
Firstly, just melt half a stick of butter. To it, add a teaspoon each of garlic powder and onion powder. Use a silicone pastry brush to brush the tops of the slider rolls.
Bake, covered, to allow the meat to warm and the cheese to melt. During the last five minutes, uncover so that the bread can get a light golden brown.
Can you make sliders ahead of time?
Sliders are a great party food that can be assembled ahead of time. Just follow all of the steps to prepare the sandwiches, but don't add the melted butter until ready to bake.
Cover and store in the fridge up to a day in advance. When ready to bake, brush on the melted butter topping and bake as usual.
Hope you love these Pull-Apart Cuban Sliders! Be sure to comment below and let me know how you like them. Enjoy!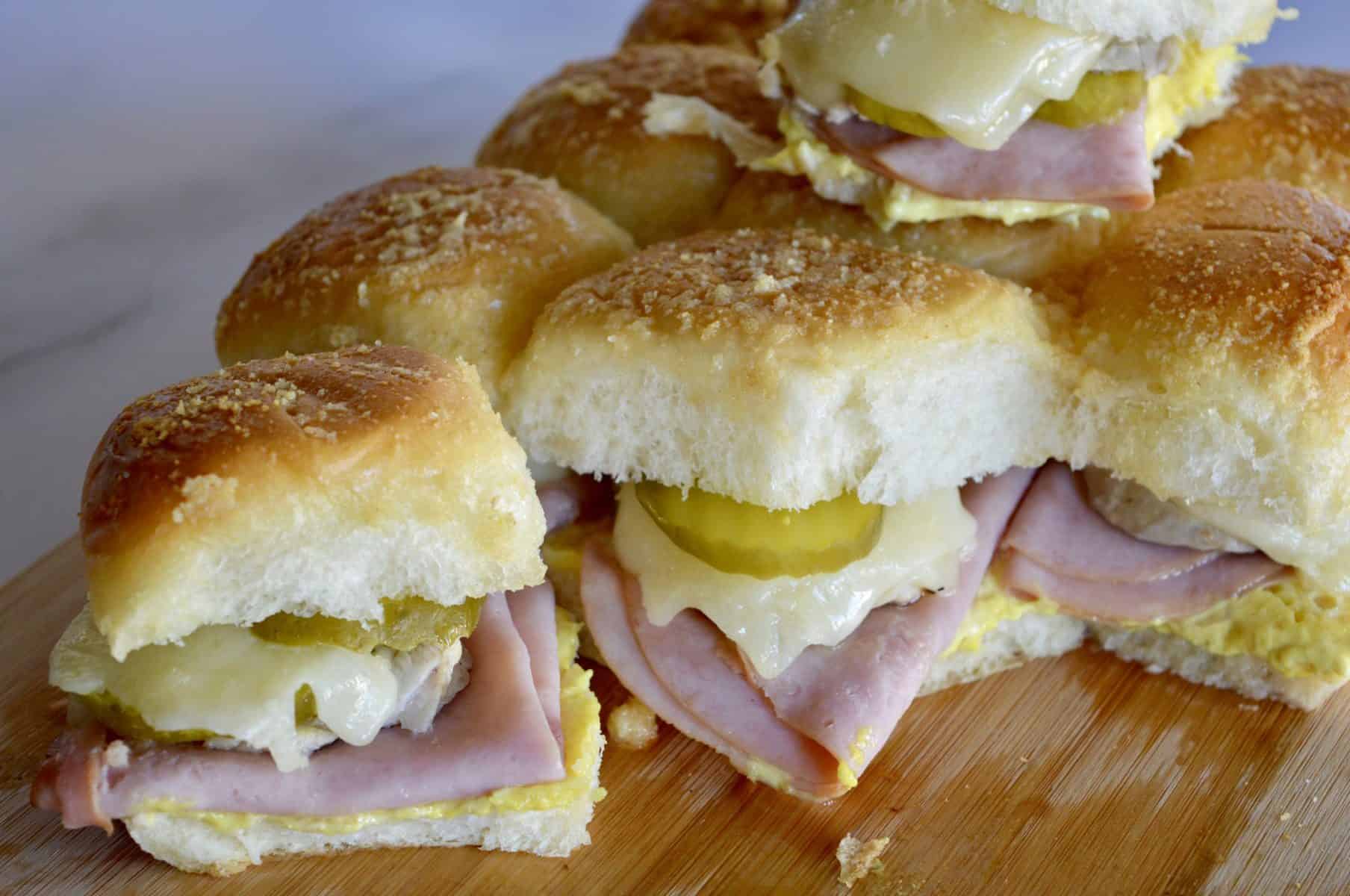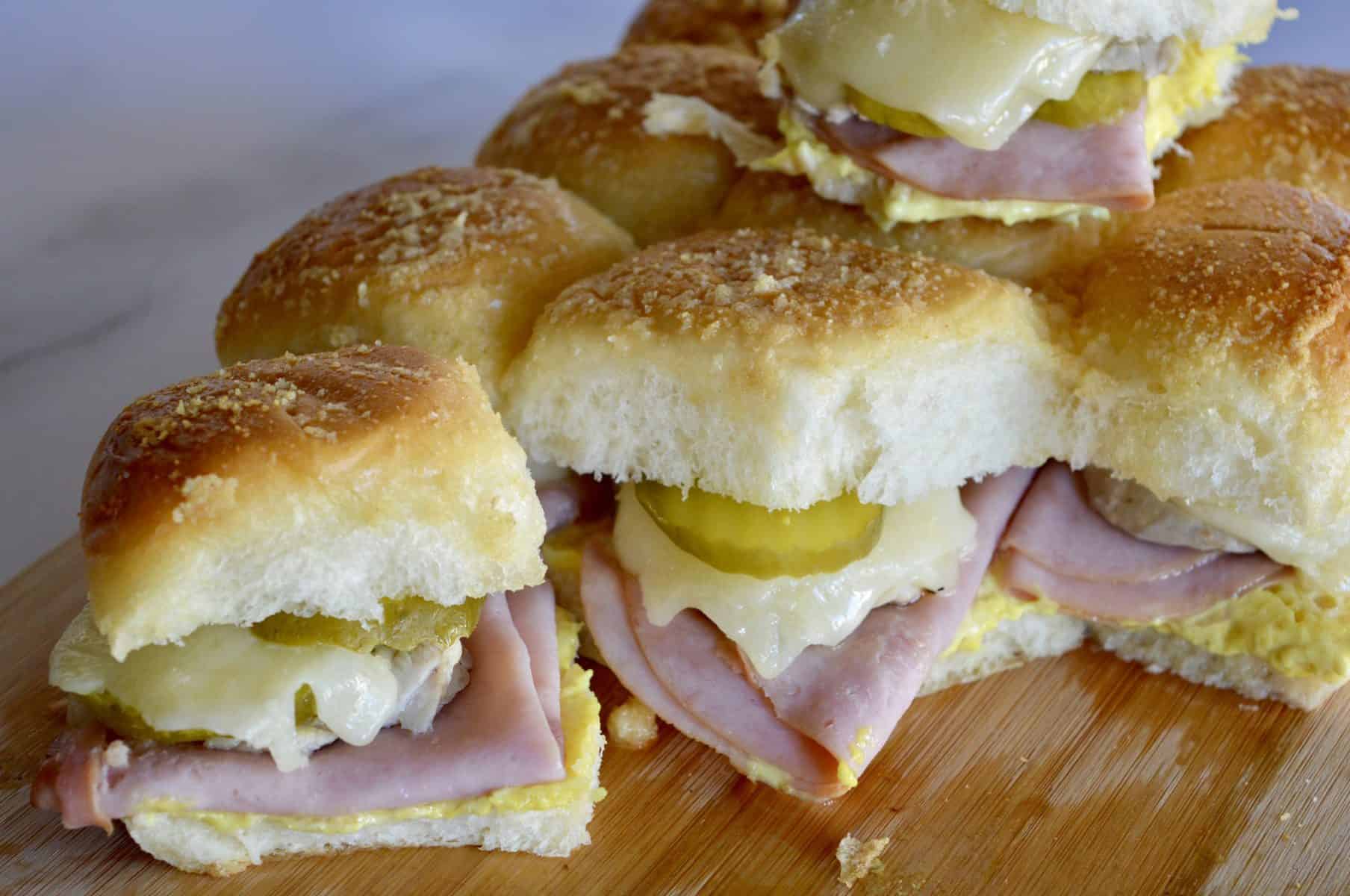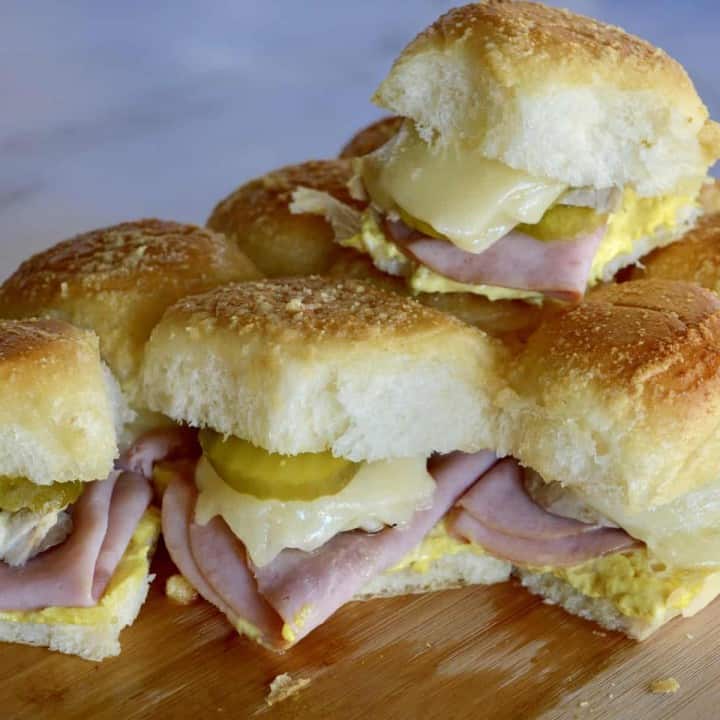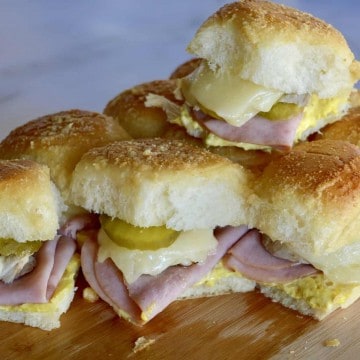 Pull Apart Cuban Sliders
The BEST recipe for authentic pull apart Cuban sliders on King's Hawaiian Rolls. These quick and easy to make sliders have all of the traditional flavors of a Cuban sandwich.
Print
Pin
Rate
Ingredients
12

pack

King's Hawaiian Rolls, halved, keep sheet intact

Savory Butter or Original flavor

2

tablespoons

yellow mustard

2

tablespoons

mayonnaise

12

slices

deli ham, folded into squares

(about 8 ounces)

12

slices

pork tenderlion (optional)*

(about 6 ounces)

12

pickle slices

12

slices

swiss cheese

(about 6 ounces)
Butter Topping
¼

cup

butter, melted

(half a stick)

1

teaspoon

garlic powder

1

teaspoon

onion powder
Instructions
Preheat oven to 350 degrees. Line a baking sheet with enough foil to completely wrap the sandwiches. Place the bottom half of the rolls on the baking sheet.

In a small bowl, combine the mustard and mayonnaise. Spread sauce on slider buns.

Next, layer the ham, pork tenderloin, pickles, and cheese on to each individual slider bun. Top with top half of rolls.

In a small bowl, combine the melted butter, garlic powder, and onion powder. Brush the rolls with butter topping.

Use the foil to loosely envelop the rolls. Bake for 20 minutes, then unwrap and bake for an additional 5 minutes or until the cheese is melted and the buns are golden.
Notes
This delicious bite-sized Cuban sandwich is a great make ahead dish too. Just prepare until step three and refrigerate until ready to bake and serve. Brush on the butter before baking. 
*This is a great recipe to use up leftover pork tenderloin slices. If you don't have any pork tenderloin on hand, you could always double up on the ham or omit it all together. 
Nutrition