Kale Cranberry Feta Salad has all of the right flavors and textures to make this the perfect kale salad recipe. Tangy lemon vinaigrette balances everything together in this delicious and healthy salad.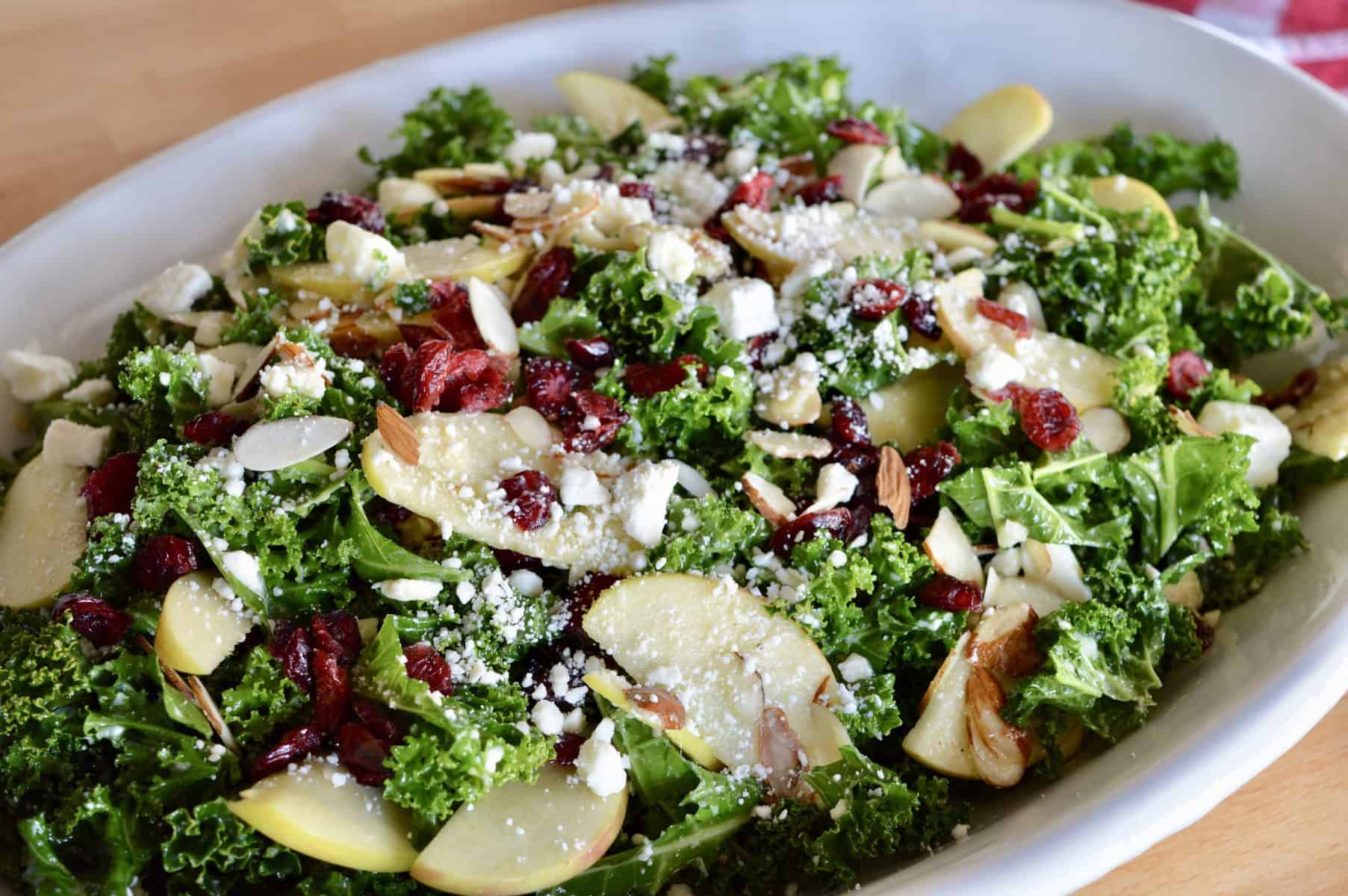 Crisp and full of flavor, this Kale Cranberry Feta Salad is sure to become your new favorite salad. It's the perfect balance of sweet, crunchy, and slightly salty from the feta cheese. Topped with the simple lemon vinaigrette, and it's salad perfection!
If you are unsure about using kale in a salad, then you need to give this recipe a try. Here, the kale serves as the perfect base for flavor and holds up it's shape and texture while absorbing the flavors of the vinaigrette.
Moreover, this dish works great as a make ahead salad! Because the kale doesn't wilt like lettuce, you can safely make in advance and refrigerate for up to a day. If you do this, just be sure to add the feta before serving so it doesn't break down too much.
Kale Cranberry Feta Salad is the perfect salad for every occasion, just like my trusty Italian Tomato Onion Salad. Serve as a side for a barbecue, holidays, brunches, whenever! And you can rest assured that your guests are going to love it too.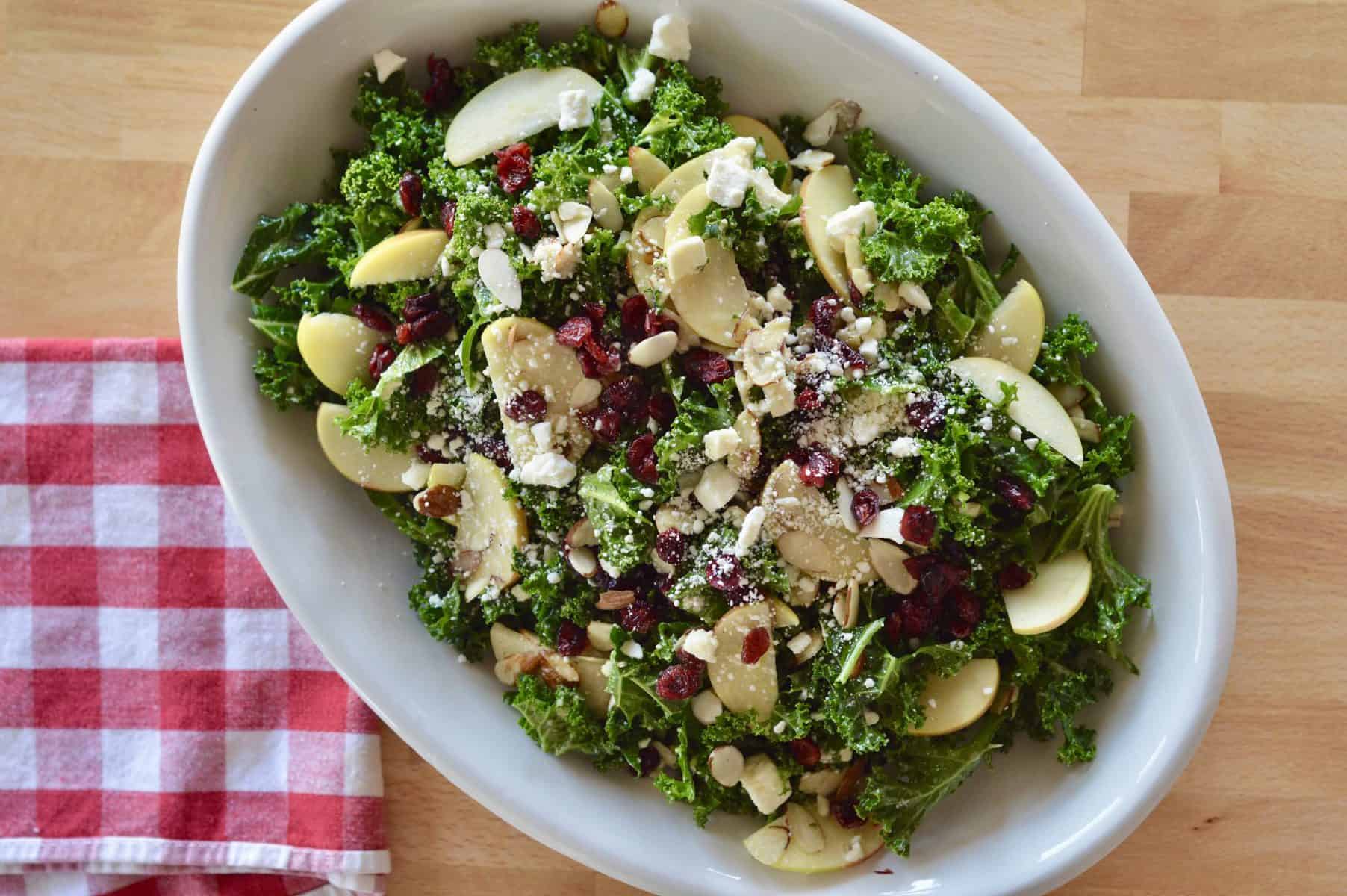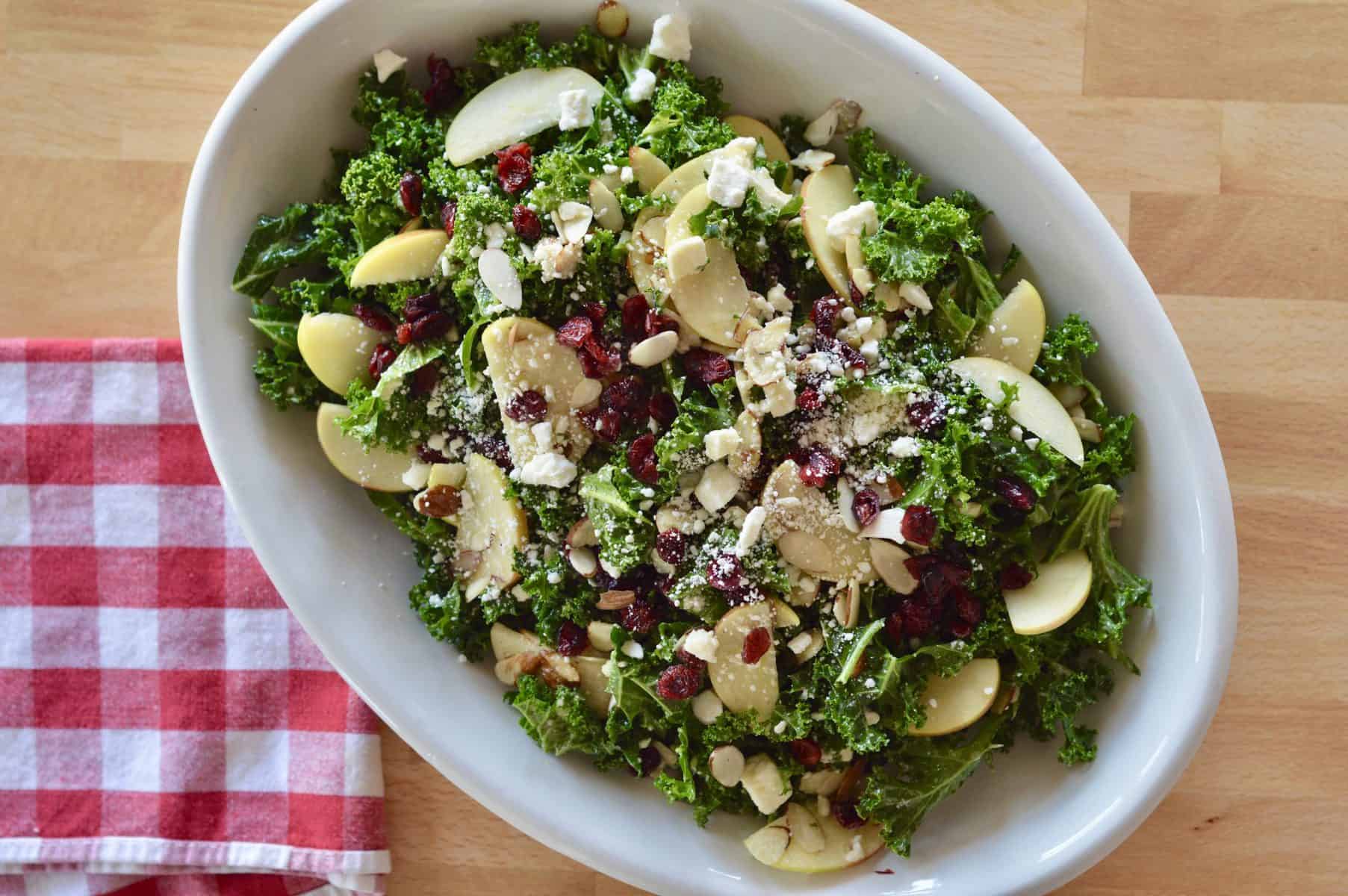 Add chicken, salmon, or tofu on top and make this a meal. Simple and delicious, this kale salad is perfect anytime.
Kale Cranberry Feta Salad Recipe
Firstly, you will need to prep the kale. This is the most difficult part of the recipe, however, it's actually not difficult at all!
Kale has a very tough stem which you will need to get rid of. There are two ways to do this. The first is to lay the kale leaves flat on a cutting board and use a sharp knife to cut out the stem. From there you can just cut the leaves into your desired size.
Another option is to grab the kale leaf from the top and use your fingers to almost hook around the leaves. Then pull down the stem, thus removing the kale leaves. Cut into desired size.
If you cook with kale or other greens and herbs frequently, you may want to consider investing in a herb and green stripper. This handy little kitchen tool has holes that you can slide the leaves through to clean off the stem.
Once you have your kale ready to go, rinse and dry throughly before adding to your salad bowl. I recommend using your trusty salad spinner for this step, otherwise patting the leaves with dry towels works to remove the excess water too.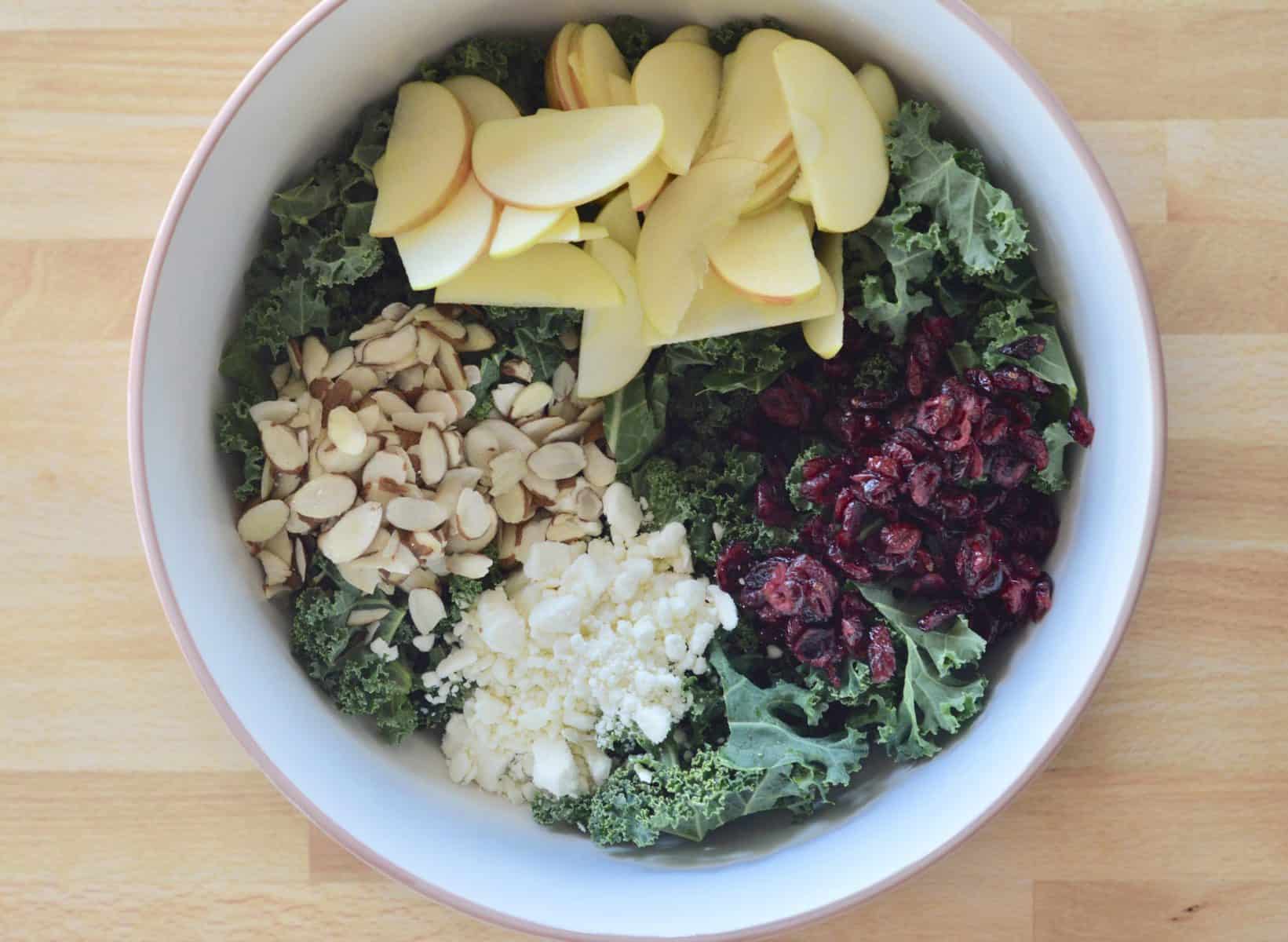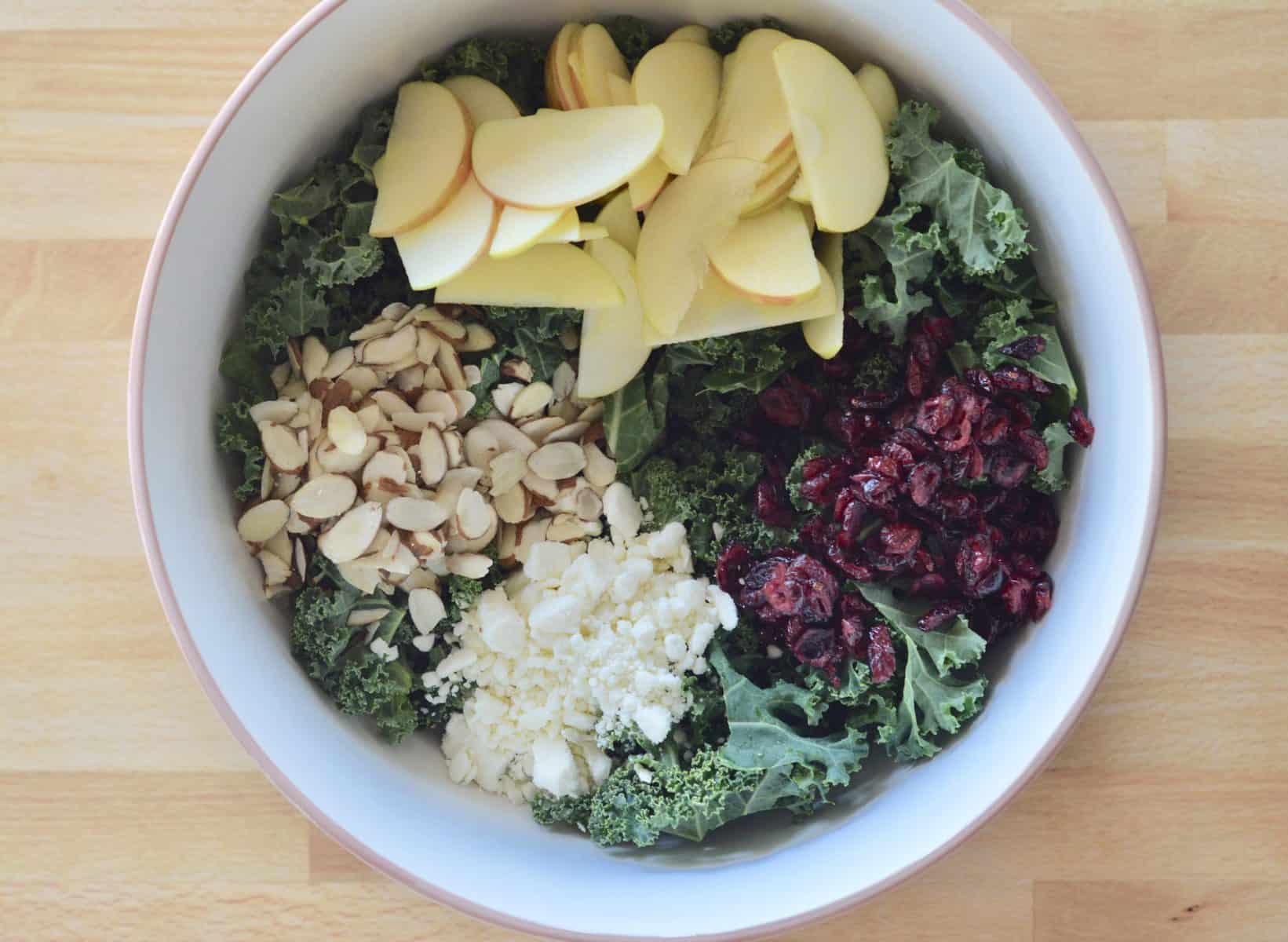 Next, add the remaining ingredients to the kale salad.
These ingredients include:
kale leaves (cleaned and trimmed)
dried cranberries
crumbled feta cheese
sliced almonds
apple slices
If you are not a fan of cranberries, you could always substitute raisins or currants in their place.
Also, if you only have fresh feta, just cut into cubes or use a knife to break the feta into large pieces. Not a fan of feta cheese? Shredded parmesan or goat cheese would be a great substitute here.
As for the almonds, you can substitute whatever nut you like. For the apple, be sure to cut into the slices and feel free to substitute pear or omit altogether.
Lemon Vinaigrette
This simple and delicious lemon vinaigrette is my go to for salads. Because it's fresh and tangy, it's the perfect dressing to bring out all of your salad flavors.
Firstly, simply squeeze a lemon into your measuring cup or a mason jar. Add in olive oil, one clove of crushed garlic, dijon mustard, and salt and pepper. Use a whisk to mix or, if in a mason jar, just shake and pour.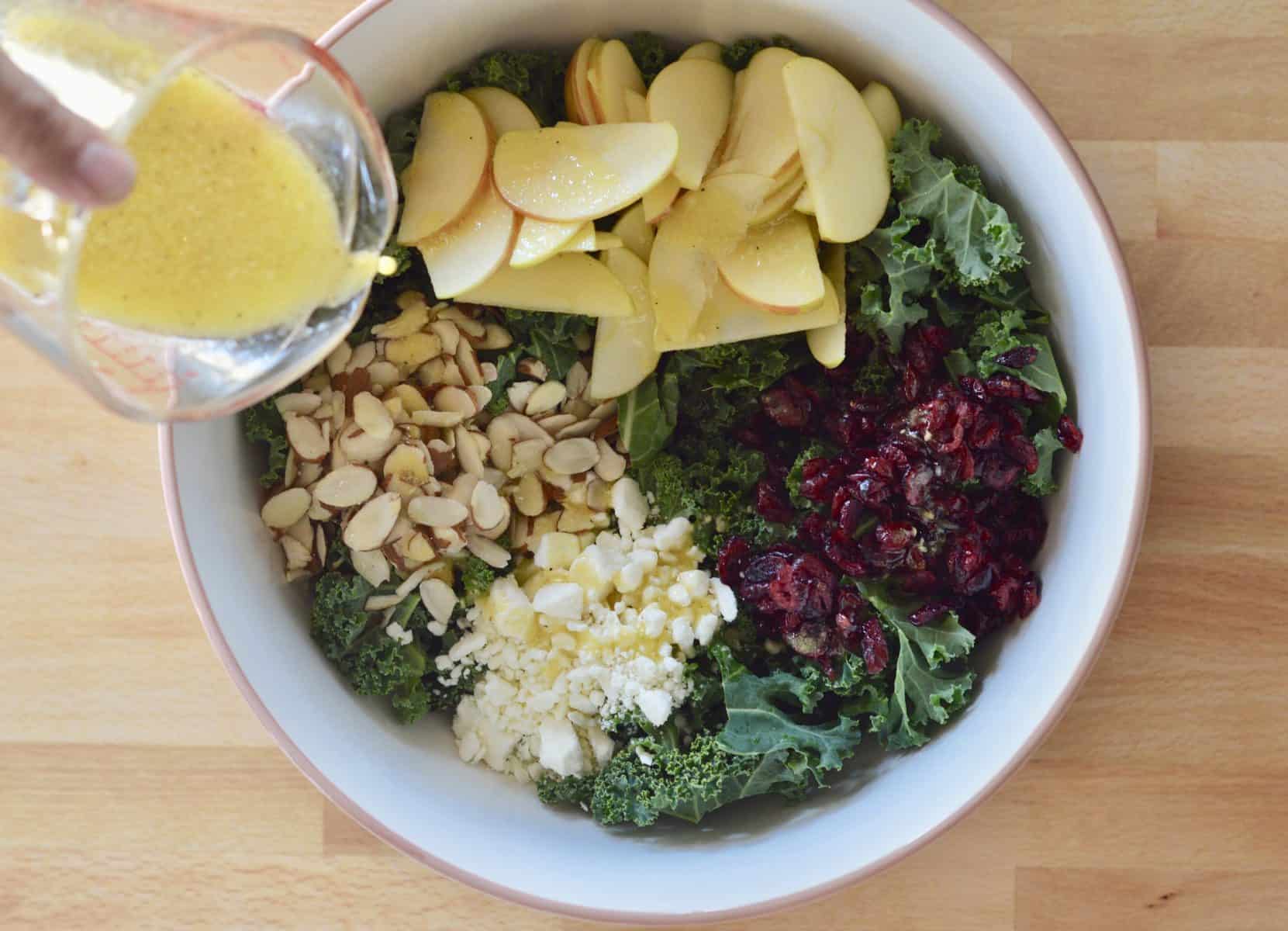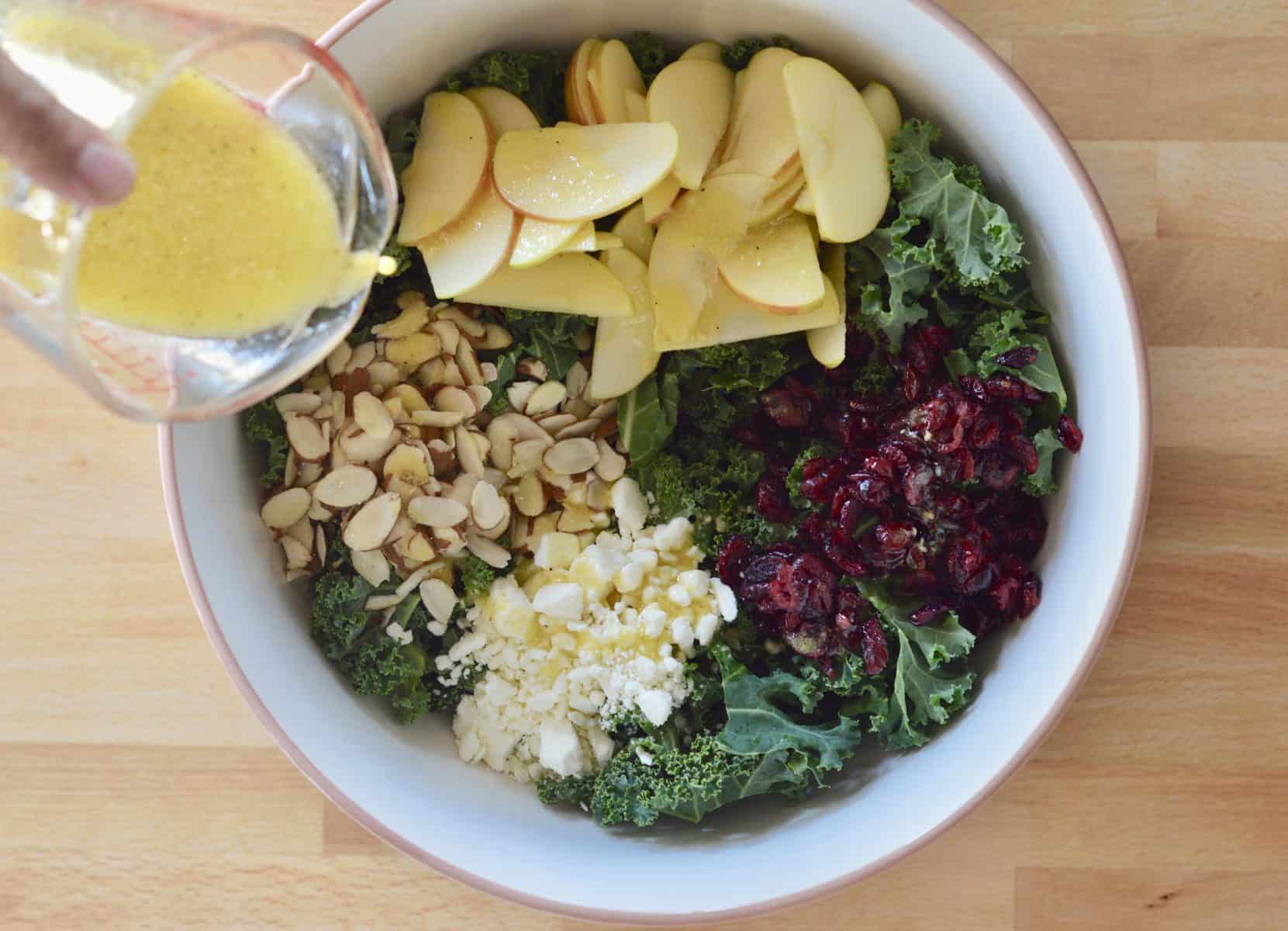 I like to toss the entire salad together ahead of time to allow the kale leaves to soften slightly before serving. Moreover, it allows the flavors of the salad to meld together better.
You can make the lemon vinaigrette in advance. Before using, stir or shake to mix before adding to the salad.
Serve this Kale Cranberry Feta Salad in a big salad bowl, or pour into a pretty white oval serving platter. Top with extra cranberries, feta, almonds, and apple slices if desired.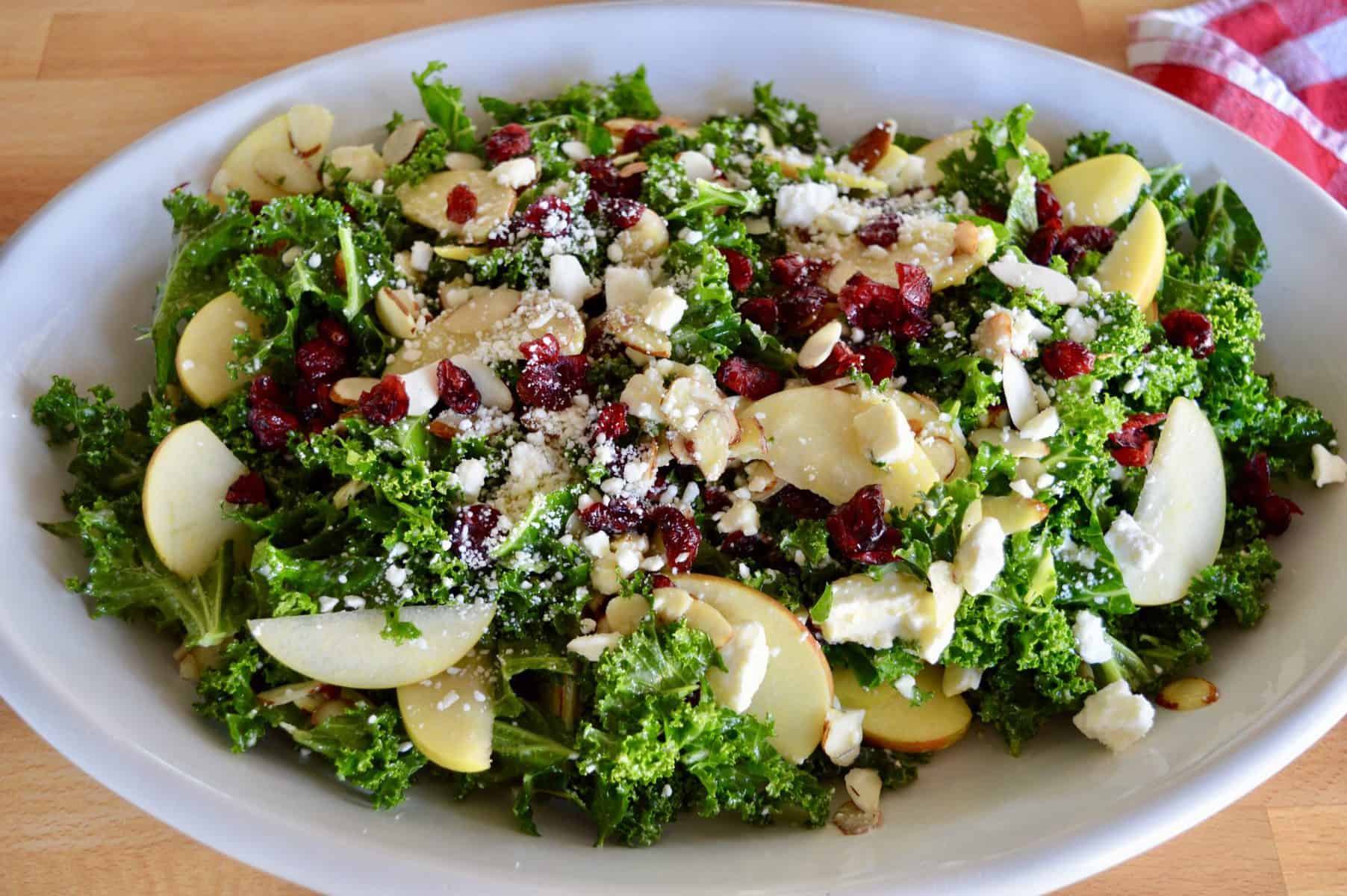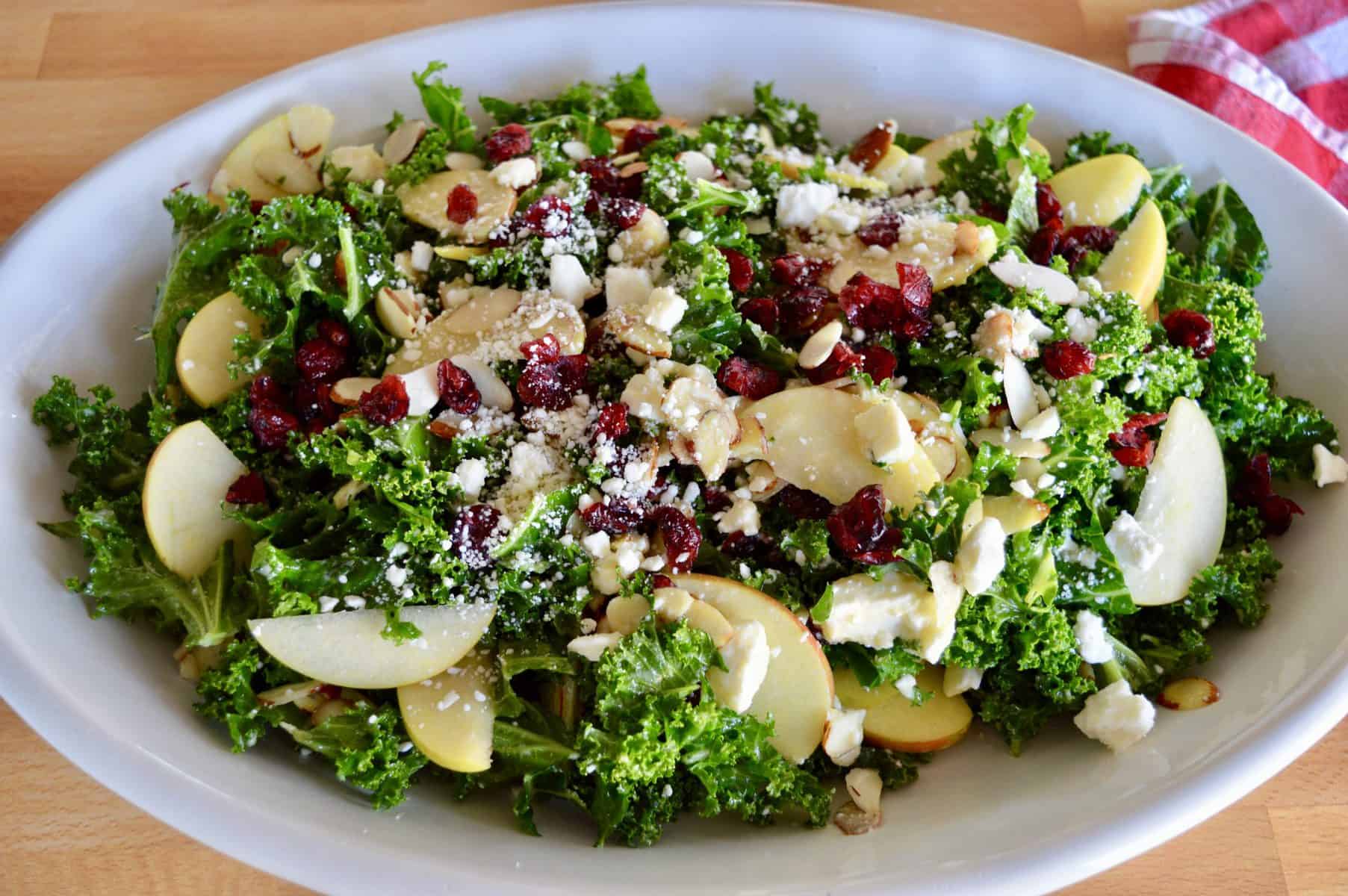 Make-Ahead Salad Recipes
One of the frustrations with making salad is that it just doesn't keep. How many times have you gone to get eat salad from the day before just to find a wilted mess?
To prevent soggy salad the next day, I recommend making salads with sturdy leaves that can withstand wilting. These leaves include kale, collard greens, and shredded Brussels sprouts. Also, you can make salads using grains such as quinoa and farro, which always stand up well and actually get better the longer they sit.
Check out these make-ahead salad recipes that never get soggy or wilted:
Let me know how you love this recipe for Kale Cranberry Feta Salad by commenting below. Enjoy!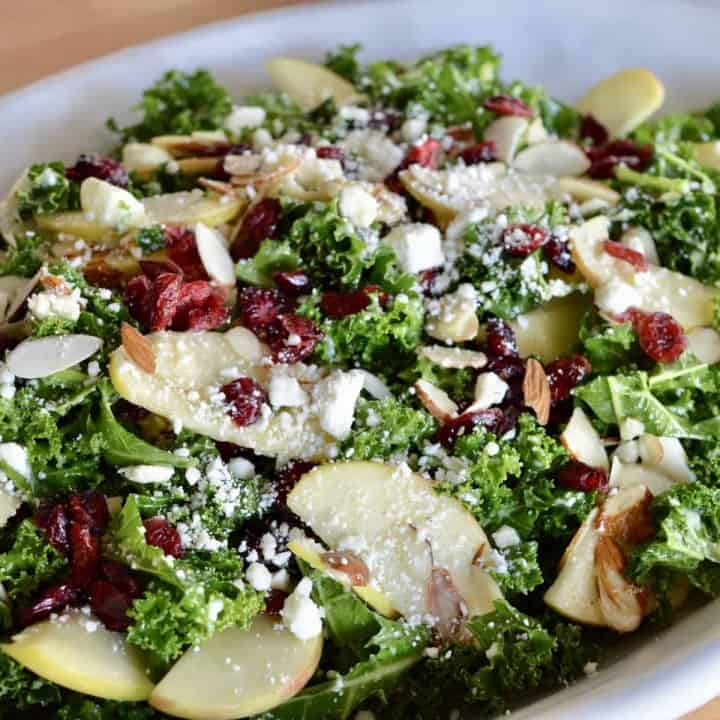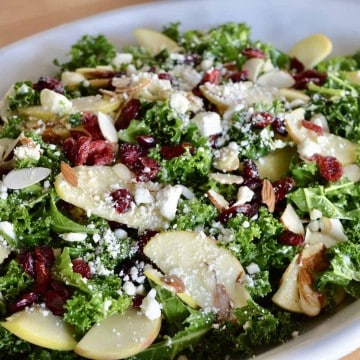 Kale Cranberry Feta Salad
This simple kale salad has a delicious flavor combination from sweet cranberries, salty feta cheese, crisp apples, and crunchy almonds. The lemony dressing is the perfect balance and is so easy to make.
Print
Pin
Rate
Ingredients
1

bunch

kale, washed, trimmed, and chopped

(about 8 cups chopped)

½

cup

dried cranberries

½

cup

feta cheese crumbles

½

cup

sliced almonds

1

medium

apple, cored and sliced
Lemon Vinaigrette
⅓

cup

olive oil

¼

cup

fresh lemon juice

(from about one lemon)

1

clove

minced garlic

2

teaspoons

dijon mustard

½

teaspoon

kosher salt

⅛

teaspoon

black pepper
Instructions
Wash and stem the kale leaves. Chop into desired size and remove excess water using a salad spinner or dry with towels. Add to a large bowl.

To the kale, add the cranberries, feta cheese crumbles, sliced almonds, and sliced apple.

To make the lemon vinaigrette, combine all vinaigrette ingredients in a bowl and whisk to combine. Alternatively, you can place all ingredients in a mason jar and shake to combine.

Pour vinaigrette over salad and toss gently to combine. If desired, spread onto large serving platter and top with additional cranberries, feta, and sliced apples.
Notes
This salad stays fresh for 2-3 days thanks to the kale, which doesn't wilt like normal salad greens. 
Nutrition