You'll never realize how healthy and veggie packed this Easy Vegetable Lasagne Recipe really is! Deemed "Hidden Veggie Lasagne" by my family, the vegetable-packed sauce is full of veggies and is a delicious make-ahead Vegetable Lasagne recipe you'll want to keep handy.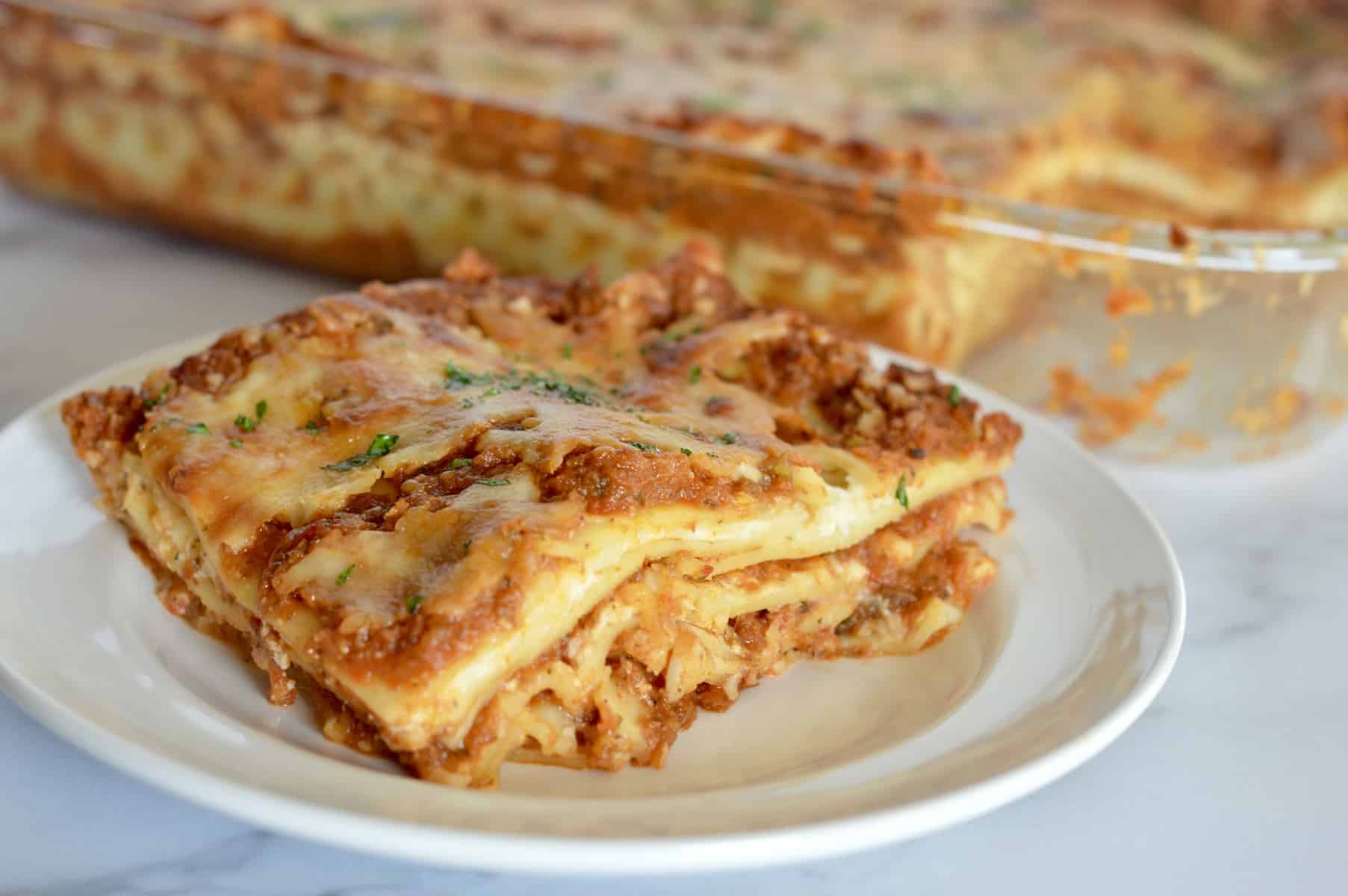 This lightened up lasagne recipe will have you rethinking how you make lasagne. The usually calorie-ridden dish, gets a makeover with this much healthier version. Boasting only 450 calories and over 25 grams of protein per generous serving, you're going to love how this lasagne tastes and makes you feel.
Easy Vegetable Lasagne gets its name because of it's pure simplicity. No need to roast the veggies beforehand because this recipe calls for the veggies to be added to the sauce directly.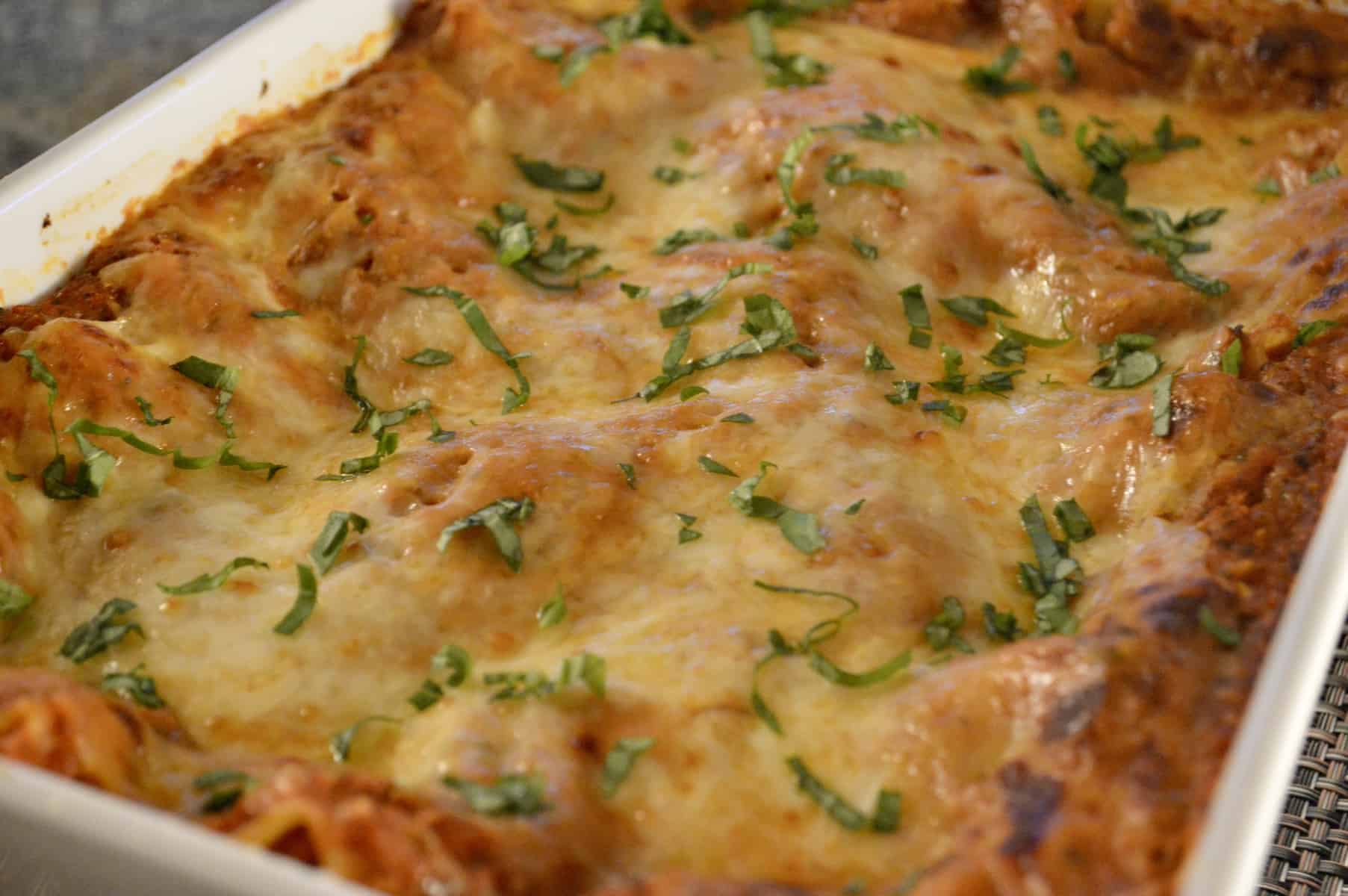 And for another healthy Italian dish, be sure to try these Zucchini Ricotta Roll Ups! Full of flavor and not carbs. And eat the trend with this delicious recipe for Baked Feta Pasta with Shrimp.
The sauce for this Easy Vegetable Lasagne is insanely delicious filled with lots of veggies like zucchini, mushrooms, and roasted bell peppers. Only problem is that the kids take one look at it and say "pass!"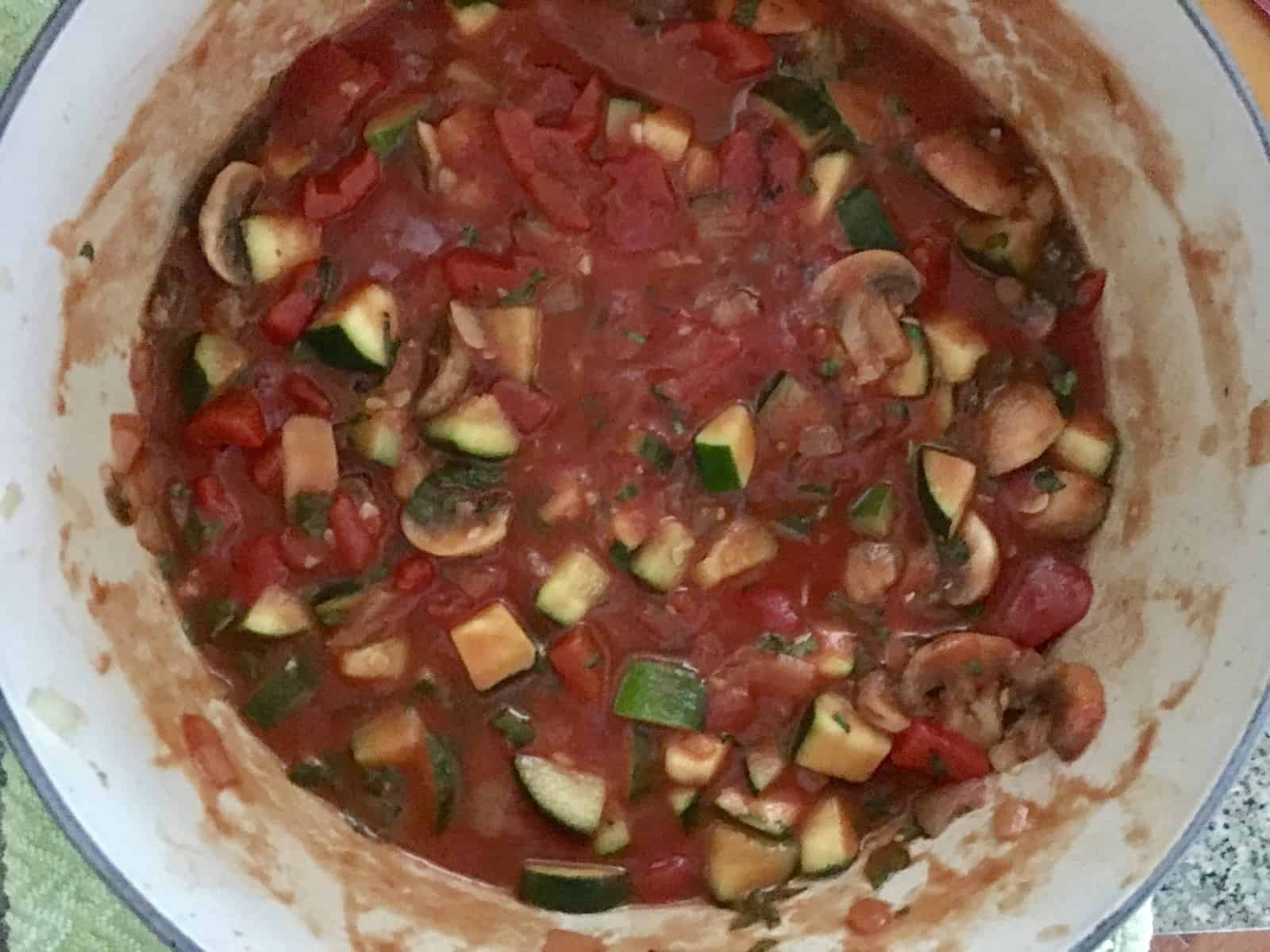 So how do you get them to eat all of these delicious veggies? Puree the sauce so those veggies virtually disappear! What you are left with is a tasty sauce with an almost bolognese texture. (To puree the veggies in the pot, I like to use a handheld immersion blender, but you could transfer it to a blender as well).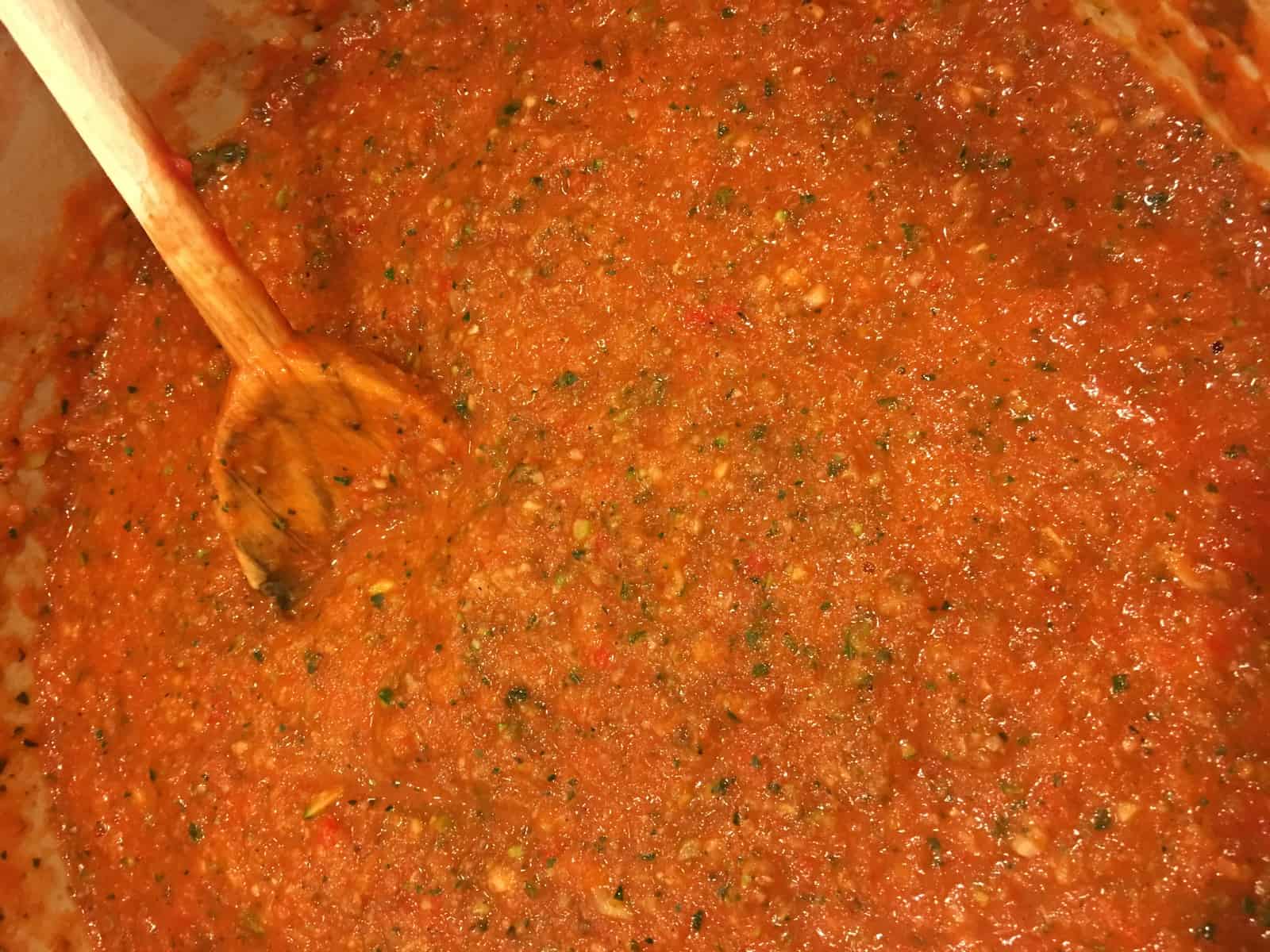 The flavors of this sauce are out-of-this-world delicious and no one will ever know that it's full of vegetables. Plus, the no-boil lasagne noodles soak up all of the liquids and flavors resulting in a true hidden veggie lasagne recipe.
Love that this sauce for Vegetable Lasagne can be made ahead! Just prepare the sauce and refrigerate for up to 3 days.
Easy Vegetable Lasagne
Once you have the sauce ready to go, the remainder of the lasagne is super easy to assemble. Firstly, you need to layout the components.
As in most lasagnes, there is a ricotta layer. Here, I urge you to try substituting cottage cheese for ricotta if you have it. Personally, I love the flavor of it, and if you puree with an immersion blender, you are left a texture and flavor that is mirrors ricotta cheese with less fat and calories. To the cheese, beat in an egg and ¼ cup of shredded parmesan.
Next, combine 2 cups of shredded mozzarella (use part skim if you have it) and the remaining 1 cup of parmesan. Get out your no-boil lasagne noodles and you're ready to go. (By the way, how amazing are no-boil lasagne noodles?! While they aren't ideal for every lasagne recipe, the no-boil lasagne noodles work great with vegetable lasagne because of the extra liquid in the sauce.)
Start with about a cup of sauce on the bottom of the pan. Then layer on 4 sheets of no-boil lasagne noodles (if you have the long noodles, 3 would work for each layer, laid out lengthwise).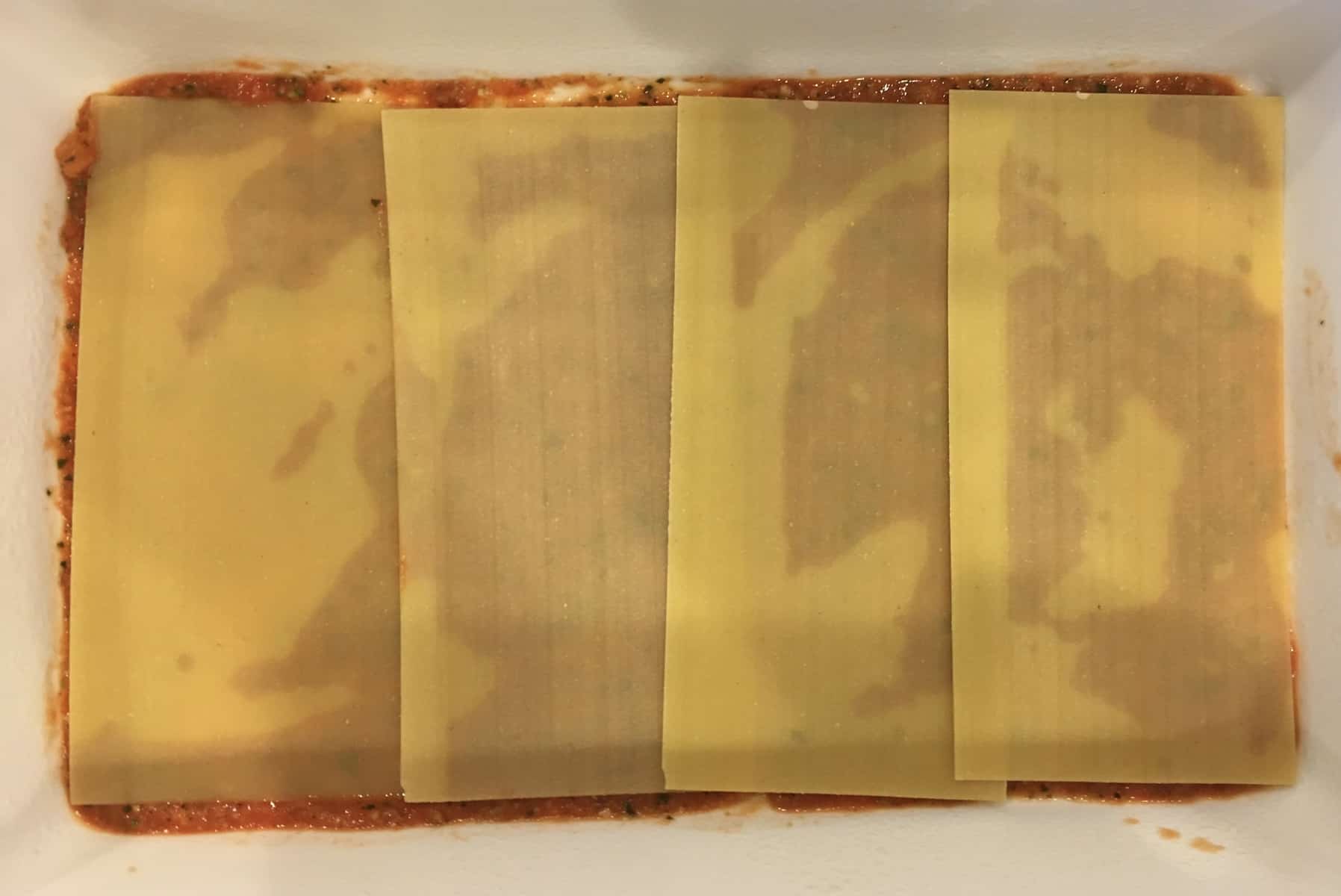 Next, add ⅓rd of the cottage cheese/ricotta mixture and sprinkle on about ¼ of the mozzarella mixture.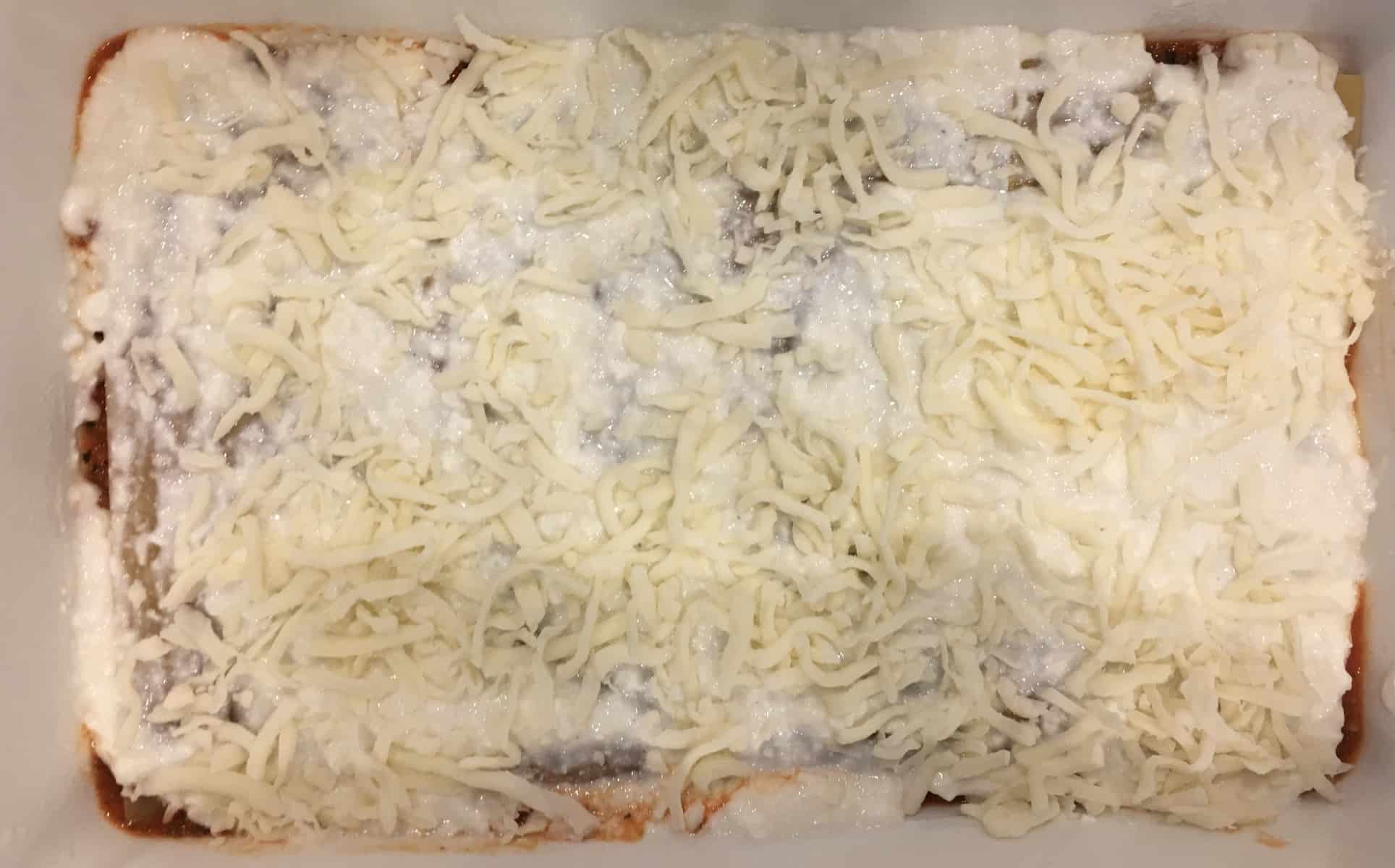 Add on 2 cups of sauce and then repeat the layers ending with noodles, then sauce, then shredded cheese on top.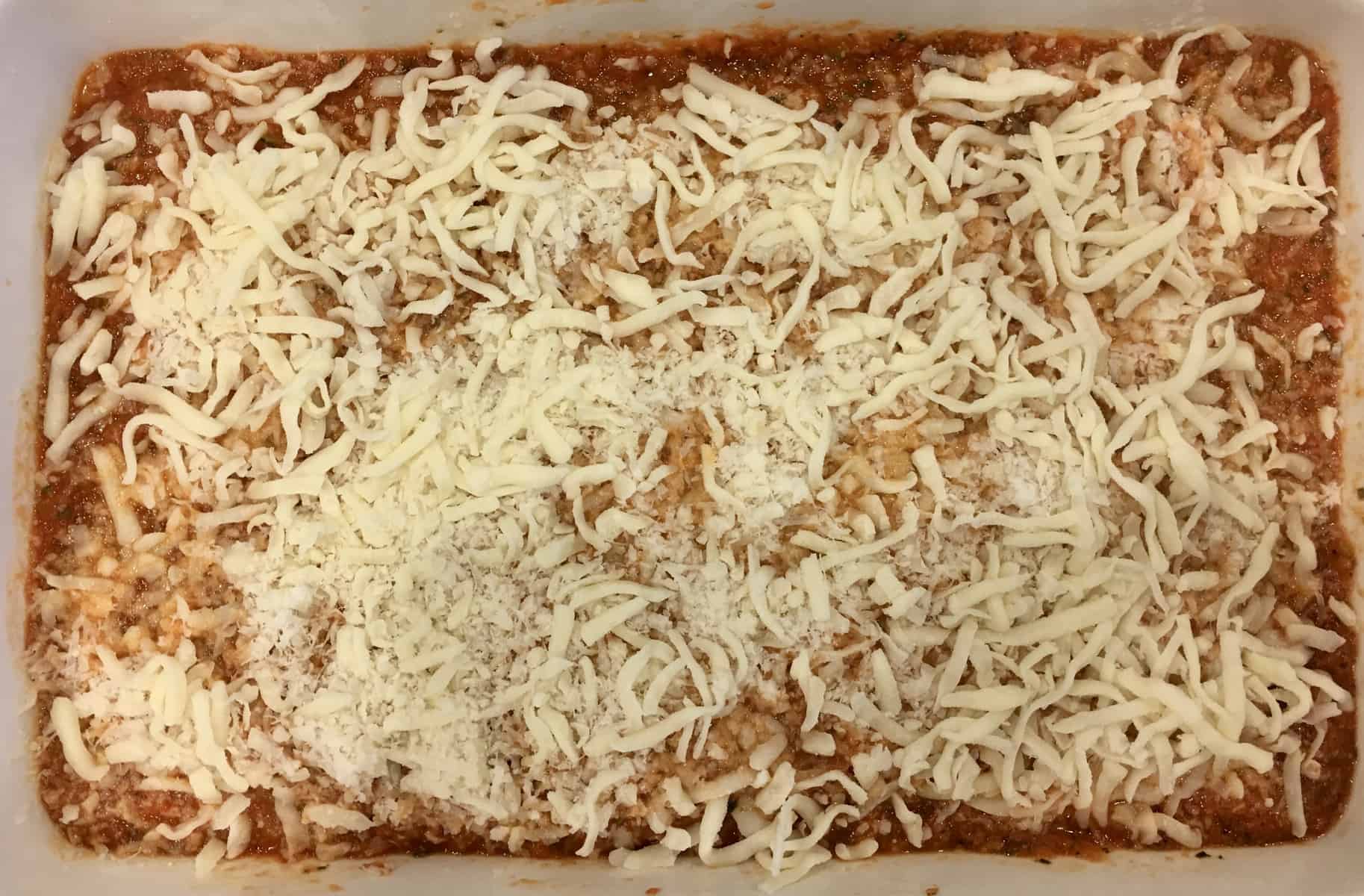 Lastly, cover with foil and bake at 375 for 30 minutes. Remove foil and bake 15 minutes longer. Let sit at least 15 minutes before cutting and serving.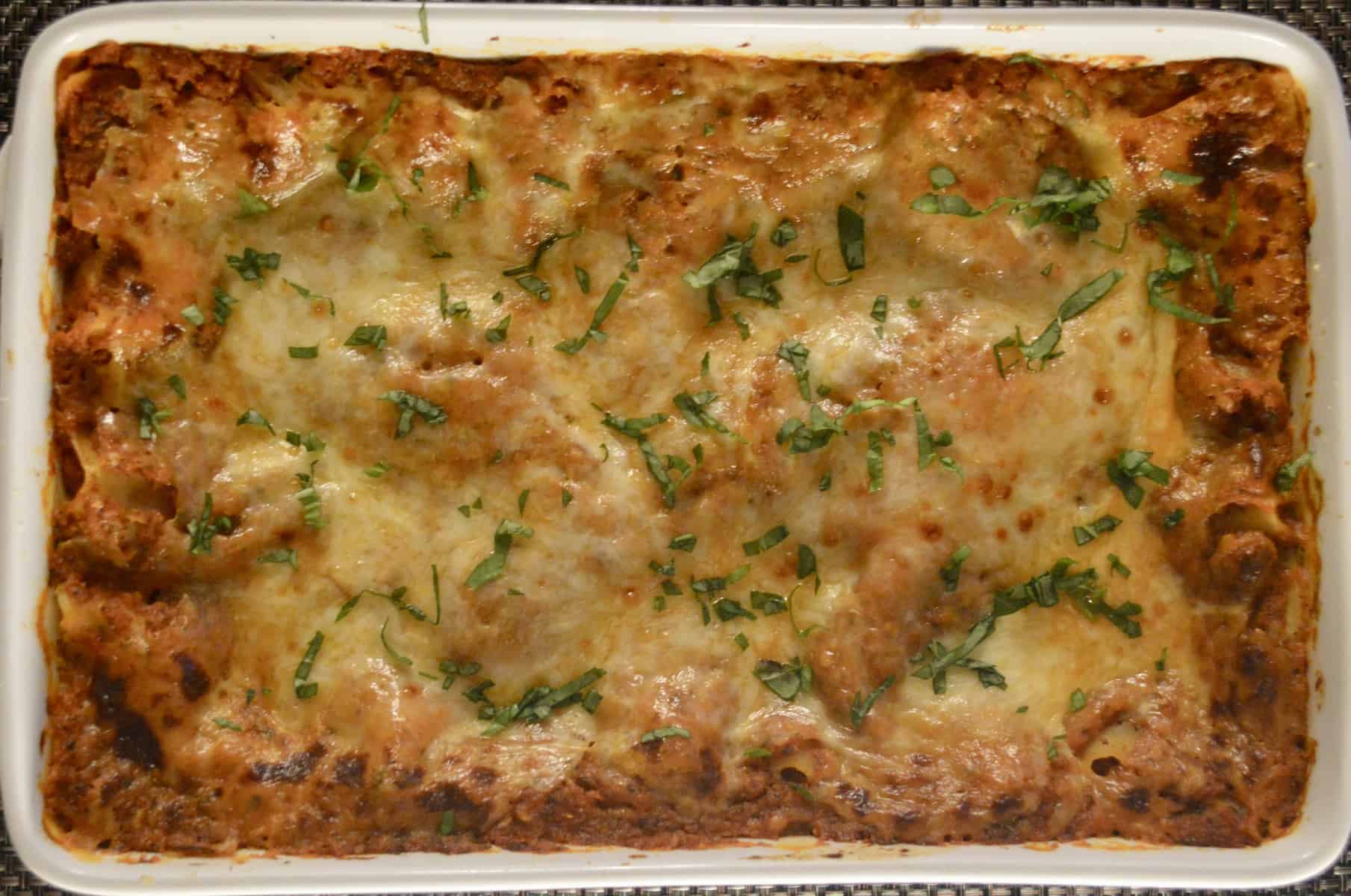 Easy Vegetable Lasagne Tips:
Puree the vegetables using an immersion blender to "hide" the veggies. Or you can keep them whole and serve as is, depending on your audience!
Use whatever veggies you have on hand: spinach, carrots, or squash would be delicious in this sauce.
Try substituting small curd cottage cheese or blended cottage cheese for the ricotta.
Use no-bake noodles and save time. However, if you don't have no-bake, regular al dente lasagne noodles work fine as well.
To make-ahead veggie lasagne, cover and refrigerate unbaked lasagne for up to 2 days.
Moreover, you can make ahead the sauce as well. Refrigerate for up to 3 days or freeze for up to 4 months.
Love easy baked pastas? Don't miss my Baked Ziti with Meat Sauce or my super popular Baked Ravioli with Chicken and Broccoli. Also, be sure to check out this delicious recipe for classic Italian Turkey Lasagna!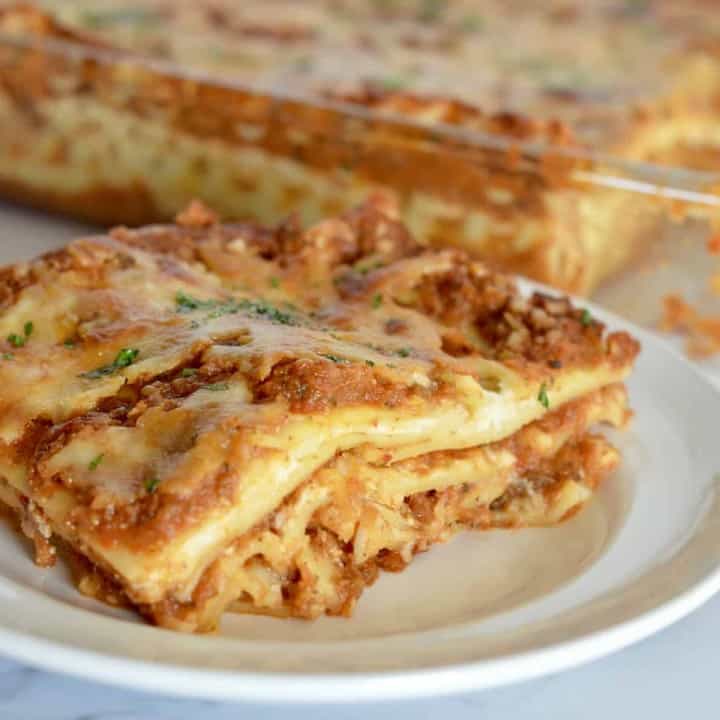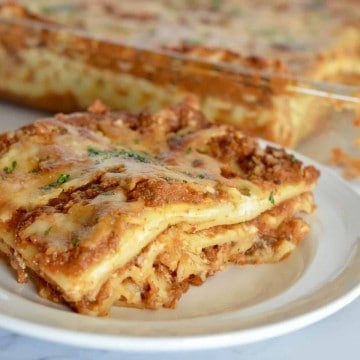 Easy Vegetable Lasagne
You can feel great about eating this "hidden veggie lasagne." It's delicious, can be made-ahead, and has over 25 grams of protein per serving.
Print
Pin
Rate
Ingredients
2

tablespoons

olive oil

1

cup

onion, chopped

(about ½ a large onion)

4

cloves

garlic, minced

3

medium

zucchini, cut into ½ inch pieces

(about 4 cups)

6

ounces

sliced mushrooms

(about 1 ½ cups)

1

teaspoon

kosher salt

12

ounce jar

roasted red bell peppers, drained and diced

1

15 ounce can

tomato sauce

1

15 ounce can

diced tomatoes

½

cup

basil, chopped

1

15 ounce container

part skim ricotta cheese

(could substitute cottage cheese)

1

large

egg

1 ¼

cups

shredded parmesan cheese (divided)

2

cups

shredded mozzarella cheese

12

ounces

no-boil lasagne noodles

(about 16 "short" lasagne noodles)
Instructions
Preheat oven to 375 degrees. Spray a 9 x 13 baking dish with cooking spray, set aside.

Heat olive oil in a large skillet or dutch oven over medium high heat. Add onion and cook, stirring occasionally, until softened, about 3 minutes. Add in garlic, zucchini, mushrooms, and kosher salt. Cook until slightly softened, about 7 minutes.

Stir in roasted red bell peppers, tomato sauce, and diced tomatoes. Bring to a low simmer and cook for 8-10 minutes, until liquid has slightly reduced. Add in chopped basil. Using an immersion blender, puree the sauce until desired consistency is reached. Set aside.

Make the ricotta filling: stir ricotta (or cottage cheese), egg, and ¼ cup of parmesan cheese in a bowl, set aside.

Make the shredded cheese: combine the mozzarella and remaining 1 cup of parmesan in a bowl, set aside.

To prepare the lasagne, spoon about a cup of the sauce into the baking dish to lightly cover the bottom. Arrange 4 noodles on top of the sauce. Spread on ⅓rd of the ricotta filling, ¼th of the shredded cheese, then 2 cups of the sauce. Repeat layers three times. For the final layer, add sauce on the noodles and sprinkle with remaining shredded cheese. 

Cover with foil and bake for 30 minutes. Remove foil then bake 15 minutes until cheese is bubbly. To brown the cheese slightly, slide under a broiler for 1 to 2 minutes. Let lasagne rest 10 to 15 minutes before serving.
Notes
Make-ahead vegetable lasagne and refrigerate unbaked up to 2 days in advance. Sauce can also be made up to 3 days in advance. Alternatively, you can freeze in an airtight container for up to 3 months. 
Nutrition