Don't miss the Best Outdoor Halloween Decorations list and where you can buy them. Shop the Best Outdoor Halloween Decorations for 2019 right here!
If Halloween is one of your favorite holidays then this list is for you. Get your house ready for halloween with this complete list of the best outdoor Halloween decorations for 2019.
Shop early and get what you really want for the best outdoor halloween decorations. Spirit Halloween almost always has a 20% off coupon, but their supplies are limited so get them while you can!
The outdoor halloween decoration trends for 2019 seems to be focused back on traditional scary figures like Michael Myers, zombies, classic witches, and evil pumpkins. Additional, lookout for all things Pennywise, Fortnite, Hocus Pocus, Ghostbusters, and a Halloween favorite, The Nightmare Before Christmas!
Check out my favorites here and let me know what you think.
Best Outdoor Halloween Decorations | Animatronics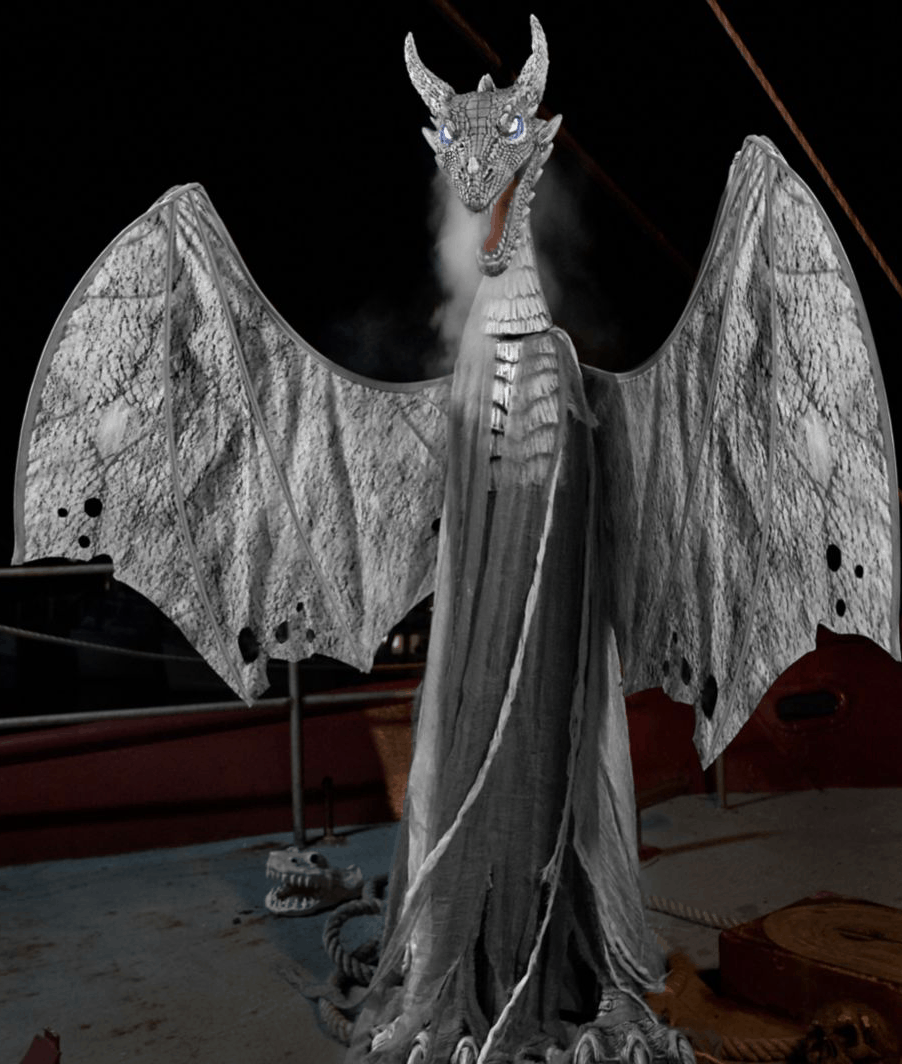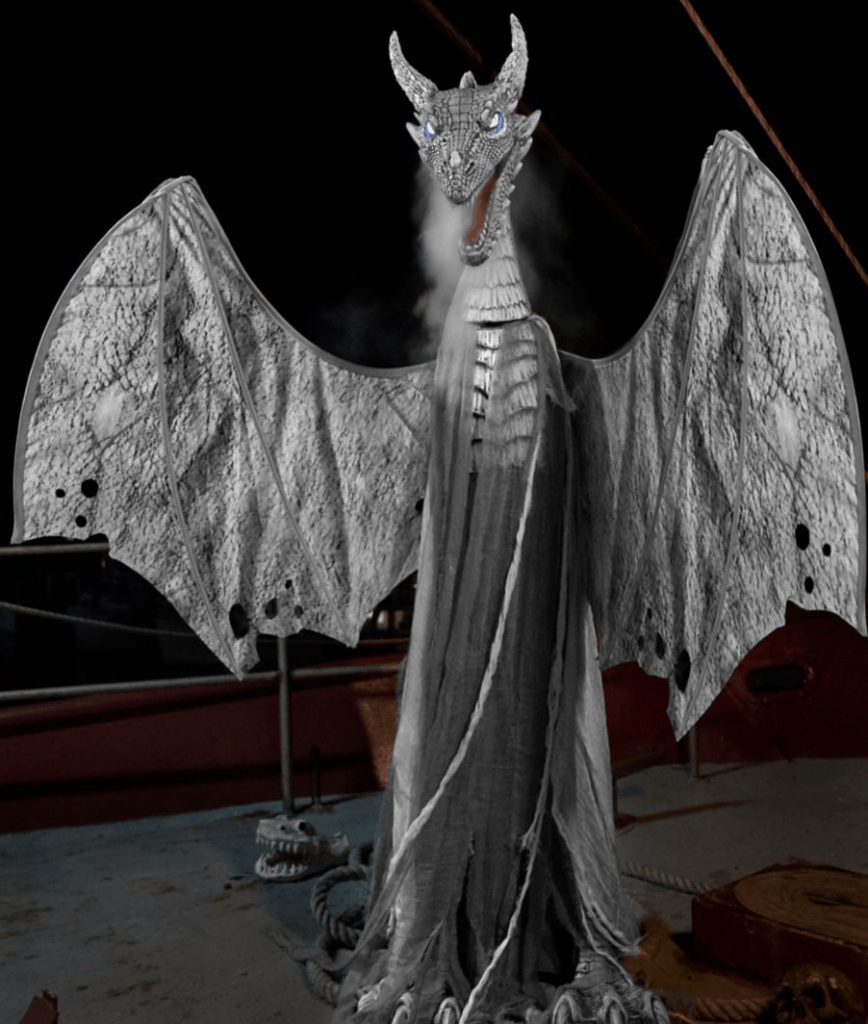 This very cool and very scary dragon measures just at 6'4″ tall and will surely be your showstopper this year.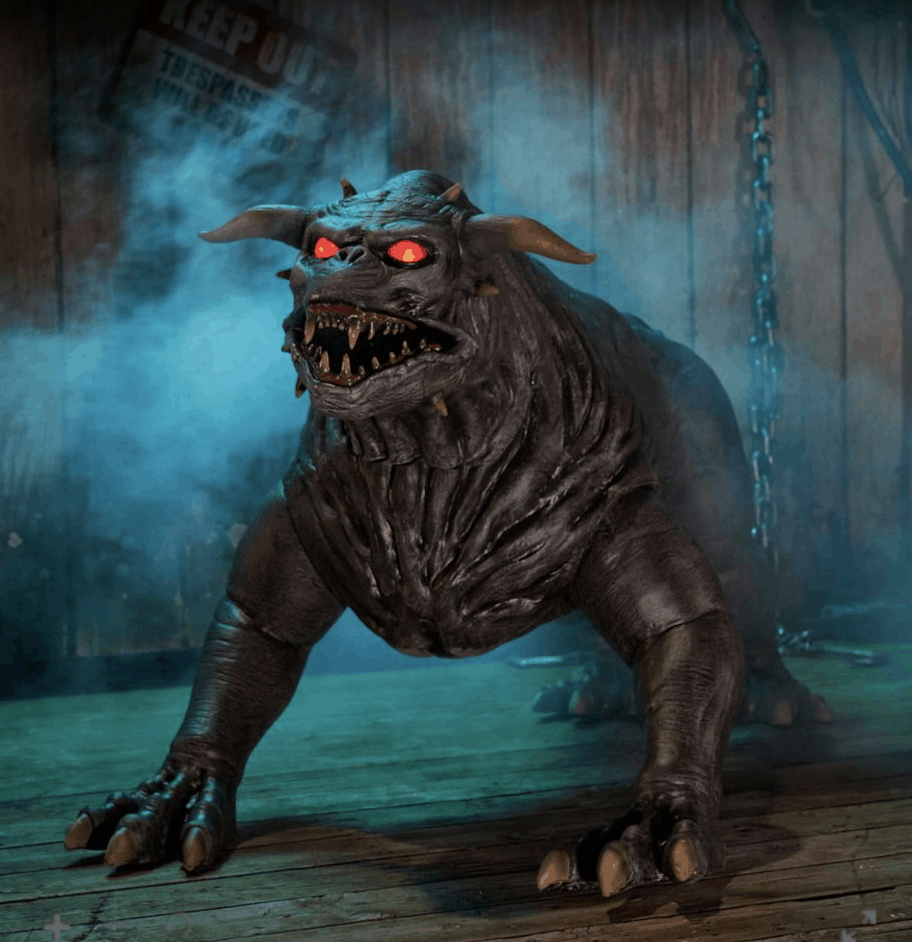 GHOSTBUSTERS TERROR DOG – Click Here
Ghostbusters fan rejoice because the terror dog is here! This very cool animatronic is a splurge but is great quality and definitely something you'll use year after year.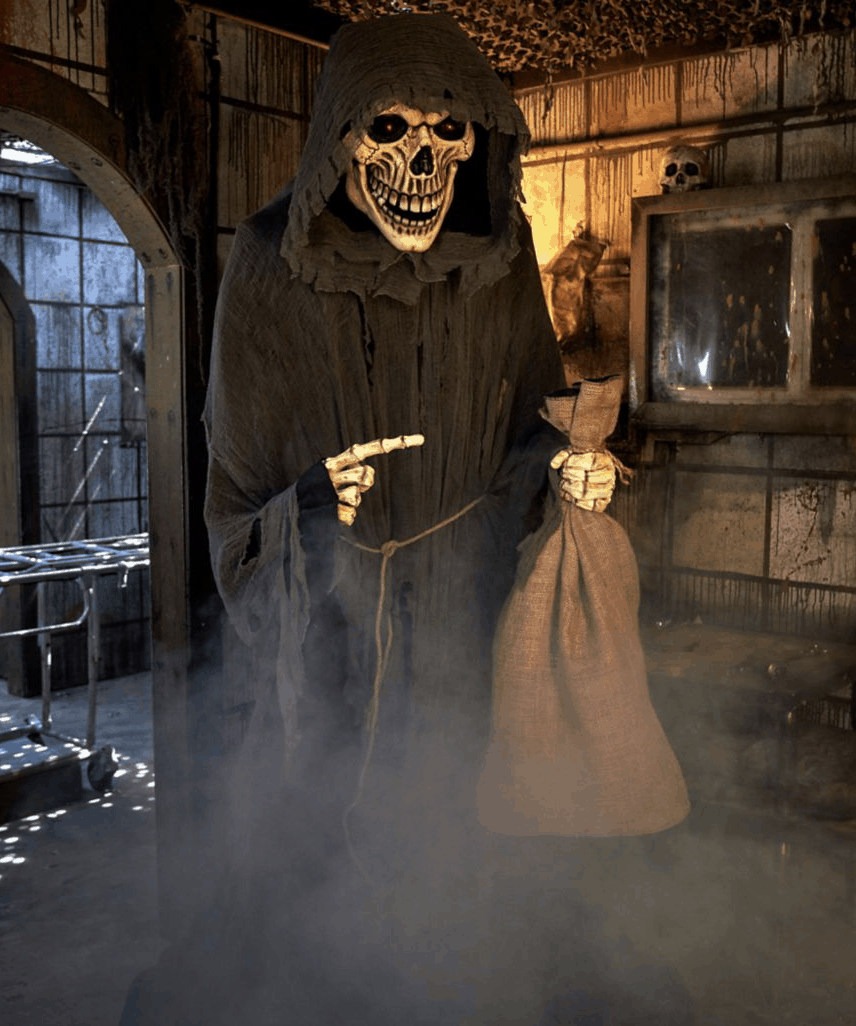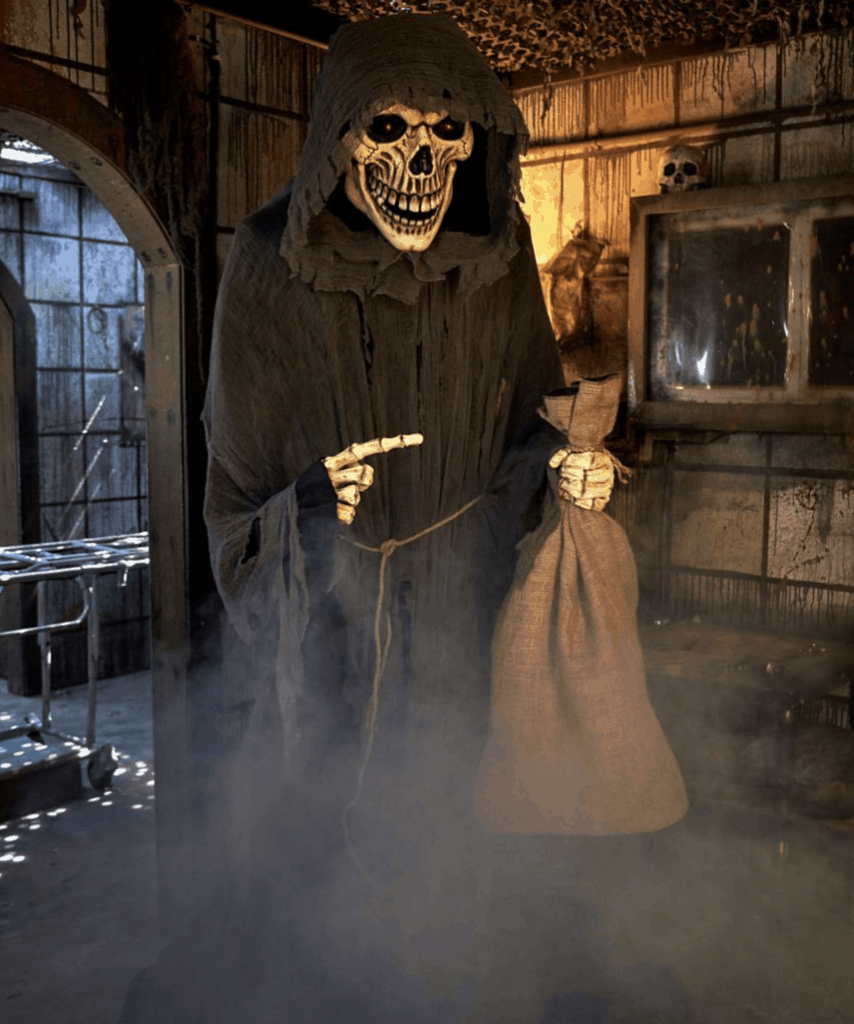 Thus super tall 7 ft animatronic moves, talks, and scares even the bravest souls. Awesome purchase and a true classic that you'll use forever.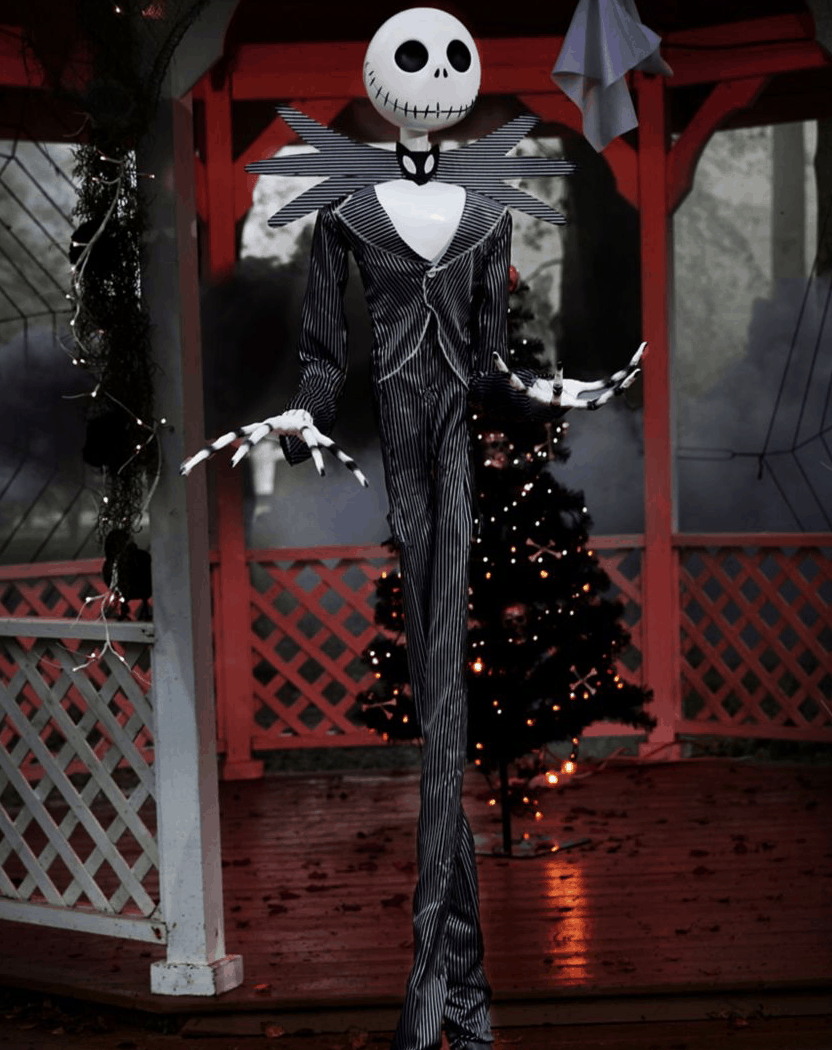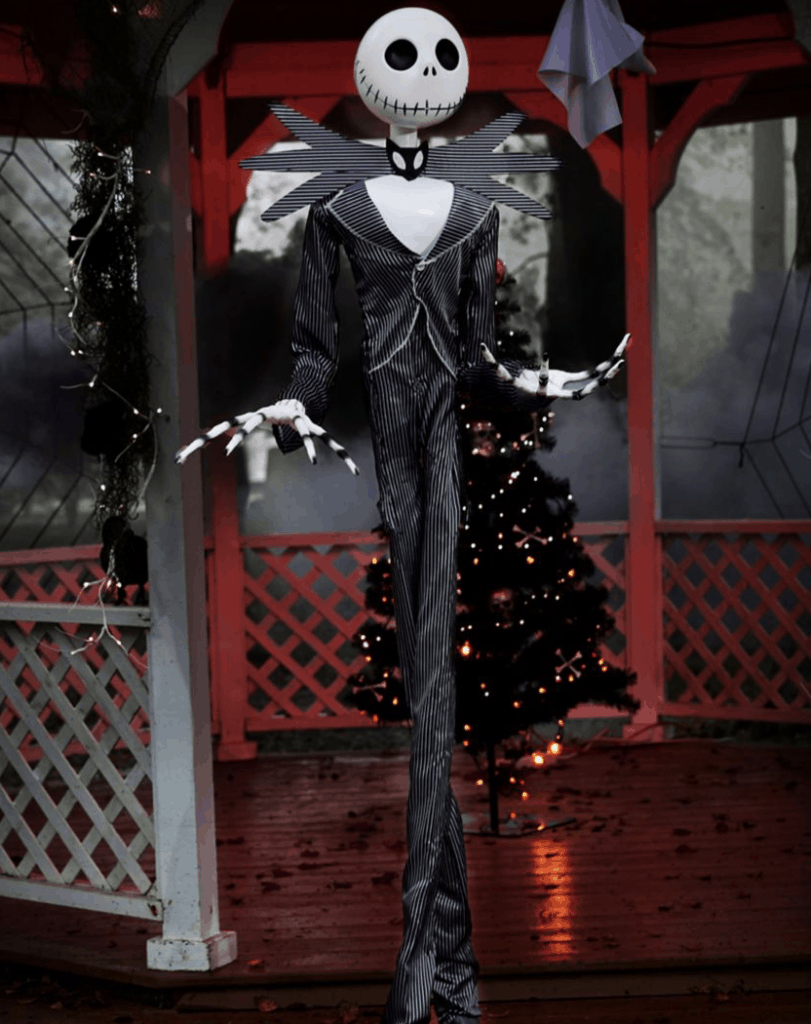 6FT JACK SKELLINGTON – Click Here
Love the classics! I will definitely be getting this as my one BIG Halloween purchase this year! And as my husband says, we can leave it up for Christmas too.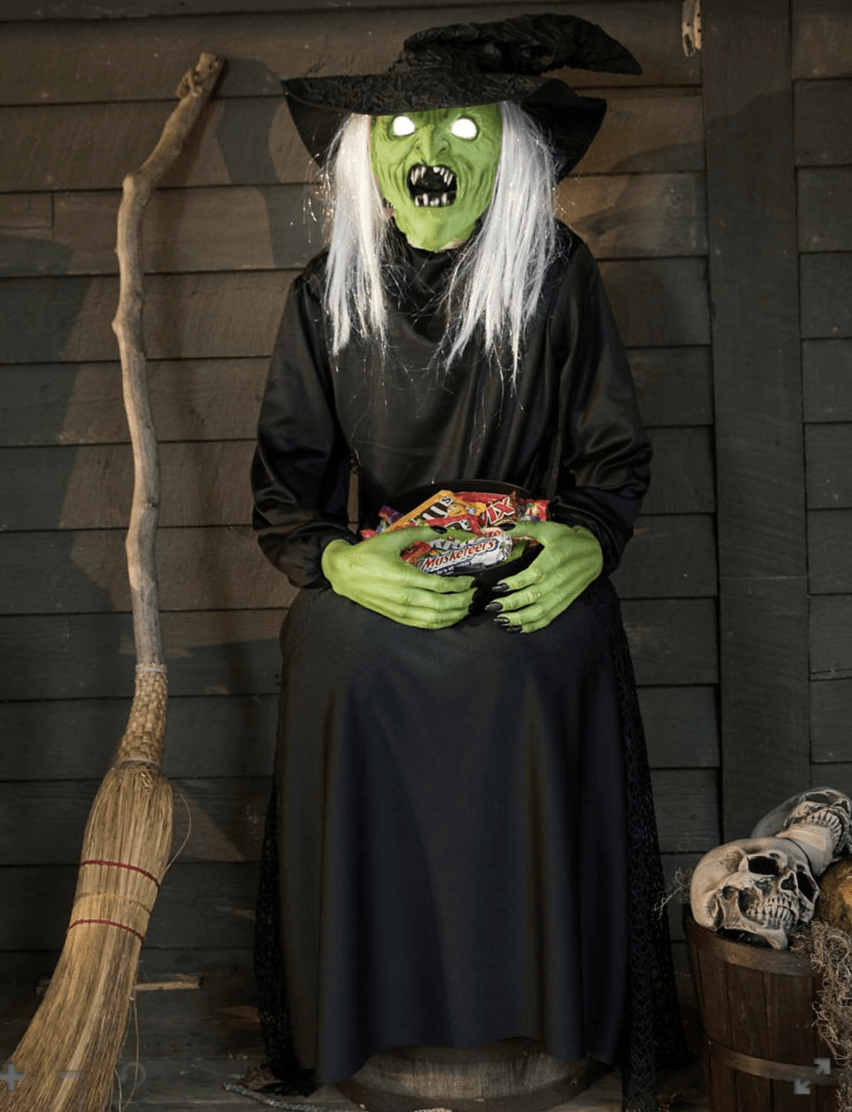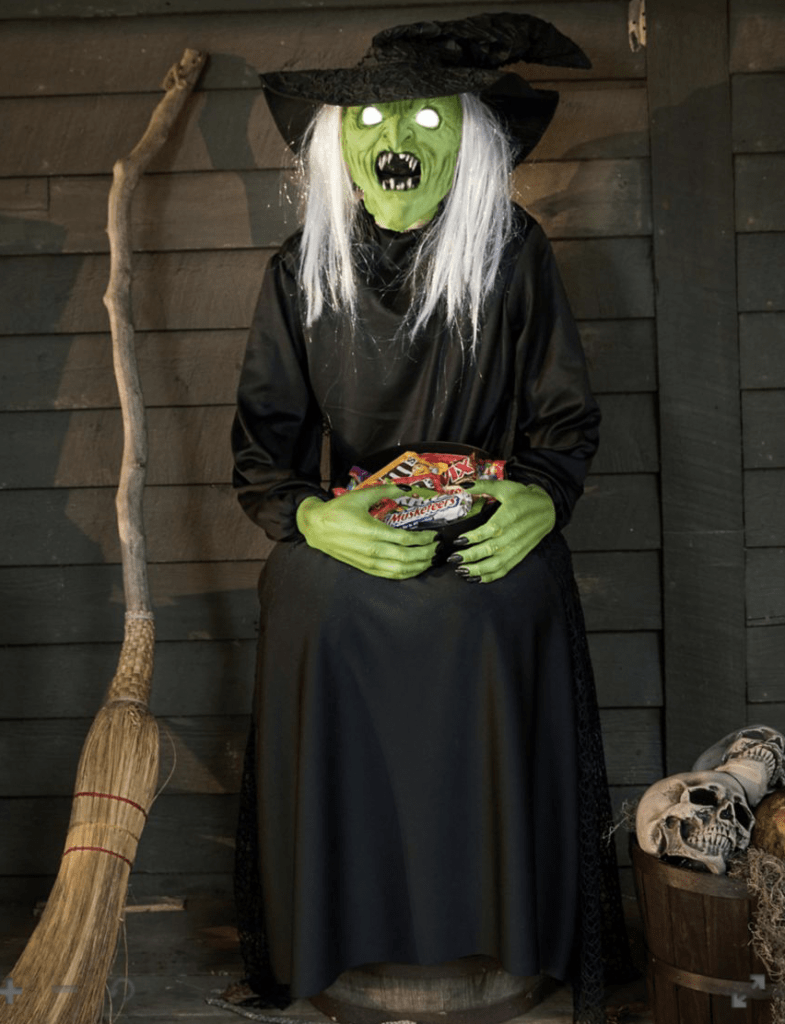 4.5 FT SITTING SCARE WITCH – Click Here
If you're looking to scare some trick or treaters than this sitting scare witch is for you! Great classic decor at a super great price!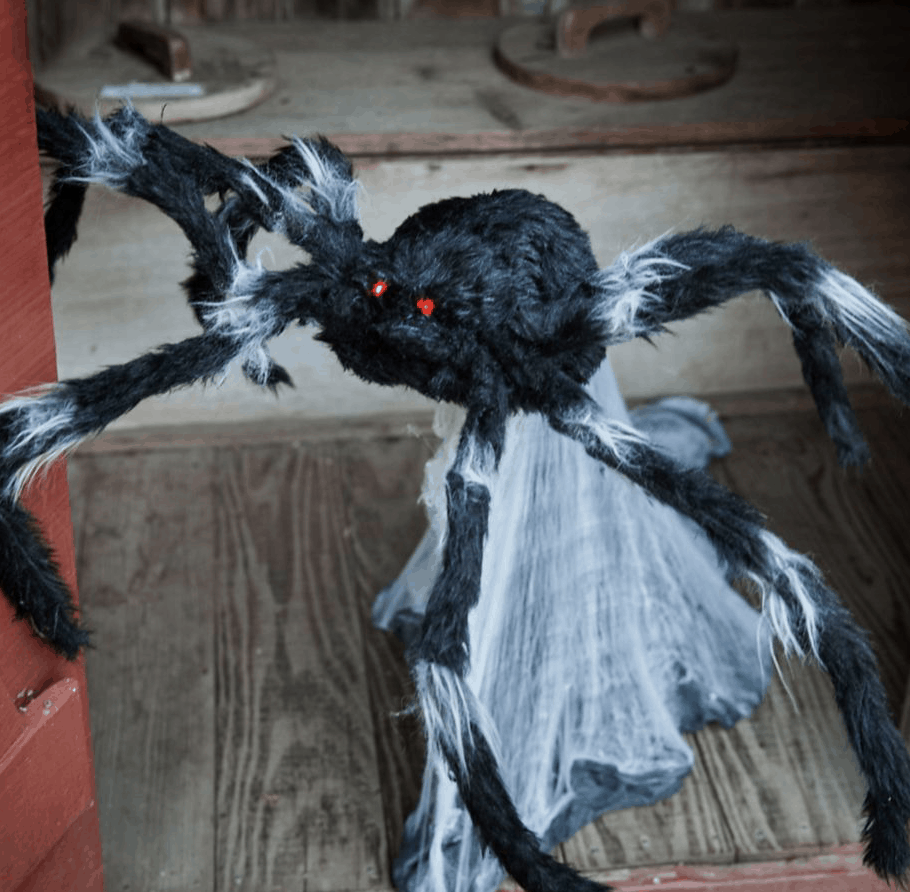 If you're looking to scare this year, then this spider is for you! But hurry… it's on SALE NOW and won't last long at this price!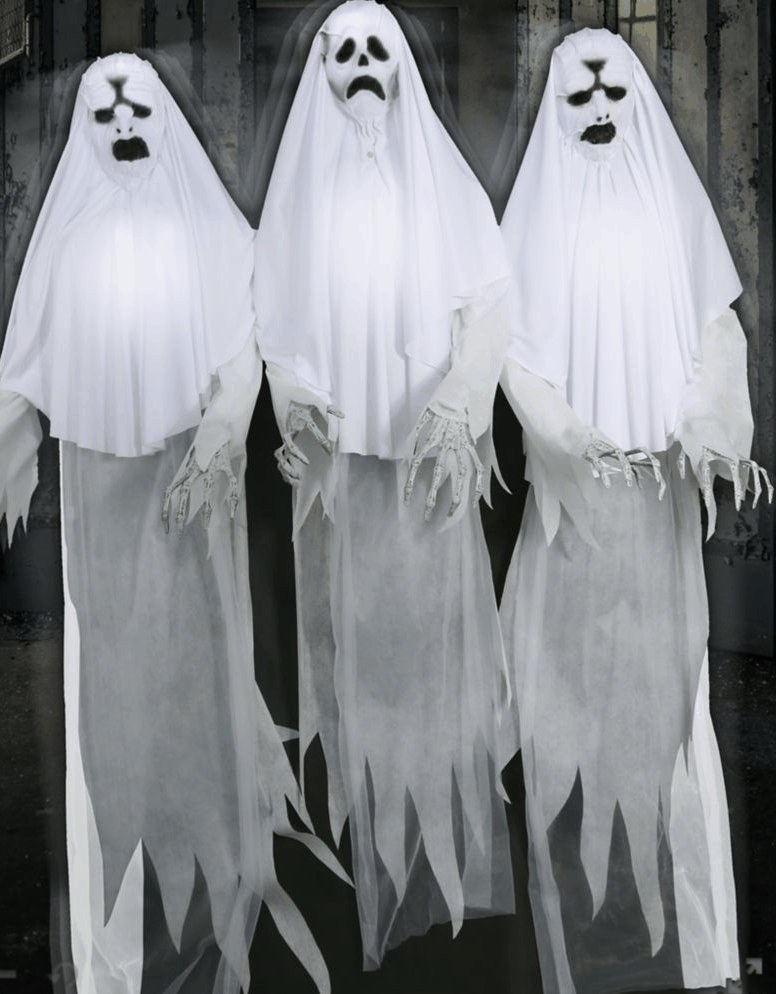 SPOOKY GHOST TRIO – Click Here
You can't go wrong with this classic animatronic. Sure to scare and whoever comes to your door. s
Hanging Animatronics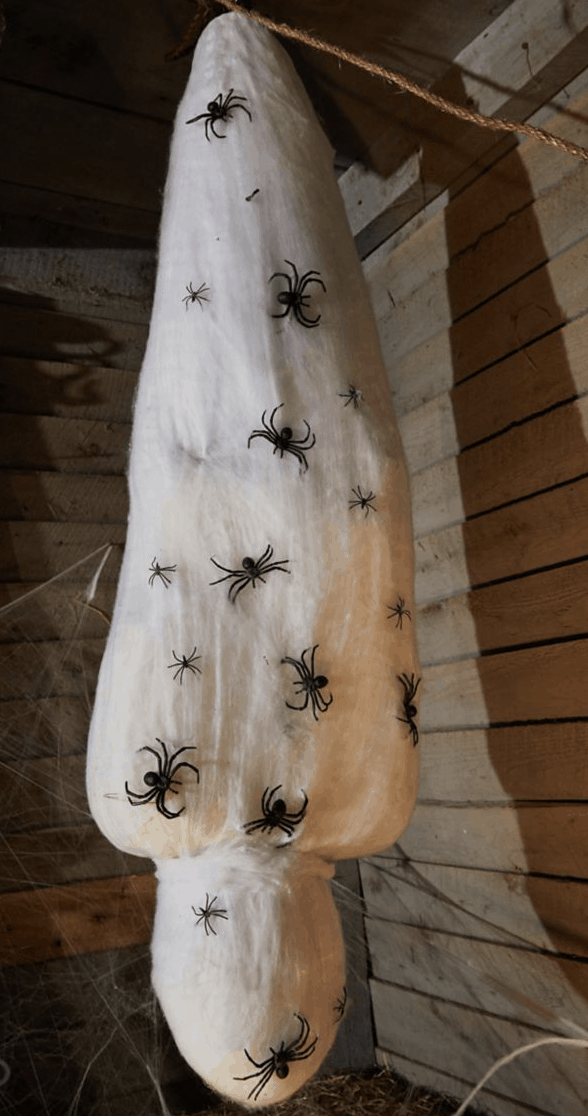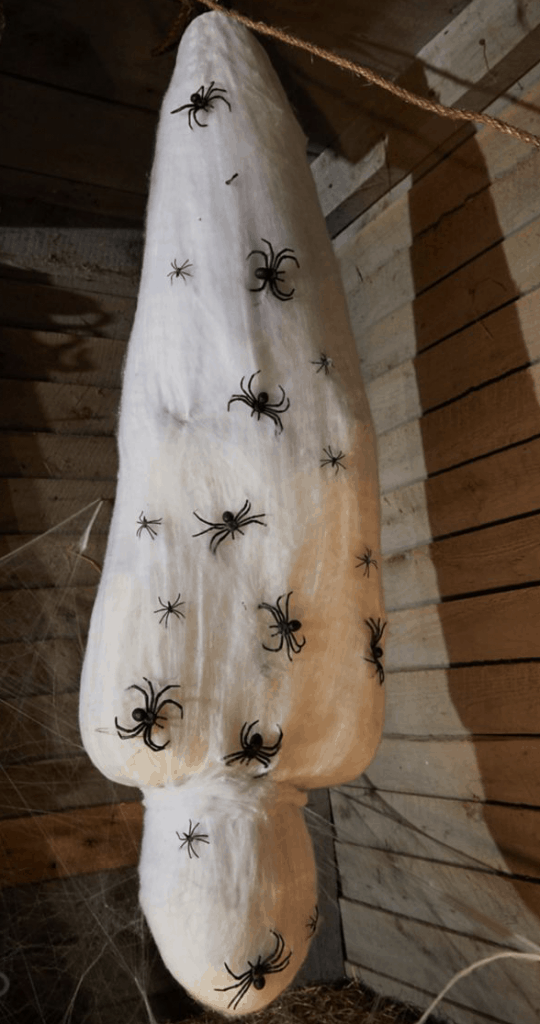 5.5 FT COCOONED CORPSE ANIMATRONIC – Click Here
Saw this at Spirit and thought it was one of the COOLEST animatronic they had! I didn't even know it was an animatronic until it scared the you-know-what out of me! Super creative idea and love the spiders on here.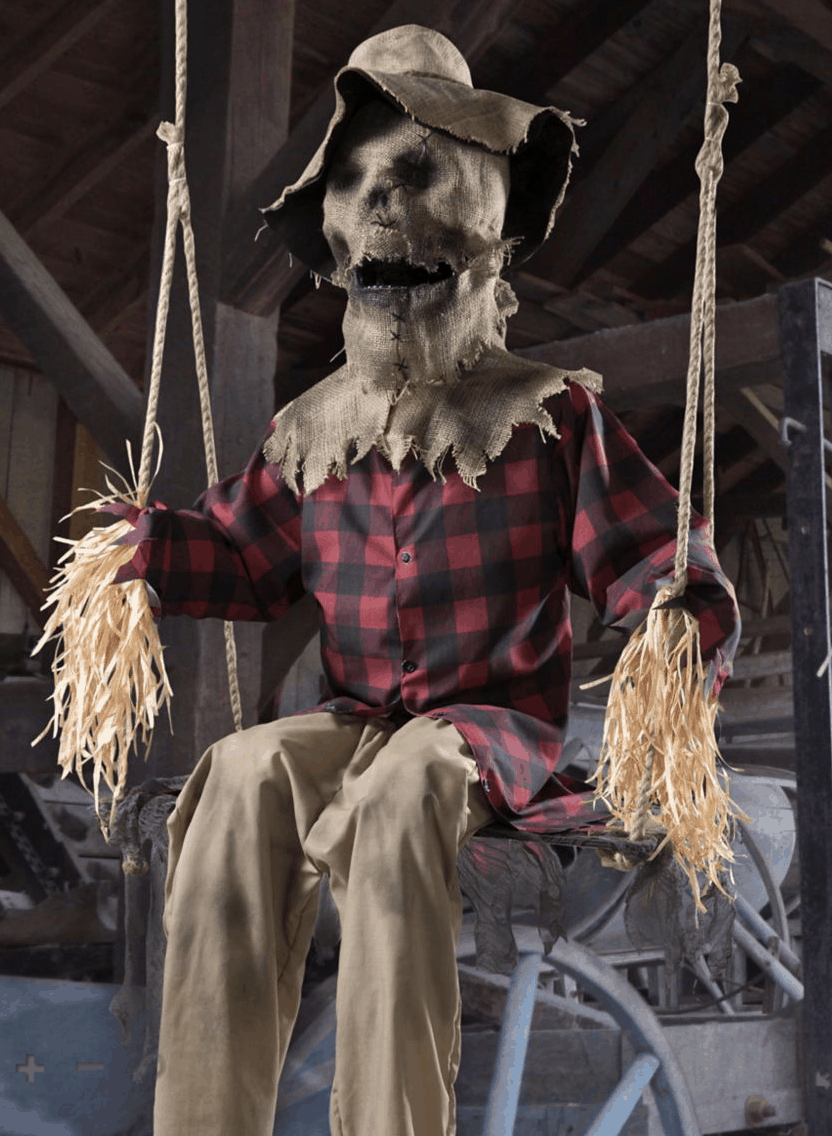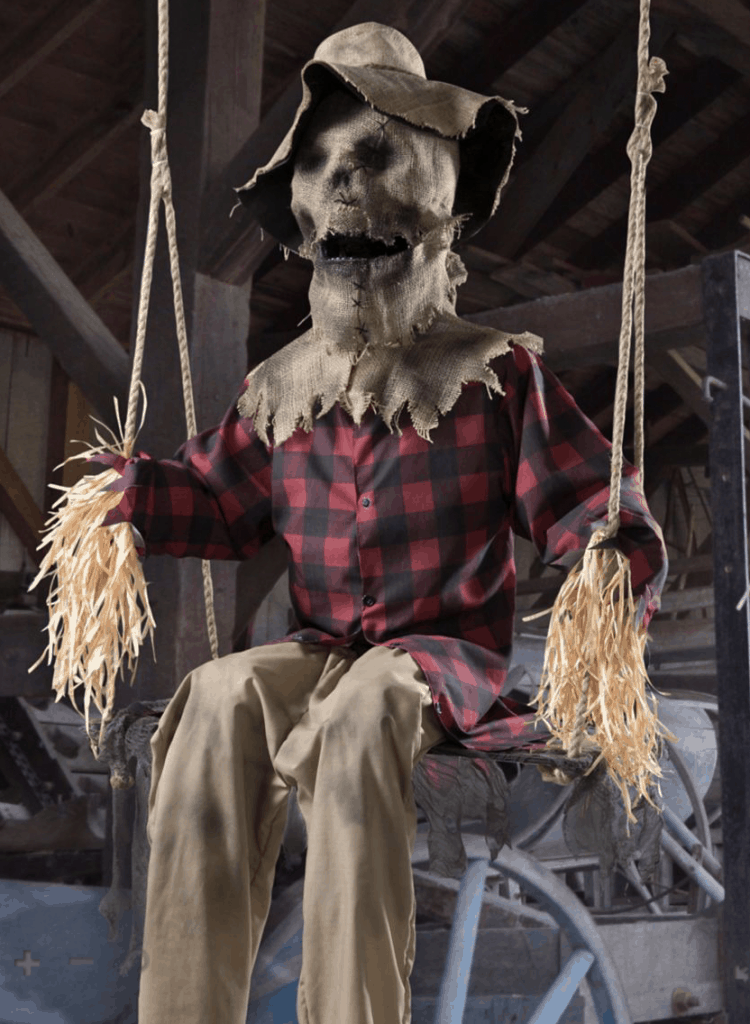 SWINGING SCARECROW – Click Here
Super scary motion activated scarecrow that will sure spook all those trick or treaters.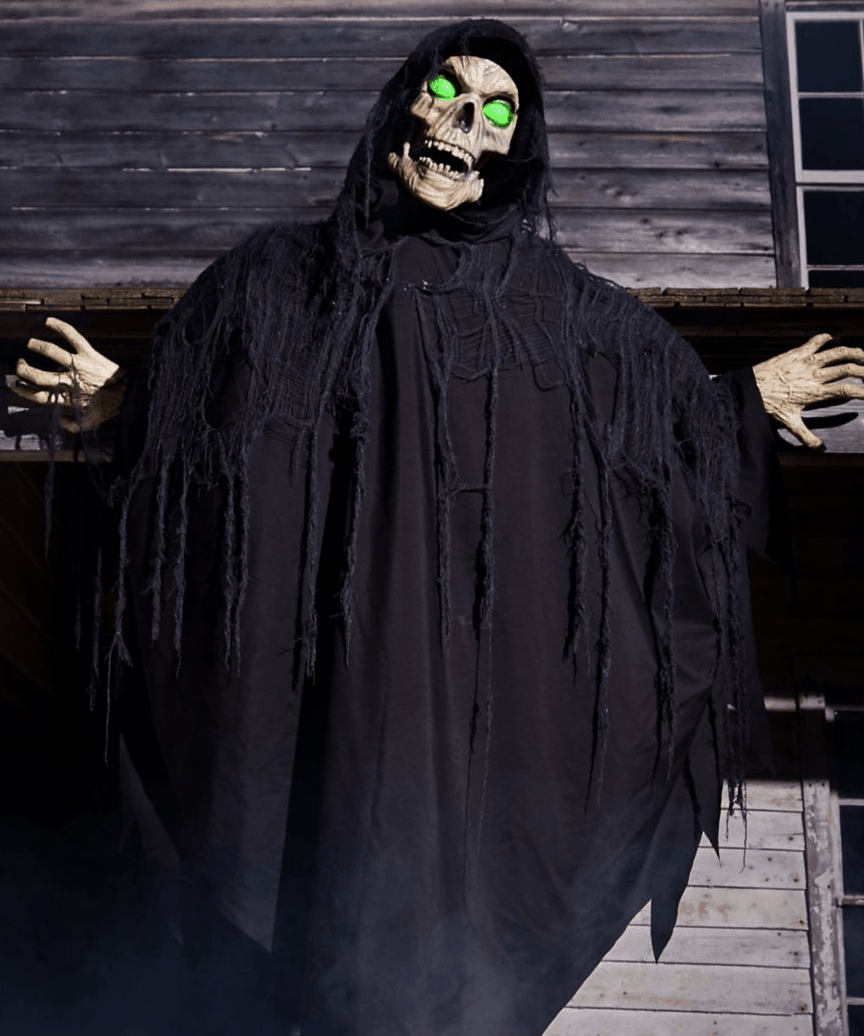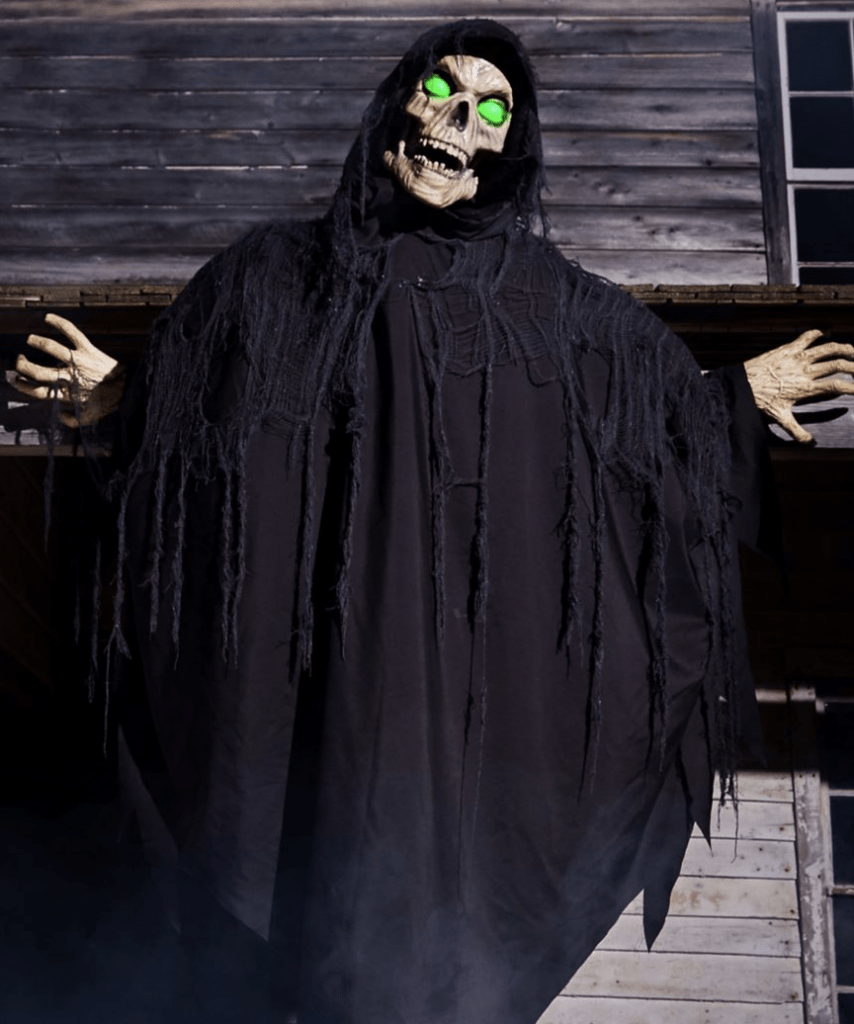 5FT HANGING HELL FIEND – Click Here
Love the classic look of this guy and the fact that he's motion activated. With green eyes and moving mouth.
Outdoor Halloween Lights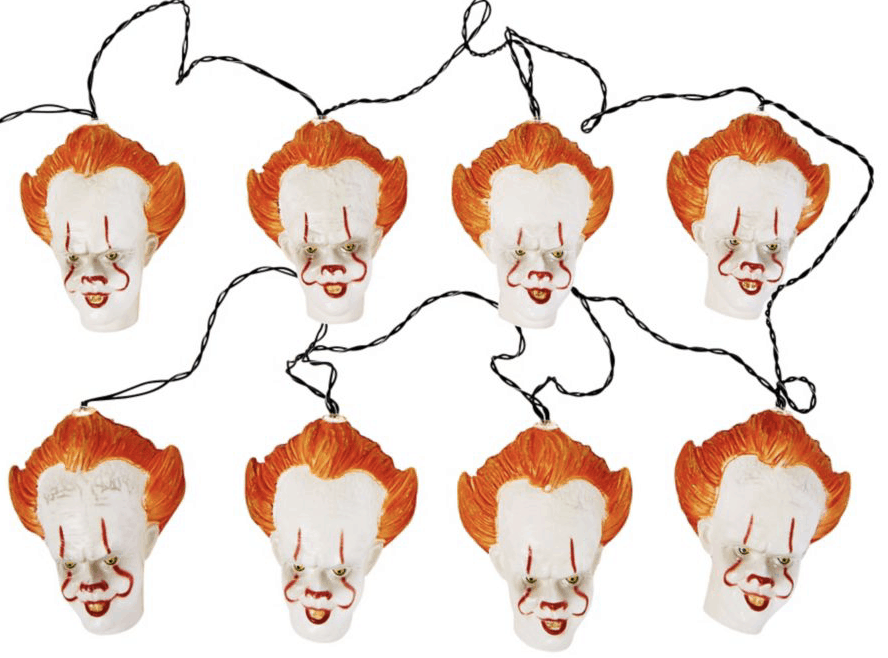 Firstly, this is the scariest movie ever! So, you need these spooky lights to scare everyone who walks by them.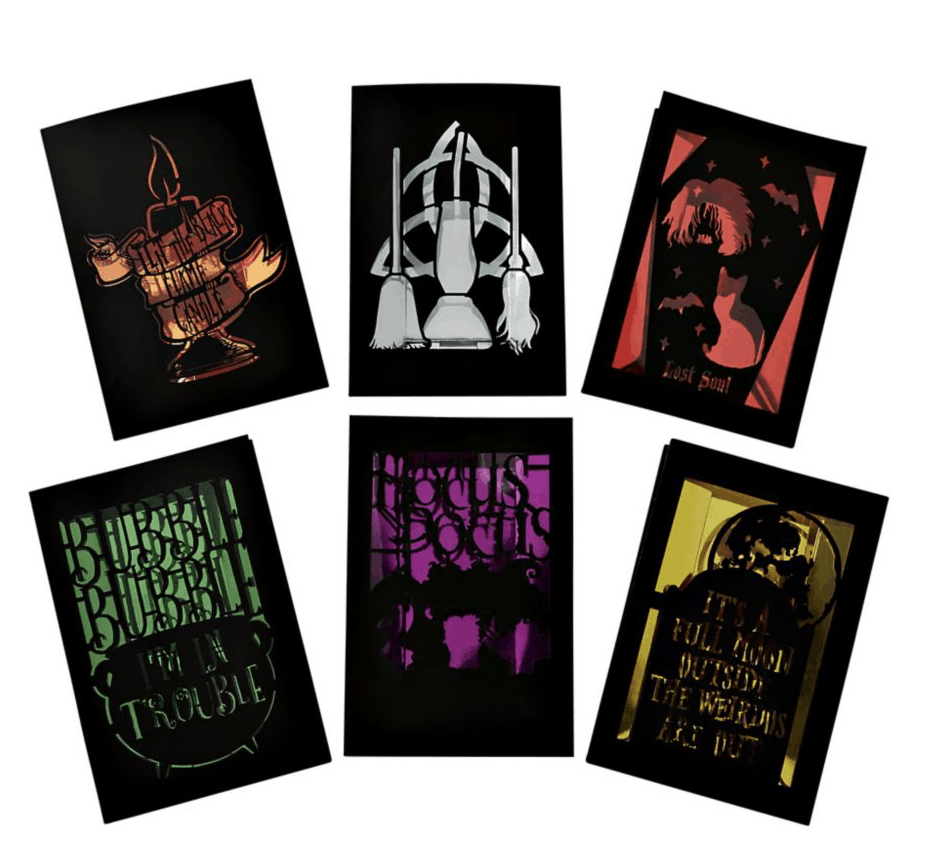 HOCUS POCUS LUMINARY BAGS – Click Here
If you're a Hocus Pocus fan, then you need these cute luminary bags!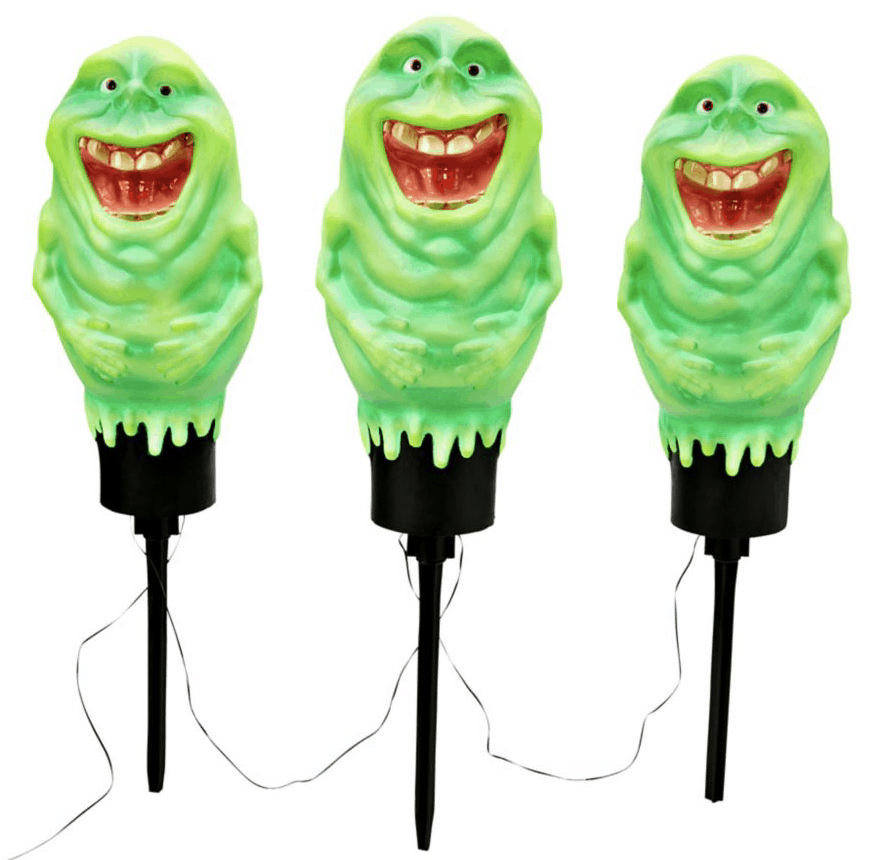 SLIMER PATHWAY LIGHTS – Click Here
Fact is that Ghostbusters may be the 80s movie ever! So, pay homage to a class with these Slimer ghost lights.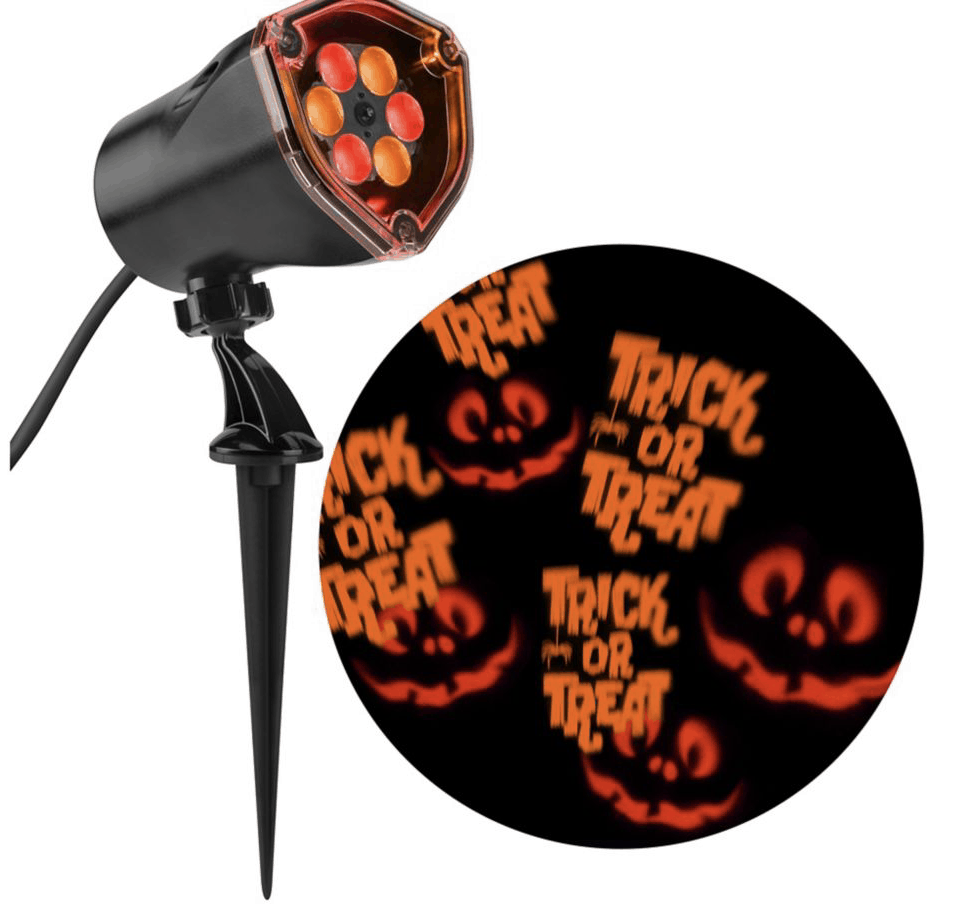 RED AND ORANGE TRCK OR TREAT SPOTLIGHT – Click here
Firstly, not only is this cute, it's a great way to get the most bang for your buck with halloween decor.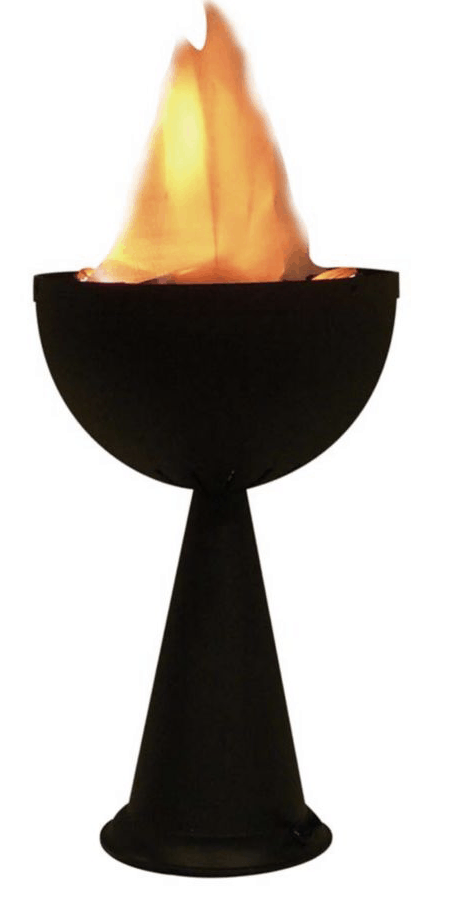 TABLE TOP FLAME LIGHT – Click Here
I have had this exact light for the past eight years and it's still one of my favorite halloween decorations. Moreover, this is great quality!

18 INCH BLACK LIGHT – Click Here
A simple black light can have a big effect on your outdoor halloween decor. Additionally, it's a great price!
Door Decor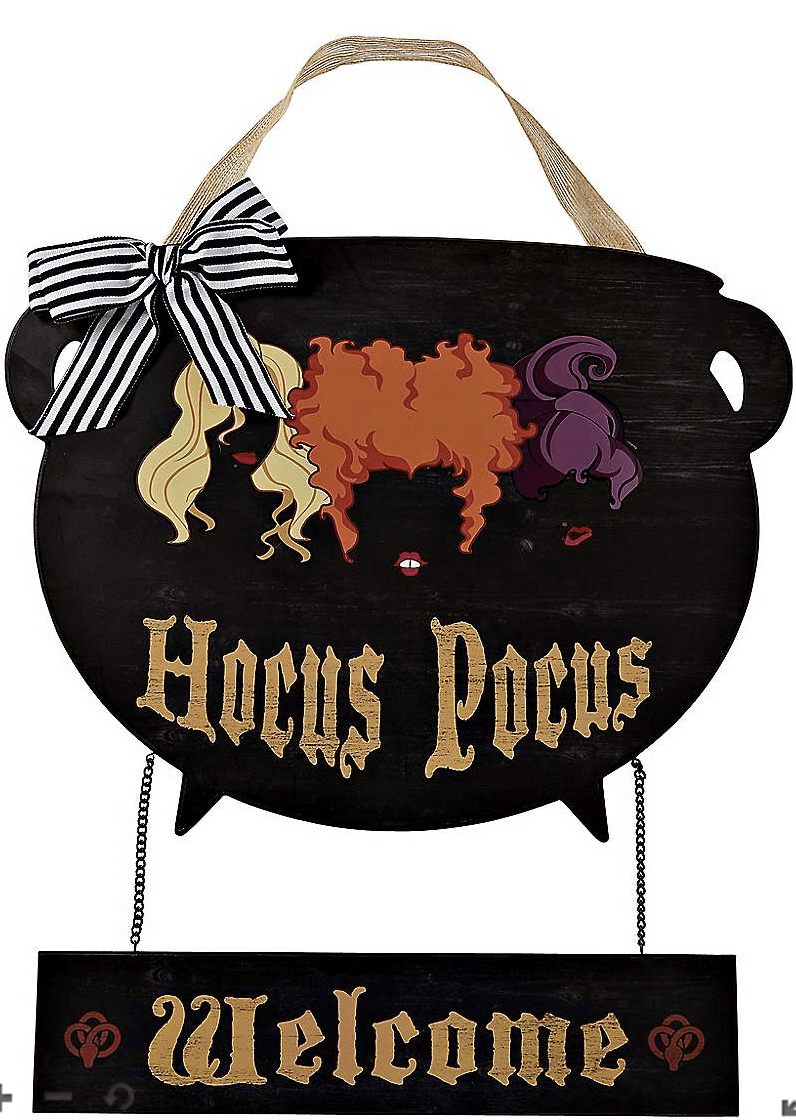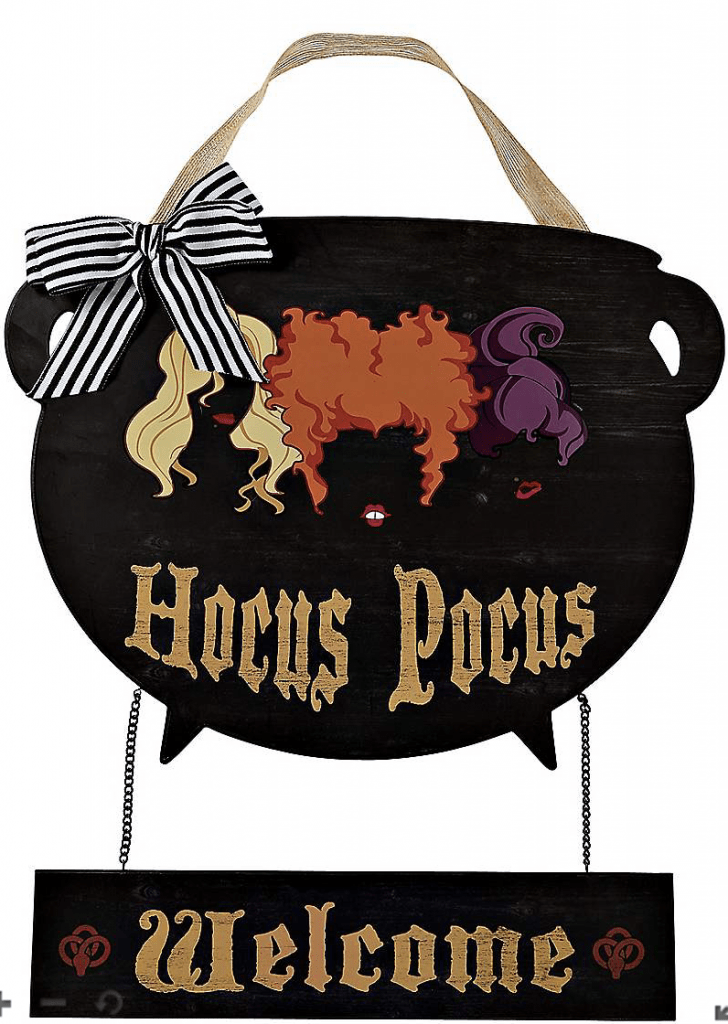 HOCUS POCUS CAULDRON WREATH – Click Here
Super cute halloween door decor for the Hocus Pocus super fan!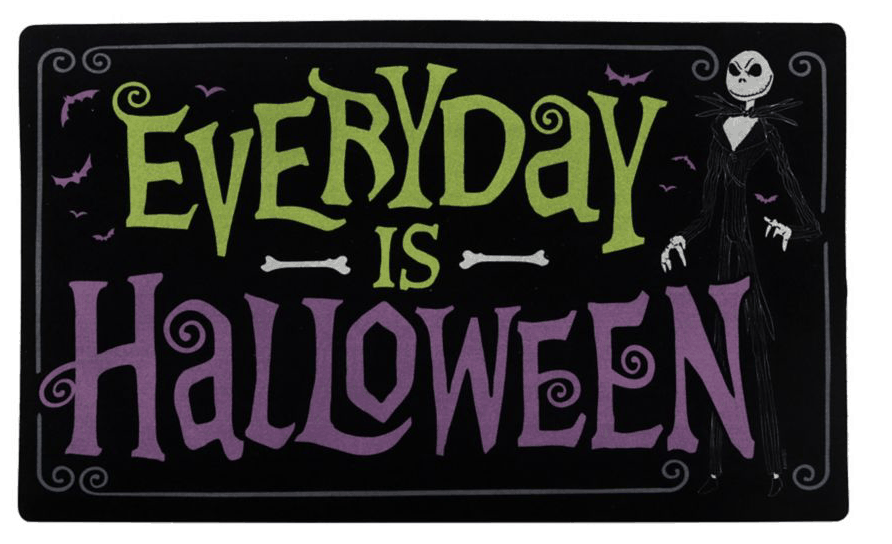 EVERYDAY IS HALLOWEEN DOORMAT – Click Here
Love this cute doormat featuring Jack Skellington from The Nightmare Before Christmas.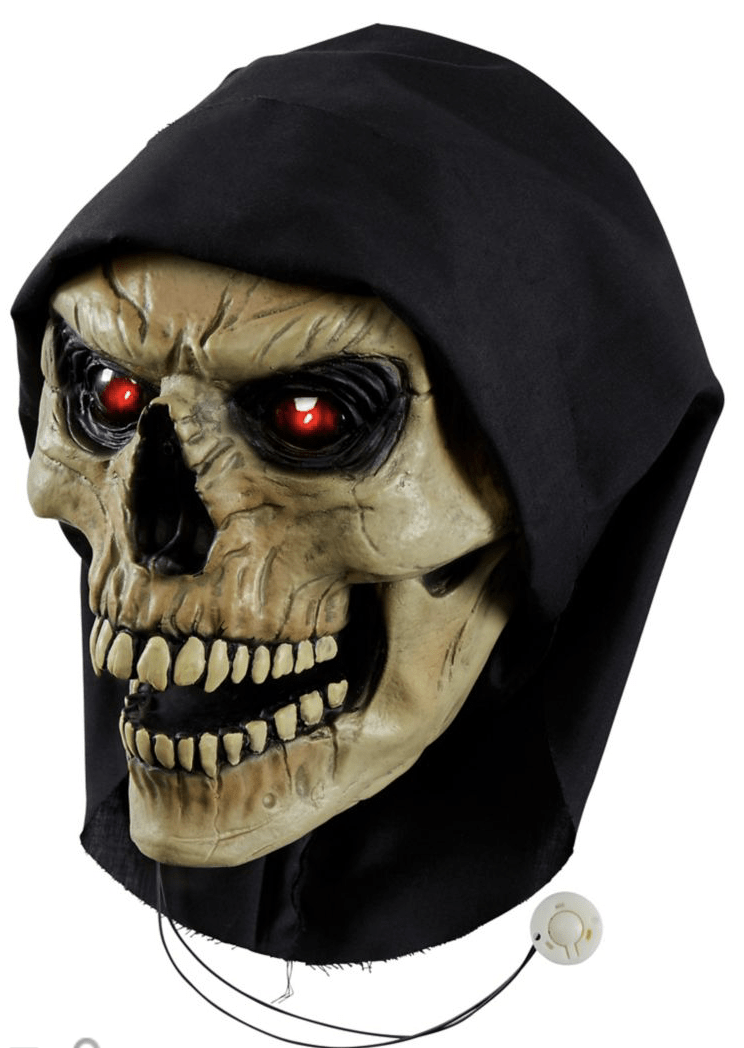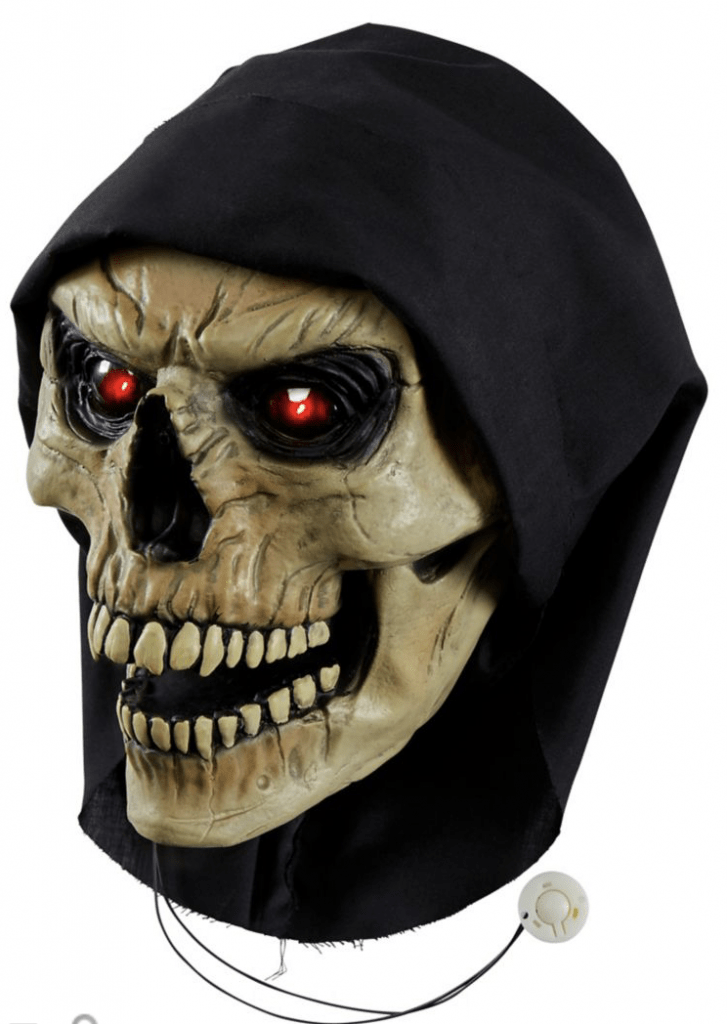 10 INCH LIGHT-UP DOOR KNOCKER – Click Here
Scare your guests with this talking light up door knocker.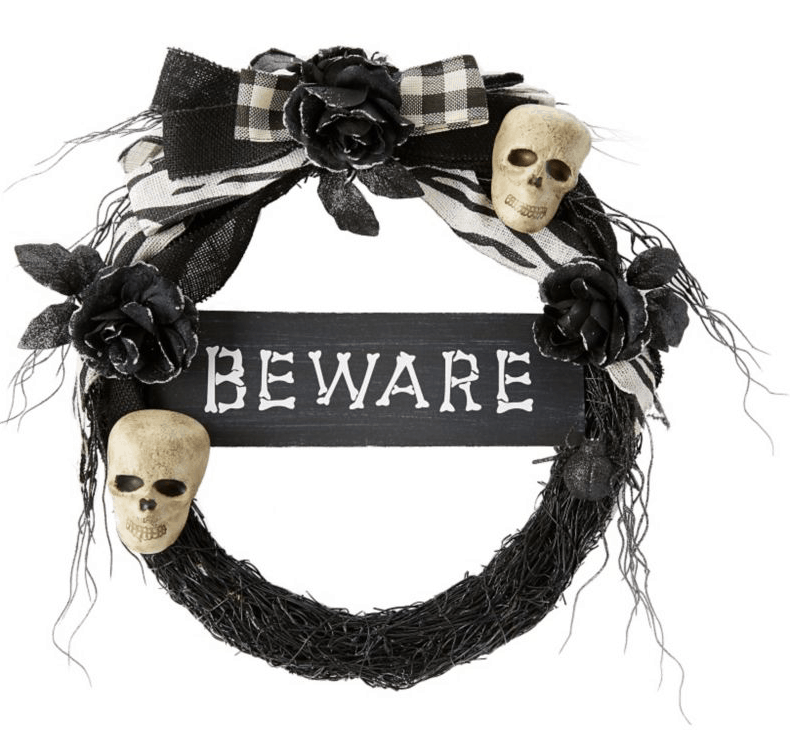 BEWARE SKULL WREATH – Click Here
Keep it classy and classic with this fun Halloween skull wreath.
Lawn Decor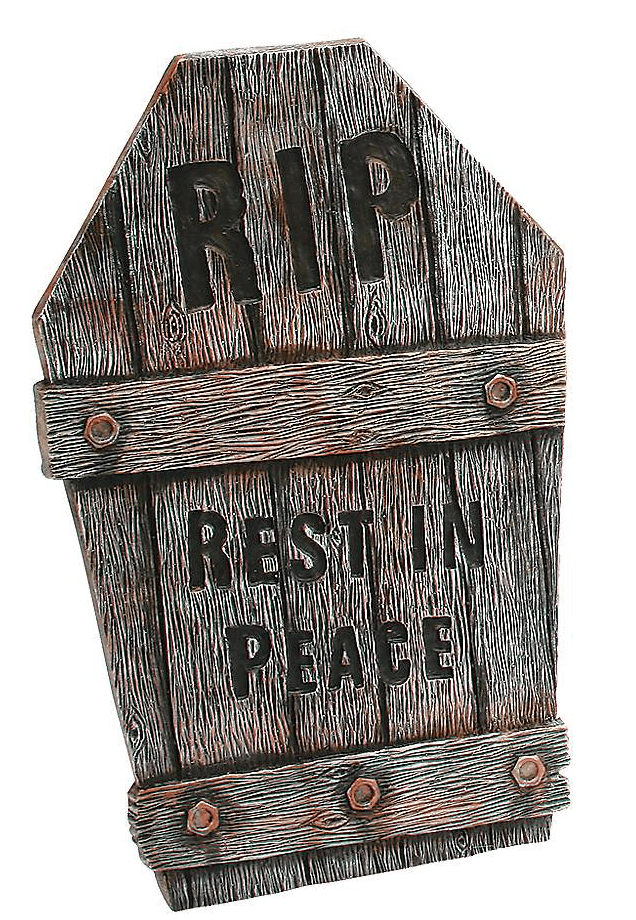 WOODEN-EFFECT REST IN PEACE TOMBSTONE – Click Here
You just can't go wrong with a classic tombstone in your front yard. Love the look of this one!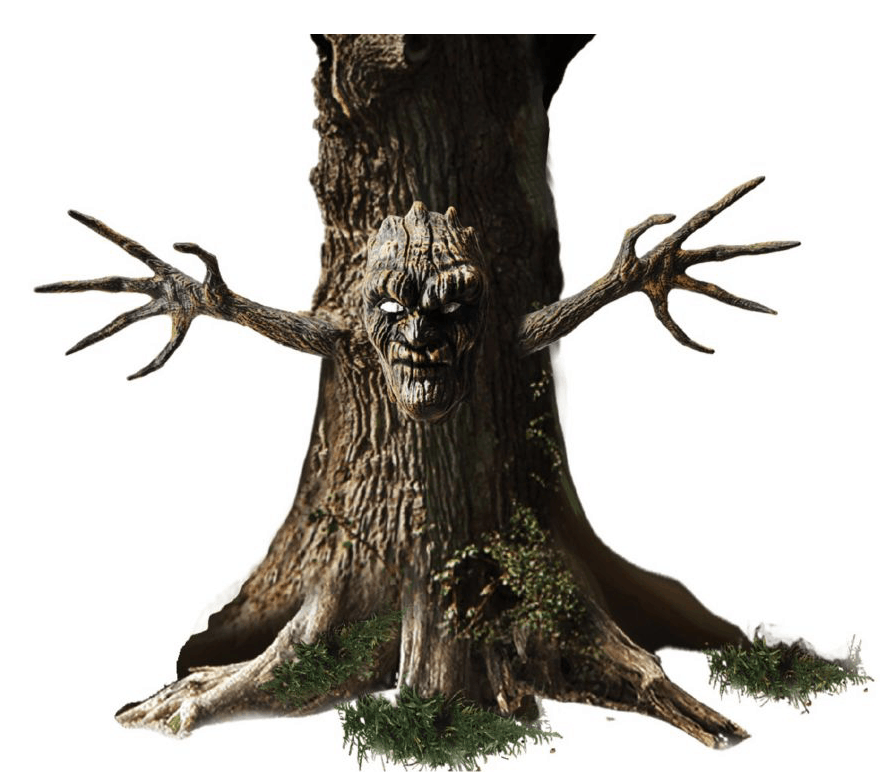 TREE FACE AND ARMS – Click Here
Love the idea of dressing up the trees with this fun attachment.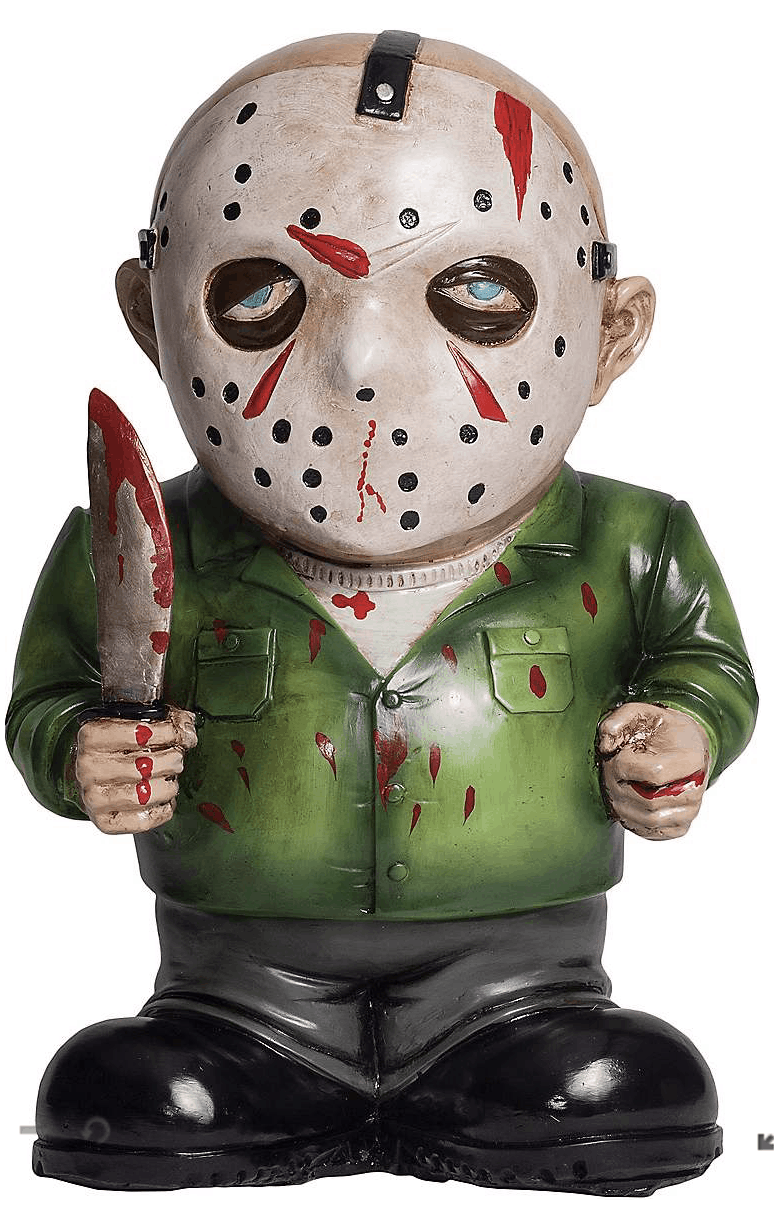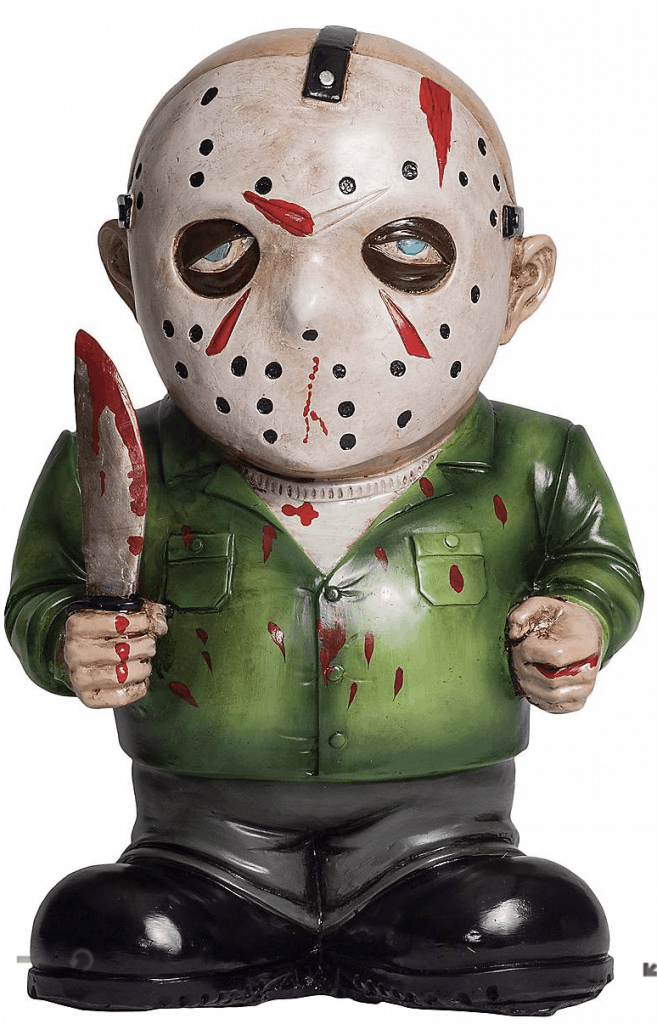 I just love the idea of spooky lawn gnomes. This guy may stay out year round at my house!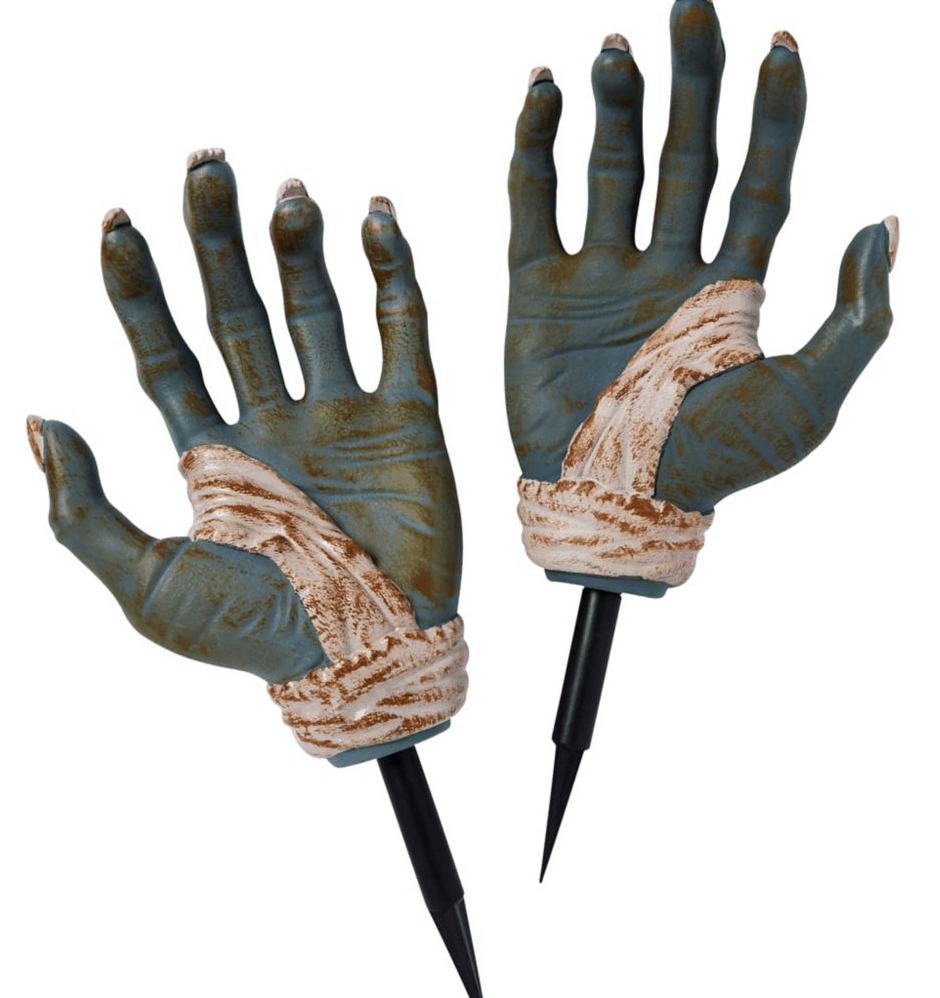 17 INCH LARGE ZOMBIE HAND LAWN STAKES – Click here
Another easy and spooky way to dress up your yard. Place a strobe light on them and really scare your neighbors.
Halloween Inflatables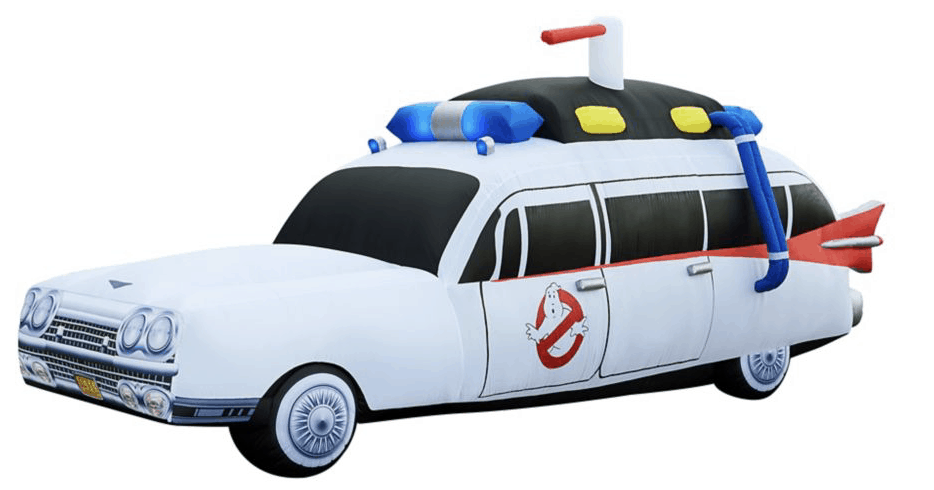 GHOSTBUSTERS ECTO-1 INFLATABLE – Click Here
THIS WILL SELL OUT! This super cool inflatable is going to be popular this year so act fast!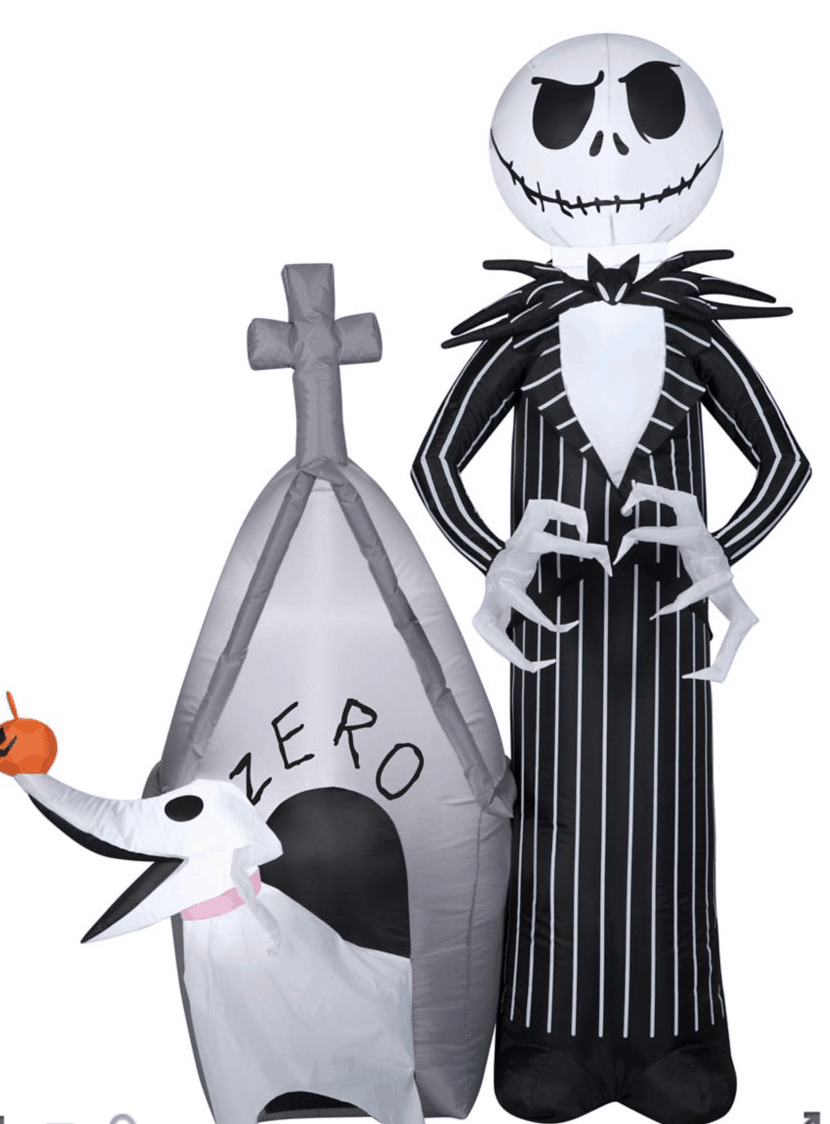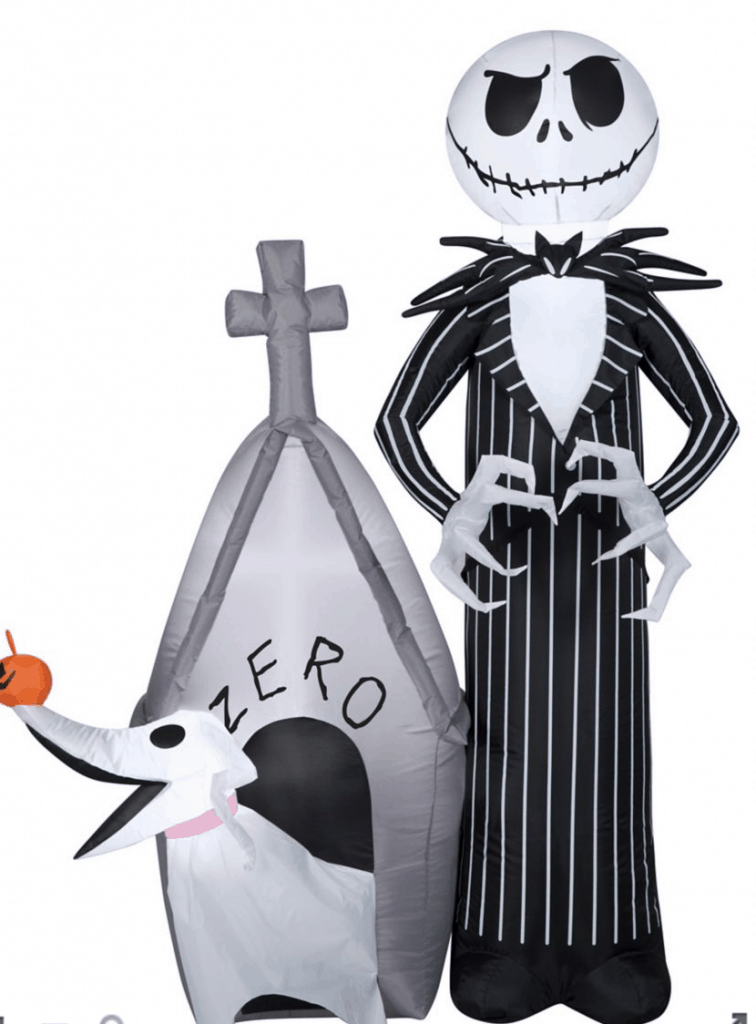 5FT LIGHT UP JACK SKELLINGTON AND ZERO INFLATABLE – Click Here
Can't have Jack with out Zero the dog! Moreover, this inflatable takes up space for maximizing effect without the expensive price tag.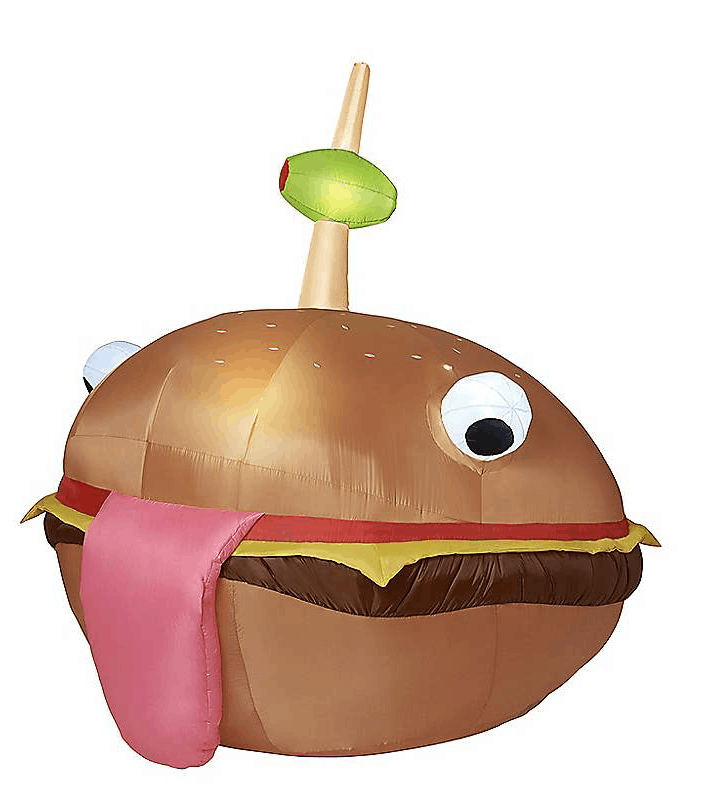 8 FT DURRR BURGER INFLATABLE – Click Here
Can't miss this inflatable… it's 8 feet tall! Perfect for the Fortnite fan in your life.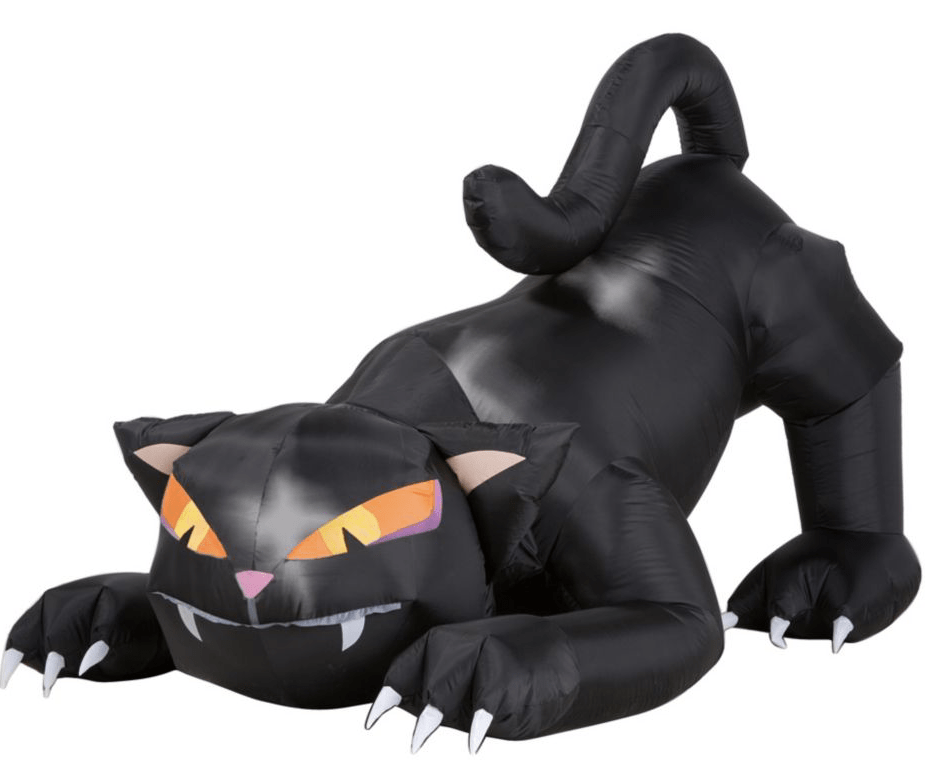 4 FT HEAD TURNING BLACK CAT INFLATABLE – Click Here
I love the look of this terrifying black cat inflatable. Additionally, it's something different than the typical halloween inflatables.
Searching for kids costumes? Don't miss the Best Halloween Costumes for Kids!
Throwing a halloween party with kids. Check out my fun and easy Oreo Cookie Spiders!