Pineapple Zucchini Bundt Cake is super moist and so delicious! Don't miss this easy recipe that uses grated zucchini, canned pineapple, and features a tasty and simple pineapple butter glaze.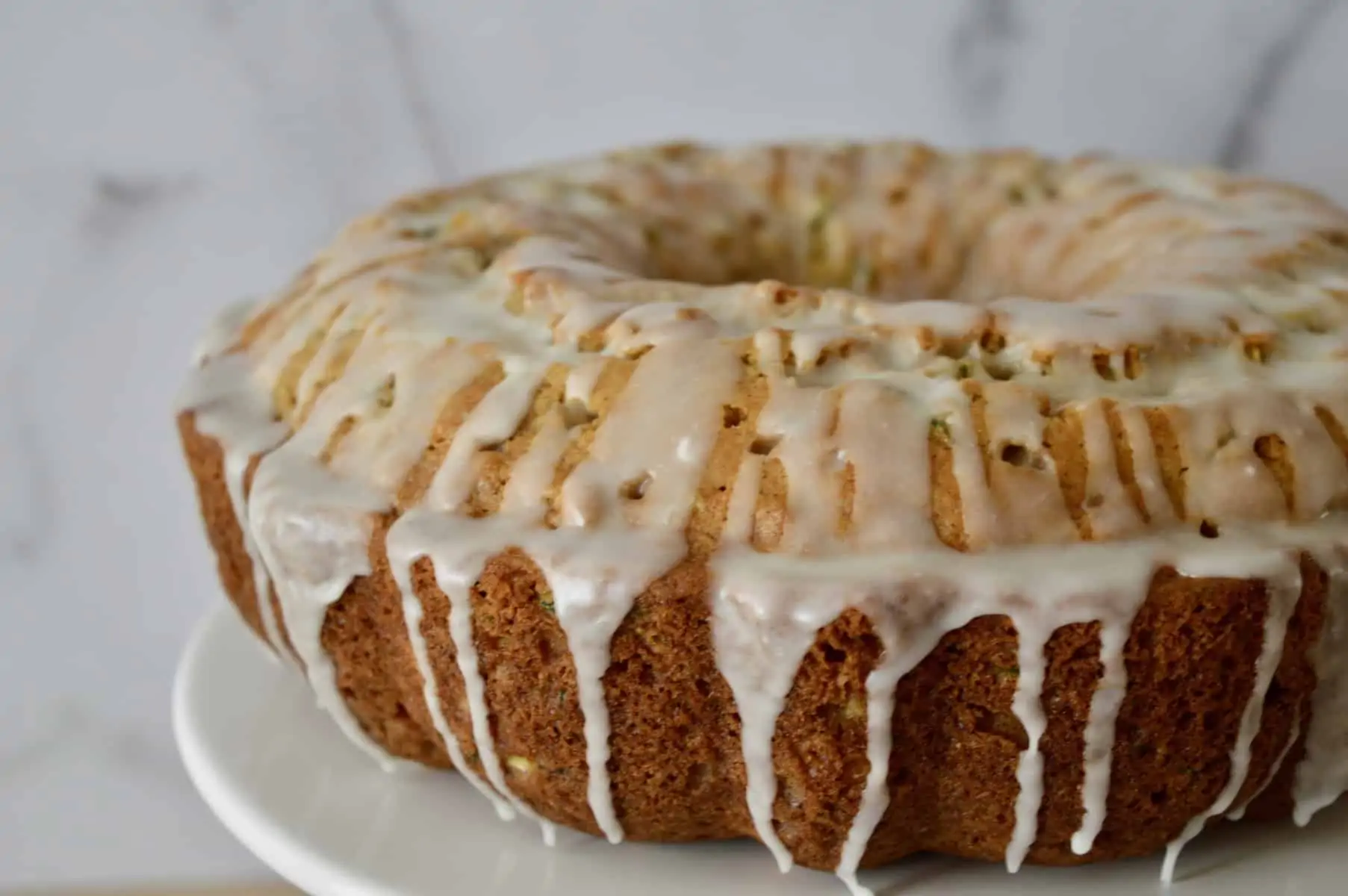 If you've got leftover zucchini you need to use up, then this is the recipe for you! This Bundt Cake recipe is easy enough to make ahead and have on hand, and elegant enough to entertain with.
While pineapple and zucchini may seem like an odd combination, they actually pair together really well. As with my Chocolate Zucchini Banana Bread and my Lemon Summer Squash Bread, you just can't taste the squash whatsoever.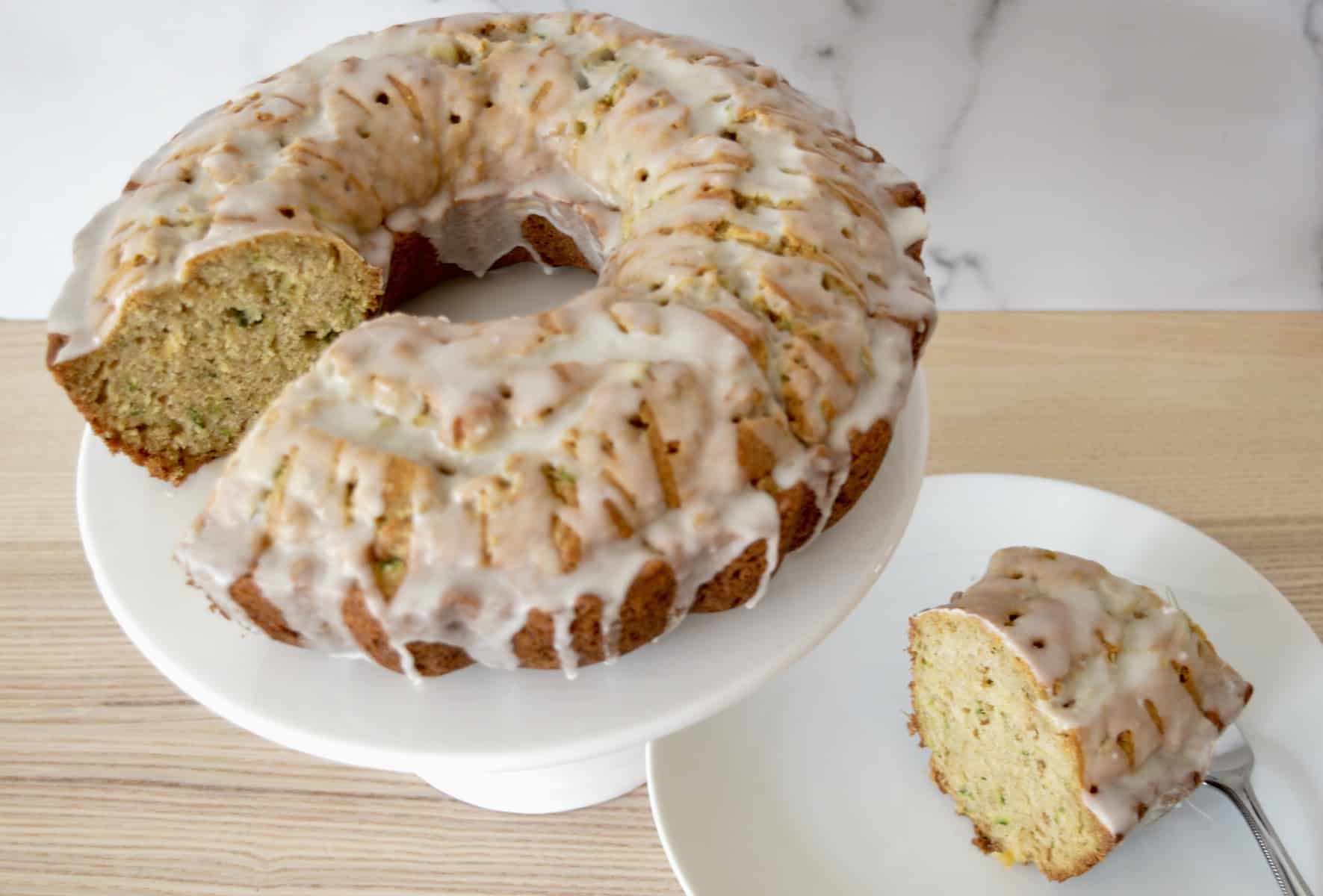 Why bake with zucchini?
"If you can't taste the zucchini, then why bake with it?" is a question I get all the time. What the zucchini does is add a level of moisture that just can't be beat. Also, it seems to elevate the other flavors the bread has in it. Here, the pineapple seems sweeter and you can really taste the cinnamon.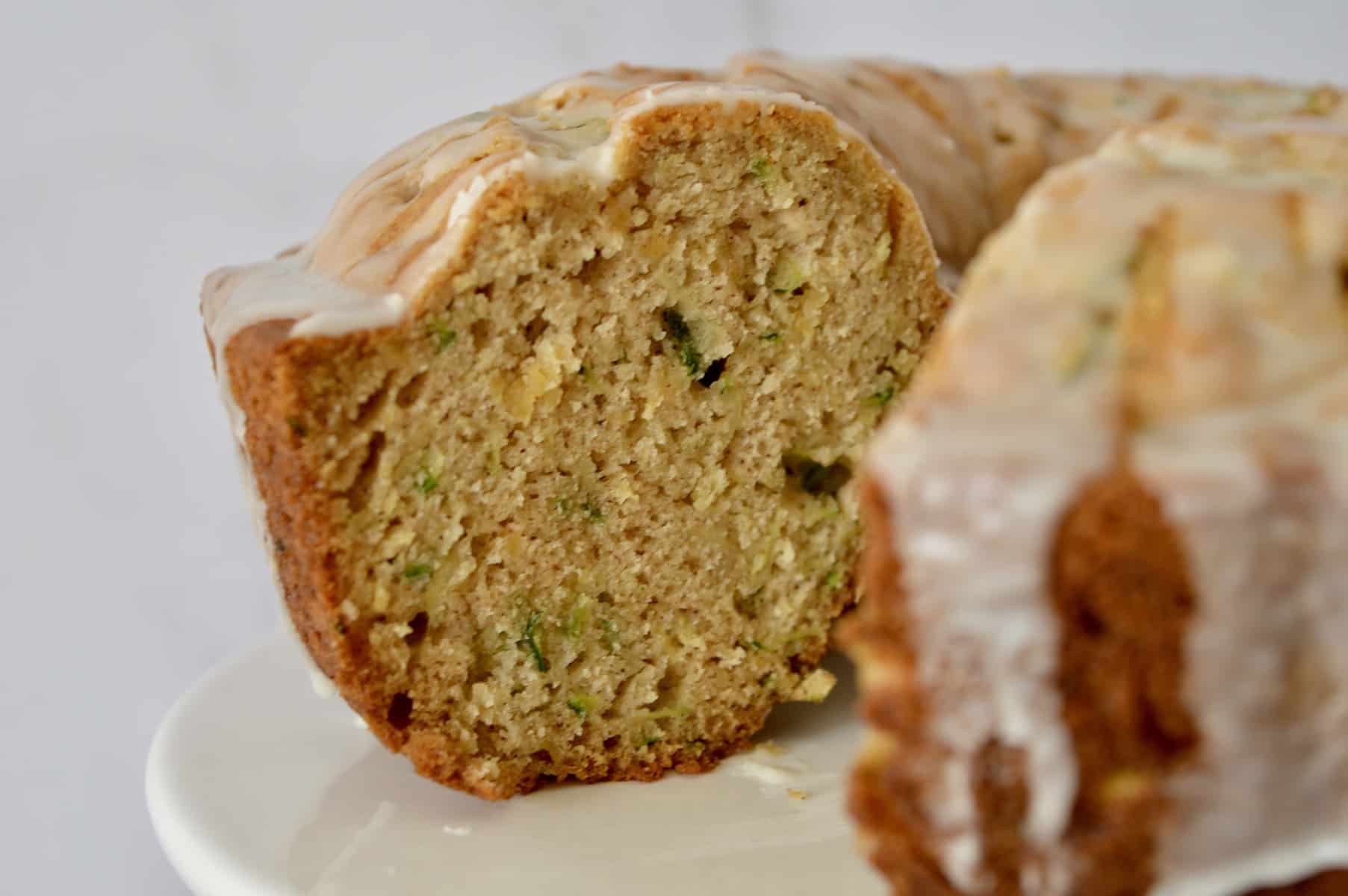 Additionally, and as you may have guessed, it adds fiber and veggies to your baking. And we are all looking for a way to sneak in vegetables without really tasting them!
The zucchini also acts as a fat substitute in baked goodies. While you will need to add some fat to your cakes, you will be able to get away with adding less than normal. For more science behind baking with zucchini and a great chocolate cake recipe, check out Why Zucchini Makes a Moist Chocolate Cake.
So, yes, you need to bake with zucchini! It's available year round and is a relatively low cost produce. So pick up one today and let's get starting on this delicious recipe.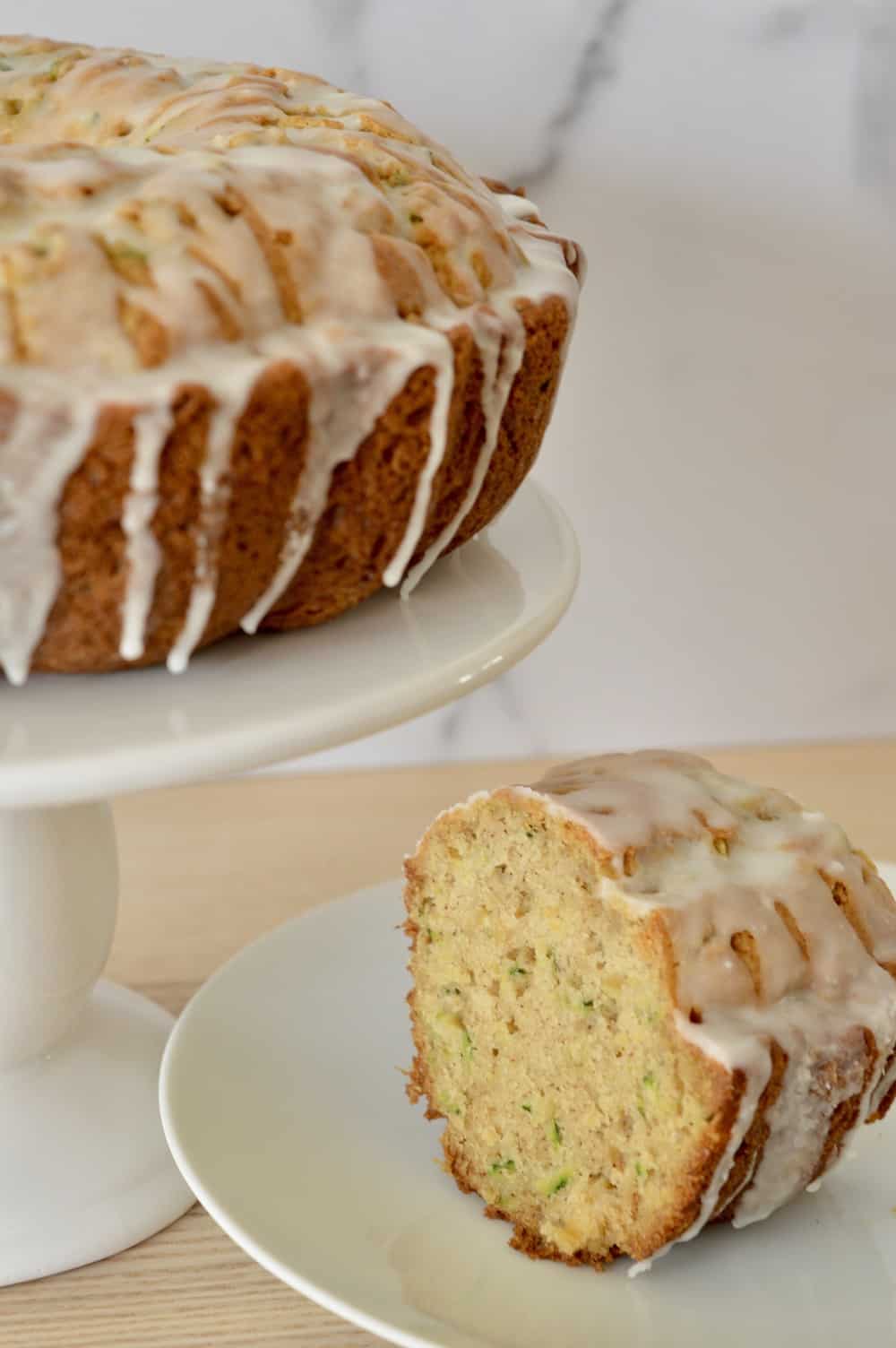 Pineapple Zucchini Bundt Cake Recipe
Firstly, you need a pan. I personally love the Nordic Ware Bundt Cake Pan because it has handles and holds up well to all of my baking needs. All you need to do is spray some non stick cooking spray and you are ready to go.
Next, whisk together the dry ingredients. I love the combo of cinnamon and nutmeg here. It adds a subtle flavor without overpowering the cake. In a separate bowl whisk together the oil, sugars, and eggs. Grate the zucchini and add it to the batter (no need to squeeze out the moisture). Lastly, drain the crushed pineapple and set aside the juice for the glaze. Mix all of the batter together and bake in the prepared pan for about 40 minutes.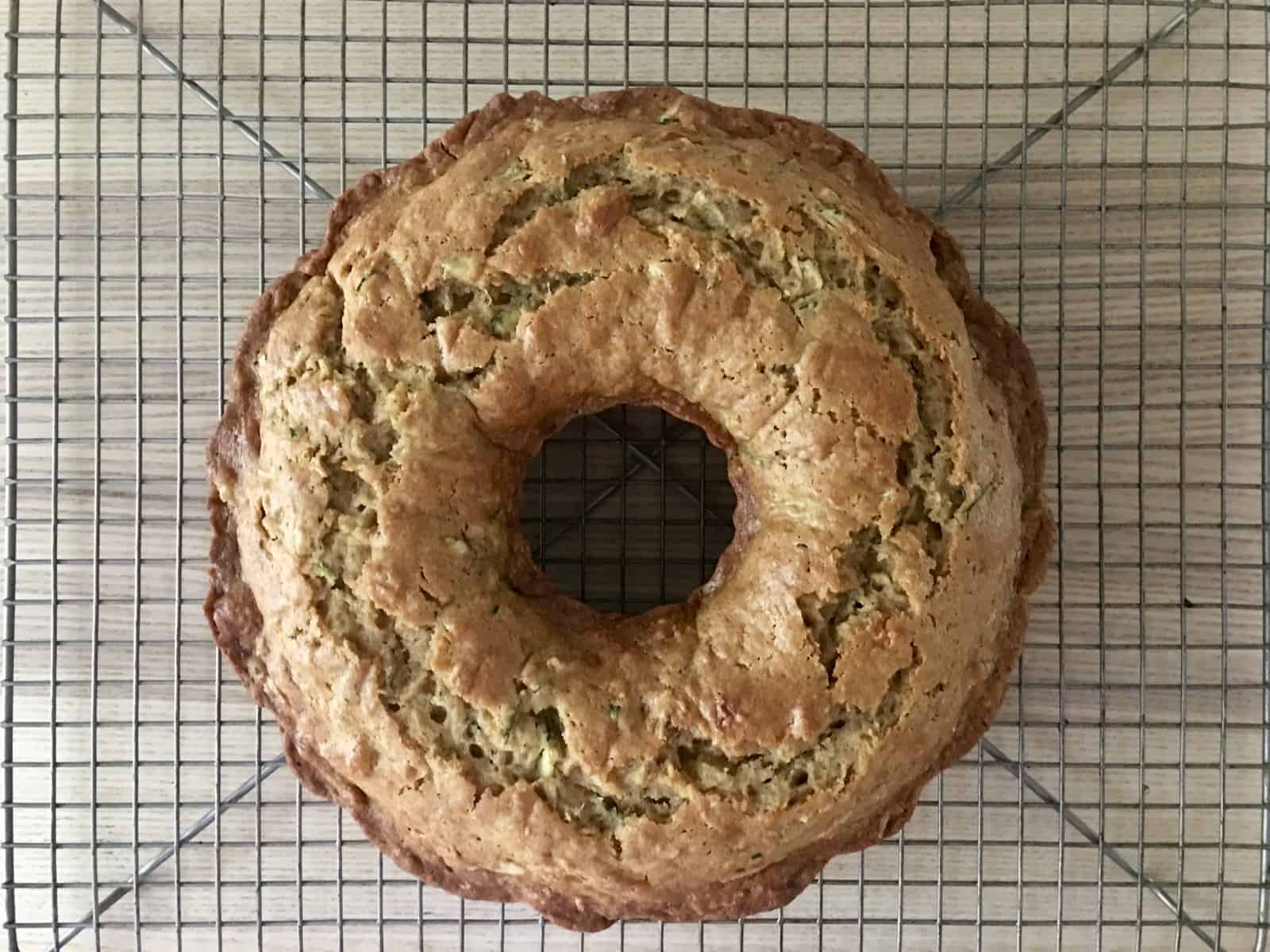 Once baked, cool on a wire rack before removing from pan. In a typical Bundt Cake recipe, you would flip the cake over so the curved side was upward. However, here the cake seems to be better sitting upright. You can flip or not, either way works!
Personally, I like to poke holes into the cake after it cools a bit so that when I pour on the glaze it has the chance to seep in. This is totally optional, but something I've always done.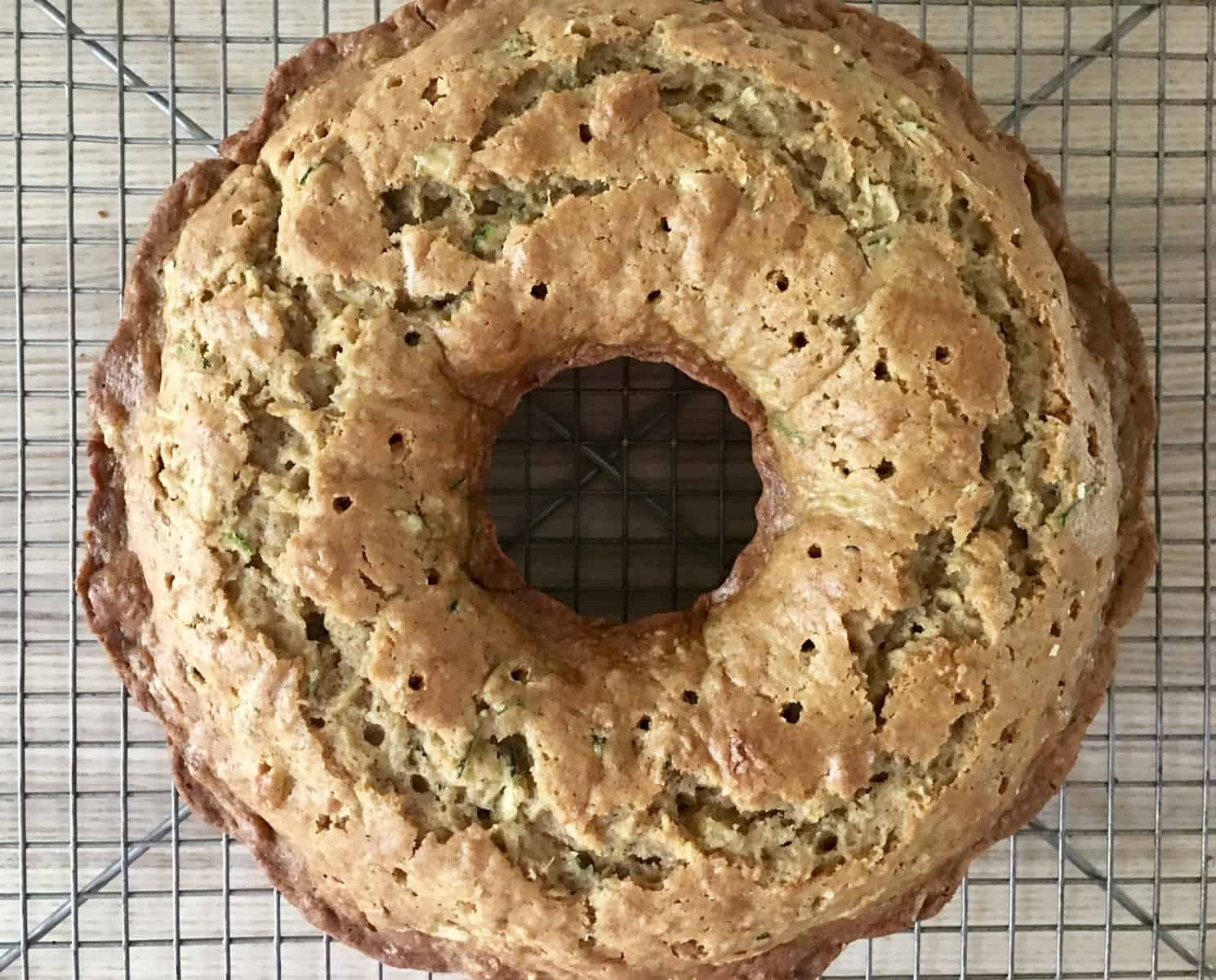 Now, let's get to that glaze!
Simple Pineapple Glaze
The glaze for this Pineapple Zucchini Bundt Cake couldn't be simpler. Remember that leftover pineapple juice from the canned crushed pineapple? Well, now is the time to use it.
To make the glaze just melt the butter and whisk in the pineapple juice. Whisk in a cup of powdered sugar, and that's it! The glaze should be pourable, but not runny. If necessary, add additional juice or powdered sugar to achieve desired consistency.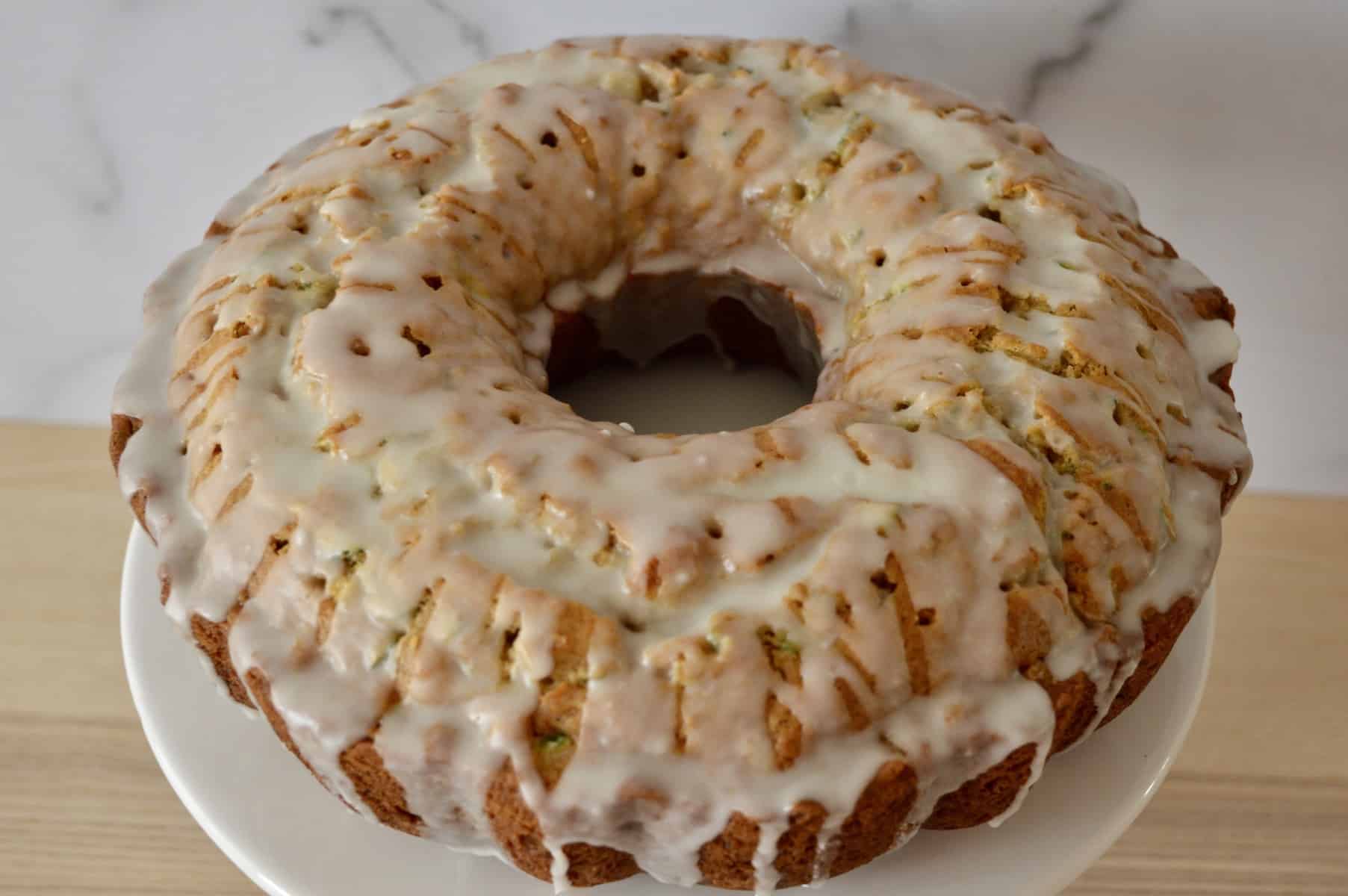 Moist and tasty, you are going to love this recipe! Comment below on how you like it.
Bundt Cake Recipes from This Delicious House:
Blueberry Lemon Bundt Cake with Honey Glaze
Pineapple Bundt Cake with Cream Cheese Frosting
I hope you love this recipe for Pineapple Zucchini Bundt Cake. Be sure to comment below if you try it. Enjoy!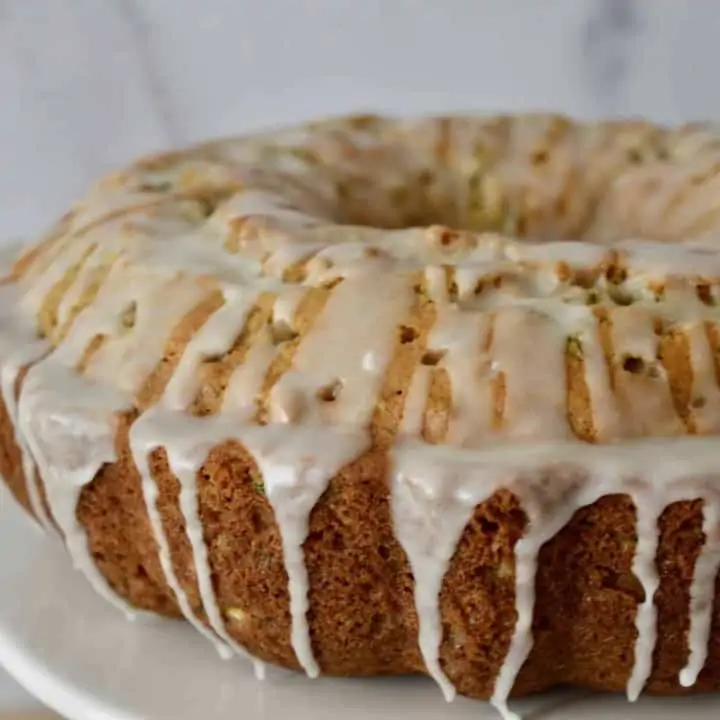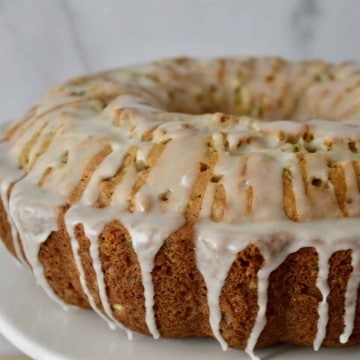 Pineapple Zucchini Bundt Cake with Pineapple Glaze
Super moist and easy to make bundt cake with grated zucchini and canned pinapple.
Print
Pin
Rate
Ingredients
2 ¼

cups

all purpose flour

1 ½

teaspoons

baking soda

½

teaspoon

baking powder

1

teaspoon

cinnamon

½

teaspoon

nutmeg

½

teaspoon

salt

½

cup

vegetable oil

½

cup

brown sugar

½

cup

sugar

2

large

eggs

1

medium

zucchini, grated

1

8 ounce can

crushed pineapple

drain and reserve juice for glaze
Pineapple Glaze
2

tablespoons

butter, melted

2

tablespoons

pineapple juice

(reserved from the drained crushed pineapple)

1

cup

powdered sugar
Instructions
Preheat oven to 350 degrees. Grease a standard 12 cup bundt pan with cooking spray, set aside.

In a medium bowl, whisk together the flour, baking soda, baking powder, cinnamon, nutmeg, and salt. In large bowl, whisk together the oil, sugars, and eggs. Stir in the zucchini and drained pineapple. Pour the dry ingredients into the wet and stir until just combined.

Pour the batter into prepared bundt pan and bake for 40 minutes, or until toothpick inserted in middle of cake comes out clean. Cool on wire rack for 10 minutes then remove from pan and let cool completely.

To make the glaze, whisk together the melted butter and pineapple juice. Add in the powdered sugar and whisk until smooth. Use a toothpick or skewer to poke holes on the top of the cake then drizzle the glaze over the top.
Notes
Perfect make-ahead cake. Just refrigerate in an airtight container for up to a week. 
Nutrition