Summer is almost here and that means it's time to fire up the grill! But hosting a fun BBQ doesn't have to cost a lot. I have the tips and tricks on how to have a super easy and memorable Budget BBQ with all of your friends and loved ones without breaking the bank.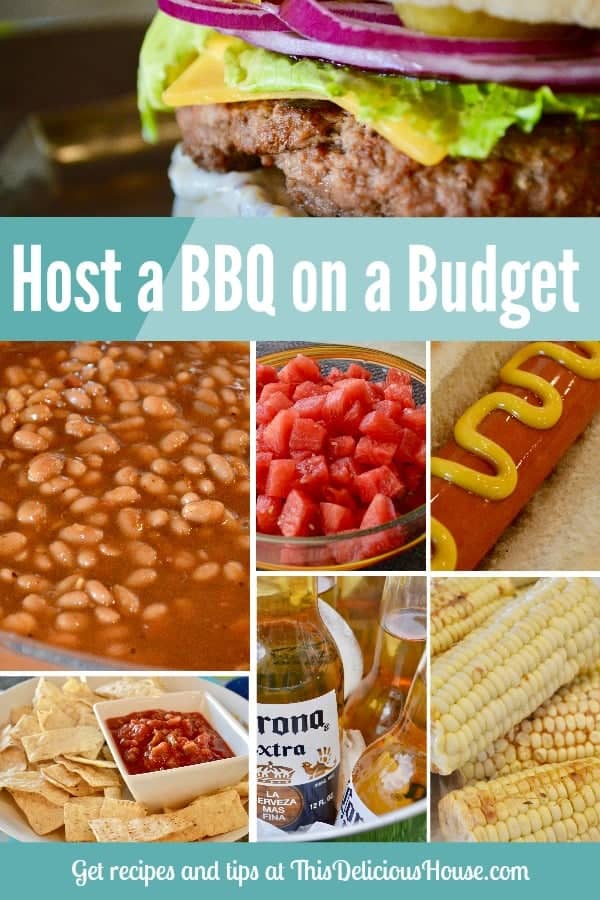 My Budget BBQ menu will definitely work with your budget without leaving your guests feeling deprived. The great thing about hosting a BBQ is that the food you cook really doesn't have to cost a lot. This is true if you're serving 5 or 50! You can feed everyone for less than $6.50 per person if you plan ahead and do it right… and this includes an appetizer, drinks, side dishes, and dessert!
Check out my menu and recipes below for 12 adults.
Budget BBQ Menu
Chips and Salsa
Baked Beans
Potato Salad
Corn on the Cob
Hotdogs
Hamburgers
Watermelon
Cold Beer and Lemonade
Ice Cream Sundaes
Simple menu, right? That's how I like to keep it when doing a casual get together like a Budget BBQ. And if you happen to have a Costco or Sams Club membership, cooking for a crowd becomes even cheaper. But you can do this all at the grocery store for less than $6.50 a person too.
Budget BBQ Chips & Salsa ($5 total)
Chips and salsa is the universal casual-fun-vibe food. Set them out when guests arrive, along with a cold drink, so that people have something to munch on. I always opt for a mild salsa when kids are going to be there, but you can get whatever you like. The best part, you have a great crowd appetizer for less than $5 for the bag of chips and jar of salsa.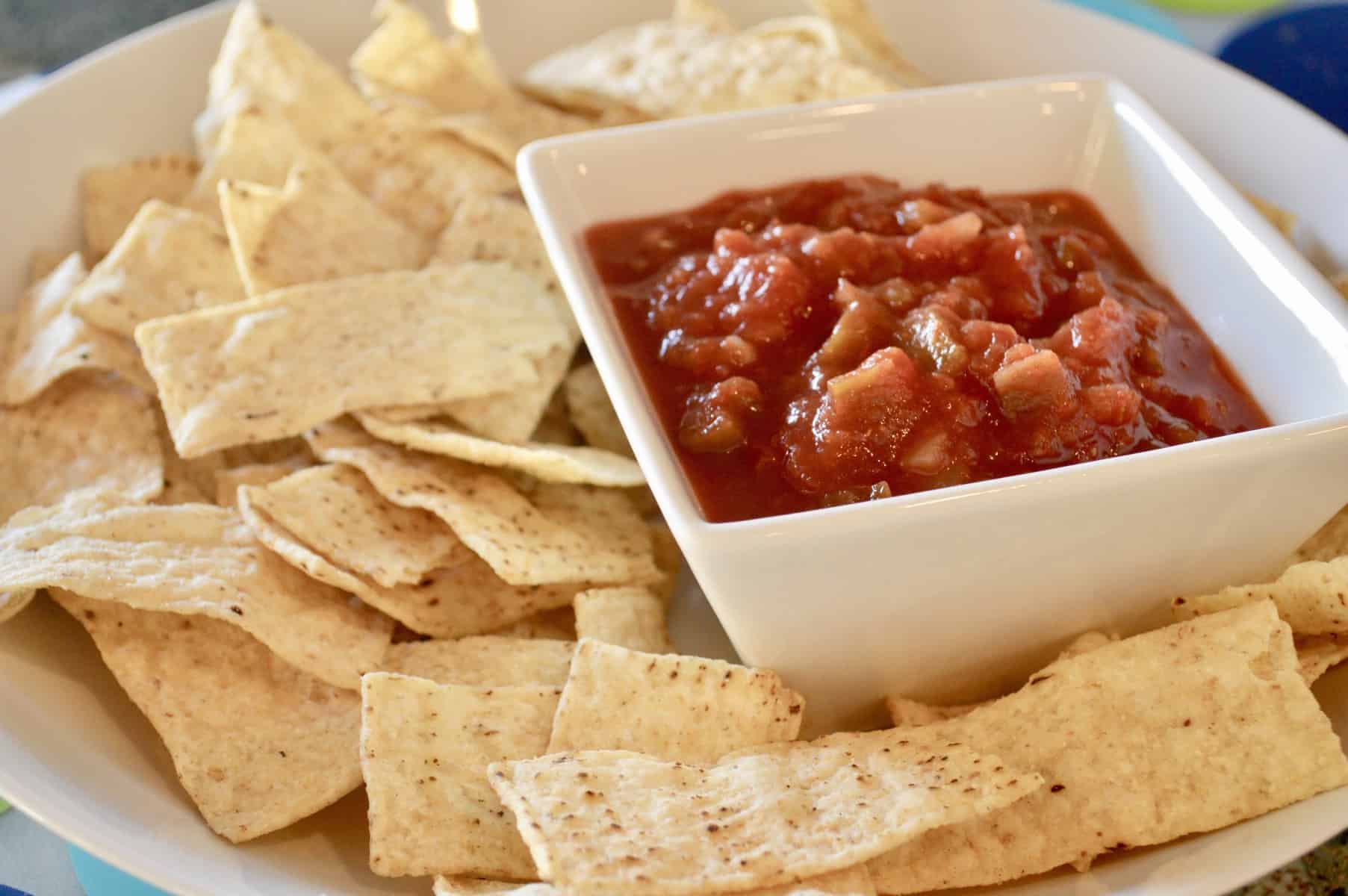 Budget BBQ Baked Beans ($6 total)
Talk about easy and budget friendly! Baked beans are a Budget BBQ staple and so simple to make. You could make ahead and keep warm on the stove or crock pot.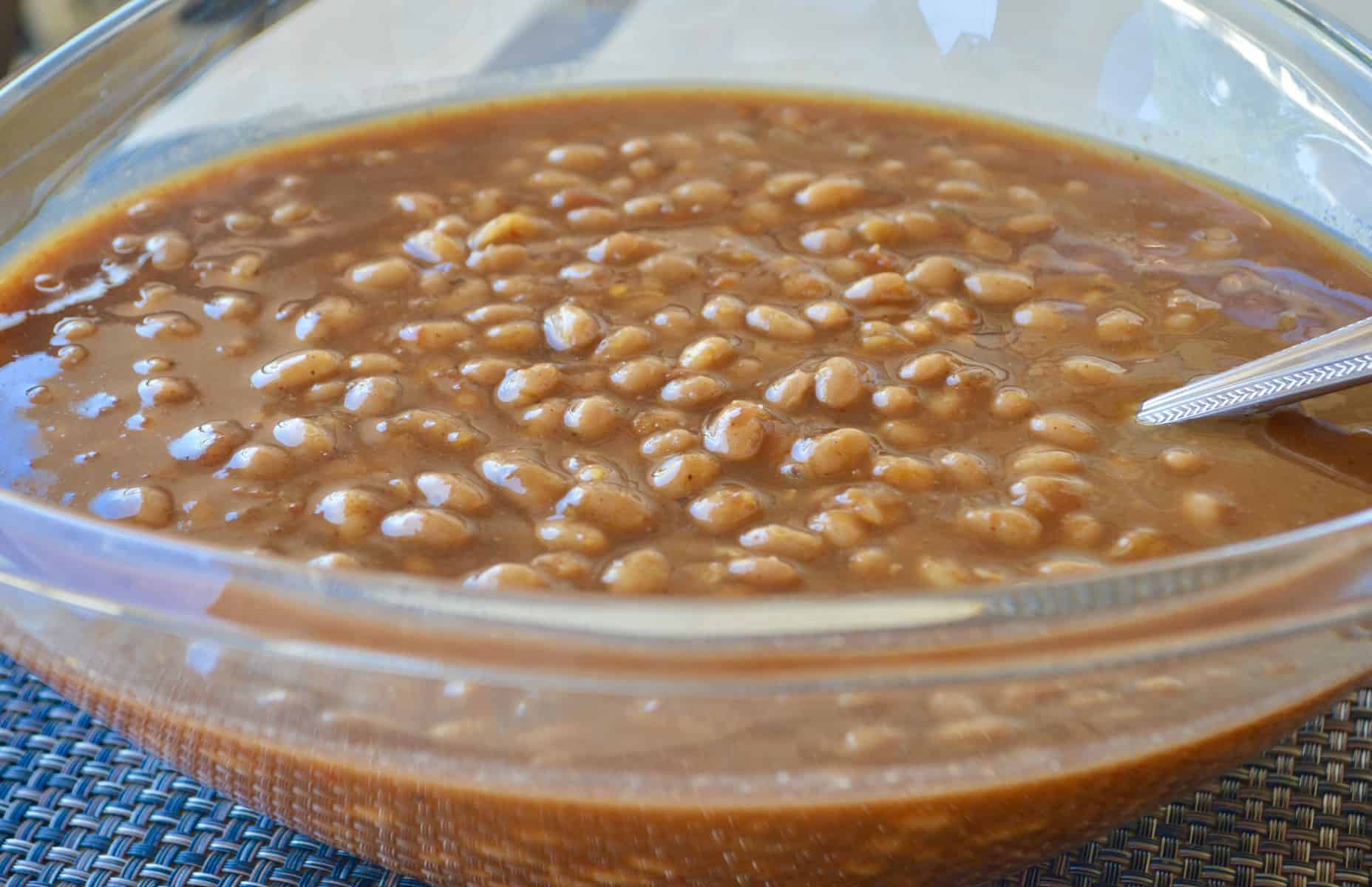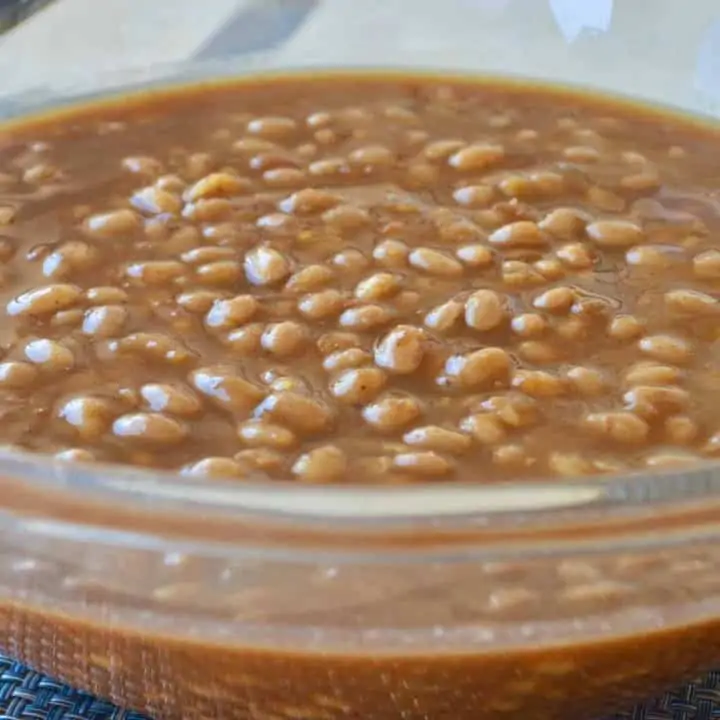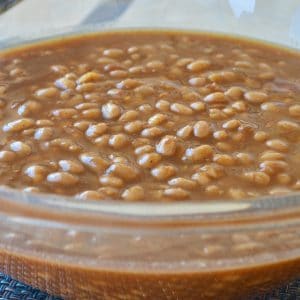 Baked Beans
You can use any variety of canned baked beans you like.
Print
Pin
Rate
Ingredients
3

15 ounce cans

baked beans

½

cup

brown sugar

1

tablespoon

onion powder

1

teaspoon

chili powder

¼

cup

ketchup
Instructions
Add all ingredients to a medium sauce pan and cook on medium until warmed through.
Notes
Super easy way to doctor up canned beans! Make-ahead and reheat on stovetop or slow cooker before guests arrive. 
Nutrition
Budget BBQ Potato Salad ($7 total)
There are like a million potato salad recipes out there, and I've probably tried half of them! But for me, sometimes simple is the best especially when putting together a budget BBQ. I like this recipe because it uses items you probably already have around the kitchen. So really you're only going to need to buy potatoes and maybe a bell pepper. Make this recipe a day ahead and let it sit in the refrigerator so the flavors can develop. If you find the potato salad to be dry the next day, just add a bit more mayo and toss.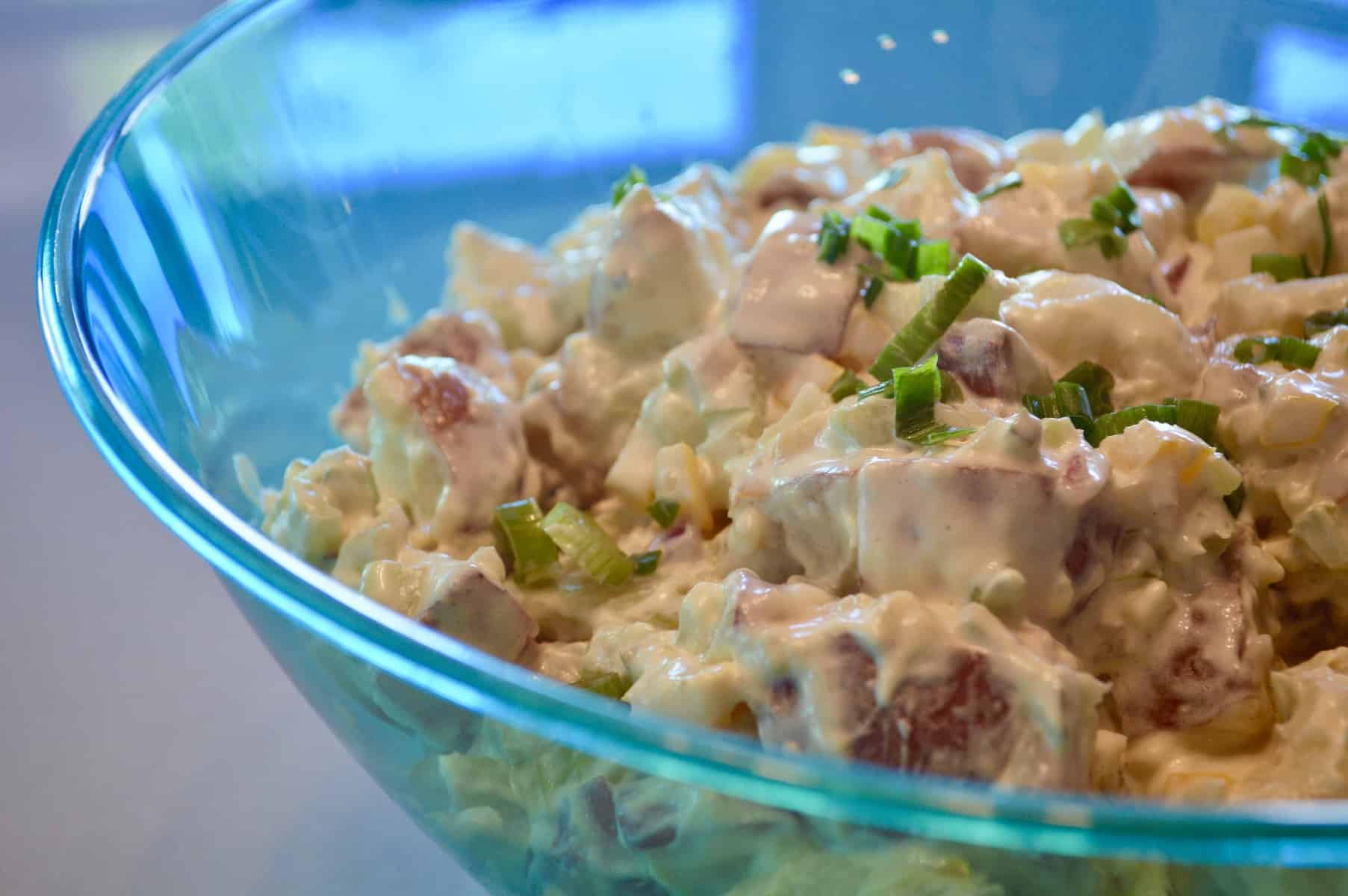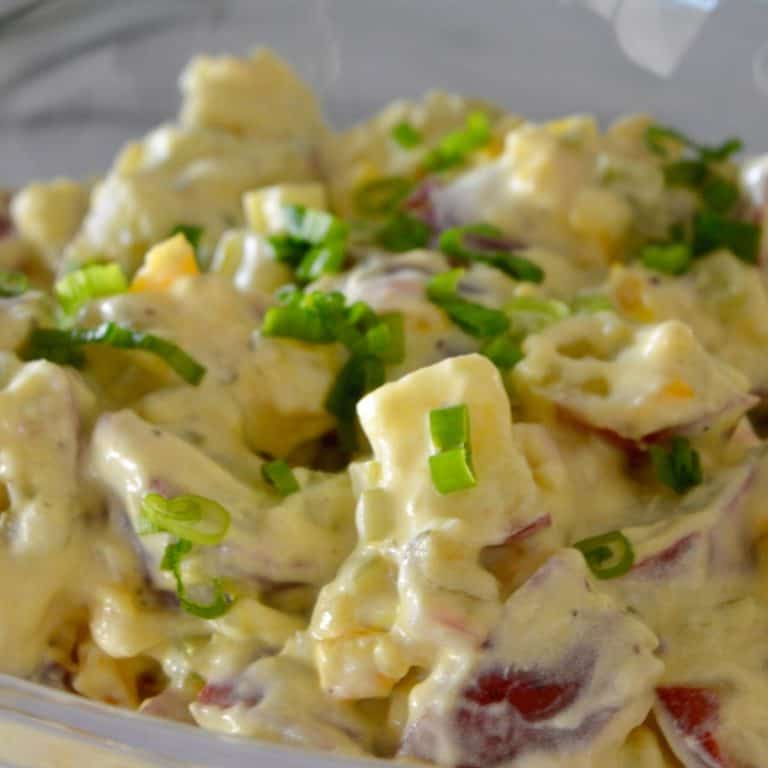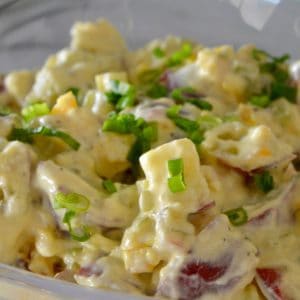 Red Potato Salad
Red Potato Salad can be made a day in advance and refrigerated to allow the flavors to develop. Be sure to toss and taste for seasonings before serving.
Print
Pin
Rate
Ingredients
2

pounds

red potatoes, diced into desired size

½

cup

bell pepper, chopped

(one bell pepper)

½

cup

celery, chopped

(two stalks)

¼

cup

red onion, chopped

1 ¼

cups

mayonnaise

½

cup

sweet relish

1 ½

tablespoons

dijon mustard

1

teaspoon

vinegar

salt and pepper to taste

chopped green onion to garnish, optional
Instructions
Place potatoes in a medium pot and cover with salted water. Bring to a boil then reduce to a simmer. Simmer for about 10 minutes or until barely fork tender.

Fold together the remainder of the ingredients. Gently fold in with the potatoes. Add salt and pepper to taste. Chill for at least 1 hour before serving. Garnish with chopped green onion, optional
Notes
No need to remove the skins from the red potatoes. They are delicious with the skin on.
Use whatever veggies you have on hand. Here I like to stick to the basics, but you could add frozen peas, corn, or even chopped carrots.
Stick with a good quality full-fat mayo for this recipe. Because the sauce is primarily the mayonnaise, you really want that flavor to shine through. I like to use Hellman's.
Make this entire dish up to a day in advance. Cover and chill in the refrigerator. Toss and check for seasonings before serving.
Nutrition
Calories:
230
kcal
|
Carbohydrates:
17
g
|
Protein:
2
g
|
Fat:
18
g
|
Saturated Fat:
3
g
|
Polyunsaturated Fat:
11
g
|
Monounsaturated Fat:
4
g
|
Trans Fat:
1
g
|
Cholesterol:
10
mg
|
Sodium:
269
mg
|
Potassium:
383
mg
|
Fiber:
2
g
|
Sugar:
5
g
|
Vitamin A:
359
IU
|
Vitamin C:
15
mg
|
Calcium:
14
mg
|
Iron:
1
mg
Budget BBQ Grilled Corn on the Cob ($6 total)
Talk about easy and delicious! During the spring and summer months, grocery stores are practically giving away their corn, and I'm happily buying it. For my Budget BBQ grilled corn is essential. You can wrap it up in its foil packet and refrigerate the night before, so the day of all you have to do is pop it on the grill. I like to cook the corn first since it takes longer and can happily sit in its foil packet while the other food is grilling.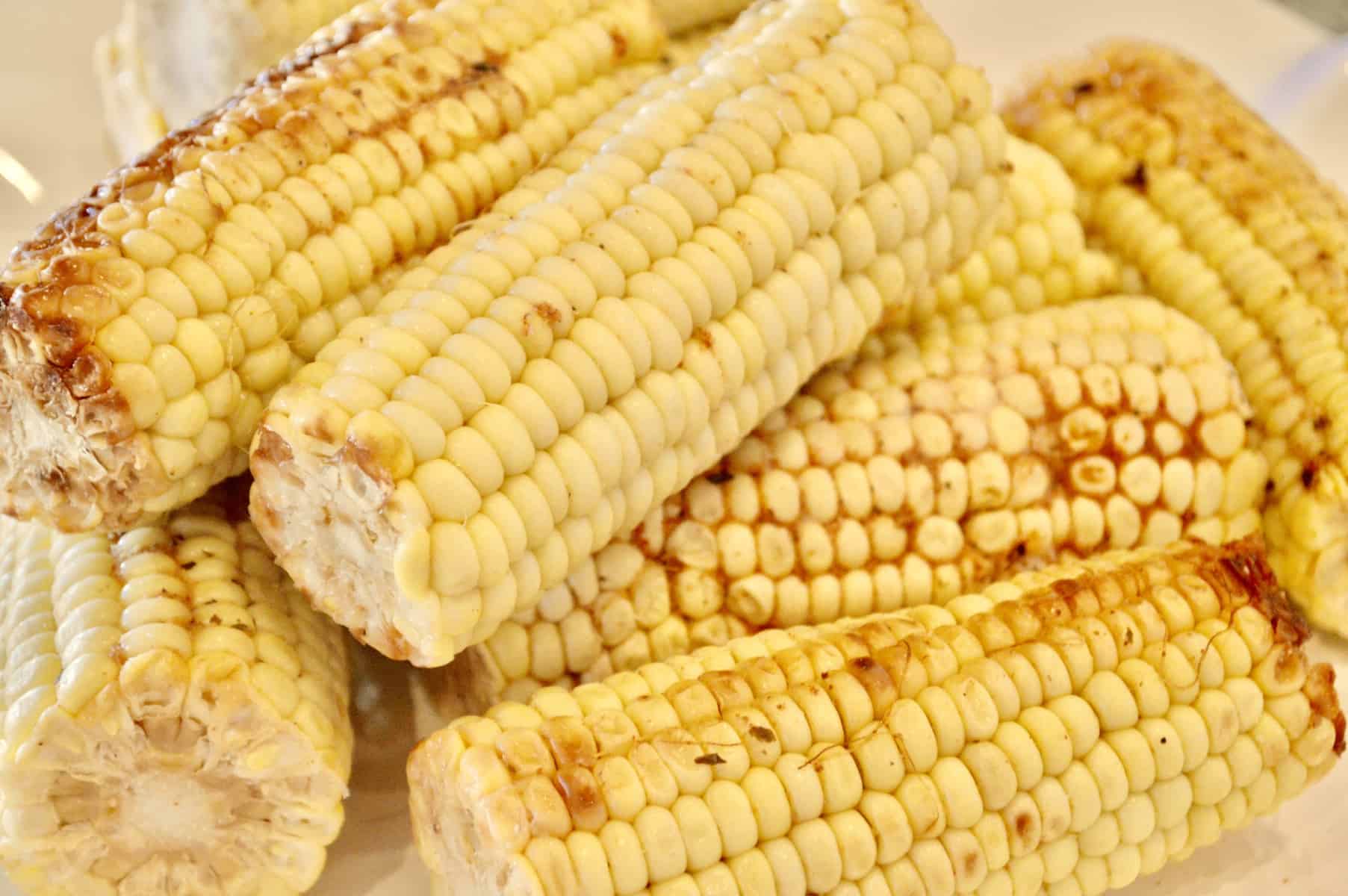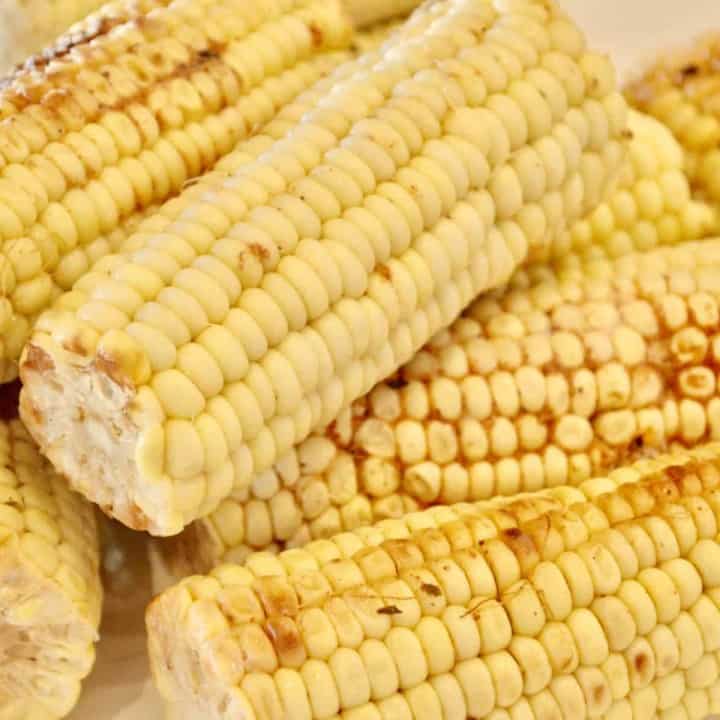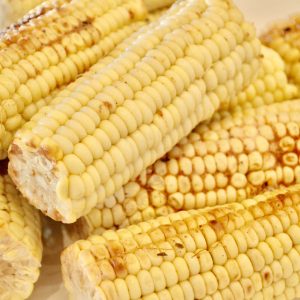 Grilled Corn on the Cob
You can find corn really cheap during the summer months. Such a great and easy side to serve at a BBQ.
Print
Pin
Rate
Ingredients
12

ears

corn on the cob

shuck and remove silk

1

stick

butter

cut into 12 equal pads

1

tablespoon

salt

2

tablespoons

seasoning mix

preferably unsalted (omit additional salt otherwise)
Instructions
Lay out 12 pieces of foil, large enough to wrap the corn. Place an ear of corn and sprinkle on the seasonings and salt (if using). Put a pad of butter on the corn and roll up in the foil. You can either refrigerate overnight or grill immediately.

Preheat grill to medium/high heat. Place the corn on the grill and turn to cook evenly. Should take about 10 minutes to cook completely. Let rest in foil pouches for at least 10 minutes before serving.
Nutrition
Budget BBQ Hotdogs and Hamburgers with Fixings ($22 total)
Whenever I grill, I like to offer more than one grill choice. For a Budget BBQ, hamburgers and hotdogs are a great way to go. I always plan on one hotdog and one hamburger per person, in reality probably way too much food. But I like to have the option available and let my guests decide.
Let's talk cost. Hotdog and hamburger buns, so cheap. Like $4 total for 12 of each. Hotdogs will run you about $4 for a pack of 12, and 3 pounds of hamburger meat will cost about $10. Add some sliced cheese, red onion, and a head of iceberg lettuce, and you have your main course for around $22.
Hotdogs, simple. No recipe needed. Just grill (or boil) and serve with ketchup and mustard.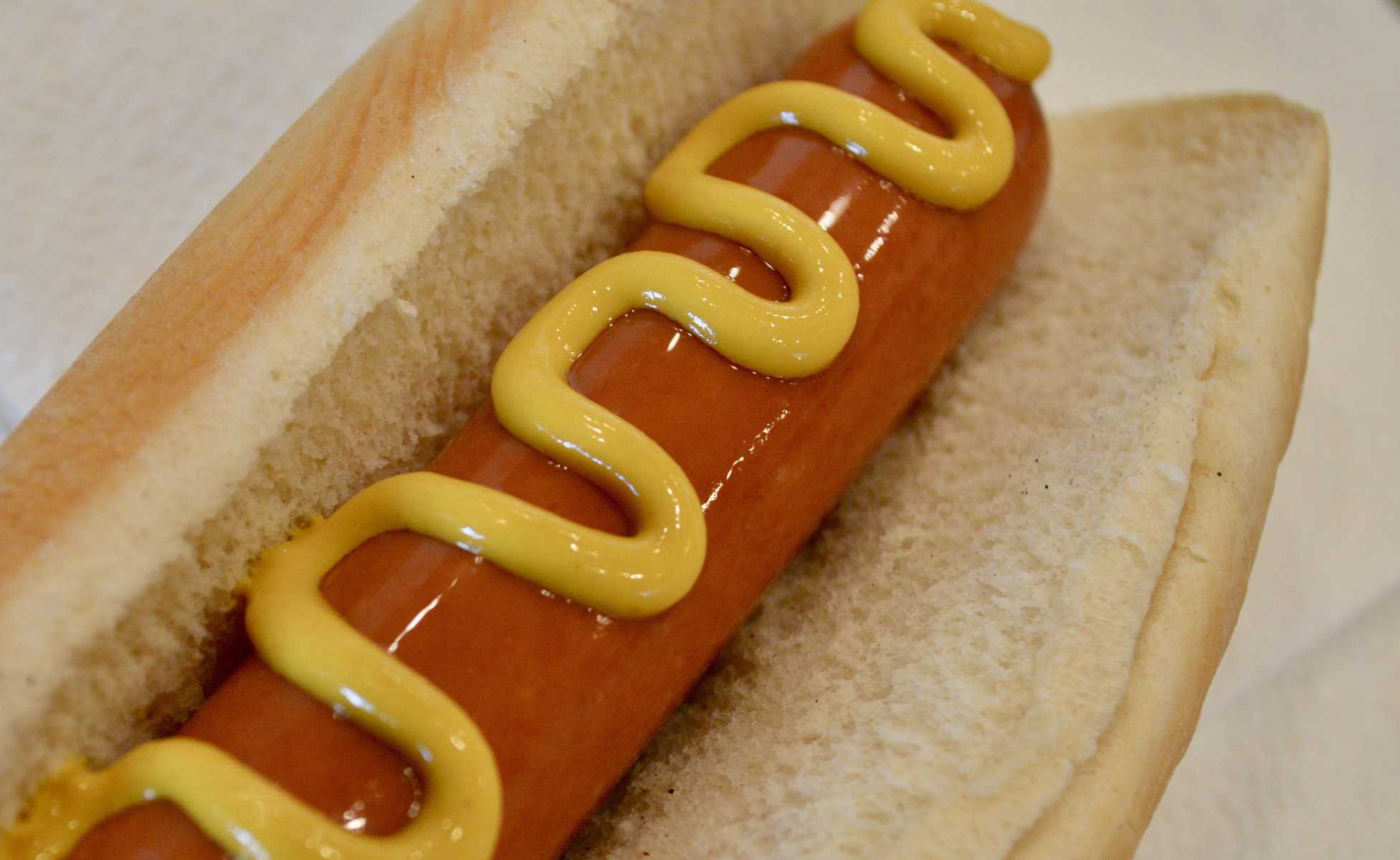 I am a minimalist when it comes to hotdogs, the fewer the ingredients the better!
It's good to keep the hamburgers fairly simple too. Prep the meat and form the patties beforehand so you're not doing all the work right before the party.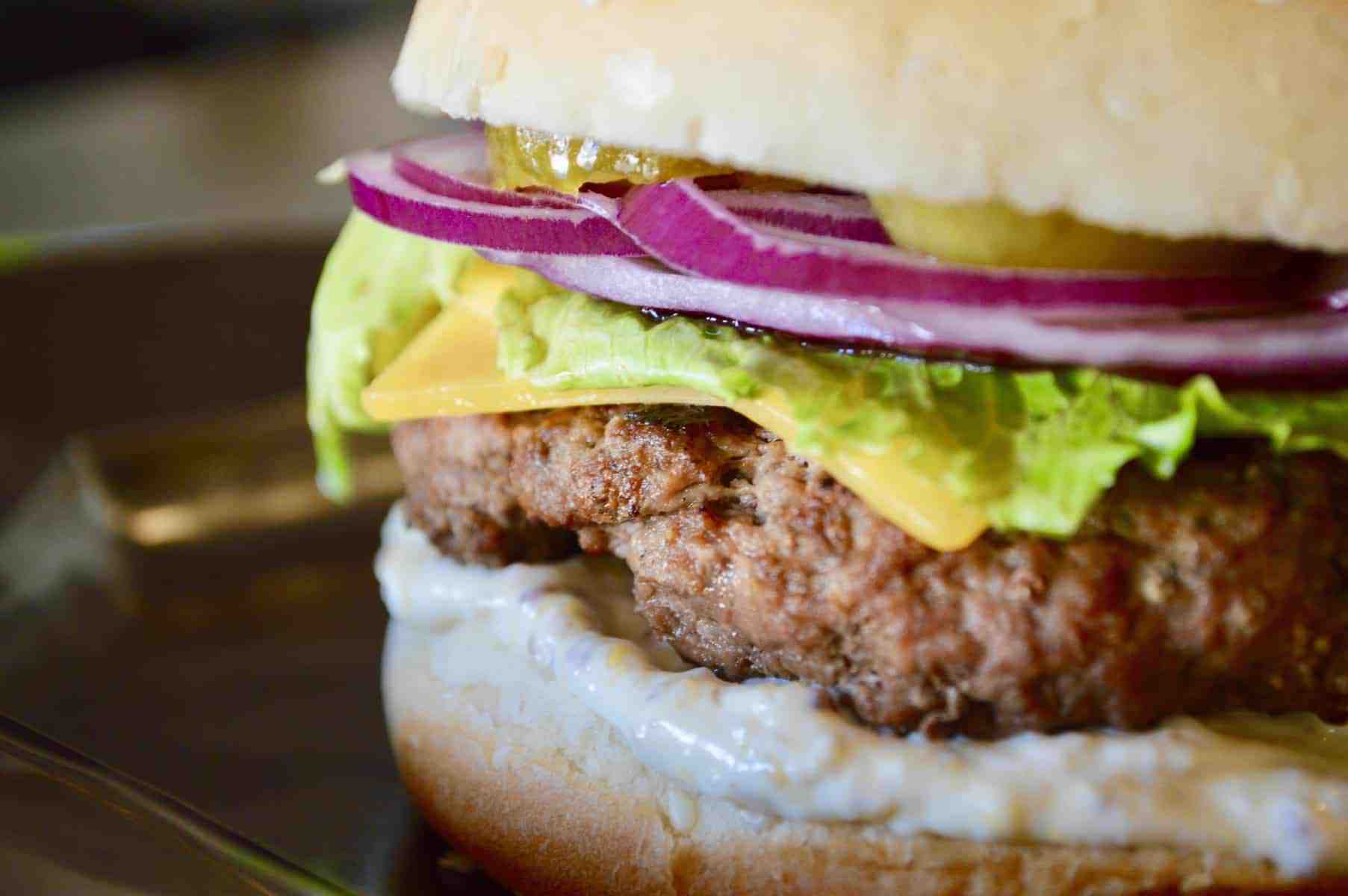 Burgers are great to serve at a Budget BBQ and such a crowd pleaser!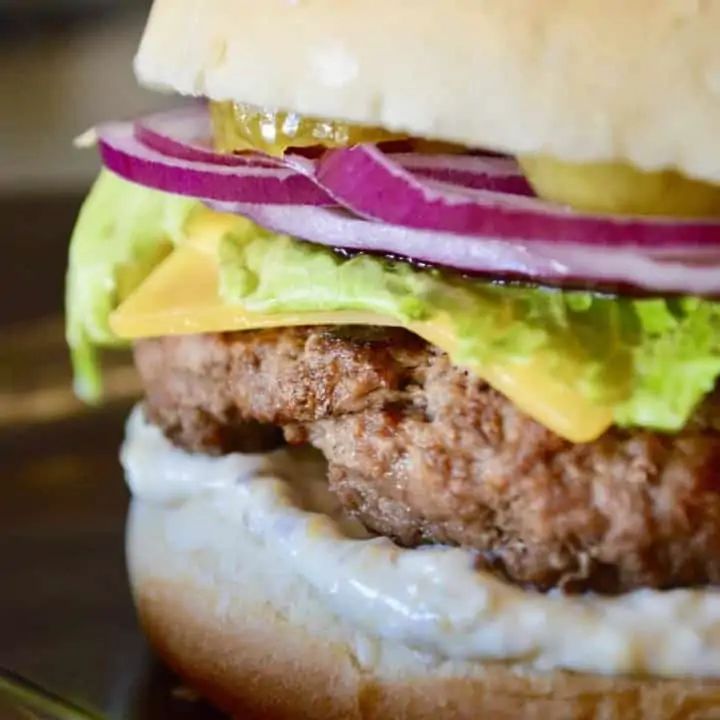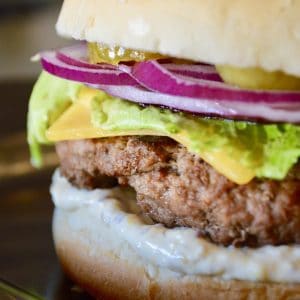 Grilled Hamburgers
Simple and delicious. The perfect BBQ burger.
Print
Pin
Rate
Ingredients
3

pounds

ground beef, 80/20 blend

2

teaspoons

Worcestershire sauce

1

teaspoon

kosher salt

1

tablespoon

onion powder

1

teaspoon

ground pepper

12

slices

Cheddar cheese

12

hamburger buns

desired burger toppings such as lettuce, tomato, ketchup, mustard, etc.
Instructions
Mix together all ingredients in a large bowl. Divide into 12 equal parts and roll into a ball. Flatten to form a patty. Refrigerate until ready to grill.

Preheat grill to medium/high heat. Grill each patty for about 3 minutes per side, or until desired doneness. Add cheese during last 30 seconds of grilling to melt. Let meat rest 2 minutes off heat before serving.
Notes
Make-ahead the patties and refrigerate until ready to grill. *Calories are calculated per burger with cheese slice and bun, toppings not included.
Nutrition
Budget BBQ Watermelon ($5 total)
Nothing screams BBQ like watermelon. One of the worlds' most perfect foods, it sweet, refreshing, and healthy. Plus, being able to find a huge watermelon for $5 is a common occurrence during warmer months. Just slice and serve… done!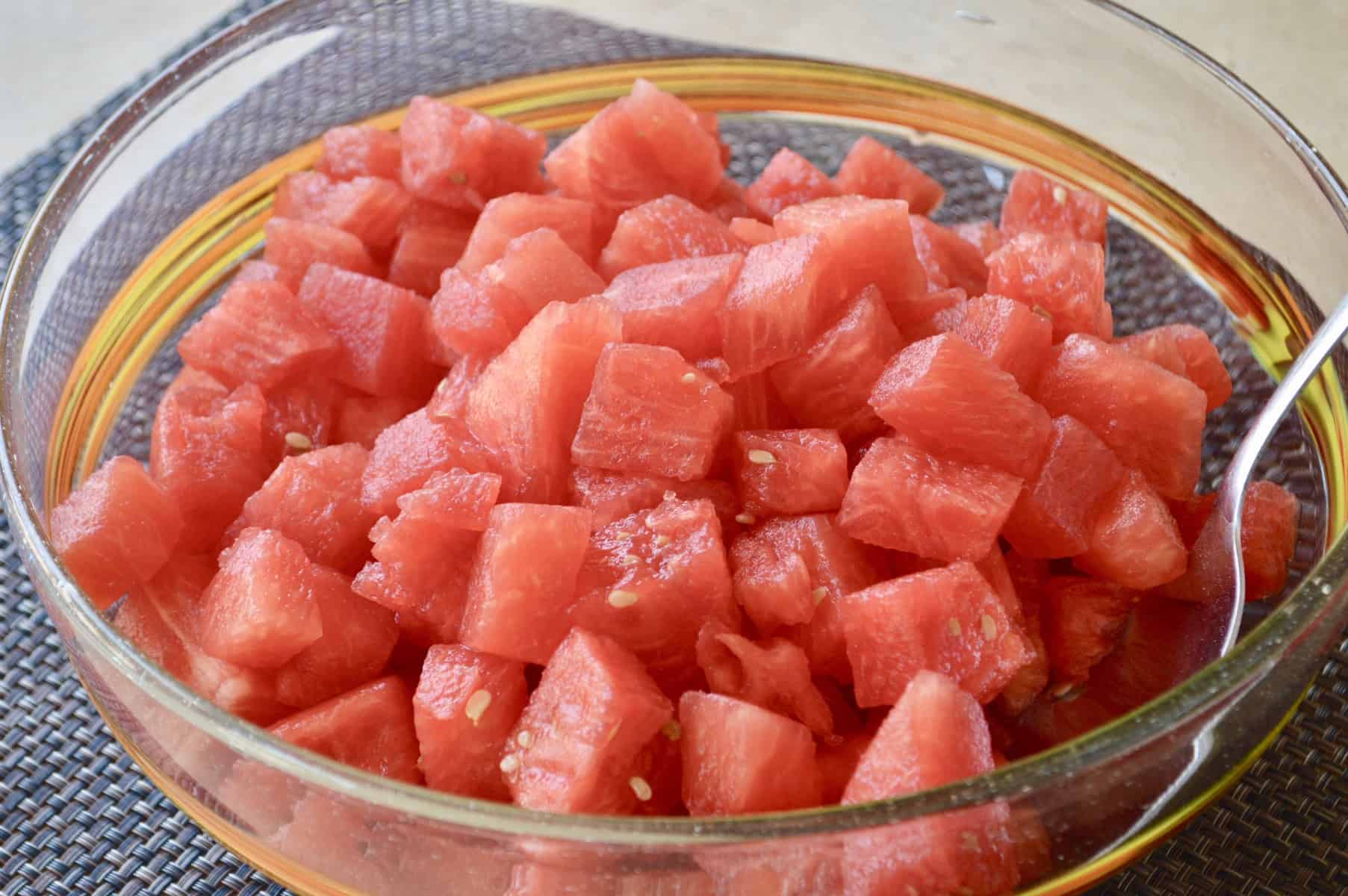 Budget BBQ Drinks ($20 total)
I keep my Budgt BBQ beverages simple, beer and water, sometimes lemonade if kids are going to be there. You really don't need a lot of choices for a casual get together. And, more often than not, guests will bring their own drinks or a bottle of wine. I personally like to serve Coronas but you can get whatever you love. Costs are usually around $20 for an 18-24 pack. Get a cool metal tub to store them in like this Artland Oasis Beverage Pail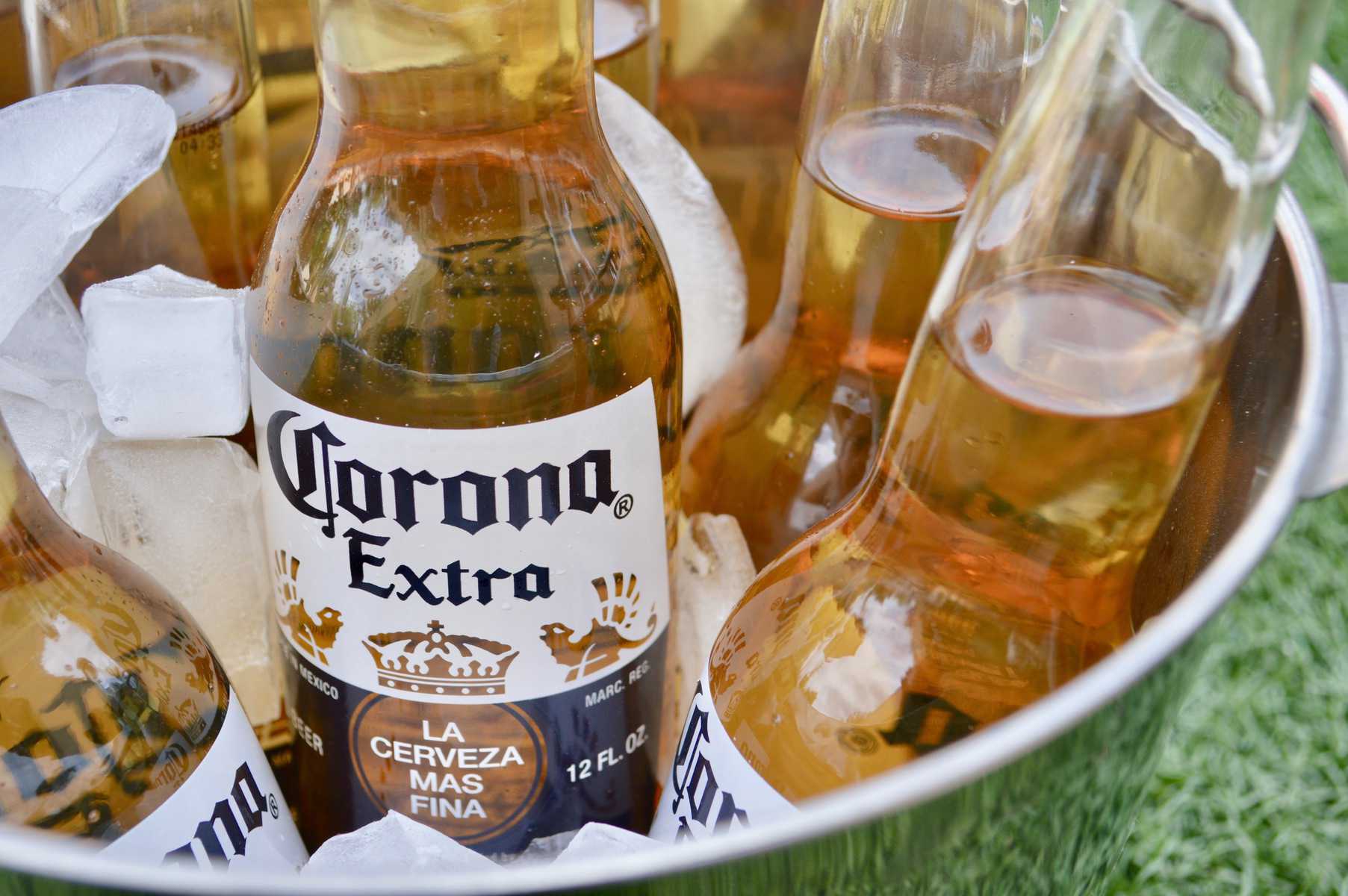 Budget BBQ Ice Cream Sundaes ($8 total)
Looking for a fun way to end your Budget BBQ party, well here you go! Ice cream sundaes are truly a party pleaser, because who doesn't like ice cream?! I buy a half gallon of either vanilla or chocolate ice cream and scoop into individual cups ahead of time. That way they are ready to go and are perfect hard round scoops just waiting for toppings to be added.
For the toppings, I just use whatever I have on hand: Oreos, sprinkles, fruit. I do like to buy a can of whipped cream and either fudge or caramel sauce to pour over the top as well. So simple, yet so delicious!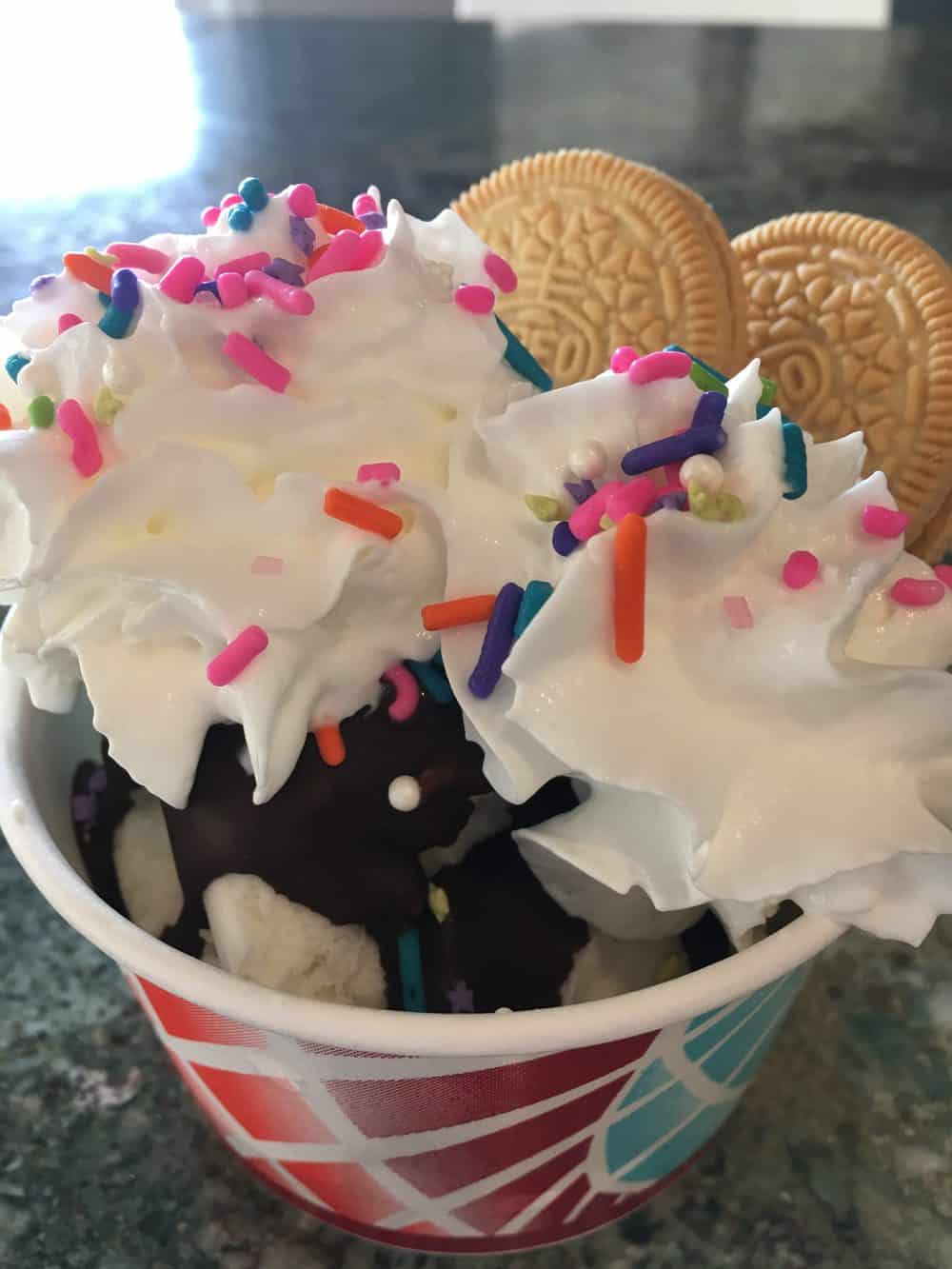 So there you have it, a delicious Budget BBQ for twelve adults for about $6.50 per person. You are never going to find anything so tasty, fun, or relaxing at a restaurant. So when it comes to entertaining, don't be afraid of the costs, just be smart, plan ahead, and always make it fun!
For another great side dish for your BBQ, try my Asian Noodle Salad.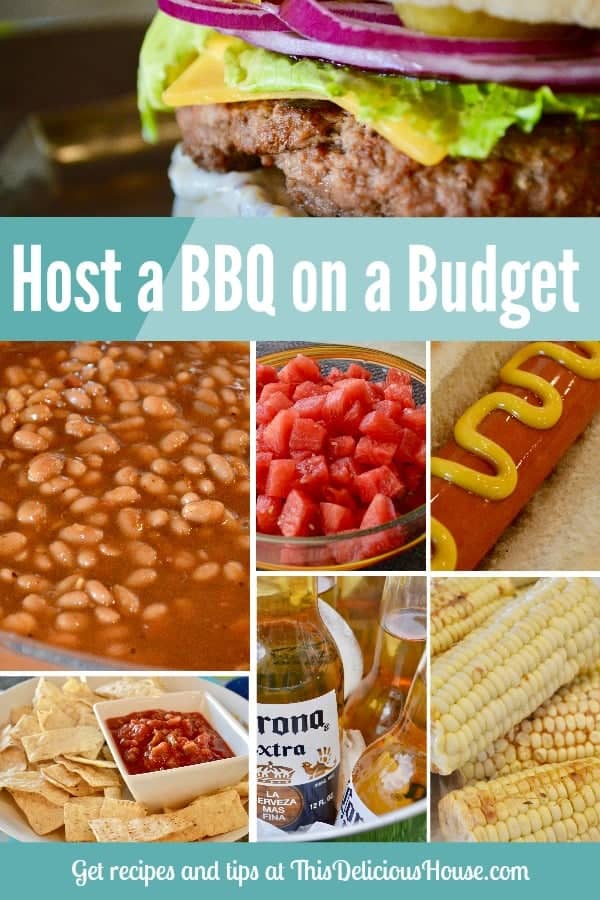 Get Your Free Party Planning Checklist!