Blueberry Lemon Mascarpone Tart is a simple to make tart featuring an olive oil crust, slightly sweet mascarpone filling, and blueberry lemon sauce topping. You're going to love this sophisticated spin on traditional blueberry cheesecake.
Blueberry Lemon Mascarpone Tart with an olive oil crust is the perfect dessert for a warm summer day. This make-ahead Italian dessert is simple to put together and such a crowd pleaser.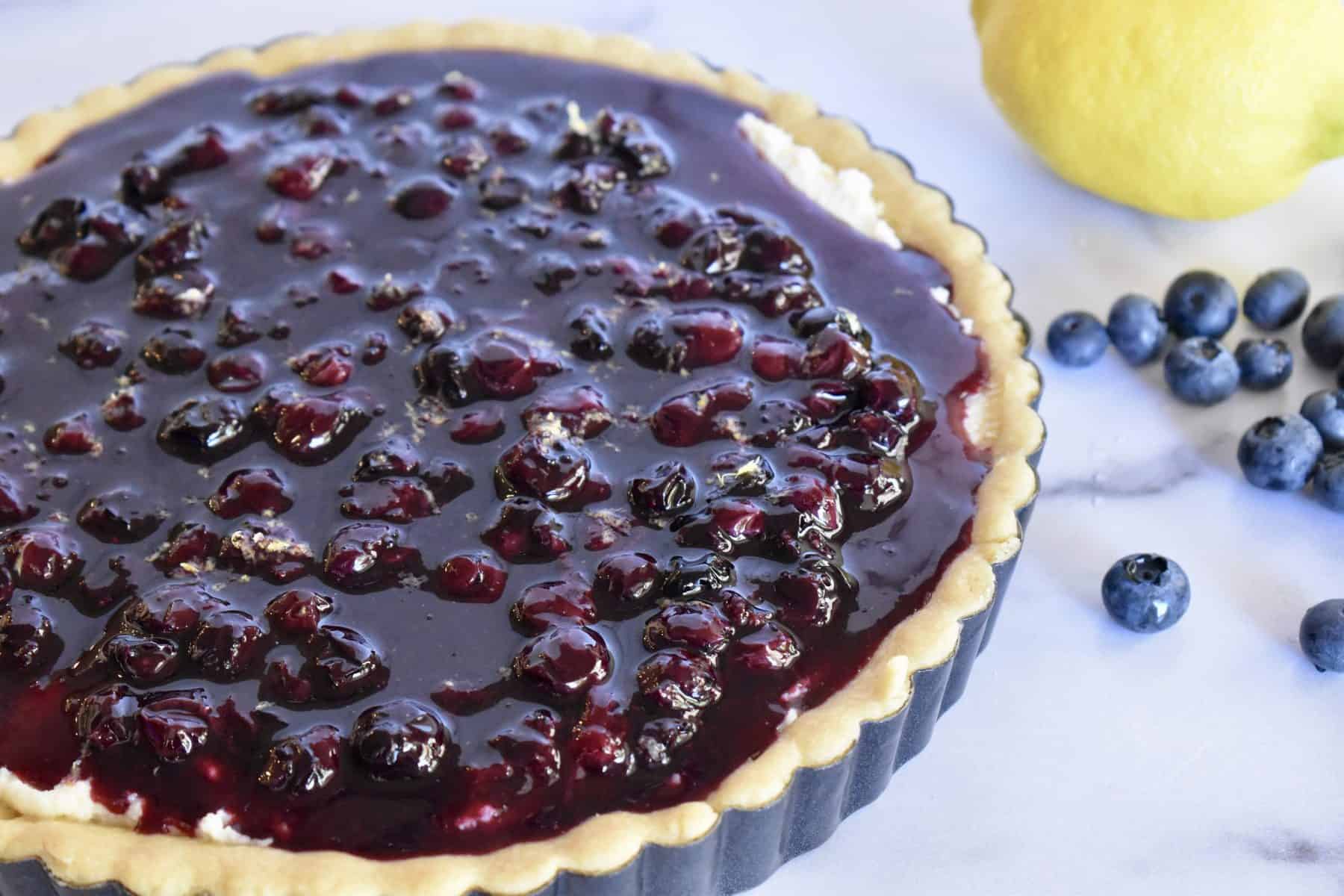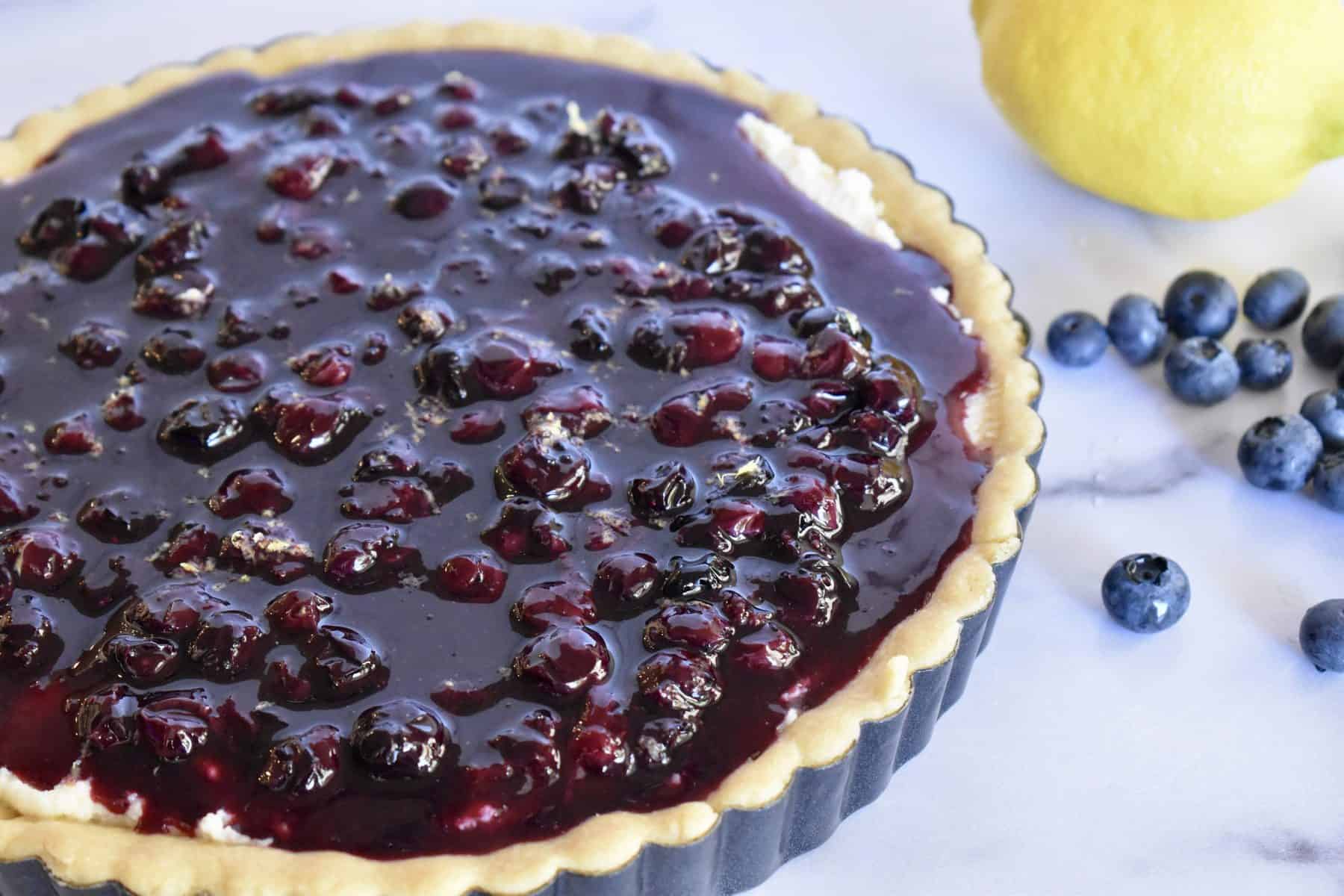 I love to make this dessert when the weather heats up because it's slightly sweet, and so satisfying. The combination of the sweet blueberries, tart lemon, and creamy mascarpone make it perfect for any occasion. And the simple olive oil crust, gives the tart an added depth of flavor that plays well with the sweetness.
Of course you can make this tart using whatever berries you like. Strawberries, raspberries, or blackberries would be a great substitute. Additionally, you could use frozen blueberries in place of the fresh, depending on what you have access to.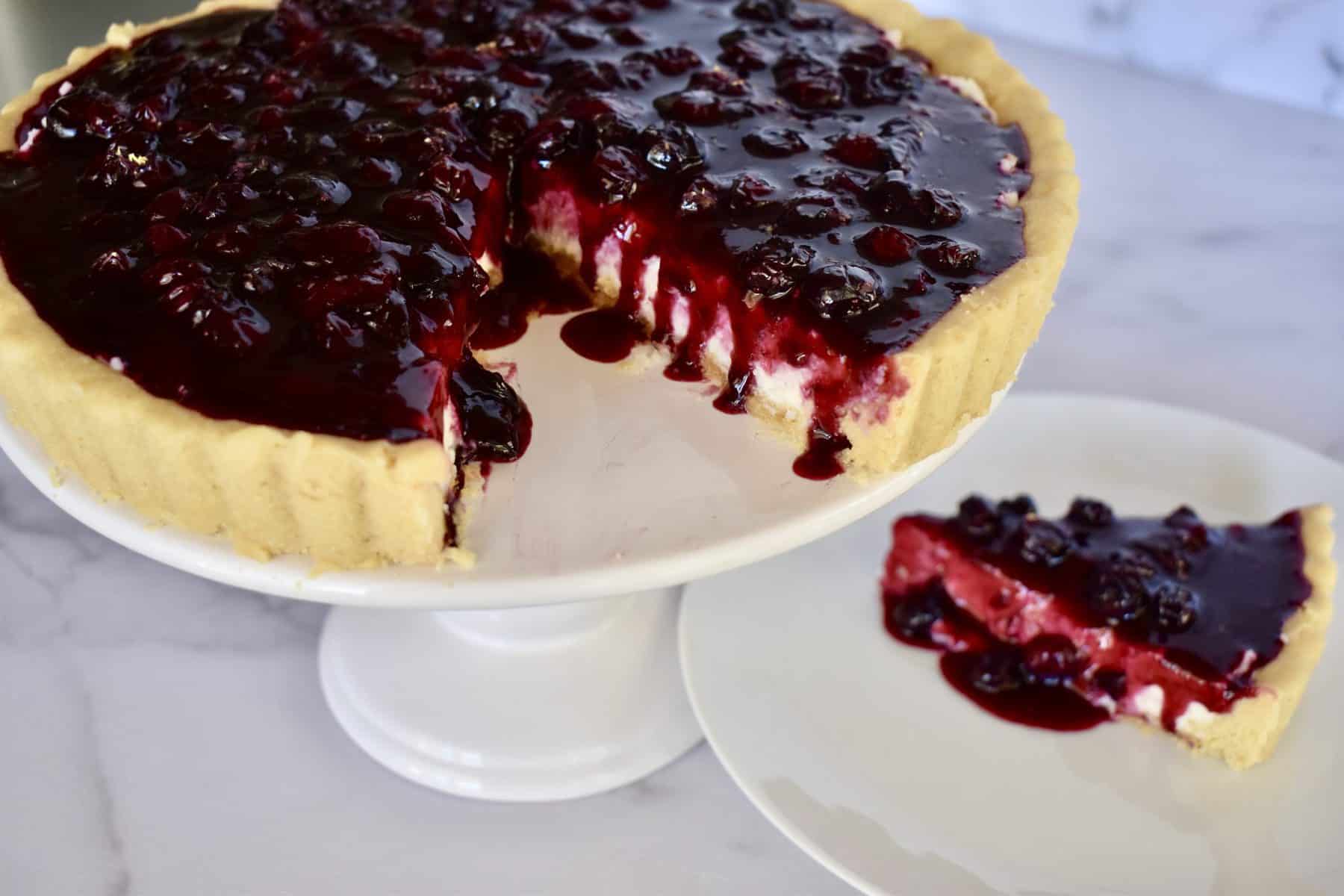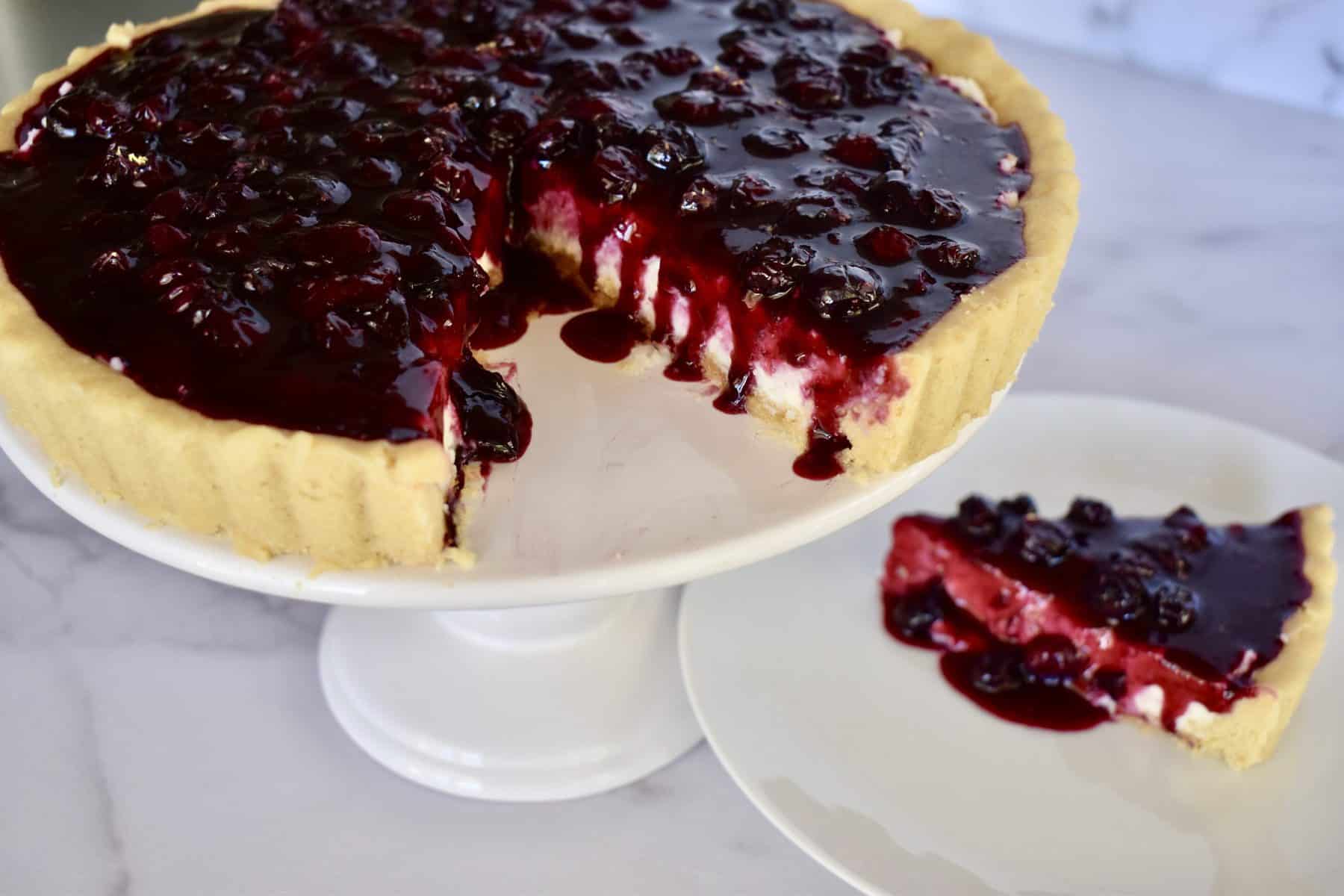 If you love mascarpone desserts, be sure to check out these other delicious recipes:
Blueberry Lemon Mascarpone Tart
The great thing about this mascarpone tart is that it's a real showstopper, but is actually very simple to put together. The base is a simple press-in crust that requires no chilling time and just a little baking time. Plus, there is no kneading or rolling out required for this tart.
It's the perfect dessert to take to all of your summer parties. Give this tart a try and you'll be making it all year long as well!
Olive Oil Tart Crust
If you've never made an olive oil crust, trust me that it's both simple and delicious! While olive oil on its own can seem like an odd ingredient to include in a sweet dish, once its baked, the flavor mellows and adds a tasty flavor note to the mascarpone tart.
When selecting an olive oil for this dish, use one that's mild in flavor and doesn't have any peppery notes. And if you are still hesitant to use olive oil, melted butter would work as well.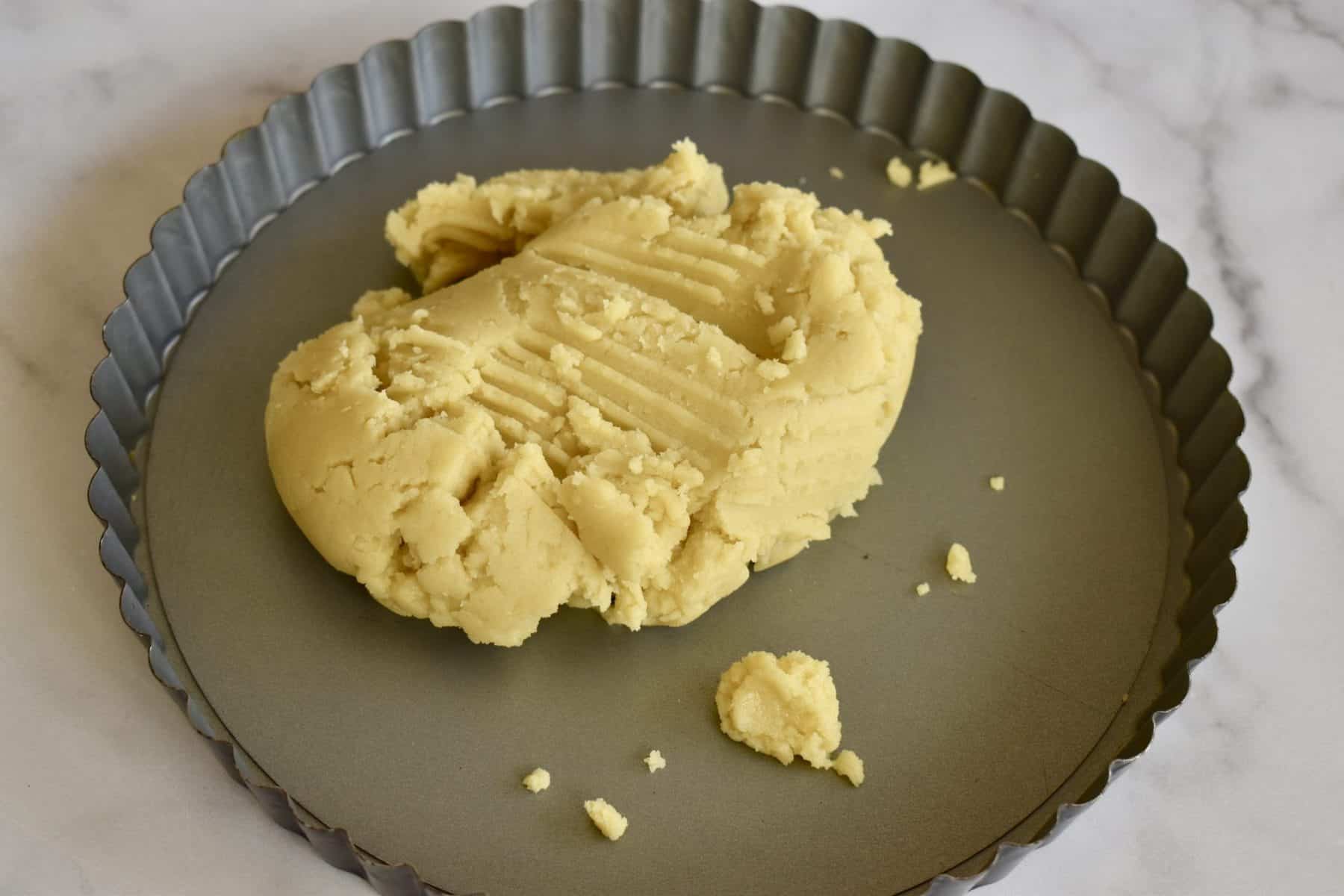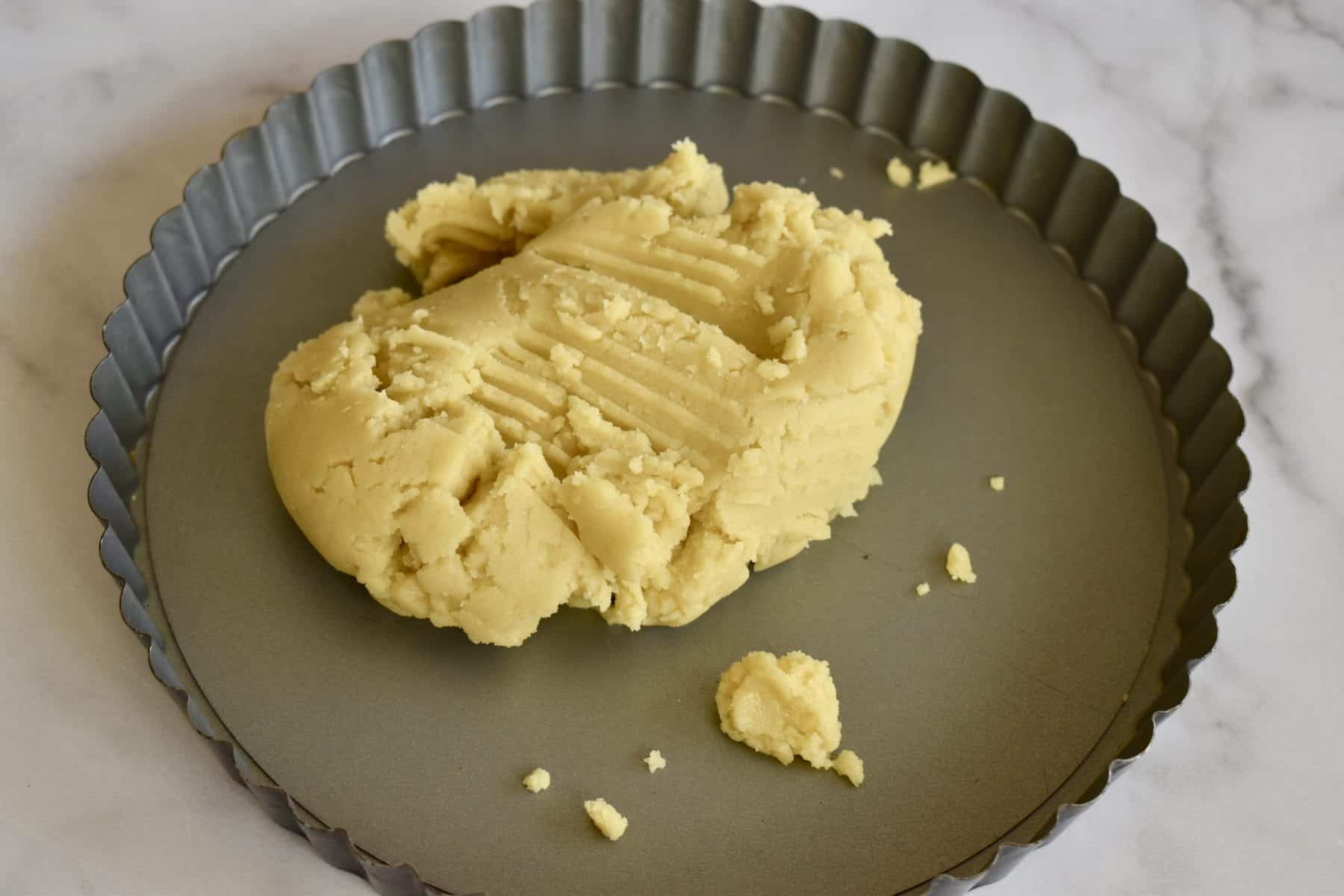 To start, simply mix together the flour, sugar, and salt in a bowl. Pour in the olive oil and mix until combined. I find the easiest way to do this is using a fork. Place the dough in a non-stick round tart pan with removable bottom. Use your hands to press the dough into the bottom and sides of the pan.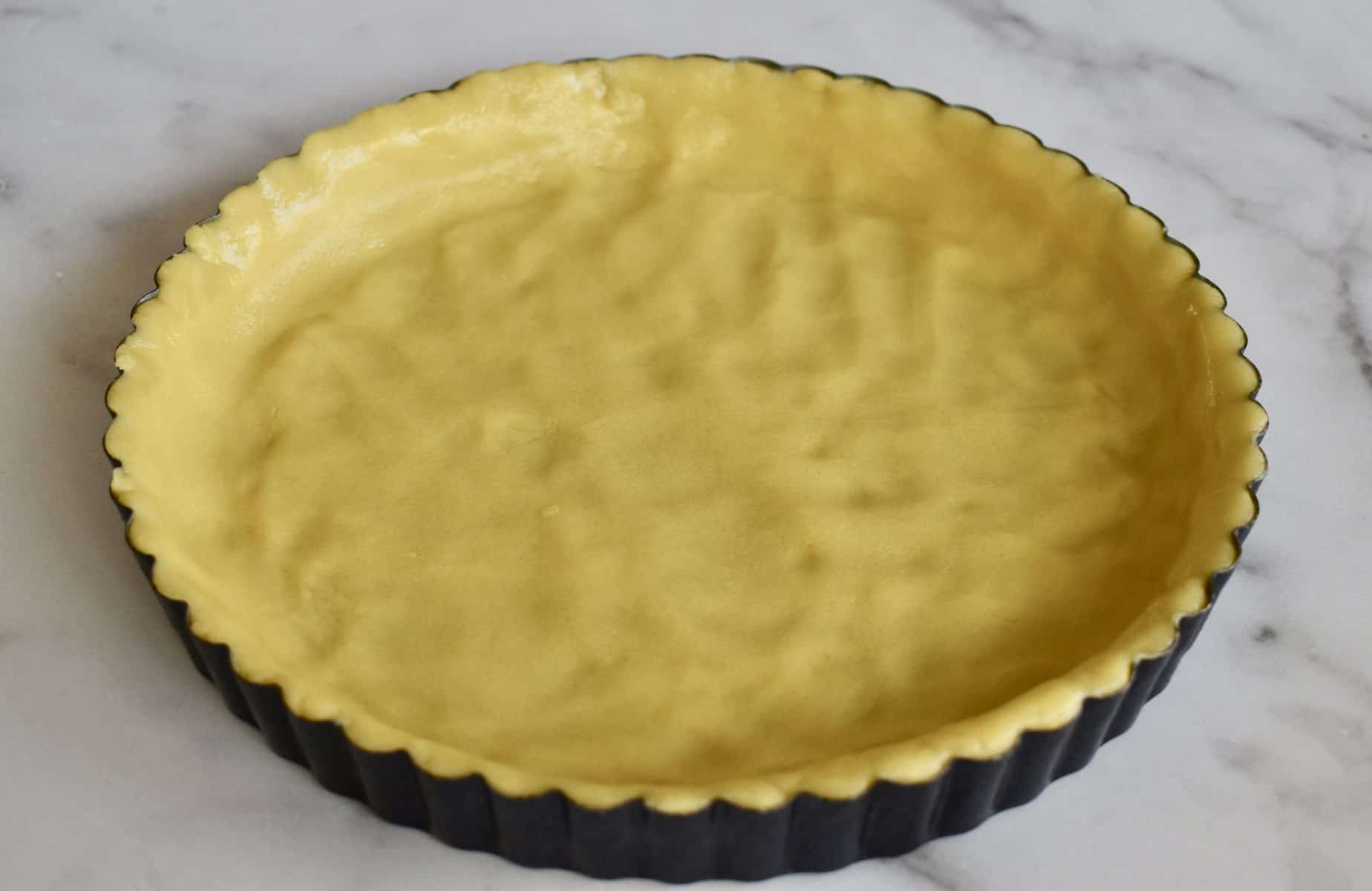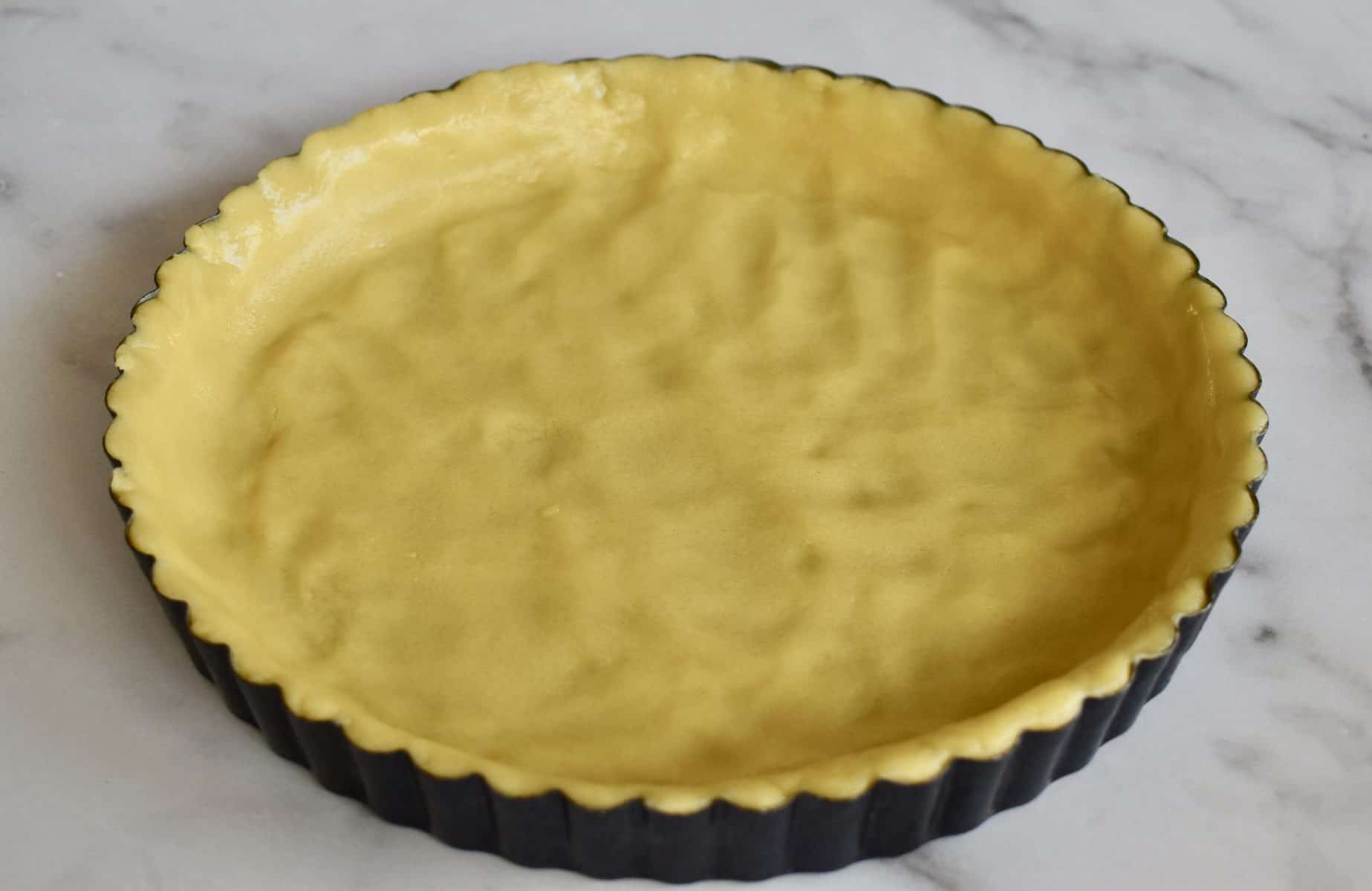 Place the tart crust into a preheated 350 degree oven and bake until it is a light golden brown; about 20-25 minutes. Set aside and let the crust cool completely.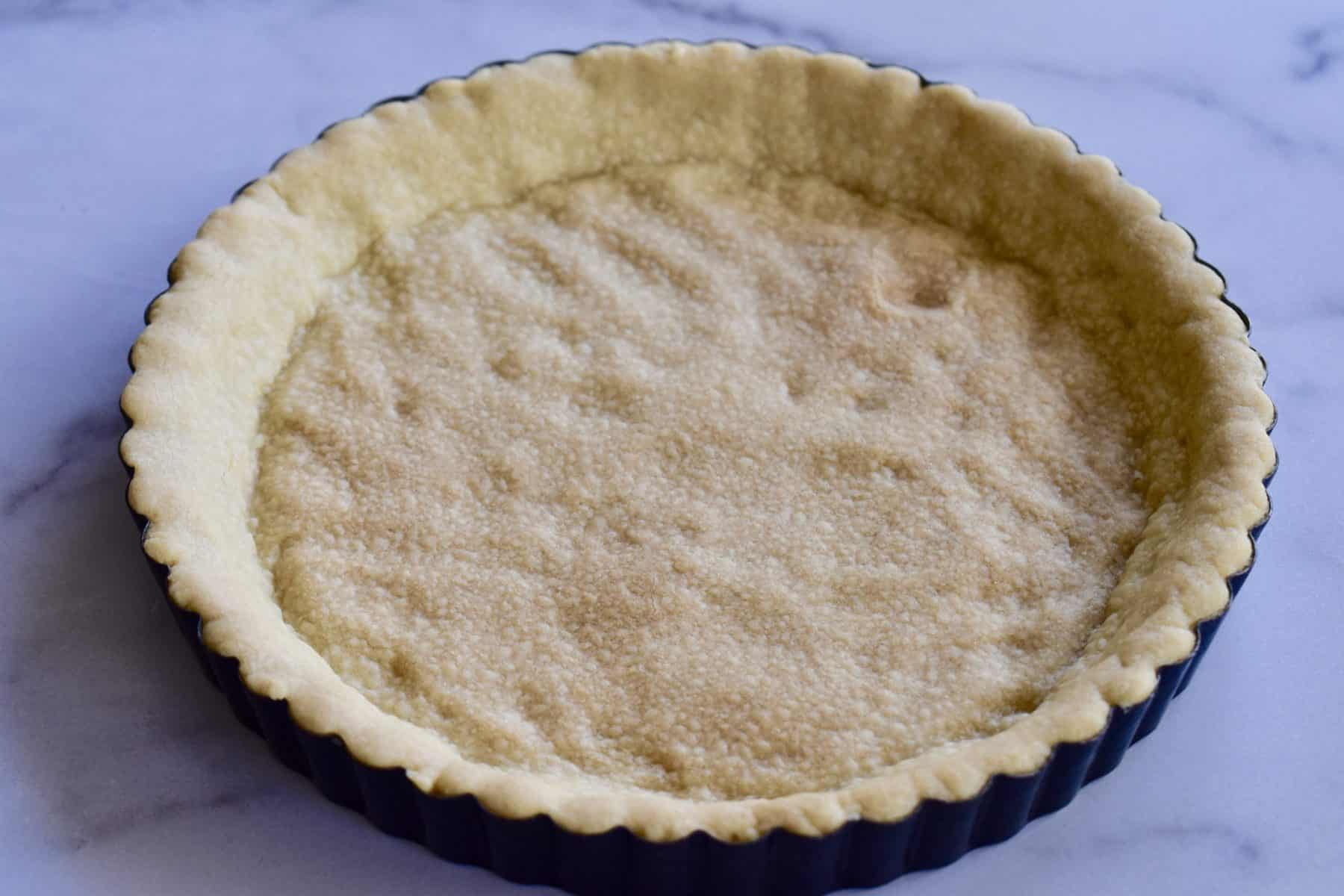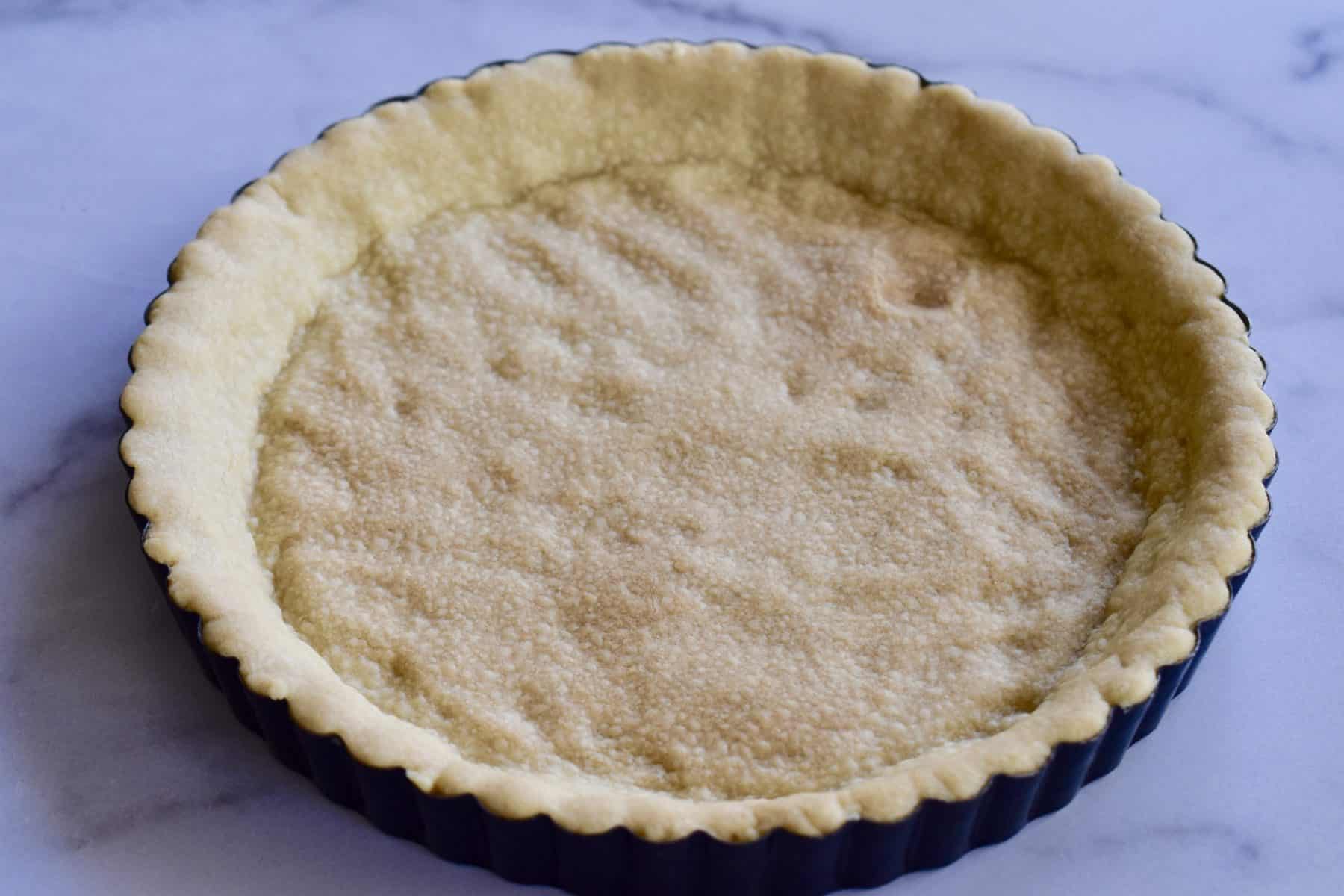 Blueberry Lemon Mascarpone Tart Filling
You are going to love the simplicity of this tart filling. Just a few ingredients and you have a delicious, creamy, and slightly sweet mascarpone filling that's the perfect base for the luscious blueberry sauce.
To make the filling, simply cream together room temperature mascarpone cheese, powdered sugar, lemon zest, and vanilla. Spread the mixture evenly overtop of the baked and cooled crust.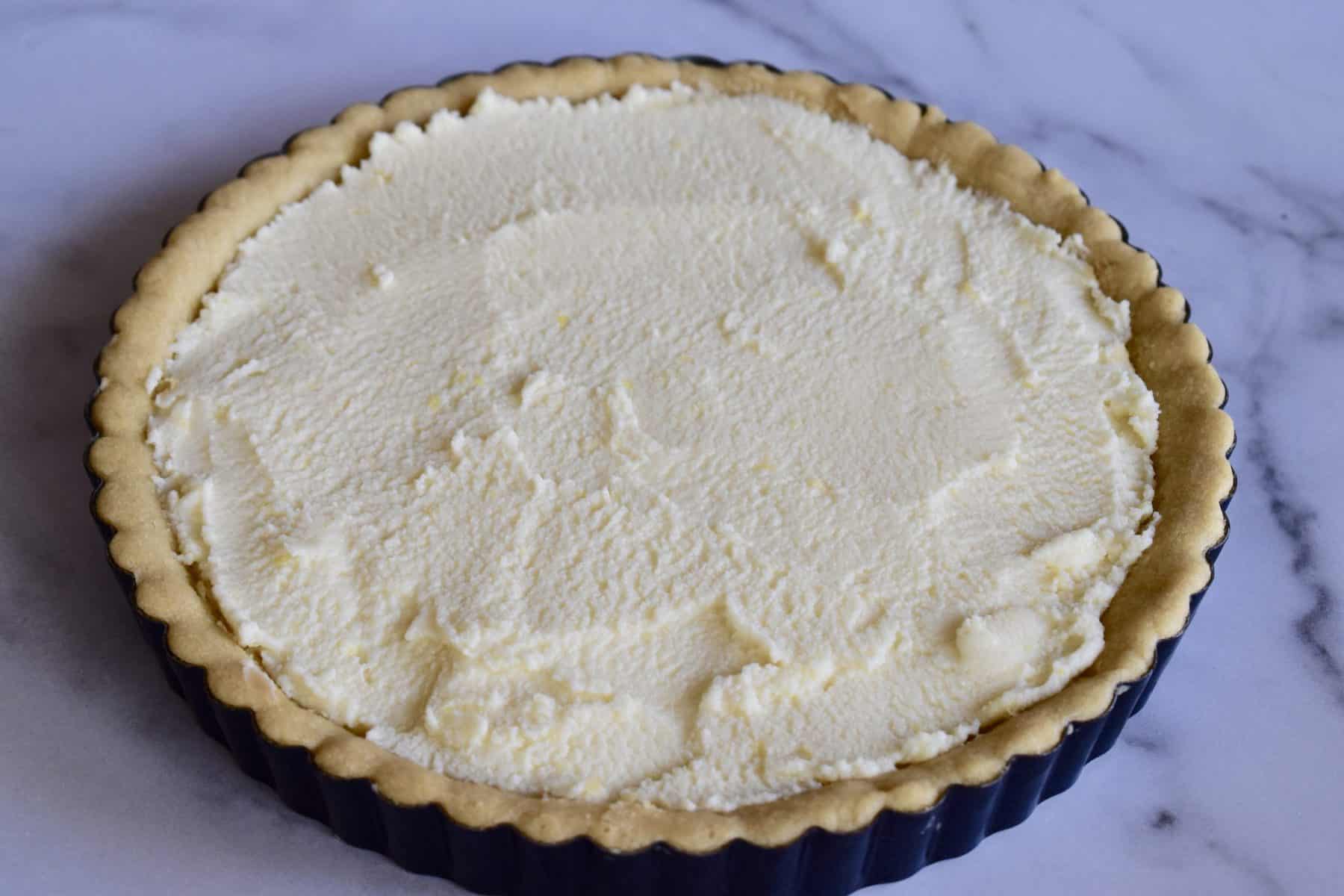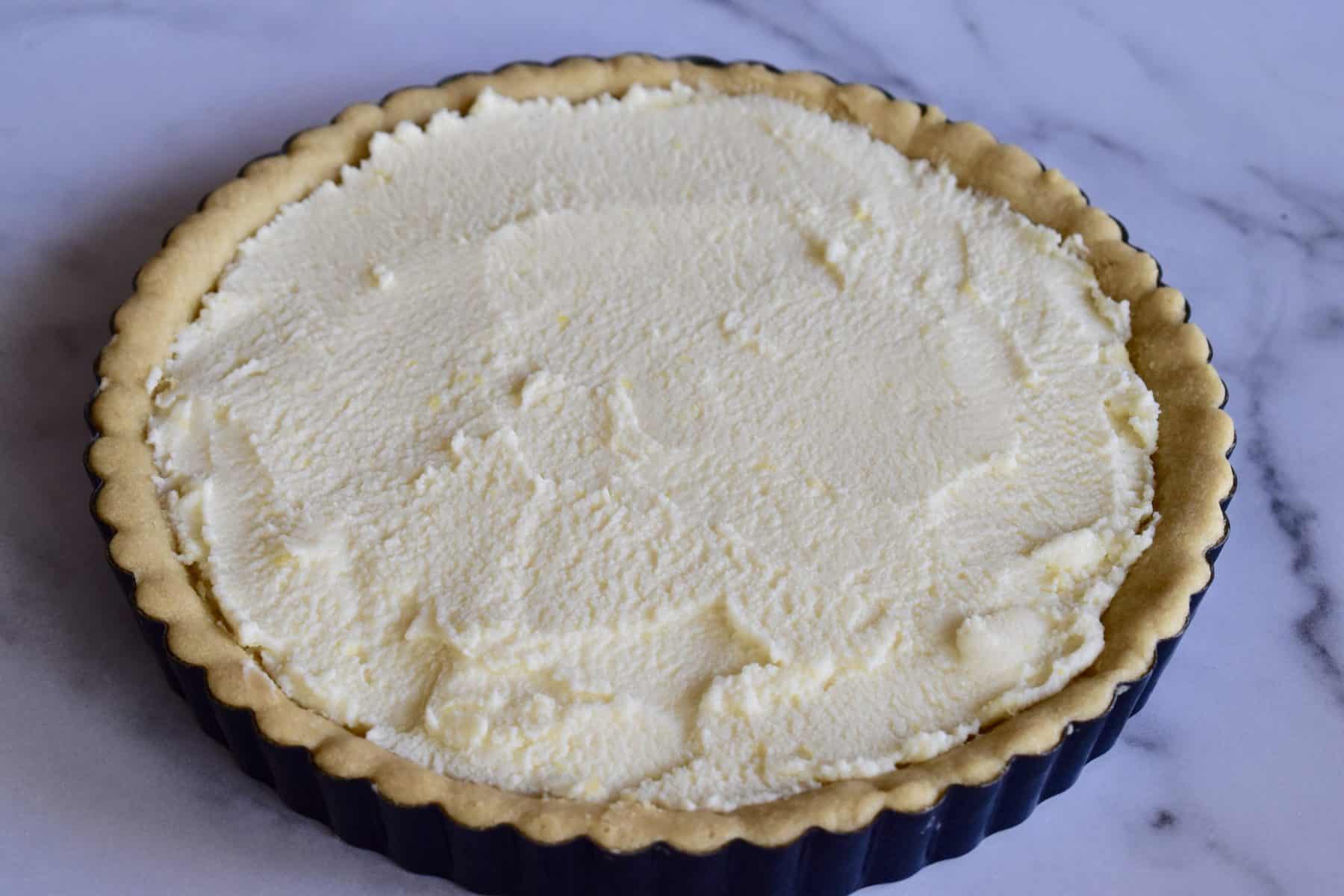 If you have time, place the tart in the refrigerator to cool and set slightly before adding the blueberry sauce.
Blueberry Sauce Topping
While you could just add fresh blueberries to the top of this tart, taking the time to make and cool a blueberry sauce, really makes it special. The sauce only takes minutes to put together. Also, it can be made a couple of days in advance and refrigerated until ready to serve.
To make the sauce, bring the blueberries, water, and sugar to a low boil in a small saucepan. Once the berries have popped, about 2-3 minutes, lower the heat and stir in a cornstarch/lemon juice slurry. This will help thicken up the sauce; stir for another minute and you are done.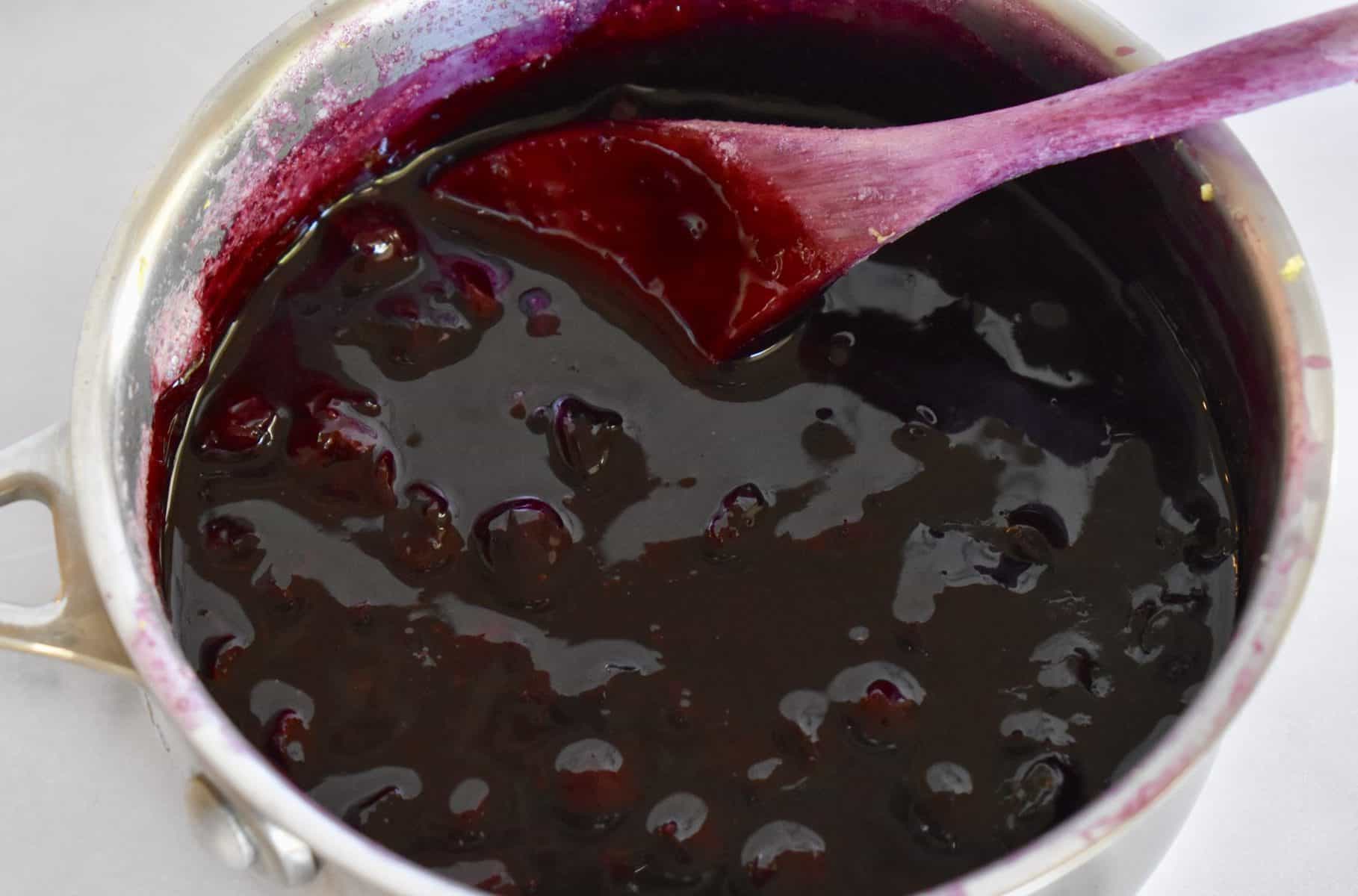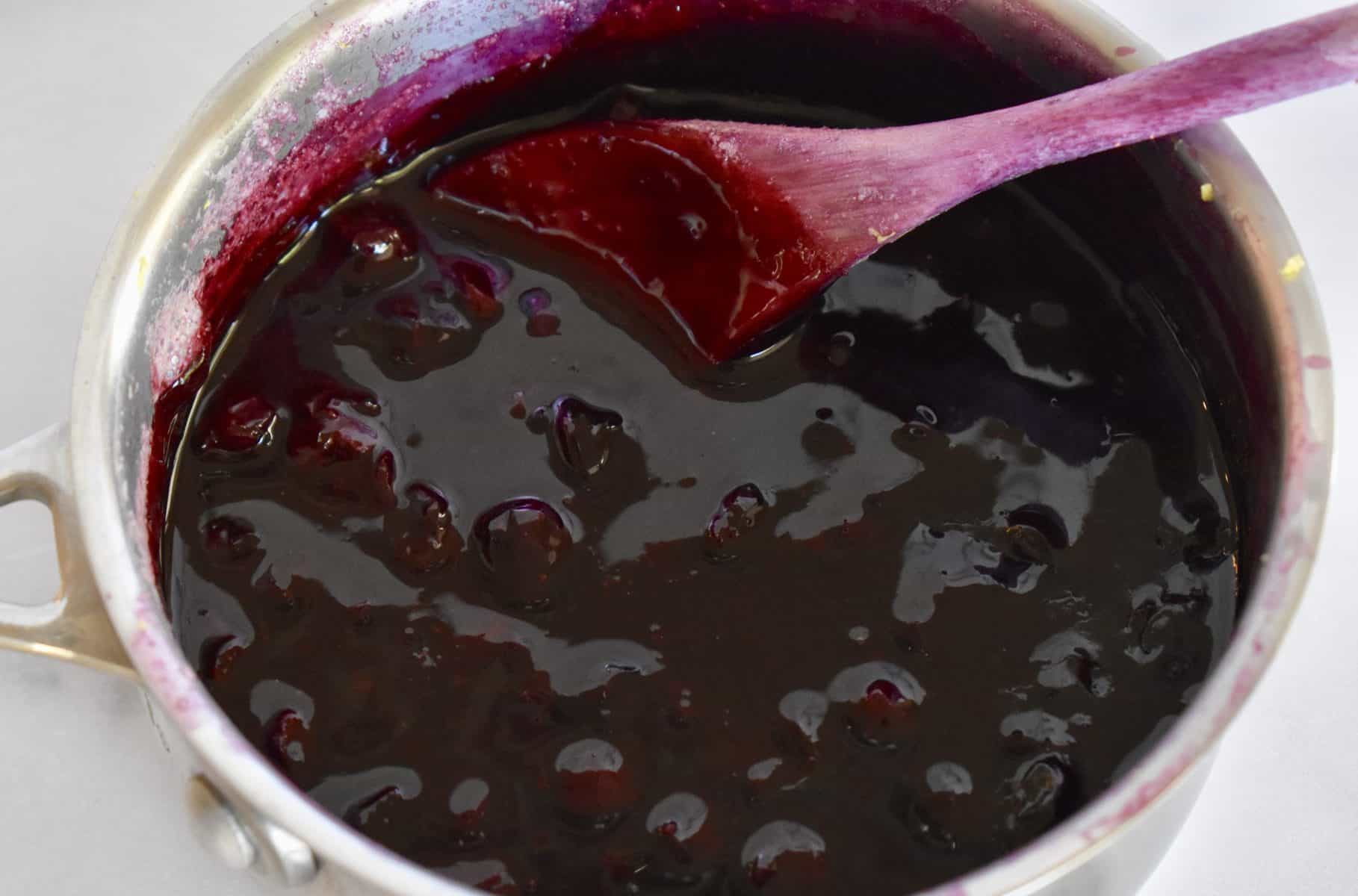 It is important that you chill the sauce before pouring it on top of the tart. If it is too warm, you could risk having it run off the sides of the mascarpone. Also, you may not use all of the sauce. Any leftover sauce can be served on the side, or it would be great served over ice cream or pancakes.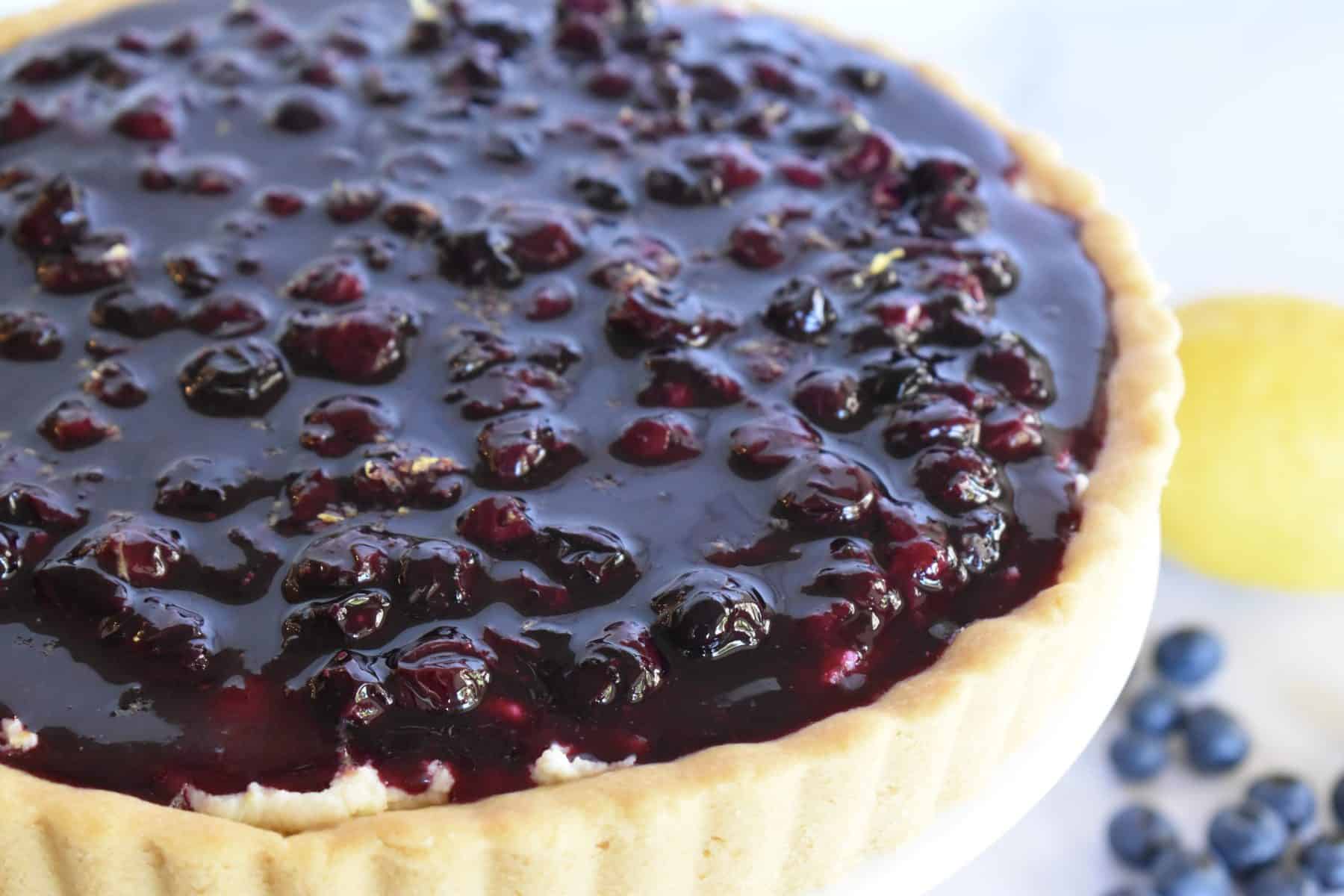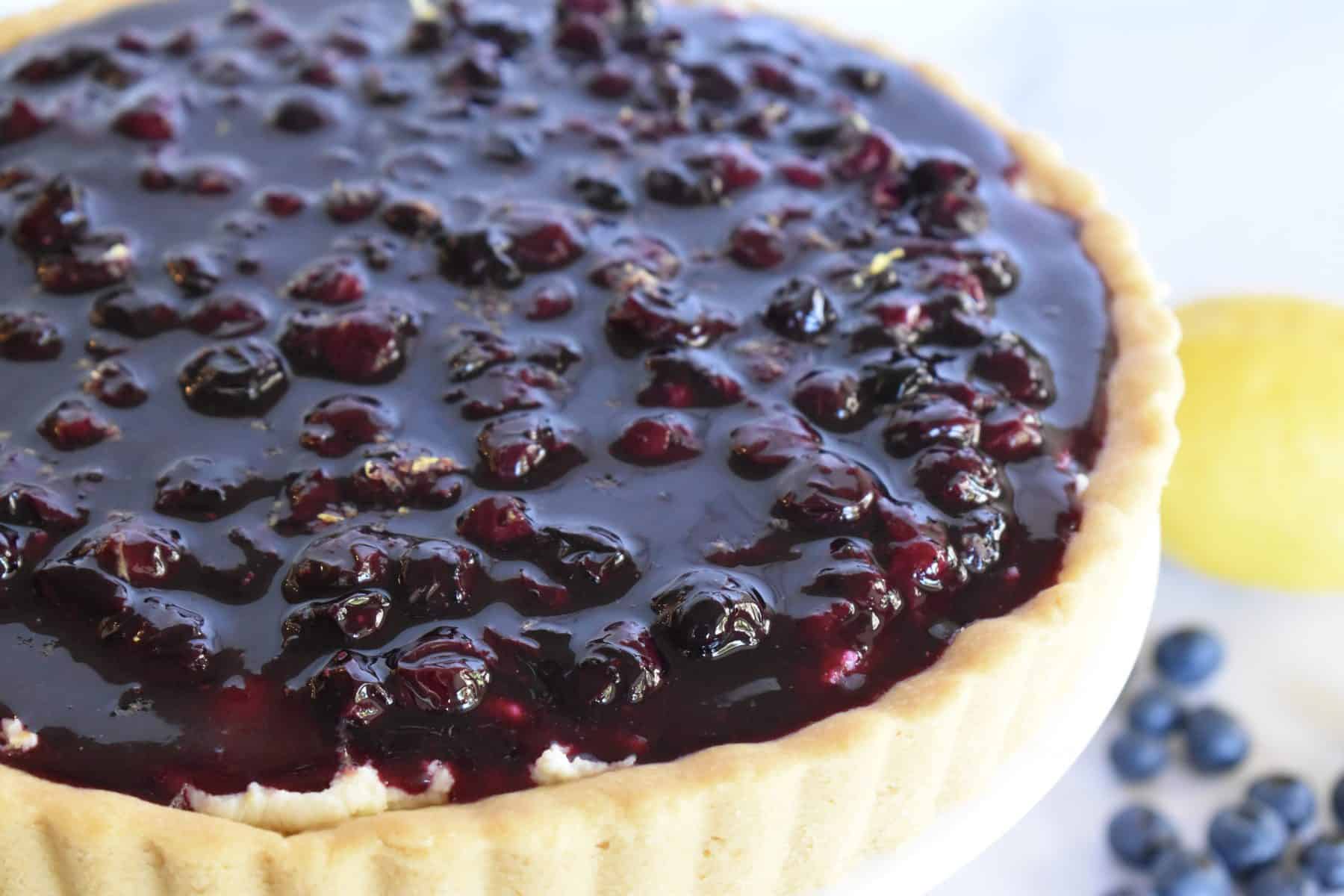 Chill and Serve
You can make Blueberry Lemon Mascarpone Tart a day in advance. Note that this should chill for at least an hour before serving if possible. This is a great dessert to serve on a warm summer day, but is equally delicious year round.
I think you will agree that the combination of the creamy mascarpone with the sweet blueberries and flavorful olive oil crust, makes this tart truly special. And the fact that it comes together quickly and is foolproof, makes this recipe a keeper.
You can adjust the flavors of the tart as well, depending on what you have on hand or your preferences. Feel free to use whatever berries you have access to. Or if you only have cream cheese, that would work in place of the mascarpone.
If you love blueberry desserts, be sure to check out my Blueberry Lemon Bundt Cake with a delicious honey glaze.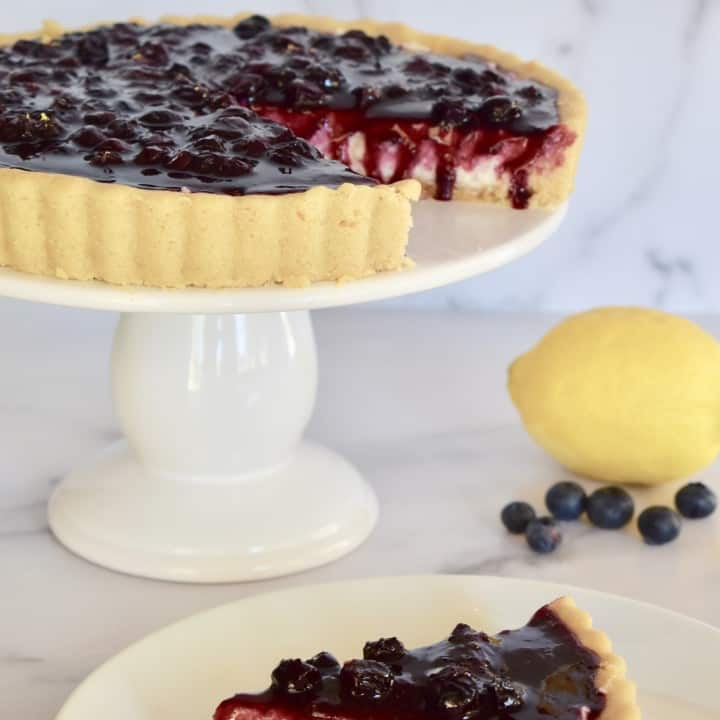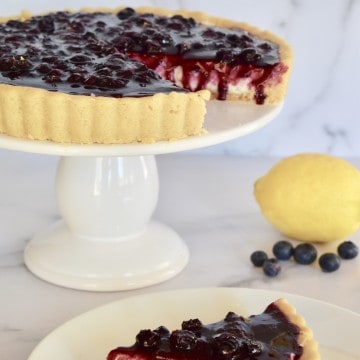 Blueberry Lemon Mascarpone Tart
Bluberrry Lemon Mascarpone Tart is a sophisticated and simple dessert with layers of flavors. The easy olive oil crust gives the tart a distinct flavor and pairs perfectly with the blueberries and lemon. The blueberry sauce topping can be made and refrigerated up to 2 days in advance.
Print
Pin
Rate
Equipment
standard tart pan

small saucepan
Ingredients
Olive Oil Crust
1 ½

cups

all purpose flour

¼

cup

sugar

½

teaspoon

kosher salt

½

cup

extra virgin olive oil

(mild flavored)
Mascarpone Filling
2

cups

mascarpone cheese, room temperature

(two 8 ounce containers)

⅓

cup

powdered sugar

1

teaspoon

vanilla

1

lemon, zested
Blueberry Sauce Topping
2

cups

blueberries

⅓

cup

water

¼

cup

sugar

1

tablespoon

cornstarch

1

lemon, juiced
Instructions
To make the crust, preheat oven to 350 degrees. In a bowl, stir together the flour, sugar, and kosher salt. Pour in the olive oil and use a fork to mix the dough together. (No need to chill the dough).

Place the crust dough into the tart pan and use your fingers to press the dough to the fit the pan, coming all the way up the sides of the pan. Bake for 22-25 minutes, or until the dough is baked and light golden brown in color. Set aside to cool.

For the filling, cream together the mascarpone, powdered sugar, vanilla, and zest of one lemon. Spread evenly in the cooled tart crust. Place in refigerator to chill.

For the topping, bring the blueberries, water, and sugar to a low boil in a saucepan over medium heat. Reduce heat and simmer for 2-3 minutes, until the blueberries have popped. In a small bowl, whisk together the cornstarch and juice of one lemon. Pour the cornstarch mixture into the saucepan and stir for another minute. Let the blueberry sauce cool completely.

Once the blueberry sauce topping has cooled completely, spoon the mixture over top of the chilled tart; fill just until the top is covered. Any leftover topping can be served on the side.
Notes
This is a great tart to make ahead of time. Just cover and refrigerate for up to a week.

Any leftover blueberry sauce topping can be served on the side or would be great to top ice cream or pancakes with.
Nutrition