Need Womens Fashion inspiration? Check out these fun and easy outfits curated by two amazing personal shopper services: Stitch Fix and Wantable. Get awesome womens fashion delivered to your door today!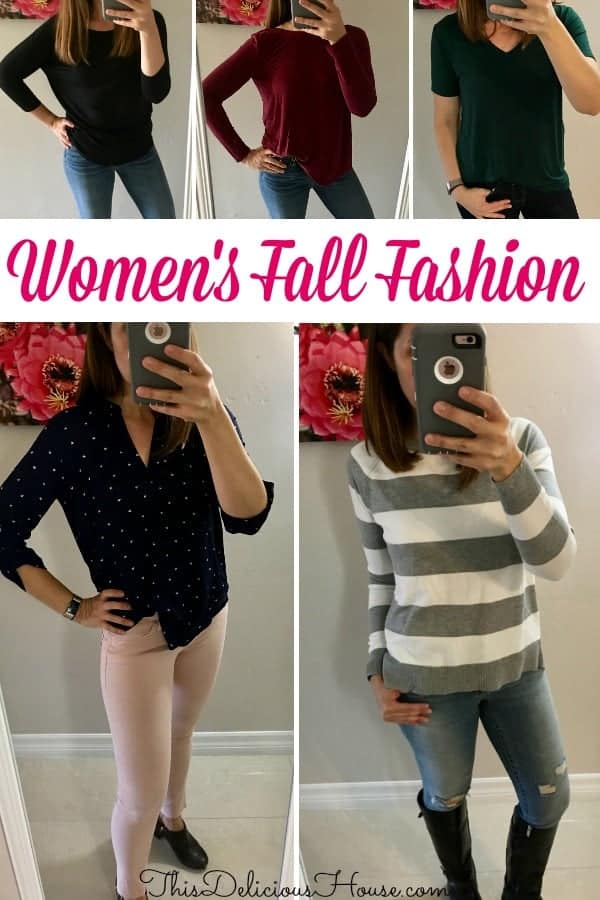 If you've never tried on an online personal shopping service, now is the time to do it! Besides being affordable, these curated boxes are completely tailored to your specifications. Signing up is simple! First you fill out your style preferences online and take their personal style quizzes. Once you get your shipment, try everything on in the comfort of your home. Be sure to pair with existing wardrobe items to ensure you are getting a piece you'll actually wear! Lastly, check out online and send back in the prepaid envelope any items you don't want to keep.
If you want a detailed comparison of these two services, be sure to check out my article Stitch Fix vs. Wantable: How to Save Big. The key take away is that both shopping services are amazing and offer up to a 25% discount depending on how many items you decide to keep.
So let's check out what's in the box and see the awesome Women's Fashion 2018 items I received from Stitch Fix and Wantable!
Womens Fashion: Wantable
With Wantable you get seven items delivered, instead of the five with Stitch Fix. The discount applies if you decide to keep five or more items. Here are the seven fun goodies I received:
 
From this shipment, my favorites were definitely the maroon top (once I figured out how to wear it!), the black blouse, and the Vigoss Marley Mid Rise Jean. These jeans are incredible… request them in your next Wantable Shipment today! Here are these outfits put together: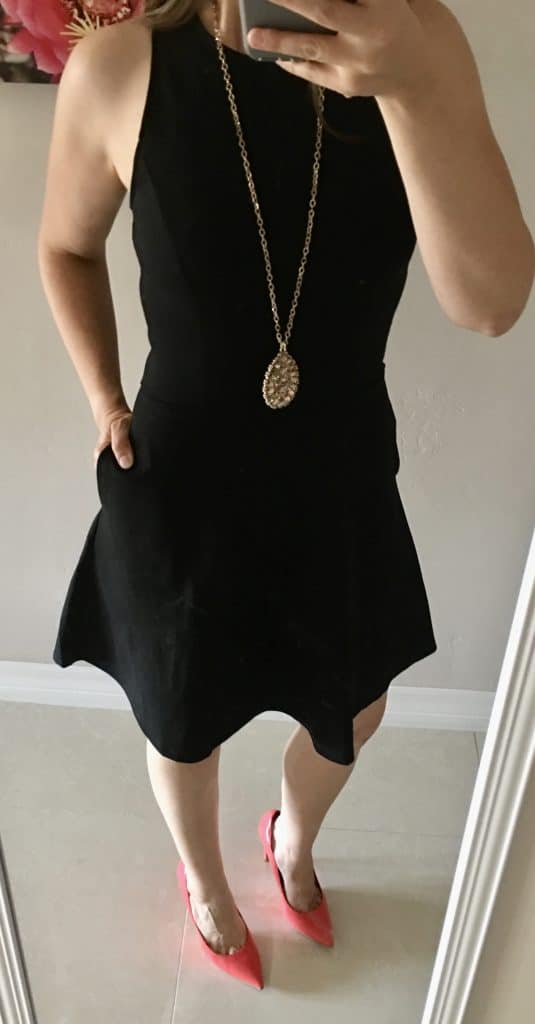 This dress was cute and comfy and hello, POCKETS! I didn't end up keeping it though, way too many little black dresses in my closet already. P.S. The pink pumps were a thrift shop score for $6!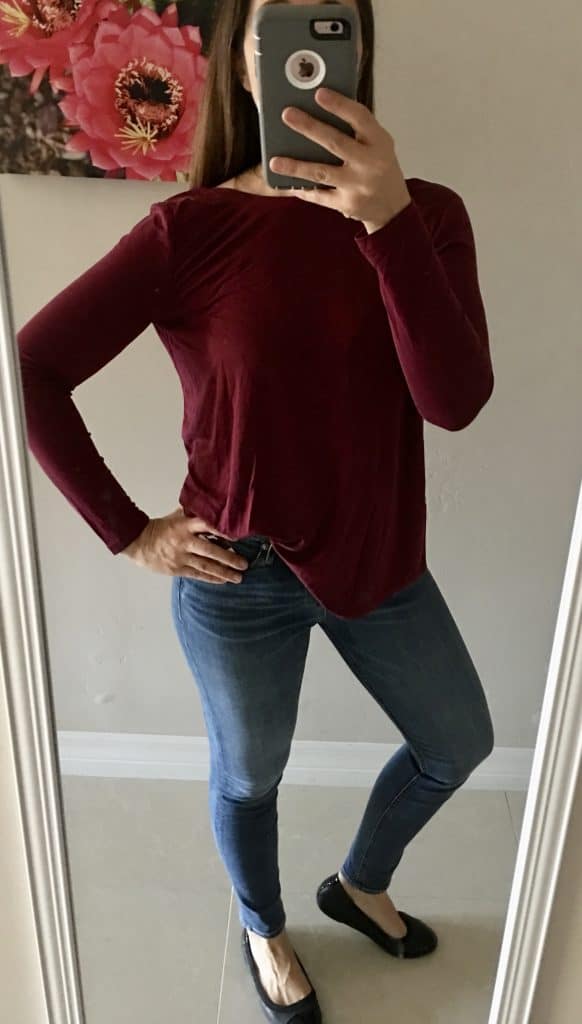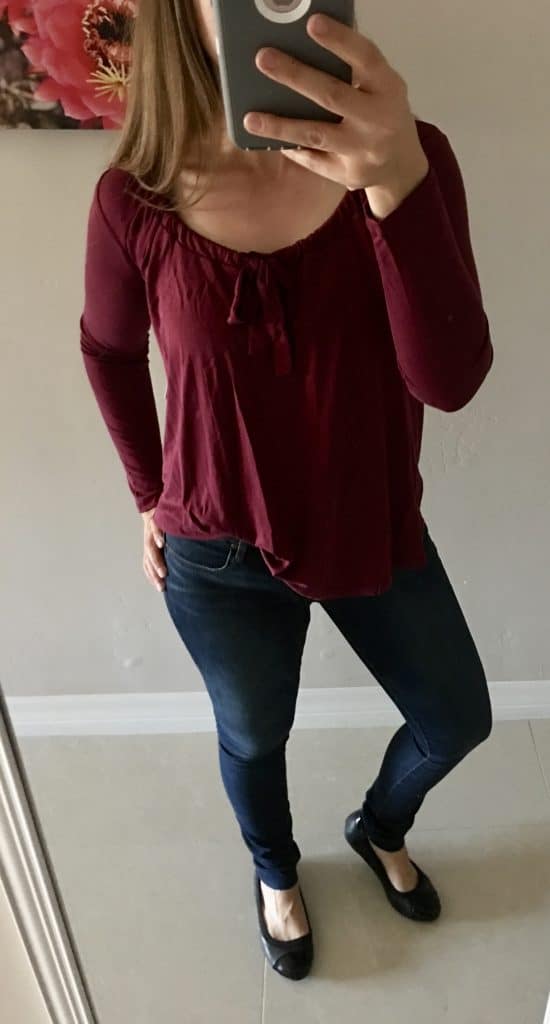 Initially I put this blouse on with the bow in front, bleh. But when I saw on the order form that I was wearing it backwards, I loved it turned around so much more. Plus it hangs nice and is easy to pair with jeans or dress up with a skirt or black pants and heels.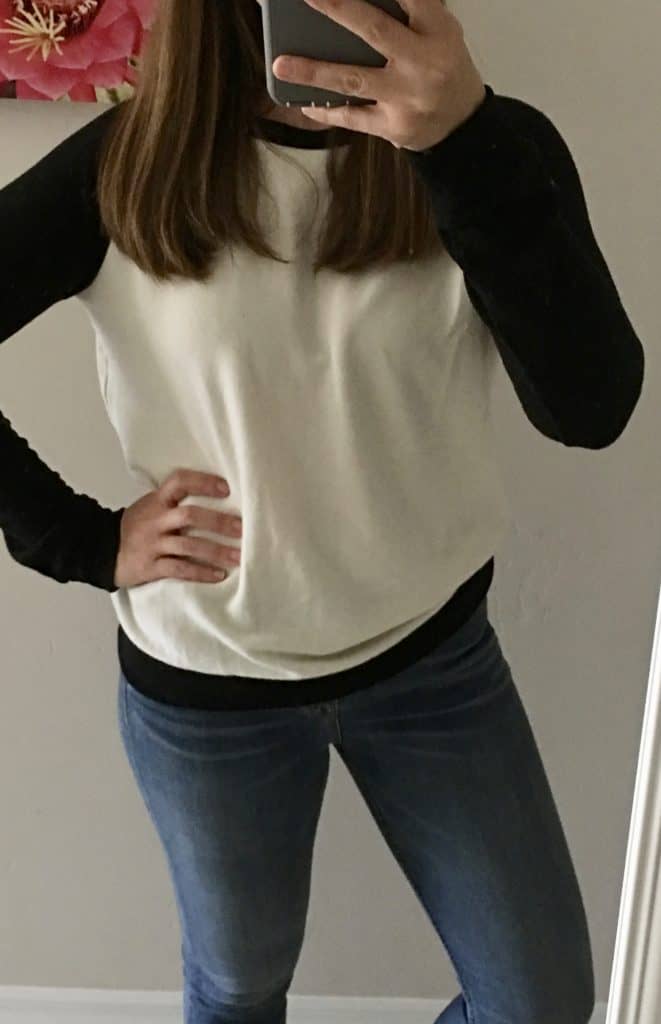 Seriously the softest sweater ever! I couldn't have lounged in this all day. But aside from the comfort, I wasn't loving the fit. It was a sadly a send back.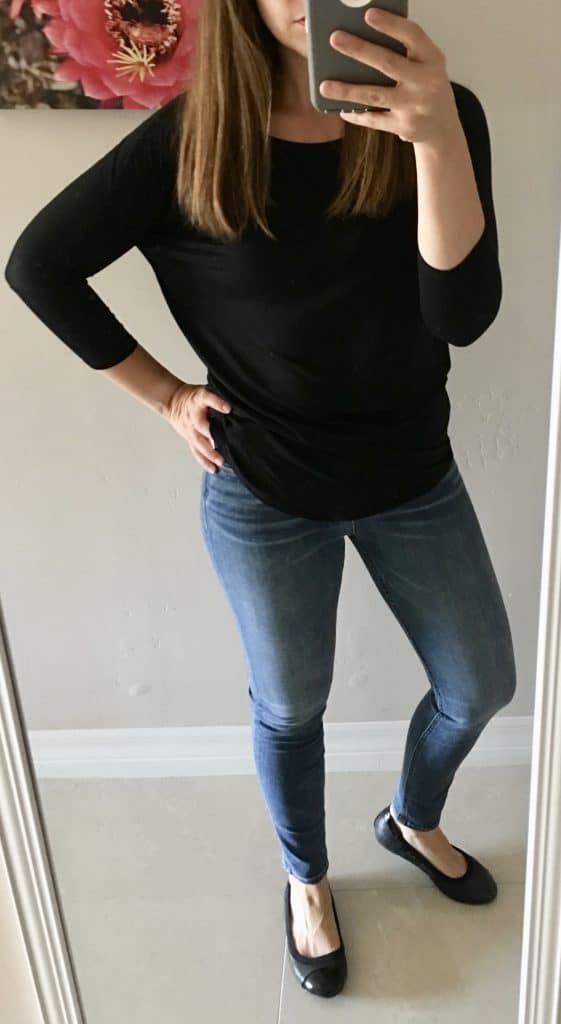 Pretty much this outfit screams ME! Comfy black top and stretchy skinny jeans are my thing.
So from this shipment, I ended up keeping the red blouse, Vigoss jeans, and the black top. Returning was a breeze, just stick it in the envelope and pop it in the mail!
Womens Fashion: Stitch Fix
Next, I received my Stitch Fix shipment about a week later. In case you're wondering, I got a haircut during that time, hence the different lengths in the pictures! Check out my five delicious goodies received: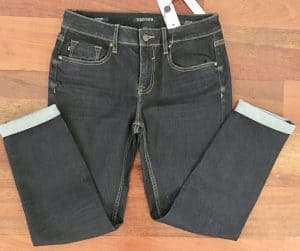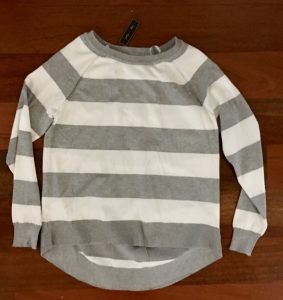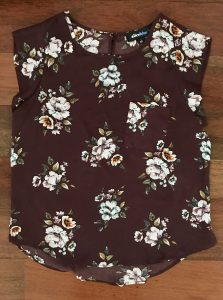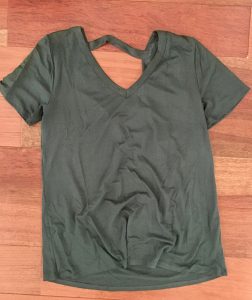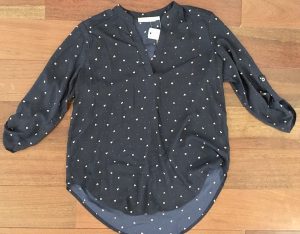 From this shipment, my favorites were the grey and white striped sweater and navy blouse. Check out my outfits and let me know if you agree: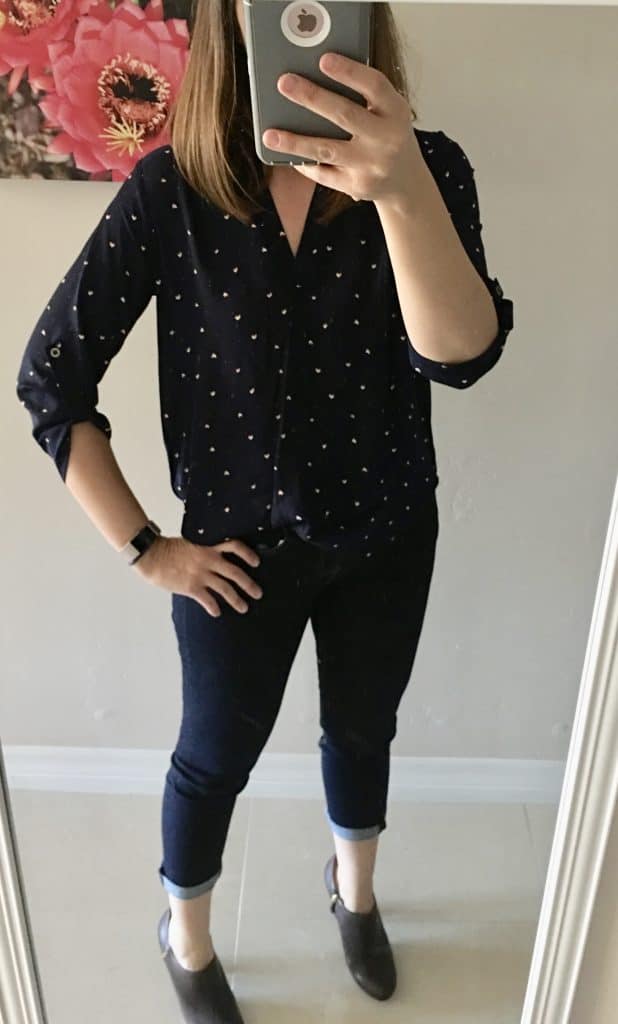 I love these rolled jeans so much! The fit is amazing and and they are super flattering. However, I already own a pair just like them so they are going back.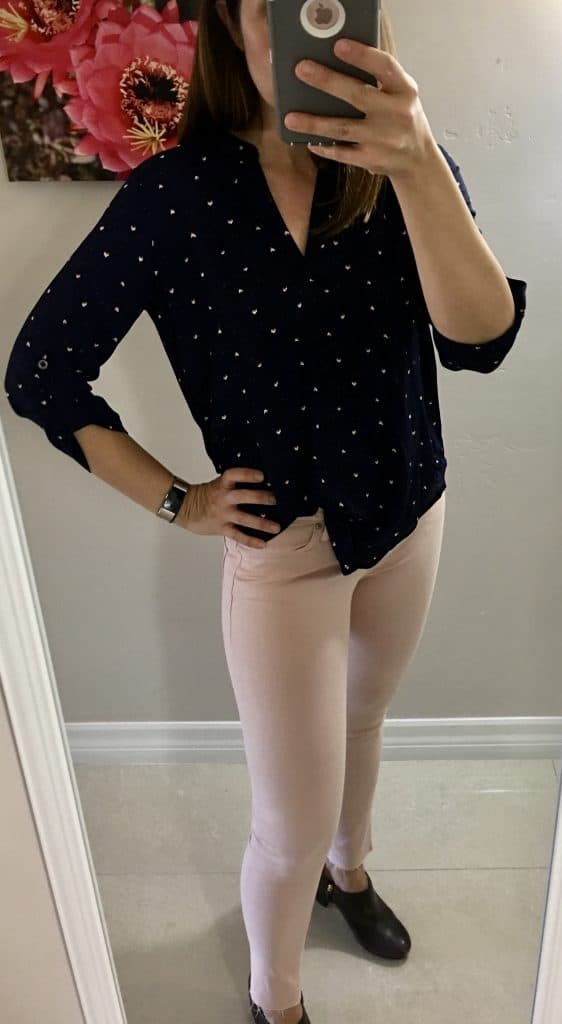 I paired this navy blouse with a pair of raw hemmed pink jeans I received from a past Stitch Fix shipment and love how they go together! Thus, a total perk of these shipments, being able to try them on with your existing wardrobe!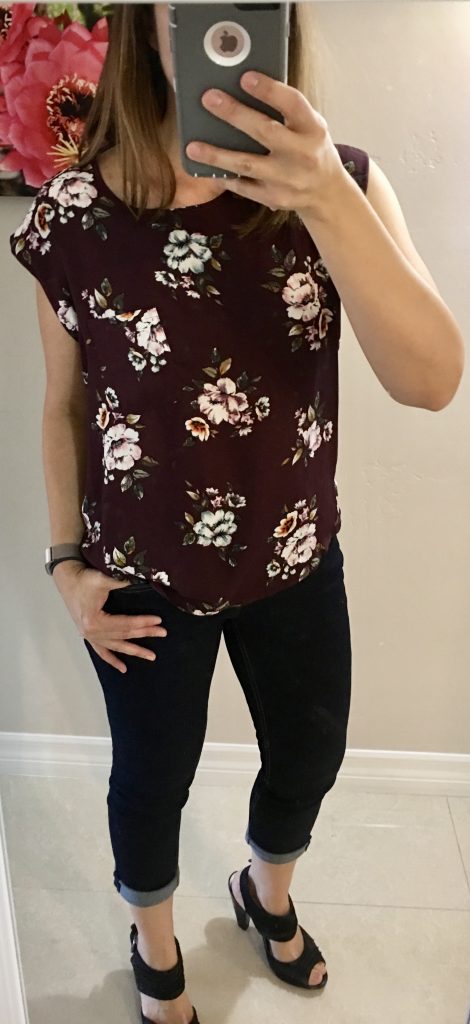 I really liked the print of this floral top and the pocket, but wasn't feeling the cap sleeve length. So, sadly, it's going back.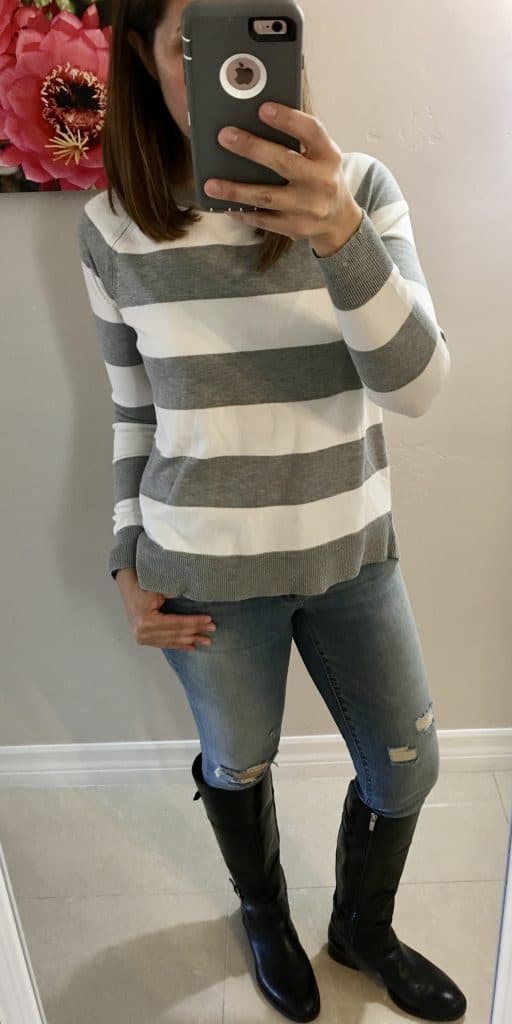 Love this sweater! It's light and stretchy, and oh-so-comfy. Here I paired it with black boots and these Universal Thread Jeans from Target and found the outfit I plan to live in this winter! Here is the back of the sweater (sorry for the grainy pic):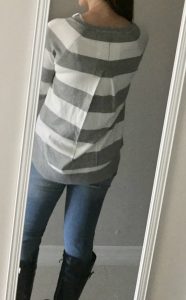 So if you are looking to update you wardrobe or just need some inspiration for womens fashion, try out these personal shopping services. They are truly risk free, super fun, and will help expand your basic wardrobe with handpicked items. In conclusion, sign up today!
If you love getting simple wardrobe advice, easy recipes, and fun party planning ideas, be sure to sign up for the weekly Newsletter!