Are you looking for something truly unique for a special dad. Whether he is a man with a special sense of humor or just a fun guy, don't miss these funny and unique gifts for dads that will surely make the man in your life smile.
Are you lucky enough to have dads in your life with exceptional senses of humor. This funny and unique gifts for dads list was made with them in mind. In general, dads are a bit more relaxed and perhaps less sentimental than moms, so picking out unique finds was really fun to do. You should definitely surprise the dad in your life with some of the awesomeness below!
So no matter what special dad you are celebrating, there is bound to be something to fit their personality.
Funny and Unique Gifts for Dads
Love that these grilling tools say "DAD" – great find for a dad who owns it on the grill!
No matter your political stance, I think we can all agree with mug is just plain funny.
Love my 80s movies and a man that can rock this shirt!
The ultimate dad comedian. Any dad would love to get this complete set of Carlin DVDs.
Star Wars with a pun… enough said!
Great for dads with younger kids. Now he can bring his own coloring book to the table.
This pizza shirt and onesie is so darn cute. Celebrate dad and his little in coordinating outfits.
Poking fun at all of those things the Dad's Club has to offer.
Great to take outside by the pool (it's water resistant!) or listening to your favorite podcast while shaving, dads will love the sound and ease of use of this speaker.
I hope this funny and unique gifts for dads list has given you some great ideas and inspiration to celebrate the awesome dads in your life! Celebrate him even more by throwing an awesome BBQ… Check out How to Throw a Delicious and Easy Budget BBQ for great recipes and tips!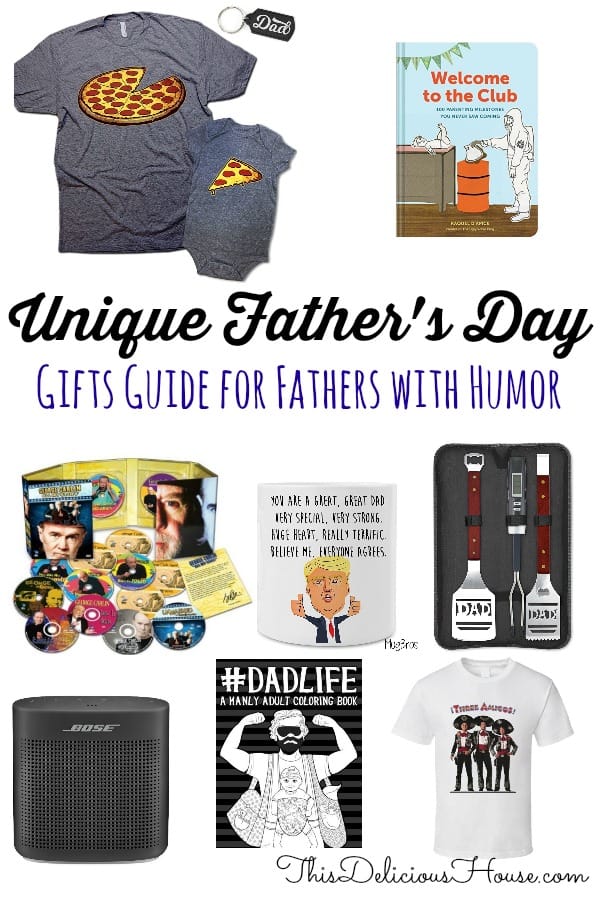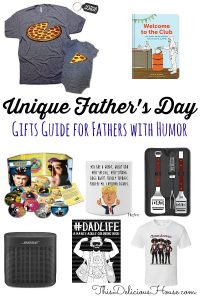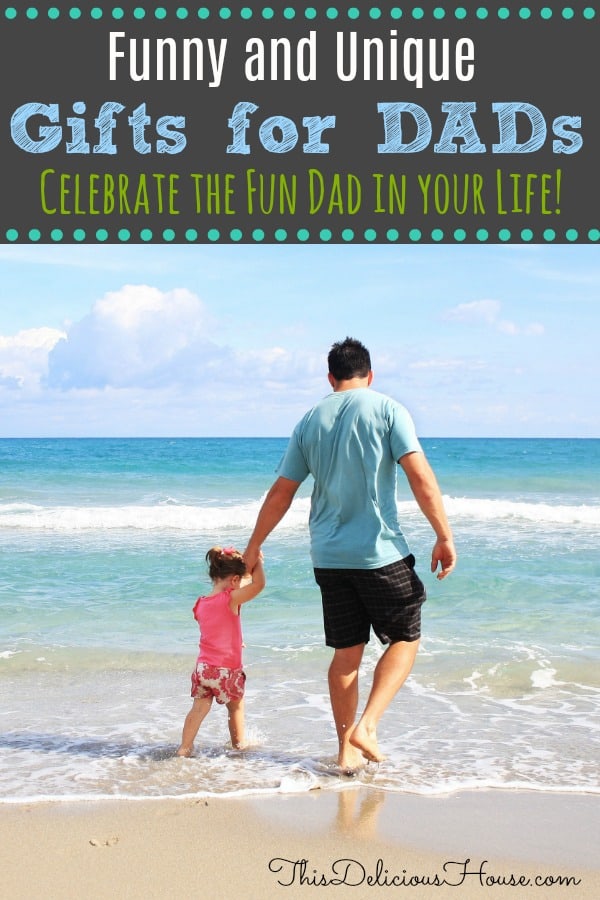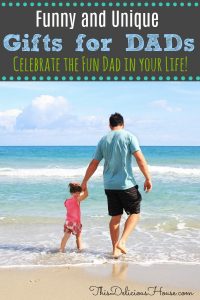 Get Your Free Party Planning Checklist!