Looking to throw a unicorn birthday party but don't want to spend the time looking for decorations and supplies? Don't miss this complete list of the best unicorn birthday party decorations and ideas that you can order online.
My daughter wanted a unicorn birthday party and I was happy to oblige. I'm on Pinterest, I see how popular this particular theme is, and thus assumed this would be an easy theme to pull off. I was wrong… It was too much of a good thing. You can feel inundated and overwhelmed with how much there was covering this theme. So many options and so many crafts can leave party throwers with too many options and too many expectations.
So after many hours spent looking through unicorn birthday party decor I found the best supplies and deals out there, and I can tell you from first hand experience that these were a huge hit!
Check out the list of best unicorn birthday supplies! (affiliate links)
This set is so amazing! You get so much for under $20. The banner looked like something expensive from Etsy and the poms were super cute to hang from the ceiling. The foil balloons (you get three of them!) would probably cost around $12 each at a party store.
I saw tutorials on how to make these headbands online and my head was spinning! The supplies alone would have cost a fortune. I was able to find five of these on Amazon for under $16. And the quality, totally awesome! These didn't look cheap at all (like I thought they would) and it saved me a ton of time and money if I had tried to make them myself.
These plates and napkins are super cute and matched the decor well. I liked that they were the more playful unicorn theme and had pastel hues.
Super comfortable and light, my kids will be wearing this dress for months to come.
Everyone loves a photo booth! These props are so fun to include in your unicorn-themed party.
Pretty and fun unicorn decorations that are great quality!
How fun to have all your guests pose with this backdrop. Use the photo props above and you are all set!
Best table decoration ever! And you can use it after the party as a nightlight.
What little girl wouldn't love this dress? And it's perfect to wear after the party too.
Such a cute party favor. Load guests up with popcorn for the road in this adorable popcorn treat box.
So cute to hang on a big wall! Really transforms your home to a magical unicorn place!
Give your guests something to do with this super cute Unicorn Piñata!
Cutest straws ever! Guests are going to love sipping their drinks from these playful straws.
This was my final piece to the unicorn birthday party puzzle. Getting a great cake topper to tie the theme together. This was such a cute find and it completely transformed my cake.
Check out my recipe and instructions on how to make delicious Unicorn Ice Cream Cake for your party!
So if you need to throw a Unicorn Birthday Party, don't feel overwhelmed. Just check out my top picks for decor and supplies, and you'll be stress-free celebrating in no time!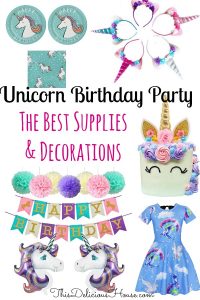 Get Your Free Party Planning Checklist!