Have you always wanted to try out an online personal shopper? Find out which of the most popular services to use: Stitch Fix vs Wantable. Learn to love your wardrobe, save money and get the benefits on of an online personal shopper. Read and decide which to choose: Stitch Fix vs Wantable. (affiliate links)
We all love a good sale, right? Sometimes we love a sale a bit too much. I'm not sure what it is, knowing that you are buying something for less than what it was a couple weeks ago, or just the thrill of beating another prospective buyer to the deal, but we have the tendency to overlook flaws and validate items into purchasing, just because it's on sale.
This is my problem, or at least it was my problem. I am a shopping cheapie and I will never pay full price for anything. Even when I go to Target – a store known for it's low prices – I only shop for clothes on the clearance racks. While scoring a deal is great, the problem is we often settle just because it's a deal. After a thorough closet clean out, it became obvious that I didn't LOVE most of my clothes, I was settling.
Breakdown: Stitch Fix vs Wantable
Cue the online personal stylist option and use it to save money! If you've never done it before, here's the low down on Stitch Fix vs Wantable:
Fill out a very thourough online questionnaire about style preferences and sizes, schedule your delivery, and pay a $20 styling fee.
Based on your preferences, including tastes and budget, Stitch Fix will send you 5 items and Wantable will send you 7. You can adjust your style profile at any time.
Once delivered, you have 3-5 days to decide what you want to keep and what you want to return.
When you decide what you want to keep, check out online, and get the $20 styling fee credited to your purchase.
Wantable will give you a 20% discount on your total purchase if you keep 5 items or more, Stitch Fix will give you a 25% discount if you keep all 5 items sent.
Return what you don't want in the prepaid envelope included in your package.
You can either request another style fix for a set date or schedule style fixes to be sent you at certain time durations.
Stitch Fix vs Wantable: The Benefits of Both
At first it may seem that people who choose to have a personal stylist are either super wealthy or are so busy they have no time to go shopping. I am neither of these things… busy yes, but I can make a trip to the mall if need be. So why go the personal shopper route then? Personal shoppers are professionals who keep up on the latest trends and have access to thousands of items to chose from, just for you! They consider your personal preferences and sizes and then search through their inventory to find a match.
But the best thing about receiving these style boxes is that they often include items you wouldn't normally pick up or consider purchasing at the store. Maybe it's a trend you didn't think you could pull off or a color that is out of your normal spectrum. There is something about having these items in your home to try on that may make you view them in a different light.
How Does Stitch Fix vs Wantable Save Money?
Here's the thing, it saves you money if you're smart about it. So you've now received your shipment of items, take the time to go through each item individually. Try them on and inspect from all angles. And, here's the best part of having these items in your home, make sure you have things in your wardrobe to go with them! Keep only items that already pair with your existing waredrobe items, that way you'll be more likely to wear them.
And try on everything! These items were specially picked based on your preferences and you never know what will look great on. Plus, you get to try on everything in the comfort of your own home.
The items you receive are full price items, and if you're like me, you would never normally buy these at the store. So how does that save you money? Because you learn to keep only what you LOVE and send back the rest… so easy! Sometimes this means sending it all back, which I have done a couple of times.
Don't get swayed by the bulk discount, really only keep the clothes that you love and will wear. In my experience these are high quality items and worth their cost. Both companies have great customer service, as well, in case you encounter an issue with a purchase later on.
Tip: Update Your Preferences Often
Before you schedule your order, go through your closet and see what you need. Perhaps it's more shorts for the summer months or something special for a vacation or party. Let your stylist know so your next shipment can include these items.
Another fun feature is that maternity clothes are now offered. I loved this for my pregnancies because, honestly, shopping for maternity clothes was the worst! The last thing I wanted to do was cram myself into a busy fitting room and try on clothes. Also, I requested items that could be worn after baby like maxi dresses and skirts, and I still wear those items today.
Both Stitch Fix and Wantable also offer men's clothing and Wantable has workout clothing as well. So you can now get a personal stylist for whatever your closet (or his) is lacking, how cool is that?!
Go For IT!
If you've never given an online personal stylist a chance, I say go for it! While Stitch Fix and Wantable may seem like an opulent thing to do, revel in it and be picky in what you choose to keep. Try it all on, make sure it pairs with your existing wardrobe, and keep only what you love. This will save you money in the long run so long as you are smart about it and selective. Plus, you get to get a surprise package full of clothes in the mail… and who doesn't love that!
Get closet savvy and check out my ideas for Decluttering Your Closet in 5 Easy Steps!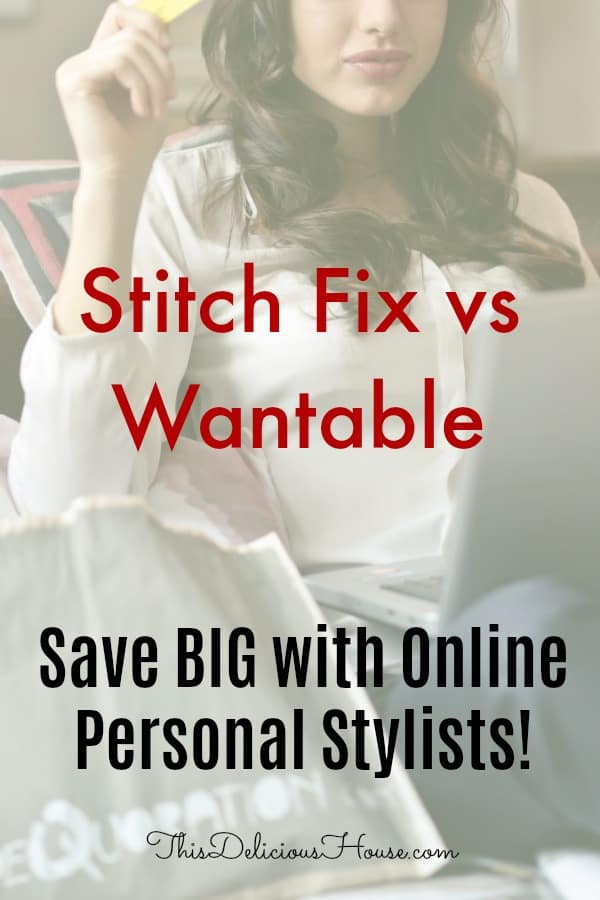 *4 Days to a Clutter-Free Home*
Join the 4-Day Declutter your Clutter Zone Challenge!