Simple and delicious Pasta e Fagioli gets an update with bacon, pinto beans, and shells pasta. Make-ahead this quick and flavorful soup and have a satisfying meal anytime.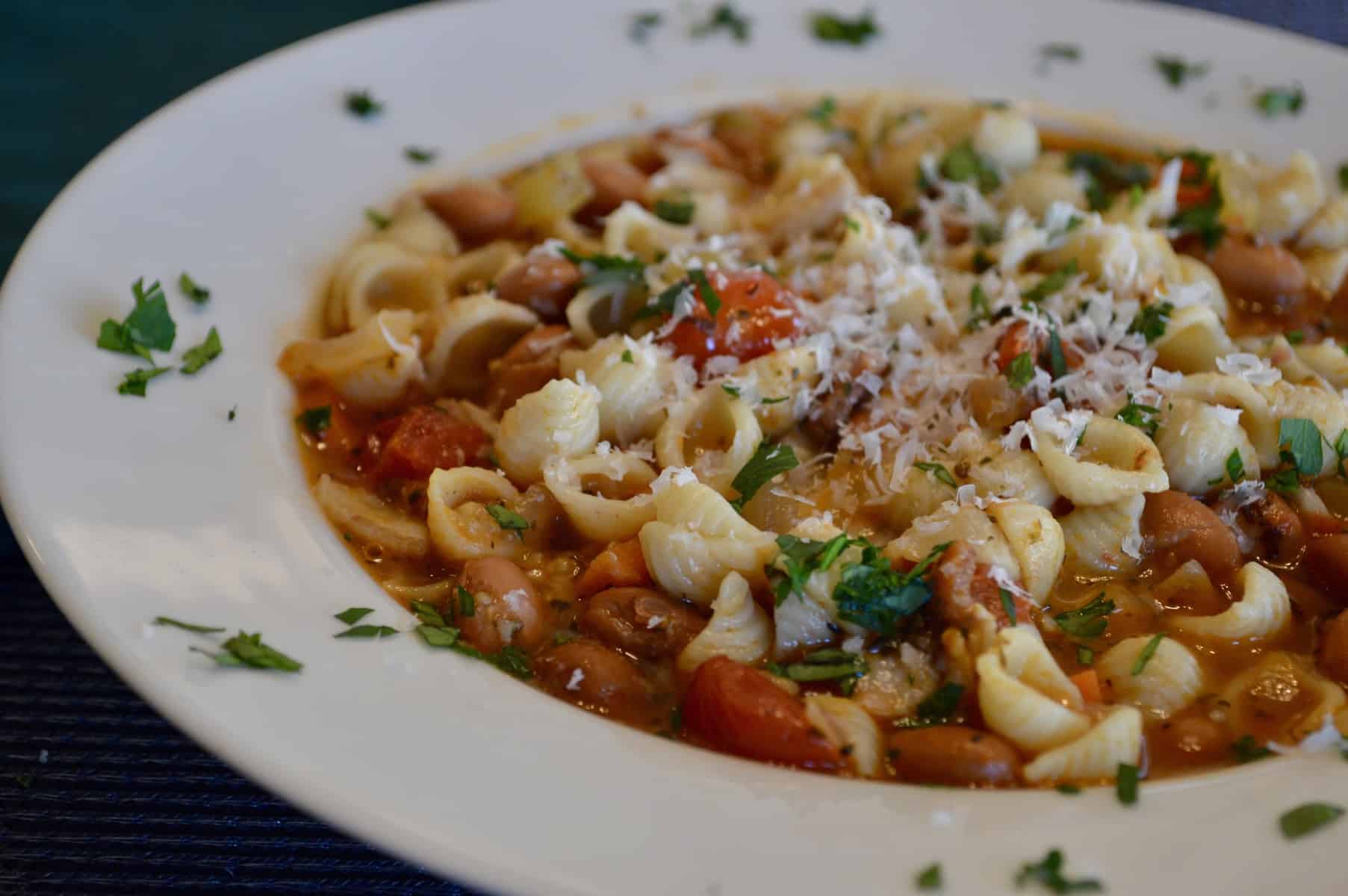 Being Italian, I grew up eating a lot of Pasta e Fagioli, which translates to "pasta and beans." My grandmother was always making it and serving it up with a generous helping of shredded parmesan cheese and crusty Italian bread.
The classic authentic Pasta e Fagioli recipe is slow cooked with Italian sausage or pancetta, cannellini beans, ditalini pasta, rosemary, and a combination of chicken and beef broth. When I lived in Italy I noticed this soup varied from region to region but the "pasta and beans" premise was always the same.
Recreating Classic Pasta e Fagioli
Trying to recreate the authentic Pasta e Fagioli recipe at home was never quite as easy. Pancetta and good Italian sausage is sometimes hard to find, as is ditalini pasta noodles.
Also, in the make-ahead Pasta e Fagioli, the traditional cannellini beans just don't hold up and turned to mush. Moreover, not being a huge fan of fresh rosemary, I set out to make a version full of hearty flavors but without the sometimes overpowering rosemary flavors.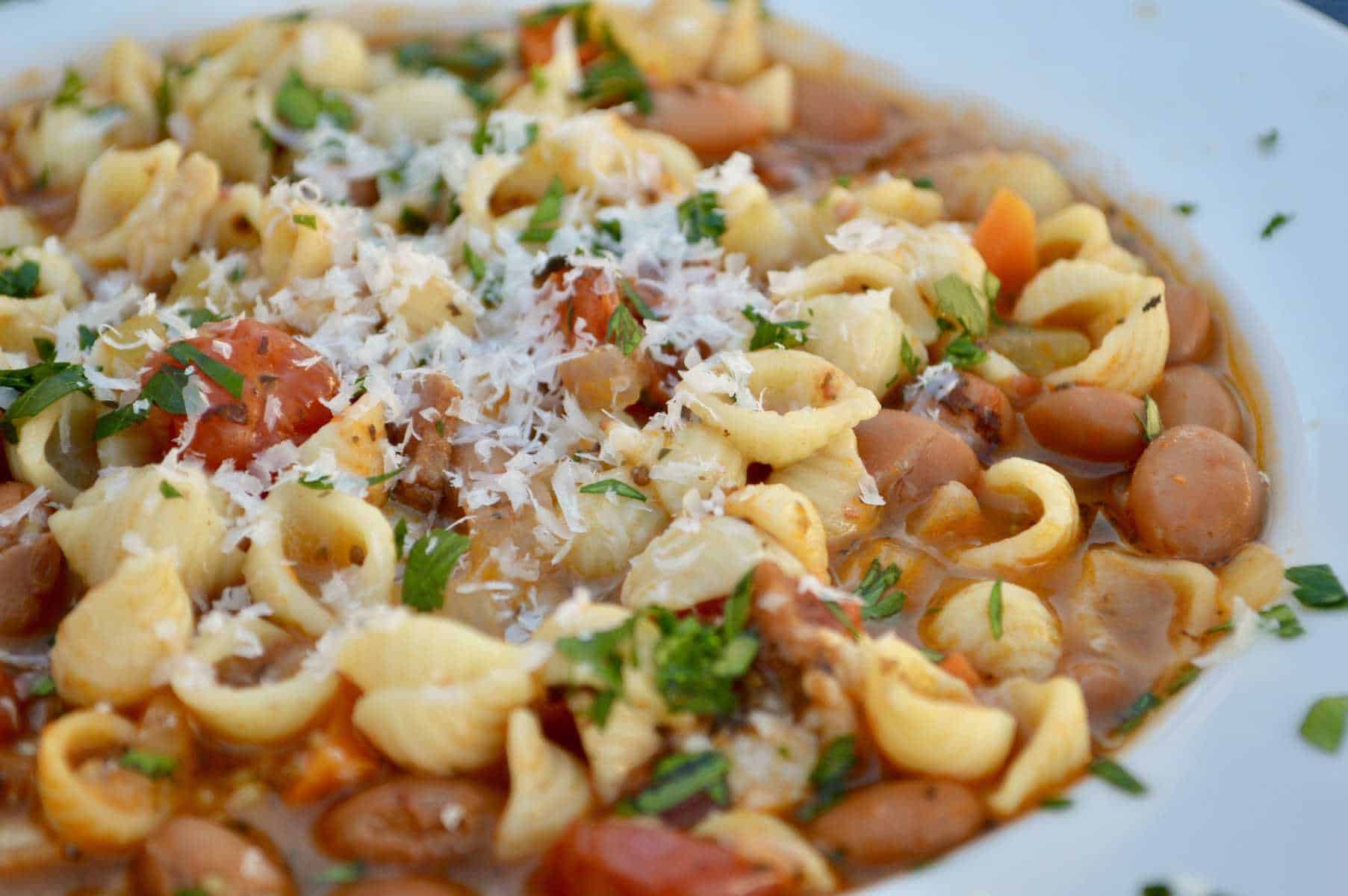 You'll find that this version of Pasta e Fagioli is just as delicious as the original with less work. Best of all, the dish comes together in less than 30 minutes and can be made-ahead with excellent results. Check out my tips and tricks for making this delicious soup at home tonight!
If you are looking for more make-ahead Italian dishes, be sure to check out my fan favorite Make-Ahead Turkey Meatballs and my super simple and delicious Baked Ziti with Meat Sauce.
And, if you love classic Italian soups, be sure to check out this Italian Sausage Kale Bean Soup!
How to Make Pasta e Fagioli
This hearty soups gets a flavorful and delicious base by starting with chopped bacon. But if you've ever tried to cut raw bacon, you'll realize that's it just not that easy to do. My tip for cutting raw bacon is to pop in the freezer for a couple of minutes to firm up. You'll find that chopping it up will be so much easier if you do this.
First, add the bacon pieces to a large stock pot or Dutch Oven. Let cook for about 4 to 5 minutes until it starts to lightly brown. Then add in the mirepoix; in this case onions, carrots, and celery. Normally a mirepoix would be able to cook for a long time to develop flavors, but in here the bacon adds the flavor depth, as do the spices.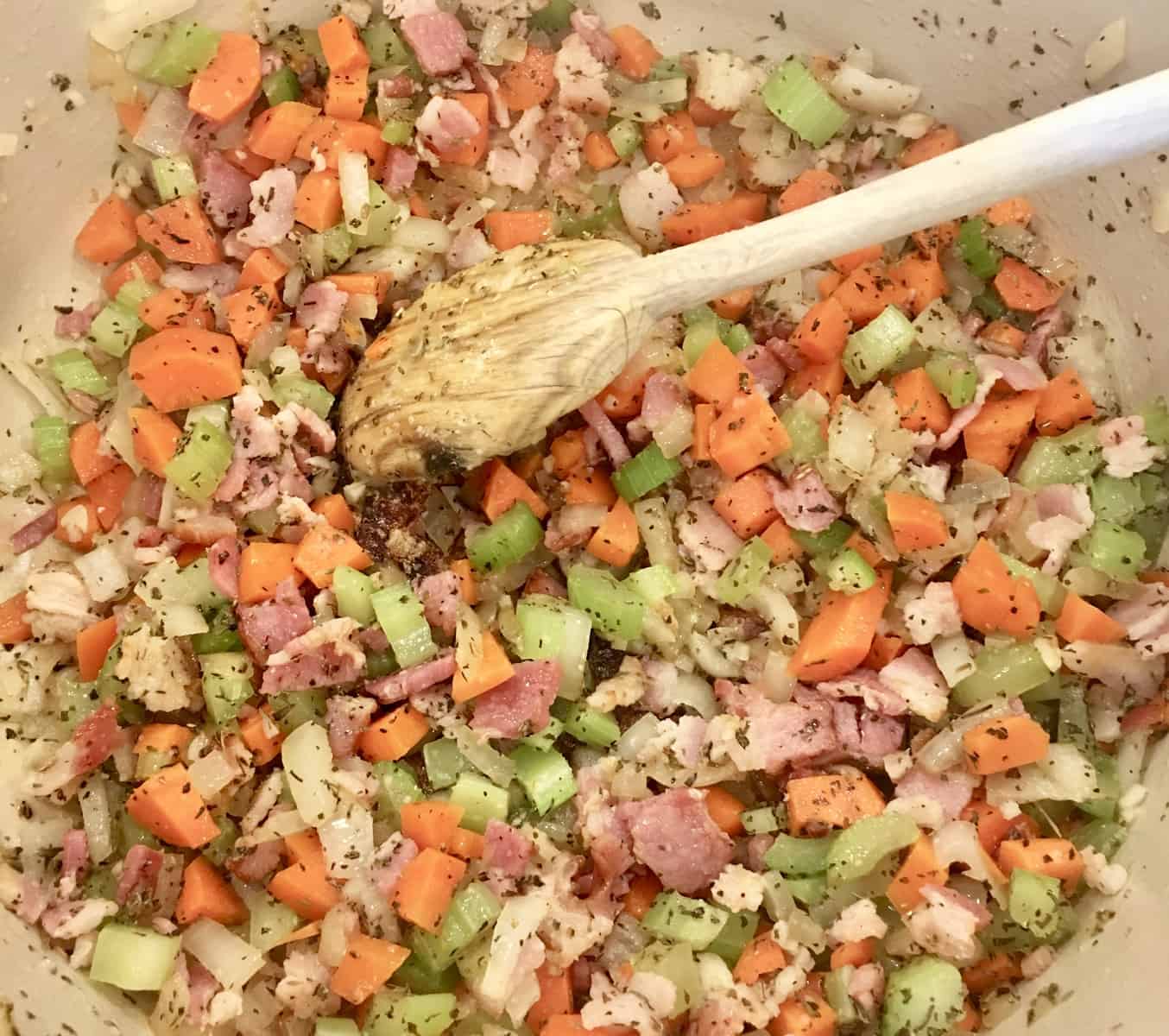 Cook the veggies and bacon for a couple of minutes until the vegetables start to soften.
Use fresh cherry tomatoes if you can!
The next essential component for Pasta e Fagioli is the tomatoes. In most recipes this means opening a can of crushed tomatoes and adding that in. That is totally an acceptable option if you don't have fresh tomatoes. However, I find that adding sliced cherry tomatoes really enhances the flavors and gives that slow-cooked flavor to this quick soup recipe.
Slice the tomatoes in half and add them to the pan. Allow them to cook down, about 2-3 minutes.
Next, add in the chicken broth and can of pinto beans, and bring to a simmer. If you prefer the traditional cannellini beans you can substitute those. I like to do pinto beans because they hold up better for make-ahead soups.
Once the mixture comes to a simmer, you can either add the pasta (if eating immediately) or cool for later. If you are eating now, add the pasta shells directly to the soup and cook until al dente. If you are preparing this soup to eat later or freeze, cook the pasta separately and add before eating.
To make ahead, cook the pasta and store separately!
Don't add pasta to make-ahead Pasta e Fagioli until ready to eat because otherwise the pasta would swell. Meaning that the pasta would absorb all of the liquids leaving you with a mushy soup.
Instead, cook the soup and pasta separate and add the pasta before eating. And, as always with Pasta e Fagioli, add a sprinkle of parmesan cheese on top before eating. Serve with crusty bread for a complete meal.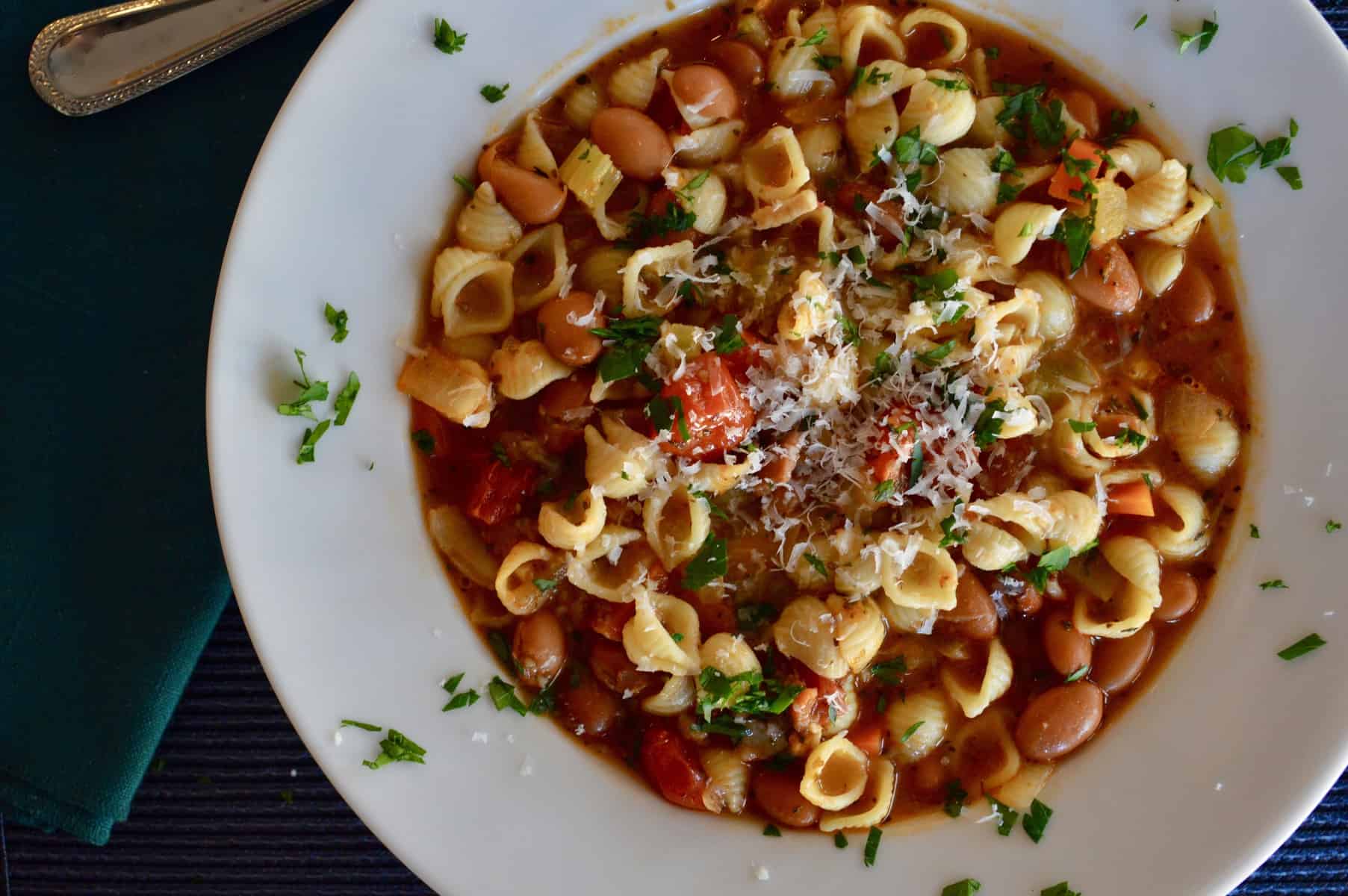 Cooking Tips
Substitute bacon for traditional ingredients like Italian sausage or pancetta.
Stick your bacon in the freezer for a couple of minutes before cutting for easier dicing.
Cook the mirepoix in the bacon renderings and skip adding any extra oil to the soup.
Use halved cherry tomatoes if you have them. Otherwise, canned diced tomatoes work great too.
Can't find traditional ditalini noodles? Use small shells, mini penne, or macaroni instead.
Make-ahead tip for pasta e Fagioli Soup: use canned pinto beans instead of Cannellini beans. They taste nearly identical but pinto beans hold up so much better without getting mushy.
If making ahead and refrigerating, cook and store the pasta separately so it doesn't swell in the soup.
Freezer-friendly soup. Pasta e Fagioli is the ultimate freezer friendly dish, so long as you don't add the pasta noodles. Freeze in ziplock bags and reheat on the stove. Bring to a simmer, then add the noodles.
If you really want to up the game on this soup, considering using homemade chicken broth. Otherwise, opt for a store-bought low sodium version.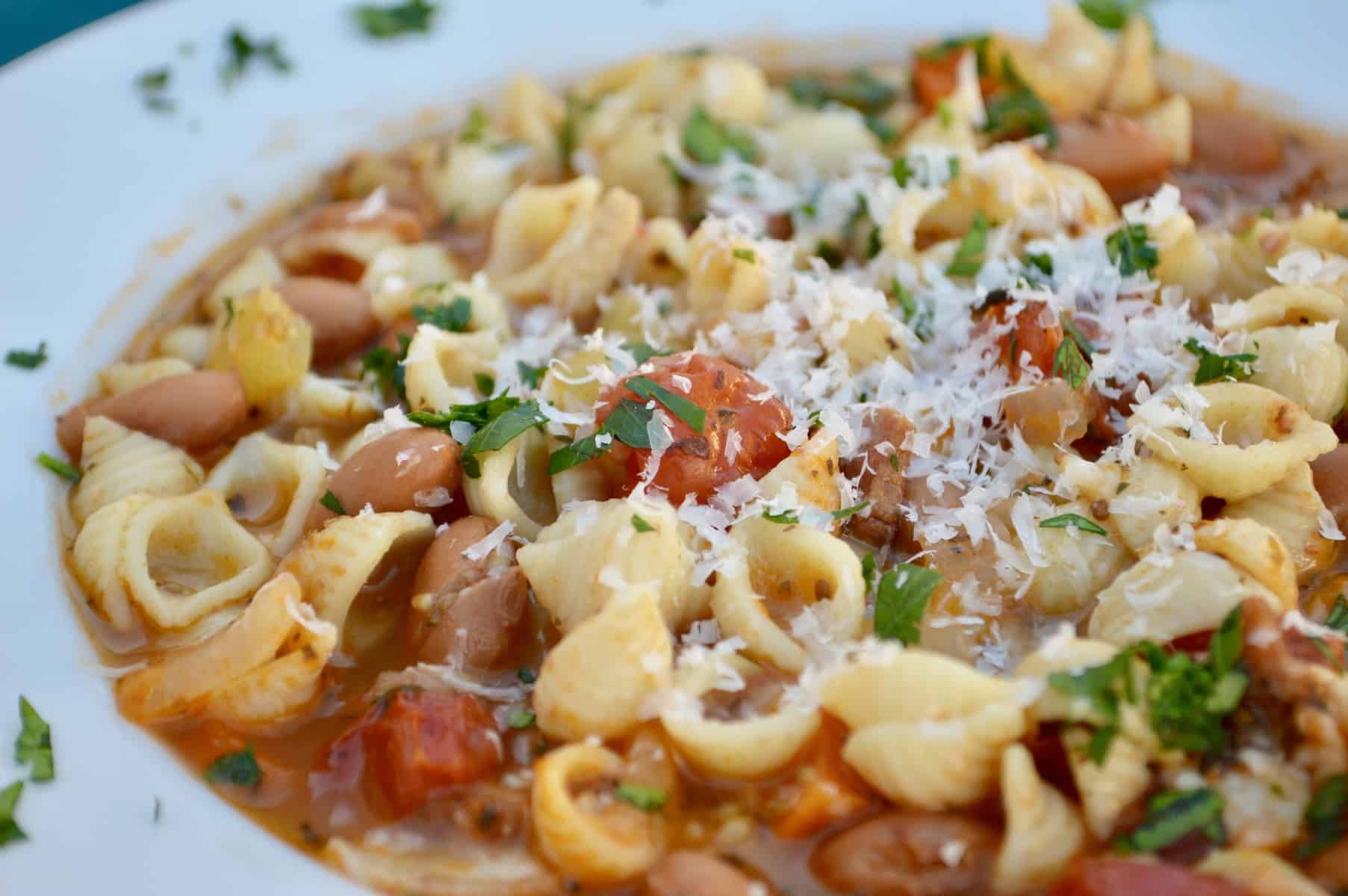 I hope you enjoy my version of Pasta e Fagioli. Please comment below on what you think of this delicious and quick weeknight dish. For another simple and delicious weeknight dinner, be sure to try this Lemon Ricotta Pasta recipe!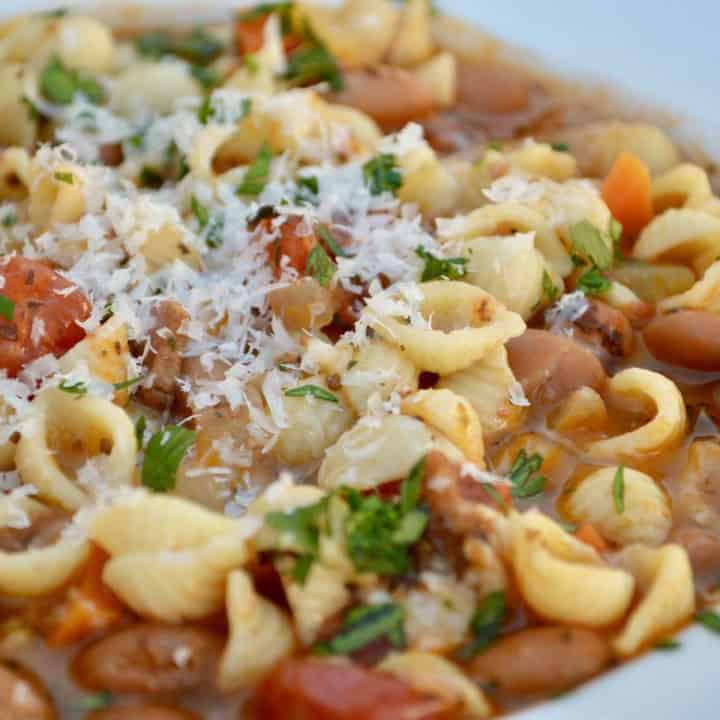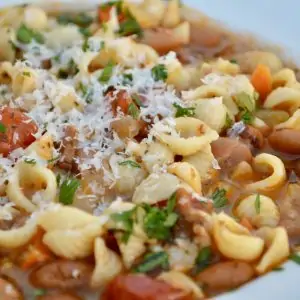 Pasta e Fagioli Soup
Updated take on traditional Pasta e Fagioli soup featuring bacon and pinto beans. This is a simple and quick recipe that's full of flavor. If you don't have cherry tomatoes, substitute a can of crushed tomatoes. 
Print
Pin
Rate
Ingredients
4

strips

bacon, diced

1

cup

onion, diced

(about half a large onion)

2

carrots, peeled and chopped

2

stalks

celery, chopped

2

cloves

garlic, minced

2

cups

cherry tomatoes, halved

1

teaspoon

kosher salt

1

teaspoon

dried basil

1

teaspoon

dried oreganno

½

teaspoon

dried thyme

6

cups

chicken broth

1

can

pinto beans

(can substitute cannellini beans)

6

ounces

small pasta

(small shells or ditalini)

grated parmesan for serving, optional
Instructions
Heat a large pot or dutch oven over medium high heat. Add the bacon and cook until starting to lightly brown, about 4 minutes. Stir in the onion, carrots, and celery, and cook for another 4 minutes, until vegetables start to soften. Add in the garlic, cherry tomatoes, and seasonings, and cook until the tomatoes start to wilt, about 3 minutes.

Pour in the broth and beans and bring to a simmer. Add in the pasta and cook until al dente. Serve with a sprinkle of parmesan.
Notes
Make-ahead tip: Make the entire batch of soup but boil the pasta separately. Cool and store both the soup and pasta in the fridge in separate containers. When ready to eat, add the pasta to the soup. 
Nutrition
Calories:
316
kcal
|
Carbohydrates:
45
g
|
Protein:
12
g
|
Fat:
10
g
|
Saturated Fat:
3
g
|
Polyunsaturated Fat:
2
g
|
Monounsaturated Fat:
4
g
|
Trans Fat:
1
g
|
Cholesterol:
15
mg
|
Sodium:
2067
mg
|
Potassium:
806
mg
|
Fiber:
4
g
|
Sugar:
7
g
|
Vitamin A:
5572
IU
|
Vitamin C:
48
mg
|
Calcium:
78
mg
|
Iron:
2
mg