To create a gallery wall using kids artwork that looks cohesive, use one focal piece that ties in all of the colors. Check out my fun and colorful gallery wall!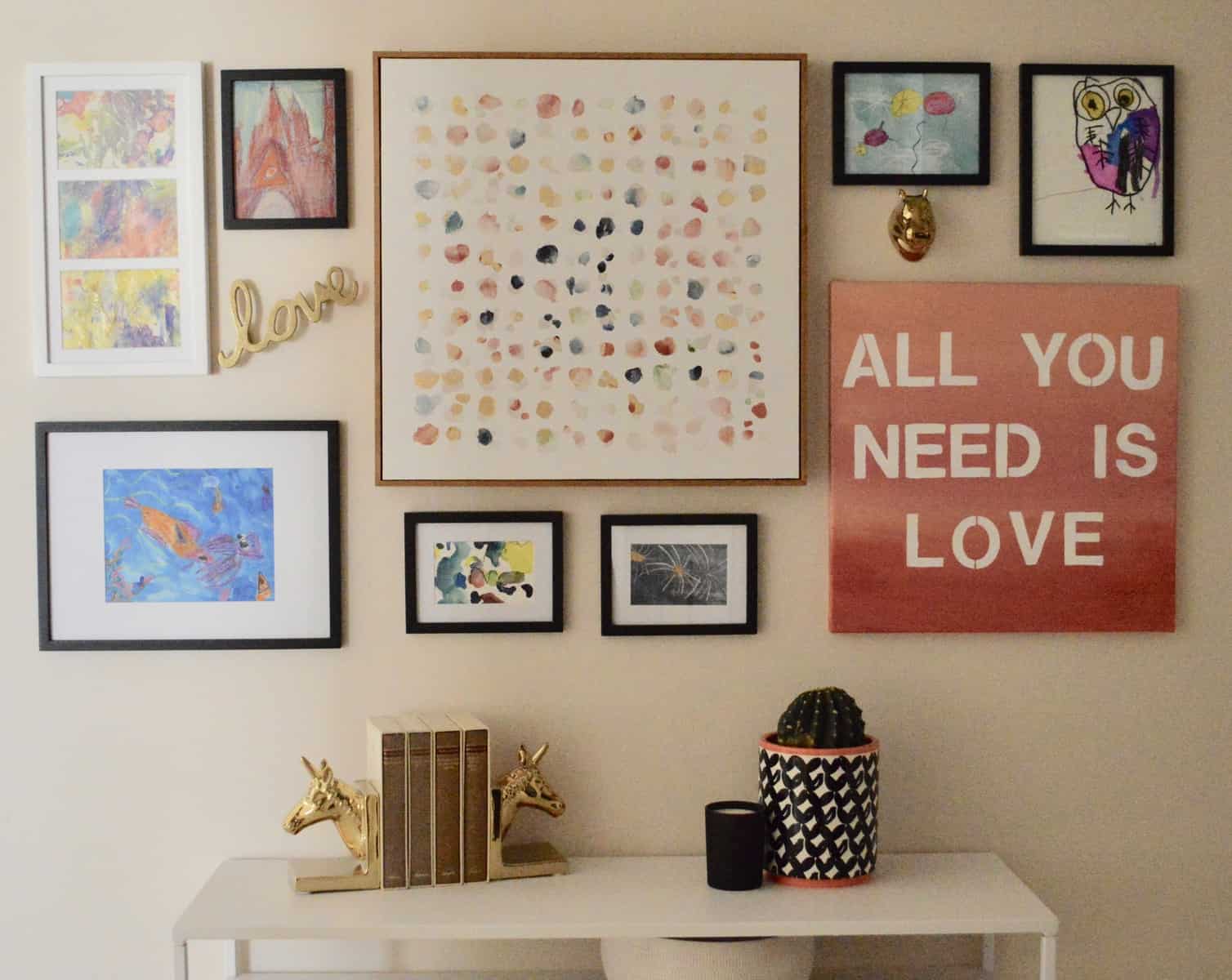 Need a way to showcase your kids artwork other than hanging it on the fridge? My fun and unique gallery wall using kids artwork does just that. If you think hanging it is difficult, think again. By using paper templates you can position and move however much you need to without unnecessary holes in the wall.
And guess what, gallery walls don't have to be expensive. I spent less than $150 putting this wall together and that's including the console table! Use items you already have to put the look together. My favorite places to shop for these items are Amazon and Target. Links to the products I purchased are listed below.
Put together the look
First, the look. Select the pieces that you want to frame or showcase on you wall. It took my favorite pieces from my daughters' kindergarten and preschool years. Then I searched online to find a piece of art that would serve as the focal point and tie it all together. Check out my purchases (with links) below: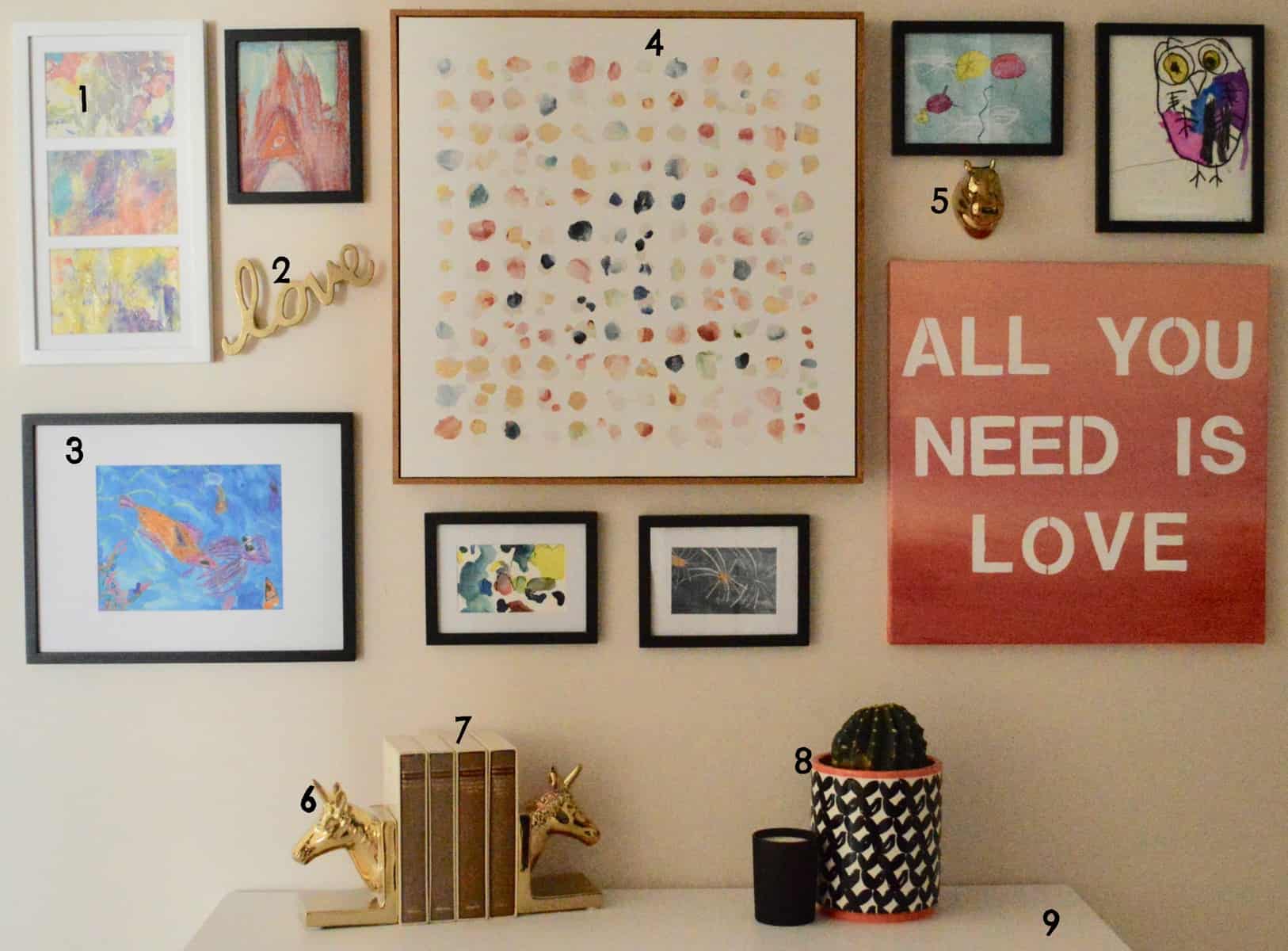 Love Decorative Wall Sculpture
7 Piece Black Photo Frame Wall Gallery Kit. Includes: Frames, Hanging Wall Template, Decorative Art Prints and Hanging Hardware
Framed Abstract Watercolor Wall Canvas 24 x 24
Polyresin Hippopotamus Decorative Wall Sculpture
Unicorn Book Ends
Similar Cactus Pot with Fake Cactus
White Console Table

Layout your gallery wall using kids artwork
Find a large area (in my case I chose my entry rug) and layout how you want the wall to look, using the cohesive focal piece to serve as the center.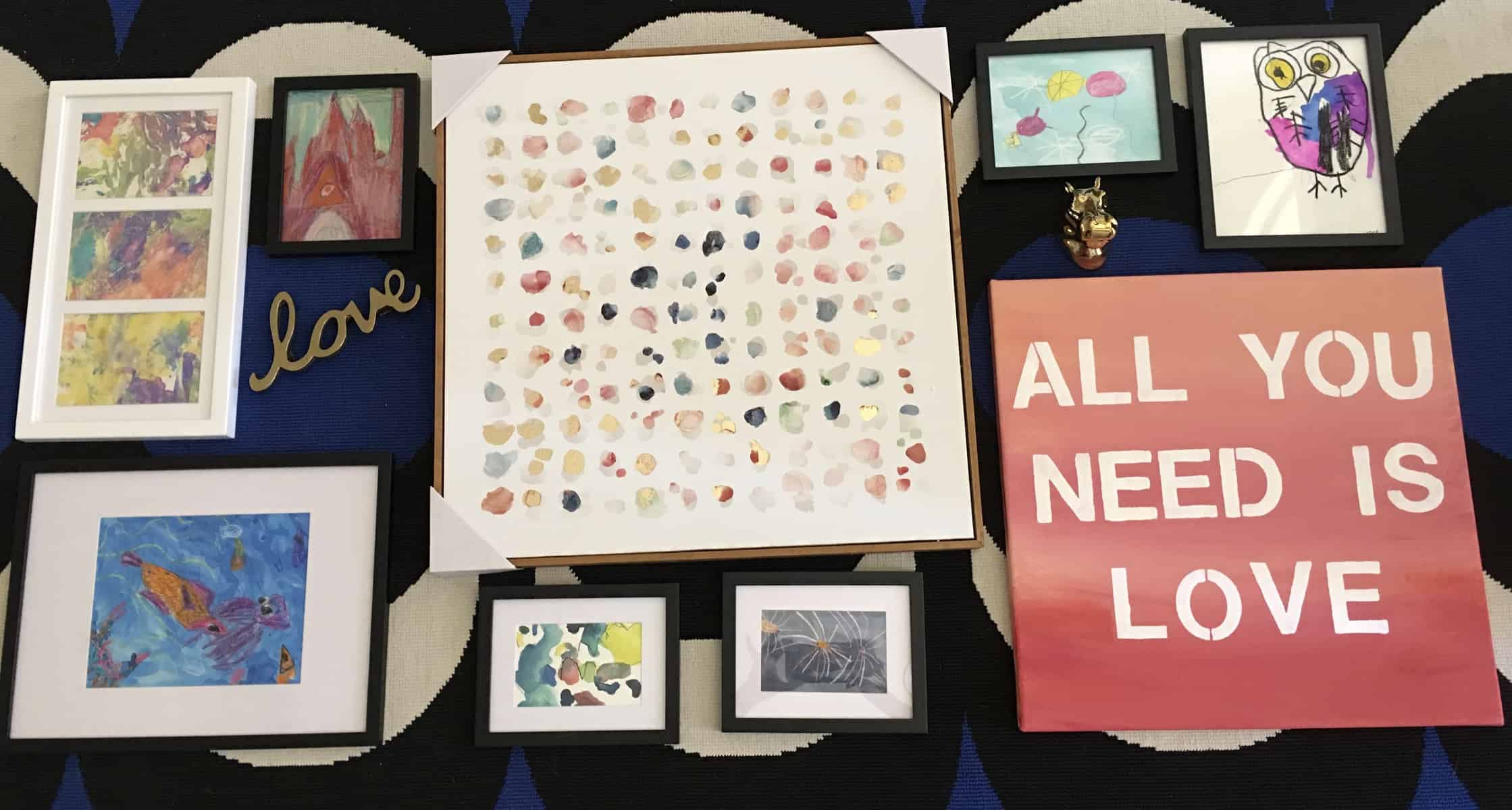 Move the pieces around to see which look you like the best. Much easier to do this now then when the artwork is hanging!
Measure and hang focal piece and templates
Measure the size of the wall and the size of your gallery, then determine where you want the center to be. Hang the focal piece and then get started on hanging the templates (the ones I used came with the frames). If you don't have pre-sized templates, just cut out papers that match the size of your artwork.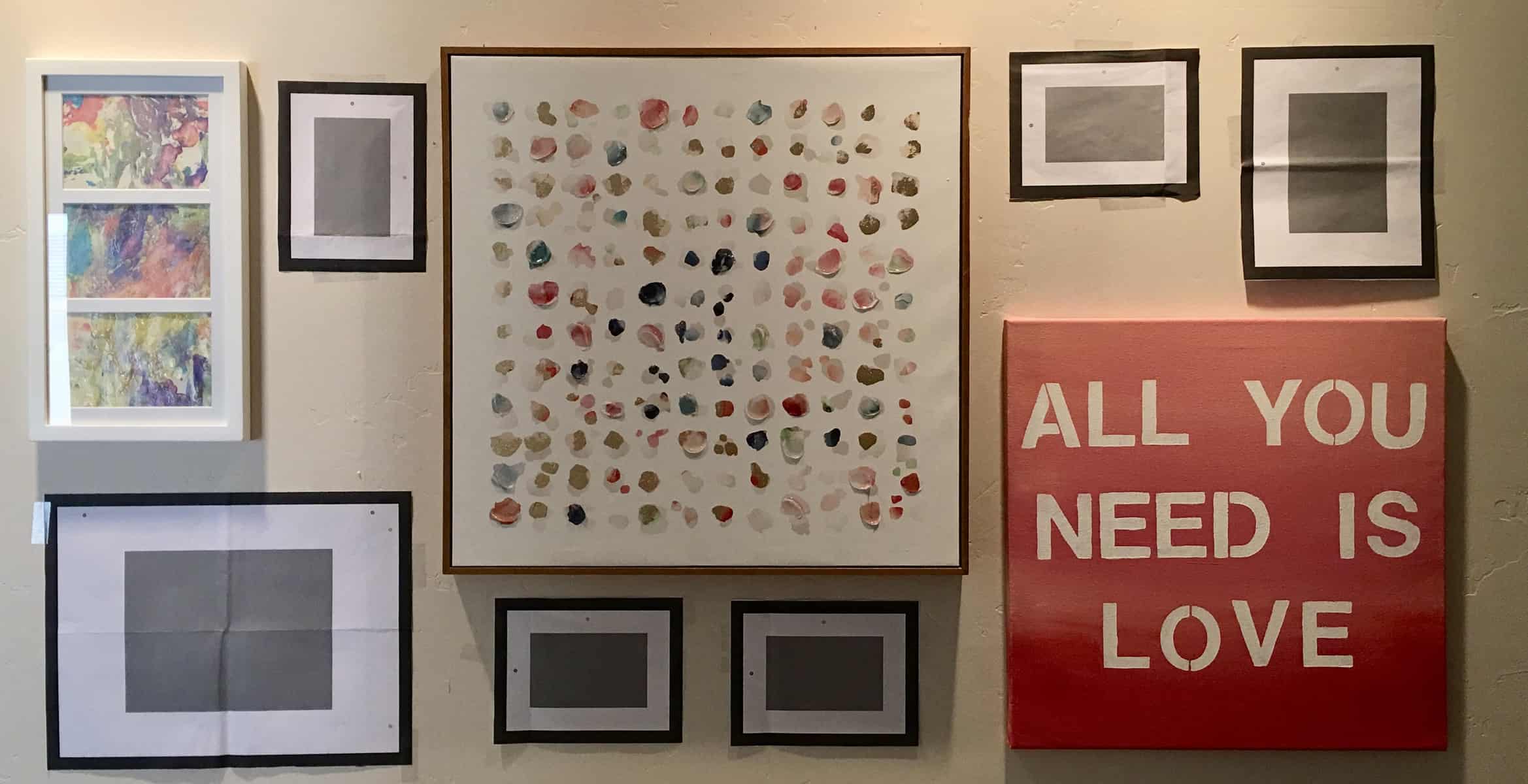 After that, just insert nails, take off the templates, and start hanging!
I love my gallery wall because it's truly unique. My kids love seeing their little masterpieces hanging on a wall. So if you want to fill up a blank wall in your house, be sure utilize those refrigerator pieces and make a gallery wall using kids artwork!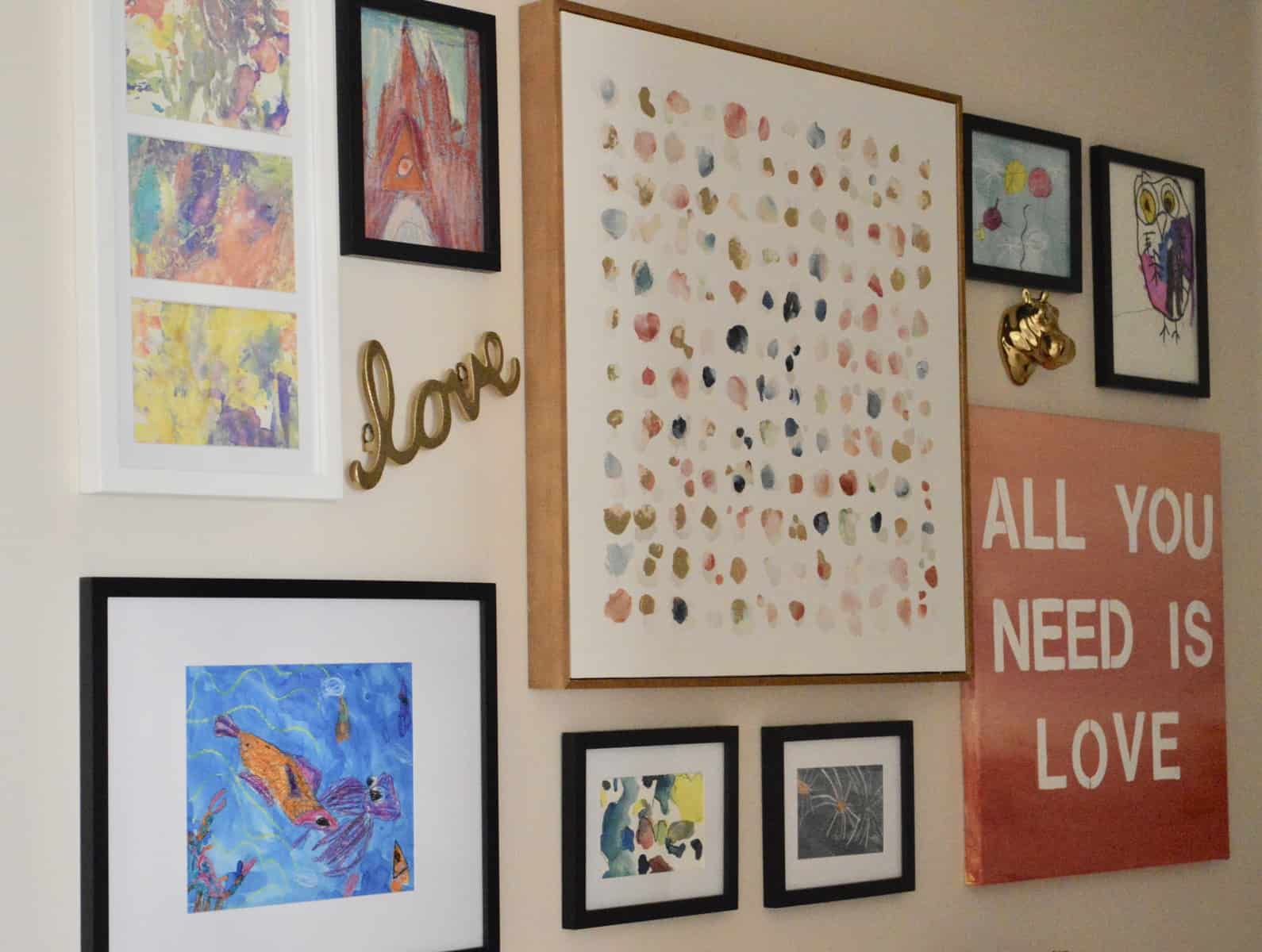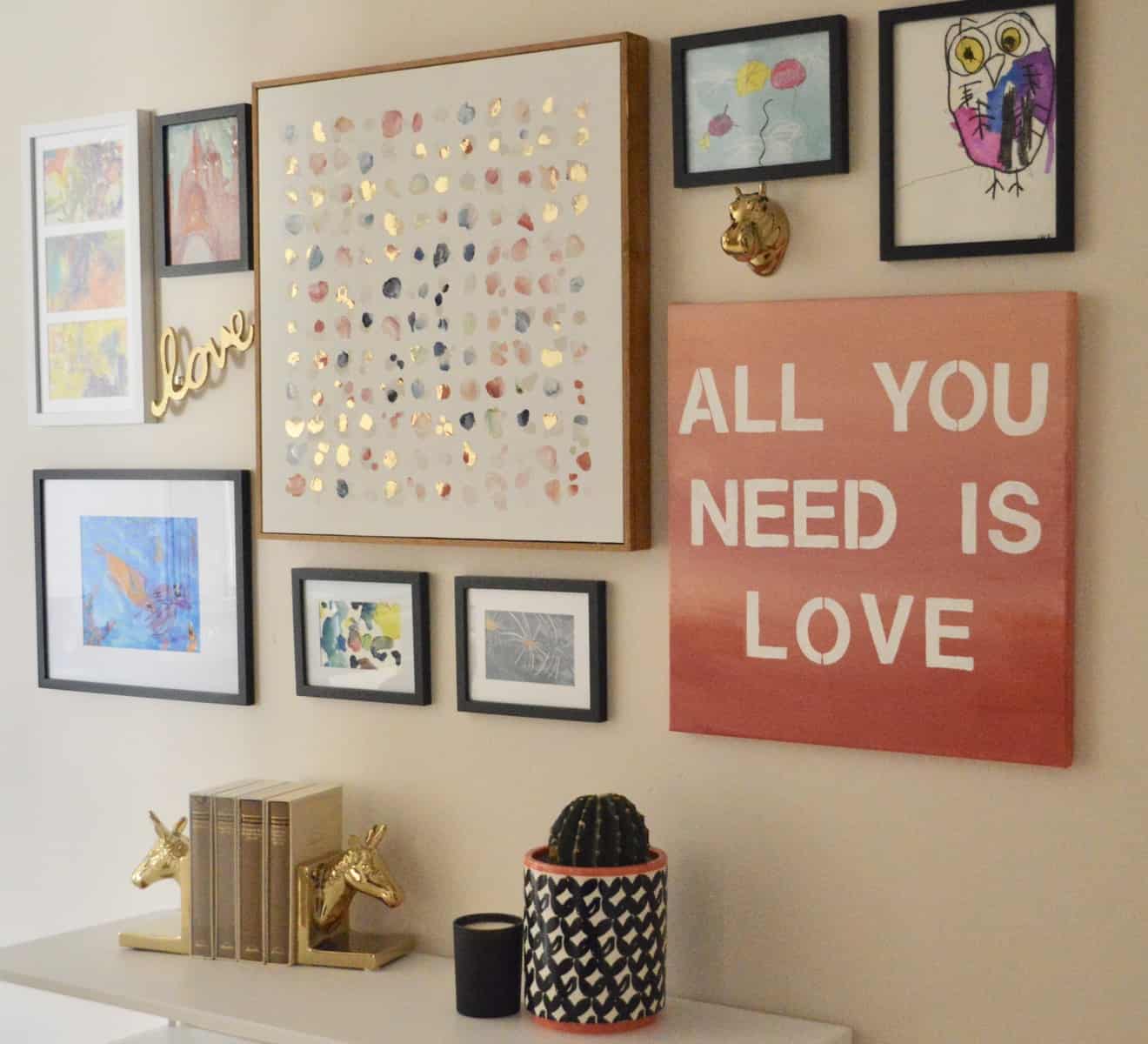 Looking for another easy and fun DIY project, check out my easy spray-painted side table!
P.S. Sign up for our weekly newsletter today and follow us on Facebook here!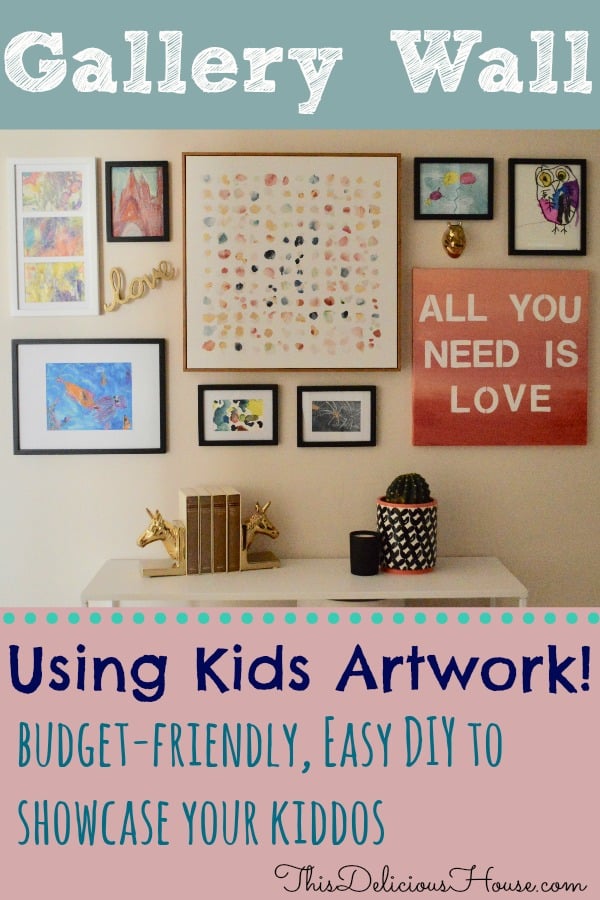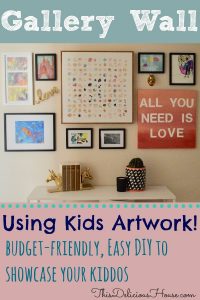 (affiliate links in above article, but only for things I love and use!)