Ever wonder what website to sell your wardrobe on? eBay vs Poshmark, which should you choose and what's the process? Let's look at eBay vs Poshmark and see which site is best for you!
We all have it. A closet filled with clothes we never wear anymore! But it's more than just clothes, it's purses, shoes, and accessories. Maybe you think these clothes were no longer worth anything so why bother selling them? But it turns out that with some decent pictures and a snazzy sales pitch, you can easily sell your wardrobe on eBay and Poshmark.
By this time, we are all familiar with eBay. You list your item for a specific starting price and it goes to auction, usually lasting 7 days. But Poshmark is quickly becoming the new way to sell. It works more like social media for selling clothes with new items always showing up in your feed. Similar to eBay you list your item and people bid on it. However, with Poshmark you list your items for your "sell price" – the price you'd like it to sell for and buyers can either pay that price or make you an offer for a lower price. There is no set auction time and your item can remain on indefinitely.
The process of actually listing your item with either site is fairly simple. The best way to do it is download the app, log in, and indicate that you want to sell. It's just a matter of taking a couple of pictures, adding a description, setting a price, and posting it to their sites. Both sites will send you customizable push notifications on your items when buyers have questions or if there are offers made.
But which site should you use to sell your wardrobe? First let me break down the nitty gritty of of what you need to know about both sites:
Selling on eBay
Sellers are charged an insertion fee and a selling fee.
Your insertion fee is $.30 per listing. You pay this regardless if your items sells or not.
A selling fee is charged when your listing sells and is calculated as a percentage of the total amount the buyer pays, including shipping.
While the eBay fees can vary, the selling fees range from 10-14% of the final sales price, including shipping.
You can add options to promote your items for additional fees.
If you print your shipping labels directly through eBay (so easy to do!) you save money on the shipping cost.
If you accept payment via PayPal, which is standard, PayPal will charge you 2.9% plus $.30 per transaction.
Ship out your item after you have received payment from the buyer.
Chose between either an auction-style format, a Buy It Now listing, or a combination of both.
You have the option to ship internationally.
You only get paid when the seller choses to pay their invoice. This means that someone could win the auction and then never pay you.
Send an invoice on your own and contact the buyer through eBay for payment. If they don't pay, you can cancel the sale or report it as an unpaid item to get your fees returned and have the option to relist the item.
You are not limited on what you sell on eBay, its way more than just clothes.
You have to pay $.30 to relist your item if it doesn't sell during your set auction time.
Selling on Poshmark
Sellers are charged a flat fee of 20% for items sold over $15. If you are selling something under $15, Poshmark takes a flat fee of $2.95.
Shipping is "free" with Poshmark, meaning the shipping costs are worked into their commission rate already.
If your item sells you will be emailed a shipping label to affix to your package.
You only receive your money from your sale once the item has been shipped and received by the buyer.
No credit card processing fees, everything is handled through Poshmark.
Item can remain listed indefinitely.
You have the option to "like" certain items, and those that "like" your items receive notifications if you drop the price or make a special offer on your item.
You can readily promote your items through their parties, or you can promote by sharing your listing with your Poshmark followers.
Works like social media and encourages you to follower other "Poshers" to gain more viewers of your items.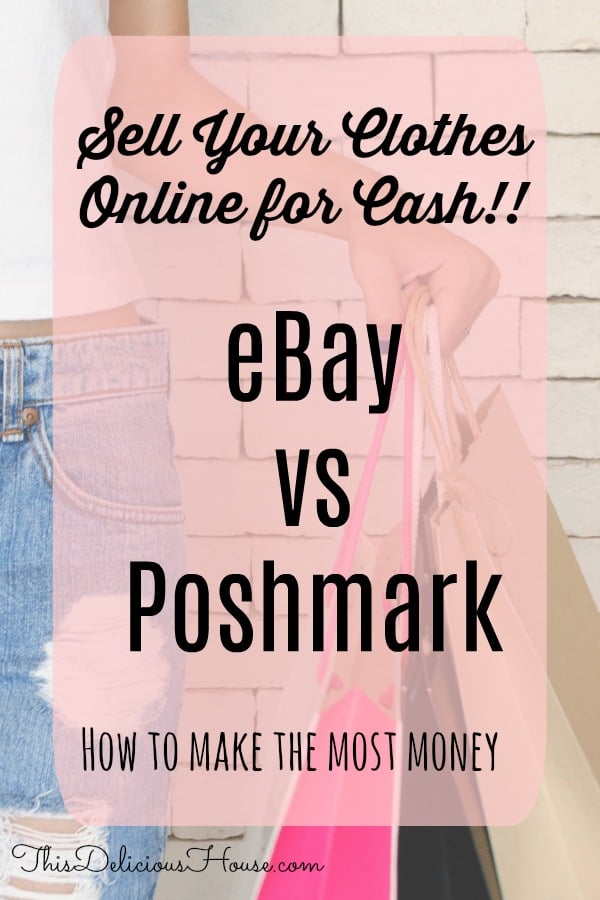 eBay vs Poshmark: Which site to choose?
Let's do the math. Say you sell something on Poshmark for $20, they take 20% and send you a shipping label, so your total earnings are $16. On eBay, that item that sells for $25 ($5 shipping fee) is subject to .30 insertion fee, 10% selling fee, and 2.9% plus .30 PayPal fee. Your earnings are $16.18.
Both eBay and Poshmarks' fees are roughly the same. So where should you spend your time listing your items. In this battle of eBay vs Poshmark, you should list on BOTH! Yes, you will need to be vigilant to take down an item from the other site when it sells, but it's best to list on both sites. Why? Because the more eyes that see your items, the better chances you have at selling it. And the only cost to you is the $.30 you spend on eBay for listing an item.
Selling your clothes, shoes, purses, and accessories online has never been easier. You are guaranteed to get more than you would at a consignment store and with the availability of phone apps for these sites, selling your closet has never been easier. So what are you waiting for… go in your closet and make some money! In the battle of eBay vs Poshmark, both are winners!
Checkout the sites and start selling: eBay vs Poshmark
For tips on how to declutter your closet and find those clothes to sell on eBay vs Poshmark check out my 5 Steps to Declutter Your Closet for Life!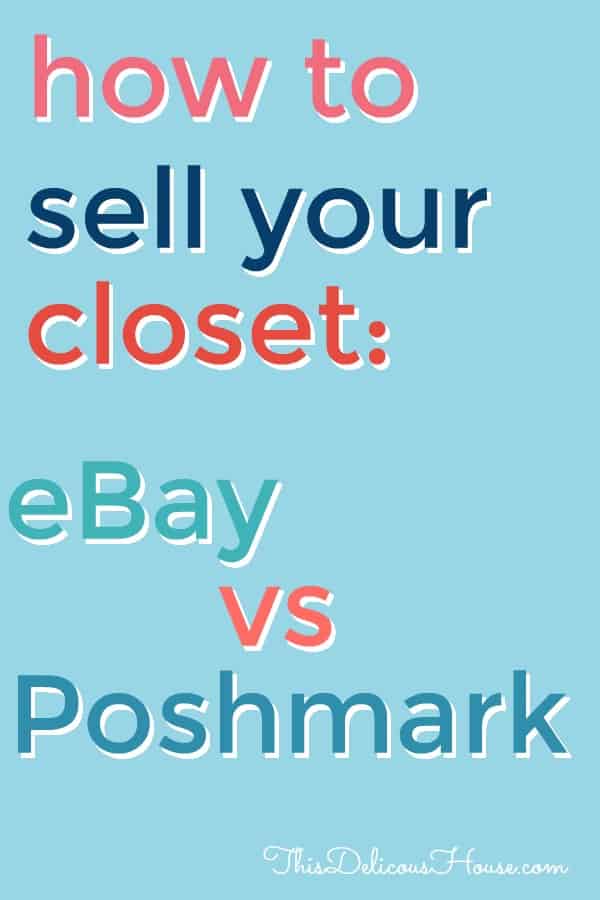 ✕
*4 Days to a Clutter-Free Home*
Join the 4-Day Declutter your Clutter Zone Challenge!