Do you want declutter your closet but don't know where to start? Follow these 5 easy steps to declutter your closet now and keep the habits going for life!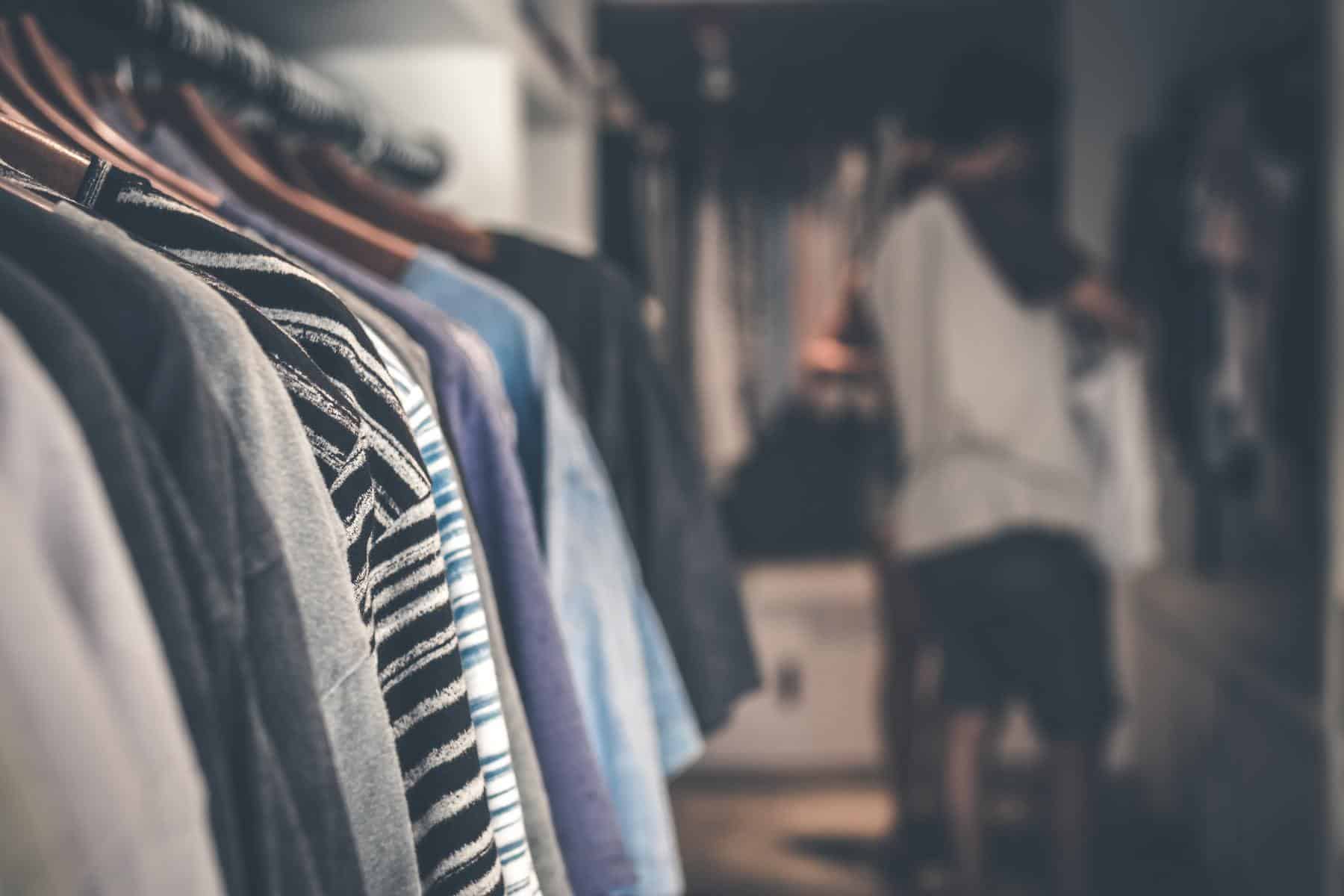 It's time to get rid of old clothes, but it's so hard! Yes, there are things we haven't worn in years, things that you know don't fit well, and things that are outdated. But these things have memories and stories and, in some cases, tags still on them! So how can you let it go? How can you free up the much needed space to breathe and simplify your closet? Well, as a reformed clothes hoarder, I can tell you that it can be done and once it's done, it's so amazingly delicious!
Declutter your closet
One of the biggest obstacles for getting rid of clothes is the guilt. It's common to feel bad for getting rid of something that has memories, or getting rid of something that was purchased but never worn. The KonMari mantra to follow for dealing with the guilt is "know that these items once served a purpose, appreciate that and move on." Take a moment to acknowledge that these items were valuable at some point in your life, whether it be the good feelings you felt when you bought it, or the memories you had while wearing it, and now it no longer serves a purpose in your wardrobe. So it's time to let it go and make room for simplification and the gorgeousness of being decluttered.
So, why wait. Follow these easy steps to declutter your closet for good!
How to KonMari your closet
Step 1: Gather All Your Clothes
For the first step, you will need to gather every piece of clothing you own. If you are a clothes hoarder like me, it may help to start with grouping the clothes: tops, pants, skirts, dresses, suits, etc. When you have them all gathered, you can appreciate how much you really have.
It's best to lay everything in a pile on the bed or a table so you can go through items individually. Don't just flip through items in the closet, actually take them out and lay them down. It will be easier to get rid of these items when they are out of the closet.
Do the same with shoes, purse, belts, and other accessories. A visual of everything will really start to put things in perspective.
Step 2: Go Through Each Item and Ask Yourself…
When did I last wear this?
Do I feel good when I wear it?
Is this still in good condition?
Why am I choosing to hold on to this?
If you love it, wear it, and feel happy when you hold it, then keep it!
Toss it when:
It's worn or tattered
It doesn't fit well or is too small
It doesn't match with anything you have
You are holding on to it for memories only
It still has tags and is more than 6 months old
Yes, it's hard to get rid of things that seem special or new. But really, by holding on to these things you are only living in the past or living with guilt. Appreciate the memories you had while wearing these things or the fun you had when buying them, and move on.
The biggest mistake you can make now is to save these items as "old clothes" – those you choose to wear for lounging around the house. Because you want to declutter your closet now rather than transfer clutter to another section of your life. Just let it go and be done with it. That's the KonMari Method of doing it, and it works!
Step 3: Putting Your Kept Clothes Back In The Closet
Hang only those clothes that need to be on hangers and you'll see how quickly you can declutter your closet. Things like t-shirts and jeans can be folded into a square and stored in a file-like system in your drawers. Fold these items so they can stand upright and place them vertically in drawers so that they are visible and you don't have to dig through piles to find what you're looking for.
Also, invest in a set of matching hangers. You can find a pack of (affiliate link) Zober Premium Quality Space Saving Velvet Hangers on Amazon for $23. With close fitting, matching hangers, your closet will sit better and look better with cohesive on hangers that actually keep your clothes on instead of slipping when you flip through.
Hang clothes in a way that makes them easy to find. Some people choose to group by color while others group by type. See what works best for you. If you have a tendency to only wear one color (for me it's black!) then it may be best to group into categories to force yourself to look though other colors and consider other options. This is a good way to declutter your closet for the long haul as well.
Step 4: Donate and Sell Your Used Clothes
Here's the fun part… you may be able to make some cash for all of your hard efforts! Time to go through those clothes that you are getting rid of and see if you are able to sell them.
My personal favorite places to sell my unwanted wardrobe items are eBay and Poshmark. But to determine whether or not your clothes are actually worth the effort of selling you need to look through your items and ask:
Is it a name brand?
Is it still in good condition?
Does it have tags on it? (Not essential, but really helpful!)
Name brand items do really well on these sites mainly because it's what prospective buyers look for when they are searching for a particular item. It also adds value and trustworthiness to the items. When people are familiar with the brands, they are more comfortable buying it used.
Tags also really help when selling clothes. They show that the item is new and really no different than buying directly from a retailer.
Items that aren't sellable should be donated. Often I will look for women's shelters to donate items to. Another great option is Goodwill. They provide jobs to millions and hire those that other businesses wouldn't hire. Plus it's fun to peruse their racks while you're there.
Also, did you know that you can claim your donated items as a deduction on your taxes. Be sure to get a tax receipt when you are dropping off! A tip: always take pictures of what you're getting rid of so you remember what you had and can value the items for the receipt.
Step 5: Stay Decluttered and Be Smart About Your Purchases, For Life!
You've spent all of this time and effort decluttering and getting rid of clothes… so keep it that way!
Assign a spot to every item of clothing so you know exactly where it goes when you're putting it away.
When purchasing new items, make sure it's something you really LOVE and you're not just buying it because it's on sale, or you're feeling tired, bored, emotional, etc.
Buy things that you feel comfortable wearing now and can go with items you already have.
Constantly be decluttering; set aside items you don't wear often and get rid of them after three months of nonuse.
Maintaining your decluttered closet doesn't have to be a lot of work. Now that you have limited your wardrobe, be smart about what goes into it. Also, take the time with each new season to flip through what you have and get rid of items from the past season that you never wore.
I also encourage people to go the online personal shopper route and try on some new piece in their wardrobe… just be sure to make sure you have space and existing clothes that work with these pieces. Check out my article reviewing the two most popular online shopping services: STITCH FIX VS. WANTABLE
Declutter your closet and see that it can be a real time and space saver. It simplifies your life and makes a really big impact in a little amount of time. Plus, there's the added bonus of being able to sell the clothes you don't need can put cash in your pocket for the things you really love. Just set aside the time and make the commitment to let it go!
For tips on how to sell you clothes, check out eBay vs Poshmark.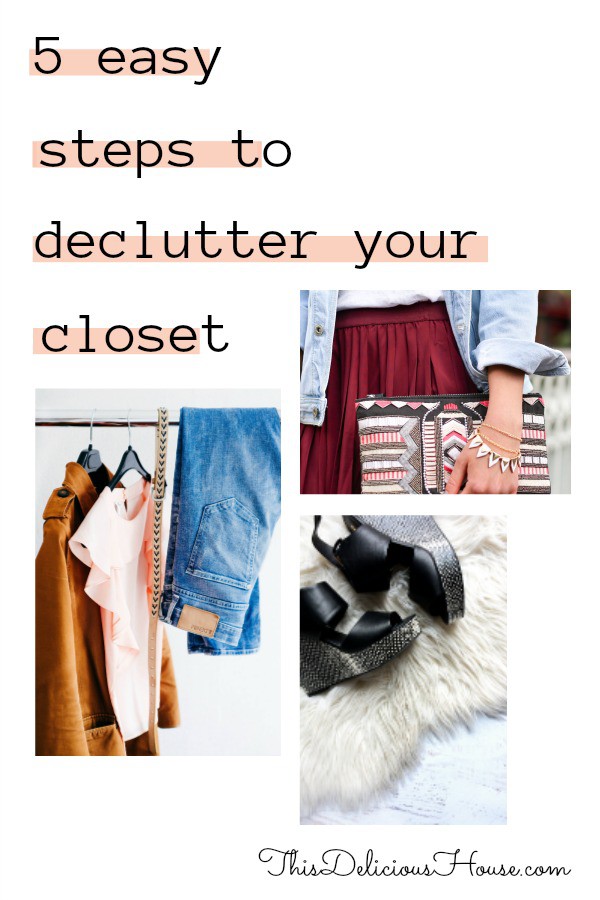 ✕
*4 Days to a Clutter-Free Home*
Join the 4-Day Declutter your Clutter Zone Challenge!