Need to host the perfect budget baby shower that only looks expensive? With your Amazon account ready to go, here are the 5 best budget baby shower decorating purchases that only look expensive and won't send you driving all over town for supplies. FYI, some affiliate links below, but I only promote products I have personally used and love!
1. Budget Baby Shower Party Decoration Kit with Pom Poms, Tassels, and Garland
Talk about bang for your buck! For less than $20 you get all of your hanging decorations, perfect for putting around a buffet table, draping as a backdrop, or hanging from the ceiling. The quality is great and, add a couple of Command strips, and set up and take down are an ease. I have used these before for a mint, coral, and gold themed shower I hosted. They also come in purple, silver, and white, and pink, cream, and gold.
Buy on Amazon at: Party Decoration Kit 20 Pcs Mint Peach 
2. Pennant Banner Flags
Who doesn't love a pennant banner… it screams fun party, or parking lot sale! Done correctly, it adds a bit of old school modern flair to your get together. I usually like to use the banner to hang on the wall, but I've also done it to wrap a gift table or a buffet. Personally, I love these ones on Amazon because they look like they're either homemade or bought on an expensive Etsy shop. For less than $10 they are a total score in your budget baby shower decor book.
Buy on Amazon at: Ling's moment 10 Feet Paper Banner Flags 
3. Fun BABY Balloons
This is the ultimate bang for your buck budget baby shower decoration. Helium foil balloons are great for any get together… when they spell out what you are celebrating, even better! Plus, they make a great photo op for the mama-to-be and her guests. If you didn't have time to get them blown up with helium the day of the party, you could always just blow them up with good old fashion air (using a straw and your lungs) and Command strip them to the wall behind the buffet, gift table, or where mama will be sitting. And for $12, you just can't go wrong with balloons, after all everyone loves balloons!
Buy on Amazon at: 40 Inch Jumbo Helium Foil Mylar Balloons Banner 
4. Sequin Table Runner
The ultimate in table decor… you know you're at a well-planned baby shower if you have a sequin table runner! Love that this comes in so many colors and is only $9, a true budget baby shower score. I use my table runners for so many events and holidays. They are great because dress up any table you are using and help tie your color scheme together. This particular company has like a million different colors to choose from, and even a Chevron print! I chose the blush color for the baby shower I threw, it was close enough to "coral," right!?
Buy on Amazon at: 12"x72" Blush Sequin Table Runner Sparkly Metallic Sequin Runner 


5. Table Decor
So this last one is kind of a cheat because while you can find this lantern on Amazon, I would highly recommend ordering from Ikea directly because it's a heck of a lot cheaper there. Only $4 a piece, what a steal! I love these little lanterns because they are super adorable and versatile. Also, they don't die… like flowers. Put a tealight in these and you've got yourself a fancy looking little table decoration that people can actually see over and doesn't cost you a fortune.
Buy on Ikea's website at: Ikea White Lanterns 
You really don't have to break a sweat and stress about decorating for a baby shower. Thanks to the convenience of online shopping, you can hunt for the best deals from the comfort of your couch. From my experience, these budget baby shower items are great and help to throw a fancy-looking shower with little fuss. Now can we get a big round of applause for Amazon Prime and all it's glory!
For some tasty drinks and appetizer ideas see my posts for Bellini Bar and Donut Fruit Kabobs.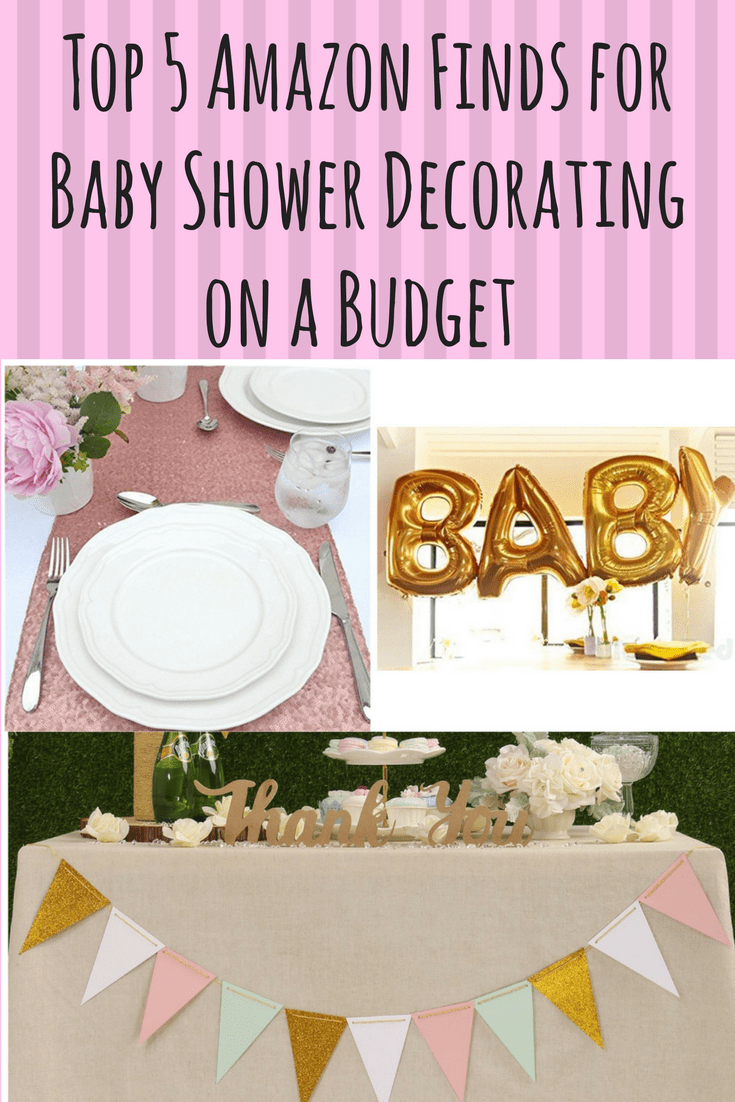 FREE 10-Step Party Checklist!