Sick of running from store to store to find stuff for your kids birthday party favors? Don't miss my top gender-neutral best birthday party favors so you can easily and quickly fill those birthday goodie bags with a click of an Amazon button!
Party favor goody bags are the best and worst things to happen to kids birthday parties. Best because they entice your kid to leave the party without causing a meltdown (usually), worst because they are often filled with, dare I say, junk that you really don't want your kid to have.
Here you'll find the best deals on what kids (and parents) actually want for birthday party favors. So now you can fill those bags with decent items for a budget-friendly price. And instead of including lots of little things, consider putting one or two of these in each bag… remember it's quality, not quantity! Don't feel pressured to continue your party theme for the bag either. The bags are for the guests, not necessarily for the birthday kid.
Check out my top picks below!
Best Amazon Finds for Birthday Party Favors
(affiliate links, but only products I know and love)
Personally, I also love playing with this stuff! Less mess than Play Doh, both boys and girls and will have fun playing with Flarp. And it makes a funny farting noise when you squish it into the container… cue the giggles!
You can thank the popularity of blind bags and Hatchimals to the YouTube Kids app! These are actually pretty cute and kids love the surprise of rubbing the egg until it "hatches." Cute and unexpected for birthday party favors.
Another super popular item, kids will love getting these fun Emoji party favors and clipping them on to their backpacks.
This is a great party favor idea for younger kids. And parents will be super happy to see these as the party favor. Great to keep in the car or for air travel… score!
Fun and totally addictive. A great combination of the slap bracelets from our youth, mixed with the calming sequins magic of today!

This may just be pure nostalgia for me, but I'm all about these mini puzzle cubes! Plus, they are mess free and won't just end up in the garbage like other birthday party favors.
My 5 year old got this in a classmates birthday party favors bag and she is obsessed with it! So fun for kids who are learning to write and like using different colors… heck, it's fun for me too!
You just can't beat crayons… and they have to be Crayola in my opinion. Buying in bulk saves a ton of money and parents and kids will both be happy to get this. Pair with some printable coloring sheets and viola, instant party favor done!
My kids are obsessed with scratch art and it's easy to see why. This pack of 12 would be fun for kids to do at the party and then have as a fun take home party favor.
Perhaps it's more nostalgia, but this is one of my favorite birthday party favors to include in goody bags. I loved Connect 4 growing up, and my kids love it now. Definitely a great favor or give away for your party.
How fun for kids to have their own little pair of binoculars. This goes on my "educational yet fun" birthday party favors list!
I always like to include a small edible treat in birthday party favors bags. I like Oreos because they don't leave a melted mess and they are great for kids who may have allergies: no peanuts, dairy, or eggs in them! And you can't beat the price by ordering these from Amazon.
Why not include the gift bag as part of the birthday party favors gift? I love these little bags, and it would be so cute filled with crayons and coloring sheets.
This one varies by location, but why not get a couple $3-5 gift cards to a local ice cream, gelato, or frozen yogurt place. It's an awesome favor that kids and parents love to get. Most of the time, you can order these cards online and have them sent to you or just call ahead and pick them up at the store. Yummy!
There you have it, some fun and unique kids birthday party favors. So next time you're stressing about what to put in goody bags, just let your fingers do the work and get some fun and useful favors that both kids and parents will love!
Don't know what to buy the birthday kid, check out my Preschooler Gift Guide.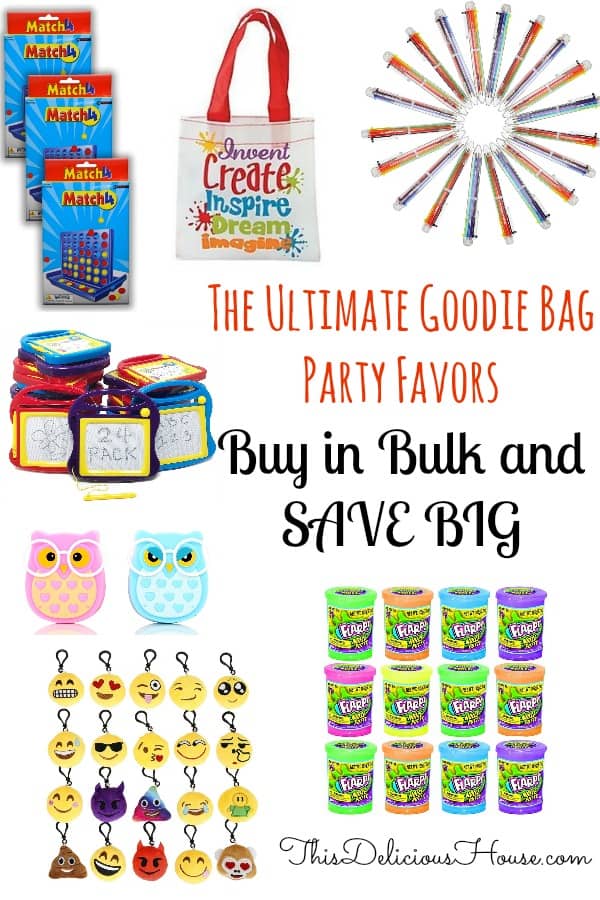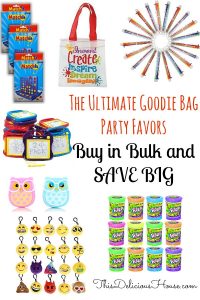 ✕
FREE 10-Step Party Checklist!