If you're looking for a great birthday theme for your daughter, a Barbie birthday is the way to go! Check out these great finds for a Barbie birthday party and how to throw a fun party without spending a lot.
The great thing about a Barbie-themed party is that you probably already have a bunch of Barbies around the house. Cool, now half your decorating is done, right?! Well, recently my daughter asked for a Barbie birthday party and I had a blast decorating following my rules: 70 percent was store bought, and 30 percent was homemade.
Here are some great ideas to get you stared on your Barbie birthday party bash, including my favorite online finds, my almost #PinterestFail Barbie cake, and my super simple make-ahead menu. Hope this gives you some great ideas!
Birthday Decorations
 Barbie Hanging Swirl Decorations 
Want to really get into the theme without spending a lot of cash. These hanging swirl decorations are great to hang from the ceiling and they really add fun to the party room. You get 12 pieces for only $8.99, which is a steal in my book. I hang these up using Command Small Wire Hooks, 16-Hooks, 24 Strips (GP067-16NA) – Easy to Open Packaging
 which are great because you can reuse the hooks when you're done and they are easily removed with no damage to your walls or ceiling.
Barbie Sparkle Birthday Party Scene Setters Wall Decorating Kit (5 Pack), Multi Color, 59″ x 65″.
 $7.95
This Barbie Birthday party scene was the hit of the party! Kids (and adults) loved posing in front of the life-size images of Barbie and her friends.
Barbie 'Sparkle' Table Decorating Kit (23pc)
 $9.99
This was the last of my online decorating purchases, and I think it really tied the theme together. For only $9.99 you get a 23 piece set to decorate your table… not bad!
Homemade Barbie Cake
Like it said, I have a 70/30 rule for stress-free parties. I buy 70 percent of the decor and make the rest.
Well for this party, I attempted to make a Barbie Birthday cake. My original inspiration came from looking at Pinterest posts. Truth be told, I am not great at cake decorating so I didn't have a lot of hope for this cake. My only goal was that it look decent and not be a total #PinterestFail.
So this is what I came up with using store-bought cake mix and frosting (I made another ice-cream cake too) and baked it in a well-greased glass bowl. I thought it turned out pretty decent, what do you think?
Barbie Birthday Attire
Now it's time to dress the part. It was actually more difficult to find Barbie Birthday outfits than I thought. Guess what happens when you google "Barbie Clothes" – yeah, definitely not life-sized attire! I was able to find outfits on Zuilily for my daughters, which are sadly no longer there. But, my ultimate score was for me and my husband. I found use the great shirts on Amazon that we still wear!
Super soft and fun, I still rock this shirt (mostly around the house!) but still…
Mens Real Men Make Girls T-shirt Large Heather Blue
I couldn't find a Ken shirt for my husband (lucky for him), but I thought this was a great alternative. Plus it's made with super-soft material, so he'll actually wear it!
Kid-Friendly Barbie Birthday Party Menu
Ahh, food. Always my favorite. For this party I kept it simple and did things that kids and adults both love. Not my fanciest spread, but everyone left happy and full… goal!
The menu included:
Veggie Tray with Ranch Dressing
Fruit Tray
Broccoli Salad Mix (bought at Costco)
Vegetable Lasagna (made in advance and baked the day of)
Chips
Pizza (Papa Murphy's Take and Bake)
Super simple, right? And it was delicious and had made for great leftovers.
Hope this has given you some inspiration to throw a great Barbie Birthday bash. It doesn't have to be stressful or expensive, and you can order most of your supplies online. Enjoy!
What better to go with your Barbie Birthday Party than these delicious and easy Oreo Cake Pops!
(affiliate links above, but I only promote products I have used and love).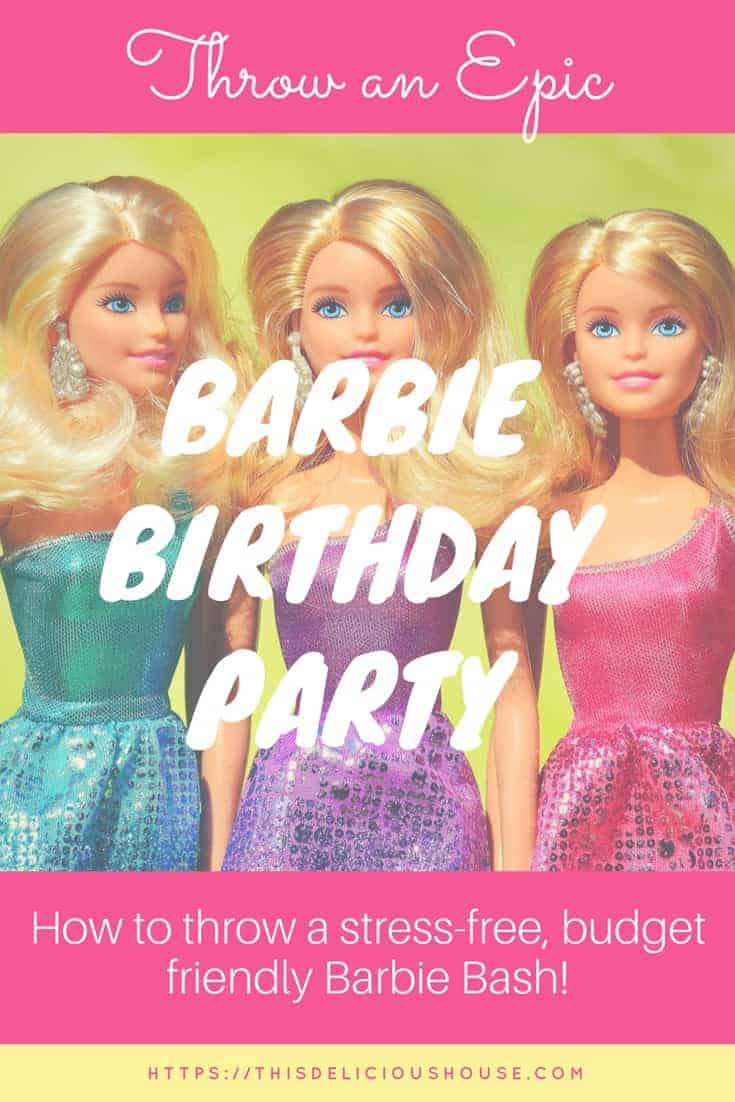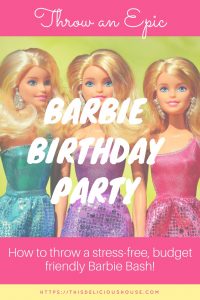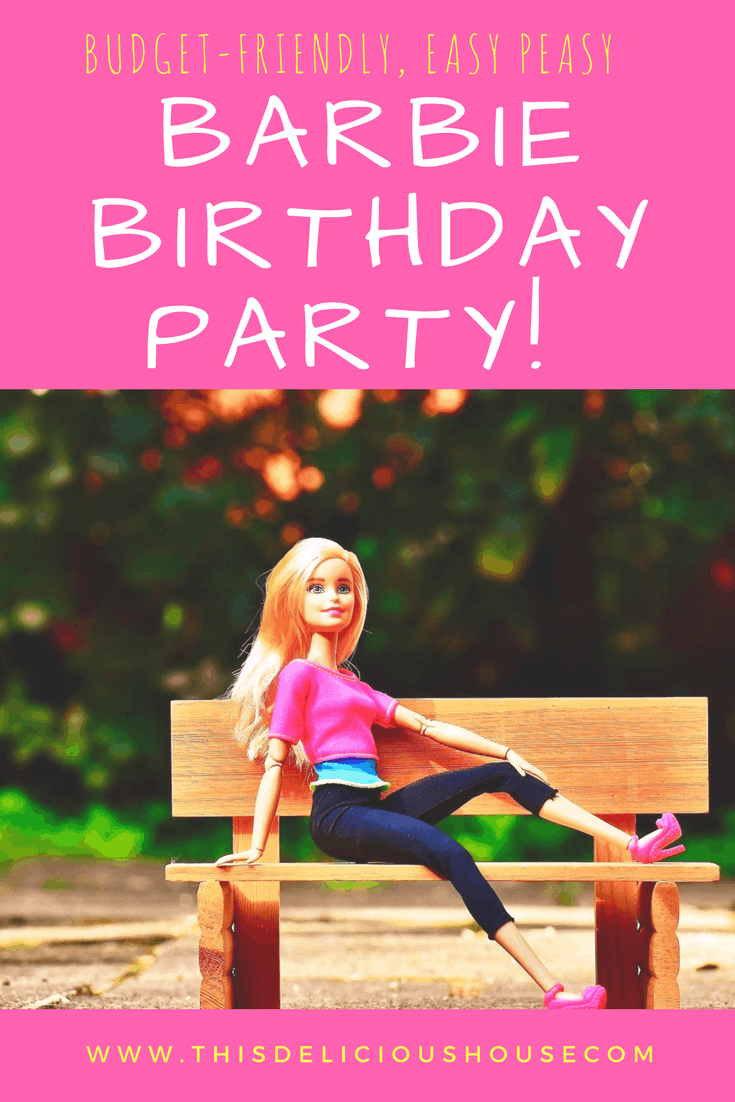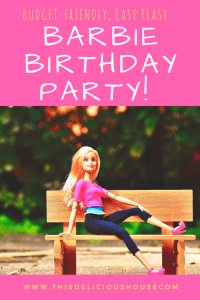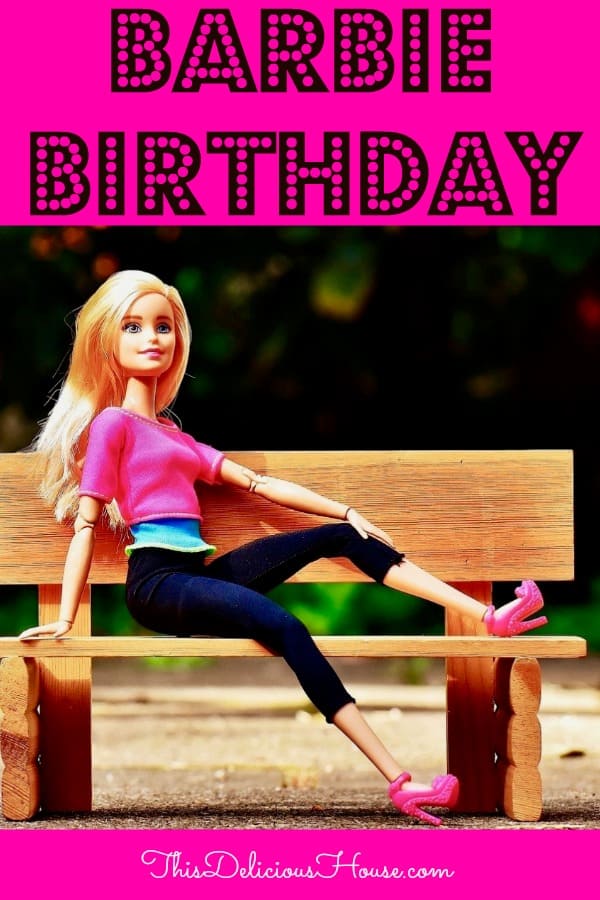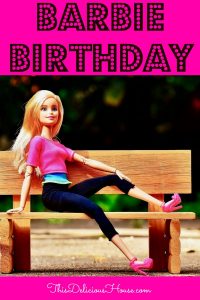 ✕
FREE 10-Step Party Checklist!