This complete Baby Shower Menu has every recipe you need with no click throughs! Moreover, it's make-ahead, delicious, and budget-friendly foods that are perfect for your next baby shower.
Throwing a baby shower can seem overwhelming. Because there is so much to plan – games, favors, and of course the food – you don't need to stress about the menu! With these recipes, you will be able to throw an amazing luncheon baby shower without stressing or spending a lot on food. Here's the delicious and easy make-ahead menu:
Be sure to also check out my tips on Throwing a Stress-Free Party and My Favorite Budget-Friendly Baby Shower Decorations.
Baby Shower Menu: Asparagus Tart
This tart is light, crispy, and easy to eat, making it perfect for a brunch menu. Firstly, make the filling and trim the asparagus ahead of time. The day of the baby shower, just unroll the puff pastry, spread on the filling, top with asparagus, and bake. Moreover, this is great served at room temperature.
Roasted Asparagus and Ricotta Tart
To make ahead, trim the asparagus and prepare the ricotta - refrigerate. The tart will have to be baked the day of for best results
Ingredients
1

sheet

frozen puff pastry (half of 17.3 ounce package, thawed

1

large

egg

1

cup

ricotta cheese

(part skim works)

½

cup

Garlic and Herbs Spreadable Cheese

like Boursin or Rondele

¼

teaspoon

kosher salt

¼

teaspoon

pepper

1

lemon, zested

2

scallions, chopped

12

ounces

asparagus, trimmed

½

tablespoon

olive oil
Instructions
Heat oven to 425 degrees; place oven rack in lower third of oven. Unfold pastry onto piece of parchment paper and rol ½ inch bigger on all sides. Slide parchment and pastry onto baking sheet. In medium bowl, beat egg. Lightly brush ½-inch border of egg around pastry.

Add ricotta, garlic and herbs cheese, and salt, pepper, and lemon zest into bowl with remaining egg. Mix well then fold in scallions. Spread onto pastry, leaving ½ inch border uncovered.

Top filling with asparagus using remaining pieces to fill in any empty spaces; drizzle with olive oil. Bake until crust is golden brown, 18 to 20 minutes.
Pesto Tortellini Skewers
Super easy to make appetizer using store-bought pesto sauce. Just boil and toss the tortellini with pesto. The day of the baby shower, thread bamboo skewers with a cube of cheese, cherry tomato, and tortellini. I like to use these cocktail bamboo appetizer skewers.
Pesto Tortellini Skewers
Super easy and fun appetizer, this is a perfect addition to your holiday, shower, or birthday menu!
Ingredients
1/2

pound

cheese tortellini

1/2

cup

store-bought pesto

1

pint

cherry tomatoes

1

pound

cheese cubes like provolone or mozzarella
Instructions
Bring a medium pot of water to a boil and add tortellini. Cook according to package directions, about 5 minutes, and drain. Toss with 1/4 cup of pesto, set aside.

On a small bamboo skewer, add cheese cube, tomato, and tortellini. Set on serving tray and spoon a bit more pesto on the tortellini. Serve extra pesto on the side if desired.
Baby Shower Menu: Rotisserie Chicken Salad
Easy and delicious Rotisserie Chicken Salad with Grapes is the perfect addition to a budget-friendly menu. Make the entire dish ahead of time and serve with either crackers or on croissants with grapes on the side.
Rotisserie Chicken Salad with Grapes
Rotisserie Chicken Salad with Grapes is the perfect use for leftover rotisserie chicken. This chicken salad is sweet and crunchy and would make the perfect appetizer or just served on wheat bread  or croissant for a delicious sandwich. 
Ingredients
Dressing
½

cup

mayonnaise

½

cup

greek yogurt

(nonfat or 2%)

2

tablespoons

lemon juice

(about 1/2 a lemon)

1

tablespoon

dijon mustard

½

teaspoon

kosher salt

½

teaspoon

paprika

¼

teaspoon

pepper
Chicken Salad
4

cups

rotisserie chicken, chopped

(about 2 breasts)

2

celery stalks, diced

1

cup

red grapes, halved

1

small apple, peeled and diced

¼

cup

red onion, finely diced
Instructions
In a large bowl whisk together all of the dressing ingredients.

Add the chicken salad ingredients on top and stir together using a rubber spatula until combined.
Notes
The ultimate make ahead recipe, this can be made up to two days in advance. Stir gently when ready to serve. 
Turkey Meatballs
When creating any sort of luncheon menu, I like to include one hot item. So these turkey meatballs are always my favorite go to. Moreover, you can make them ahead of time and then just reheat over low heat on the stove or in a slow cooker on the buffet table. Easy and delicious!
Make-Ahead Turkey Meatballs
An excellent make-ahead party meal, these meatballs are easy, delicious, and would be great to serve at your next get together.
Ingredients
Meatballs
1.5

pounds

ground turkey meat

1

pound

mild Italian turkey sausage, casings removed

½

cup

onion, finely chopped

3

cloves

garlic, minced (approximately 1 tablespoon)

2

tablespoons

ketchup

¼

cup

Italian parsley, finely chopped

¾

cup

parmesan cheese, shredded

¾

cup

Italian-style bread crumbs

2

eggs

¼

cup

milk

1

teaspoon

kosher salt
Marinara Sauce
3

tablespoons

olive oil

1

cup

onion, finely chopped

3

cloves

garlic, minced (approximately 1 tablespoon)

1

teaspoon

kosher salt

½

cup

fresh basil, chopped

2

28 ounce cans

crushed tomatoes, preferably San Marzano
Instructions
Meatballs:
Preheat oven to 425 degrees. Line a large baking sheet with foil and spray with cooking spray. Combine all meatball ingredients in a large bowl and, using clean hands, mix until combined. Roll into large balls, approximately 1 1/2 inch and place on baking sheet. Bake for 15-20 minutes until cooked through.
Marinara Sauce
For the marinara sauce, heat the olive oil in a large dutch oven or skillet over medium-high heat. Add the onions and cook for 5 minutes, then add the garlic and salt and cook for an additional minute. Add the remainder of the ingredients and bring to a simmer. Cook over medium heat for about 15 minutes. Adjust seasoning as needed. Optional: using an emersion blender, blend the sauce to your desired consistency.

Add the cooked meatballs to the sauce and simmer on medium-low heat for 30 minutes. If making ahead, cool slightly, cover, and refrigerate. Reheat over medium heat until warmed through. Serve with parmesan and pasta, if desired.
Notes
These turkey meatballs are a great appetizer or perfect served over a hot dish of spaghetti. You can make them ahead and freeze for up to two months or refrigerate for up to a week. Enjoy! 
Kale Quinoa Salad
Here's a healthy salad that you can completely make ahead of time. That's why it's perfect for a Baby Shower Menu. Because the Kale Quinoa Salad actually tastes better when it has a chance to sit and the kale leaves are strong enough to not wilt like romaine or lettuce, it's great to make ahead.
Kale Quinoa Salad
This make-ahead superfood salad is full of healthy ingredients and tastes delicious! Better than a regular salad, this can happily sit in the fridge for up to 5 days without wilting.
Ingredients
½

cup

quinoa, uncooked

1

10 ounce bag

kale

¾

cup

parmesan cheese, shredded

½

cup

golden raisins

½

cup

walnuts, roughly chopped
Dressing:
½

cup

lemon juice (from 2 lemons)

½

cup

extra virgin olive oil

1

tablespoon

dijon mustard

2

cloves

garlic, minced

1

teaspoon

kosher salt

½

teaspoon

ground black pepper
Instructions
Cook quinoa according to package directions. Set aside to cool.

Roughly chop kale, being careful to remove any hard stems. Add kale, cooled quinoa, parmesan, raisins, and walnuts to a large bowl.

Make the dressing: whisk together all dressing ingredients.

Toss together the dressing and salad and refrigerate at least an hour before serving. Salad can be made up to a day in advance.
Notes
Serve with grilled chicken or salmon for a complete meal. 
Donut Fruit Skewers
These fun and easy donut skewers are great to accompany dessert on your Baby Shower Menu. Also, they are totally customizable, use whatever flavor donut holes and fruit you want.
Donut and Fruit Kabobs
A great and quick appetizer or treat! So simple and delicious.
Ingredients
2

dozen

donut holes

1

cantaloupe, cubed

2

dozen

strawberries, trimmed

12

blackberries

12

wooden kabob skewers
Instructions
Arrange the fruit and donuts on the skewer with the blackberry in the middle. Either wrap each individual skewer in wax paper and secure with ribbon, or serve stacked on a platter.
Notes
Make ahead! Prepare the skewers and store in an airtight container in the refrigerator up to a day in advance. 
Ice-Cream Pie
Lastly, the final deliciousness to this Baby Shower Menu is a totally make-ahead ice-cream cake. Moreover, this is a slightly grownup version from your traditional ice cream cake and include banoffee pie flavors with bananas, caramel, and a graham cracker crust.
Banoffee Butter Pecan Ice Cream Cake
A mash up of two delicious desserts: banoffee pie and butter pecan ice cream. The result is the tastiest and most satisfying dessert you've ever eaten! Can be made as a cake in a springform pan or in a pie dish.
Ingredients
Crust Layer
10

graham crackers, finely crushed

(about 1 1/2 cups of crumbs)

6

tablespoons

melted butter

2

tablespoons

granulated sugar

1

teaspoon

vanilla
Ice Cream Layer
2

bananas, sliced

1/2

cup

dulce de leche or caramel sauce

1.5

quart

butter pecan ice cream, softened

3/4

cup

butterscotch chips

1/4

cup

pecans, chopped
Topping
1/2

cup

dulce de leche or caramel sauce

1

banana, sliced

1

tablespoon

pecans, finely chopped

whipped cream for garnish (optional)
Instructions
Preheat oven to 350 degrees. Mix together graham cracker crumbs, melted butter, sugar, and vanilla. Pour into the bottom of either a springform pan or a pie dish. If using a springform, press crumb mixture into bottom of pan. If using pie dish, press into bottom and up the walls of the pie pan. Bake for 12 minutes. Set aside to cool.

For the ice-cream layer, arrange the sliced bananas on top of the graham crust. Pour on dulce de leche or caramel sauce. Place the softened ice-cream in a large mixing bowl. In a microwave safe bowl, add the butterscotch chips and about 1/4 cup of ice-cream. Microwave until melted, stirring every 30 seconds. Pour the melted chips and chopped pecans into the ice-cream and stir to combine but do not over mix. Pour into pan and freeze for at least an hour.

Remove the cake from the freezer and pour the remaining dulce de leche or caramel sauce on top. Arrange the remaining banana slices around the edge of the cake. Sprinkle the pecans in the middle. Return to freezer for another 15 minutes or until ready to serve.

When ready to serve, allow to sit at room temperature before cutting or removing the springform. Serve with whipped cream (optional).
Notes
Note that you could also substitute plain vanilla ice cream for butter pecan, or any flavor you like. Delicious! 
So if you're looking for an easy and stress-free Baby Shower Menu that's budget-friendly, be sure to try out these great options!
Also, check out my Baby Registry Top Picks and get the essentials for baby!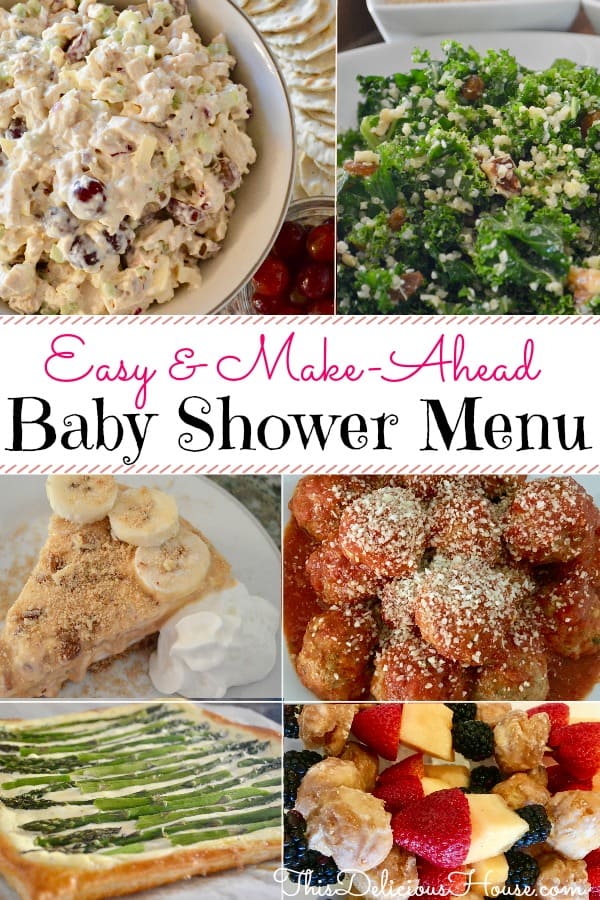 FREE 10-Step Party Checklist!